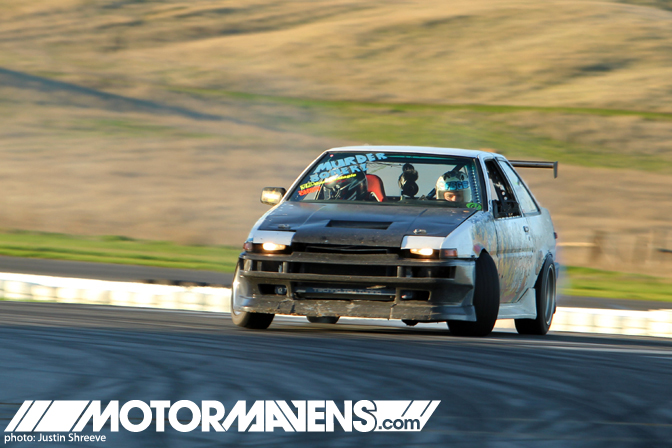 Since this is Joe Ayala's very first photographic post on MotorMavens, I would like to preface it with a little background information. Joe and I became friends back in 2008 while helping to organize the first grassroots drifting events in our hometown of Medford, OR. We've been drifting together ever since, making trips up to the mountains as well as competing in events in town. Joe has always shot photos of our shenanigans, while I've shot video.
That eventually led to he and I traveling to almost all of the Formula Drift events this year with the help of MotorMavens. Thanks to Joe allowing me to use his equipment, I was able to start shooting in HD this season. Woohoo! Thanks, Joe! Anyway, since the beginning of 2010, Joe has proven to be a capable and talented filmmaker as well as having a knack for shooting photos. I, on the other hand, still need quite a bit of practice. Haha!
Without further adieu, here is Joe's write up from the ThunderDrift Team Tandem competition at Thunderhill Raceway.
:: Justin Shreeve
It all started at six o'clock, the morning of Saturday the 18th, waking up to the sound of my alarm. I would have had to pack my gear, drive to Justin Shreeve's house, pick him up, and then start the 3 1/2 hour drive down to Willows, California for the Team Tandem Battle at Thunderhill………but I slept in.
Luckily for us, it was a two day event, so we tried again on Sunday. Haha! About two hours into the drive, we debated whether or not it was a good idea to make the trip. The clouds had been pouring rain, hail, and snow the entire time with no signs of it stopping any time soon. (Check out this proof of the amazing weather on our way home – Snow Drift Pt. 2) As we pulled into Willows and towards the track, we noticed the vibrant blue sky and a familiar sun peeking through the clouds just above Thunderhill.
We arrived at the track and met up with Andrew Bohan of OMGDRIFT and event organizer, Geoff Pitts. Rumor has it, he may be holding some gymkhana events in the near future, so look out for that. Geoff pointed us to where the action was going to be held and we got set up for what was to come.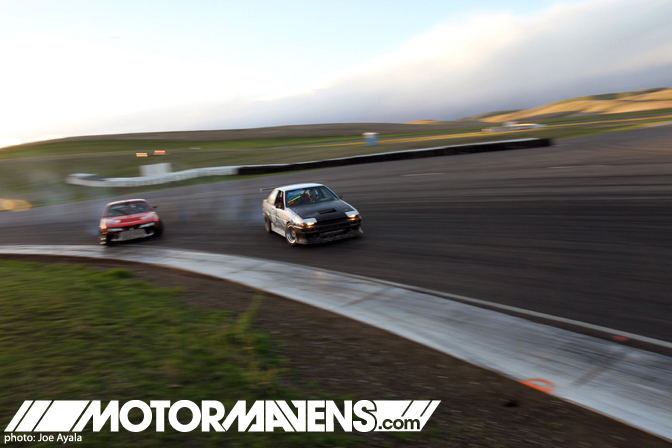 Here we have Tomasz Olech in his SR20 powered AE86 entering into turn 15, being followed by Ryan Kado, who was recently awarded a Formula Drift License after winning the Pro-Am series there at Thunderhill.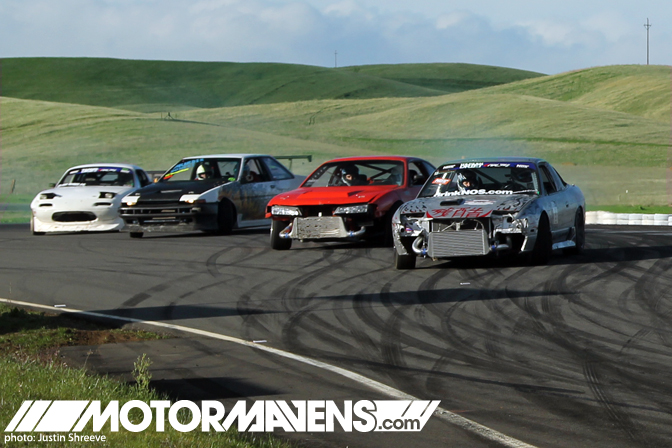 We got to see a lot of this four car tandem throughout the day. Leading the pack is Jared Thompson, followed by Ryan, Tomasz, and Andy Gillespie in his miata which is also powered by an SR.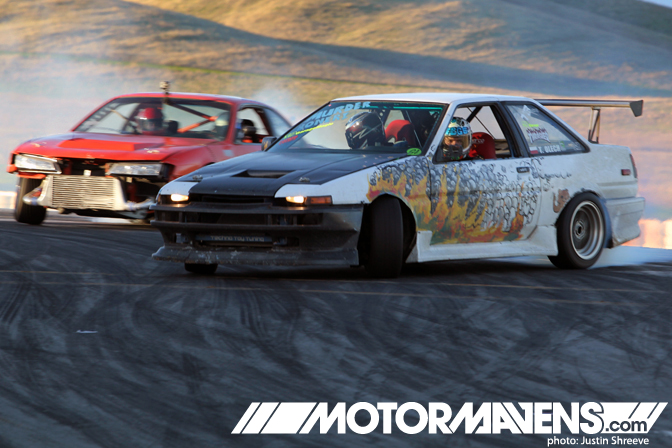 Apparently, there were a few out of state teams that were supposed to attend the event, but the weather held them back. So, the competition was made up of only two teams, but by the time the judged runs started, so many cars had broken down it was just Ryan and Tomasz taking on another team of four. We overheard from the judges that if Ryan and Tomasz wanted any chance at winning, they had to tap each other at least once, no homo.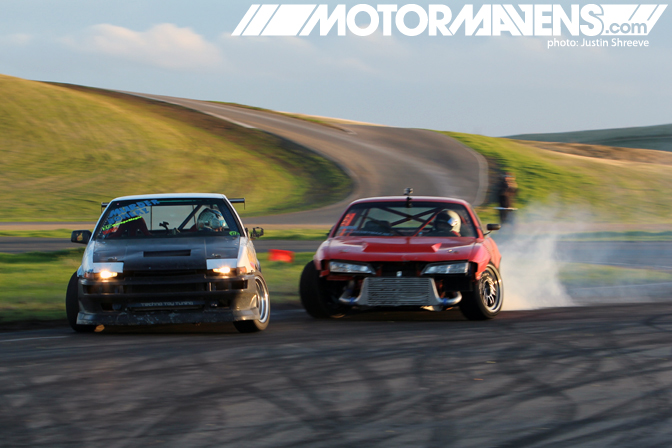 As they came around the hard left hand turn which ended the track layout, Kado clipped the back of Tomasz's fender. Here, you can see Tomasz looking back at Kado, sensing the inevitable.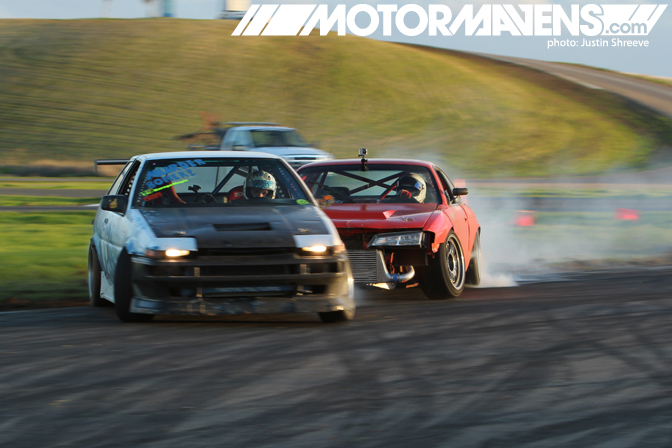 From where I was standing I noticed Justin take these photos and then run for dear life as Tomasz slightly straightened toward him. I had a good laugh at his expense.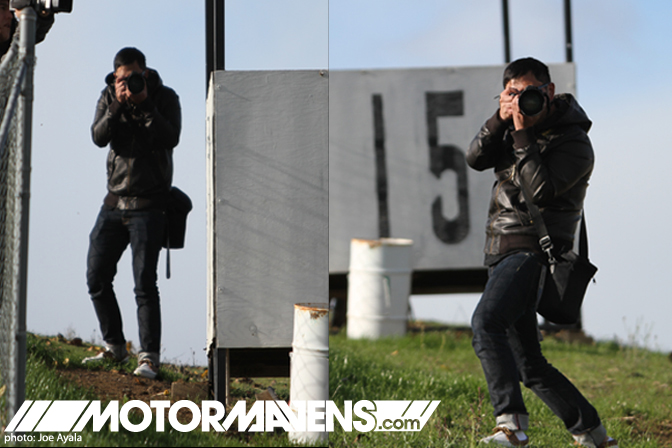 Michael Cabuco from Fitted Life was also in attendance at the Team Tandem. I swear, this guy has the most interesting photo stances I've ever seen, and how the heck did he keep those shoes so dang white in all that mud out there!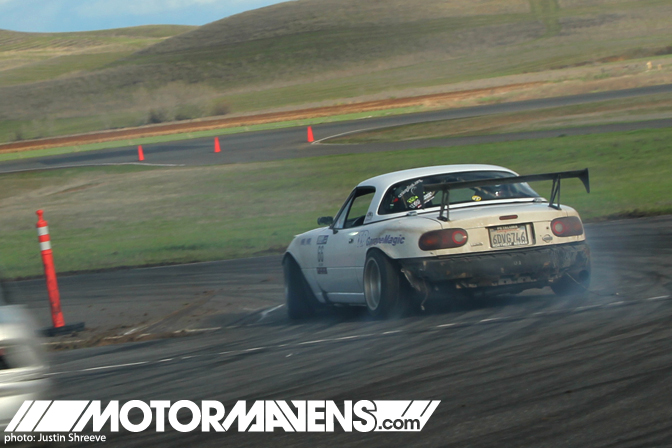 I loved watching the cars slide into the final turn. The nature of the course forced the cars closer together as they reached the final clipping point.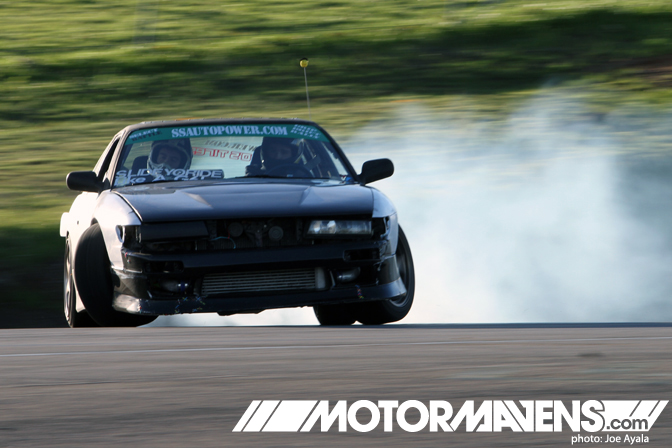 There were a couple of times where it looked like Jason Bostrom, here in his S13, was going to flip over with the decline of the track and the sharp left turn.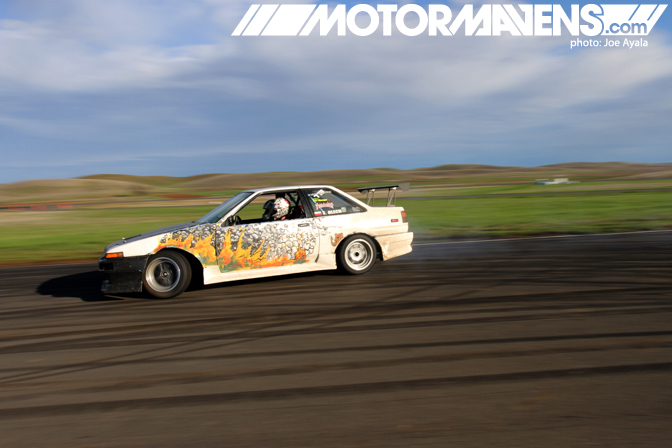 It's great to see cars that scream their driver's personality. Tomasz's Corolla does just that. I like to think of it as a canvas on wheels. On one side its painted with fire and brimstone from the deepest depths of Hades…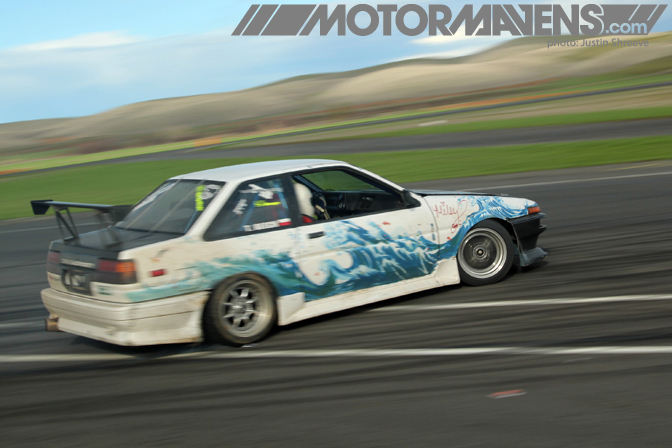 On the other side, it has the waves of wrath that we'll soon see in 2012. Haha. Its wild. Its loud. I love it.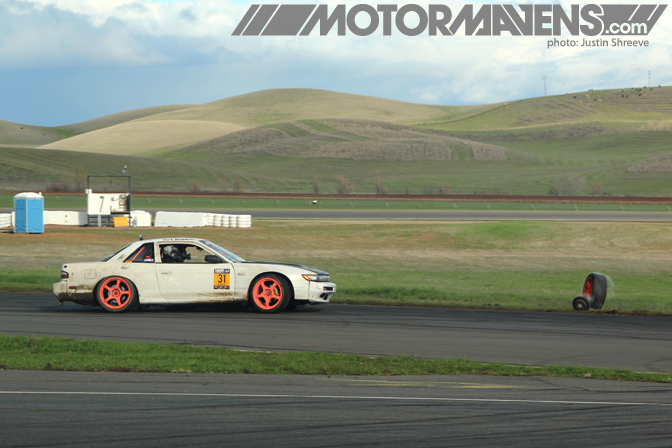 Despite all the awesome going on, the car troubles and mishaps were never ending. Here is Virgil Brosseau losing a rear wheel as he rounded the final corner.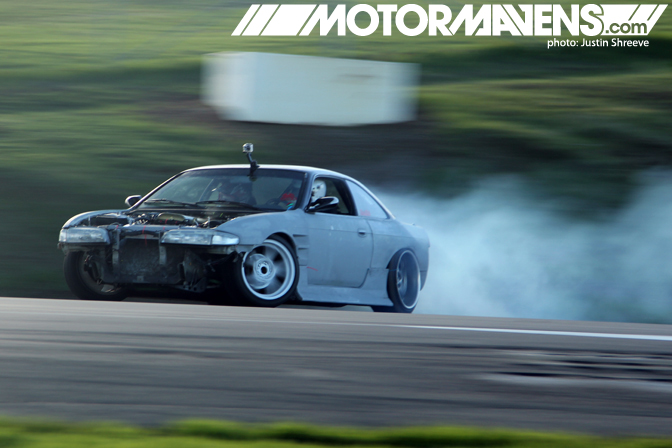 Julian Jacobs had just finished swapping in an SR for his old KA motor the morning of the competition. It didn't look like the new motor was too fond of being awakened from its slumber to be thrashed on all day. It seemed to be smoking through the valve cover as Julian made his runs.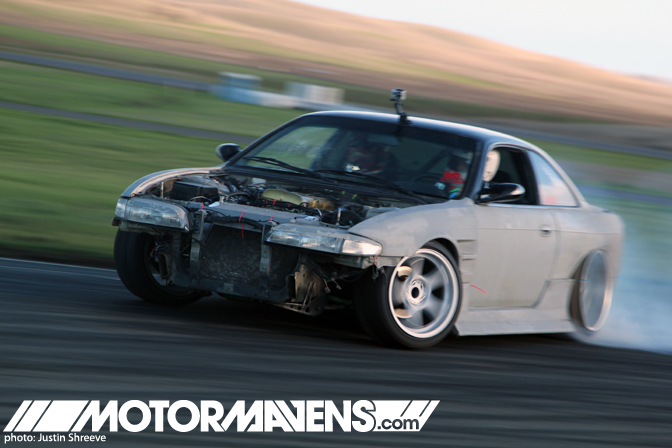 That motor won't have to suffer too long because apparently Julian will be swapping it out soon for a 1JZ.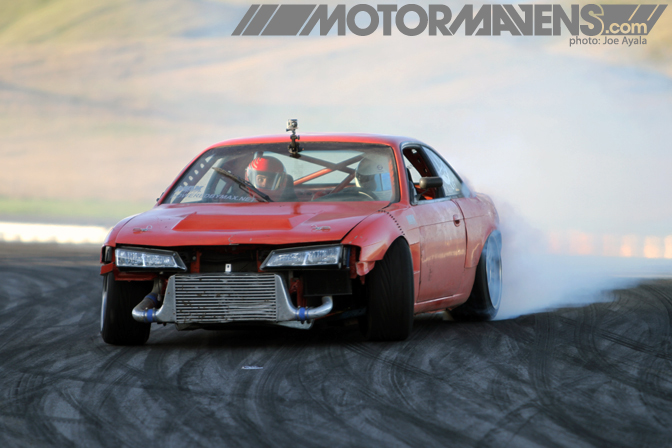 To end this post, I'll leave you with 2011 Formula Drift rookie, Ryan Kado. This is his kouki S14, which is devoid of big aero kits and sideskirts, but still looks mean as hell!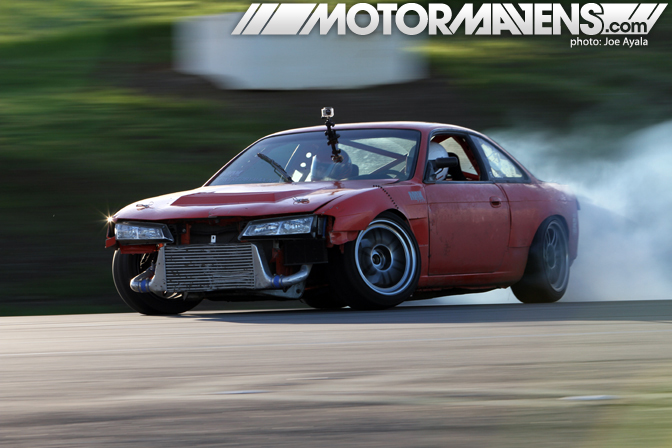 Here's Ryan's orange Frankenstein monster again, with a little light from the sun gleaming off his fender. Man, that thing looks aggressive!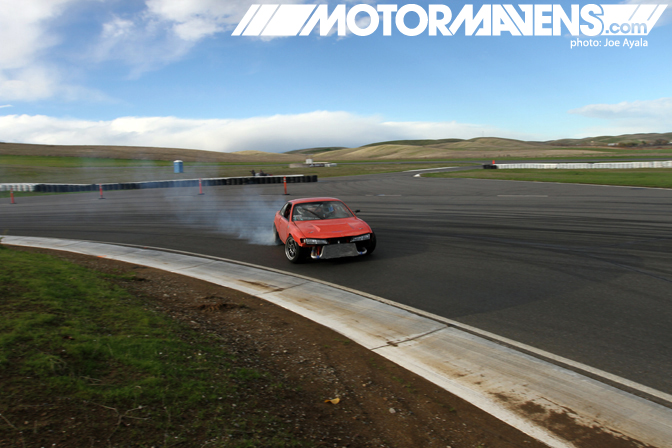 I can't wait to attend the next Thunder Drift event; they're so much fun!
:: Joe Ayala
---