---
---
---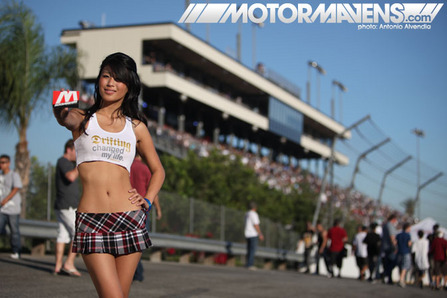 Since I'm new to MotorMavens, most people don't know much background info on me. I was born and raised in the Northwest, so every time I visit California, it becomes a great adventure. The final round in the Formula Drift series was my very first visit to Irwindale. From the hot weather and good looking girls, I could tell I was in for a real treat! Not to mention all the sick cars that California has!
When I arrived at LAX on Thursday, I got my rental car and drove straight into L.A. traffic to get to Irwindale Speedway, working my way though all that traffic while trying to find a good radio station to listen to. I finally arrived at the Speedway about 45 minutes later.
Walking though the pits, watching all the vendors getting set up for the event, I noticed the pit area is so much bigger than the one we have at Evergreen Speedway where Round 5 was held . This was a subtle hint that more vendors and drivers would be attending this event than the one at Evergreen.
Another thing that I noticed was the weather. Seattle summer includes two months of decent heat and sun after which it's back to the infamous rain season that happens to have started a couple of weeks ago. So, even though I caught myself wiping sweat off my forehead every few minutes, I was enjoying every minute of the sun. I wish it was like this in the Northwest.
Fast forward to the opening day of the Final round of Formula Drift. I got there bright and early to start taking photos and meet lots of new people. Since I'm pretty new to MotorMavens, a lot of people didn't know my name or my face. I took that as the perfect opportunity to introduce myself to the locals. The attitude that California people have is really great! Everyone was friendly and awesome to hang out with!
Read more...
---
---
---
---