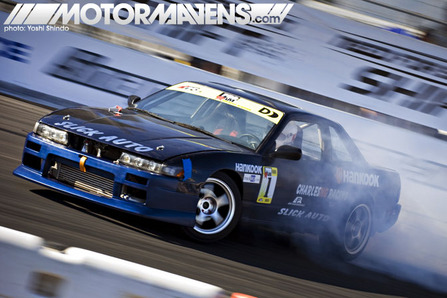 Since I'm new to MotorMavens, most people don't know much background info on me. I was born and raised in the Northwest, so every time I visit California, it becomes a great adventure. The final round in the Formula Drift series was my very first visit to Irwindale. From the hot weather and good looking girls, I could tell I was in for a real treat! Not to mention all the sick cars that California has!
When I arrived at LAX on Thursday, I got my rental car and drove straight into L.A. traffic to get to Irwindale Speedway, working my way though all that traffic while trying to find a good radio station to listen to. I finally arrived at the Speedway about 45 minutes later.
Walking though the pits, watching all the vendors getting set up for the event, I noticed the pit area is so much bigger than the one we have at Evergreen Speedway where Round 5 was held . This was a subtle hint that more vendors and drivers would be attending this event than the one at Evergreen.
Another thing that I noticed was the weather.  Seattle summer includes two months of decent heat and sun after which it's back to the infamous rain season that happens to have started a couple of weeks ago. So, even though I caught myself wiping sweat off my forehead every few minutes, I was enjoying every minute of the sun. I wish it was like this in the Northwest.
Fast forward to the opening day of the Final round of Formula Drift. I got there bright and early to start taking photos and meet lots of new people. Since I'm pretty new to MotorMavens, a lot of people didn't know my name or my face. I took that as the perfect opportunity to introduce myself to the locals. The attitude that California people have is really great! Everyone was friendly and awesome to hang out with!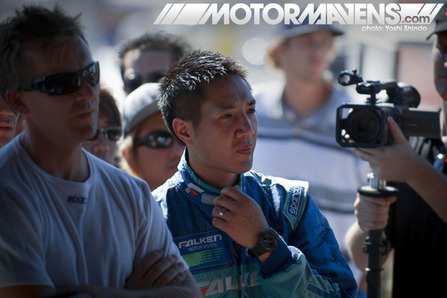 Here's a photo of Samuel Hubinette and Calvin Wan sweating it out at the driver's meeting. Meeting the drivers in the pits was cool, but watching them tear up the track was even more exciting. I love how Toyota Speedway (Irwindale) is such a fast course. Since it was my first time out there, I was constantly trying to find the right spots to stand to get into the action.  I finally made it onto the grid at what I later found out was one of the best times to shoot the cars and drivers. Irwindale is packed with so much excitement, that I felt like I had to run around to different places to capture everything. I knew this was going to be one of those days I would never forget!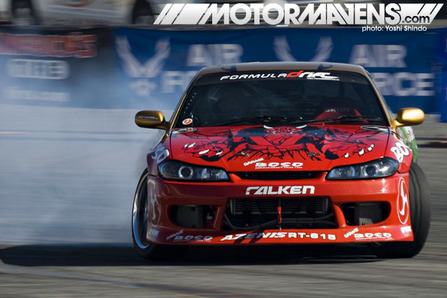 One of my favorite cars has to be Garage Boso's S15 driven by Ross Petty. I absolutely love the rasta color scheme and Japanese demon vinyl that's on this car. I also notice that Ross always puts out tons of smoke when he's on the track. Sick!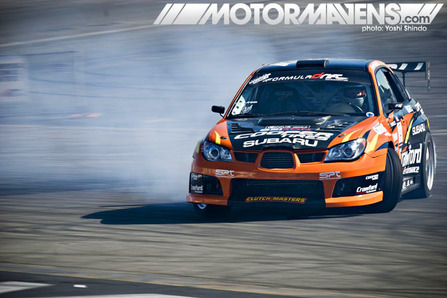 Here's Stephan Verdier piloting his Cooper tire/Crawford Performance Subaru STi hard into the infield. He's been doing very well this season!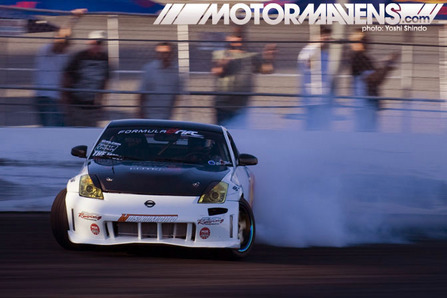 Here's a driver that wasn't at Formula D Seattle – Matt Waldin. He was really aggressive out there in this 350Z. He gave us a great show and I hope we see more of him next year!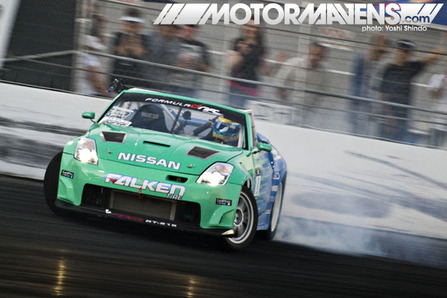 Tyler McQuarrie's Falken 350z was impressive! He made lots of angle and smoke. I got to meet him when the day after Formula D when we shot his baller status BMW M3, and he was pretty friendly! Congratulations to Tyler for placing 2nd!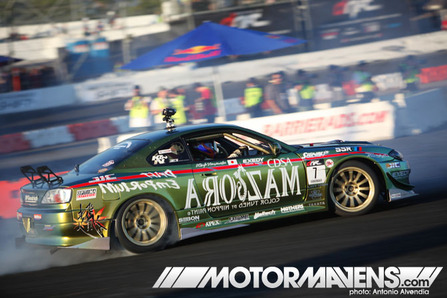 Maybe it's just because it's an S15, but Kenji Yamanaka's Drift Emporium S15 is another car that I really like. Something about this car makes it look super aggressive. I think, maybe, its the diffusers and canards. That's a crazy looking roll cage though. Don't you think the bars look pretty low and close to the helmet?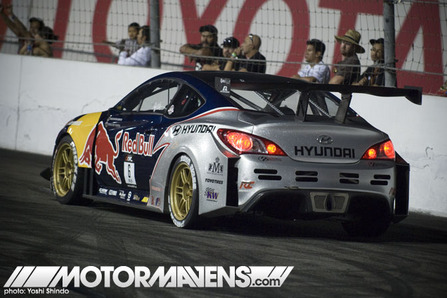 Here's Rhys Millen's RMR Hyundai Genesis on the pre-grid waiting for his runs. I know a lot of drifting fans hate on Rhys and his Genesis, but honestly, I hope we get to see more Genesis coupes out on the track next year. They're different.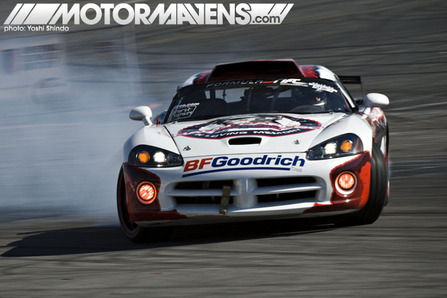 The Nuformz Viper got some cool new vinyl. Since Shaun Carlson's passing, they decided to do a vinyl tribute for him. The Viper looked amazing with this graphics scheme! I'm sure he would have been proud of everyone on the team.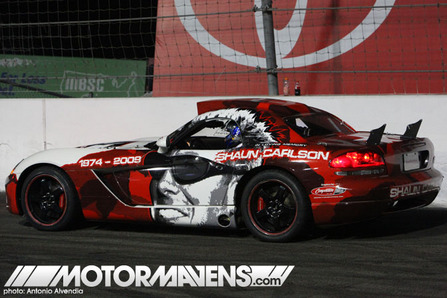 The tribute to Shaun Carlson on the Nuformz Viper was not only great looking, it was emotional for a lot of people who knew him personally. I never had a chance to meet him myself, but everyone told me he was a great guy to be around. My condolences to his family and friends.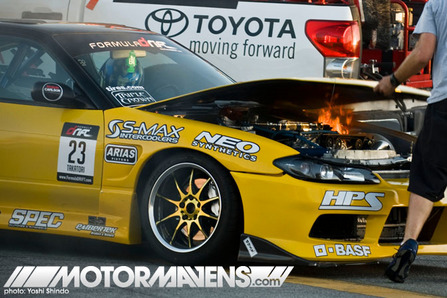 Unfortunately Michihiro Takatori's car caught on fire, and it looked pretty hectic! I'm not quite  sure what happened but it looks like it could have been an oil line from the turbo or something. I can't believe that guy just lifted up his hood! You're not supposed to do that when an engine is on fire, because you could get hurt and raising the hood only gives the fire more oxygen to breathe and grow! I wonder why the safety marshals didn't do something about that! We've seen some drift cars catch on fire in Seattle before, and we were told that the proper way to deal with a fire is to extinguish it from underneath.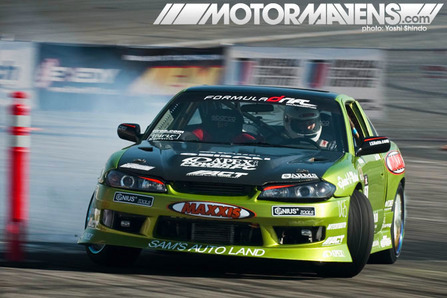 Joon Maeng did very well at Irwindale in his Maxxis tire S13.5… did anyone else notice how FAST his car is?! He was accelerating through the bank incredibly fast; it looked really impressive. Best of luck to Joon next season!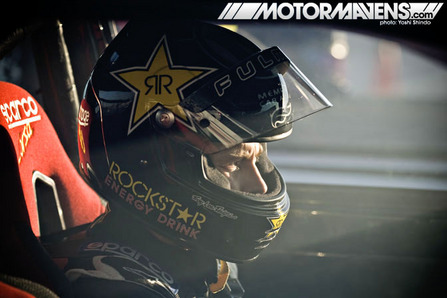 Here's Tanner Foust concentrating between tandem runs, while his car was still filled with smoke. I guess the concentration paid off in the end, because he placed 3rd at this last round of Formula Drift.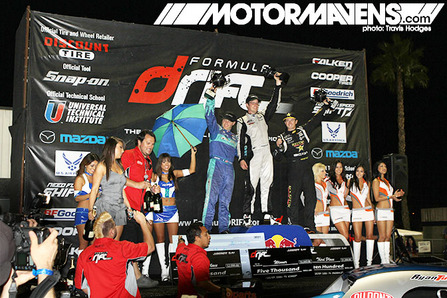 Congratulations to the winners, but man… don't those umbrella girls look hot? You know what I'm looking at!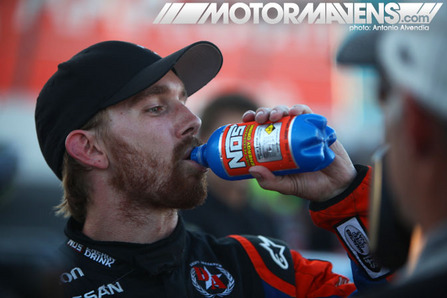 Chris Forsberg won 1st overall in points, completing the 2009 Formula Drift series as the overall 2009 Champion. I was happy to get a chance to see this in person. A great way to end the season!
I think Antonio's shot of Chris drinking a bottle of Nos Energy Drink couldn't be a more perfect advertisement for his title sponsor. Antonio says they should definitely email him or hit him up on Facebook if they want to use this photo. Haha!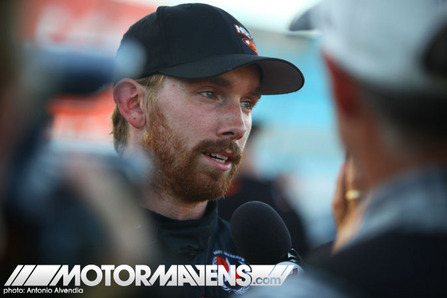 The life of a superstar drifter – here's Chris Forsberg giving interviews to the paparazzi right after he cemented his Series Championship. Wait, is MotorMavens considered paparazzi?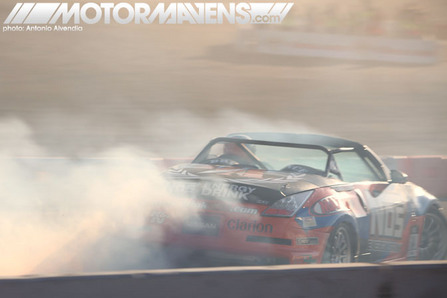 Either way, Chris was tearing it up all day, sending up smoke signals in his NOS Energy Nissan 350z vert.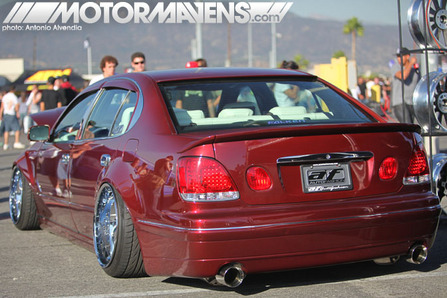 When I was out on the track getting action shots, Antonio was at the Eat Sleep Race/Motormavens booth selling our new t-shirts. He also covered some hard parking cars. Here we have Auto Fashion's JZS161 GS400. Super flush and low to the ground, this GS400 was attracting a lot of attention.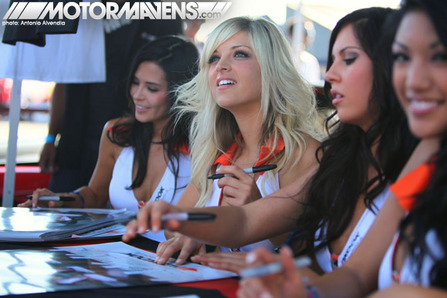 Oh, the Hankook girls! As dedicated as any driver in the Formula Drift series, these girls travel around the US to support their team. I'm thinking we could use some MotorMavens girls. What do you think Antonio? Umbrella girls for the photographers? LOL!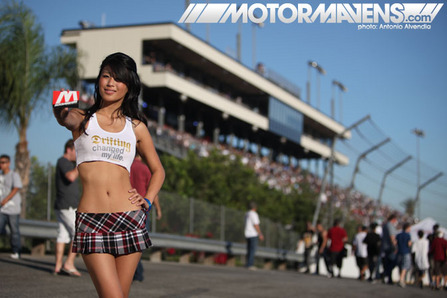 We've only been around for few months but we have a lot of supporters! Here's hot ass Vivian showing us some love!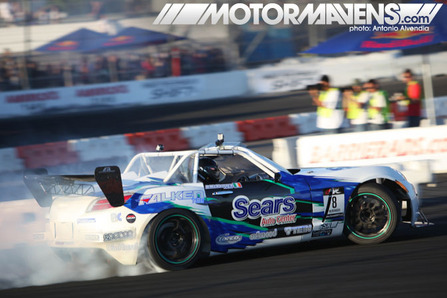 Darren McNamara was maneuvering through the infield, showing us all how much angle the Sears Saturn Sky can get!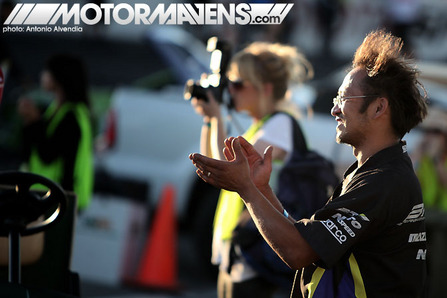 Ron Bergenholtz looked so happy and was clapping pretty hard after one of the tandem runs, but when I looked over to see who just finished running, I was surprised to see that he wasn't clapping for his driver, Justin Pawlak…  (Justin wasn't even running during that tandem round) he was actually clapping for Mike Essa winning his tandem bout! It's awesome to see all the camaraderie in the series!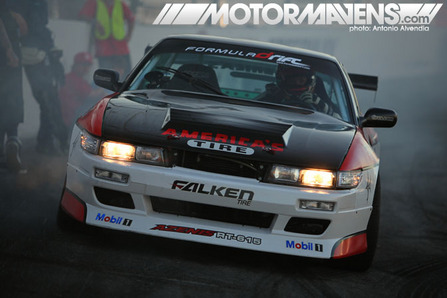 Here's Daijiro Yoshihara in the Discount Tire  S13 doing a Pre-Grid burnout before his run.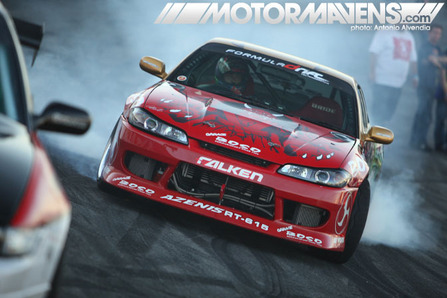 Here's another Pre-Grid Burnout by the man himself, Ross Petty in the Garage Boso S15 Silvia. I love watching the pre-grid burnouts… they look so cool! Especially since everyone is standing around so close to the cars!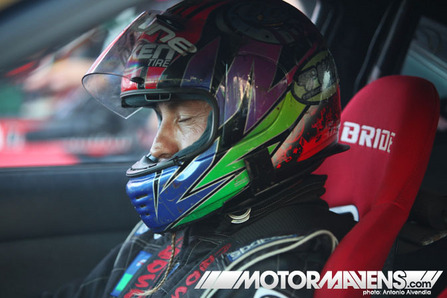 Here's a side of Ross that not many people see… here's a shot of him closing his eyes and concentrating while waiting for his run.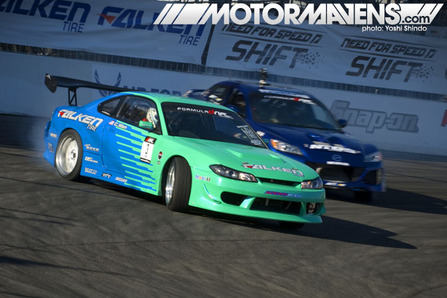 Here's Calvin Wan leading in his Falken S15, as Justin Pawlak followed him through the course. Both drivers gave us one great show!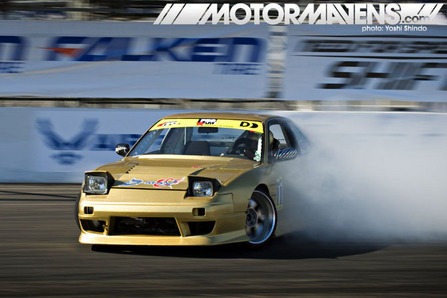 This Pro-Am driver, Tommy Roberts was getting crazy angle and making tons of smoke! Unfortunately he ended up crashing in eliminations. The good news is that he made it to Nationals! Hopefully he's able to fix his car by then.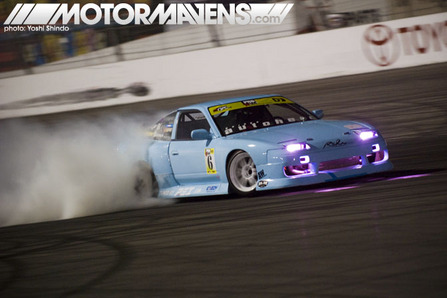 Gleb Antonov of Team Instant Party came all the way from Seattle to compete in this Pro Am competition. Even though Gleb and the boys left Seattle early, with PLENTY of time to make it to the track early and run all of the practice runs… for some reason Gleb tended to lag and took his sweet time in Portland, so he was late to practice and only had ONE practice run before Qualifying. Good job Gleb. He did make it to the Top 8 but was knocked out due to a spin.
Then he drove his car down to Hollywood and DRIFTED Sunset Blvd!!! And then he got pulled over. Obviously.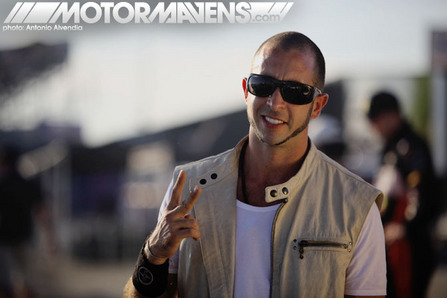 Even though Chris Rado is a drag racer, he made it out to the event and watched drifting all day… I wonder if he's planning to build a Scion drift car next? That would be crazy…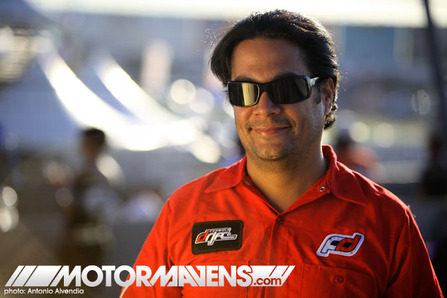 This is Carlos from CDCD, the premier drifting series in the Dominican Republic. We met him the night before Formula D when we joined Antonio, Calvin, and Casper Canul for dinner at this awesome KBBQ spot in Koreatown. We want to go to DR and watch drifting!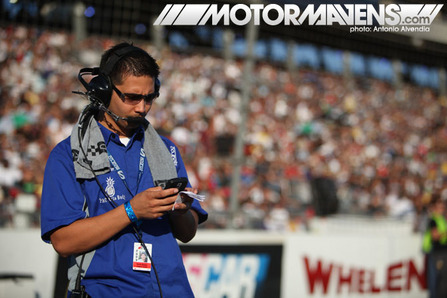 This is Nick Dizon from Vegas Drift, one of the hardest working guys in the scene! Nick is the guy who organizes all the drifting events in Vegas. He really does a lot to support the grassroots drifting scene and should be recognized for it!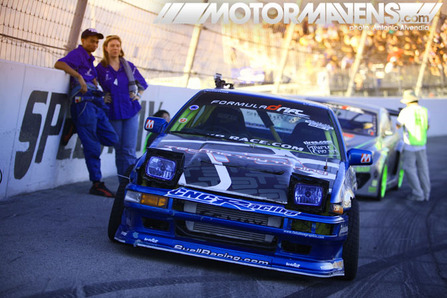 Here's Tommy Suell hanging out by his AE86 – Tommy was straight KILLING IT all day long! I don't think I've ever seen him drive with that much intensity and ferocity! He was hungry and it showed! We all have RESPECT for Tommy!!!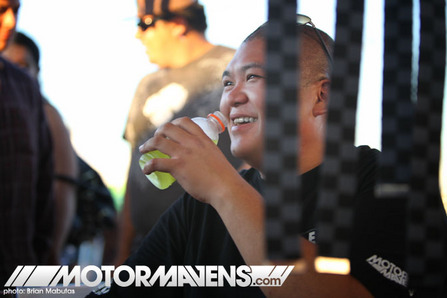 Here's our very own Motor Mavens sharpshooter Antonio Alvendia staying hydrated and hanging out with friends at the Eat Sleep Race booth. He's usually on the other side of the lens! (And maybe he should stay on that side, haha!)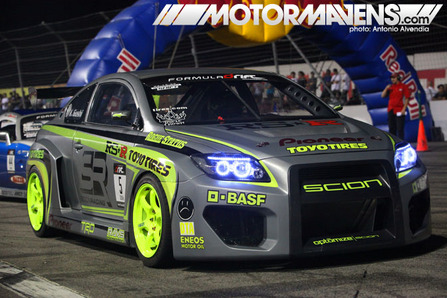 Here's Ken Gushi's RWD Scion TC rolling back to the pit area right after his run. Who knew that matte gray, florescent green and lots of LEDs could make a car look so good?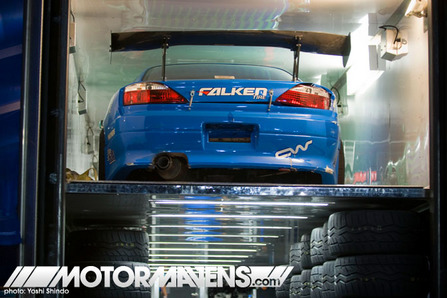 While getting ready to leave Irwindale after the event, Antonio and I stopped by the Falken Tire rig and I watched Calvin Wan's S15 as it was loaded back in the trailer. It looked so cool up there, and one thing I noticed is how many tires the Falken team still had AFTER the event! These teams come prepared with TONS of tires!
After 2 days of running around, I have to confess, I was completely exhausted! I couldn't have asked for more, though. This was, by far, the best Formula Drift I've ever attended. Both Pro and Pro Am drivers made everything interesting; they all gave a great show and were having a blast out on the track.
Events like this are great because not only do you get to see great drifting, but you also meet awesome people that have the same passion. For the few who have never made it out to a Formula D event at Irwindale, I highly recommend it! You will have the time of your life!
::Yoshi Shindo
350Z
,
Avon Bellamy
,
Calvin Wan
,
Chris Forsberg
,
Crawford Performance
,
Daijiro Yoshihara
,
Drift Emporium
,
drifting
,
Formula Drift
,
Garage Boso
,
Genesis
,
Gleb Antonov
,
Hyundai
,
Irwindale Speedway
,
Kenji Yamanaka
,
Matt Waldin
,
Michihiro Takatori
,
Mike Essa
,
Nuformz
,
Rhys Millen
,
RMR
,
Ron Bergenholtz
,
Ross Petty
,
Shaun Carlson
,
Stephan Verdier
,
Team Instant Party
,
Tommy Roberts
,
Tyler McQuarrie
,
Yoshi Shindo
---