Continuing our coverage with more photos from the ZipTied/Just Drift Summer All Star Bash this past weekend, I'd like to start off by giving props to Charlie, Mike, and everyone behind the All Star Bash! This was the biggest All Star Bash yet, and I'm sure it's just going to get bigger and bigger. There were more members of the media shooting photos and video at this event than any ASB event in the past! But media aside, this event also had more cars than any previous All Star Bash! I'm proud to see a small grassroots drifting organization like Just Drift come up on such a bad ass event, with tons of participation from drifters all over the nation! …and I'm sure the next event will be even bigger!
And now, on to the photos… THIS IS GRASSROOTS DRIFTING!
Above, we followed our homie Logan Yoshida's RPS13 up the 14 freeway on the Friday night before the ASB began. We thought it looked so dope as it cruised the pitch black freeway to Willow Springs, with nothing but headlights illuminating it, so I had to take a pic. It was dark as hell, so imagine my surprise when the extremely senstitive ISO on my Canon 5D Mark II actually was able to capture a crisp image! This was like at ISO 6400 I think, at 1/90 of a second if I recall correctly.
When we arrived at the Streets of Willow pits, it was so dark, the only light we could see was from Luke Loneberger's trailer. Parked in front of the enclosed race trailer was his LS-powered S14 240SX, which was trailered all the way out from Los Gatos in Northern California. If you look at the trailer and associated pit area equipment, it appears that some people that attended ASB this year had quite a bit of money to put into their racing efforts…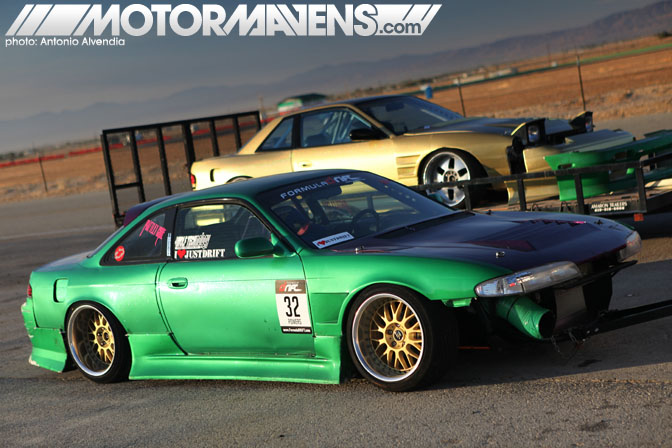 …and some people didn't have as much financial backing. (Although you might never guess that, judging from the stance and style of the cars.) Check out Luke's LS powered Blu808 S14 (in the previous photo) and compare it to Matt's SR powered green S14. Which do you think costs more money?
Here, we see the West Slide Connection S14 and S13, owned by Matt Powers and Tommy Roberts respectively. We see Tommy's Goldmember S13 Onevia here, sitting on a pretty nice open trailer, but Matt ended up pulling his green S14 all the way from San Diego just using a tow dolly attached to his truck! Hey, it's all good. Whatever gets you to the track and back!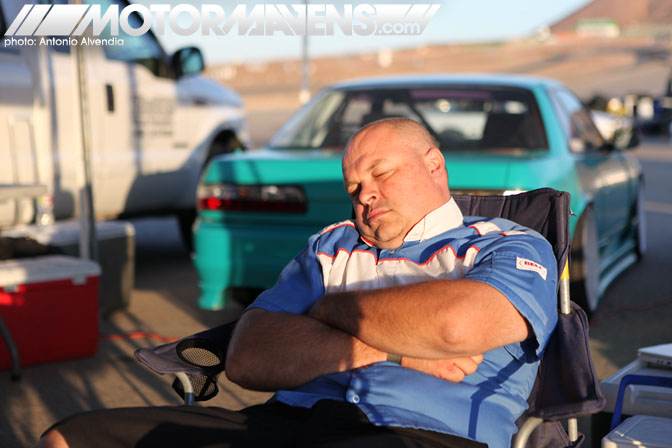 Many of us camped out at the trackside over the weekend, sleeping in our cars, trailers, tents, or… just folding chairs. Good thing I rolled up to the track with my friends Allen and Charlie, who had a very comfortable Nissan Murano! Thanks to Allen and Charlie for picking me up!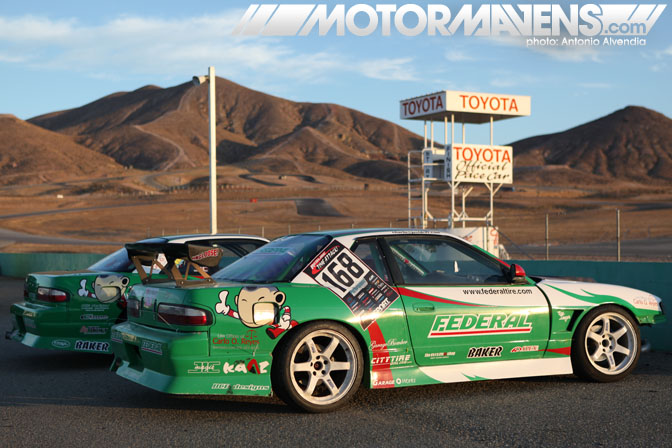 As the sun came up, casting golden light on Streets of Willow and the Federal Tire S13 twins owned by Charlie Ongsingco and Mike Bolanos from Just Drift… I noticed it was already getting hot at 6:45am. Sheesh, this event was gonna be a scorcher.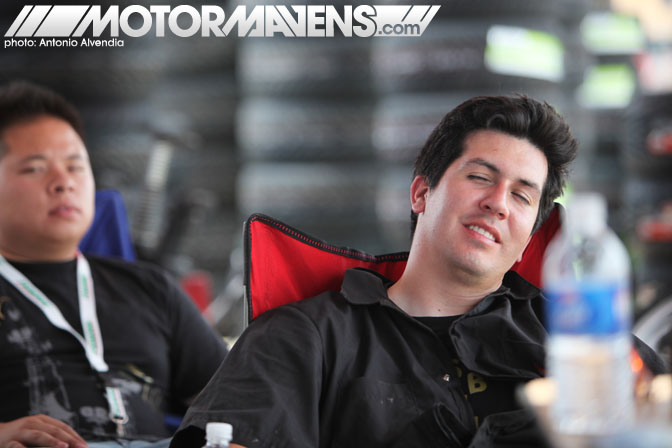 Due to the heat and lack of sleep, many people had to take breaks during the ASB event to drink cold water and seek shelter from the sun. The sleeping beauties you see here are Aaron Suarez, aka Dousan from drift team Pink Godzira and Charlie aka Chaz Tsai from Kallusive.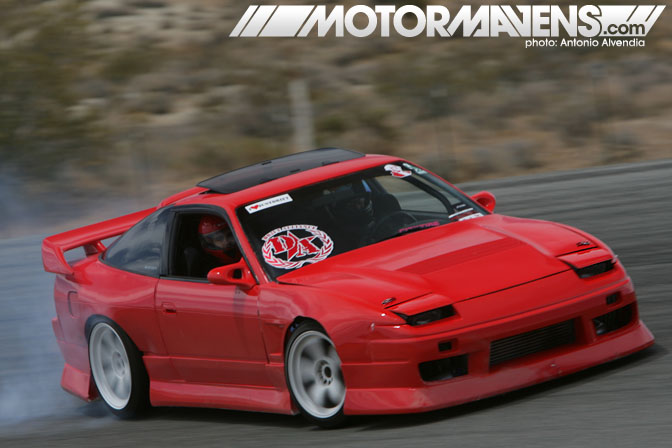 Dousan might have been sleepy in the pits, but you can rest assured that when he hit the track, it was game on! Here's his gorgeous red RPS13 at speed, approaching the punchbowl at the back of the Streets of Willow. This was a section that was so difficult for everyone at the event, so I give props to Aaron for trying to attack it! Most drivers didn't have enough power to rock it… The only drivers I saw with enough power (or skill) to hit that rear bank with big smoke and speed were Mike Essa, JTP, and Forrest Wang.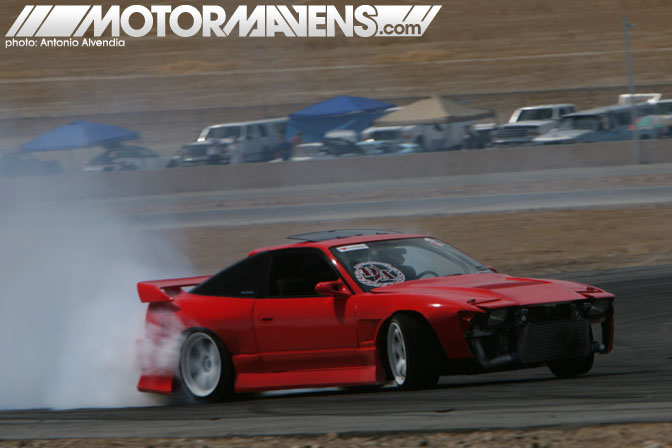 Here's Aaron again, smoking it up as he accelerates hard out of one of the infield corners at Streets of Willow! Sick smoke!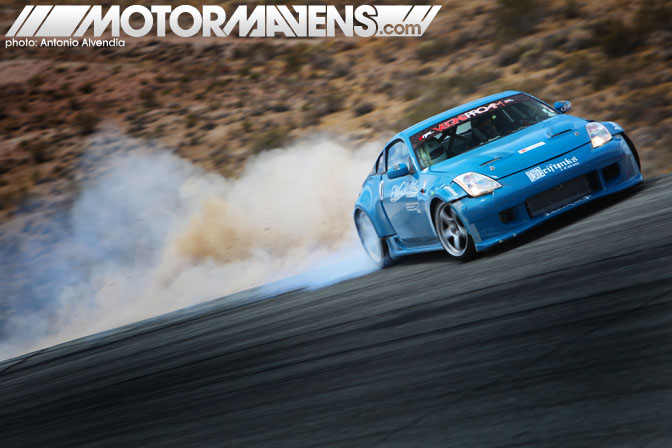 Remember the white E30 we shot at the Megan Racing drifting competition? Well, here's the same driver – Andy Hateley. However, this time he's attacking the rear bank at Streets! As I saw him initiate hard into the turn, I thought to myself, there's no way he's going to have enough power to rock it… but then I saw his car sliding up the bank, dropping the left rear tire off for some nice dirt drop action! Sick! Andy's just gangster like that. (And he's still rocking old school Schikane shirts, no matter what. I think those Schikane guys better hook him up with some new gear!)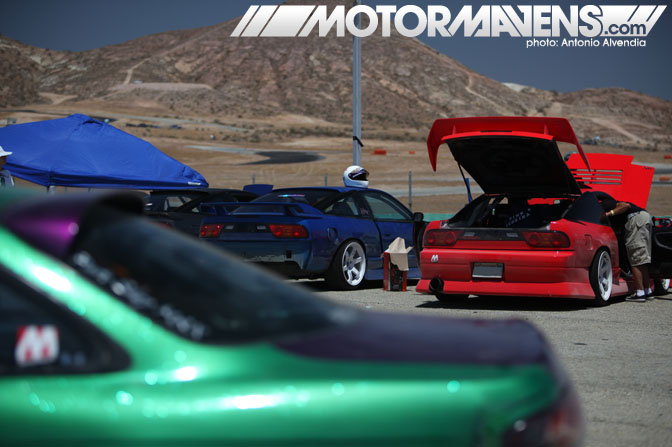 Back in the pit area at noon, the sun was beating down pretty hard on everyone, but that didn't stop people from admiring the incredible S13/S14 festival that was the ASB pits… Just look. If you didn't know any better, you would think that you could cut these cars out and paste them into an image of Ebisu or Tsukuba or Honjo Circuit in Japan. But these are Cali cars, and this is what the cool kids from Southern Cali are rocking.
Forget about your gutted, Nascar-logoed, fiberglass bodied V8 drift car, that sh!t is horrible. This is what's up. Jack's Blue Dolphin RPS13 and Dousan Aaron's red Pink Godzira RPS13 are dope as hell, rocking bright white deep offset Volk TE37 wheels. Not to mention Matt Powers' green/purple S14 in the foreground. These guys rock the sickest stance and sickest wheels. (And sickest stickers! Mmmmmmm.) Jack's car would probably have had dope stickers too, but he was too busy walking around the pits with his shirt off.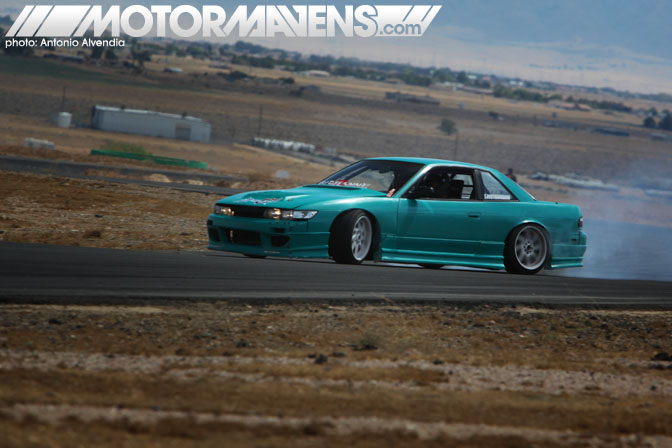 Teddy Phutanhdanh from Team Mulsanne is the coolest French kid I know, who makes crepes, shoots video, and wears skinny jeans that match his car. And he also rocks the hell out of his Aqua Fresh S13 Silvia, with a fearless, aggressive driving style that makes other drivers give props and courseworkers say "look out!!!" Teddy is definitely one to look out for. He is already an outstanding driver… just think about how far he's going to advance by ASB next year. This is a future Formula D contender.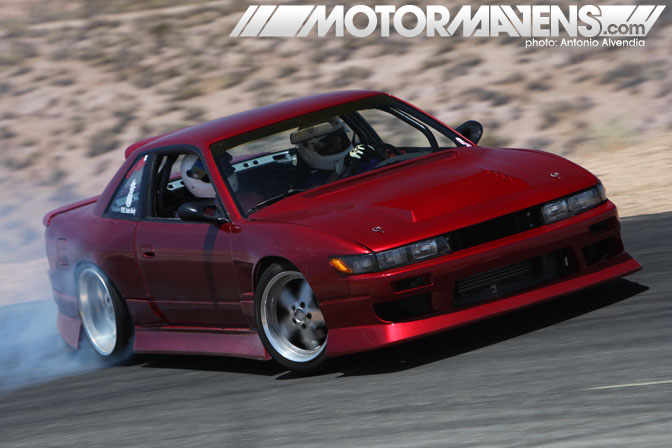 We'll pause this ASB installment with a photo of Flybert's S13. Damn, this car looks DOPE!!! Dig the color and the aero and the hood and the mirrors and the wings and the Work Equip wheels! And the driving!!! (To all the owners of ugly S13s, you guys might want to take notes… because THIS is how you do it.)
Okay that's it for now, I'm late to pick up the Risky Devil homies, who are trapped at Jack's house! I know they're all checking their iPhones (and Treo 755p) for photos of them driving, but they'll have to wait until the next update! Haha suckas!!! I run on Filipino time, but I'm sure they know all about it though.
Check back soon for more photos!
::Antonio Alvendia
350Z
,
All Star Bash
,
All Star Bash Weekend
,
Andy Hateley
,
Antonio Alvendia
,
Dousan
,
drift
,
drifting
,
Federal Tire
,
Federal Tires
,
Flybert
,
Just Drift
,
Logan Yoshida
,
Luke Loneberger
,
Matt Powers
,
Mulsanne
,
Pink Godzira
,
Risky Devil
,
Rogansan
,
RPS13
,
S13
,
S14
,
Streets of Willow
,
TE37
,
Tommy Roberts
,
Volk
,
Willow Springs
---