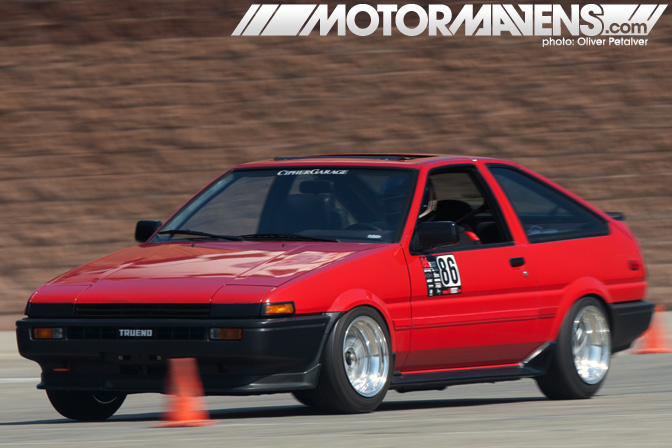 On October 7th, over 2500 Scion FR-S, Subaru BRZ, and Toyota AE86 enthusiasts from all over the Western United States converged at Auto Club Speedway in Fontana CA for the very first 86FEST, and the energy was just incredible! The newly introduced Toyota/Subaru "86" platform (sold as Scion FR-S and Subaru BRZ in the USA) has received international acclaim as the second coming of the legendary AE86, which has a huge cult following worldwide.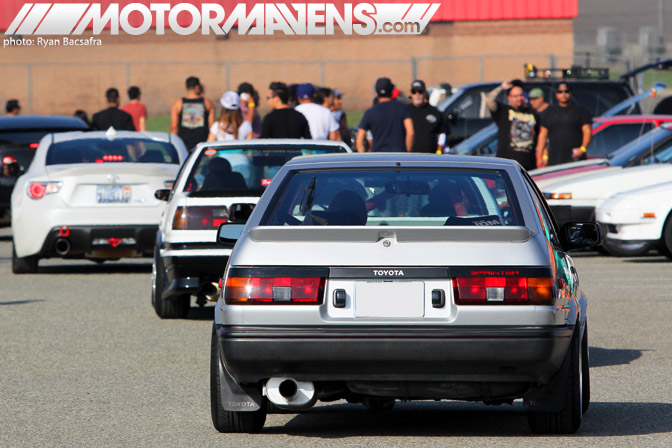 With help from sponsors like Falken Tire, OEM Audio Plus, Turn 14 Distribution, Whiteline Suspension, Motul, Spec Clutch, Mann Engineering, Flossy Shift Knobs, and M7 Japan, it's pretty crazy how quickly our inaugural 86FEST came together! Just a few weeks ago, I was driving at a Volkswagen event at Big Willow, and got to talking with the Speed Ventures organizers about how cool it would be if we could get a bunch of FR-S, BRZ, and AE86 owners together at a track day. They both expressed a lot of interest in the idea – especially since we have been thinking about ways to work together for nearly two years!
As an AE86 owner/collector/restorer for 15 years, I knew I had a lot of friends in the rear wheel drive Toyota community who would be into an event like this, where all the Corolla guys (and related cars, like Supra, Celica, Cressida, Starlet, and sporty Lexus models) could get together and hang out with the newly forming Scion FR-S community. A bunch of my AE86 friends have already expressed a lot of interest in both the FR-S and the BRZ, so getting everyone together for a track event sounded like a great way to get people even more interested in the new platform.
At the same time, I knew that my friend Kevin Tidwell has ties in the Subaru community as the founder of big websites like IWSTI, Socal Subies, RS25, and a lot more that I can't remember. He is also an integral member of the core MotorMavens team. A couple of coffee shop meetings later, we settled on it. MotorMavens and Speed Ventures were going to do an event together! But we didn't even have a name for the event at the time!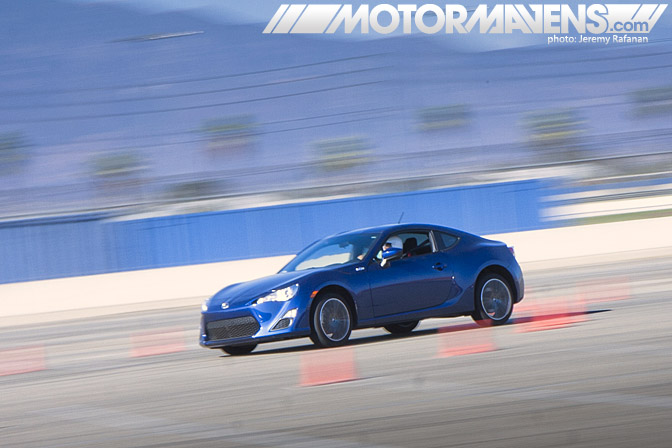 Everyone who already follows MotorMavens through various forms of social media knows that we've been talking about 86FEST nonstop for the past 3 weeks. In fact, Kevin and I have been working on nothing but this event since our first coffee shop meetings with the Speed Ventures guys!
We knew that people are interested in the new Toyota 86/Scion FR-S/Subaru BRZ platform because of the car's merits as being lightweight, nimble, high revving, sporty, and FUN. These are some of the same qualities that first attracted people to the AE86 Corolla GT-S (released as Sprinter Trueno and Corolla Levin in overseas markets).
Since nimble handling, responsive steering and a sporty feel are what ties these cars together, we thought the best way we could honor the rich heritage of the original AE86 and celebrate the new 86 platform is by letting them play nicely together on a road course and autocross track!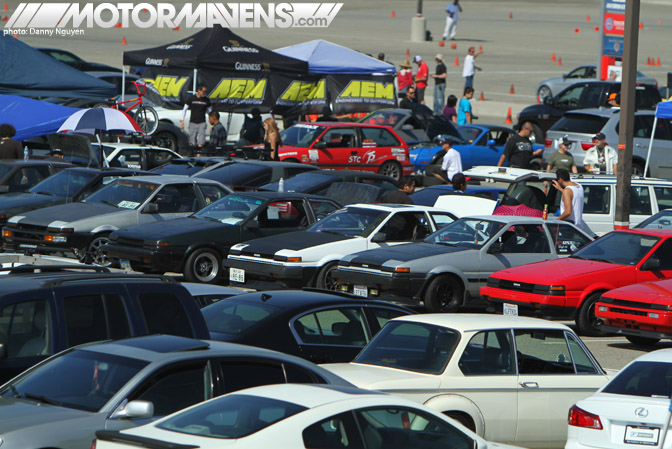 While the 86FEST paddock area was filled mostly with FR-S, BRZ and AE86 drivers, other car makes were welcome at the event as well. As you can see from the paddock parking, there were several Lexus owners in attendance, as well as a few owners of BMWs, Mazdas and Hondas.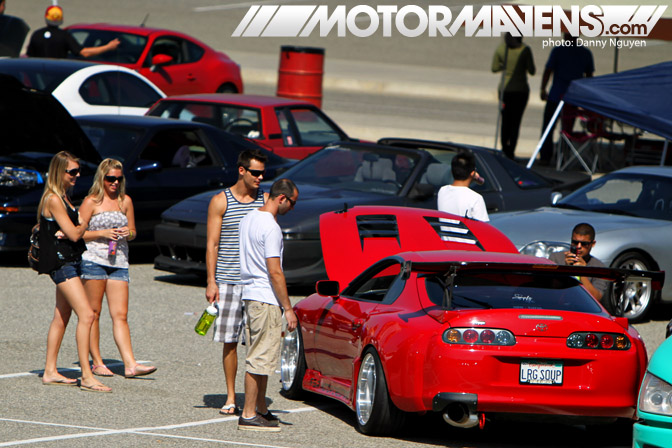 There was also a strong showing of Celicas and Supras. Some of the Supra guys expressed interest in the new FR-S as a fun street car so they could get crazier with their Supras. Brendan Taft's gorgeous red widebody JZA80 Supra is always a crowd pleaser!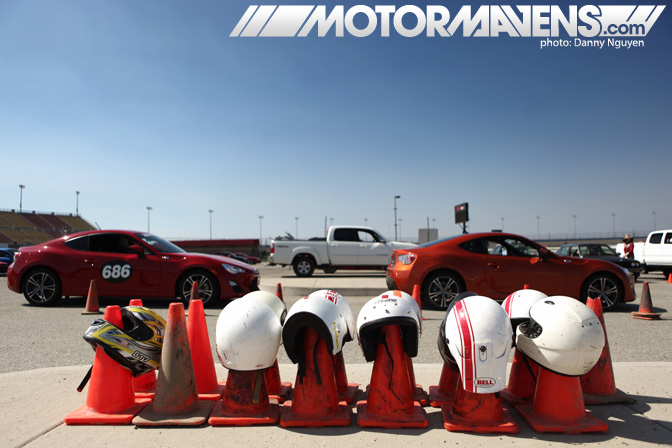 On the other side of the parking lot, FR-S and BRZ guys lined up with AE86s on the starting grid, waiting their turn to run the course. There were quite a few spare loaner helmets sitting on cones for people that forgot their helmets or brought passengers on ride alongs.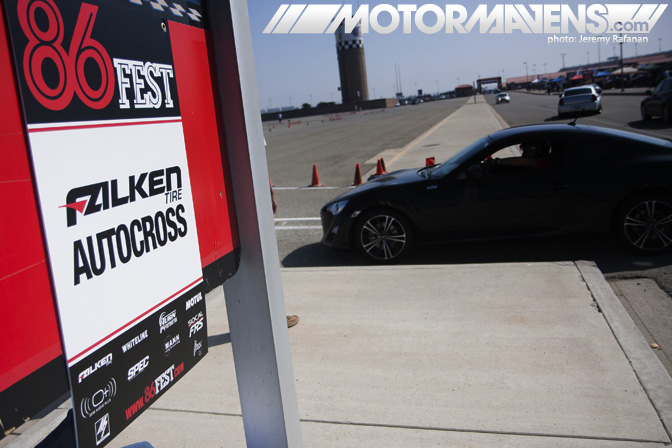 Across the street from the 86FEST Paddock area was the Falken Tire Autocross, which had a mixture of technical turns, slalom and acceleration areas. The course was especially fun for rear wheel drive vehicles because the pavement was a bit slippery, so it was perfect for 86FEST drivers.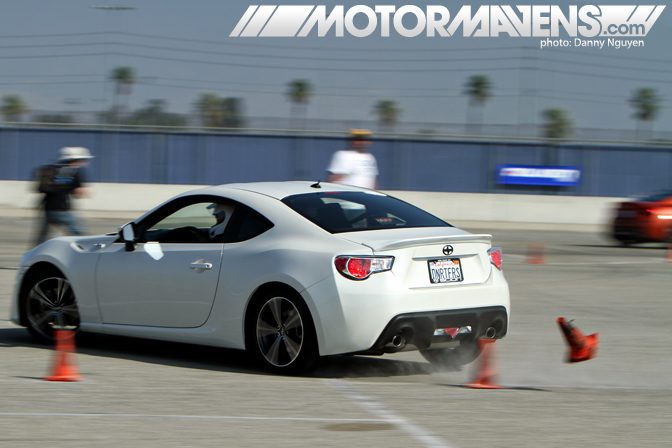 Although 86FEST was clearly not a drifting event, it's always fun to get a little bit of counter steer going… even at an autocross! This was a frowned upon by course workers though… the course was too big to have people chasing down cones all the time. Setting up cones takes a long time, and we wanted our drivers to get as much track time as possible!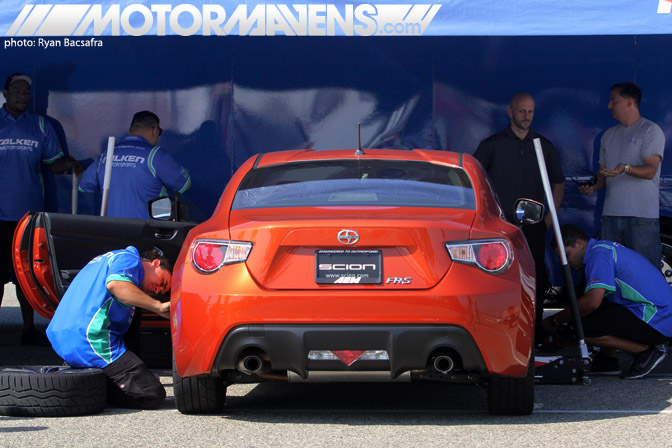 Back in the 86FEST Paddock area, Falken Tire definitely had a huge presence. Aside from bringing their huge motorsports rig and their newest umbrella girl, they also brought their team of mechanics to swap wheels for FR-S and BRZ drivers participating in the Falken Tire Autocross.
Once participants had driven the course on their own equipment (whether it was on the stock Michelin tires or aftermarket performance tires), Falken gave them a unique opportunity. Participating drivers were allowed to pull in to the Falken trailer and have their wheels & tires swapped out in favor of wheels with Falken Azenis RT-615K tires mounted on them. Participating drivers were then allowed to run the autocross again on Falken tires, so they could actually FEEL the difference on the high performance Azenis RT-615K.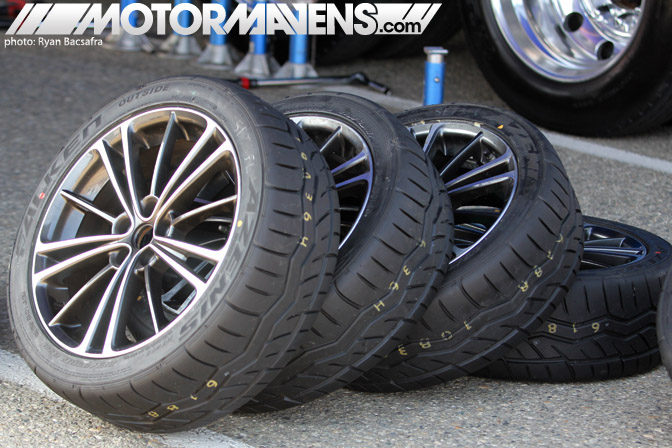 Obviously the wide tread blocks and the stickier tire compound of the RT-615K would be an improvement over the stock Michelin tires that come on the FR-S and BRZ from the factory, but even some drivers with other brands of high end, high performance tires reported an improvement on steering response and cornering with the RT615K, even though they had a higher treadwear rating than some of the competitive tires that some of the participants drove in with.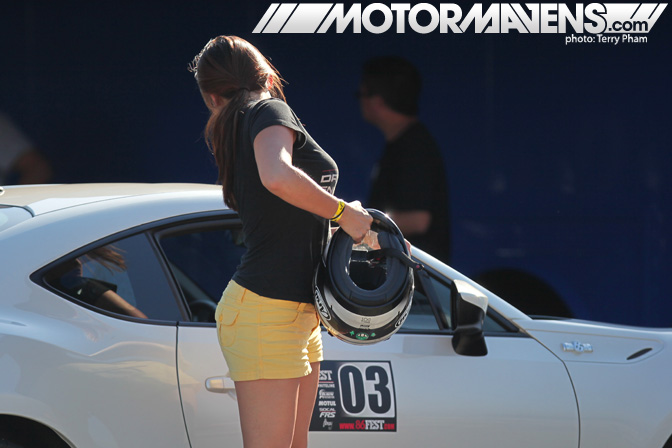 While most of the Falken Tire Autocross participants were solo drivers going for the best lap times, there were a couple participants who opted to bring passengers along on fun runs.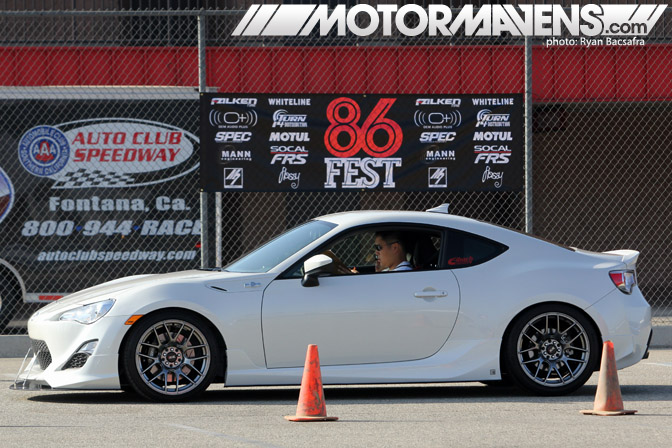 There were TONS of cars rolling in to the event right at the official 10AM start time. In fact, this created a bit of a stressful environment for the Auto Club Speedway's gate attendees and security staff, because it created quite a bit of traffic going in to the speedway. After about two hours, the traffic congestion died down a bit, but there was still a steady stream of cars entering the venue.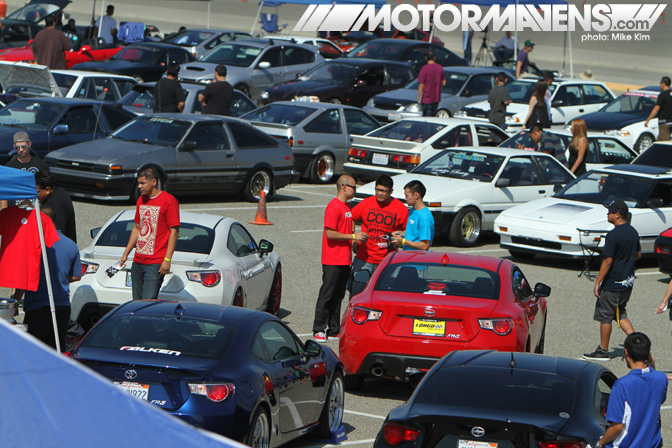 As event organizers, we had clear laid out plans of where people should park their cars in the 86Fest Paddock. The plan was to have all the FR-S and BRZ owners park together, and have all the AE86 and old school RWD Toyota guys park together for some incredible photo opportunities! However, things don't always go according to plan.
There were a lot more cars entering the venue than we bargained for. Many of the attendees didn't pre-register online, so we had a lot more cars than we expected entering the facility at the same time. Even though we had a clear, pre-planned route for car owners to drive into the parking lot together, race track officials made it clear that the priority was to get all the cars parked ASAP so that none of the fire lanes would be blocked. This was pretty stressful at the beginning of the day, but once everyone got settled in, it was great to have so many people at our event! (We'll have to improve this aspect of the event for the next 86FEST.)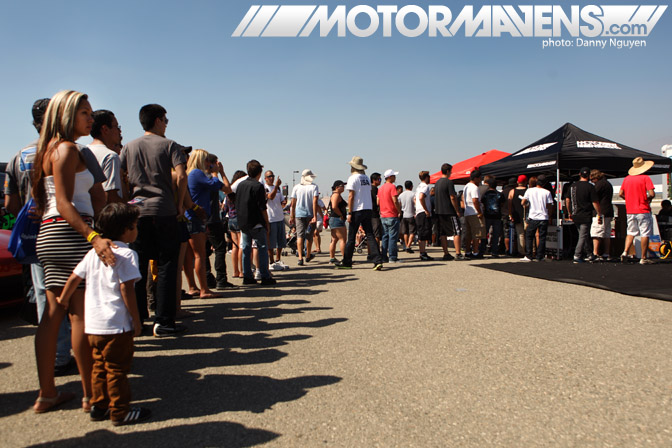 Almost immediately upon the event starting, we had a huge line forming around the MotorMavens booth for Official 86FEST t-shirts and raffle tickets.
With so many people crowded around the MotorMavens booth all day, Falken Tire decided to do some giveaways and contests in front of the 86FEST backdrop! Our good friend Tree Feierday helped out with some of the MC duties throughout the day, and everyone had a good time as Falken laced them up with cool stuff!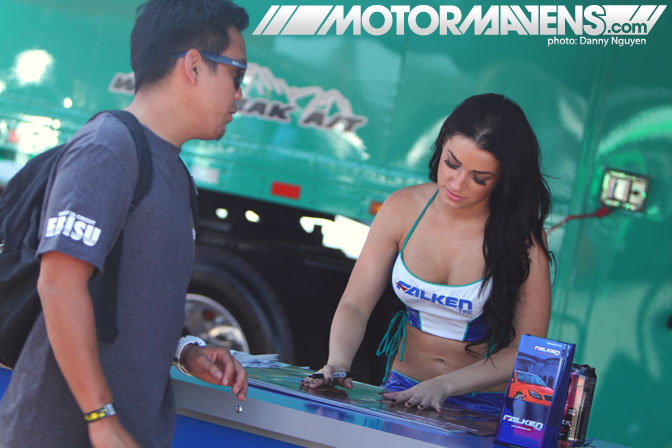 While many parts manufacturers used 86FEST to debut their newest products for FR-S, BRZ, and AE86, Falken Tires used our event to debut their newest addition to the Falken umbrella girl team. She was signing posters for some of the event attendees, like this guy!
The guy in the photo above is Robby Caballes from R-Spec, a new shop that recently opened up in Van Nuys. Robby is the man responsible for getting my red Cipher Garage AE86 to 86FEST. Without him, I wouldn't have been able to bring the car at all. Since I was so busy coordinating things with Kevin for the event, I hardly had any time to work on my car. Robby took care of my AE86 at his shop for an entire week, tuning it up and checking everything so it ran great. He even mounted up my newly refinished SSR Mark III wheels for me on Friday night because I didn't even have time to do that, and that's my favorite thing to do. Producing an event is really time consuming!!!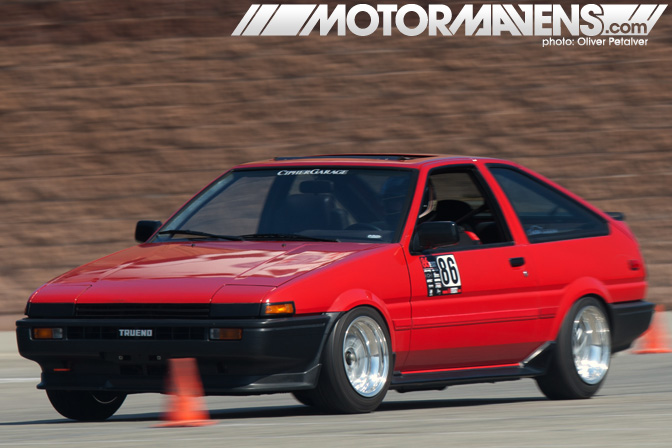 Thanks to my boys at R-Spec in Van Nuys, I was able to bring my car out to an event and actually take time to drive it and just have fun! 86FEST was actually the very first time I brought the Cipher Garage zenki AE86 out to an event in SIX YEARS. (Long story about cops, referee tickets, missing court dates, and fun stuff like that) Being able to drive my AE86 at 86FEST really meant a lot to me, so I can't thank R-Spec enough. The car runs GREAT, although the driver needs a bit more work.
Right before the event, I decided to contact Mitch from EcoShine Auto for paint restoration on my car's 27 year old paint. Since it had been just sitting, gathering dust for years, the wax coat had faded away, and so did the original red paint's gloss and luster. Mitch worked hard to restore the paint before the event, so it looked nice and shiny in the afternoon sun!
I also had my wheels completely refinished by Anthony and Danny at Infinit Wheels in Alhambra CA. Almost everyone in the scene already knows that Infinit specializes in importing and refinishing rare Japanese wheels, so I had to take my vintage SSR MkIII wheels to them for refinishing. They polished up the inner and outer lips on my SSRs, and repainted the faces so they look just like new! Thanks to all of these trusted friends for their help in getting my car ready for 86FEST!
I was very happy to be able to drive my car for a total of three runs at our event. Of course I would have preferred to drive more than that, but I had other responsibilities at the event, like emceeing the raffle and giveaways!
Thanks to Terry Pham for capturing this creeper photo of me through the crowd, rocking my fresh new Caps sunglasses from 9Five Eyewear! Lots of people were asking me about my sunglasses at 86Fest, cause it's hard for people with wide faces (me) to find fashionable looking sunglasses and eyeglasses that look good on a wider face!
It's not like you can even exercise your face, ya know! If you have fat around your stomach, you can do sit ups. What the hell ya gonna do if your face is wide (like mine) and you're trying to get fresh glasses? Face crunches? I think not. Luckily for me, the good folks at 9Five Eyewear make fresh sunglasses that fit me. Man, I love that brand. I think I'm gonna pick up another pair of frames so I can put prescription eyeglass lenses in em. Check out their site!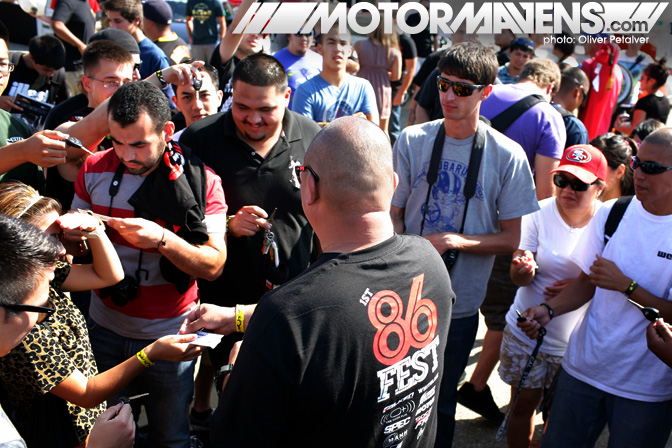 Thanks to support from our friends at Formula Drift, I was able to give away over 300 tickets to Formula Drift's Friday Qualifying to 86FEST eventgoers! As soon as we announced the Formula D ticket giveaway on the microphone, I got bum rushed by the crowd in front of the MotorMavens booth!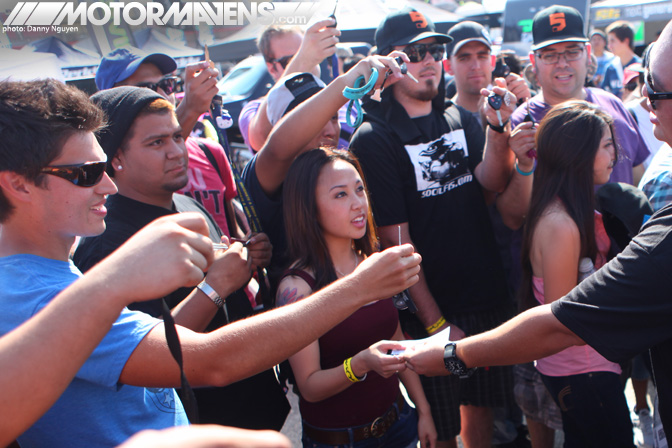 Since we wanted to show our appreciation to AE86, FR-S, and BRZ owners who brought their cars to the event, we gave ticket priority to people who could show me their car keys! Our booth was literally mobbed by people with their keys out! Haha, it was awesome!
Some people even tried to trick me by showing me keys to their 1990s Toyota Camrys and Tacomas, but cmon son! I know how to spot FRS/BRZ keys, and I definitely know what 1980s Toyota keys look like! I've owned more than 40 of these cars in my life! I was pleasantly surprised to find quite a few female FRS/BRZ owners in the crowd! Well, there were also a couple girls who didn't have the correct keys, but I gave them tickets anyway, because nobody's upset when there are more girls strolling around at a Formula Drift event, right?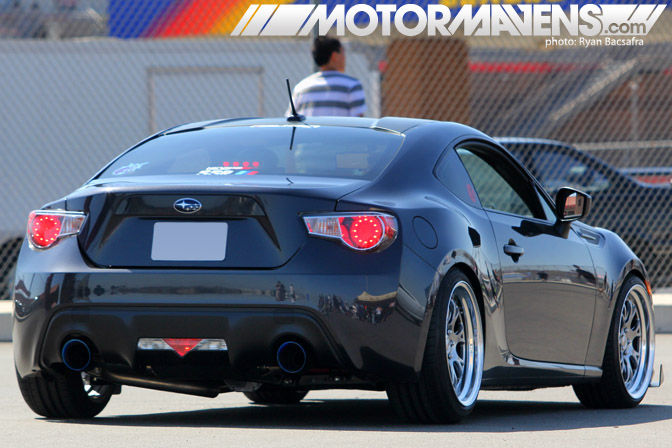 Sitting on SSR Wheels, this Subaru BRZ looked damn goooooood rolling through the paddock area! This is one well put-together car.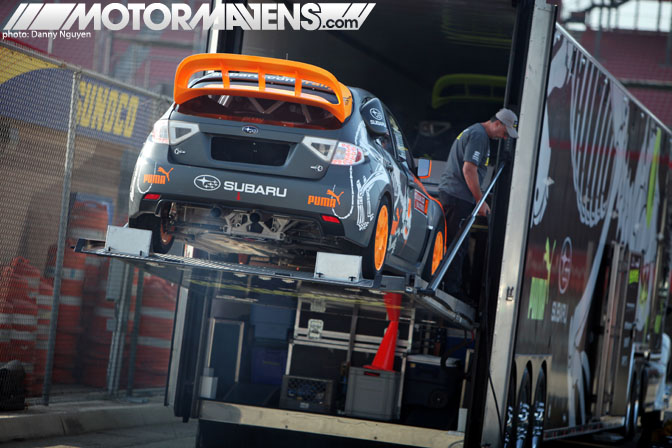 Speaking of Subaru, we were extremely happy to have the good folks from Subaru Motorsports in attendance at 86FEST! They brought their Subaru Motorsports/Puma Impreza WRX STi to the event in their humongous race trailer, and donated several boxes of limited edition Puma/Subaru shoes for us to raffle off to lucky 86FEST attendees! Everyone standing within 200 feet can tell you about the monstrous sound that this race car makes!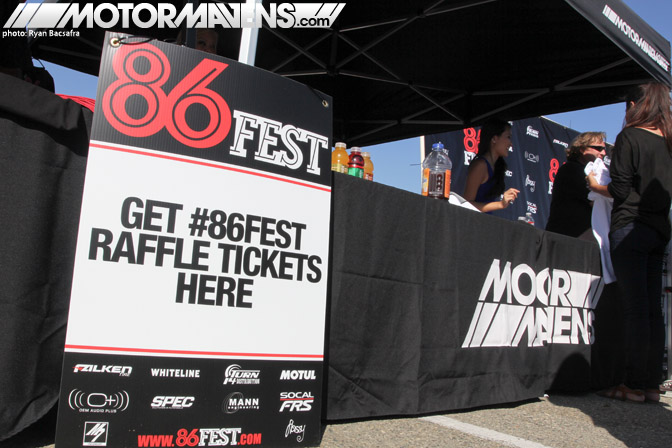 The 86FEST Raffle was definitely a ton of fun! It took something like THREE HOURS for us to give away all sorts of prizes to the lucky attendees of 86FEST!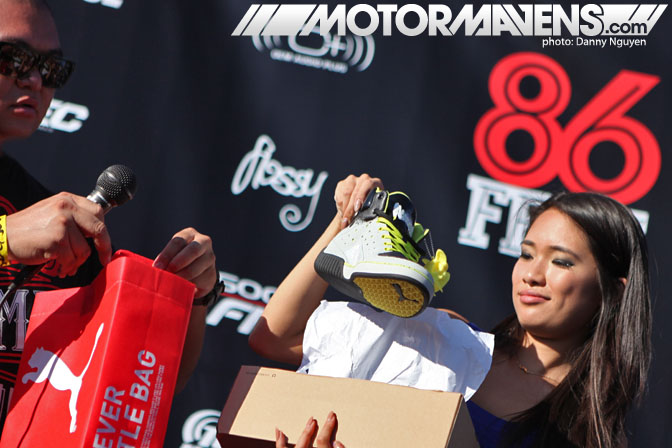 Check out these Subaru edition Puma shoes that we were giving out! Everyone from the MotorMavens crew wanted to keep some of these sneakers for ourselves, but we gave every single pair away in the 86FEST Raffle!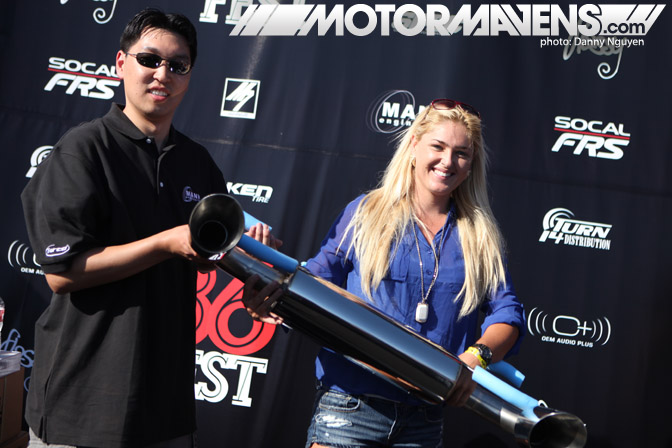 One of the most lusted-after parts in the 86FEST Raffle had to be the brand new Milltek Sport exhaust graciously donated by Mann Engineering from Santa Clara CA! If you haven't already done research on the Milltek Sport exhaust, it makes big power! Click this link for more details.
The lucky winner was Wynn here, pictured with Gary from Mann Engineering. This lucky lady won a $1500 exhaust at the 86FEST parts raffle!!!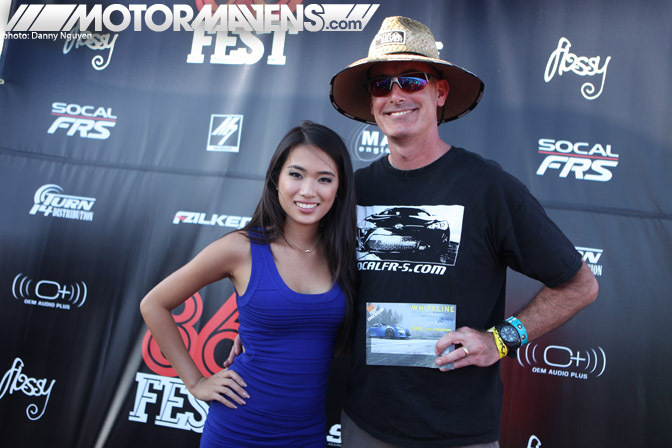 Thanks to Turn14 Distribution and Whiteline Suspension, fast autocross times were rewarded in the Whiteline Driver Search. Autocross winners received a Whiteline gift certificate for suspension parts, and a product sponsorship deal where they could order any additional Whiteline parts they needed for 50% off!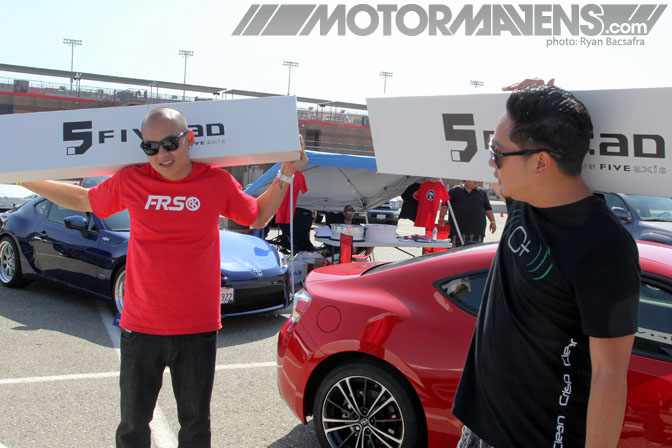 Although they weren't able to have a physical presence with a booth at the event, Troy Sumitomo from FIVE:AD generously donated two FIVE:AD wings for us to raffle to 86FEST event goers! Everyone wanted to win this particular raffle prize!
In fact, two FRS/BRZ owners wanted to win the wing so bad, they just walked over to Herb at the Cabe Toyota booth and bought FIVE:AD wings directly from Cabe Toyota, who had the wings for sale at the event! From what we hear, they still have one more in stock right now.
Call Herb in the Cabe Parts Department at 562-595-7411 if you want it!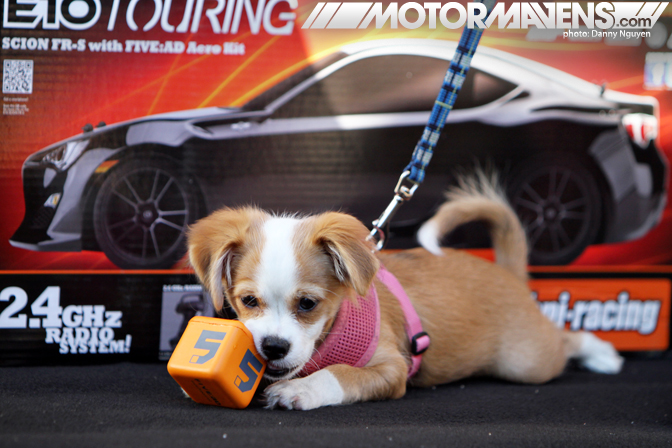 Even if they didn't drive an FR-S or BRZ to 86FEST, FIVE:AD made an impression on everyone! Some attendees, like this puppy here, had fun playing with the FIVE:AD stress cubes that Troy donated to the event also. These things ended up sitting on a lot of dashboards as cars drove home from the show.
Thanks to generous support from Andrew at HPI Racing, we also were able to raffle off two HPI Racing Scion FR-S radio controlled cars with FIVE:AD aero kits on them! If you own a FIVE:AD equipped car, you can have a legit RC miniature of your car!!! So cool.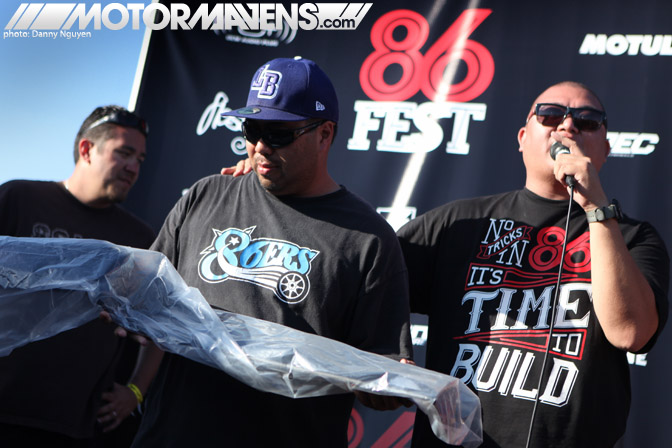 AE86 owners were all drooling when Herb from Cabe Toyota (left) pulled this raffle prize out! Thanks to the generosity of Mike Bingham and Herb from Cabe Toyota, we were able to raffle off this NEW DASH for an AE86!!! Almost every AE86 owner in North America has problems with their dash splitting or cracking. These cars are close to THIRTY years old!
Since most of the raffle items were for FR-S and BRZ owners, it was really awesome for Cabe to show love to the old school 86ers that have been loyal to the Toyota brand for years. This is exactly why I always tell people to buy their parts from Herb at Cabe. They actually CARE about our Toyota owners community and support us. Much respect, Cabe. And thanks for coming out, Herb.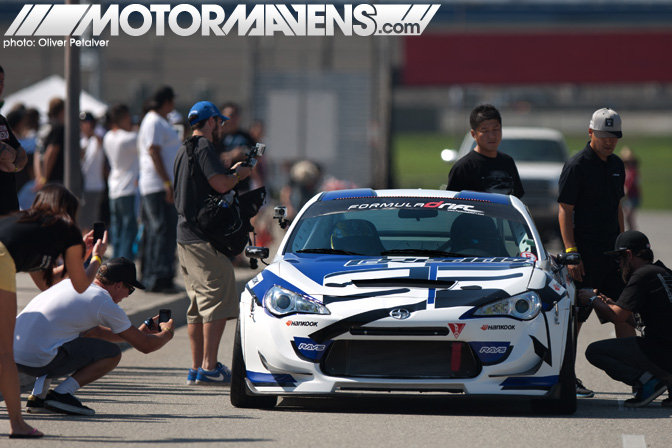 Undoubtedly, one of the cars that received the most attention at the event was the GReddy/Scion Racing FR-S, with Ken Gushi behind the wheel. Everyone was crowded around Gushi's Formula D competition car all day long! As the GReddy team prepared for its first run, the guys from DSPORT Magazine were attaching POV cameras to the car, for filming in their upcoming DVD.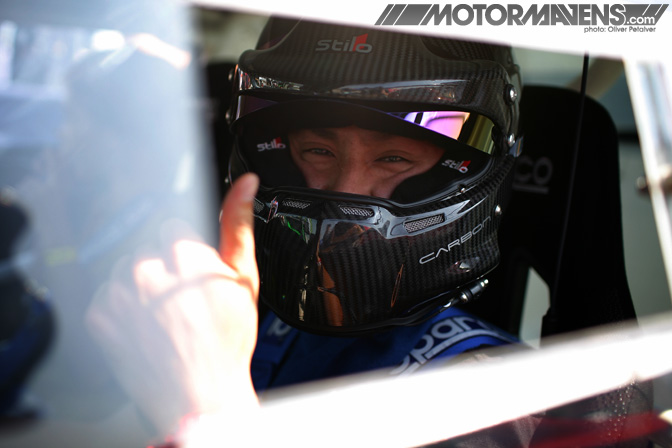 Rocking his new Stilo carbon fiber helmet, Kenshiro Gushi was all smiles as he graciously performed drift demos for the crowd, giving a few lucky 86FEST attendees a ride along in his Formula D competition car!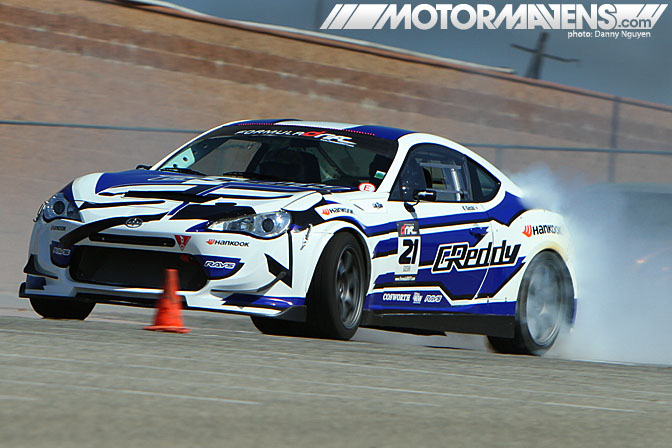 Behind the wheel of his GReddy Racing Scion FR-S, Ken makes drifting look soooo easy. Of course his Formula D car is turbocharged with a ton of power, but Ken can do the same thing with his near stock FR-S street car!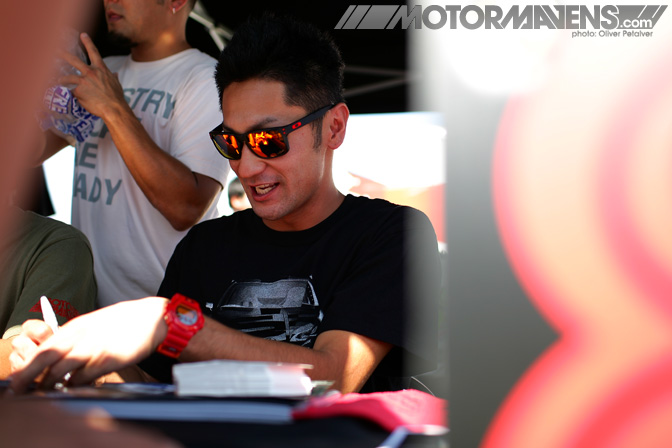 In between drift demos, Ken graciously chilled out at the 86FEST booth, signing autographs for fans during the driver meet & greet.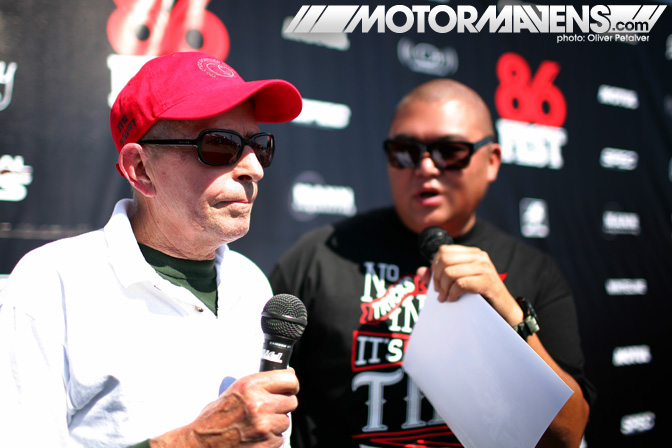 86FEST isn't only excited about brand new cars. We also cherish motorsports history, so we took time to honor a special guest. Thanks to Tom Stahler and the Riverside International Automotive Museum, a legendary Toyota 2000GT driver made a special appearance at our event – Davey Jordan!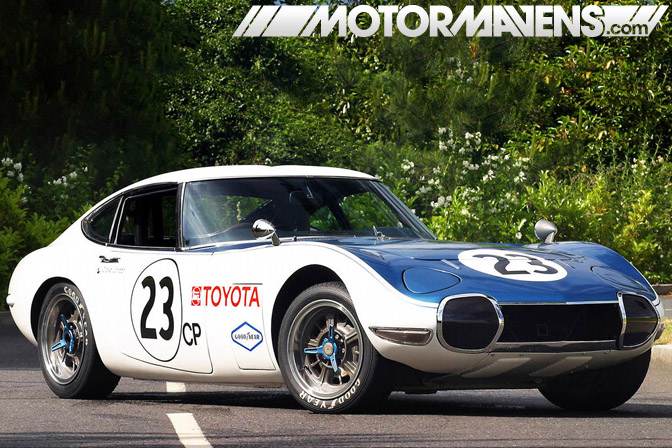 This is the amazing MF10 Toyota 2000GT that Davey Jordan drove in the 1968 SCCA Championships. This car, number 23, is actually serial #MF10-100001.
This Number 23 car is the very first production car version of the Toyota 2000GT, and one of the original three cars that Toyota delivered to Carroll Shelby at Shelby American Racing for race preparation. (Hey, I seem to recall another person with the same last name that also uses the number 23 on his jersey) What an honor to have an esteemed driver like Davey Jordan at our very first 86FEST!!!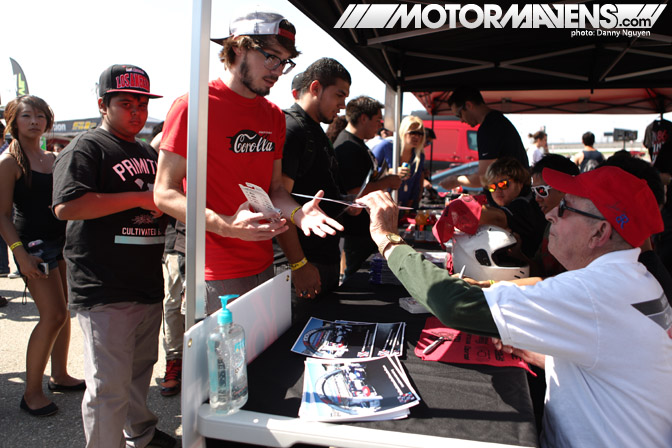 Young 86FEST attendees had an opportunity to meet and speak with Davey at the driver autograph signing that took place at the 86FEST booth. I was so busy at the event, that I forgot to ask Mr Jordan for an autographed photo of his 2000GT!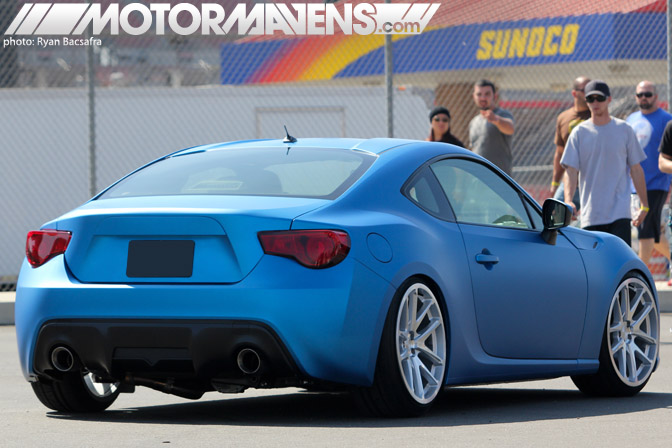 Another car that garnered a lot of attention in the 86FEST Paddock was this matte blue scene stealer! This car belongs to Jason Whipple of Rotiform Wheels. This car is actually a SEMA show car that made an early debut at 86FEST! When I told Jason that his wheels reminded me of the Lexus LF-A, he shook his head and said, "Dude. These wheels are the Rotiform SNA! I own a wheel company; I can't be rolling around with stock wheels!" Sorry about that, Jason. My mistake! Haha!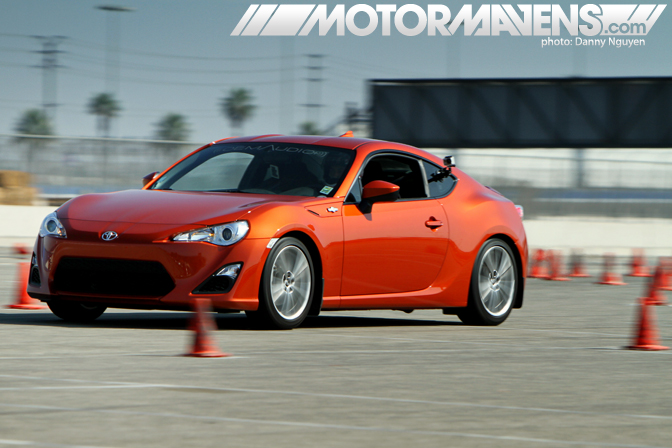 Even though it spent much of the day as an OEM Audio Plus sound demonstration vehicle, Meng Tea from FRS86 was attacking the autocross all day long!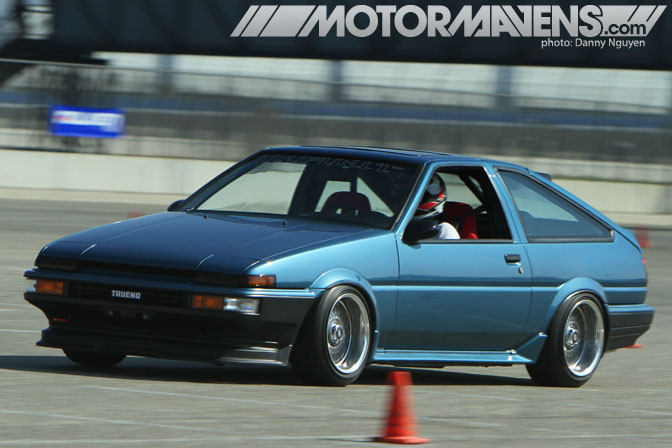 Old Man Tony Le from the Infinit Wheels crew has one of the cleanest AE86s around, but it didn't stop him from getting out on the track to have fun with the car he built! Seeing this blue AE86 hard parked is awesome, but seeing it out on the course is even better! I LOVE THIS CAR.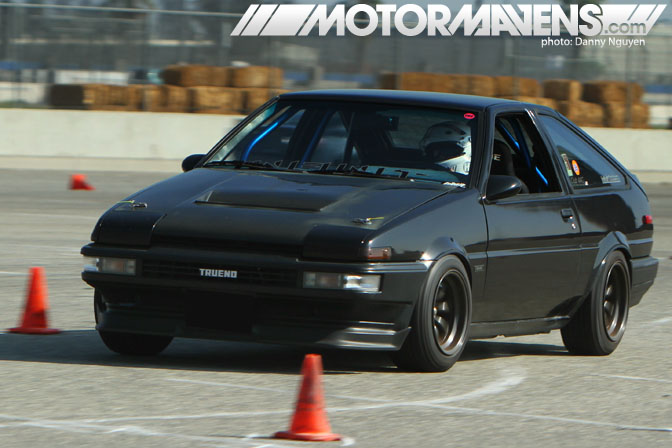 Also from the Infinit Wheels crew, this mean black kouki AE86 is actually Shannon Kobashigawa's STREET CAR. Sooo legit with the 14 inch RS Watanabe Type R wheels and the aero mirrors and the Cusco roll cage! This is one hell of a street car!
Legendary AE86er Toshiki Yoshioka is the only driver that has won First Place at a D1 Grand Prix event AND a Formula Drift event! He's also one of my drinking buddies! He wanted to drive at 86FEST, so I had to hand him the keys to the CipherGarage zenki AE86 so he could take it out for a spin!
Dang, I need to lower the rear of my car some more. It looks WAY too high back there.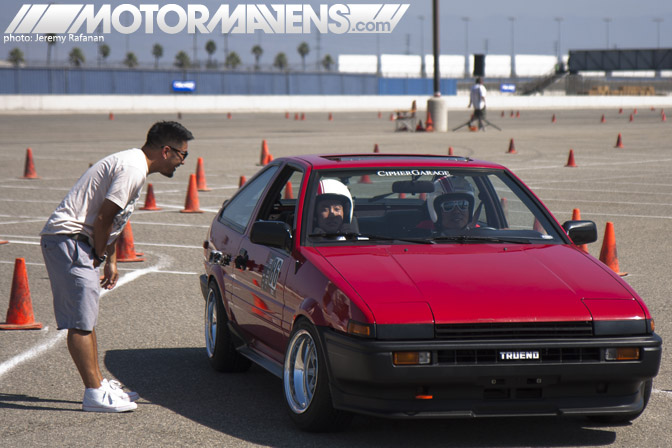 Here's Tobin Honda from DSPORT Magazine checking to see if the old man "Ojiichan" riding with Yoshioka on the track, Jay Yoshida from Schikane Clothing, was okay. We don't want the old guy to have a heart attack or anything.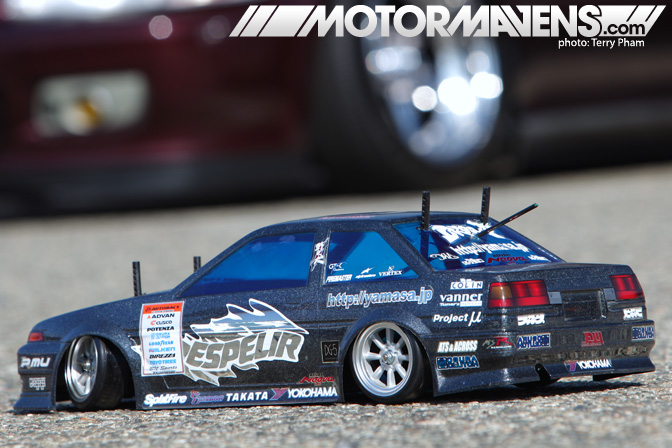 Here's the radio controlled version of Yoshioka's D1GP AE86! It's so cool to see these scale model RC cars out at events!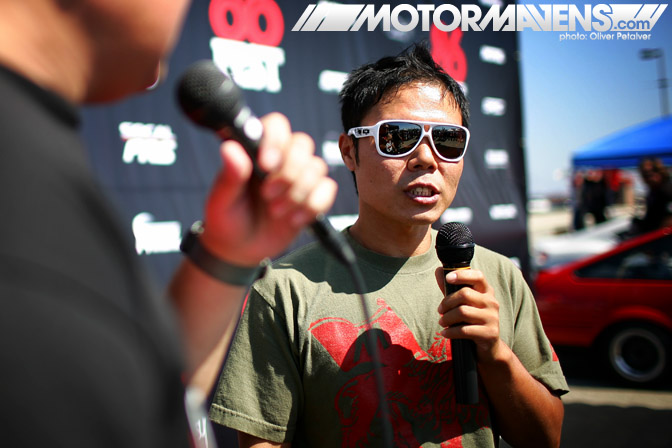 After he took my car for a test drive, Yoshioka joined me in front of the 86FEST media wall, where he used his best broken English skills on the microphone to tell everyone how slow my AE86 was compared to his nitrous-assisted 4AG 20valve drift car in Japan, and various other fun stories about his days driving in Japan's D1 Grand Prix. Haha!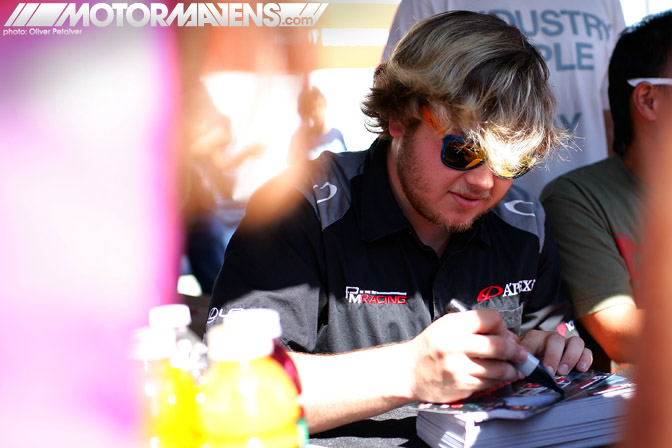 Even though he currently drives the Apex'i Lexus SC430 in Formula Drift competition, Pat Mordaunt started his drifting career in an AE86 Corolla coupe! It was awesome to have him out at 86FEST – I know he had to take time out of his shaving schedule just to attend our event right before the Formula D Finale at Irwindale!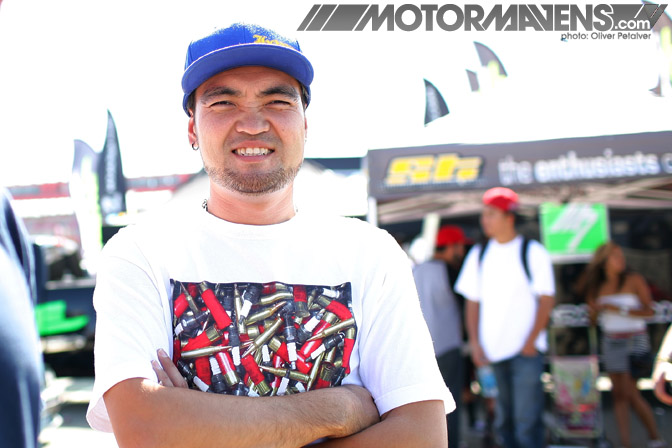 One famous AE86er that didn't get nearly as much attention as he should have was Robbie Nishida. Robbie rolled up to the event kinda late, and didn't announce himself until after the driver signings were over! Damn!!! Robbie is not only a close friend, he has been a hard core AE86er for YEARS! As a Formula D pro driver and part of the infamous Yokota Japan- based drift team Hey Man, it was an honor to have Robbie at our event! I wish he jumped in my car and took it for a spin! We've had lots of fun car related adventures over the years, and he's definitely someone I'd trust with one of my prized AE86s.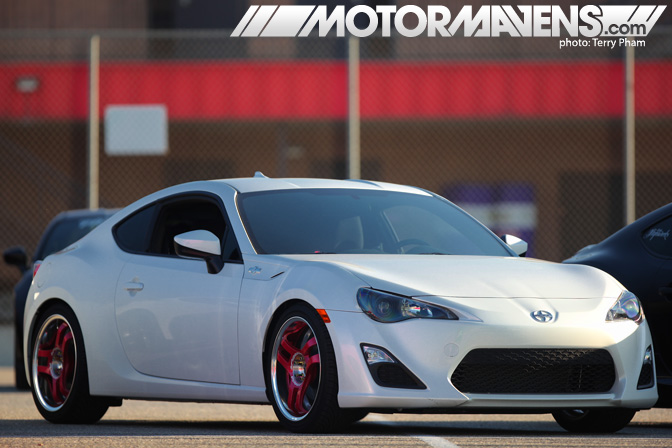 This white Scion FR-S with Super Advan wheels looks gooooood. I saw it a few weeks back on the 5 freeway near Burbank, and was trying to flag him down to tell him about 86FEST, but I was driving my BMW wagon so the driver didn't even look in my direction. Haha!
Everyone knows the MotorMavens Crew loves food as much as we love cars. We just had to invite some of our favorite gourmet food trucks out to 86FEST, and they were definitely a hit with our audience. We had popular trucks like Truck Norris, Jogasaki Sushi Burrito, Haleiwa Shave Ice, the California Grill Truck, and Phil's Italian Ice at the event. I can't wait to see these trucks somewhere at an event again! Mmmm…. sisig tacos and lobster sushi burritos…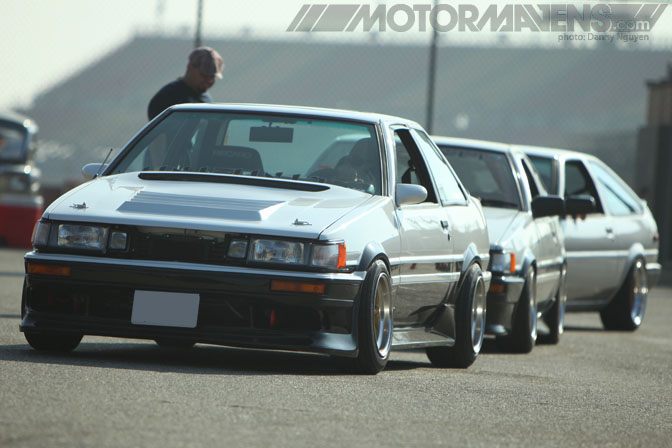 Late in the afternoon, the Infinit AE86s were still breaking necks. While Shannon's black AE86 Trueno was hitting the track all day, his panda Levin coupe was dropping jaws in the 86FEST Paddock. Same thing with all the 86s behind, like the RHD panda Levin in the middle and the silver hatchback in the rear…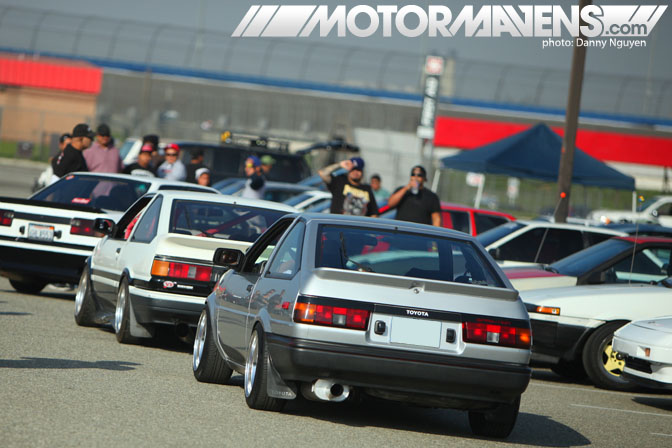 Damn ittttt these AE86s look so damn good! The Infinit crew definitely knows how to make a car look good, no matter what type of car it is!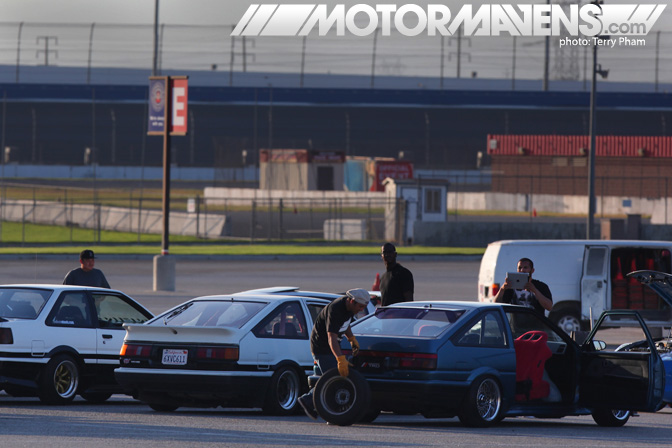 Here's the AE86 lineup in the 86FEST Paddock at the end of the day… it looked like a scene from a racetrack in Japan! So AWESOME.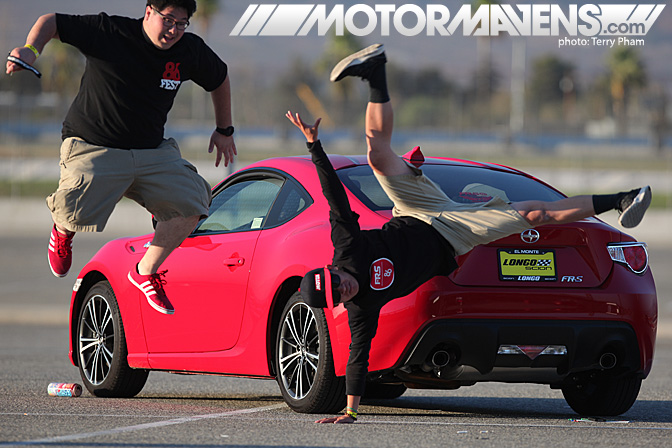 It was so awesome in fact that it made some people jump for joy. LOL! This is MotorMavens photographer Mike Kim (left) trying to recreate one of those Toyota Oh What a Feeling! ads from the 1980s. Next to him, Danny Nguyen from JDMZipties is busting out some B-boy flares behind Mike's FR-S!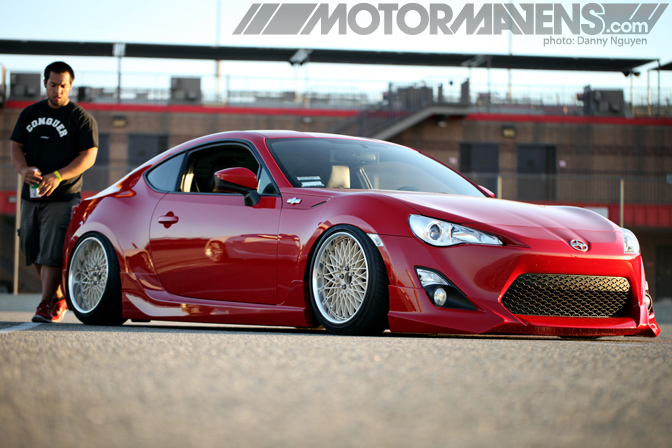 Some people prefer to put wide, meaty tires on their FR-S or BRZ, and some people, like Noel Barnum here, just wanna drop it to the floor! Those are original barrel 5×100 SSR Mesh wheels. Damnnnn. It looks mean!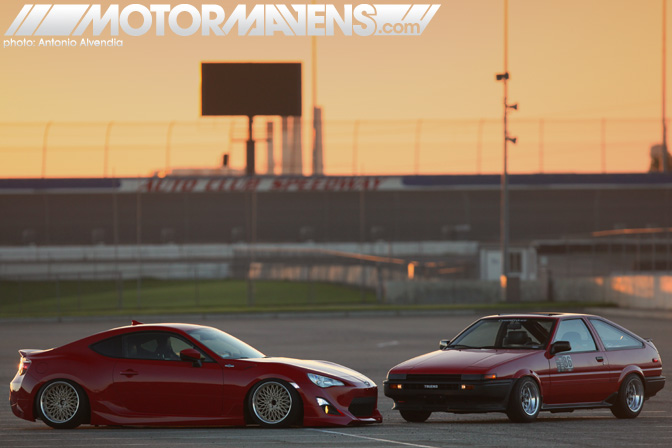 I probably shouldn't have taken this photo of my zenki AE86 next to Noel's FR-S. His car makes ALL cars look like 4x4s! While I could definitely lower my car a little bit more (especially in the rear), I think my car is pretty low for functional AE86 standards – especially since it's only sitting on 14 inch wheels.
In the future, I'll lower the car more in the rear… I realize I'm sacrificing a little drivability by running the car that low. I've driven my car both ways, and yes… it does handle a little bit better with a little more height than how it sits now, especially because with more height, I can fit wider tires on it. It's okay though, I can still drive it aggressively because I didn't make it TOO LOW. And no matter what, it's still going to look like a 4×4 next to Noel's car. I just love how that thing looks.
So there you have it… the very first 86FEST was one hell of a memorable gathering of FR-S, BRZ, and AE86 lovers! It encompassed all types of owners – track people, show people, and people that just came to enjoy the car culture and the merits of their bone stock, brand new cars! Either way, we have love for all types at 86FEST, and we can't wait for the next event!!!
:: Antonio Alvendia
86FEST
,
AE86
,
Auto Club Speedway
,
autocross
,
BRZ
,
Cipher Garage
,
CipherGarage
,
Corolla
,
d1 grand prix
,
Danny Nguyen
,
EcoShine
,
Falken
,
Flossy
,
Fontana
,
Formula D
,
Formula Drift
,
FR-S
,
FRS
,
GTS
,
homepage
,
Infinit Wheels
,
Levin
,
M7
,
M7 Japan
,
Mann Engineering
,
Mike Kim
,
Milltek Sport
,
Motul
,
OEM Audio Plus
,
Oliver Petalver
,
Robby Caballes
,
RSpec
,
RT615
,
RT615K
,
Ryan Bacsafra
,
Scion
,
Scion FRS
,
Spec Clutch
,
Speed Ventures
,
SpeedVentures
,
Sprinter
,
SSR
,
Subaru
,
Terry Pham
,
toshiki yoshioka
,
Trueno
,
Turn14
,
Whiteline
---