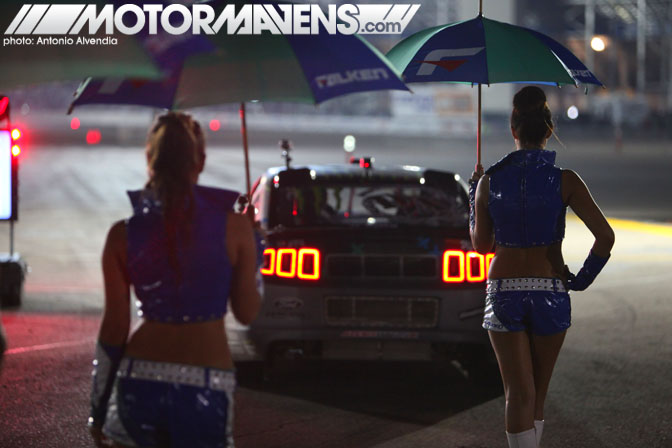 This last trip to Las Vegas for Formula Drift was one hell of an eventful weekend. With a new course layout and drastically changing weather, the conditions took a toll on a lot of the teams. There were lots of tire scraps and car parts littered around the track when the day was done, not to mention the plethora of tire smoke from these high horsepower monsters. The sweltering heat and the freak 45 minute rain storm made it an interesting day at the Las Vegas Motor Speedway.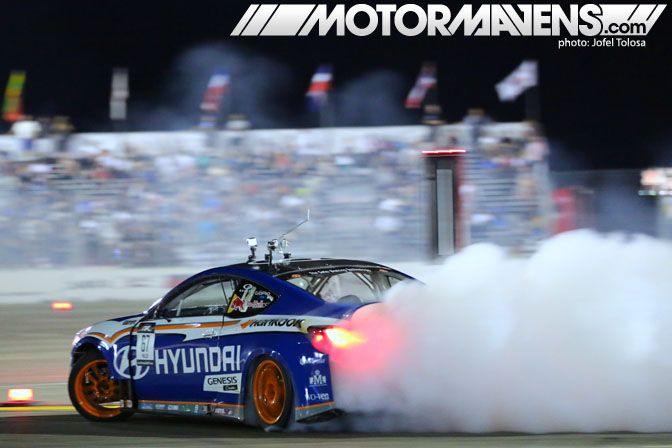 With extremely fast entry speeds and high speed turns, the new course layout took out many cars from the running all weekend long.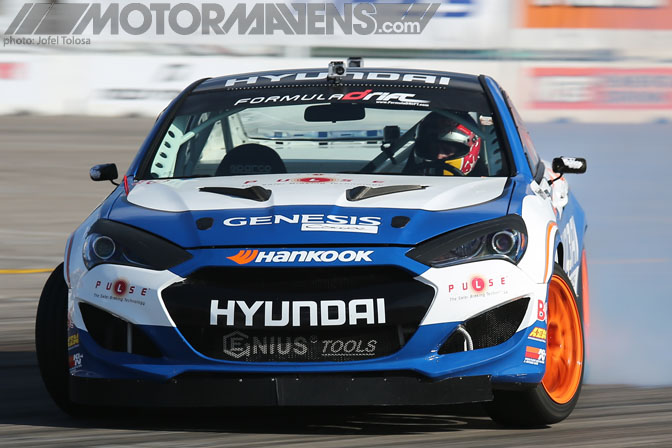 Everyone who follows Formula D already knows that Rhys Millen has done it again this year with his 2013 Hyundai Genesis Coupe, taking first place on the podium for Rhys Millen Racing (RMR), Hyundai and Hankook Tires. After setting the world record at the Pikes Peak International Hill Climb earlier this year, he came to Vegas with a vengeance and took home the big one… the trophy, that is!
His consistency and stamina really does set him apart from many other drivers out there. This clean shot of Rhys in action was taken by our new MotorMavens contributor Jofel Tolosa. Great work, Jofel!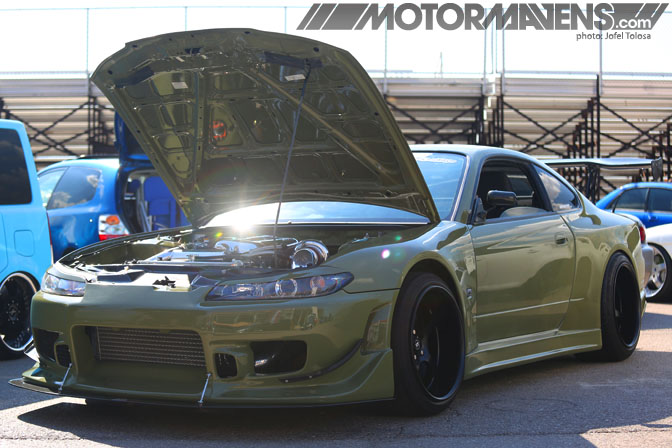 Jofel also captured lots of images of the car show while Antonio and I were busy at other parts of the track. He captured this clean, army green, wide body S15 Nissan Silvia, which really stuck out of the crowd. The build quality of this car seems really top notch from first look – just imagine what it would look like if it were lower! Even better.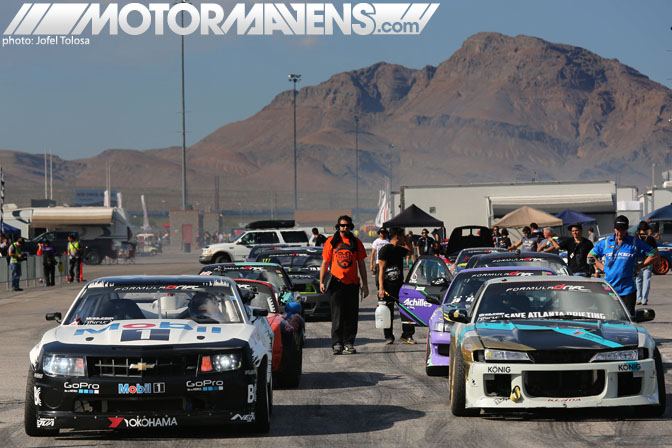 The new course layout in Las Vegas also meant that the starting grid and vendor row were moved to new locations. The new locations were much better than the old layout, although some things remained the same… everyone was getting toasted in the hot desert weather while the sun was still out!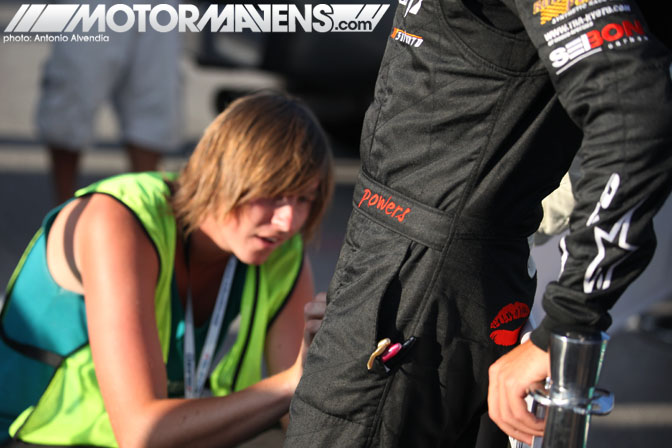 Lots of female fans want to put their hands all over Matt Powers, and several of the girls in the scene have already gotten their wish. But we're not exactly sure what's going on in this photo??? Cause that isn't a girl in the vest…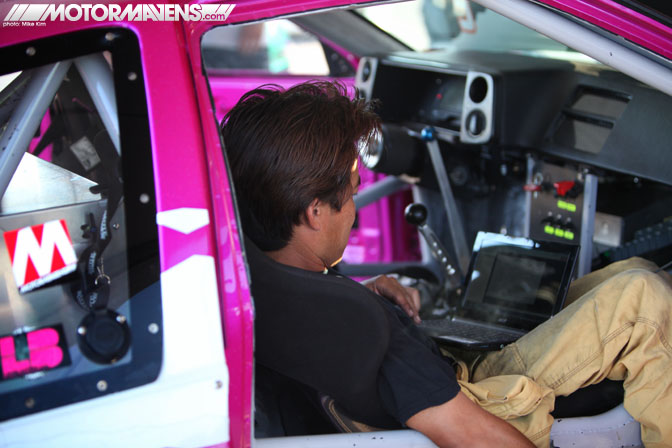 Meanwhile, Taka Aono was sorting out some ECU bugs in the Megan Racing AE86 – the only AE86 left in the Formula Drift Championship. Powered by his new Hasselgren 2AZ engine from a Scion TC/Toyota Camry, this monster AE86 puts down some serious horsepower.
Being only one of eight 4 cylinder cars in the Formula D series, he needs all the power he can get to keep up with all of the V8 powered cars nowadays. I have to give him props and commend him for keeping it in the 4 cylinder family! GO TAKA!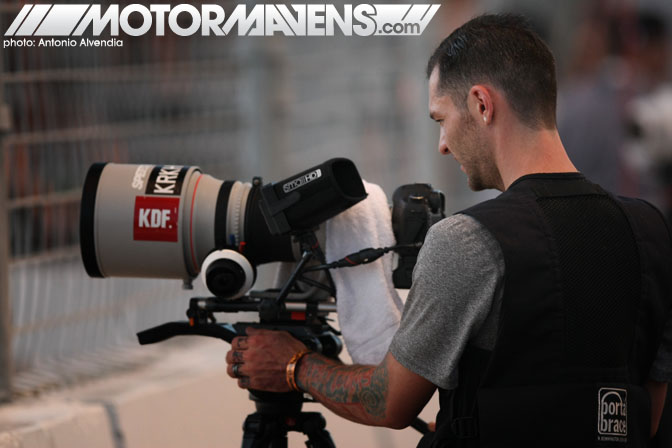 Ryan Davis from Yaer Productions in Portland Oregon brought out the big guns to film video at Las Vegas. His videos are some of our favorites on the web, whether they're about drifting or not.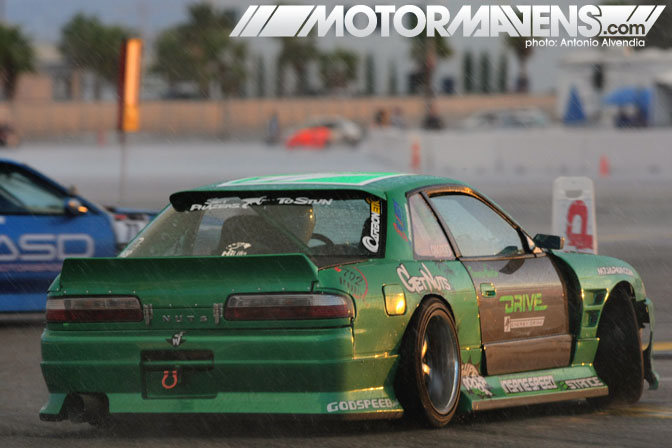 Forrest Wang was competing in Pro-Am with his Drive Energy and Get Nuts Lab S13 Nissan Silvia. Taking first place in ProAm, he had an epic battle on a race track that had both wet and dry spots. It had just begun to rain during the Pro Am tandem battles, but the Pro Am drivers all practiced the course while the track was DRY.
Racing in the rain, whether its drifting or circuit racing, requires a driver to show a tremendous amount of skill over car control while dealing with the environmental conditions. I think it truly shows the skill of the driver, so big respect to all the Pro Am guys who battled it out in the rain!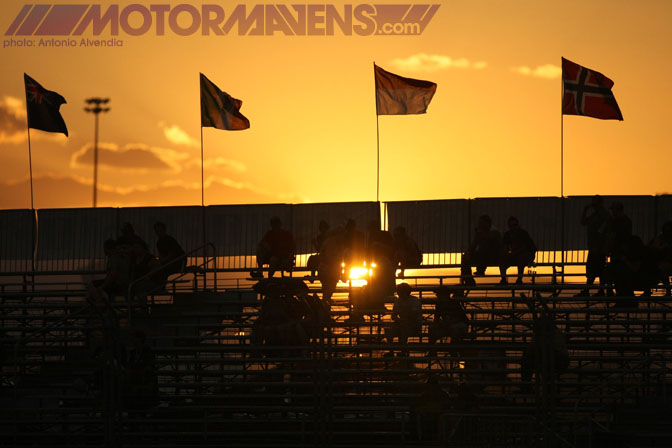 As the sun was setting, the track luckily dried up thanks to the high heat. Then began the main competition…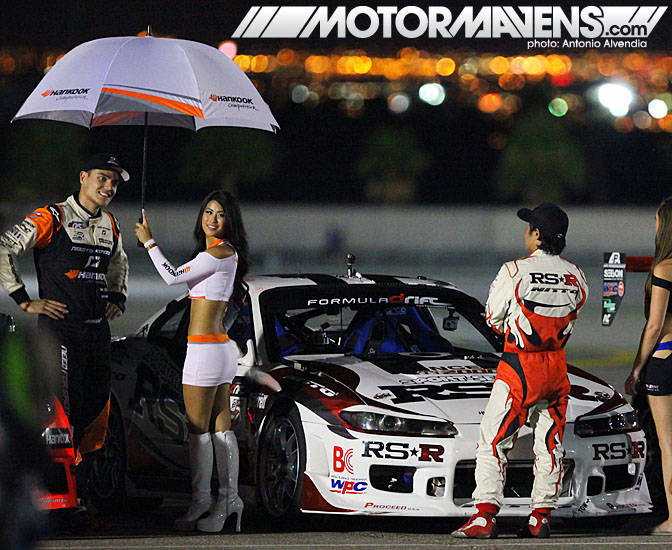 Umbrella girl Vivian Nguyen's arm must have been hurting after holding that umbrella so high up for the tall Fredric Aasbo during the Top 16 celebration. RSR S15 driver Toshiki Yoshioka must have been thinking, the rain stopped already, so why do they need an umbrella? Come on, man.
Just in case you couldn't see the fireworks and close up action from the drift battles from the grand stands, the crew from Belle-1 Communications brought out the jumbotron to broadcast the event both live and over the internet.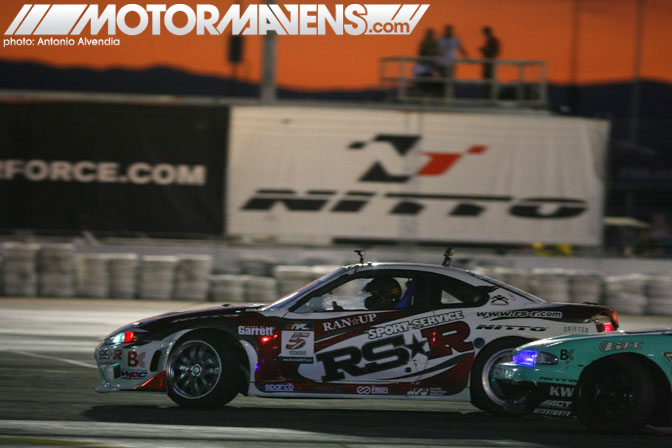 Toshiki Yoshioka, piloting the RS-R S15 Silvia, has one of the best looking cars in the Formula D series in my opinion. The liveries on the car are reminiscent of the older D1 Grand Prix series cars in Japan. Here's a photo of Yoshioka taking out Matt Powers for a spot in the Top 16, which obviously made all his sponsors happy!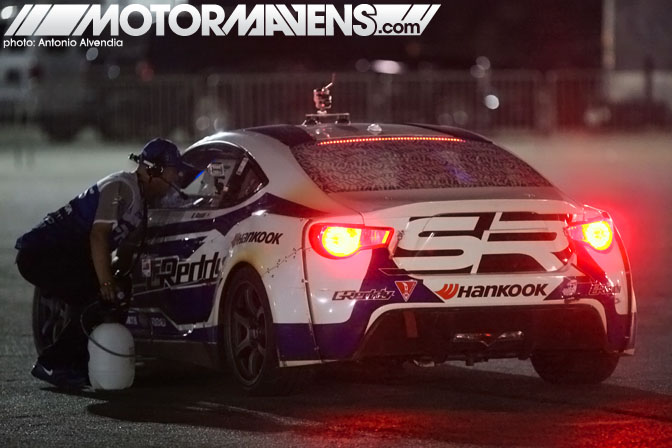 Ken Gushi, piloting the Greddy/Scion Racing FR-S, was giving feedback about his car to the crew while testing is on the grid. Currently being the only Scion FR-S competing in the Formula D series, his car definitely sticks out of the crowd. Instead of a huge GT wing, it looks like they chose to run the Five Axis Designs trunk lip spoiler for this event. I can't wait until I get my hands on one of those wings for my MotorMavens Project FR-S!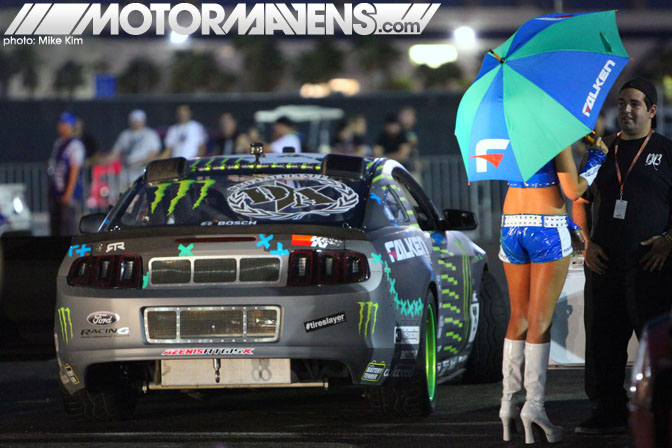 Would you look at that rear end…? The new Ford Mustang for this year has some really crazy looking LED tail lights. Wait, what did you think I was talking about? By the way, that's Olivia Korte standing next to JR's car representing Falken Tire. Vaughn Gittin Jr. in the Monster Energy Mustang took third place here in Vegas, which has gotten him just a little bit closer to a potential repeat of his 2010 championship win. Oh and you can also see more of Olivia Korte if you follow the @MOTORMAVENS Instagram.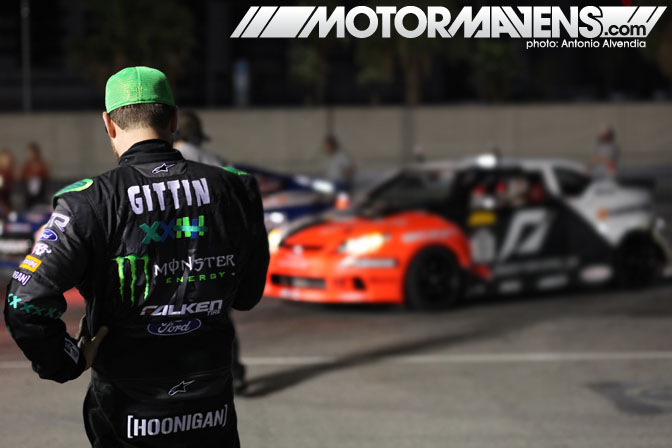 JR was standing by the sidelines while watching Rhys Millen and Fredric Aasbo compete for the top spot on the podium. I overheard JR talking Larry Chen and Antonio Alvendia, saying "usually, when someone beats me in a tandem, I'm super pissed about it. But, man… that was a really good fight between me and Aasbo, and he EARNED it. We both put our all into it and drove out hearts out… and at the end of the day, he beat me fair and square, so I'm not mad about it."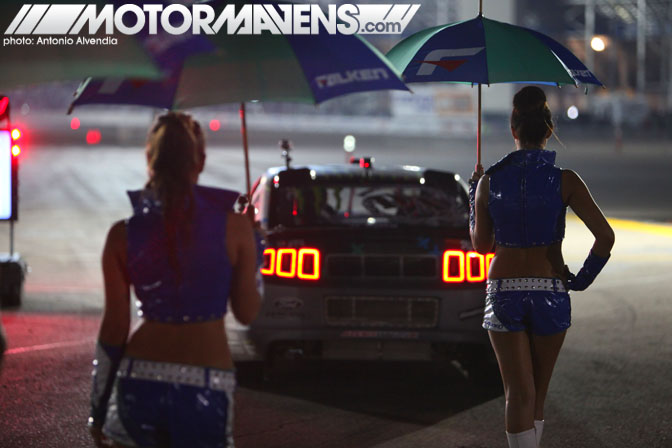 The Falken girls Randyl Dawn, Olivia Korte, Julie Galindo (not pictured) and Monster Energy Girl Ashley Michaelsen (not pictured) were standing at the grid with umbrellas for JR and the other Falken drivers. These girls are always fun to hang out with!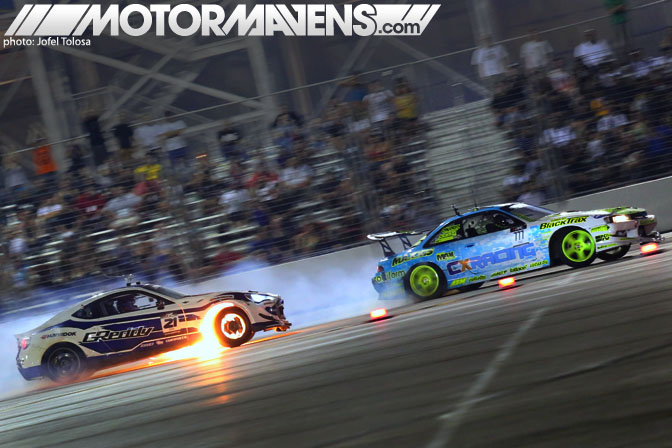 Unlike Ricky Bobby in Talladega Nights, Ken Gushi actually was on fire during his run against Matt Field's CX Racing V8 S14. I originally didn't expect to see Rotiform wheels to be on a drift car but they do look good on the car! 😉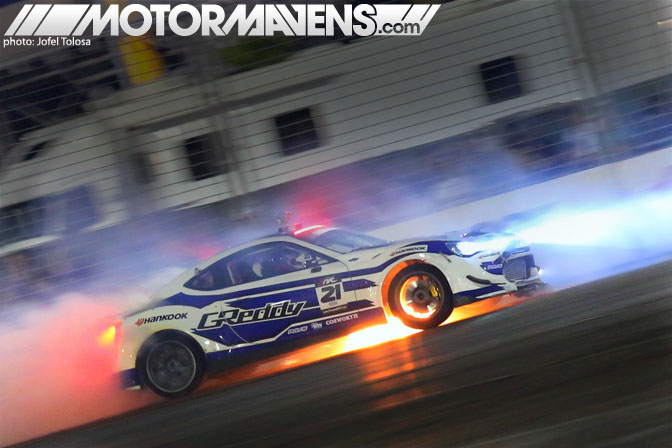 Fuego! Bringing the heat to Vegas, Ken was really lighting it up on this run! Those HID lights look sick complimenting orange underbody neon…oh wait… that is FIRE!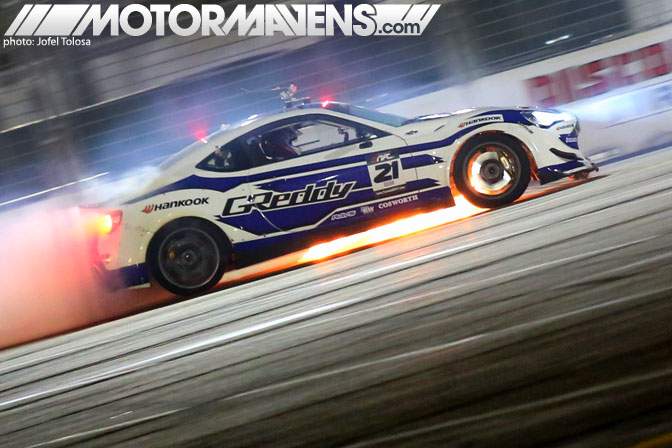 Gushi also beat Matt Field for a spot in Top 16 while he was spewing out more than just tire smoke. Maybe he got some extra style points for completing the course while blazing up the track.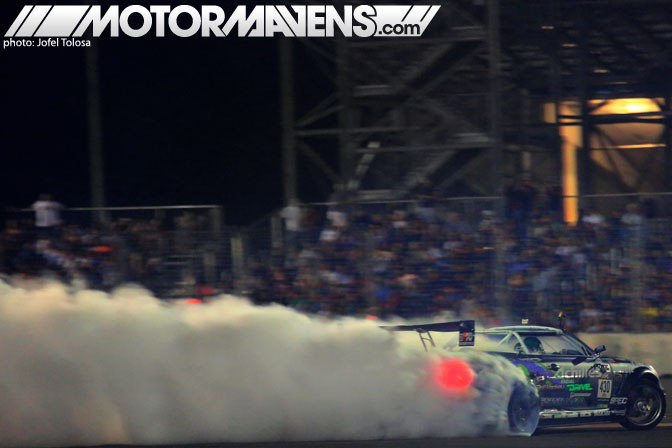 Daigo Saito in the Achilles Tire Lexus SC430 must be hard to compete against. His opponents can't see anything during the chase thanks to the tire shredding 1200 horsepower 2JZ. His car setup includes one of the cleanest engine bays, with everything being relocated to the back of the car for better weight distribution.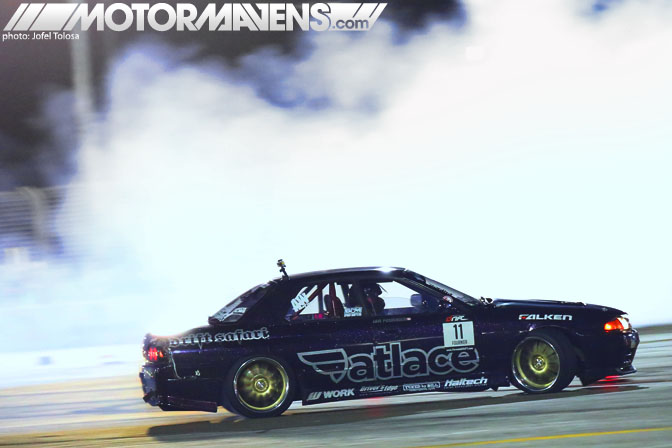 Drift Safari's Ian Fournier from the Pacific Northwest drove all the way from Canada to compete in Vegas in his R32 Nissan Skyline. Driving more than 1300 miles, with more than a full day on the road just to get a few minutes of track time is definitely showing dedication to what you love!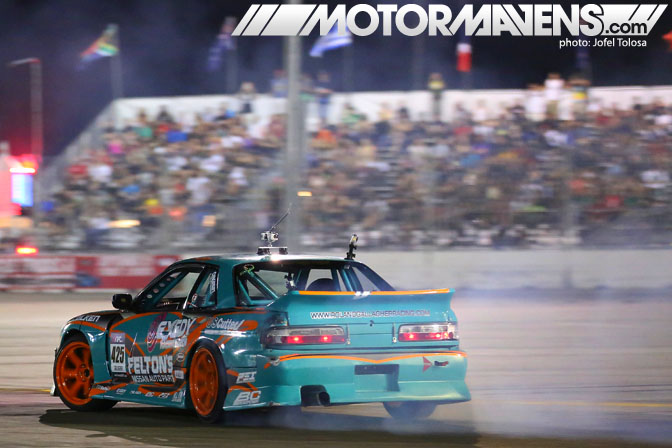 Roland Gallagher is also a PNW native, piloting his S13 down to beat Atlanta-based driver Chris Ward for a spot in the Top 16 to go against Rhys Millen. Being from an infamous drift team in the Seattle area, he has definitely come a long way in the pro series. His car definitely has stylish looks with the new livery scheme and orange wheels, but we still can't forget how good it looked as a relatively unstickered Pro Am car!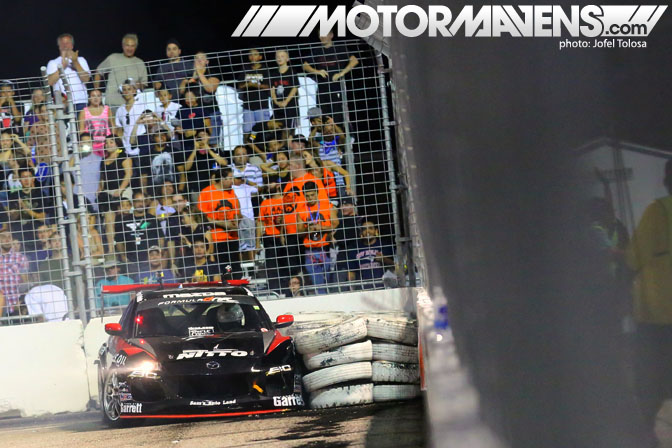 During his epic battle with Daigo Saito, Chelsea DeNofa ended up in a tire wall after losing a wheel on the Bergenholtz Racing/Nitto Tire Mazda RX-8. We're just glad Chelsea was alright after the crash.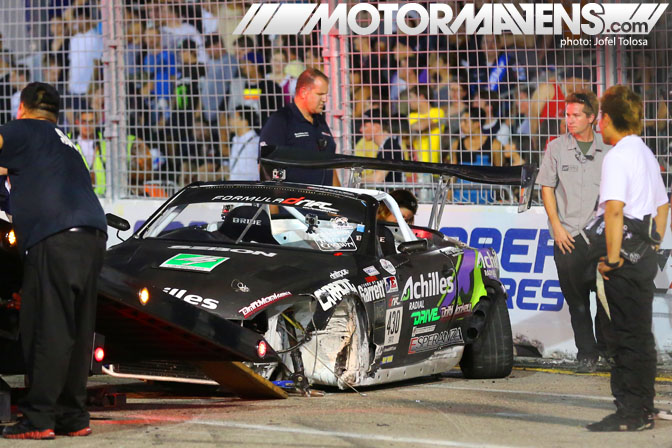 During his battle for Top 4 against Rhys Millen, Daigo Saito unfortunately ended up in the same position as DeNofa. He lost a wheel and crashed into the barrier wall. It's a good thing he walked away with no injuries as well. Daigo's car is a right hand drive Lexus SC430, and he is currently in 2nd place in the Formula Drift Championship standings. He may still have a chance to be the first rookie to take the championship in the Formula Drift series. Go Daigo!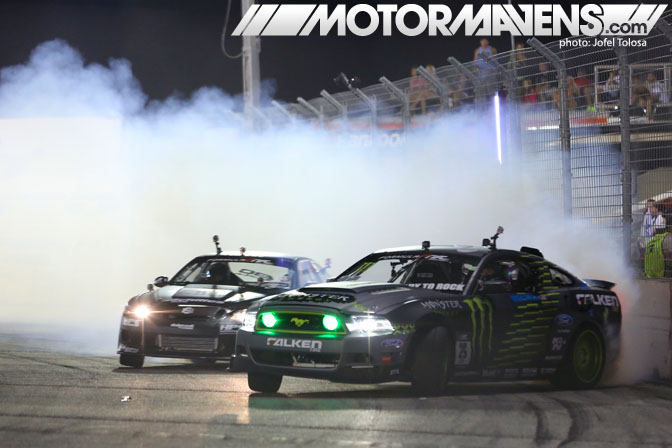 Climbing his way up the drift ladder, Robbie Nishida eventually found himself competing for third place against JR's Monster Mustang. Robbie, driving the 2JZ powered Achilles Tire Lexus SC300, did a phenomenal job of driving during his epic battle against the Mustang.
All in all, with a not-as-hot-as-last-year Formula Drift event in Las Vegas, we had an awesome weekend of crashes, strange weather, and epic drift battles. We can't wait for the series finale at Irwindale in October!
:: Mike Kim
PS. Next time you're in Vegas, go to The Cosmopolitan Hotel and check out the 'Secret Pizza' Parlor on the third floor behind the Chandelier Bar.

2JZ
,
Achilles Tires
,
Ashley Michaelsen
,
Chelsea Denofa
,
CX Racing
,
Daigo Saito
,
Drive Energy Drink
,
Falken Tire
,
Fatlace
,
FD
,
Fire
,
Ford Mustang
,
Formula D
,
Formula Drift
,
Forrest Wang
,
FR-S
,
Fredric Aasbo
,
Get Nuts Lab
,
GReddy
,
hankook tires
,
Hyundai
,
Hyundai Genesis
,
Ian Fournier
,
Instagram
,
Jofel Tolosa
,
Julie Galindo
,
Ken Gushi
,
Las Vegas
,
Lexus
,
Lexus SC430
,
Matt Field
,
Megan Racing
,
Mike Kim
,
MotorMavens
,
Nissan
,
Nitto Tire
,
Olivia Korte
,
Pike's Peak International Hill Climb
,
Randyl Dawn
,
Rhys Millen
,
RMR
,
Robbie Nishida
,
Roland Gallager
,
rotiform
,
RS-R
,
Ryan Davis
,
S13
,
S14
,
S15
,
Scion
,
Scion FR-S
,
Scion Racing
,
Silvia
,
Taka Aono
,
The Cosmopolitan
,
toshiki yoshioka
,
Trust
,
Tumblr
,
Twitter
,
V8
,
Vaughn Gittin Jr
,
YAER Productions
---