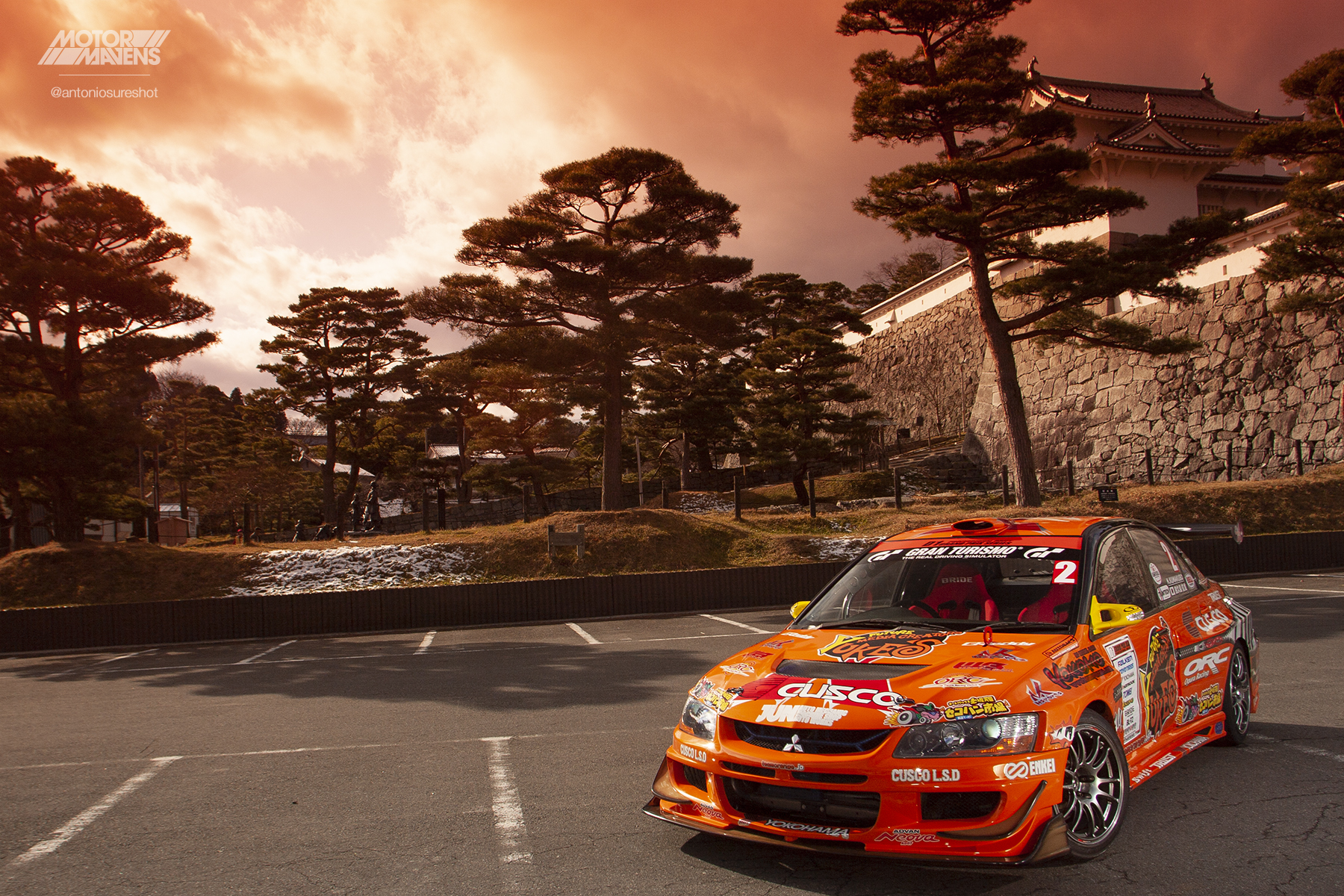 Last week, Mitsubishi decided to announce that they were discontinuing sales of their popular Lancer Evolution, as Evo fans across the world shook their heads in disappointment. Out of respect to Evo owners out there, I thought I'd dig into my archives and publish some photos of one of my favorite Mitsibushi Lancer Evos of all time – the Team Orange Mitsubishi Lancer Evolution 9, owned by D1 Grand Prix champion driver Nobushige Kumakubo.
These photos really are old – I shot most of these photos back in 2007, when the car was first built. In fact, I shot these photos with a Canon 40D and my old school 20D – that lets you know how old these pics are – those cameras are archaic now! That being said, I apologize for the crap photos. Old as they may be, these photos depict Kumakubo's then-new Lancer Evo 9 – the world's very first Mitsubishi Lancer ever to be built for professional drifting competition.
To truly capture the essence of Kumakubo's Evo 9, I decided that I didn't want to take the standard "race track" photos of the car. Instead, I decided to take photos of the car in its natural home environment – this means I'd have to travel up to Kumakubo's hometown of Nihonmatsu city. After all, wouldn't that really capture the spirit of the car?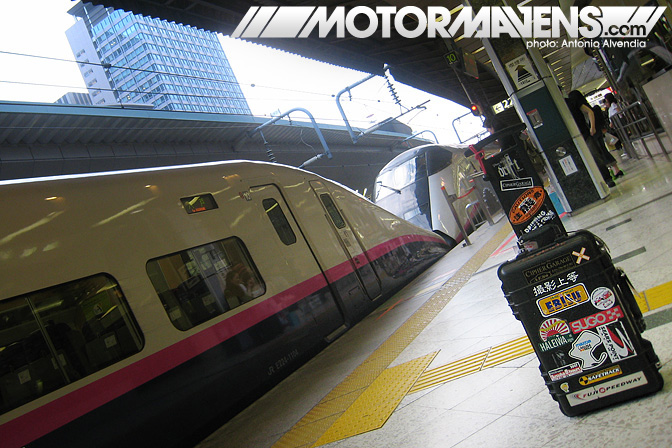 With luggage and camera gear in tow, I departed my Japanese family's home in Tokyo and took the shinkansen (bullet train) from Tokyo station up to the Fukushima prefecture – Koriyama to be exact. From Koriyama, I had to ride a rickety local train with absolutely no English signage inside until I heard the words "Mamonaku… Nihonmatsu… Nihonmatsu desu!" This meant the train would be approaching my destination, Nihonmatsu station.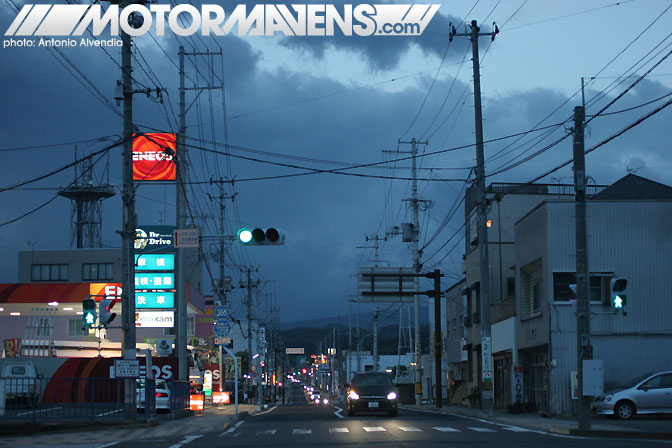 Once at the station, I was greeted by Kumakubo himself, who picked me up in a red Nissan X-Trail AWD sports utility vehicle. (Although Kumakubo has an entire fleet of cars at his disposal, often times, he used to just drive around town in the unassuming X-Trail, since it was relatively small and easy to get around town in.) Kumakubo was already a close friend of mine at the time of the photo shoot. He told me he was excited to have me visit Nihonmatsu to shoot his newly built Evo the next day.
As we drove to a restaurant for dinner, Kumakubo explained why he really loves his small hometown of Nihonmatsu, which is nestled in the Adatara mountain range in the Fukushima prefecture. He explained that one of the things he liked about Nihonmatsu is that it was a historical samurai area. I interrupted him, exclaiming, "Wait.. whaaaat? Samurai? COOL! Is there a castle near here?" (Growing up, I was fascinated by samurai, bushido, and Japanese comics/movies about samurai, like Kazuo Koike's Lone Wolf and Cub (babycart assassin) series, which was eventually turned into a movie called Shogun Assassin.) Kumakubo laughed at how excitable I was. Smiling, he said, "OK. Tomorrow, let's go!"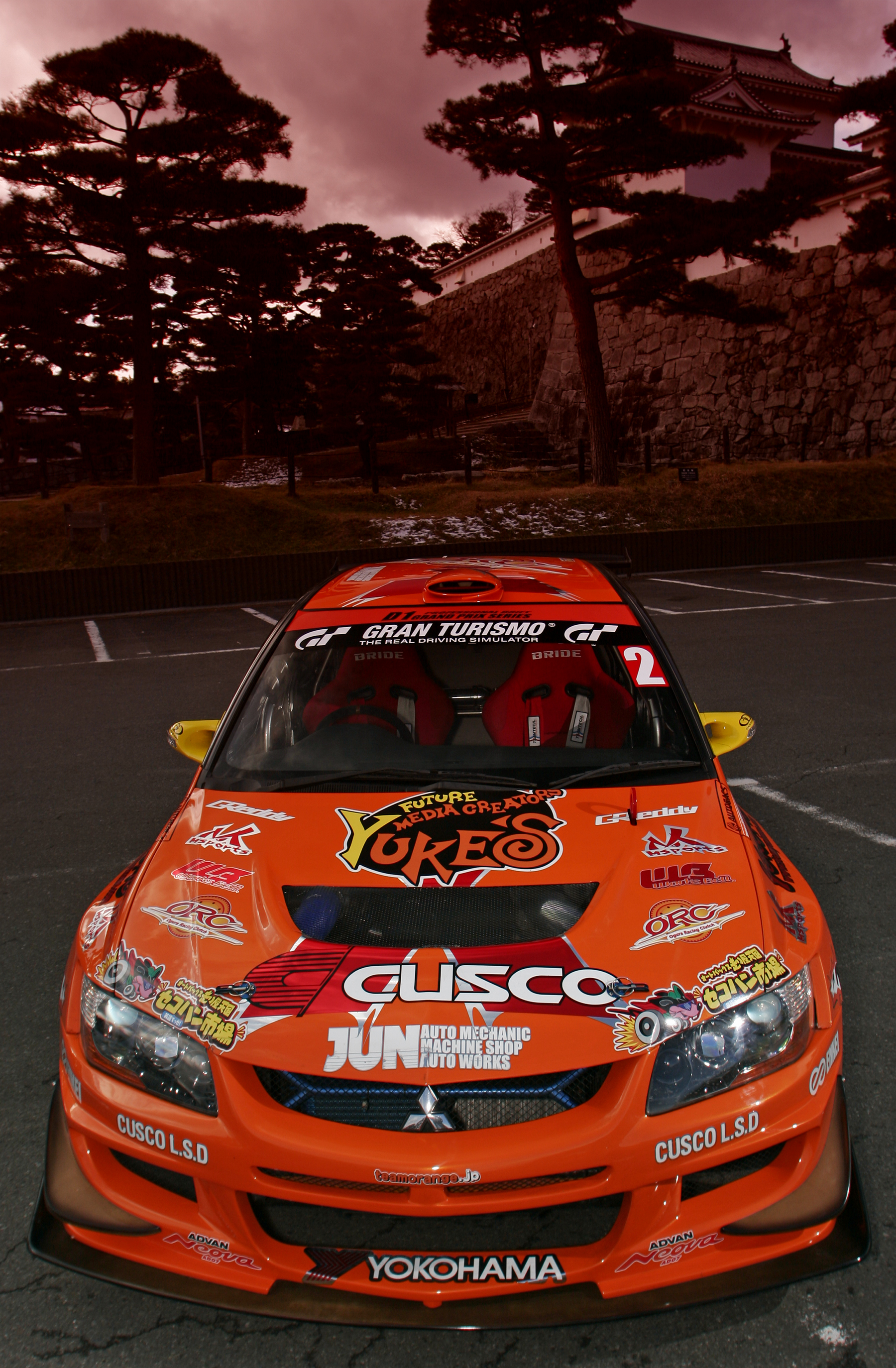 With the newly built Team Orange Evo 9 loaded onto the back of the green K-Style loader flatbed tow truck, we arrived at the ancient samurai castle in Nihonmatsu – locals call it Kasumiga-jo. The only place we could shoot a photo of the car was in a public parking lot below the castle, and we only had a couple minutes to shoot a photo before tourists would be parking in the spaces next to the car. As we unloaded the car from the trailer, Kumakubo explained that the original castle was originally built in the 1300s by a local samurai clan named Hatakeyama.
Apparently, in the days of feudal Japan, many opposing groups of samurai have tried to take this castle by force. Many historical samurai battles were actually fought in what is now present-day Nihonmatsu. According to Kumakubo, Nihonmatsu's grandiose castle was eventually burned down in battle by a group of samurai, and now only the original guard house and main gate of Kasumiga-jo are left standing. (That's what you see in the background of this photo.) Legend has it that as the castle burned down, the sky turned red, with dark gray ash wafting through the air like black snowflakes – quite possibly from the charred bodies of the samurai that didn't make it outside the castle gates in time.
Kumakubo continued to explain that the samurai that burned down the castle were from [his Team Orange teammate] Naoto Suenaga's hometown. At that point, Kumakubo shook his head, looked at me, and said, "Fucking Naoto," with a grin, finding humor even in the darkest of situations. Hahahaha!
I was amazed. Dumbfounded. I just couldn't believe that all these legendary battles from the glory days of the samurai took place in the very spot where Kumakubo and I were standing with his Lancer Evo. It suddenly occurred to me that there couldn't be a more fitting spot to shoot his new tsuisou* battle machine. (*Tsuisou = tandem drift) After all, with Kumakubo behind the wheel of the rear wheel drive Evo 9, this Lancer was definitely a battle horse destined for glory.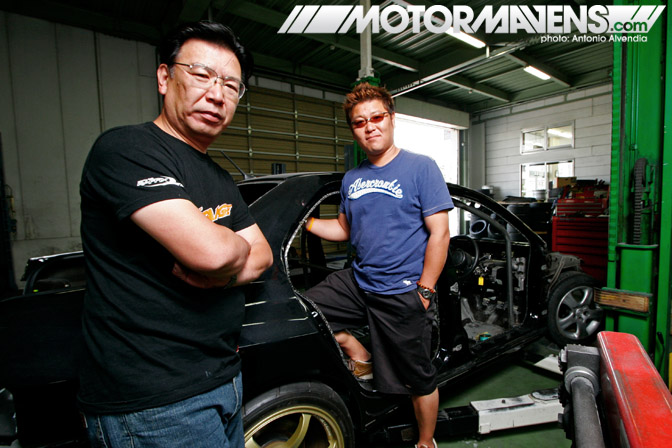 The Team Orange FR-converted Lancer Evo 9 didn't actually start its life as an orange car – it was originally black. Almost an entire year before Kumakubo debuted the car to the public, he invited me to Tokyo metro area, where he entrusted me with a sneak peek at his secret project.
I'm not sure if everyone is aware of this or not, but the Kumakubo family owns quite a bit of real estate in Japan. This being said, as the leader of Team Orange and a pillar of the worldwide drifting community, Nobushige Kumakubo has many resources at his disposal. Let's face it – he could have chosen whoever he wanted to build his D1 car, which would be the world's first Mitsubishi Lancer Evolution ever used for professional drifting.
This being said, when it came to re-engineering a serious competition car that would have the ability to WIN top honors in Japan's extremely difficult and competitive D1 Grand Prix series, there was only one person that Kumakubo would even consider – the legendary Susumu Koyama (everyone calls him Koyama-san), the brains behind the world renown Japanese tuning shop, JUN Auto Mechanic.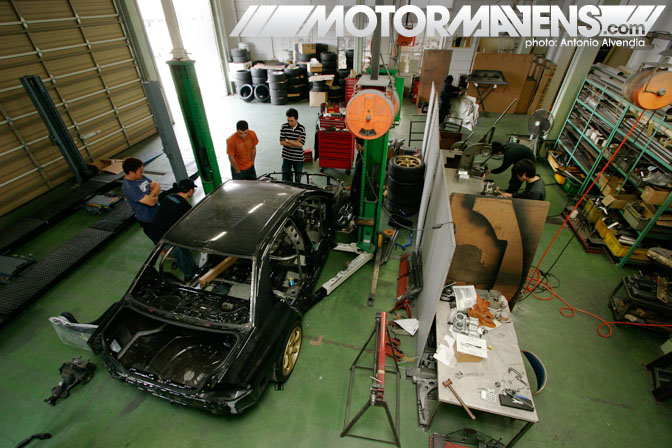 Here's a snapshot of one of the JUN Auto Mechanic garages, when Koyama-san had first taken delivery of the Evo 9 and begun stripping it for the rebuild.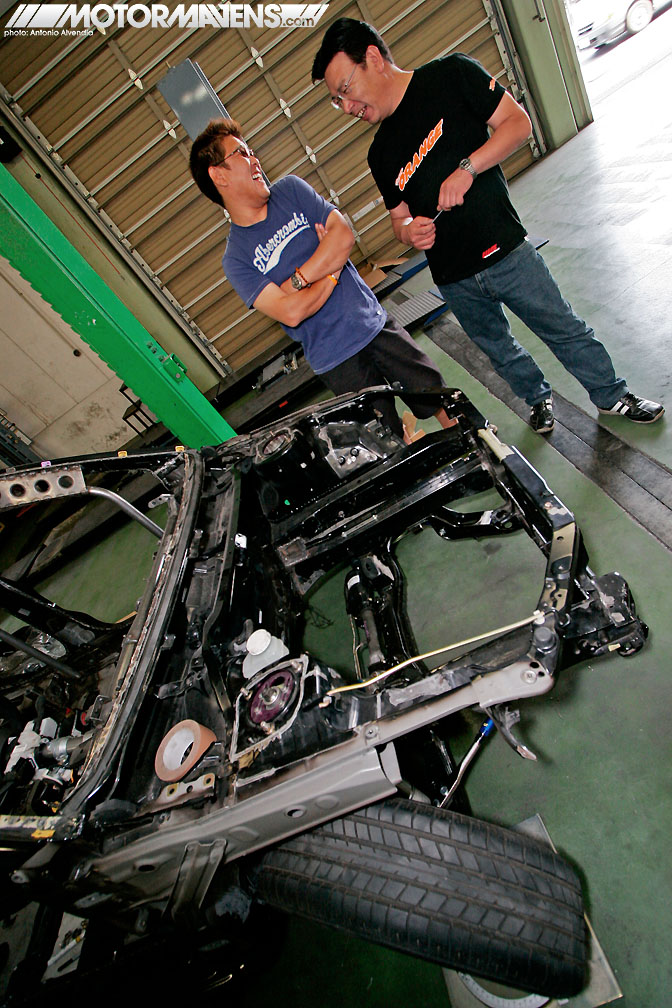 The photo above was used several years back for a news story I wrote about the build for Super Street Magazine. I wonder if any of our readers saw it?
Anyway, Kumakubo is probably laughing in this photo because he's thinking, "haha Koyama-san… I'm sure glad I don't have to put this mess together! You better get to work!" LOL
At the time this photo was taken, Koyama-san was still trying to figure out how to make the steering work. In fact, I distinctly recall him complaining that the factory Evo steering rack didn't have nearly enough angle for Kumakubo's drifting capability.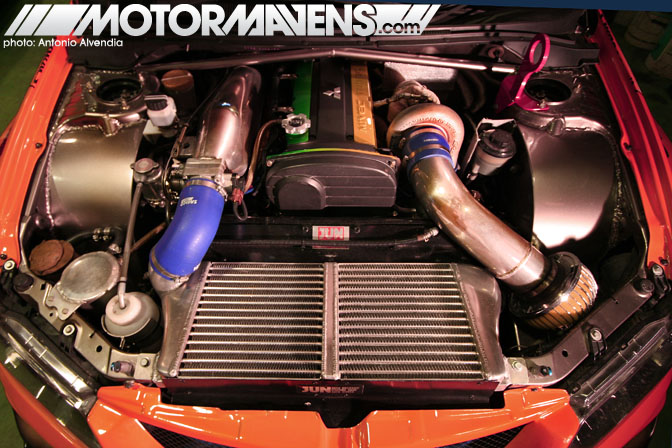 Fast forward almost an entire year, and this is the engine bay of Kumakubo's famous Evo 9. Delicately planted between the car's custom tubbed fenderwells, the Evo's Mitsubishi 4G63 engine sits, custom mounted in a front engine-rear-wheel-drive configuration. The engine has been stroked to 2.2 liters, using the custom JUN Auto Mechanic 2.2L stroker kit that Koyama-san developed for this car. He also did all the welding, including the mounting of the custom intercooler setup.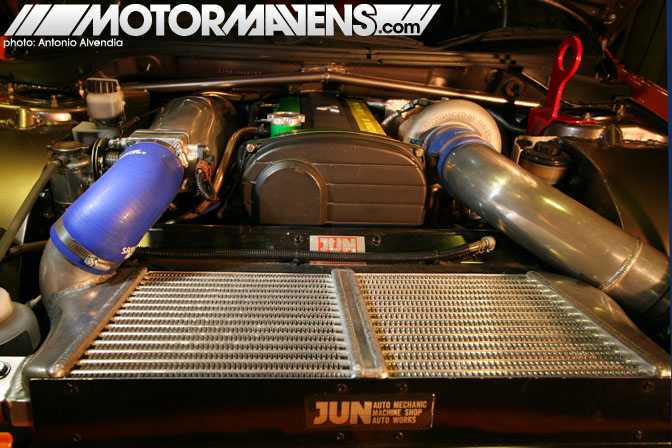 Here's a closer look at the engine. On the left side, air enters the engine through an NTS SPL custom intake manifold. On the right side, we have a Trust TD06 25G turbo, which is responsible for the engine's big power.
Also notice that many of the Japanese D1GP cars have been using strut-tower-mounted towhooks. According to Kumakubo, this style became popular with many of the professional drivers because it was much easier for the cars to be towed off the track in the case of an engine failure or accident.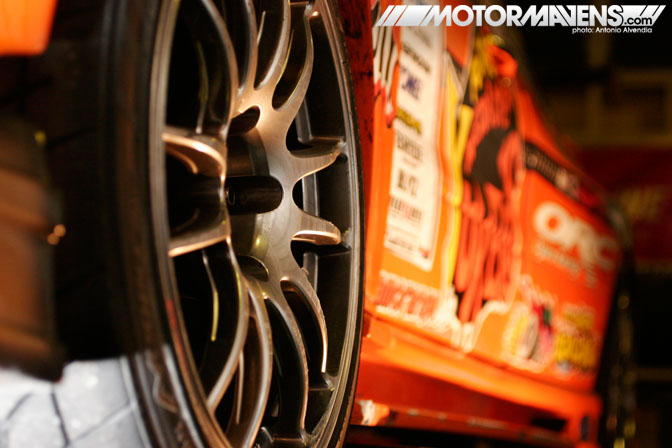 Here's  a closer look at the footwork. The wheels used on this car are Enkei GTC01, in 18×9.5 and 18×10 sizes, wrapped in Yokohama Advan Neova AD08 tires, 255/35/18 up front and 265/35/18 in the rear.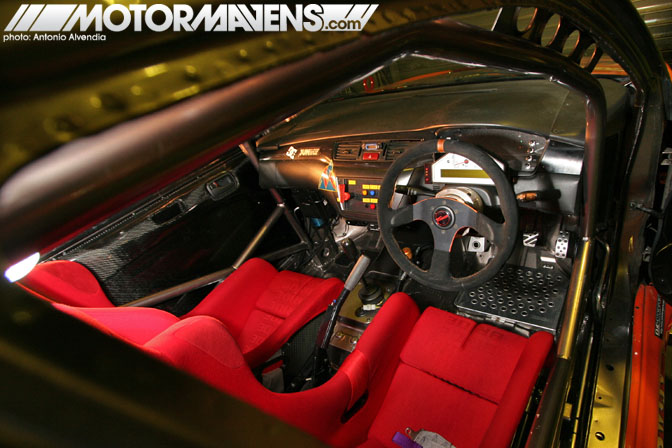 The cockpit of the Evo is all business. One of the things that I respect most about Japanese car builders is that they have such a high build quality. When I stare at the interior of cars like this one, I wonder why Japan's level of car builds seems so much higher than what I normally see in other parts of the world. Don't get me wrong – I've seen some absolutely amazing cars in Germany, the UK, Greece, North America, and other places… but Japanese car builders like Koyama-san just seem to get it right the first time.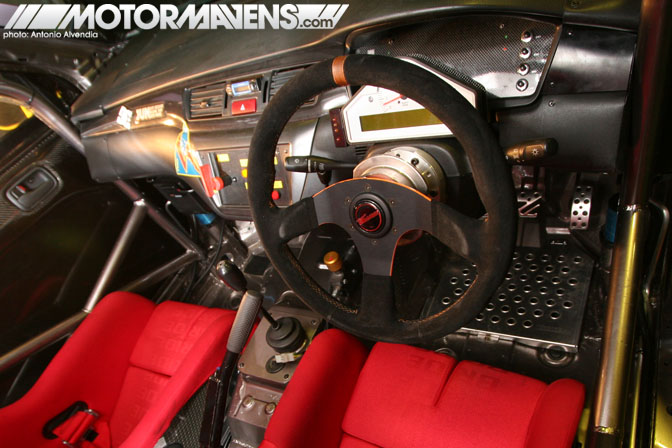 Here's a closer look at the handle. Those in the know will tell you that Japanese drivers refer to the steering wheel as the "handle." In this case, the mighty Tsuisou King (tandem drifting king) Kumakubo countersteers using a Team Orange-edition 350mm suede steering wheel and Team Orange-edition Rapfix quick release steering hub from Works Bell.
I just realized that I don't even have one of these steering wheels or quick release hubs. I want one though!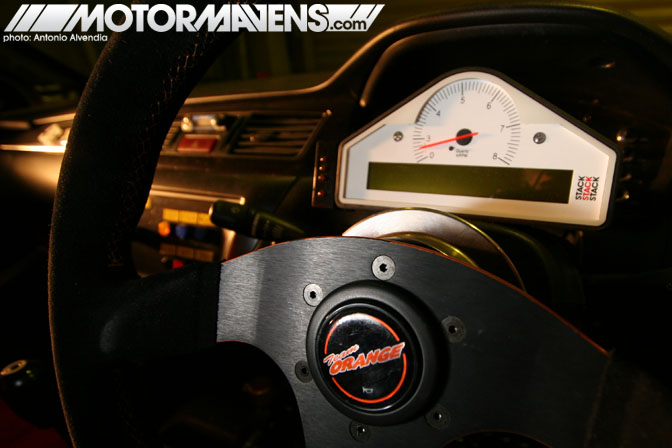 Damn, I want one of those Team Orange horn buttons! Hell, I want the entire steering wheel and quick release hub combo. They're available for purchase in the USA through A-spec. Sitting in place of the OEM gauge cluster is a Stack gauge display, which accurately tells Kumakubo everything he needs to know about the engine. I want to get Stack gauges too!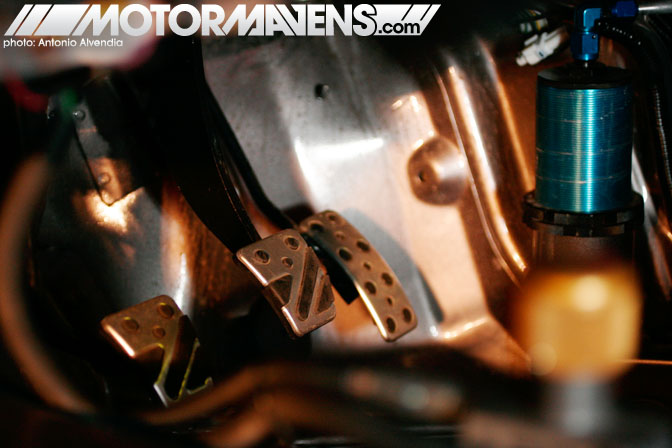 Here's a close up look at the pedals, but what's really interesting here is the blue anodized threaded cylinder to the right of pedals. Those certainly aren't coilovers mounted in the cockpit… those are the car's on-board air jacks!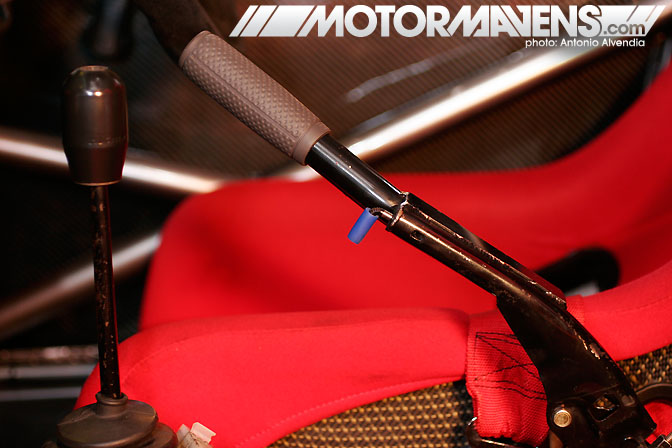 Wait one minute… something just doesn't belong here. Does anyone know what kind of shift knob that is? (10 points!) Actually, forget about the shift knob… that shifter is connected to one of the most expensive components of the entire car! I'm talking about the Hollinger 6-speed sequential racing transmission! The photo also shows the custom lengthened ebrake handle, which is slightly angled towards the driver's seat.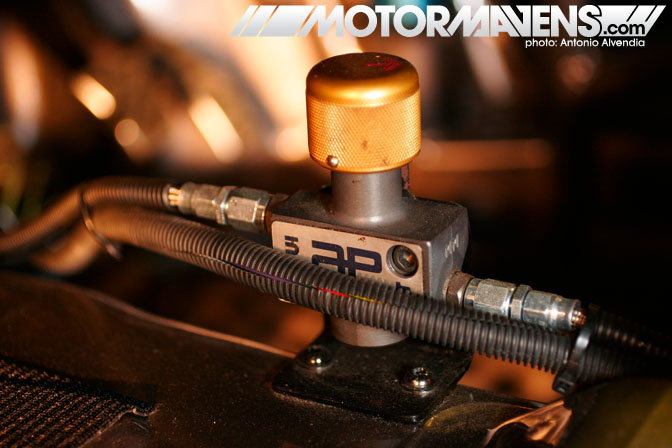 What to do if you've got a hydraulic e-brake setup that locks up your rear wheels too quickly? If you were Kumakubo, you would tune and adjust that badboy with an AP Racing brake proportioning valve. Everything used in the construction of this car is top quality!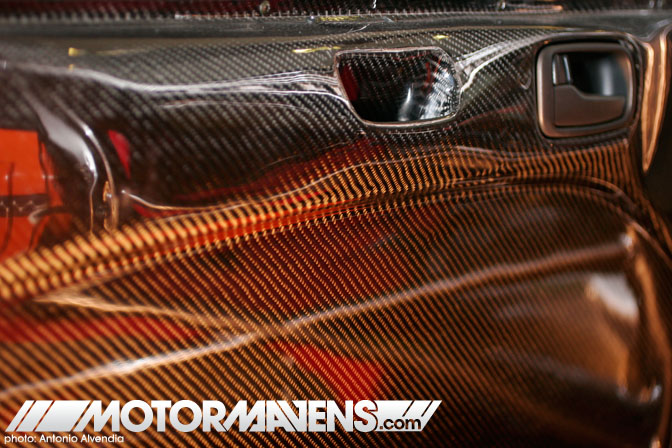 WOW! Custom formed carbon fiber doorpanels? Sure, why not… it's not a problem if you're Kumakubo. These are some of the coolest door panels I've ever seen in a drift car.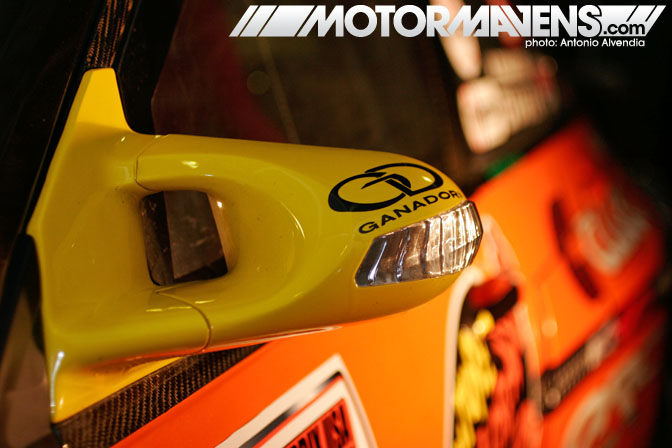 Ganador mirrors add a little aero style to the exterior. Those little things are expensive!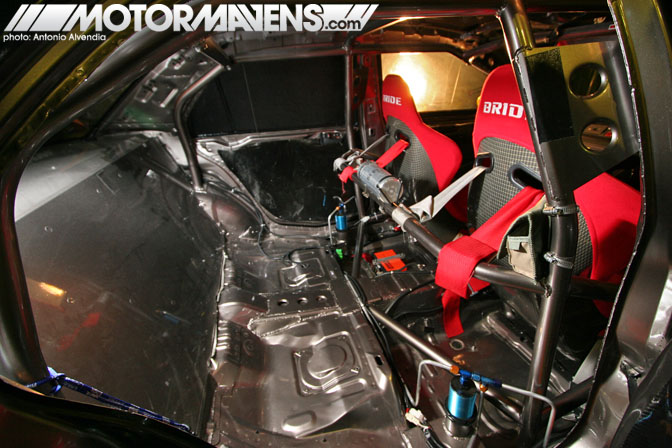 Here's the rear interior of the car – as you can see, it's empty. The welded roll cage also includes a harness bar for the Teamtech camlock harnesses, which are routed through the Bride carbon kevlar seats.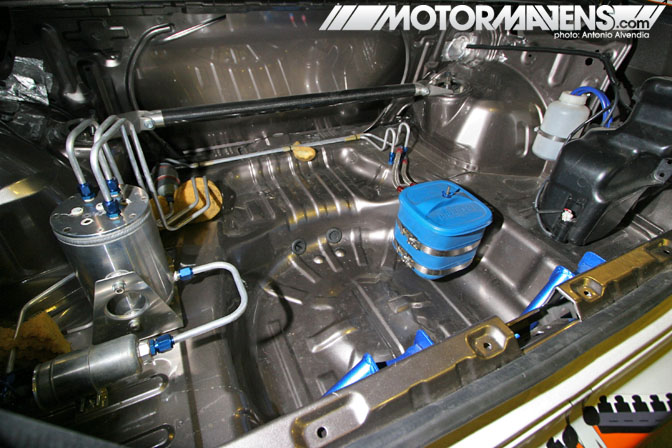 Here's the Koyama-engineered made JUN Auto Mechanic fuel system in the trunk.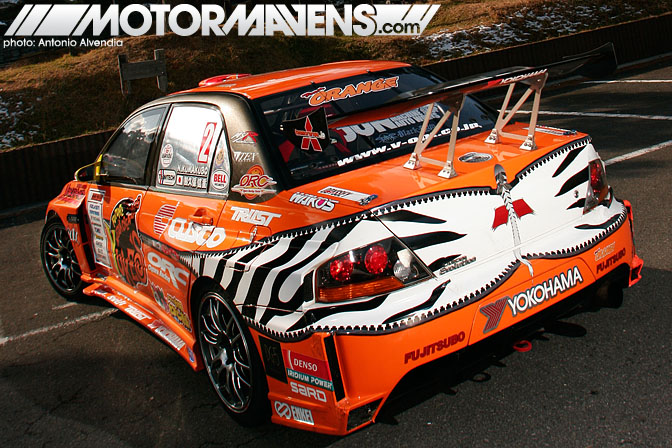 This is the rear exterior of the Yuke's Cusco Team Orange Lancer Evolution 9, with a full aero kit by M-Sports and a Cusco GT wing. As the sponsor sticker indicate, the car wins races with its DG-5 coilover suspension and Swift Springs (12kg/mm front and 8kg/mm rear).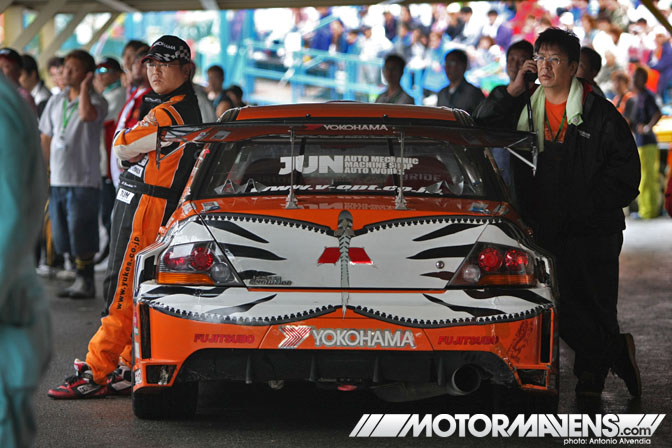 When you combine driving skill and engineering technology, you have a winning team. That's exactly what one can expect from the mechanical genius of Koyama-san paired with Kumakubo's driving finesse.
I snapped this photo from the pit garage/pre-grid area underneath Ebisu Circuit's South Course, which is one of the most famous drifting racetracks in the world. Kumakubo was watching the other drivers practice in the rain, while Koyama-san somehow managed to have a phone call from underneath the Ebisu pit garage, with the wail of screeching tires and high pitched turbo sounds echoing underneath the garage's steel structure.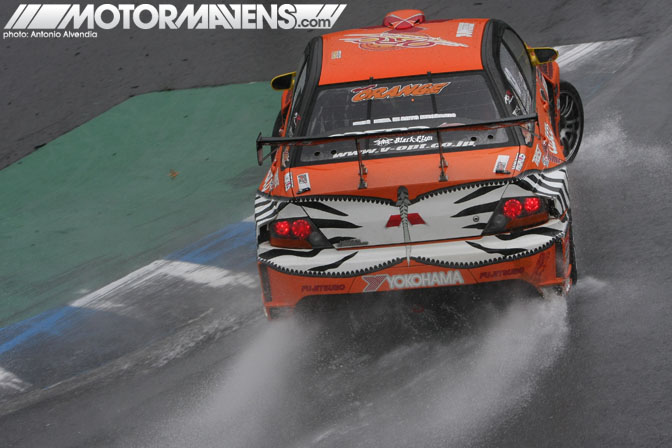 Almost the entire racetrack surface at Ebisu Minami (South Course) was flooded with water. If this event were taking place in the United States, the event would probably be canceled… but this was in Japan. When Japanese drivers are in competition mode, nothing will stop them from their mission.
Undaunted the challenge of drifting through a river running through the racetrack, Kumakubo accelerated down the hill at South Course and threw his car into drift, approaching closer and closer to the wall each time, until the rear bumper nearly made contact with the wall surface.
I remember thinking to myself, "the front tires are basically hydroplaning their way through inches of  water covering the track surface… how the hell is he controlling the car?!"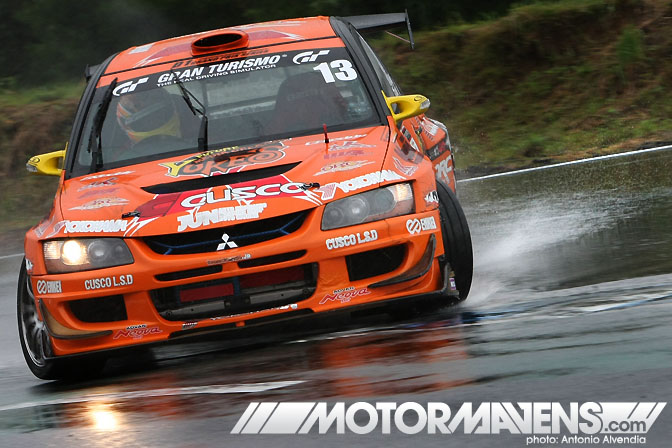 Apparently, when you drift as well as Kumakubo does, a little rain on the ground doesn't affect his ability to beat thirty two of Japan's best drifters.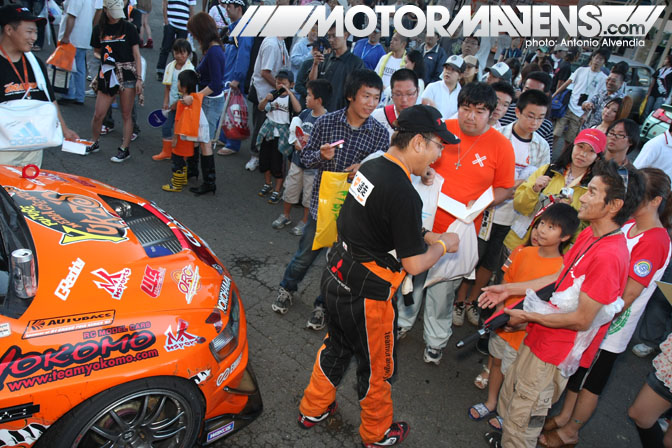 Kumakubo ended up winning First Place at the event – I vividly remember holding my camera up in the air, trying to get a bird's eye view photo of the Tsuisou King signing autographs at the end of the day, as a mob of Team Orange fans crowded around, congratulating Kumakubo on his victory.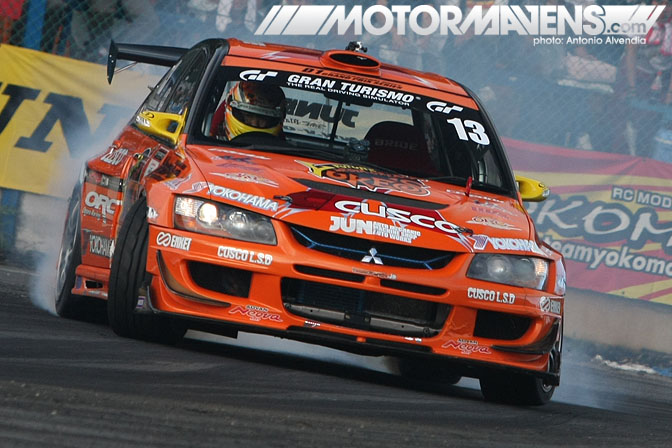 Experiences like these are the reason why I've dedicated the better part of my life to photographing drifting and Japanese car culture.
After cars like the Mitsubishi Lancer Evolution are discontinued; after legendary drift teams fall apart for undisclosed reasons… I remain changed forever by the amazing things I've been fortunate enough to see and experience firsthand; developing lifelong friendships with talented and sincere individuals who just happen to be regarded as legend in the world of Japanese motorsports.  Drifting changed my life. And for that, I remain forever thankful.
:: Antonio Alvendia
---