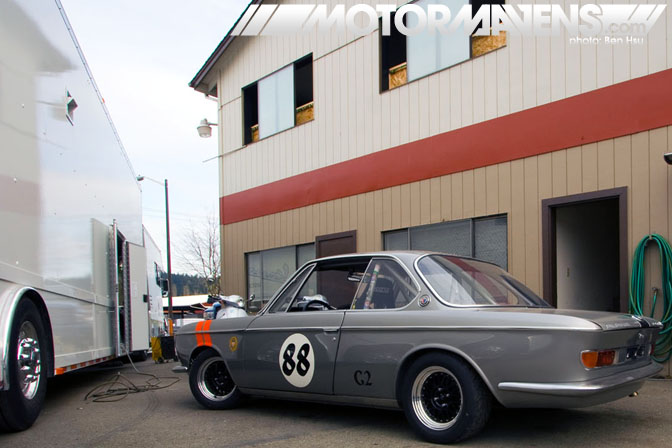 Remember the sexy silver machine from last week's post about Seattle vintage race car builders Racecraft? The 1966 BMW 2000CS served as the design inspiration for some of the most gorgeous BMWs ever to roam the Autobahn, dazzling enough to warrant closer inspection on MotorMavens.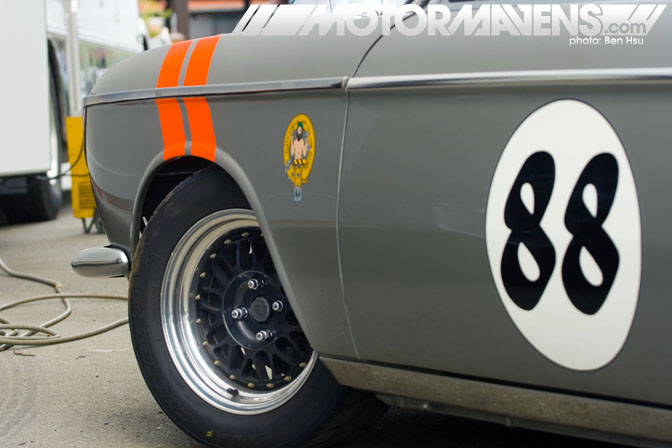 The BMW E9 coupes are not only the most drop-dead beautiful BMWs built, but some of the finest designs to ever emerge from Germany itself. The series culminated with the breathtaking 3.0 CSi, and the racegoing 3.0 CSL that it underpinned was the first project undertaken by BMW's M Division.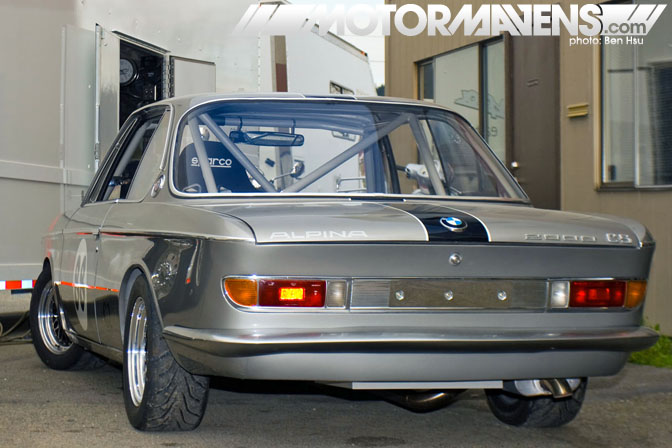 Before that legendary lineage took root, however, there was the 2000CS. Design elements like its razor-thin roofline and pillars, flush rear lights, and bold wraparound character line were all carried over to the E9s.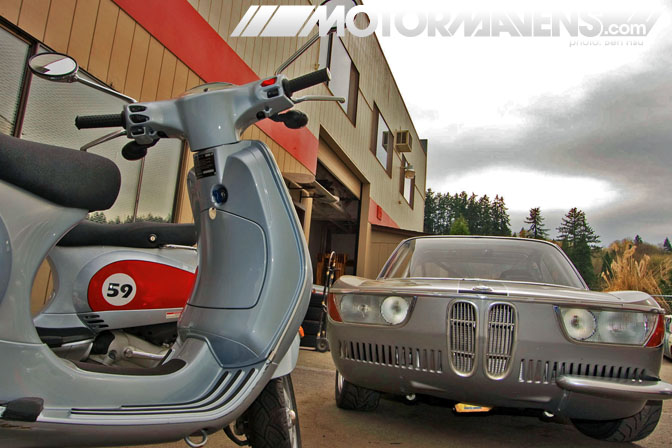 The two designs diverged at nose. The 2000CS incorporated BMW's trademark grill directly into the sheetmetal, but E9s would use a more traditional twin kidney pushed together with a chrome surround, a look that would define BMW design for decades to come.
Incidentally, the matching Vespas are Racecraft's track runabouts, accompanying the race cars in their double-decker enclosed trailer parked beside the BMW.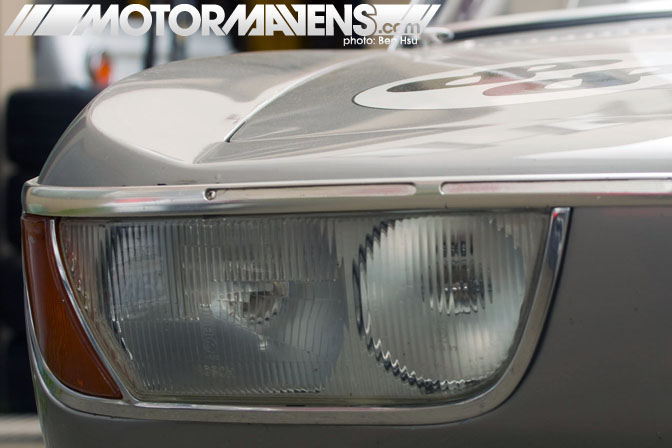 Whereas US laws dictated the use of four distinct sealed-beam headlights, European 2000CSs wore their headlights fully flush to match their smooth behinds.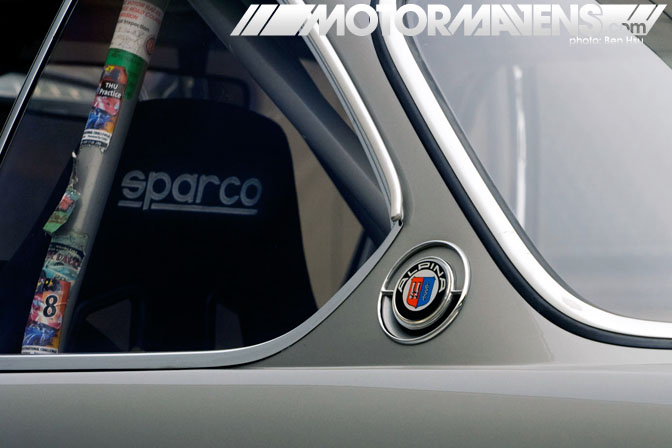 Another BMW trademark is the dogleg C-pillar, named the Hofmeister Kink after BMW designer Wilhelm Hofmeister. It was first introduced on the BMW 1500 but became much more pronounced on the 2000CS, and it is this shape which most closely resembles that found on all modern Bimmers.
The cloisonne badge, normally a white and blue BMW roundel, has been replaced here with an Alpina emblem. Technically, this logo belonging to the world-renowned BMW tuning house wasn't developed until 1967. Still, it seems appropriate here as the 3.0 CSL was, along with the 1500 and 2002, one of the earliest platforms Alpina modified into their own brand of performance cars.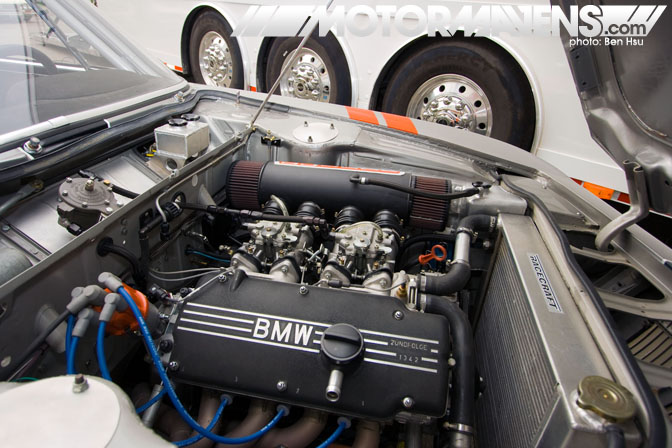 While the E9s were powered by BMW's M30 family of inline-sixes, the 2000CS ran 2.0L four-bangers with twin side-drafts. Stock units are good for approximately 120hp but this motor has been fully massaged by Racecraft. A good condition 2000CS can fetch about $20,000; the net worth of this racer is $200,000.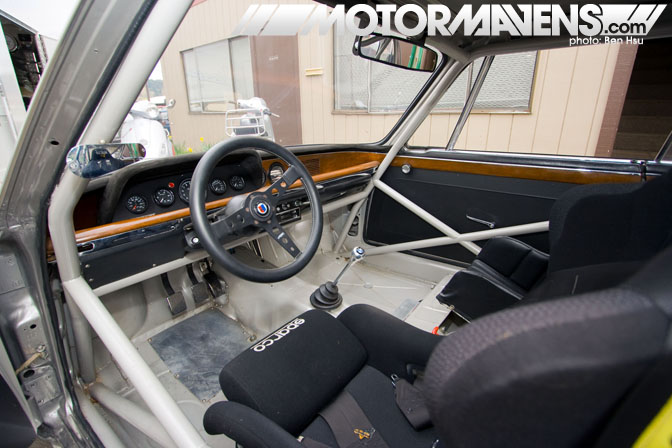 The interior is all business but retains the exquisite wood dash of a stock 2000CS. A Sparco racing seat positions the driver behind an Alpina racing wheel. Unfortunately the elegant, stock, wood and chrome one had to be sacrificed for practicality's sake.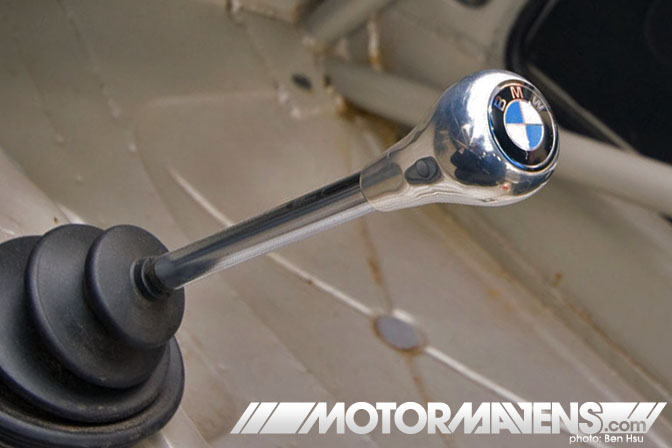 In its four-year production run from 1965-68, about 8000 2000CSs were built. It's not super rare, but considering the influence it had on the styling direction of the cars that made BMW famous, we think it, like this shift knob, is a work of art.
::Ben Hsu
---