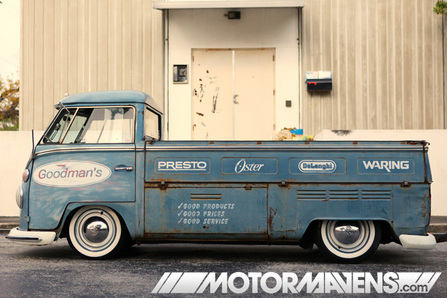 The streets of Miami are filled with tons of high end, exotic cars. From South Beach to Star Island and Coral Gables to Downtown Miami, you can find Lamborghinis, Porsches, and Ferraris littering the streets – you literally see them parked on every street corner. Since I live in Miami, those types of pricey exotics don't really excite me anymore; I see them all the time.
The funny thing, though, is that while I constantly drive right past Lamborghinis with a bored look on my face, I almost jumped out of my seat when I saw this 1967 Volkswagen Single Cab (truck) cruising down the street. To be honest, I had never seen anything like it before. I had seen Volkswagen buses before, but I didn't even know Volkswagen trucks ever existed! I just don't see those types of cars every day!
When I saw it driving down the street, I was already late to meet up with some friends from out of town who work for a big car magazine, but they would just have to wait a bit longer – this Single Cab had me buggin out because it has so much style. I just had to stop and shoot some photos!
So my friend and I chased down the guy driving the VW, honking our horn and flashing our headlights while yelling out the window, asking him,as politely as possible, to pull over. (He was a big guy who looked like he would probably kick the asses of two chumps trying to pull him over for no reason.)
When we asked him if he could stop for a minute so we could snap a couple photos of his VW Bus… err… truck, he replied, "hey yo, this shit's not mine and I'm kind of in a hurry," but since we're persistent with our persuasive powers, he agreed to let us take some photos real quick. I'm talking real quick. We didn't have time to find a cool spot to shoot some heroic images of the bus… I mean… truck, or anything like that. It was pretty much point and shoot time cause this guy (his name was Johnny) had to get somewhere and he was being nice and gracious enough to stop just so two guys he didn't even know could take a few photos of a VW Single Cab truck that wasn't even his. With no time to move it to a nicer location, we did our best to shoot photos really quickly so he wouldn't feel inclined to kick our asses.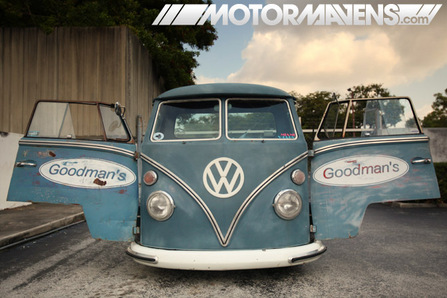 According to Johnny, this 1967 Single Cab was owned by a friend of his named Ruskin who has owned it for the past six years. About a month after these snapshots were taken, we were able to track down Ruskin and ask him about his awesome looking Vee Dub.
One of the first things we had to ask Ruskin about was the awesome looking paint and painted logos on his Single Cab. After all, we love the fact that it looks like an old school appliance delivery truck. Apparently, Ruskin's truck didn't come with those logos when he bought it, but he absolutely loves the look of those vintage work trucks. With this in mind, he hand painted and stenciled the logos onto the VW's blue-gray paint, and then sanded them down slightly to make them look rough, with the patina of an old weather beaten work truck. BRILLIANT. Seriously.
He got the idea to logo it up like an old appliance delivery truck because one of his high school friends owns a successful appliance store called Goodman's (www.goodmans.net), so he thought it would be cool to put some of the brand logos on the side of his truck, and park it outside Goodman's store to attract attention and bring in customers.
On the exterior of his VW, Ruskin swapped in bumpers and bumper trim from a 1965 (or earlier) Deluxe package VW bus. This stuff isn't cheap. Apparently, those things set him back $600!
Also, one might notice the chrome body trim, which came from a Deluxe package 21-window VW Bus. Volkswagen Single Cabs never came with Deluxe trim, so Ruskin shelled out $300 for a used, busted up trim set that he hunted down at a swap meet.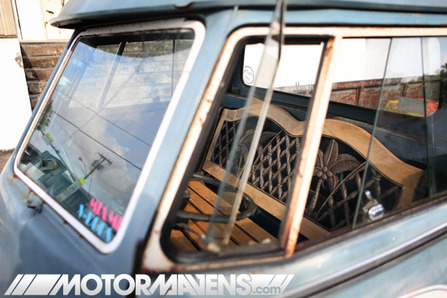 Ruskin's Single Cab has some awesome windows. Let's explain. The door windows actually slide back like the windows in your house. In front of the sliding door, the windows are the typical rotating vent windows that most old Vee Dubs have.
Now let's check out the windshield. Ruskin spent $500 to add safari windows to his Single Cab which actually pop-out. They swing up so you can look right through the front window! Super cool.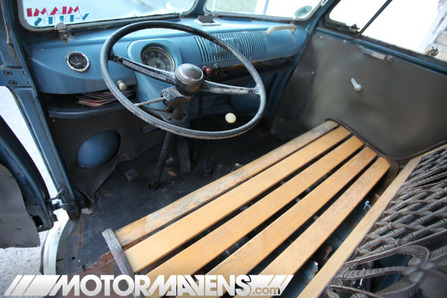 Inside the cab, it's hard not to notice the crazy park bench seat sitting in there – but more on that later.
The steering wheel and pedals might be original, but Ruskin swapped the original VW reduction box transmission with an aftermarket Freeway Flyer transmission for easier driveability. The original transmission was designed for use at much lower speeds (and possibly for climbing hills in Europe?) than what today's driving environment is like.
There obviously isn't any air conditioning in the cab, but Ruskin says that it isn't a problem. "You're so far away from the engine, and all the windows open up – even the windshield, so it really isn't much of an issue for me."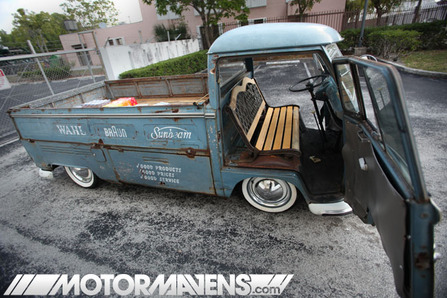 Ruskin says one of the reasons why he loves his VW Single Cab so much is because it has a dual treasure chest. Umm… what?
Ruskin explained, "See the flip-up door between the wheels that says Good Products, Good Prices, Good Service? That door gives you access to a storage compartment underneath the bed. My Single Cab has doors on both sides, so you can open it up on both sides and look right through it. That's why they call it a dual treasure chest. There's no support beam or anything. A little kid could run up and slide right through there and come out the other side if he wanted to."
Continuing on with his story, Ruskin explained that back in the day, people would use Volkswagens with treasure chests to smuggle drugs (and people) across the border of Mexico. According to our man Ruskin, the storage area underneath the bed of his Single Cab is so big that you could put EIGHT 15 inch wheels in there!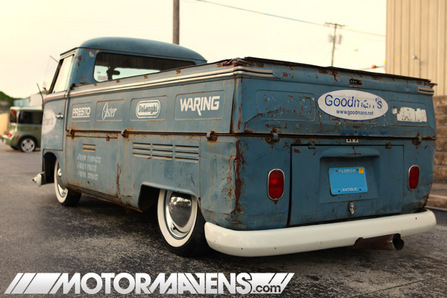 Look at the gates that surround the truck bed. It has hinges so that you can fold all the gates down to make it easier to load things into the bed. Ruskin says that when he drives this thing to the beach, he pulls down all the gates around the truck bed so he can put food in the middle of the bed, and the girls can sit on the gates. Man, if this guy can pull some hot mamacitas with Brazilian bikinis at the beach with a 1967 Single Cab, he's the man!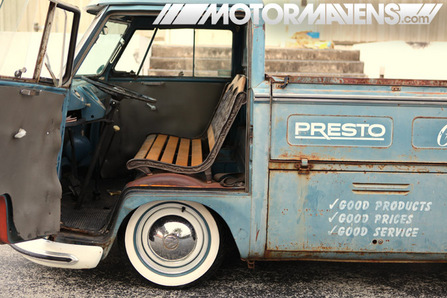 Ruskin says that the main thing he wanted to do with his Single Cab was slam it to the ground with tall whitewalls. However, he couldn't obtain the low stance that he wanted without going to a lower profile tire because of tire clearance issues with the wheelwell/floorboard. And Ruskin was adamant about keeping the tall, high profile whitewall tire look, to give it a classic American car look and feel. Therefore, he decided to tub his V-Dub.
Ruskin explains that he has seen people slam their VW buses by cutting the floor and raising it up, but he didn't want to do that because he didn't want to sit higher in the cab, or hit his head on the headliner.
Instead, he decided to remove the factory seats and cut open the wheelwell/floorboard underneath the seats. Ruskin says that he actually drove his truck around with exposed wheelwells for a week so he could observe the wheel travel and turning radius of the front wheels. With this newfound knowledge, he went to a trailer supply store and bought some steel trailer fenders for $20 each, customized them, and welded them in place.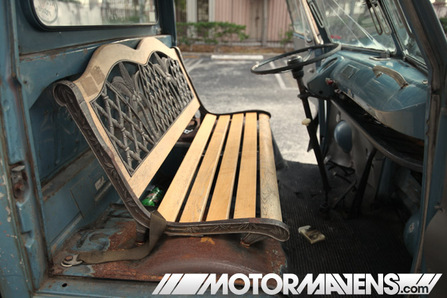 With a new $40 tub job for his single cab, it was time to reinstall the front seat. Ruskin was planning to heat up the metal bar underneath the original seat and radius it so that it would fit evenly with the new tub, but his plan changed after taking a trip to Home Depot to buy some supplies later that afternoon.
While he was at Home Depot buying other miscellaneous stuff, Ruskin noticed that they were selling a garden bench super cheap for some reason. **Ta-daaaaa!*lightbulb* So he bought the bench, cut off the armrests and the legs, and then with the help of some friends, he custom fitted it and welded in to his Single Cab. The results just speak for themselves. AWESOME.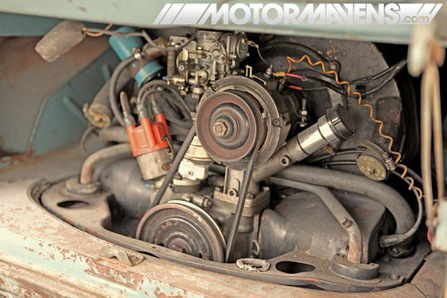 Out back, Ruskin's 1967 Single Cab is powered by an all original, air cooled, 1500cc single port Volkswagen engine, completely rebuilt as all stock. According to Ruskin, he also likes to run the factory carburetor setup the best. He's tried a 32/36 Weber carb before, but he says he likes the way the factory carb idles and runs. Ruskin explains, "I have so many cars in my collection, this thing sits around for like 3 months, and then I'll decide to drive it all of the sudden to a VW show that's like 700 miles away. And this thing doesn't miss a beat! I just check the oil, and my Single Cab runs good! All my other friends are breaking dumb stuff on their cars, but mine runs fine, no problem."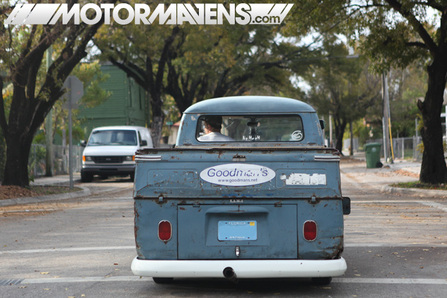 Just in case you wanted details on how the Single Cab was slammed, it was lowered using a 2.5″ narrowed beam, which was done by Wagons West in Oregon, and then shipped back to Ruskin for the install. This has got to be one of the coolest Volkswagens in the entire state of Florida.
Make sure to visit Goodmans.net for the physical location of the store if you want to see this vintage "appliance delivery vehicle" for yourself!
::Jose Gonzalez
---