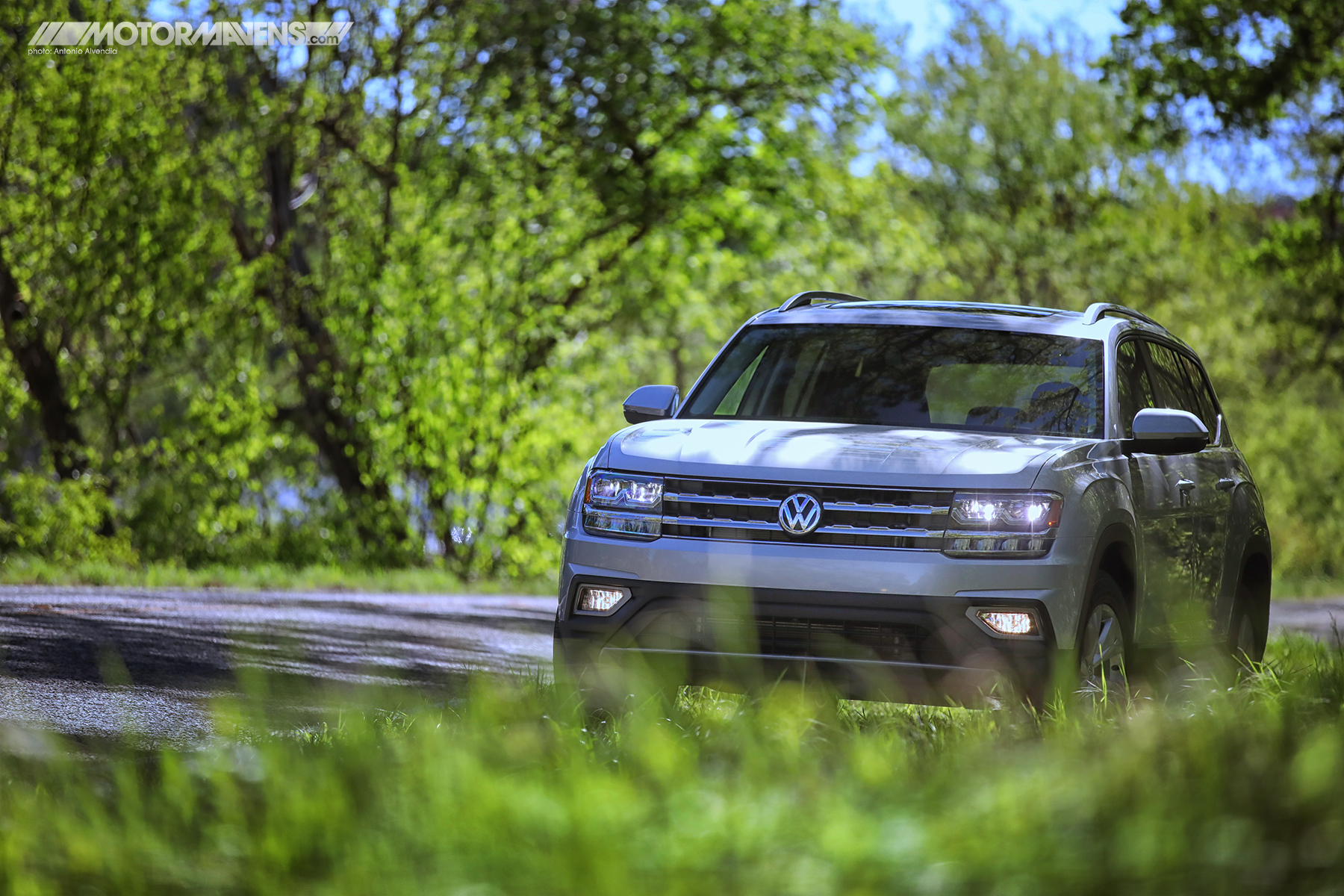 We recently traveled to Texas and were given the opportunity to test drive the all-new 2018 Volkswagen Atlas, the new 7-seat, 3-row SUV from Volkswagen that tons of our friends have been talking about! The thing is, even though most of our friends are mainly sports car or sport compact car enthusiasts ( most of them have at least one fun, 2-door vehicle in the garage), lots and lots of them have actually been buying crossovers and SUVs for daily driving or family use.
It's obviously tough to put baby seats in cars like the Porsche 911, E46 M3, JZA80 Toyota Supra, etc. This being said, lots of our friends have been buying big 3-row SUVs like Toyota Sequoias, Ford Expeditions, Chevy Suburbans, Cadillac Escalades, and the like. Those vehicles are certainly big and useful, however… they do present a problem. They all seem to hate the handling characteristics of their big SUVs!
Enter the Volkswagen Atlas. Built in America and designed specifically to serve the needs of a large American family, the all-new Atlas is exceptionally roomy like a standard 7-seat, 3-row SUV, but since it's built on Volkswagen's popular MQB platform that was first seen in the Mark 7 VW Golf family of cars, the Atlas doesn't have the normal sloppy truck-like handling of a big SUV.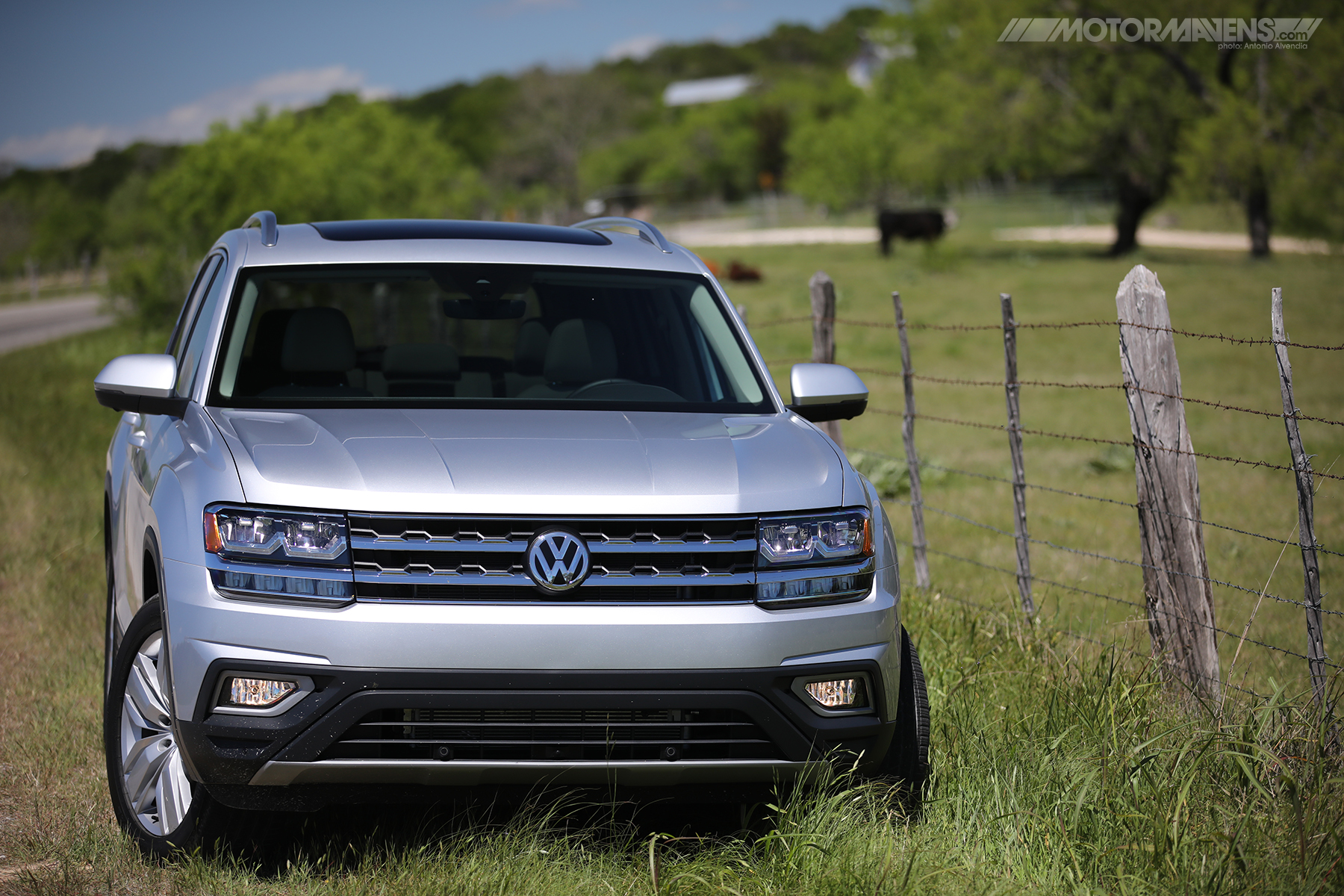 We were able to test out the Atlas's high speed handling on some of the long, sweeping backroads in Texas Hill Country, and, despite its large physical size, we were quite impressed by the way the steering on the Atlas felt light and responsive – kind of like you were driving a midsize sedan. It was almost hard to believe that we were behind the wheel of the largest production Volkswagen ever made, with a length of 198.3 inches, width of 78.3 inches and height of 70 inches. We can't emphasize enough how roomy the Atlas feels!
The vehicle's exterior looks bold and upscale, with full LED front lighting, and available LED taillights. As simple as it may be, this is one feature that we absolutely love – the LED lights are bright as hell, and attract attention to the Atlas, even in the already-bright Texas sun.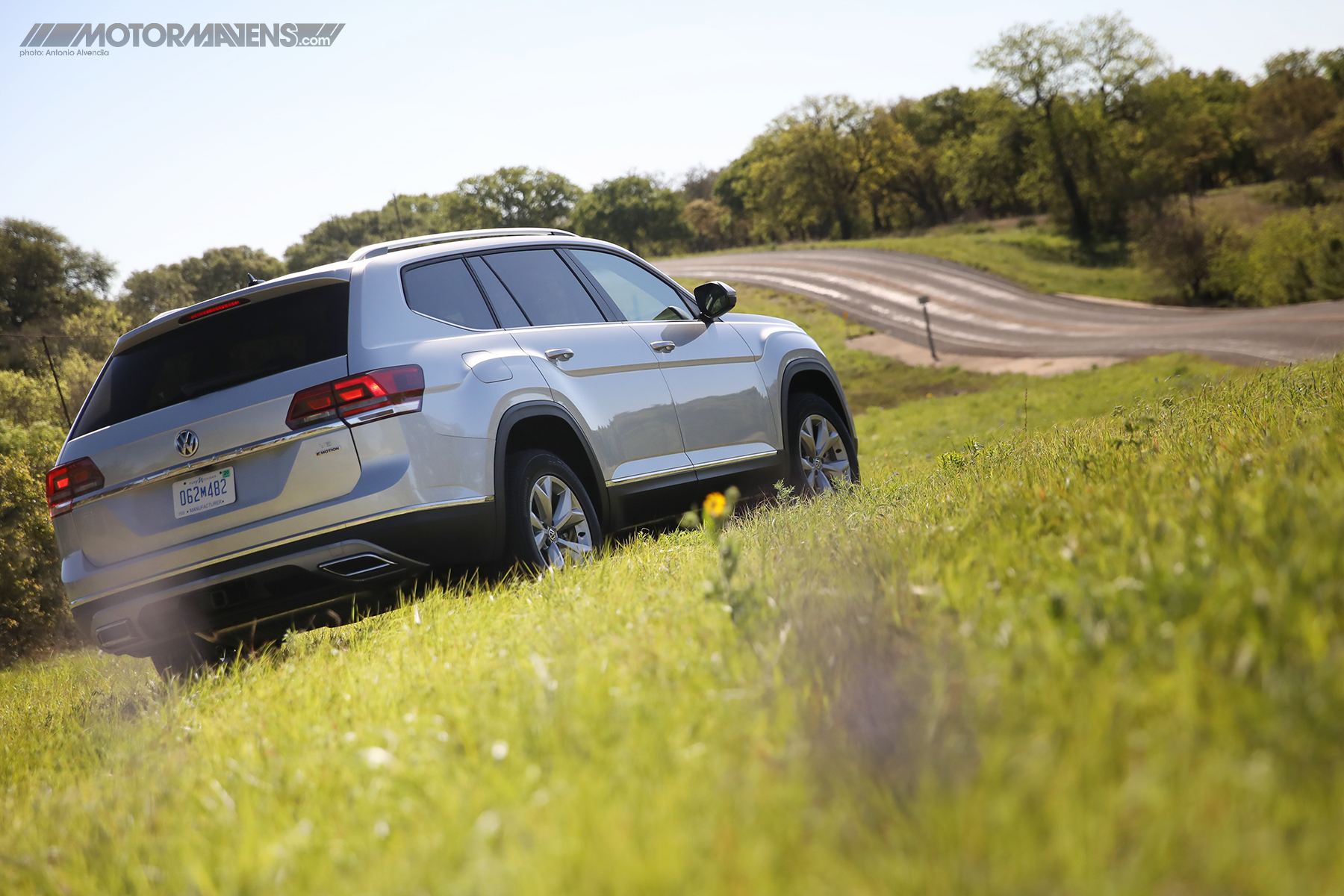 The rear view of the Atlas is just as handsome as the front. The taillights and hatch look great, and you can definitely see the design relationship to the Golf family. We love that! The exhaust tips have been built into the bumper, similar to vehicles from other premium brands.
By the way, the hatch opening is HUGE. It has enough room to fit some modern bookshelves from Ikea, with more than enough room left over to load up a month's worth of groceries at Costco.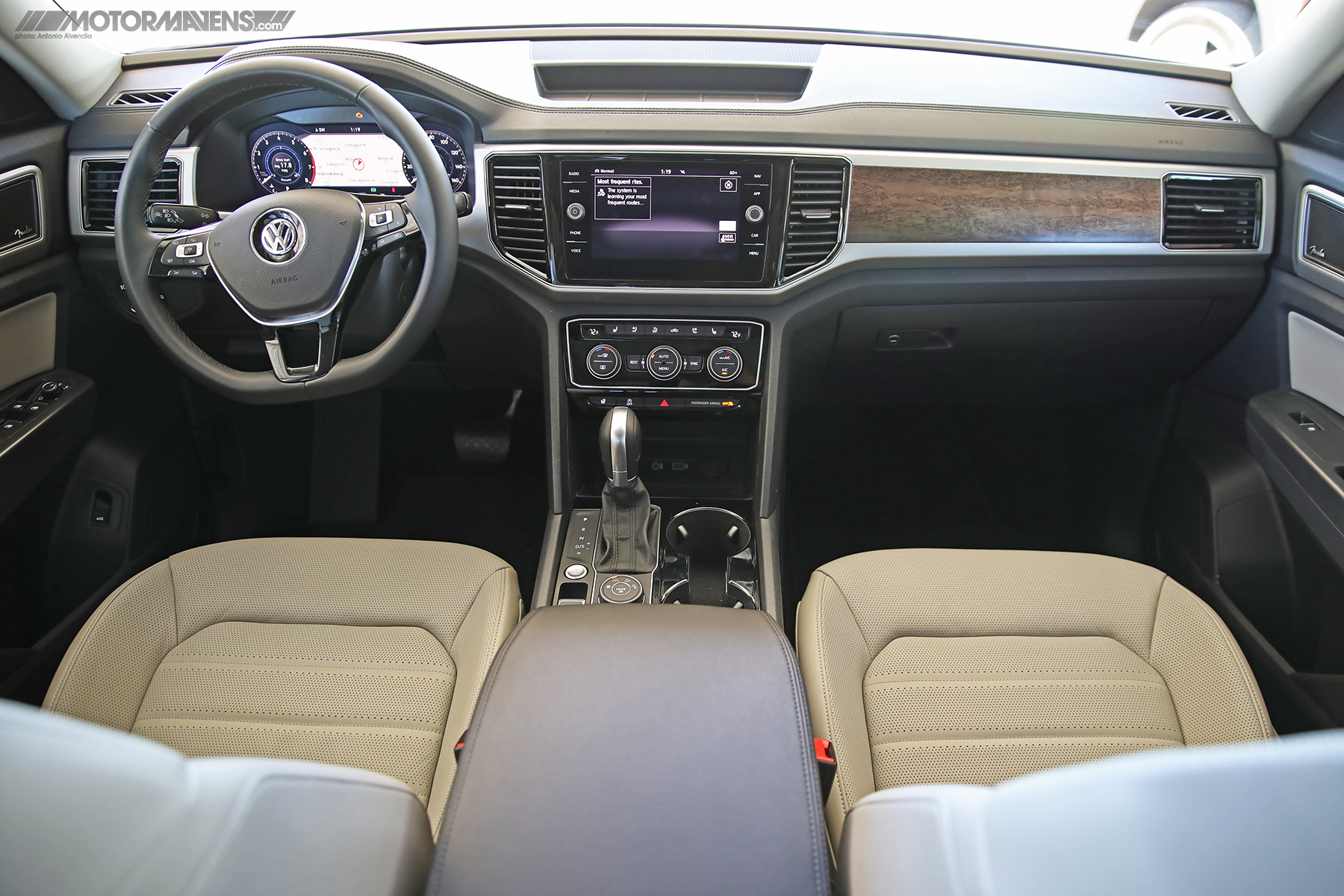 Speaking of modern furnishings, Volkswagen always does an amazing job with its interior design. The cockpit looks modern, and is finished with high end materials. The stitching on the wrapped dashboard makes the interior look nice and upscale, and the choice of wooden tones for the dash panels look great also. We loved how the off white interior shown here came with black carpet! FINALLY, and automotive designer with some sense! (If you've ever owned a vehicle with light colored carpet, you will understand how crucial black carpet is to keeping your vehicle's floor clean and stain-free.)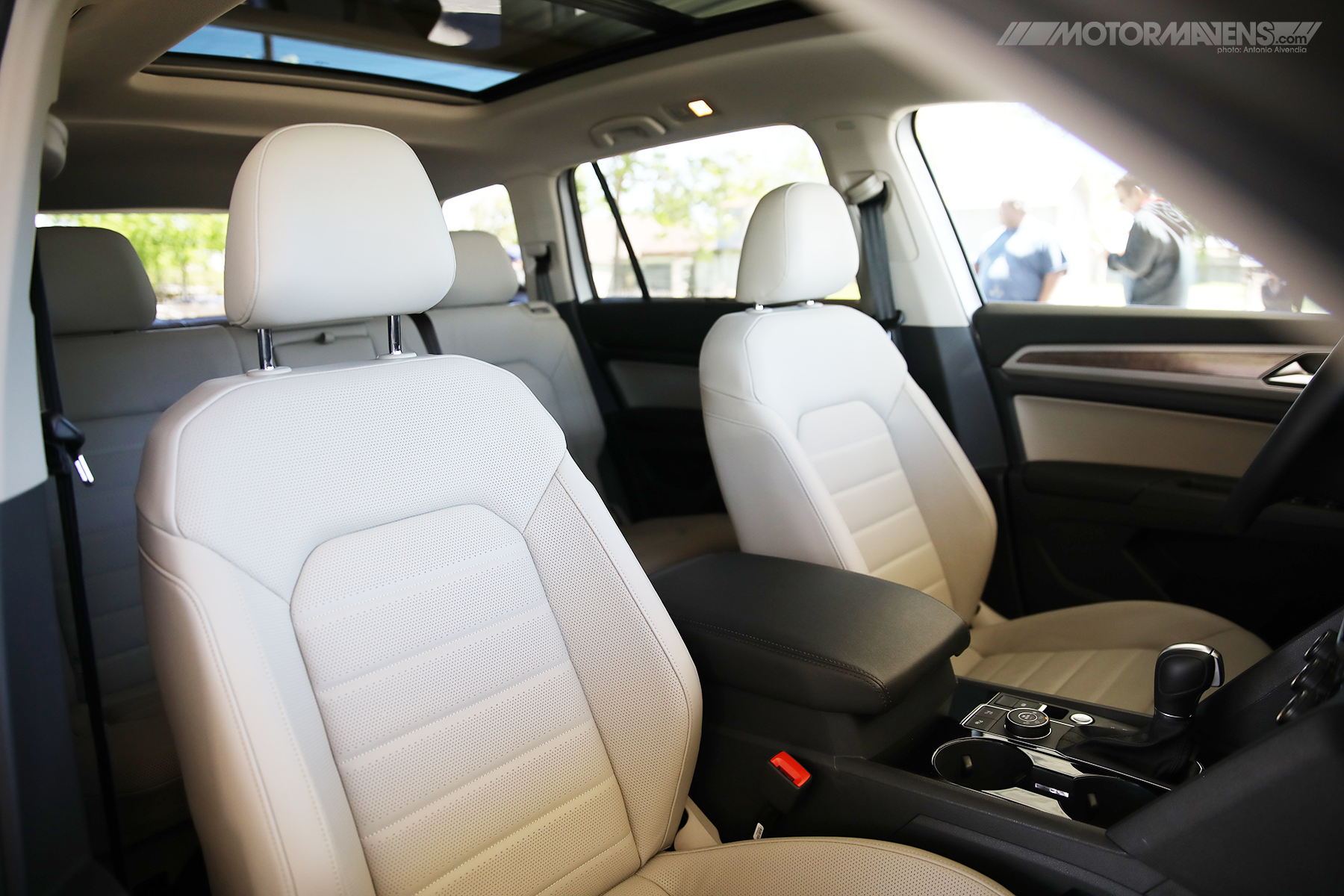 Here's another photo showing the awesome, stylish contrast of the off-white and black interior panels. Freshhhh. Love it.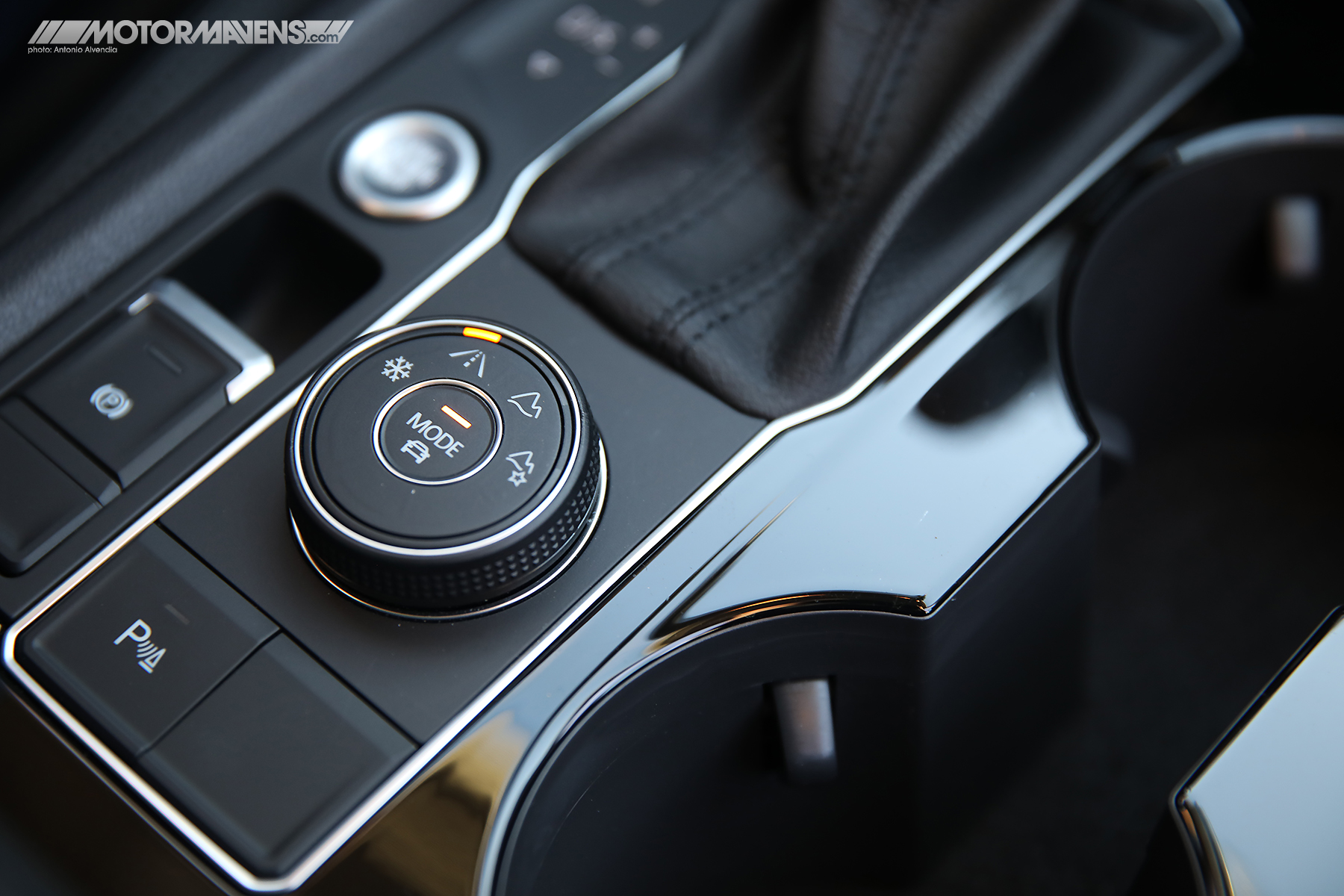 On the center console of the 4MOTION all wheel drive models, the Atlas is equipped with a huge driving mode selector knob, which makes it super easy to change vehicle modes from snow to highway/onroad to mountain/offroad to custom offroad settings (that's the last one, with the "mountain star" graphic.)
When you select "Onroad," you can change the parameters for engine, transmission, steering, and adaptive cruise control by selecting Eco, Normal, Sport, and Individually Customizable driving profiles.
What we ARE sure of is that the center console cupholder channel is huge, with enough room to hold 44oz Super Big Gulp-sized drinks and your humongous new smartphone. No worries, the Atlas has you covered.
This photo of the central infotainment screen shows some of the options that you can customize when it comes to driving mode selection.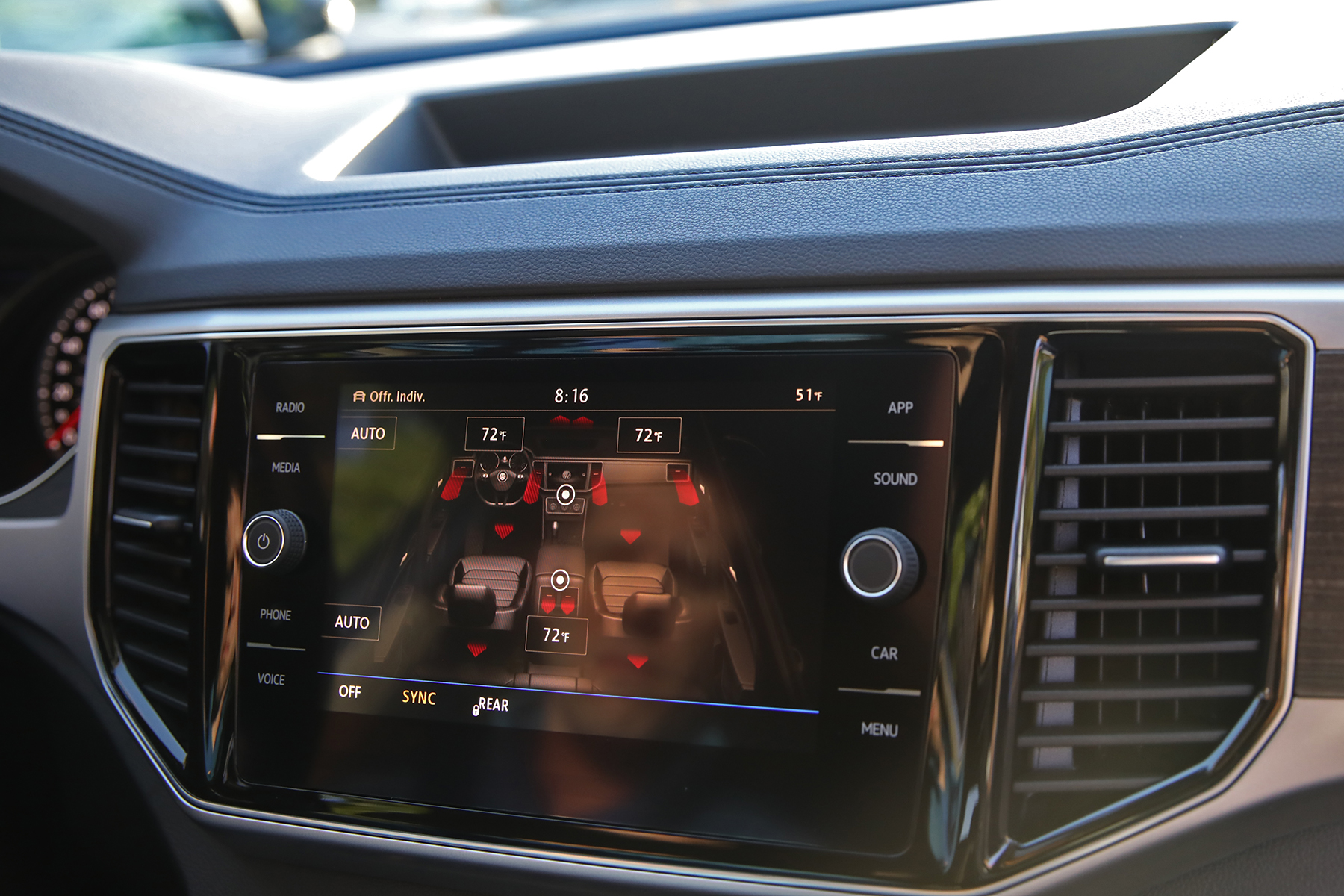 Also, you can precisely customize the hell out of the climate control system. Just look at all the options presented in this menu! Sheesh!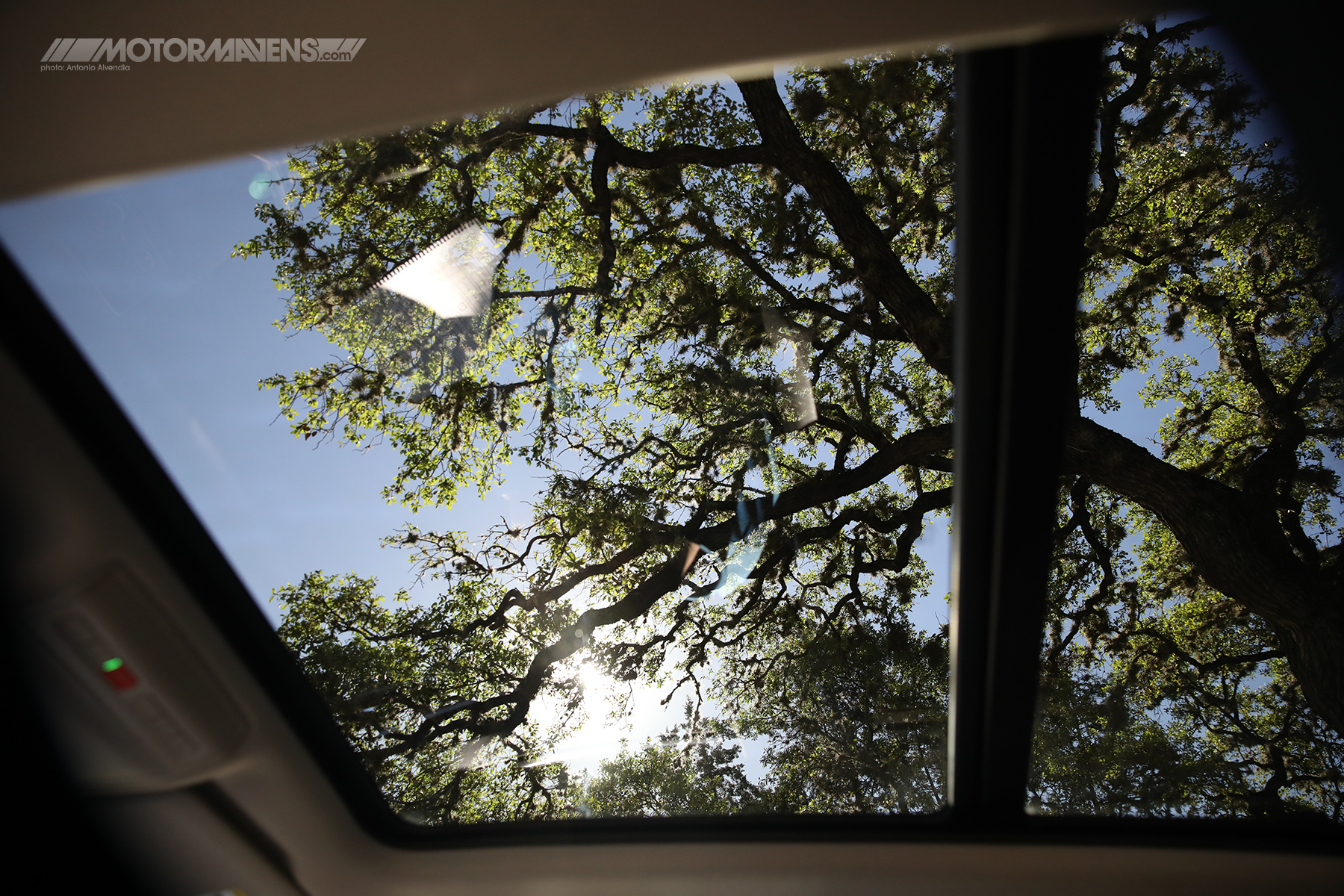 When you look up, you will see the feature that we love most about the Atlas – the ridiculously enormous full glass roof. We absolutely LOVE this feature because it gives the Atlas a bright airy feel inside, but you can still cover it up with the retractable shade to shield yourself from the hot sun.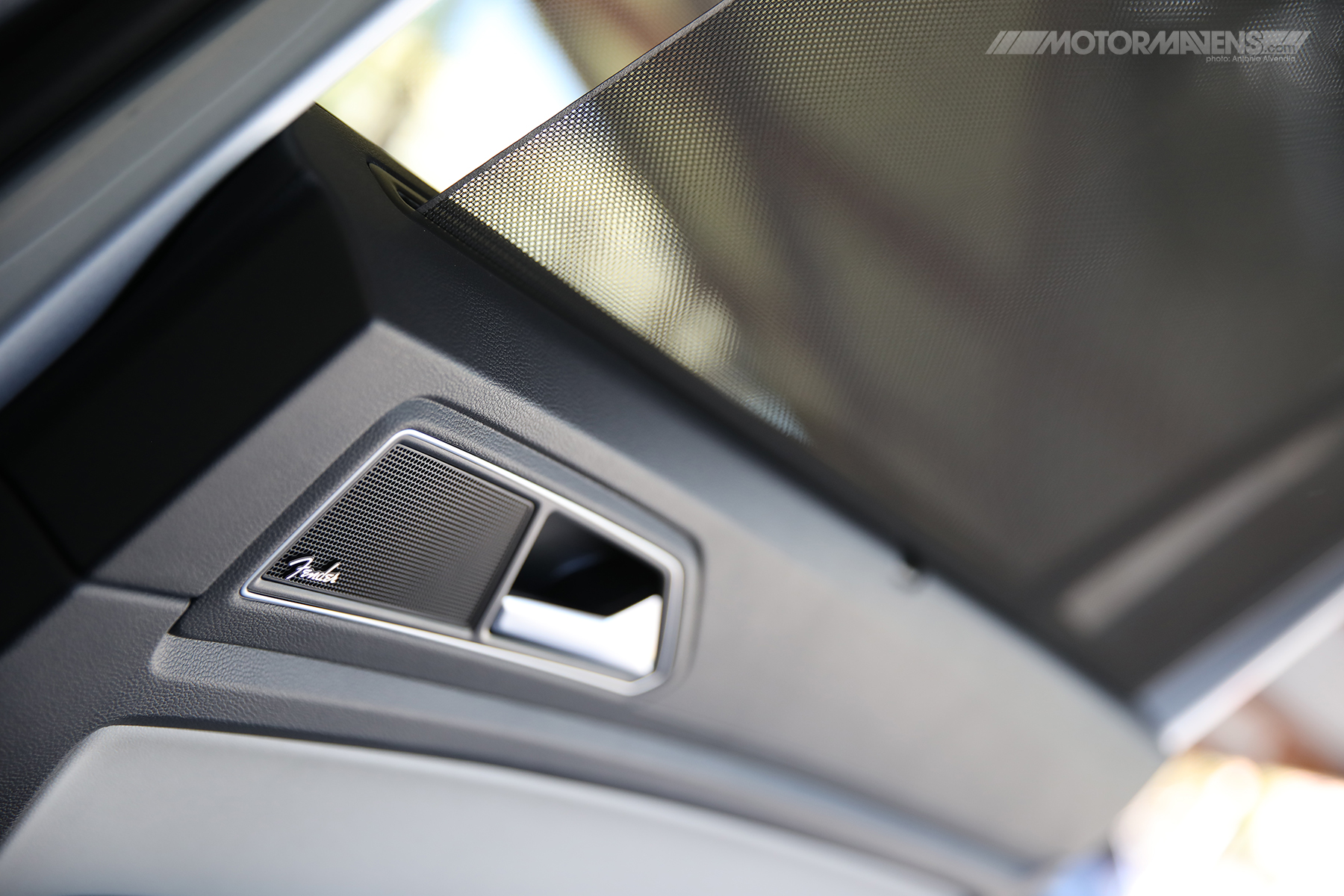 If you love to hear every detailed tone from your musical playlist like we do, you'll absolutely love the Fender Premium Audio in the Atlas. It sounds like a home theater, complete with a center channel speaker, subwoofer, and a 480watt, 12 channel amp to distribute constant power to each one of the 12 speakers in the vehicle. You'll have no problem competing with that guy that bumps his stereo as he drives down your block.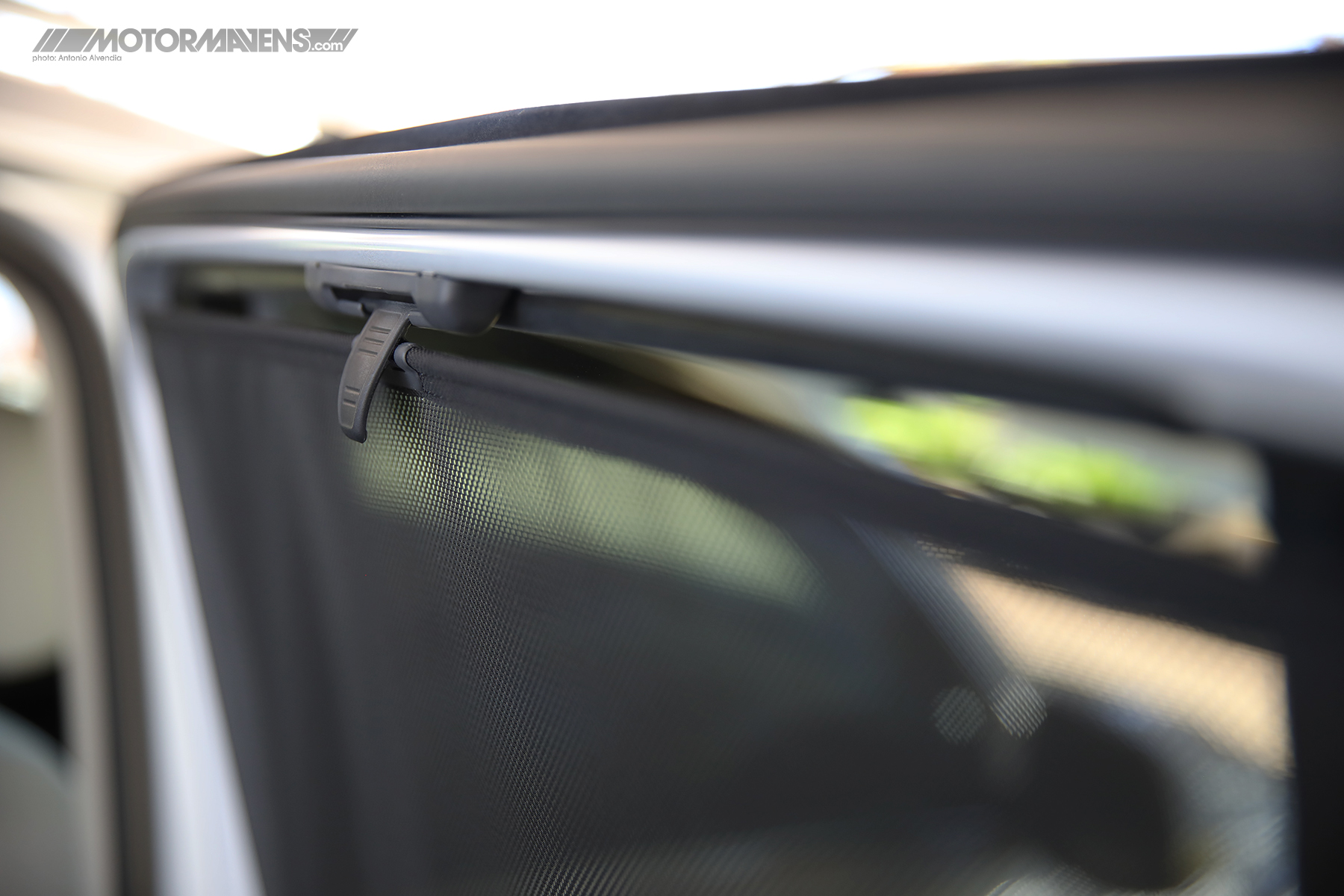 The rear seats come with these nice retractable window shades that you normally find in high end vehicles, like a BMW 7-series or something equivalent. Nice touch, Volkswagen!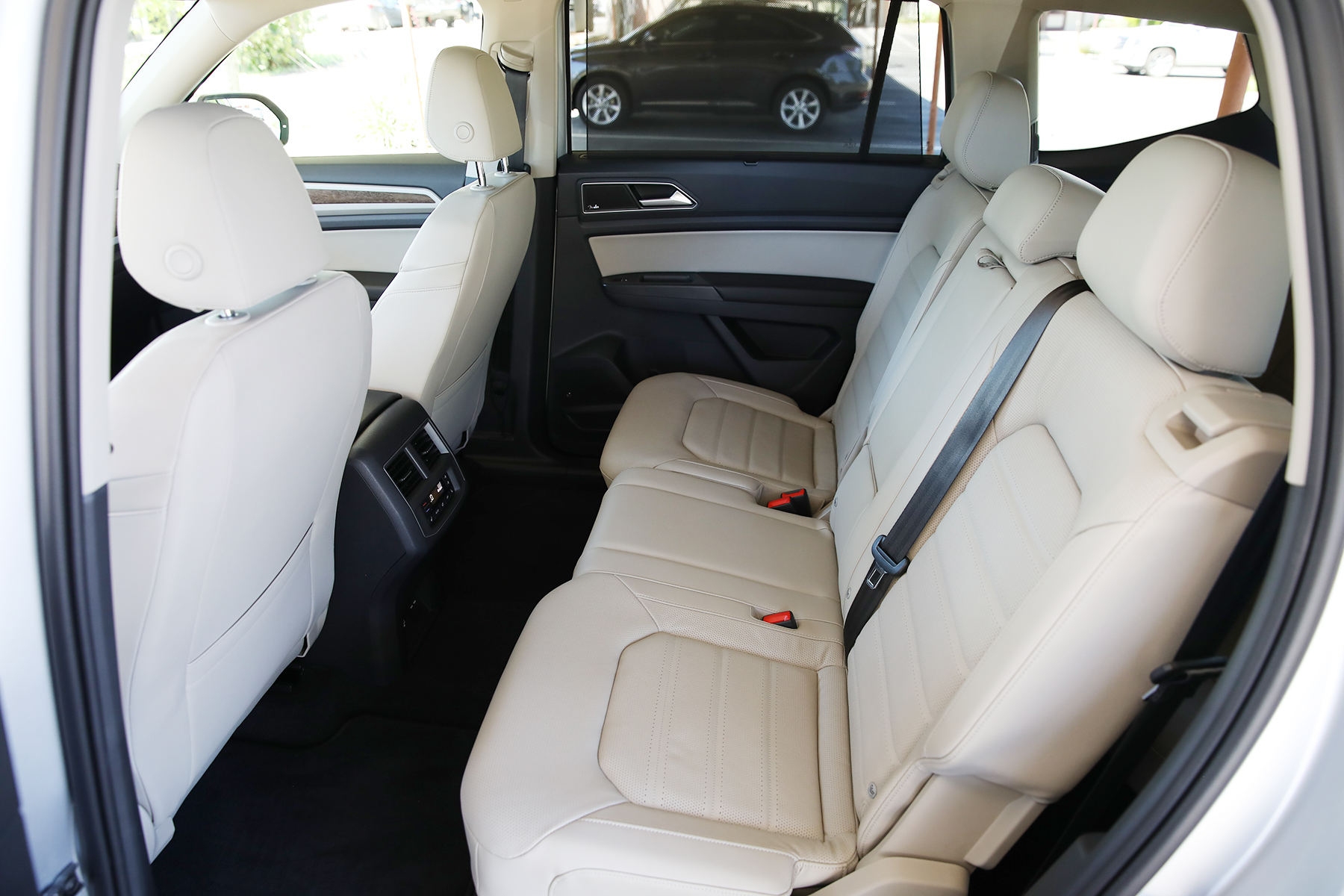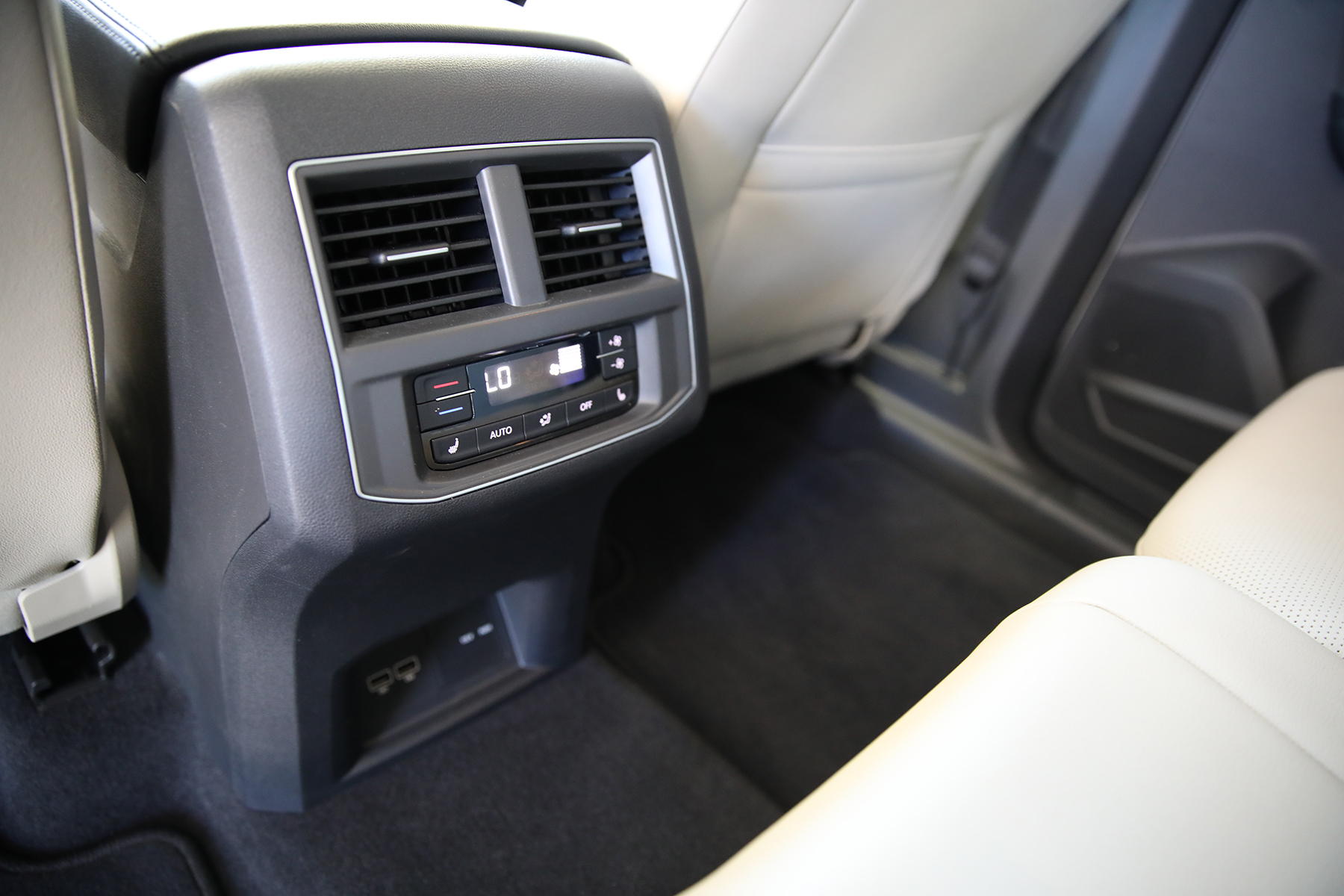 The rear center console comes with climate control for the people in the back, and even has extra USB ports for charging your devices. Perfect.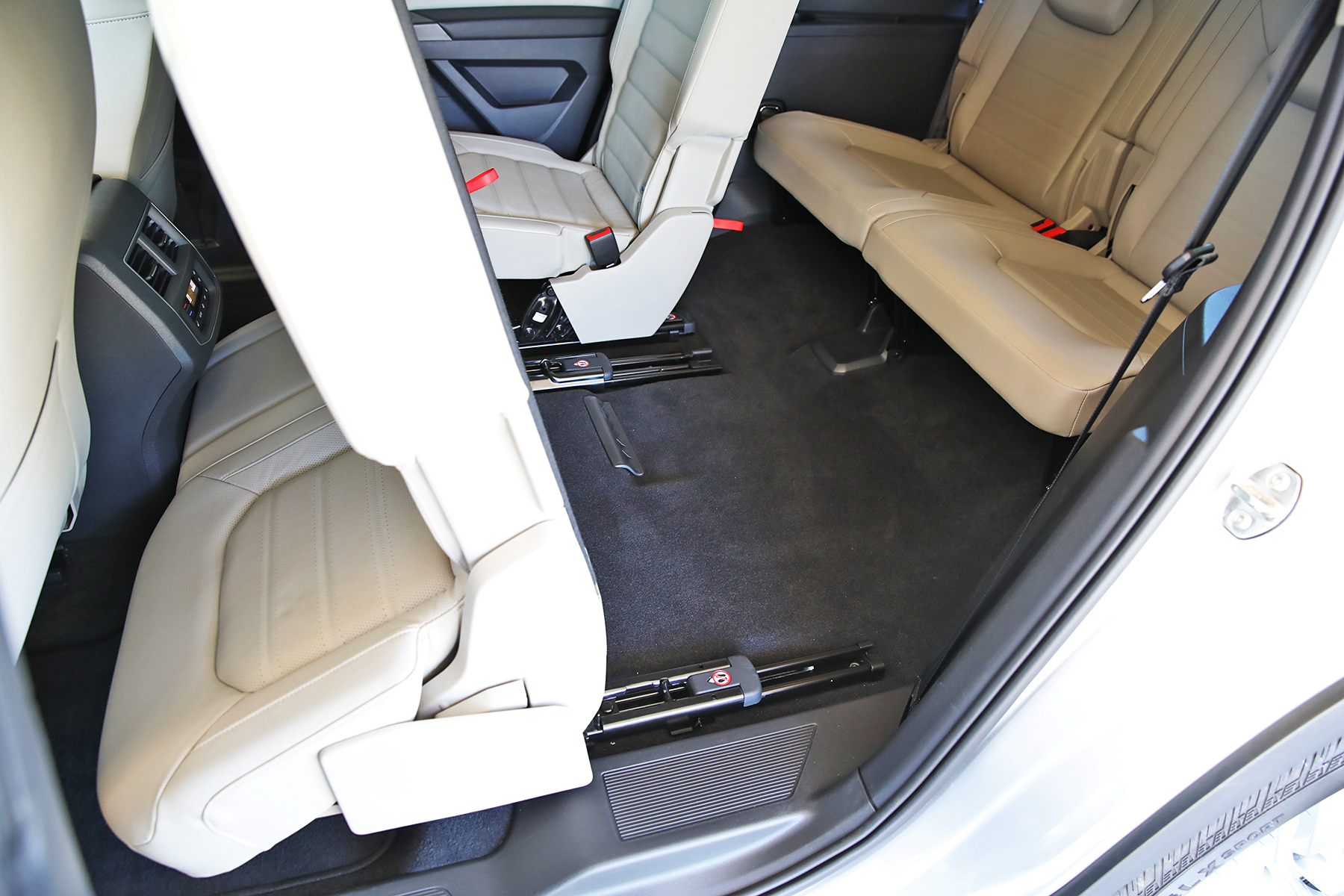 The second row seats can tilt forward to allow more passengers to access the 3rd row of seats.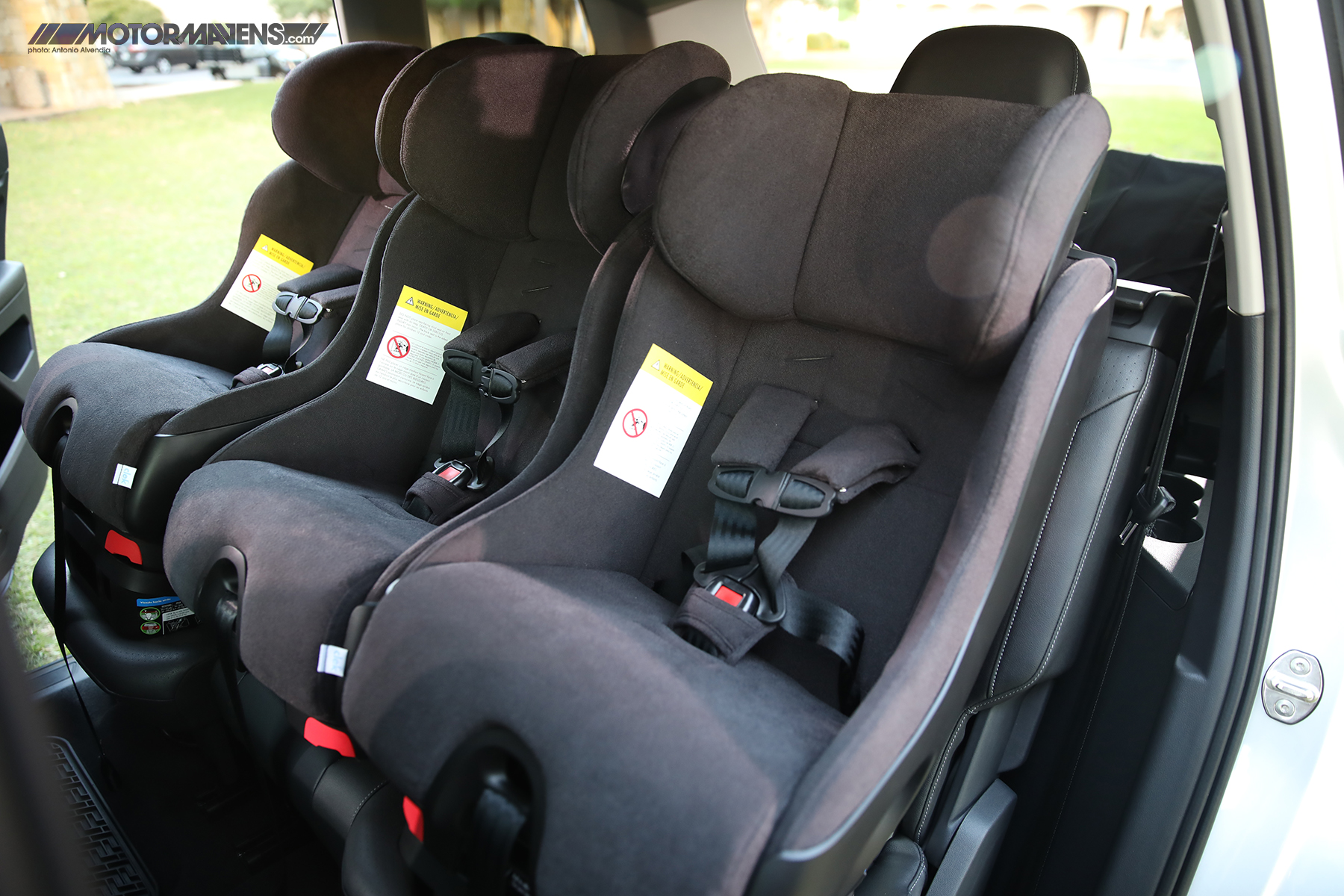 This photo proves that the second row seats are huge. They are wide enough to accommodate three baby seats at the same time. If you have more than 3 kids that need baby seats, then you might just need to buy yourself a school bus.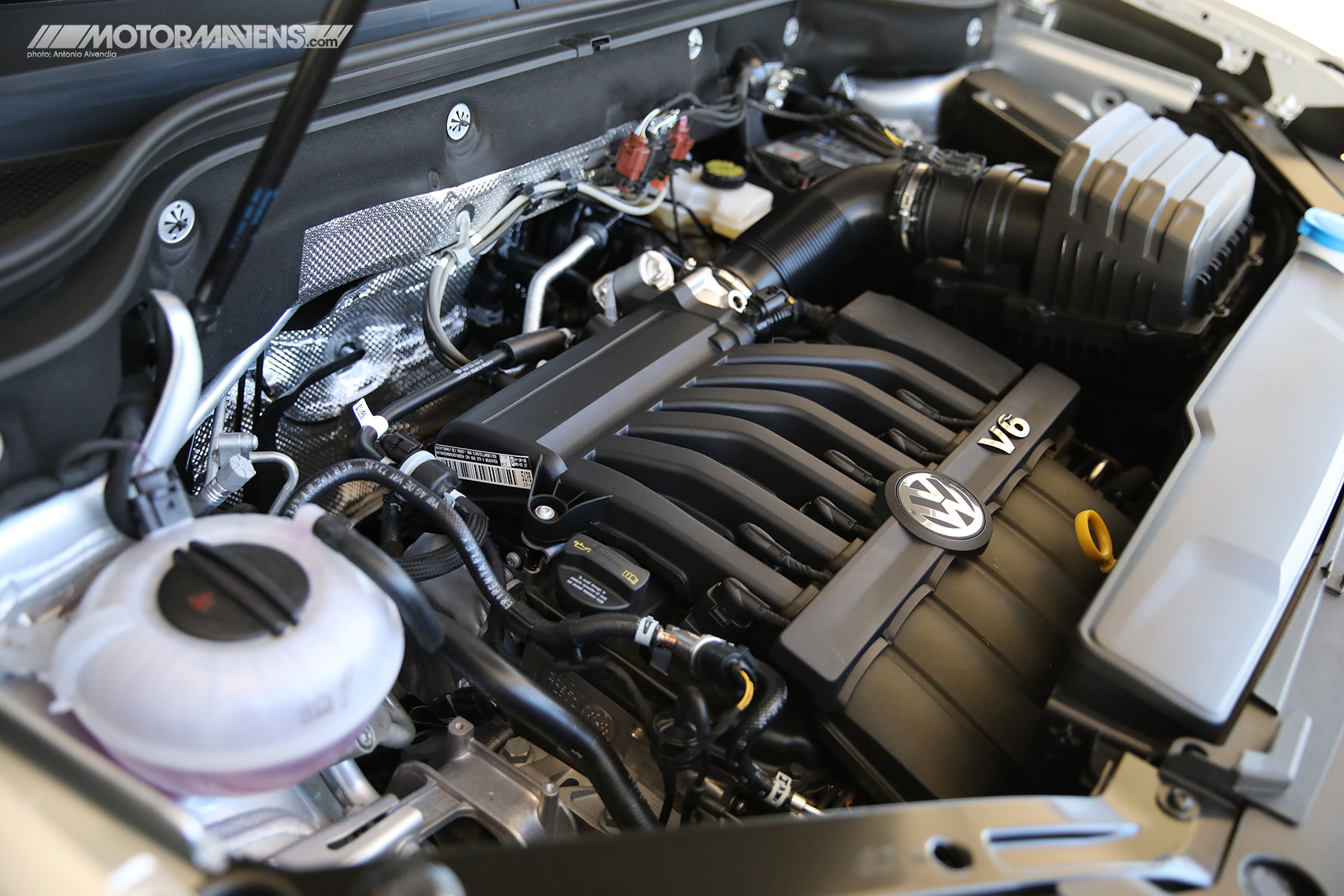 The Atlas has two options when it comes to the engine. Pictured is the 3.6 liter VR6 engine, which has 276hp and 266 lb-ft of torque. The Front Wheel Drive version of the Atlas with V6 engine gets 18 city/25 highway/20 combined miles per gallon, and the AWD version gets 17/23/19, so there isn't much difference there.
You can also select a 2.0 liter 4 cylinder turbo engine, with 235hp and 258 lb-ft of torque, which sounds interesting. We'd love to try out one of these turbo versions sometime.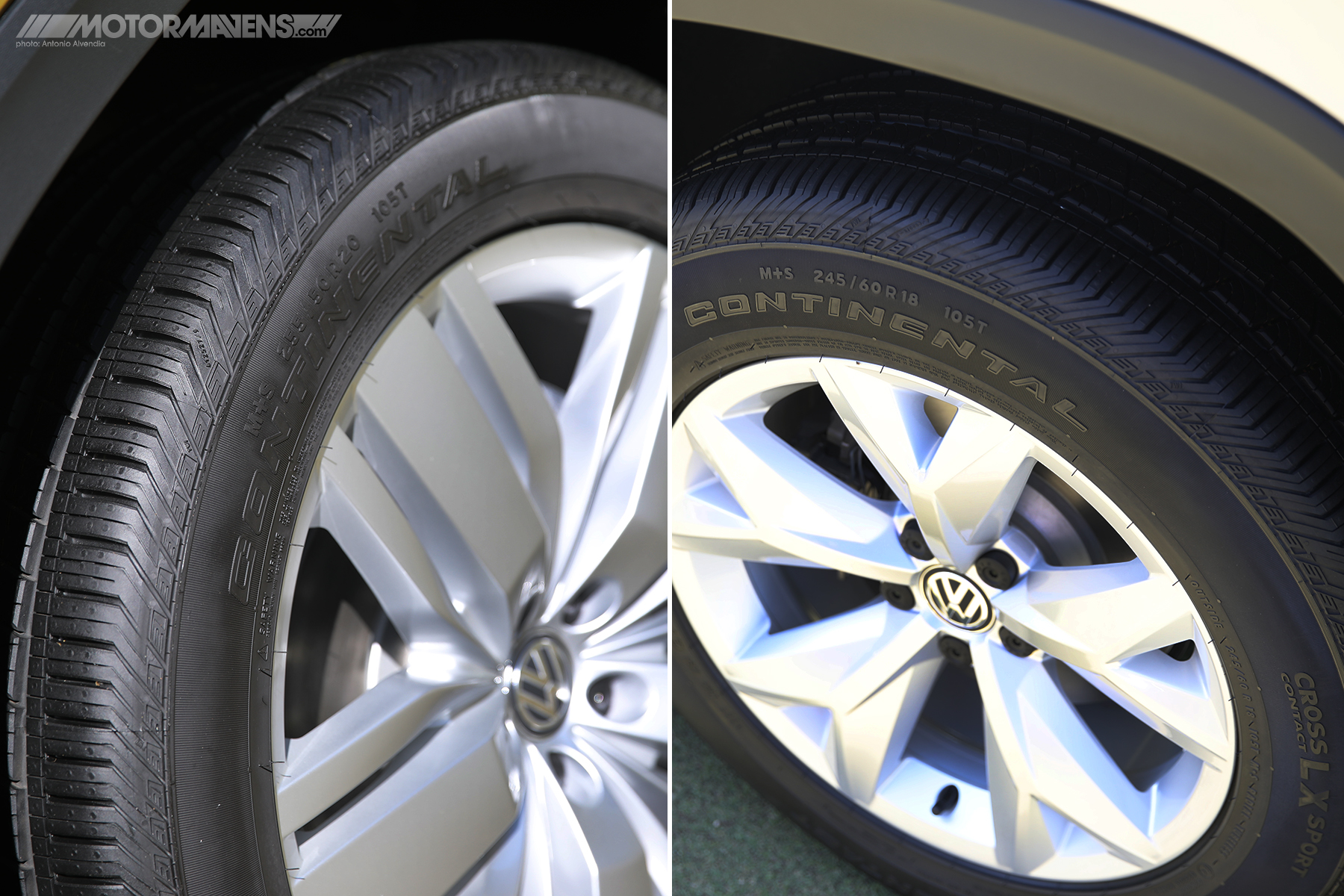 The Atlas comes with two different wheel options – the premium version for city dwellers, with nicer looking wheels and 255/50/R20 Continental tires, or a 245/60/R18 thicker tire version for those who intend to drive their vehicles offroad!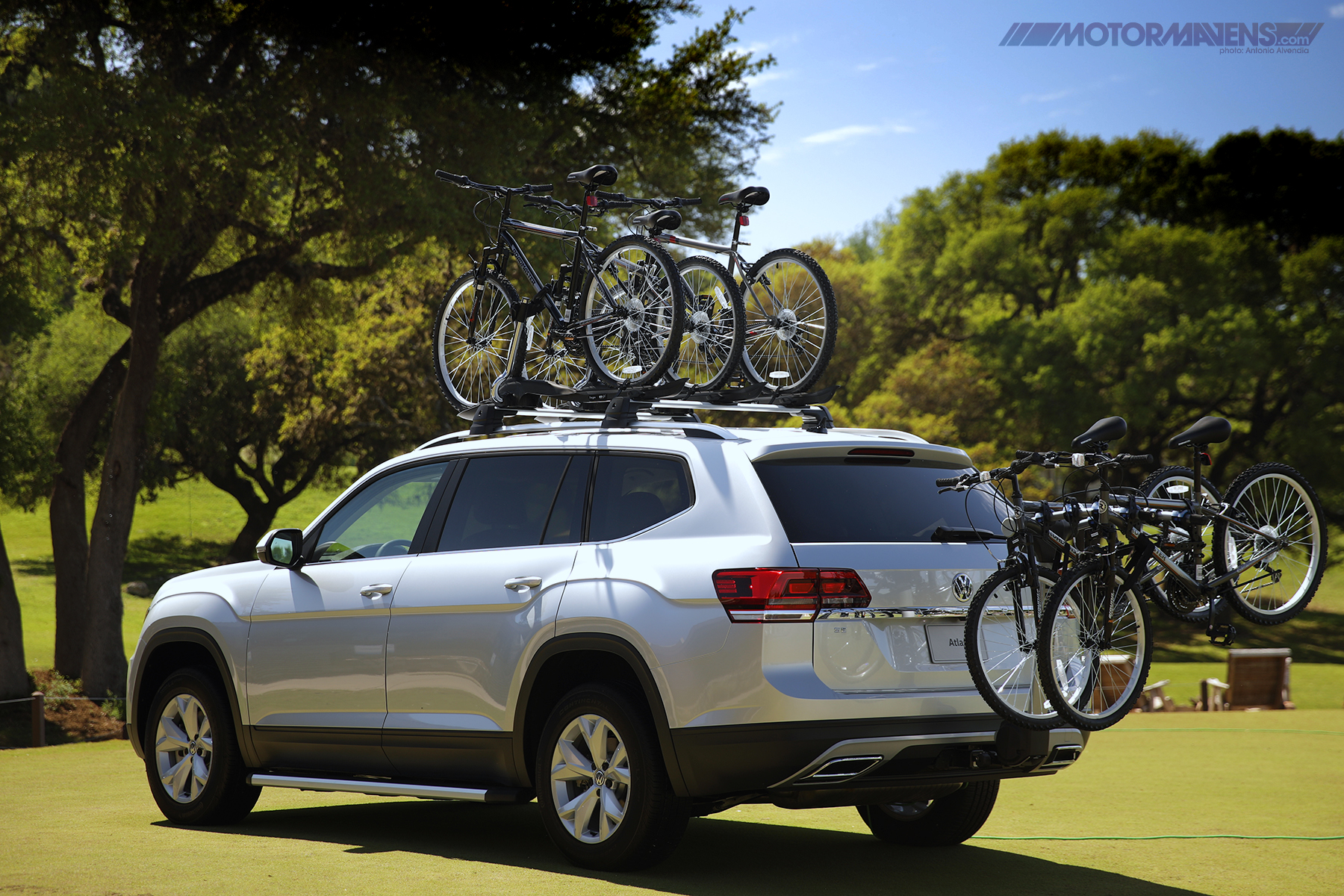 If you like outdoorsy activities like biking, the Atlas is totally for you. Look at how many bikes you can transport with this thing! The bikes here also give you a perspective of the scale of the vehicle – it's massive!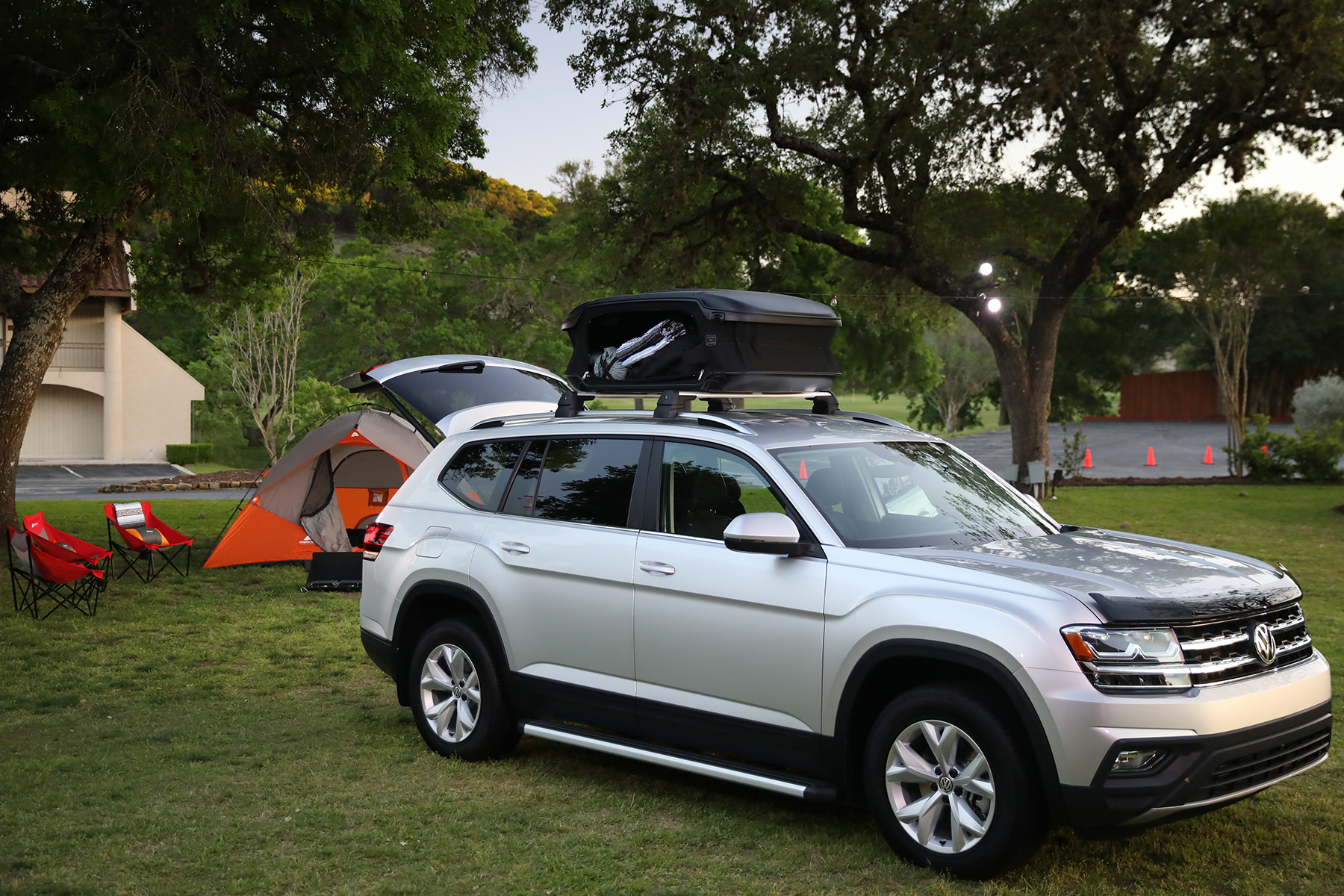 Lots of accessories are already available for the Atlas, like roof rack crossbars, expandable roof carriers, and the (ugly) bug deflector screen seen here.
All in all, we think the Atlas is an excellent choice for anyone who's looking to upgrade to a vehicle with more interior volume, but doesn't want the bulky feel of driving a normal truck-like SUV.
– Antonio Alvendia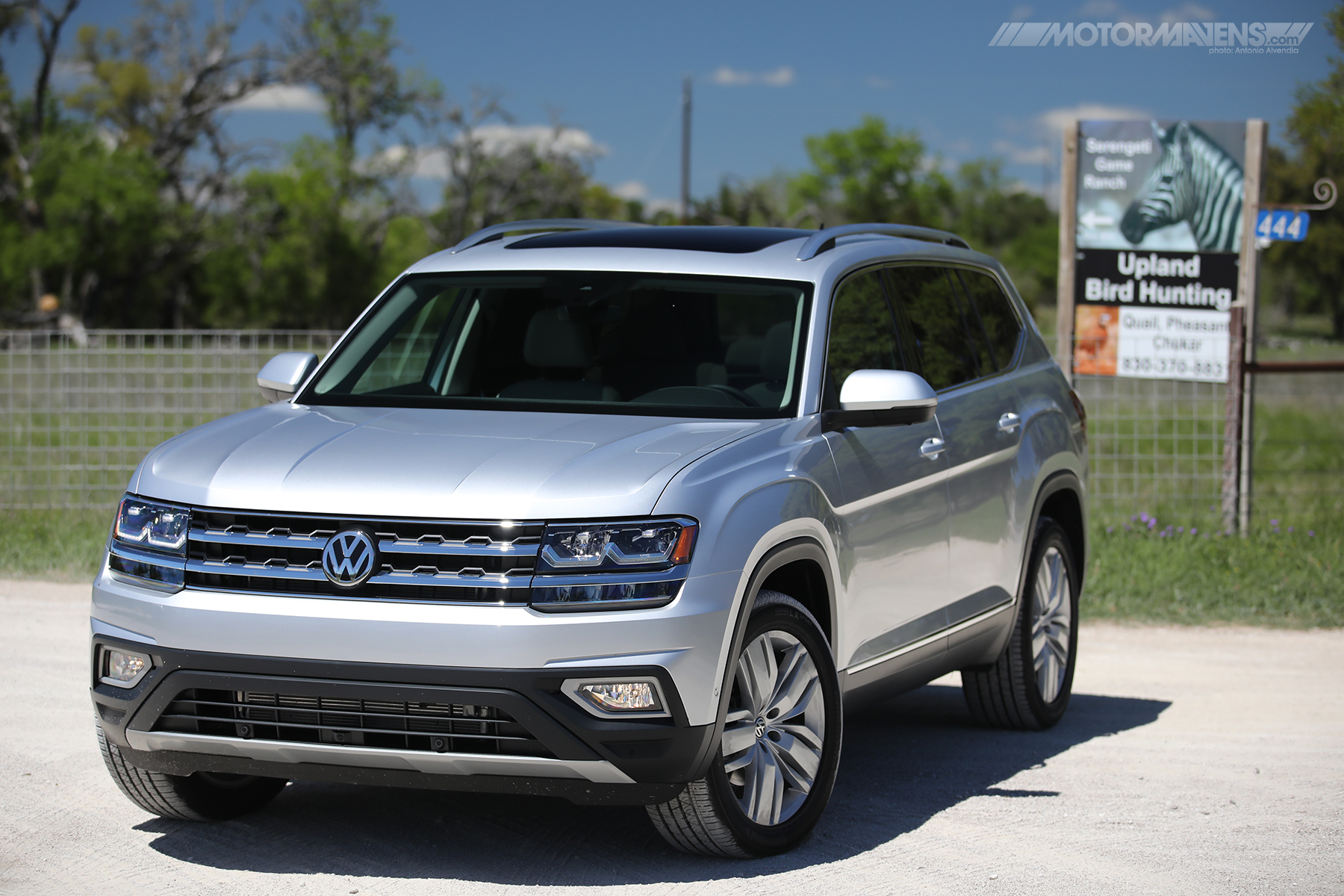 PS: Now for the non-automotive part of this writeup.
It was pretty crazy – as we were driving the Atlas through the backroads of Texas Hill Country, we drove past this game ranch and were completely shocked when we saw this sign. There are apparently some game ranches in Texas where people actually hunt Zebra. Wow.  =O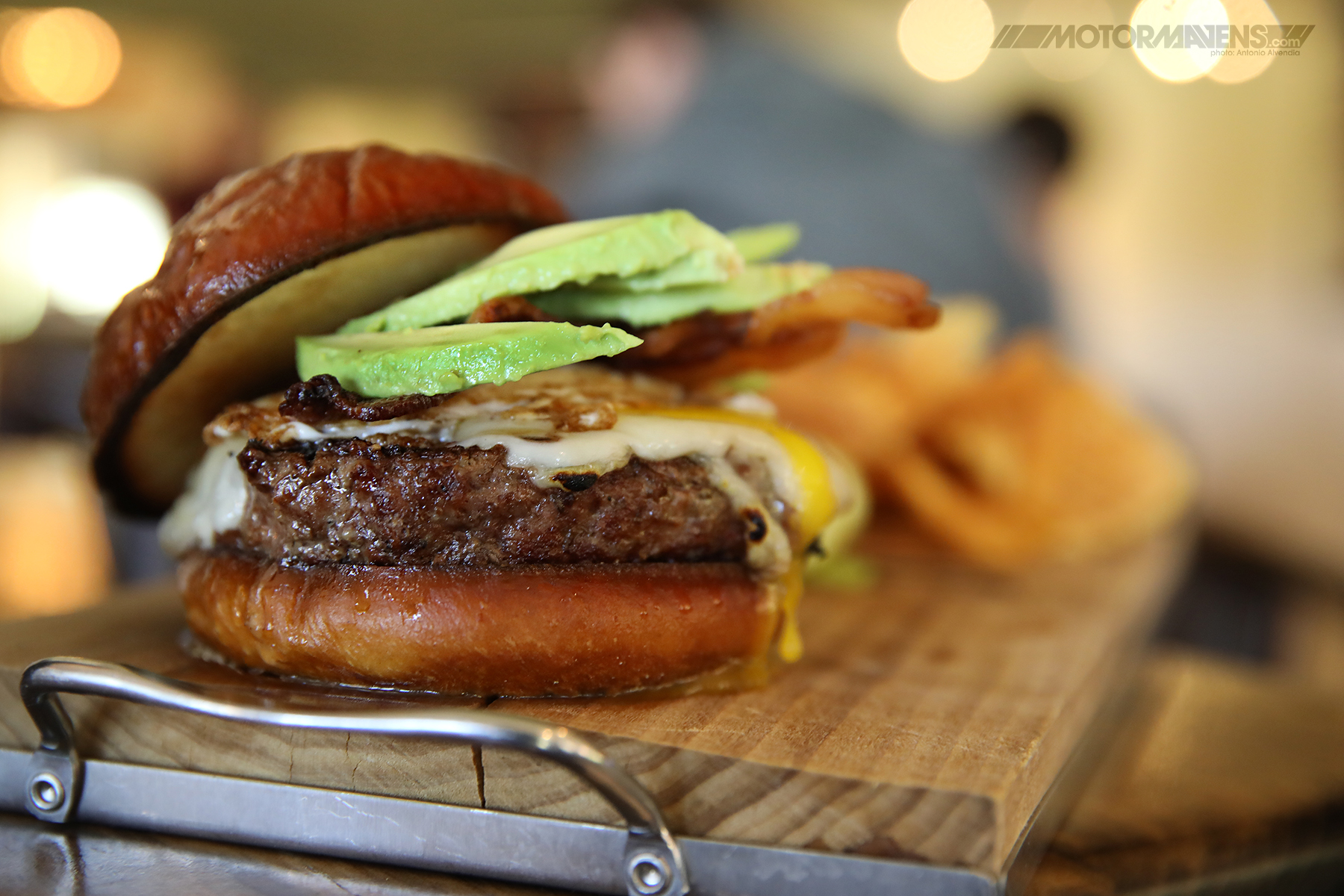 One thing's for sure, this trip to Texas was definitely full of good food. We stayed at the Tapatio Springs Resort, which happened to serve these A M A Z I N G burgers with brioche buns, fried egg, bacon and avocado on top.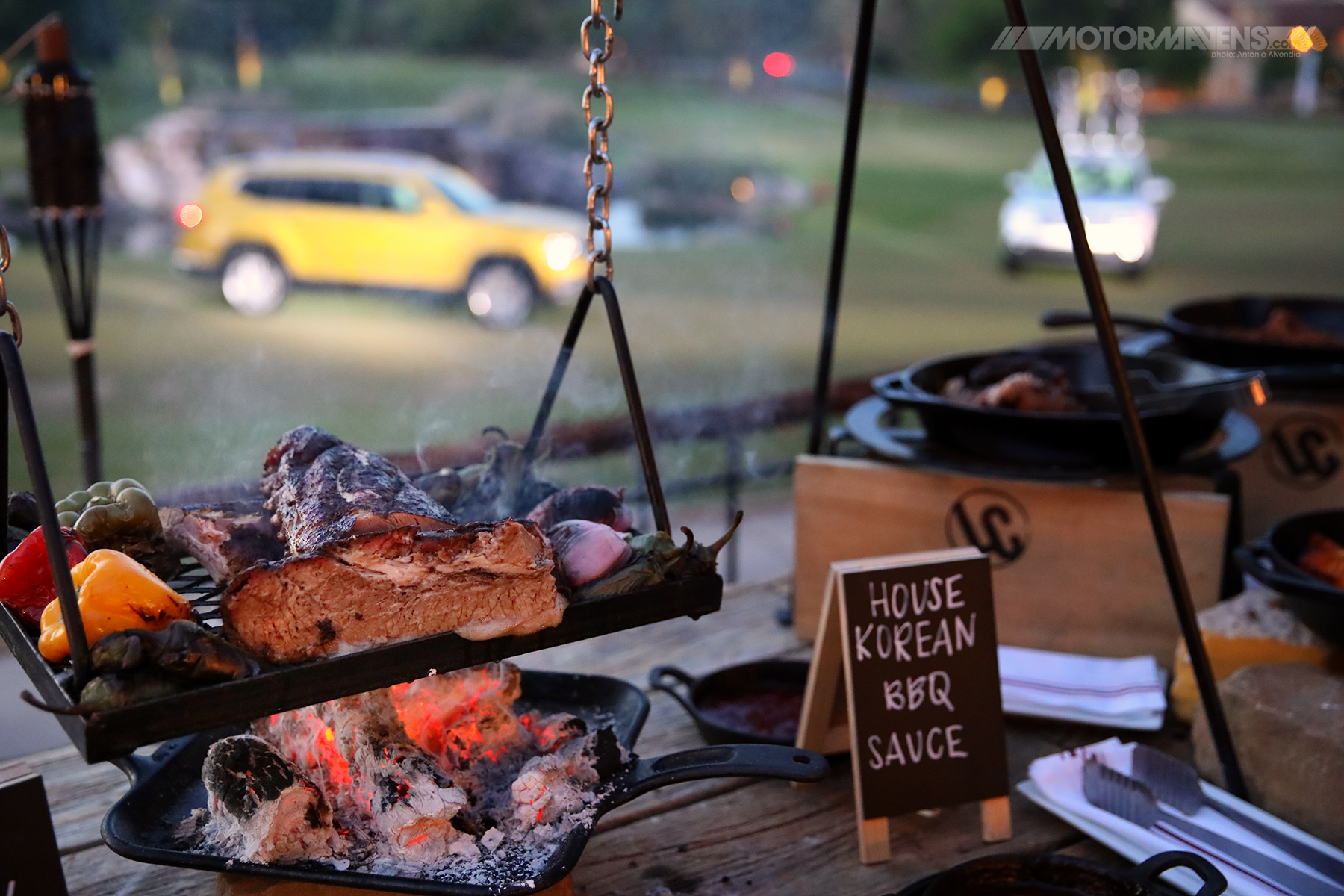 We also got to try some amazing bbq beef brisket and tri tip at the hotel, with a number of different sauces. Damnnnnn.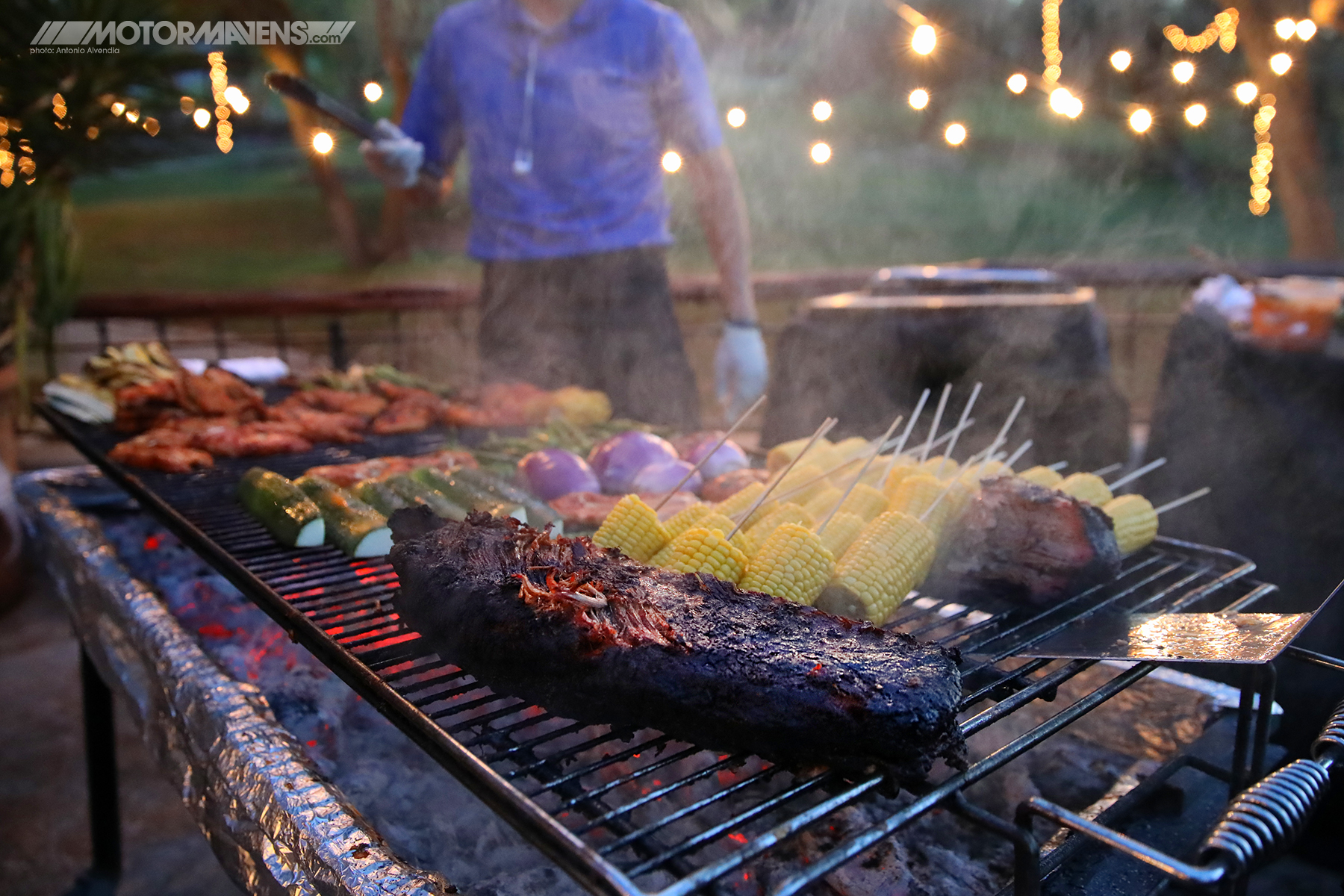 Just look at this feast! The smell alone was amazing.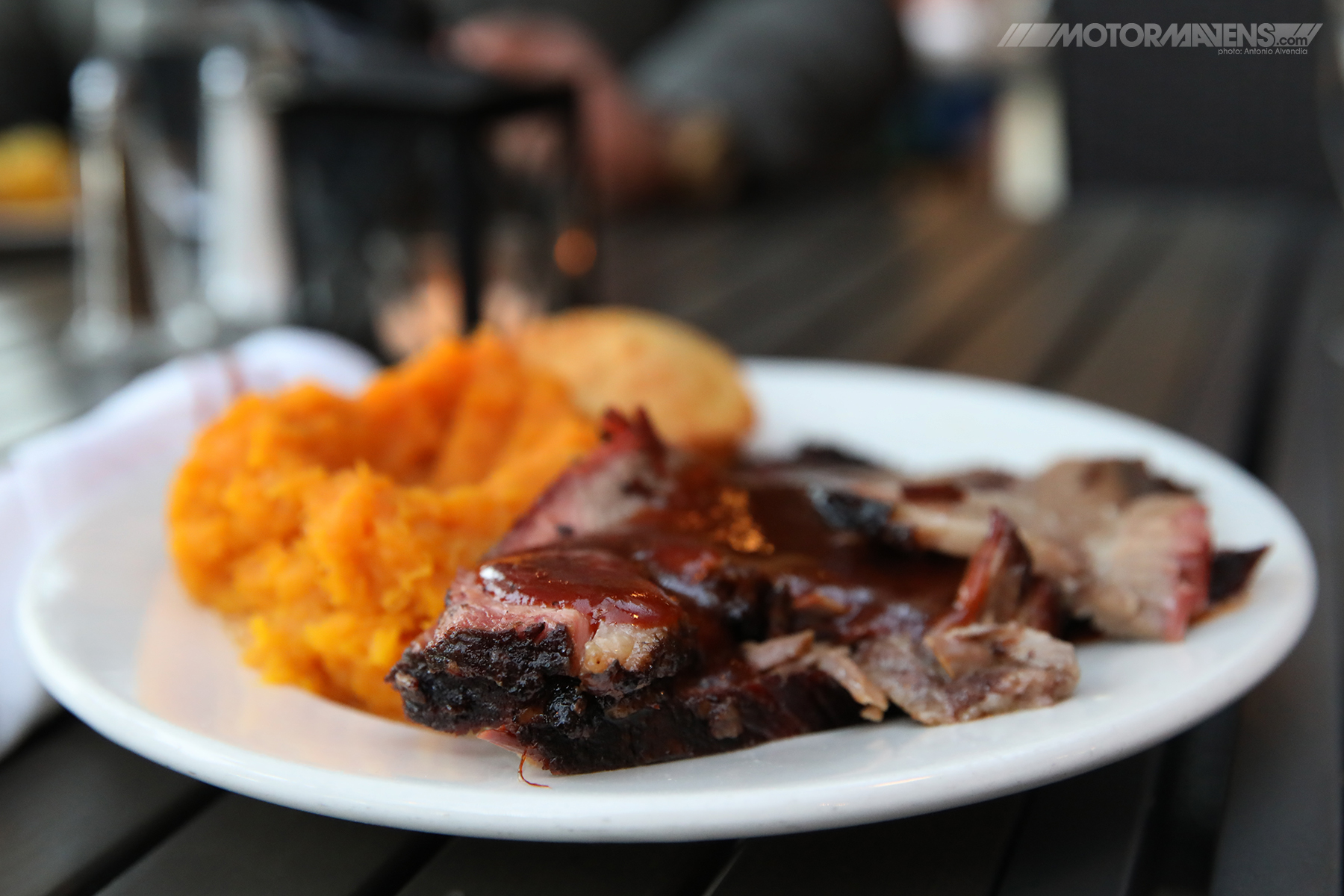 And trust… the taste definitely did not disappoint!
---