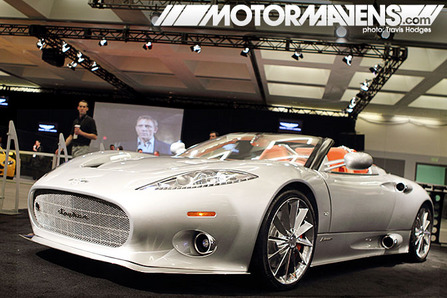 And now…BACK TO THE EXOTICS! And, if you needed any proof that the Spyker C8 Aileron Spyder is a bonafide, state-certified exotic – look no farther than the face of Daniel Craig on the screen in the background of the picture above. Would 007 be allowed to appear anywhere near (like within 500 yards of) a regular car? I'm sure there's a clause somewhere making it an offense punishable by debt to expose the 007 brand to any car priced south of $150K. There. It's official.
The Spyder is the latest offering from bespoke car-builder, Spyker Cars. It's Spyker's latest offering of hand-crafted quality and exclusivity – and it has a little "get up and go" too. Who doesn't like that? Apparently, not everyone.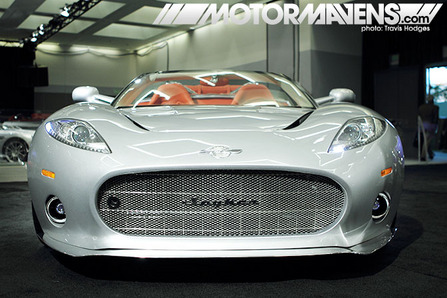 For those who are unfamiliar with Spyker Cars, the Dutch company was started back in 2000 but they are continuing the legacy begun by the original Spyker which started as a coach builder in 1875 and built its first motorcar in 1898 – ten years before the world-changing Ford Model T. Interestingly, 1898 was the same year that Spyker manufactured the Golden Carriage still in use by the Dutch Queen today – 111 years later. Obviously, they made things to last. Of course, the first Spyker closed their doors in 1926, after 51 years, but the new Spyker looks like they're attempting to pick up where their ancestors left off.
Looking at this picture, the Spyker is whispering Jaguar in the same way that the werewolves from the movie Underworld are whispering dog – faintly but with attitude and multiplied times 100. It's like a mid-engined, Were-Jag with a dangerously deceptive smile.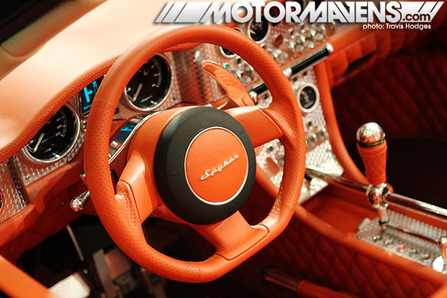 And then there's the interior. Obviously the designers at Spyker refuse to cower behind your traditional blacks or tans – no, they decided to go with an unambiguous, totally polarizing orange. No middle ground – you either love it or hate it. What do you think?
Once you focus beyond the color, it's clear that there has been an extravagant amount of attention paid to bling. The interior is full-leather and the dashboard and accents are turned/brushed aluminum with an almost "diamond plated" effect. Again, they leave no place for a middle ground. I can only imagine strong emotions whether positive or negative. Very strong emotions.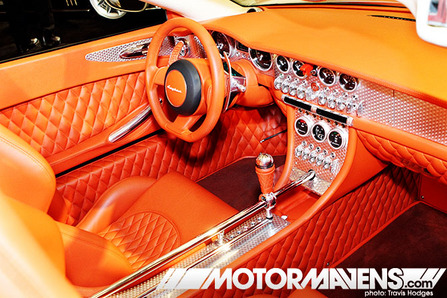 The quilting inside is another touch that will either be loved or hated -but I happen to like it. As a tactile person, I have a thing for texture. That's just me. If you look closely, I'm the strange dude feeling up the interior of the display car while the Spyker reps are attempting to call out for security with an air of "old world" nonchalance. Mind you, that's not easy to do. Did anyone get a viral video of that? Haha!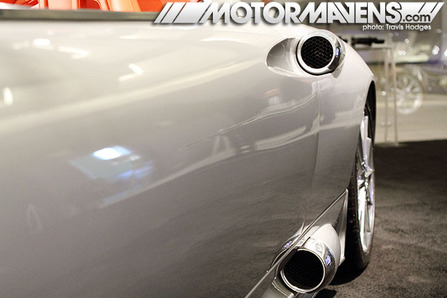 OK. This is pretty cool. These are "turbine air inlets" which hearken back to the days, during World War I, when the original Spyker was manufacturing airplanes and aircraft engines. The theme is integrated throughout the car's design – exterior and interior. So, when you're braking from the 187 mph top speed listed for this car, you've got plenty of cooling air to combat the brake-fading friction.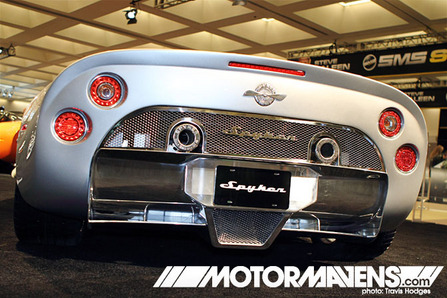 The money shot. This car is best seen from the rear, IMO. I can hear Tribe Called Quest's Bonita Applebum playing in the background – "38-24-37". It's different – and that can set you apart for either admiration – or ridicule. But, if that's what you like – as they say, "Do you."
I could probably mention that the C8 Aileron Spyder weighs a little over 3000 lbs, has an Audi 4.2L V8 engine that puts out 400 horses and races from 0-60 in 4.5 seconds but I don't think performance is the only determining factor for exotics of this sort. You could argue that you could go from 0-60 faster in a GT-R (and hit a higher top speed) for about $145K less than the $224.9K sticker price on this car – and you would be correct. In fact, that's more my speed (no pun intended) and price range but some people are willing to pay more to know that they won't see their (fill in the blank) paraded by them on the street 1,798 times a day. How often do you think you'll see this car parading through the streets of your city? I'm not saying I agree – but, I understand…
Some people will love this car, and some people will hate it. Even within the Motor Mavens Crew, not everyone sees eye to eye regarding this car. Some of us feel it, and some of us hate it. What's your take?
:: Avon Bellamy
---