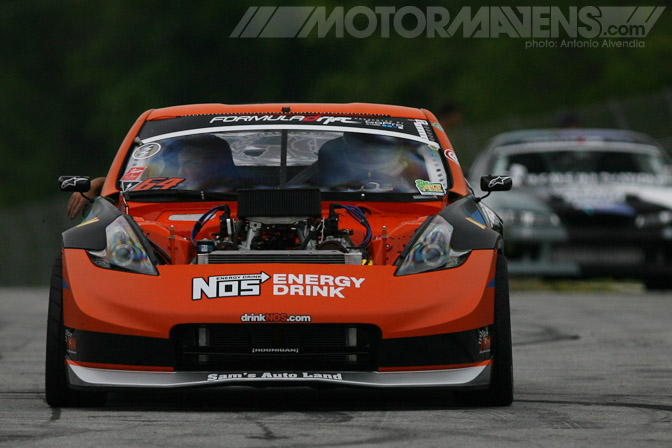 This past weekend at Road Atlanta in Braselton, Georgia, the Formula Drift Championship celebrated its Ten Year Anniversary. It's hard to believe that the sport of professional drifting has already been in existence in the United States for ten whole years! Crazy – it certainly doesn't feel like it's been ten years.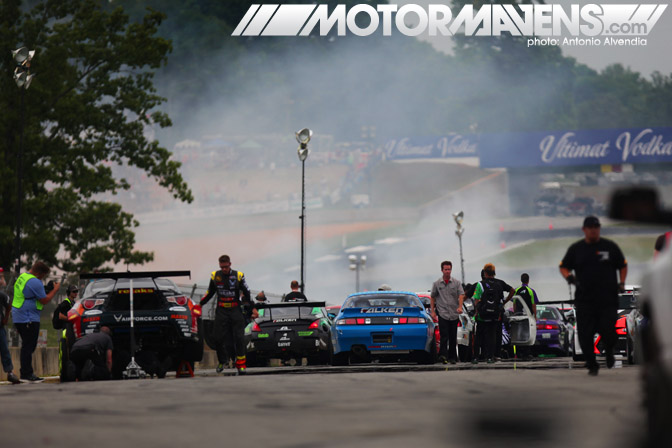 Over the past decade, there have been a ton of new faces in the traveling Formula D circus – new drivers, new photographers, new teams and sponsors, new models, and new fans. When the very first Formula Drift event was held at Road Atlanta back in 2004, drifting was very much new to the United States. Most people didn't even know what it was. Most of the drivers and teams were very grassroots in appearance; we certainly didn't see the big corporate event activations and sponsor logos that you find at Formula Drift events nowadays.
Many of the original drivers, models, and teams from the inaugural Formula Drift event in 2004 have moved on to pursue other things. However, there are still a few OG Formula Drift heads (like me) still around. Man, we're getting old!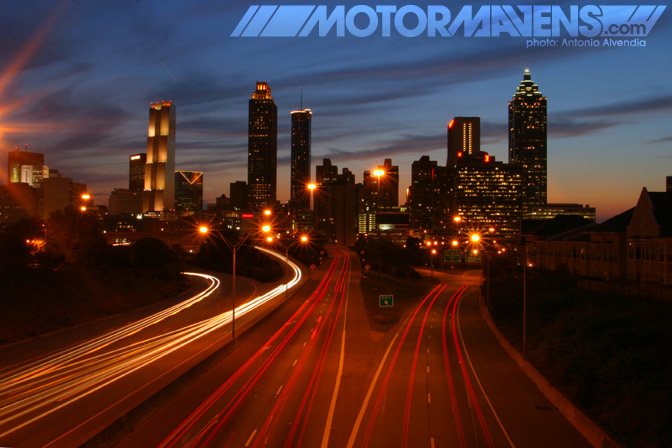 This was one of the very first photos I ever took upon my initial arrival in Atlanta for the very first time in 2004. When I first arrived at the ATL airport, I linked up with one of my old school Toyota friends, an Atlanta resident named Dalton Hanley.
Since that trip was my first time in Atlanta, Dalton took me for a short tour of the city, and on our way to get dinner (Jamaican food – jerk chicken) I asked him to illegally park his car on a traffic-laden bridge just so I could grab this image.
I shot this image with my very first digital SLR – the Canon 10D, which had just come out not too long before I shot this image. I think I shot it with a garbage Sigma 17-35mm 2.8 lens (LOL – horrible), and my brand new Bogen Manfrotto tripod, which I still use to this day.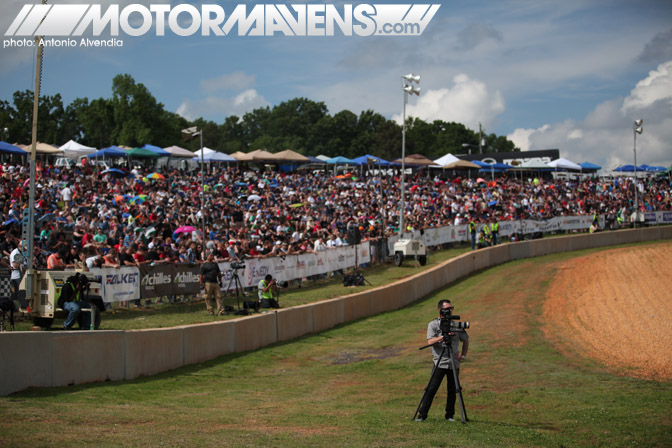 This past weekend's Formula D in Atlanta was well attended, as usual. The hillside surrounding Turns 10 and 11 were packed with lots of fans camping out and even barbecuing on in their campground areas. This is something unique to Road Atlanta – I just couldn't imagine fans being allowed to do this at racetracks on the west coast, like Laguna Seca, for instance. I think the risk of fire might be too great for the lawsuit fearing Californians; it's all good in Atlanta though! Nobody's worried about that stuff.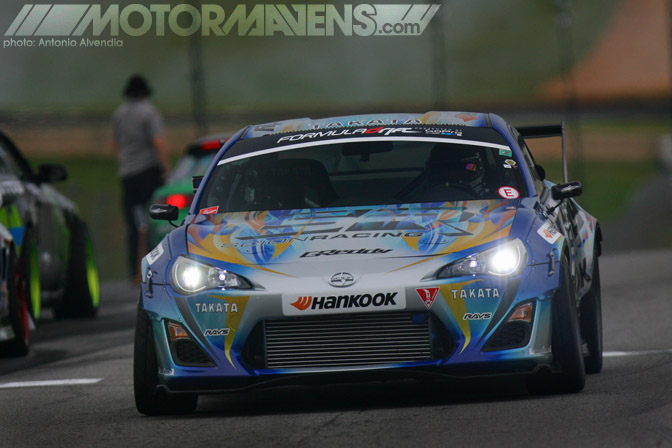 As I was shooting photos trackside at Road Atlanta, I began looking at Kenshiro Gushi's GReddy Scion FR-S as it returned from one of its runs. As I stared at Ken's car speeding into the pre-grid area, I started to think, "Man… Ken's come a really long way since the start of Formula Drift."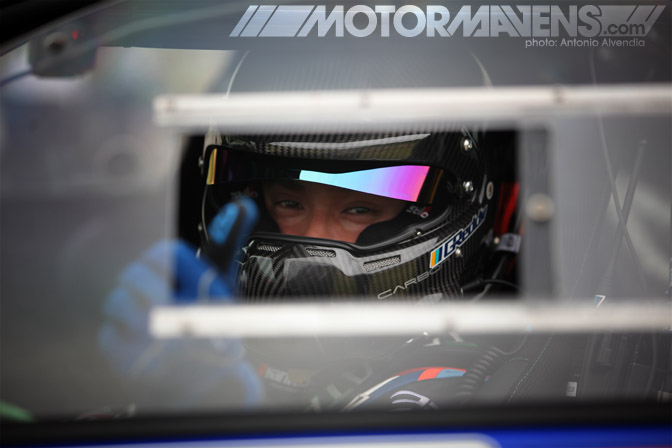 I've been friends with Ken Gushi ever since he first started drifting. It all started out because two of my friends, Go from Shinsengumi Ramen in Torrance and Kai Tsukiyama introduced me to Ken's dad, Tsukasa Gushi. Go was telling me that since I was so crazy about AE86s, I just had to meet his friend, Gushi san.
We drove out to San Gabriel Valley to visit Gushi san at his old shop, the original Gushi Auto on Mission and San Gabriel. That place was a humble shop, but it had plenty of spirit! And it had tons of AE86s and other old Toyotas and Nissans constantly parked there, getting serviced or engine swapped or whatever.
I remember chillin there with Gushi san, and Ken would come home from school and immediately begin wrenching on his first car, a champagne colored PS13 240SX coupe with an SR20DET that he swapped by himself, under the tutelage of his dad…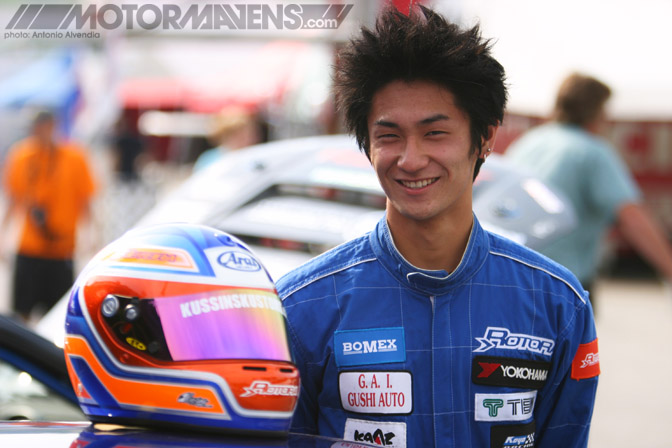 Ken's drifting career blossomed from his fearlessness in driving that old PS13 coupe. This is what Ken looked like 10 years ago at the very first Formula Drift event at Road Atlanta. Super young, and just out of high school. Actually, he might have still been in high school when this photo was taken?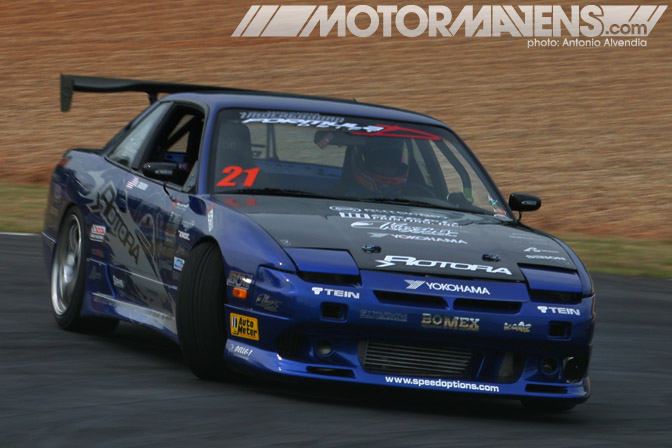 Ken's PS13 had Rotora Brakes as its title sponsor. Since then, Rotora has gotten out of the drifting scene. I wonder what they're doing nowadays? I think the company is still around…? Anyway, this what Ken's drift car looked like at the inaugural Formula Drift event. Not very impressive when it comes to styling. I was never a big fan of the Bomex kit or the F1 style mirrors or the wheel sizing, but it didn't matter. Ken drove the pants off that thing, and eventually ended up becoming the first Formula D driver sponsored by Ford, with a factory backed Mustang. He eventually won a First Place trophy at Formula D Houston the following year in the Mustang, then went on to become the posterchild for Scion, with a full factory ride…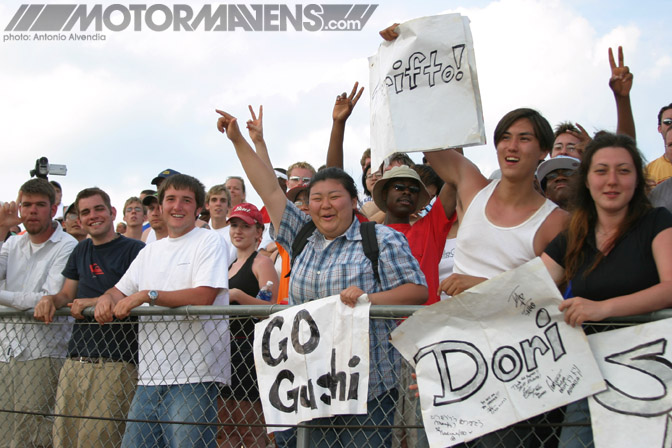 One of the things I like best about Formula Drift at Road Atlanta is how crazy and enthusiastic the fans are. Check out one of Gushi's early fans…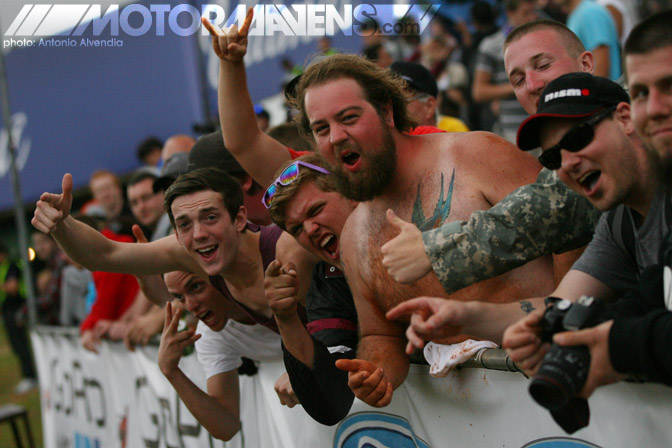 Nowadays, the Formula Drift fans in Atlanta are still enthusiastic as a mofo!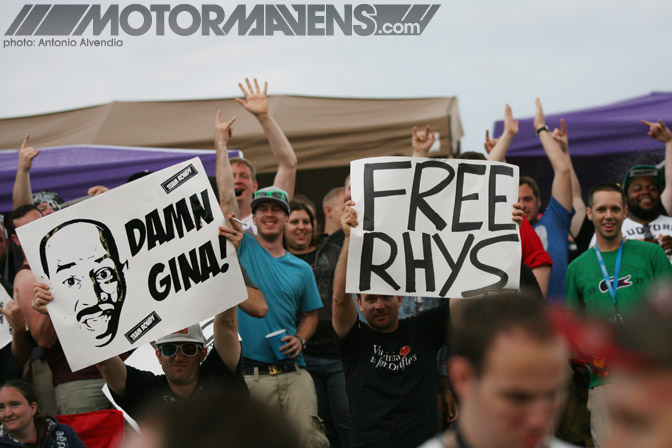 These guys know how to get rowdy too! This is always my favorite section of the ATL crowd… the Formula Drift hecklers and cheering squad, aka Team Rowdy. These guys know how to party, and they're all awesome. AND they all have awesome car style. You gotta see the cars they drive. Bad ass.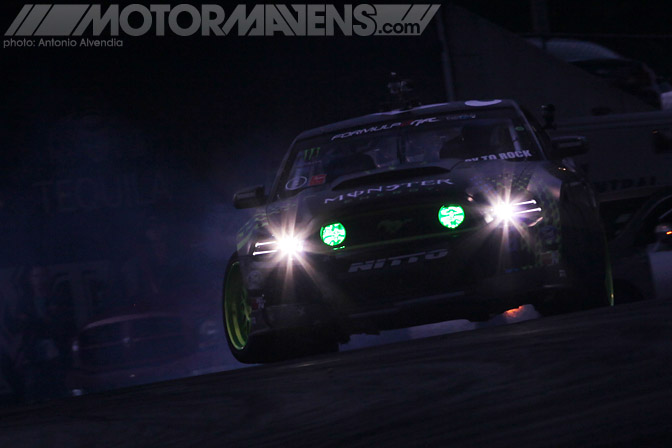 Without a doubt, one of the most successful privateers in today's Formula Drift Championship Series would have to be Vaughn Gittin Jr, driving the Monster Energy Ford Mustang.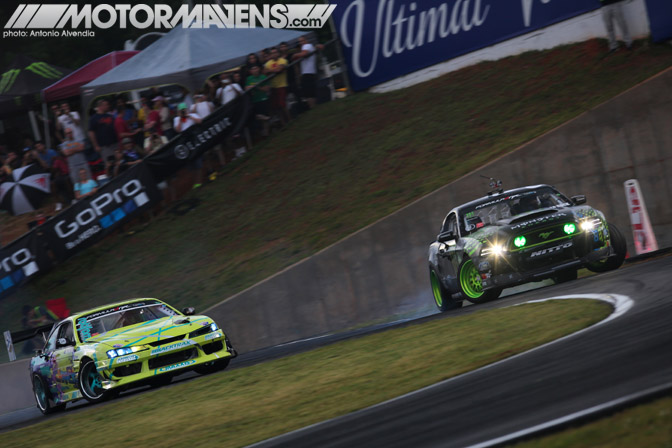 JR has one of the most impressive booth activations and pit areas in Formula Drift, and his branding is on point. This guy definitely turned his drifting skills into a full time business, with tons of big dollar sponsors signing on to be part of the media/PR whirlwind that his team creates while on tour.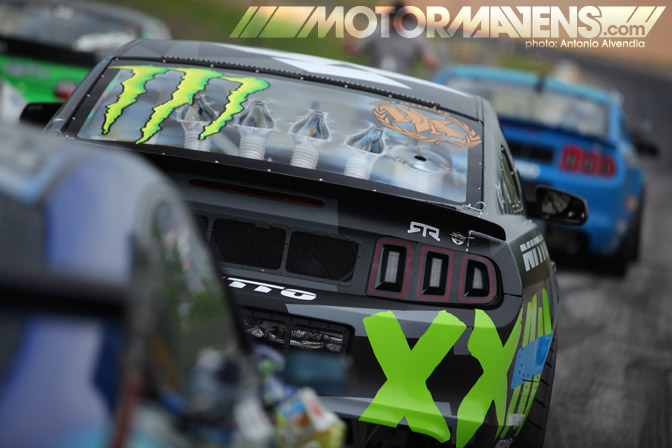 Lots of people were surprised as hell when JR announced that he'd be leaving his very first supporter, Falken Tire to join the Nitto Tire team this year.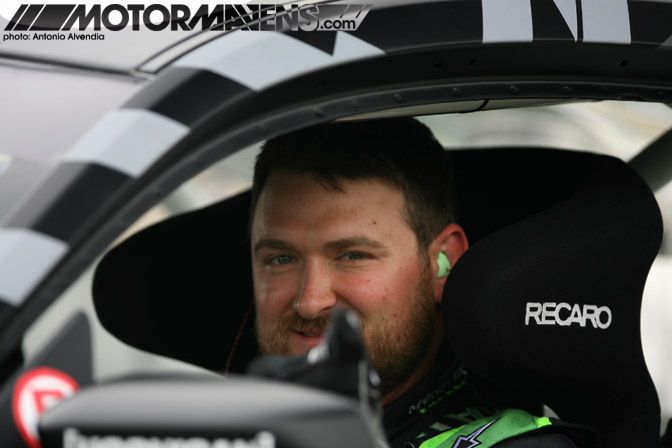 Here's JR at Road Atlanta, sitting in the cockpit of his Ford Mustang RTR getting ready to run. Nowadays, this dude has the same type of confident, All-American image and sponsorship backing that many NASCAR teams have (or hope to have).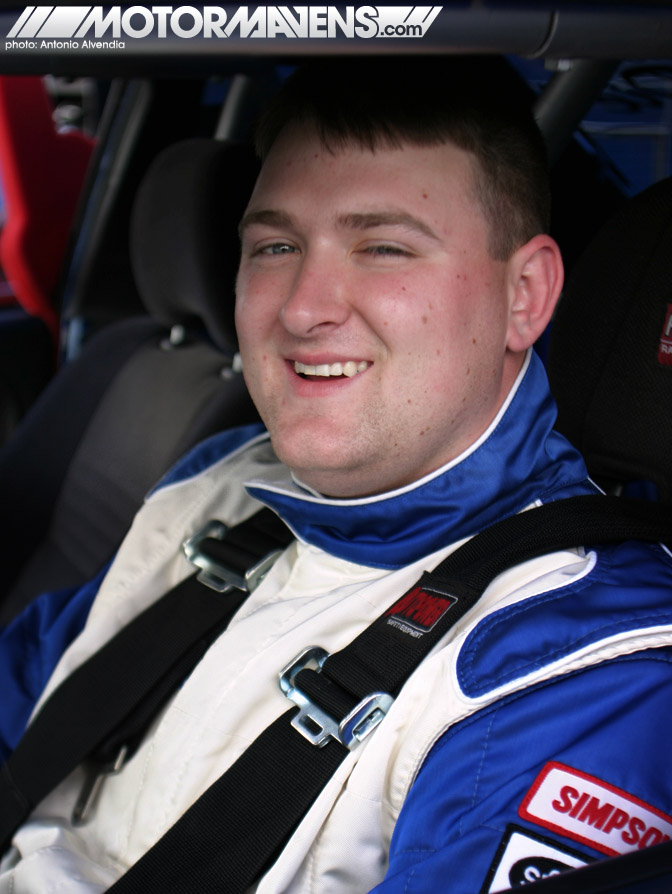 JR wasn't always like that, though. This is an early headshot of JR at the very first Formula Drift, in Atlanta back in 2004. At this time, he didn't have any sponsors, and was self funding his trips to compete in Formula D with his S13 Nissan Silvia. At the time, he was working in Washington DC doing IT stuff. Back in 2004, JR didn't have the reputation for drifting that he does nowadays. With no sponsors and no name, he was extremely hungry to prove himself to everyone.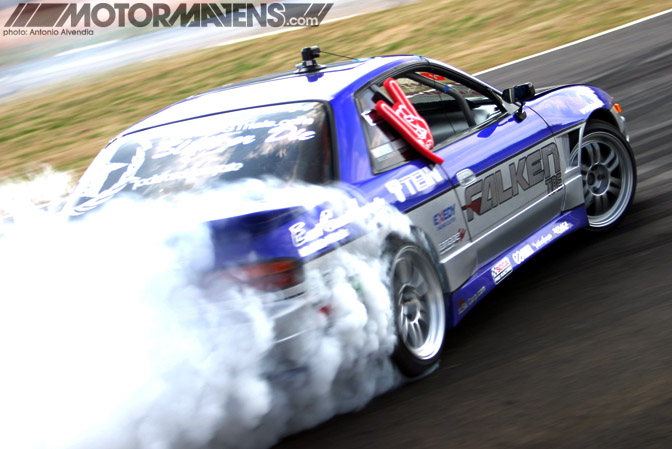 At the time, JR didn't even have a tire sponsor. He was buying tires at a discount from Falken Tire, and just painted his S13 with the Falken Tire "Works Team" scheme to show support, and put their logos on in the "title sponsor" placement areas. I suppose it's a classic case of Act As If.
This type of thing doesn't work out for all people, but it worked out very very well for JR. His hard work and determination eventually got him the recognition that he always wanted, and because of this momentum, the sponsors started jumping aboard to be part of his program.
I used to hang out with JR and Team Falken a lot back then, and I flew out to Washington DC to do a late night shoot of his S13 for Modified Magazine, which was the first time his car had ever been featured in a major magazine.
Not too long after, I put his S13 on the cover of Grassroots Motorsports Magazine, which was also the first time his car had been on a national magazine cover. With all this great momentum, JR eventually got signed on to become a Team Falken pro driver, and they built him a Ford Mustang. The rest is history…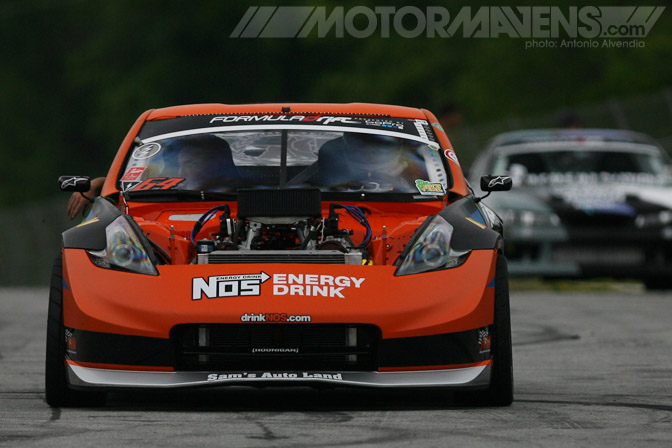 Another privateer who is just killing it on the business end of the Formula Drift Championship is Chris Forsberg. Everyone knows Forsberg's orange Z34 370Z. Chris has always done well driving a Nissan Z!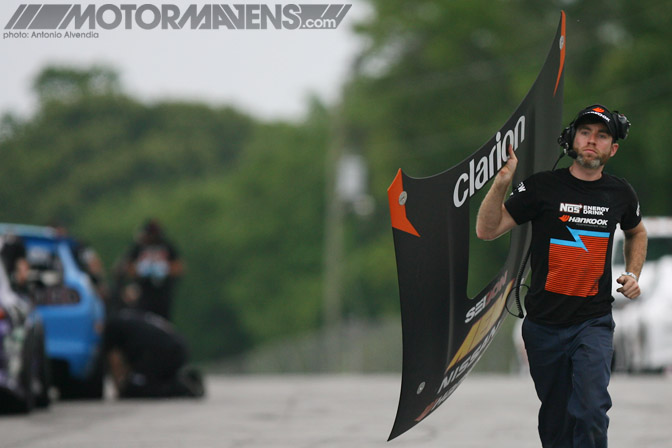 Check out how light Forsberg's Seibon Carbon fiber hood is – a member of his pit crew was actually running with the hood to catch Chris on the starting grid at Road Atlanta.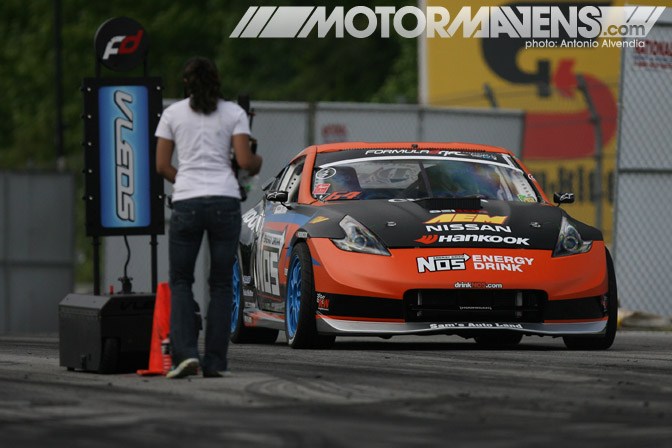 Just like his Drift Alliance teammate JR, Chris Forsberg also seems to have all the big sponsors as part of his program. Nos Energy Drink, AEM, Hankook, Nissan, and Seibon… While these companies might not pay the type of money JR's sponsors pay, these are all top names in the Formula Drift Series, and Chris does a great job representing them at all the events.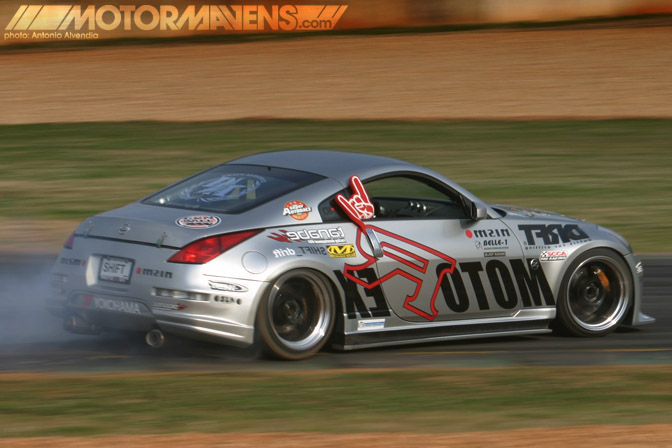 Back at the inaugural Formula Drift event in 2004, Forsberg was rocking this Z33 350Z, which used to be his street car until he blew the motor. Instead of buying another VQ 350Z engine, he swapped in an SR20DET motor and transmission because it was less expensive, and it was easy to make power with an SR, due to the huge aftermarket support for the engine.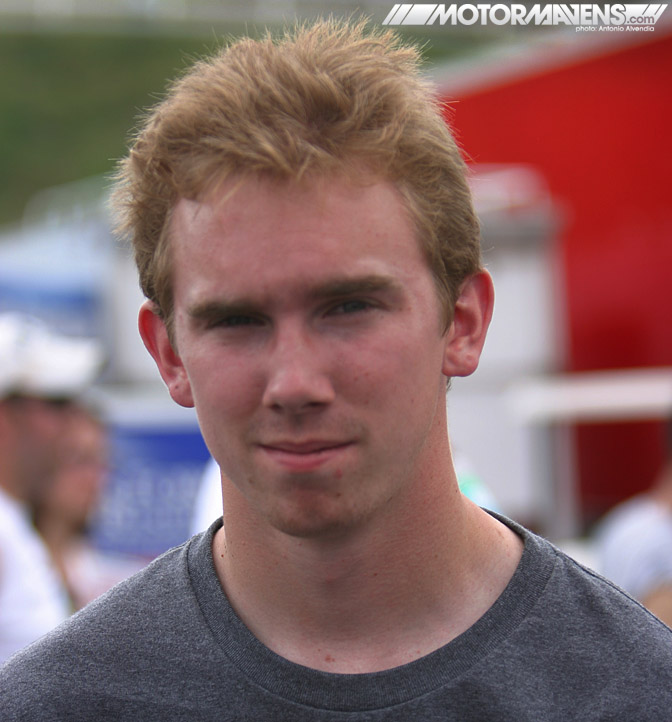 Even back in those days, Forsberg has always had good car style. His Z33 350Z was definitely one of my favorite Formula D cars back in 2004, because of the aero kit, graphic placement, power, stance and wheels. I liked it so much that even as a beginning freelance photographer, I pitched it to Modified Magazine and negotiated my way into having them put my photos of his car on the cover of Modified – the first time Forsberg's Z ever got a magazine cover.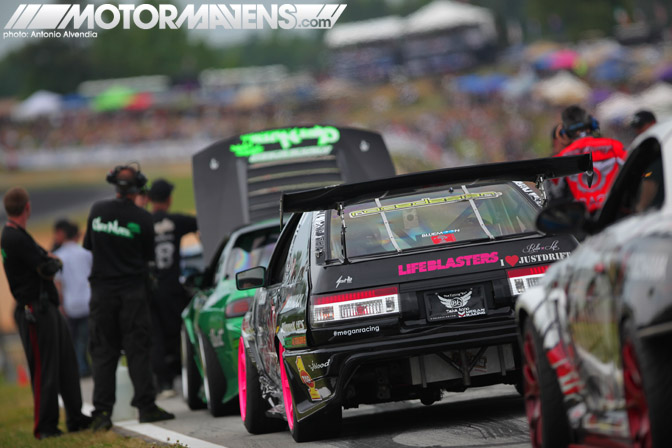 There aren't many drivers in today's Formula Drift Championship who are still driving the same kind of car that they started out in back in 2004. Taka Aono is an inspiration to all AE86 Corolla owners across the world, because he remains steadfast and loyal to his AE86 chassis… even though everyone else has moved on to newer cars.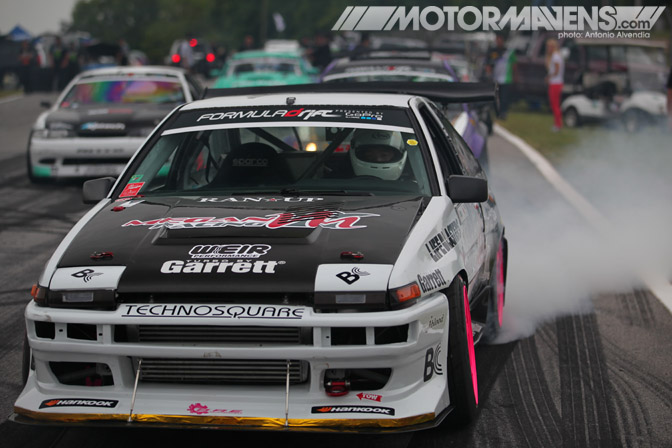 With beefy Weir Performance LSD axles putting his Garrett turbo power down to the ground, Taka's AE86 is as brawny as they come!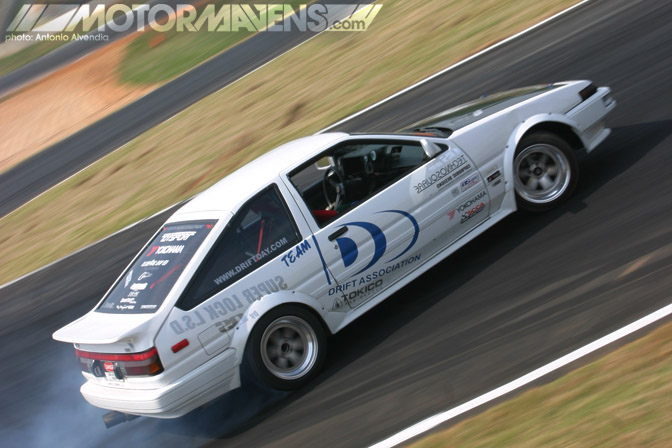 Back in 2004, Taka was competing in Formula Drift with a very, very simple AE86. Look! It doesn't even look as if he had a full roll cage back then! Doing tandem with just a rear hoop?
Check it out though… Taka was running with a Blacktop 20V 4AG engine and 15 inch SSR Longchamps XR4 wheels back then. So awesome.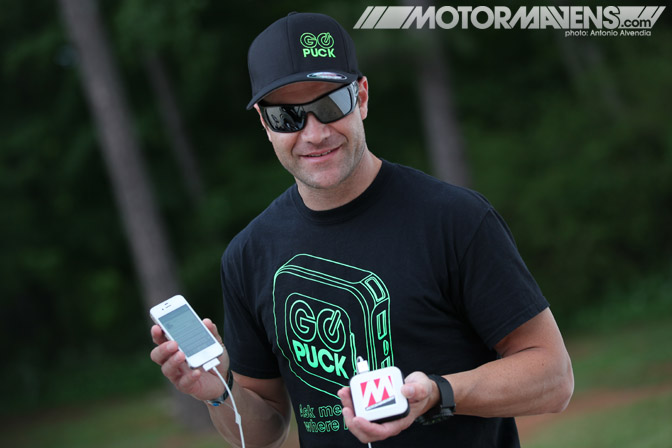 While roaming around Road Atlanta, I bumped into my old friend Blake Fuller from Braille Auto, while he was promoting his new company, GoPUCK Battery!
GoPUCK is a small, lightweight battery based on Braille Battery technology that can fully charge or power any USB powered device (iPhone, iPad, Droid, Kindle, USB Speakers, USB hard drive) on the go!
It was pretty ironic… when I found out the battery on Blake's iPhone was almost dead, because he hadn't been charging it all day, I just started laughing and making fun of him! "Dude. Aren't you the guy who makes the GoPUCK battery?! How on earth could YOUR phone be almost out of juice?! LMAO!" Blake laughed along with me, because he was running around all day and he didn't have a chance to plug his phone into a GoPUCK because he was busy letting everyone else try it out. Luckily for Blake, I had my fully charged GoPUCK on me so he could charge up his phone! LOL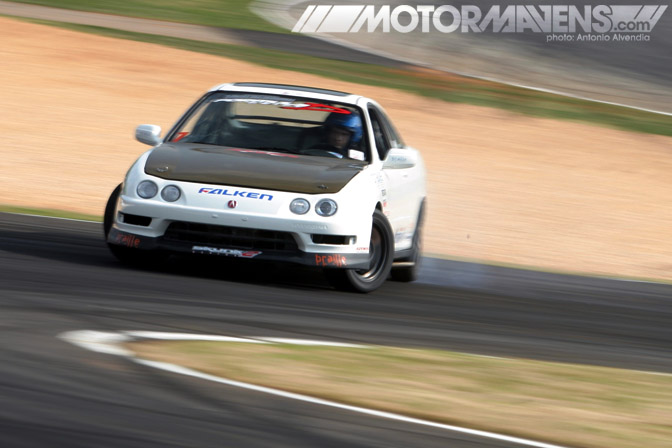 Back in 2004 though, Blake Fuller wasn't promoting USB power devices. He was a driver in the Formula Drift Series, with his REAR WHEEL DRIVE DC2 Acura Integra!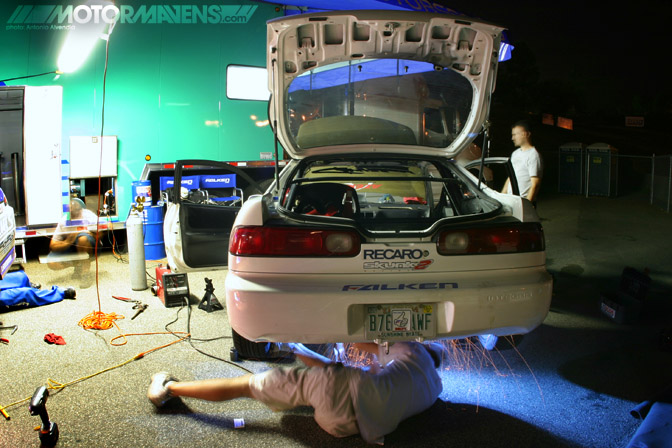 If you're wondering how on earth he made his Integra RWD, Blake was using a Honda CRV drivetrain, with the front axles disconnected. As with any new type of swap, it wasn't without issues though. Late night at Formula D Atlanta, Blake was welding underneath his Integra because he had a problem with one of his axles.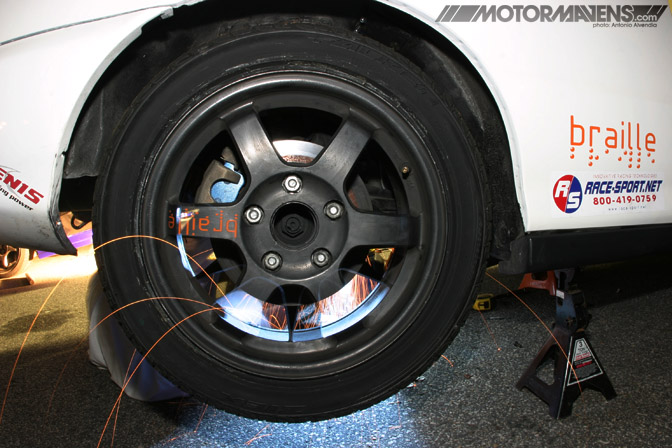 Even though I've never really been into Hondas, I thought that having a RWD Integra in the Formula D series was sooo incredibly cool. Too bad this swap didn't really catch on. Can you imagine what it might be like if all the thousands of Honda kids around the USA were into drifting?! There would be A LOT more drifters competing, if even on the grassroots level.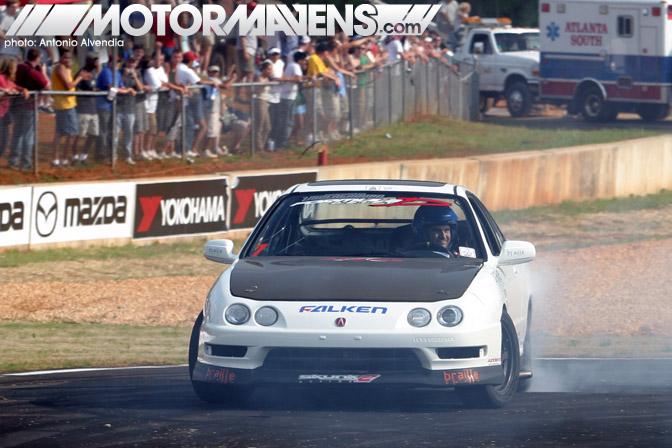 I always loved seeing Blake's Integra doing donuts and countersteering, with tiresmoke coming out of the REAR of the car! You just never see this! So damn cool.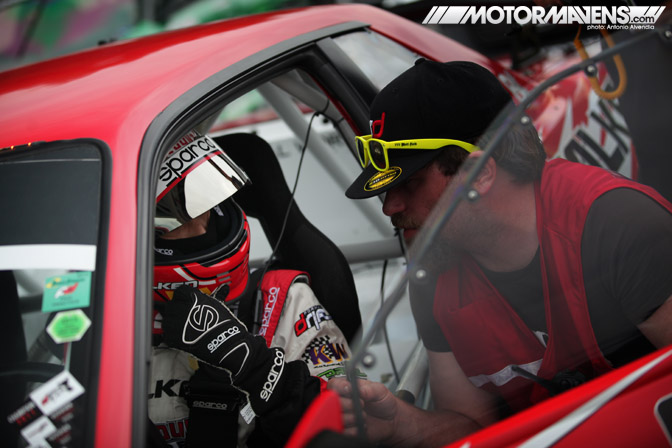 Last but not least, let's take a look at one of the original Formula Drift competition drivers since 2004 – Daijiro Yoshihara. Dai has always been a fan favorite because of his skill and consistency in high speed drifting. Or it might just be because of his cool hair? Here's a snap of Dai at the starting grid at Road Atlanta, all geared up to the hilt with safety equipment from Sparco.
All drifting fans recognize Dai's V8 powered Discount Tire S13 Silvia in the Formula Drift Championship.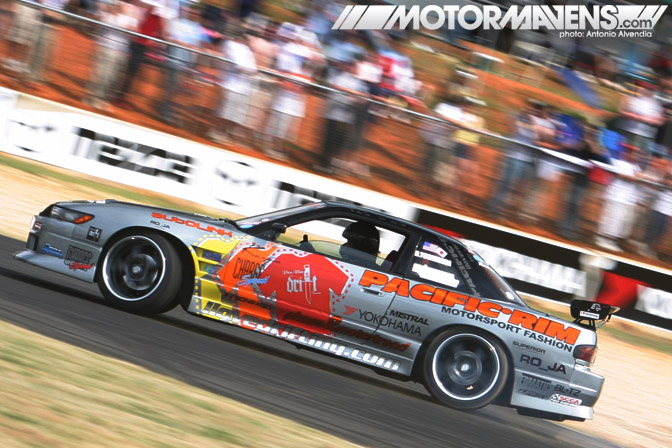 Dai has been driving an S13 very well for a long, long time. Back in 2004, he had one of the best looking graphic schemes, piloting the SR20DET powered Pacific Rim Nissan Silvia owned by PacRim founder Jerry Tsai. Even in the first year of Formula Drift, Dai was definitely a force to be reckoned with. He achieved 2nd Place in overall points in 2004 – he was the only driver who could come close to Mopar's mighty Iceman, Samuel Hubinette, who swept almost every single podium with his Mopar Viper Competition Coupe.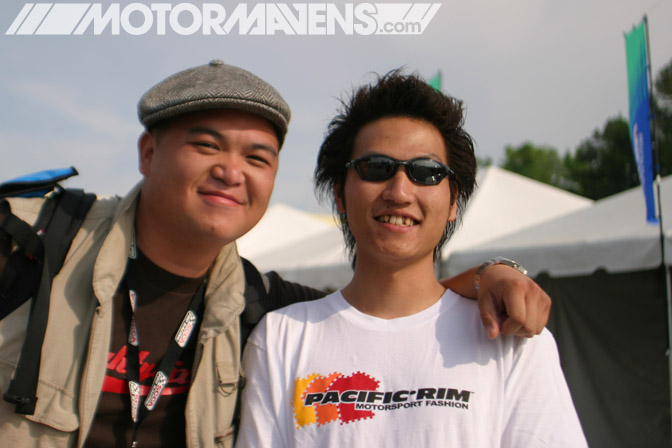 To close out this post, here's a photo of me and Dai at the inaugural Formula Drift event back in 2004 at Road Atlanta. We've both done a lot in our careers since then. Dai has won lots of trophies and even the Formula D Championship, and I went on to publish the first hardcover book about Drifting, and become a founding member of the websites Speedhunters, Driving Line, and MotorMavens.
Our personalities haven't changed though –  Dai and I are still the same guys we've always been. I still rock my favorite Kangol hat (shown in the photo). I still shoot photos of cars almost every single day. And I still love my AE86 (see my Cipher Garage "Eightysix" shirt in the photo) to this day. Dai still has funky hair; he's still killing it in the Formula Drift Series, and he's still a fan favorite. I wonder what the next ten years of drifting will bring…
:: Antonio Alvendia
10D
,
1JZGTE
,
20V 4AGE
,
350Z
,
4AG 20v
,
4AGE
,
Acura
,
AE86
,
Blacktop 20V
,
Blake Fuller
,
Bogen
,
Braille Auto
,
Braille Battery
,
Braselton
,
Canon
,
Carbon
,
Chris Forsberg
,
Competition Coupe
,
Corolla
,
Dai Yoshihara
,
Daijiro Yoshihara
,
Dalton Hanley
,
DC2
,
Discount Tire
,
Drift Alliance
,
Ford
,
Formula D
,
Formula Drift
,
Formula Drift Championship
,
FR-S
,
Georgia
,
GoPUCK
,
Grassroots Motorsports Magazine
,
GReddy
,
Gushi Auto
,
Integra
,
Jerry Tsai
,
JZX90
,
Kai Tsukiyama
,
Kenshiro Gushi
,
Manfrotto
,
Mark II
,
Modified Magazine
,
Monster Energy
,
Mopar
,
Mustang
,
Mustang RTR
,
PS13
,
Road Atlanta
,
Rotora Brakes
,
S13
,
Samuel Hubinette
,
Scion
,
Seibon
,
Seibon carbon
,
Shinsengumi Ramen
,
Sparco
,
Taka Aono
,
Toyota
,
Tsukasa Gushi
,
Vaughn Gittin Jr
,
Viper
,
Weir Performance
,
Z33
---