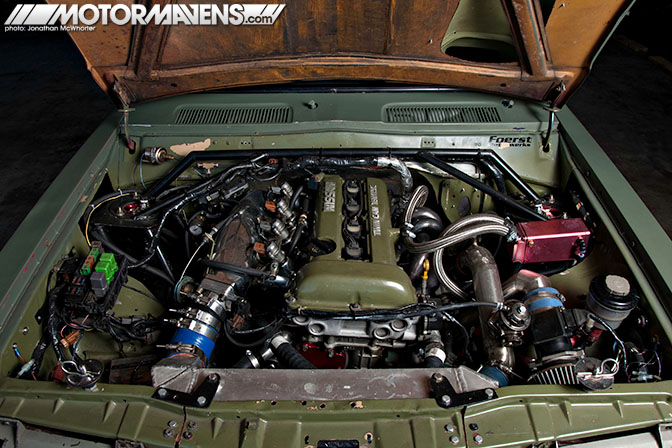 Datsun didn't make a fast enough truck for Chad Copeland, so he built his own.  After three tours of duty in the Middle East as a part of the Air Force, Chad took some driving courses and practiced on Eglin Air Force Reservation trying to slide his truck around corners and hang it out as far as he could.  This was long before the artform of hooliganism now known as drifting became a sport.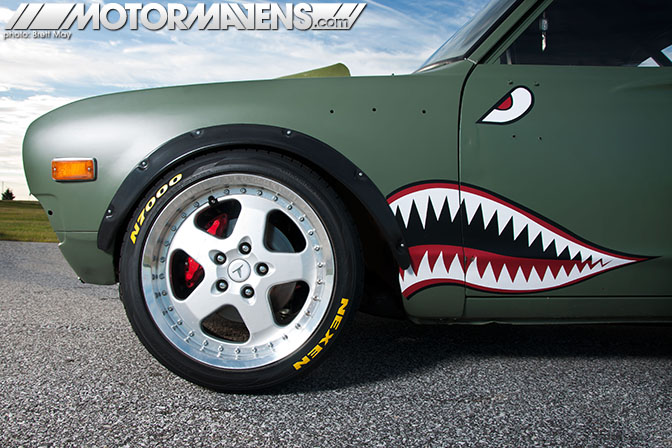 That first truck is now long gone but Chad is keeping the interest alive in the form of his current Datsun 620 pickup.  At first glance, it's obvious that this isn't your everyday 620…just in case you happen to see these every day. In fact, as much as this truck shows you with its exposed components and armed forces-inspired livery, there is more to be found beneath the proverbial surface.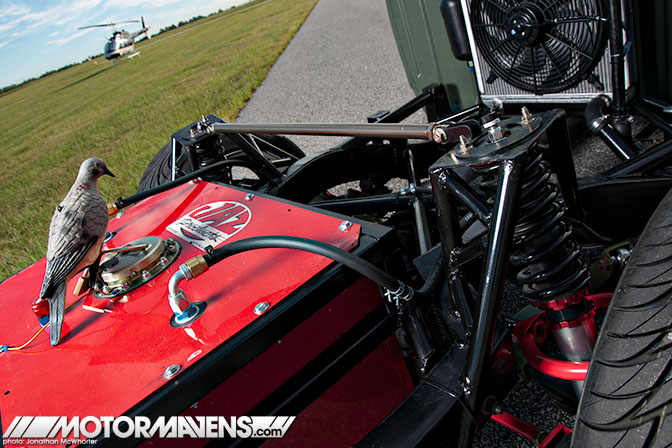 After owning a 620 in high school, Chad wanted to get another one and restore it as soon as he found a good deal. That deal came in the form of a $500 junker with one working brake, a rusty body with tons of bondo, and an interior that was abundantly short of spectacular.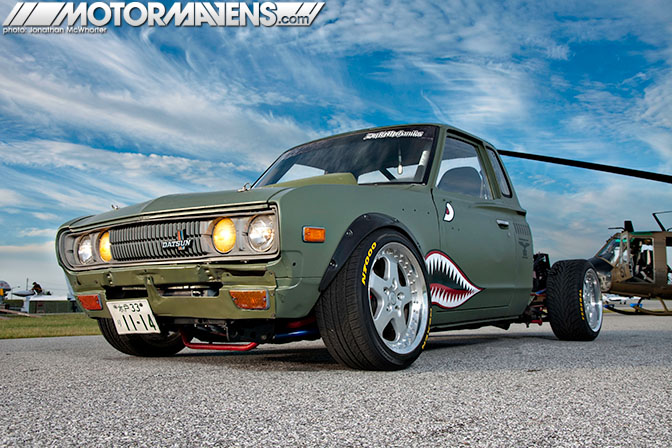 The original plan was to fix all of the truck's major problems and get it running well – daily driver status. But, as anyone who has had a project car knows, plans are made to be modified…significantly.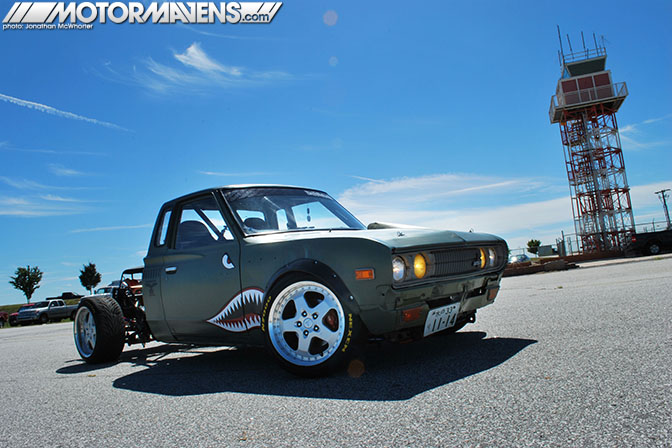 Soon, another deal in the form of a super cheap SR20DET with a few minor issues and some goodies popped up.  Included was an S13 rolling chassis. Irrelevant? I think not. For the truck to handle the power that was intended to be put down, the front subframe was scheduled to reinforce the truck. However, the S13 subframe was about 4.5 inches wider than the truck.  To avoid looking ridiculous with a really wide front and super skinny rear (because the point is to not look ridiculous), the rear was needed also.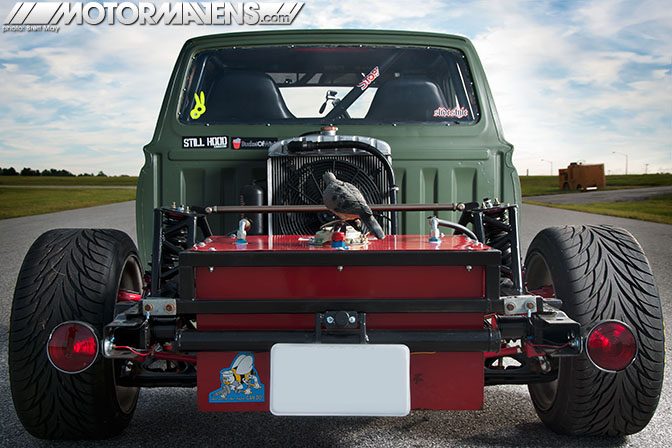 Chad took the frame down to the bare metal and did lots of math, took lots of pictures for reference, and did even more cutting and welding to line it all up. The result is a beautiful framework courtesy of geometry and x-braces. Petey the Drift Pigeon sits on top of the fuel cell making sure everything is on point. With the chassis work done, it was time for the motor.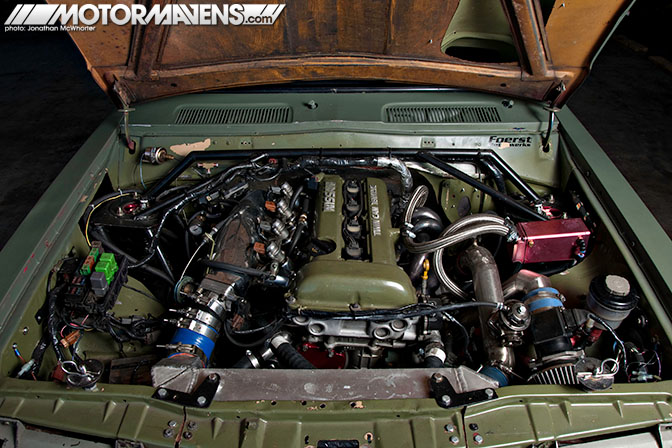 During all of this work, Chad had compiled a list of go-fast parts and had them ordered. At this point those parts started showing up so often that Chad became quite familiar with his UPS man – Kevin. They might even be Facebook friends now.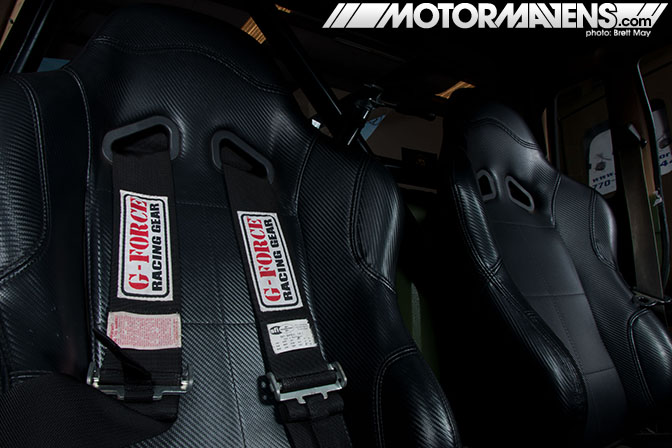 After building his own transmission mounts, fabricating his own exhaust, and carving out nearly all of the front fender wells to get the right stance (and get the cab back on), Chad could now fabricate a custom interior since the firewall had been chopped up to make room for the SR. For cooling, he added a duct from a helicopter and moved the radiator to behind the cab with an external water pump.  As a result of his time with the Air Force, Chad had the truck painted to look like the Cobra attack helicopters that he had spent so much time around.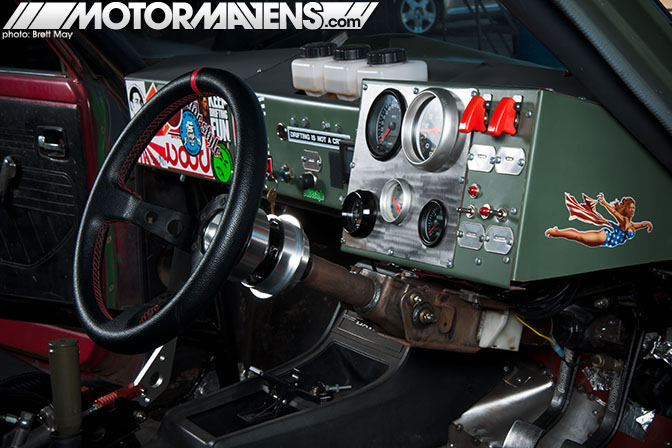 Notice the sticker reminiscent of WWII nose art and the 25mm shell casing shifter?  The aviation theme continues all throughout the cockpit.  Fabrication completed – it was time to align and tune. Chad had done such a good job measuring and fabricating, he hardly needed the truck aligned and Matt at Foerst MotorWerks was surprised at just how close the measurements were. This truck makes a very respectable 300HP to the rear wheels. In a vehicle that has literally nothing over the rear half of the car, that's quite a bit.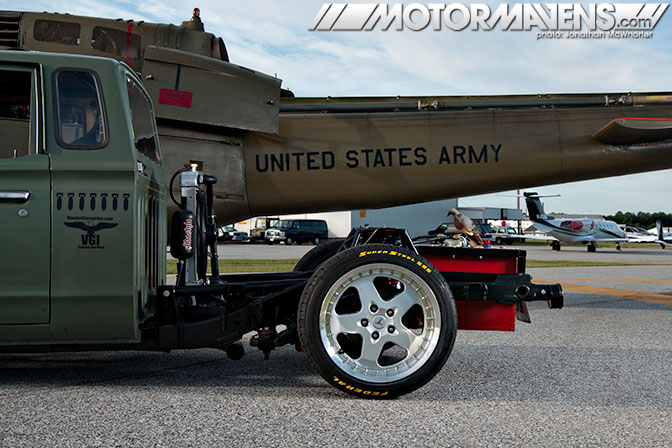 Here you can see the radiator hanging out behind the cab keeping things super cool.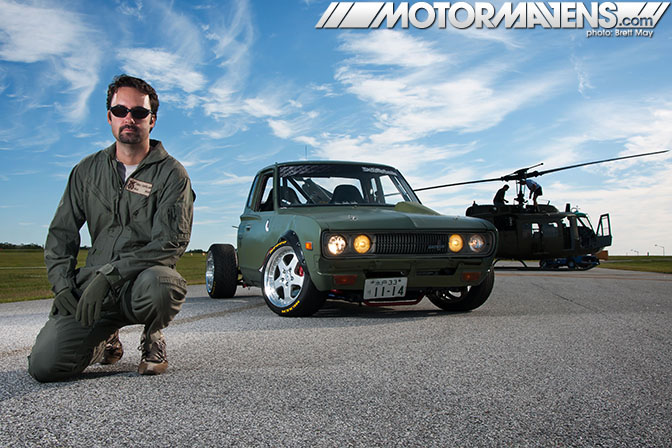 Chad even has a flight suit that he uses as a fire suit at drift events.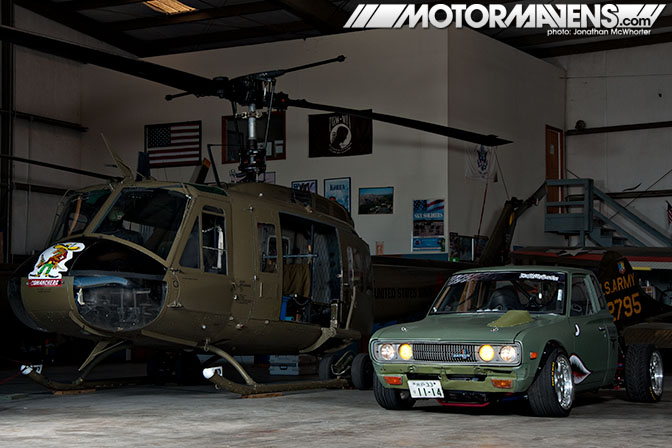 To make this shoot possible I wanted to say a huge thank you to the guys at the Army Aviation Heritage Foundation who let us come out and use their facilities.  They are a not-for-profit organization that restores Vietnam-era aircraft and teaches people about the war and the roles these machines played in the theater of combat.  If you're interested in what they do, check 'em out here.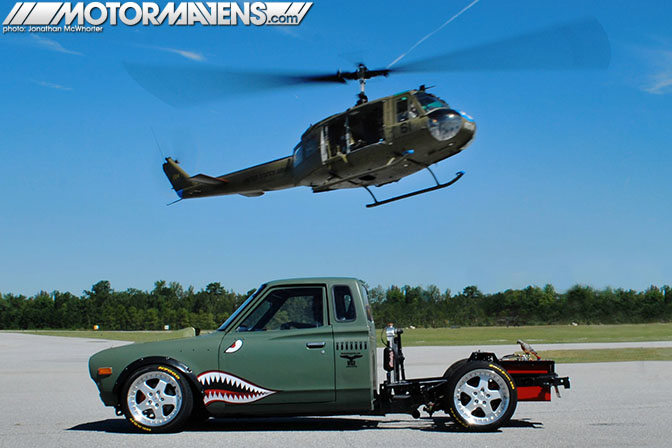 www.chadcopeland.com
:: Jonathan McWhorter
Photos by Brett May and Jonathan McWhorter
---