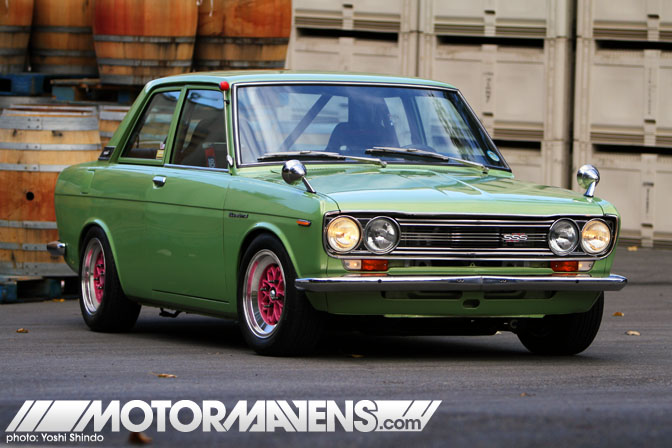 Building a car from the ground up isn't an easy task to do – physically or mentally. Some might already know exactly what they want to do, while others may have a general idea and focus on one thing at a time. Plans always change (which is the exact reason why my S14 has been sitting for over a year) but one thing that all these owners have in common is…Dedication.
This Datsun 510 project was started 13 years (and three owners) ago. The original owner (Joe Smith – sounds like an alias), had the body and paint done. He also accumulated a lot of NOS (new old stock) parts though the Nissan dealer he worked for but the car was never finished. Eventually the car ended up seeing two other owners before Dom Stokes bought it.
Dom bought this Datsun 510 as a rolling shell that was already painted Volkswagen Green. Not knowing exactly what was hidden in the car, Dom and Ray Stonehocker decided to strip the whole car to the bare shell. Since everything was apart, Ray modified the struts to accommodate the Ground Control coilovers, adjustable shocks, and Ermish Racing Wilwood brakes front and rear. They also installed Datsun Comp sway bars and VG30.com adjustable control arms. This car can handle as good as it looks!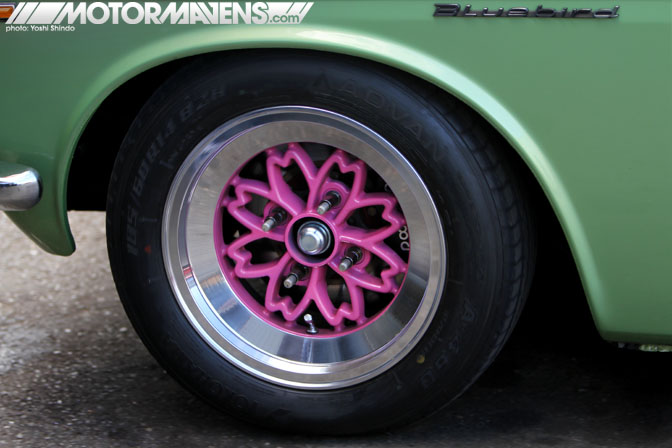 The wheels that everyone wants! Yayoi Sakura in 14×6.5  +9 wrapped in Yokohama Advan 185/60/14 tires. Yes! Dom told me it took him about a year of begging the previous owner to sell him the wheels (with lots of cash on top of that as well). When he finally got the wheels he wanted, they weren't in the perfect shape that he wanted – so he stripped and refinished them. It goes without saying but I'll say it anyway – they look hot!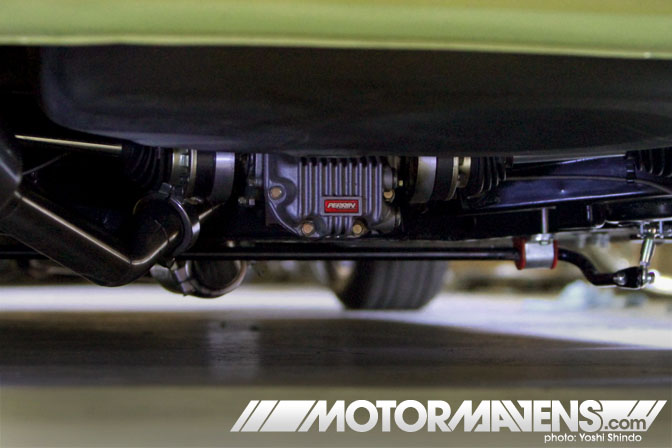 Not only the outside of the car looks good, but even the under-carriage looks amazing! Garage Autohero custom exhaust, Subaru LSD with a Perrin differential cover, Datsun Comp sway bars, and Wolf Creek CV axles.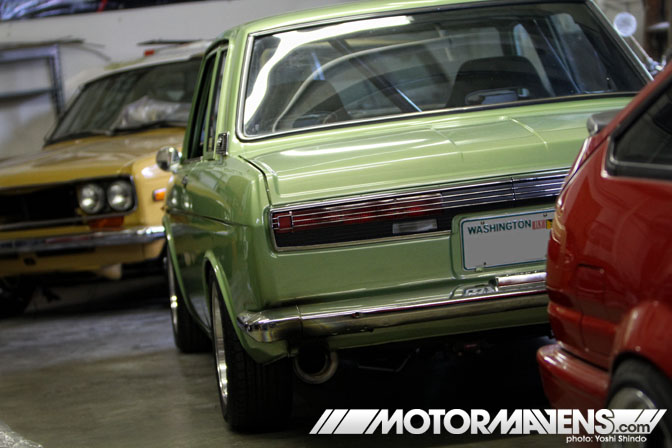 The rear panel was replaced with a nos panel for proper fitment of the SSS coupe taillights. Even the license plate is era correct.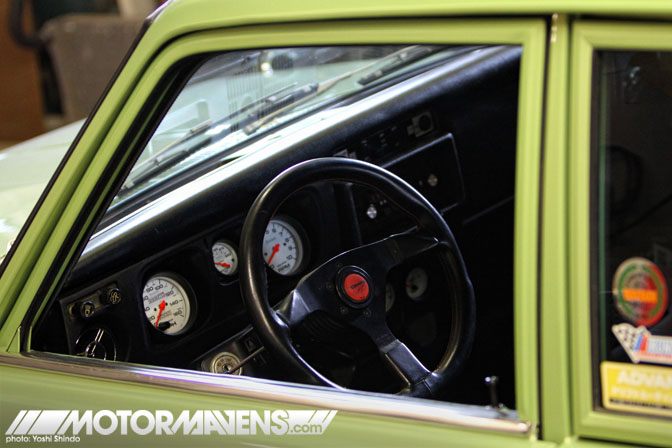 I was truly amazed by how nice and clean the interior was. I'm really diggin the old school Tomei steering wheel and Recaros. Even the headliner and carpet were custom made for this car! It was also fitted with an Autopower roll cage and Autometer gauges.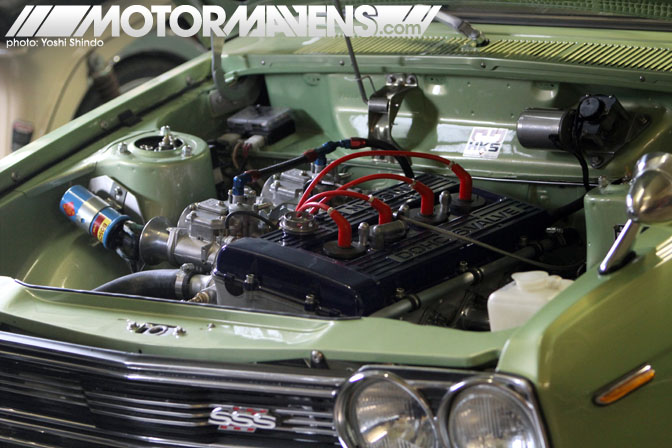 Since everything else was modded, why not fit the 510 with a built motor? Dom picked up this FJ20 that was stoked to 2100cc with a knife edged crankshaft, Saenz custom billet rods, custom JE pistons, HKS cams and  cam gears, HKS intake manifold with 44mm Mikuni carburetors, Nismo distributor, Ron Davis radiator, Garage Autohero custom oil pan, and a header that's 1 of 4 made for Bob Herold…The maker of  the Datsun Comp headers back in the early 80s. Bob was also the designer of the header.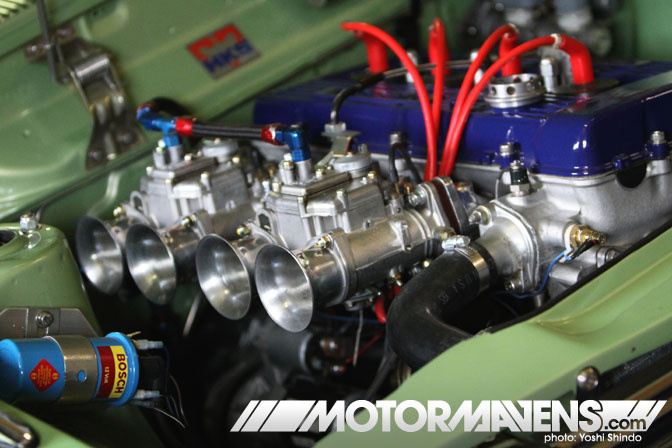 Everything in this engine bay looks amazing! Ray did an incredible job putting everything together while keeping everything understated and minimalist. It seems that the "less is more" credo is alive and well.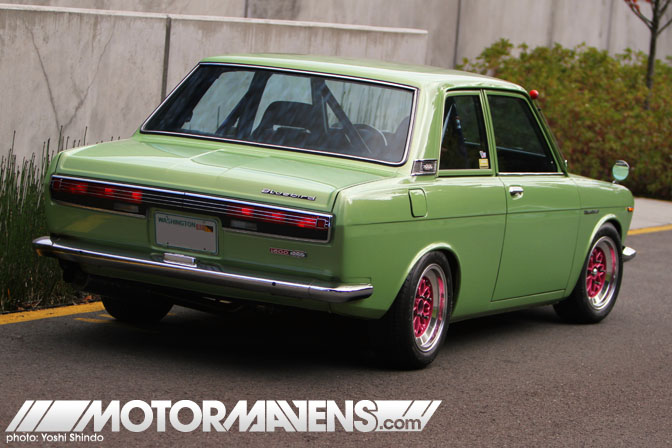 This car might not be the lowest, or have the best stance, but it's period-correct for the late 90s and that's the point of the build – authenticity. Could you imagine owning this car back in the 90s? Even these days owning a 510 this sick is awesome!
Dom and Ray did an amazing job on this car. Honestly, this is one of my favorite Datsun 510s of all. So much detail has been crafted into this car that it would take me days to find everything. Seeing restored 510s like this makes me want to scrap my S14 and finish my 510!
As most of you know, the annual Japanese Classic Car Show in Long Beach took place this past weekend. The judges there also showed Dom love by awarding him with 1st Place in the 510 class, 1st Place award for the Japanese Nostalgic Car Magazine Editor's Pick, and 3rd Place in the Open Modified class! Congratulations Dom!
::Yoshi Shindo
510
,
Advan
,
Autometer
,
Autopower
,
Bob Harold
,
Datsun
,
Datsun Comp
,
Dom Stokes
,
Ermish Racing
,
FJ20
,
Garage Autohero
,
Ground Control
,
HKS
,
Japanese Classic Car Show
,
JCCS
,
JCCS 2010
,
Knife Edge
,
Mikuni
,
Nismo
,
Nissan
,
Perrin
,
Ray Stonehocker
,
Recaro
,
Ron Davis
,
Saenz
,
sakura
,
SSS
,
Subaru
,
Tomei
,
VG30.com
,
Volkswagen
,
Wilwood
,
Wolf Creek
,
Yayoi
,
Yayoi Sakura
,
Yokohama
,
Yoshi Shindo
---