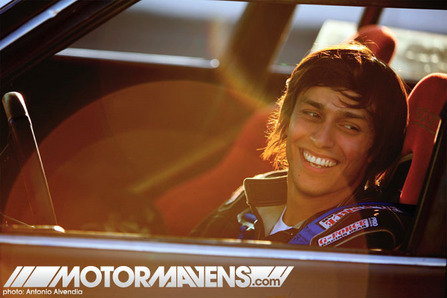 While many of the best grassroots drifters in the United States (oh, and don't forget Canada, eh!) were out in Southern Cali for the Formula D Pro Am at Irwindale, I had the chance to catch up with Ameen Rizvi from 786 Motoring in Houston, Texas, the driver of everyone's favorite metallic brown MX83 Toyota Cressida.
Since Ameen and his Cressida were busy doing another shoot on the Irwindale banking on the actual day of the Pro Am, I asked Ameen if he'd be down to meet up with me and the other members of the Motor Mavens Crew the following day. Ameen and his brother Amir graciously obliged, and decided meet up with us for a late, late breakfast at Flappy Jack's on Route 66 in Glendora CA, with a whole bunch of other trucks from Texas with drift cars in tow not too far behind.
Those of us who have been following the drifting scene pretty closely have known about Ameen and his Cressida for quite some time now. After all, it's not often you see a four door, non-240SX rise up through the ranks of grassroots drifting competition in the USA. Wait a minute… but Ameen did drive a 240SX. To clarify things, Ameen used to drive an S13, but when he first began drifting in 2001, he was doing it in a Mk3 Toyota Supra (MA70). Since he started out in a Supra, it was only natural that he would become enamored of Toyota's mighty 1JZGTE straight-six engine, which came as stock in the Japan-market JZA70 Supra Turbo. Well, that and he blew up a ton of US-market 7MGE engines when he was trying to use them for drifting. Bad idea. 7MGE engines are notorious like BIG for blowing head gaskets, overheating, and cracking the stupid OEM plastic intake piping. Just like Biggie, they're ready to die.
So if he started out with a Toyota Supra, why move to a four door family car like a Cressida one might ask..? Well, when Ameen was doing research on building his MA70 Supra, he discovered that the chassis of the MA70 Supra and MX83 Cressida were extremely similar, and many of the engine and suspension parts were the same as well. The tipping point was when Ameen saw an internet clip of D1 driver Tsuyoshi Tezuka's JZX81 Chaser. "When I saw Tezuka's 81 on the internet," Ameen explains, "that's when I knew I was gonna build up a Cressida for sure."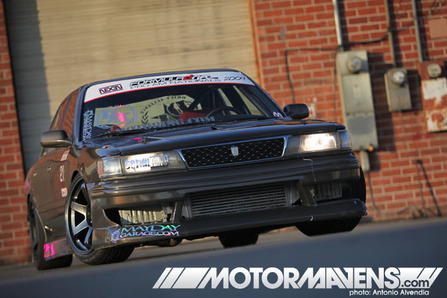 After wasting a lot of time talking about cars and getting full on blueberry french toast, pecan waffles and things like that, Ameen and the Texas crew trailered their cars to the general vicinity of the Cipher Garage so that we could get some pics of the Cressida off the trailer. Ameen's Cressida isn't exactly street legal in California, so we decided not to risk it by driving it around too far. We'd have to make do and shoot the car in the close immediate area, which was (ugggh! sucks!) a loading dock behind a warehouse. I know, it's lame. I can't stand photos of cars behind loading docks or in parking structures. I'm sorry. We just had to do it. We were pressed for time and sunlight, and these guys needed to get back to Houston asap.
The first thing you may notice about Ameen's car is the fact that it doesn't look like a normal Toyota Cressida. Brilliant deduction, Holmes. The most obvious changes would be the Japanese OEM JZX81 headlights and grill. Oh, and let's not forget the super low and aggressive body sculpting, thanks to the Type II aero kit from Serial Nine.
I like the Mayday Garage sticker on the front bumper, and that red sticker in the corner of the window too.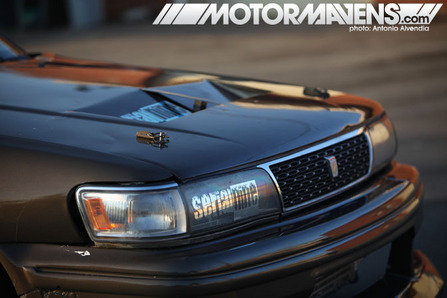 Let's get specific. I know you're dying to find out why Ameen's headlights look so much better than the ones on your Aunt's 1991 Cressida. What we're looking at here is a set of Japanese-market OEM JZX81 Toyota Chaser headlights, corner lights and the best part… the mesh Chaser grill.
Sitting above the lights and grill is a JZX81 Chaser hood as well, which has been matched up to the US market Cressida fenders that came with Ameen's car. You may notice that there's a bit of a gap between the corner lights and the fenders. To prevent this, the proper technique is to cut the front sections of Chaser fenders off, and weld them to the rear section of a set of Cressida fenders. Ameen admitted that he has Chaser fenders at his shop in Houston, but hasn't gotten around to doing the required fender mods yet. You'll have to excuse him, he's been busy traveling to other states and laterally incinerating his tires. Making the fenders fit perfectly with the corner lights will have to wait.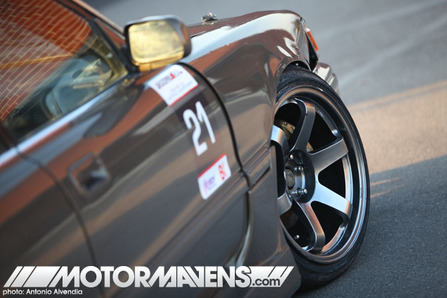 Well, the fenders don't exactly match up perfectly to the door either. Well, they kinda do… but Ameen has decided to gap his fenders like they're sparkplugs. They're 0.44 inches off, hehe. It's okay. You don't really even notice small details like that when the Cressida's turbocharged straight six engine is wailing like a banshee and the car is drifting through the streets, coming ever so close to the curb, approaching closer… closer… closer… and *whew* passes right by without a scratch. If I were a curb, I think I'd be scared of his wheels making contact with me.
Ameen isn't worried about his wheels hitting curbs though… they obviously aren't super light, $500-each forged wheels. Well yes, these wheels were forged… from another company's design. But their low price point allows Ameen to drift his heart out all day and not worry about them making contact with other cars, curbs, the pavement, things like that. In case you were wondering how Ameen stops the car with all that unsprung weight (haha sorry, I couldn't resist), behind the Payless shoes are R32 Skyline brake calipers.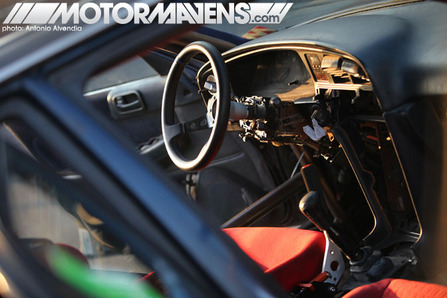 Prior to the North American launch of the Lexus brand in 1991, the Toyota Cressida was the top of the line Toyota that you could buy in the United States. Knowing this, you may be wondering why the hell Ameen's interior looks like this – super gutted, with the steering column and shifter exposed… and an empty hole where the climate control and radio should be. It certainly doesn't suggest "top of the line" when you look at it.
When I asked Ameen why there's no plastic trim pieces covering the Terminator-inspired look of the steering column, he laughed and explained, "The Cressida was sitting in front of a shop, exposed to the heat and sunlight for seven years. The former owner was an old lady that blew the motor and never had enough money to pay for the rebuild. That's why I was able to pick it up for so cheap."
Ameen proceeded to rip out the factory seats, and bolted red Sparco seats in their place. The cracked-leather wrapped OEM Cressida was removed as well. Ameen continued on, telling me that he was originally using a wood grain Nardi steering wheel in his car, but current Formula D rules wouldn't allow for the use of a wood grain steering wheel when his car went through technical inspection at Pro Am. As a quick fix to the problem, he just got a "whatever brand" generic steering wheel to use for the event.
If you look carefully, you might even notice the door bars from the rollcage, which was built by Derrick Rogers of "Bubba Drift" El Camino fame.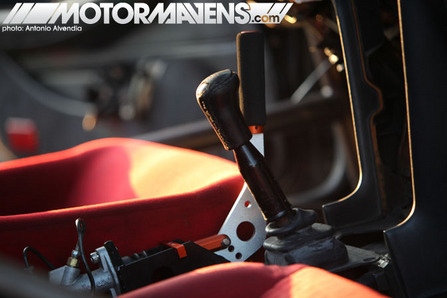 Probably the first thing you might notice when looking at this photo is the obvious – the hydraulic e-brake handle that's sitting to the left of the gearshifter. "I tried out this K-Sport hydraulic e-brake, but it didn't work very well for me. It just wouldn't lock up. So I ended up replacing the master cylinder with a Wilwood unit, and now it works real well," Ameen explained. "I'm still using the K-Sport handle though."
TRANS
The beefy, plastic covered shifter in the photo links up to a Toyota 5-speed R154 transmission from a Supra turbo. When this car was first built, it originally had a 1J (1JZGTE) engine and a W58 transmission (US-market W58s typically come from 1982-1989 non-turbo Supras, MA60 Celicas and MX7x Cressidas from the early 1980s; and the UZZ31 SC300) installed, but the W58 trannies kept breaking when Ameen was drifting. At that point, the only real choice for the car was the beefier R154, which (in the US market) came in turbocharged versions of the MA70 and JZA80 Supra.
ENGINE
Perhaps the most common dilemma that would-be Cressida owners face is which engine to swap into the car. The factory 7MGE engines are pretty pointless, I'm sorry to say. In order to make any real power, one has to swap in either a 2.5 liter 1JZGTE or a 3.0 liter 2JZGTE.
When asked which engine he favors for the Cressida, Ameen explained, "My 1J was super responsive and super reliable. The RPMs shoot up much faster than the 2J, and I could take it up to 8500rpm every time I hit a drift event with my 1J. It was a bulletproof motor too; I overheated my 1J multiple times when I was trying to figure out the best cooling system for the car, and it still pulled like the first day I got it. The thing about the 2J is, it has way more torque. I think having torque really helps out when you're driving a Cressida especially, because the Cressida is a larger, heavier car."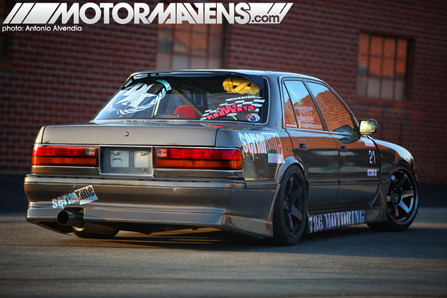 Here's the back view of the Cressida. Man, that's a lot of stickers.
Let's take a moment to discuss the footwork, though. I'll just type out a list: SerialNine coilovers, rear subframe bushings, rear control arms, rear toe arms, rear traction rods, swaybar end links, and Largus front/rear sway bars.
Oh, and a locked differential.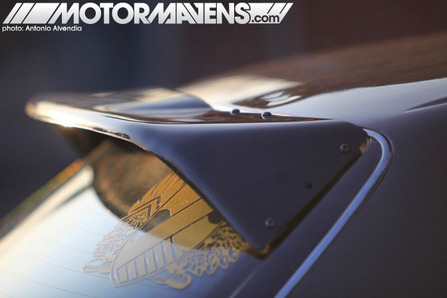 You know what else your aunt's Cressida probably doesn't have? Try this rear DM Aero roof wing, which Ameen ordered from a guy on JZXProject.com. In case you haven't heard of it yet, JZXProject is probably the most technically informative website out there that deals with Cressidas, related engine/transmission swaps, and suspension options for the car. After reading through that website, you'll probably want to sell your 240SX like Ameen did, and build up a Cressy. If you're still unsure if you want to build up a Cress or not, just refer to the wise old saying, "Four doors fit more _____." (Drawers. Exactly.)
Oh, and see the gold crest underneath the roof wing? That's a DailyDrifter sticker, which is Ameen's way of showing respect and appreciation to one of the Houston drift scene's OGs, Alex Bahena from DailyDrifter, who was instrumental in organizing and growing the grassroots scene out in Texas.
I personally haven't heard from or spoken to Alex in quite some time, but I remember meeting him a few times when I traveled to Houston with the Drift Showoff tour. When professional drifting was first starting out in the USA, Houston used to be one of the stops in the Formula D Championship and the Drift Showoff tour. It's too bad that the series no longer travels to Houston, because the big media outlets have seemingly forgotten that everything (including drifting) is big in Texas. Perhaps all the late night "false fire alarm incidents" and repeat instances of certain drunk drifters throwing chairs into the Marriott pool *cough*cough*not naming any names*cough* in 2004 and 2005 have played a small part in professional drifting not returning to Houston's Reliant Center. But I dunno. That's just one hypothesis.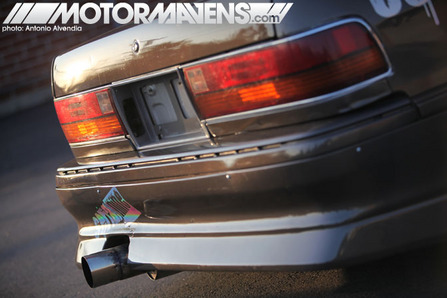 I'm sure most Japanese car fans have seen the N1 mufflers from Apex'i USA that feature burnt titanium exhaust tips. Well the muffler hanging underneath Ameen's Serial Nine bumper is definitely not one of those.
The muffler is actually a generic eBay N1 style exhaust canister that was welded up to the Cressida quickly to get the car going. When Ameen noticed that the exhaust tip from his eBay canister wasn't long enough to clear his baller status aero kit, he decided his quick fix would be to take another one of those eBay canisters, chop off the tip, and then ghetto weld it to the tip of his Cressida's eBay N2 spec exhaust. I wonder if that's how Germans came up with the idea of upward-slanted DTM exhaust tips, haha.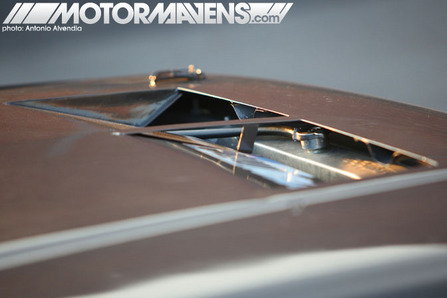 On to the 786 Motoring Cressida's uniquely vented hood. When Ameen was first building the car, he was thinking of getting a Uras hood vent, but at the time, he didn't have an aggressive aero kit for his Cressida, and he thought it might look kind of weird to have a crazy aggressive hood, with a mild looking body.
His solution to this predicament was to cut a custom drop vent into his JZX81 Chaser hood and weld on metal support tabs on the side. Lookswise and functionally, it would look pretty close to what you might expect from a normal Japanese "drop vent" hood, but this one would be much, much stronger because it was made from OEM Toyota sheetmetal from a spare Cressida hood that he cut up. Good job!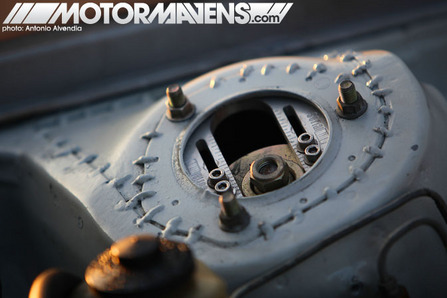 Lifting the hood, the strut towers have been stitch welded, and Serial Nine coilovers have been bolted up from underneath. Ameen swears by Serial Nine's Cressida suspension, admitting, "sure, it's expensive. But it's worth it."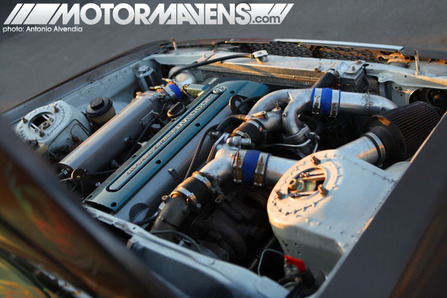 Here's the heart of the beast – a 2JZGTE VVTi engine, with a Haltech E8 engine management system making it all work. The 2J uses USDM twin turbos, an ACT 4-puck HD clutch, a front mount intercooler, and 3.5 inch exhaust piping, all customized by Ameen and his brother Amir at 786 Motoring.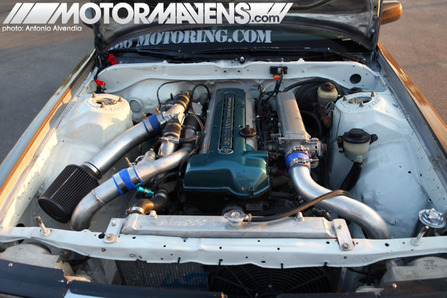 I was pretty surprised when I saw how clean the engine bay of this MX83 is. When I inquired about the car's wire tuck, Ameen says he routed the Haltech harness wires underneath intake manifold and coilpacks, and also relocated the fusebox underneath the dashboard. Man. It looks so clean without all the wires, sheesh. Nice Koyo radiator, too.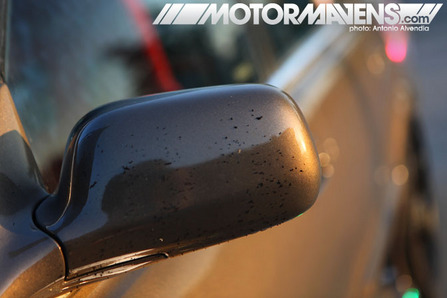 I've had these photos in my archive for quite some time, but decided I should hold off from posting them until everyone had a chance to see the car on other websites. Call it a gentleman's agreement between websites. MotorMavens definitely does not have the same outlook on feature cars as the big print magazines do. In my eyes, there's no reason why we can't let the same car shine on multiple sites. But to keep it real, in order to really see this Cressida shine, you'll need to look past the shredded tire particles on the fenders, bumpers, and side mirrors. No problem – that's just how I like it.
:: Antonio Alvendia
786 Motoring
Serial Nine
JZXProject
Mayday Garage
MORE CRESSIDA STORIES ON MOTORMAVENS!
---