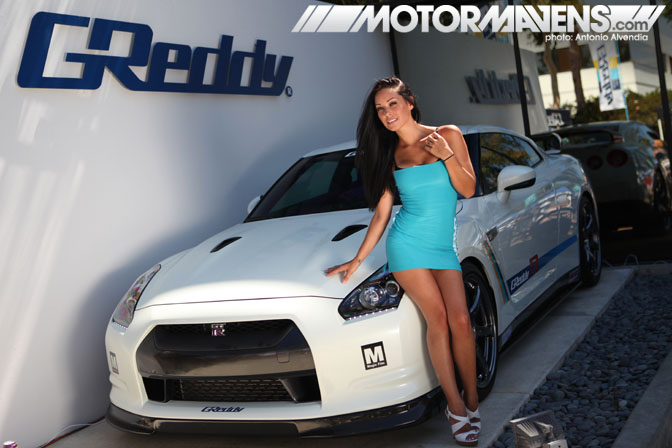 After spending an entire day in the scorching hot sun for the IDRC Finale, I felt sooo incredibly burnt out (literally) and didn't feel like doing anything at all. However, I couldn't exactly just relax at home, because I had plans to link up with some good friends for dinner and an after hours party. Needless to say, it was pretty hard to get out of bed early again (I had to be at IDRC by 7:30am on a weekend!) for the GReddy Festival this past weekend, so I just made a leisurely day out of it.
Since I had plans to hit up the GReddy meet with my friend Brian Urbano, we decided to cruise one of his Supras down to Orange County for the event. On this particular day, the vehicle of choice would be his black JZA80 Supra twin turbo.
While Brian's Supra might not look all crazy on the exterior, I really love the styling of this car because he built it with a particular theme in mind. I'll be the first to mention that I wish the Volk Racing Challenge wheels on his Supra were about an inch wider, but Brian is a man of exquisite taste and makes enough money to put whatever wheels he wants on his cars. He has a brand new set of wider wheels sitting brand new in the boxes in his garage, but he explained to me that the reason he likes to daily drive on these Volk Racing Challenge wheels is because his entire Supra was built with a 1999 period correct theme in mind – after all, that was a time in his life that he was completely enamored by the JZA80 Supra. All the parts that he has bolted onto his car were popular and available during that time frame. According to Brian, "Back then, when I was dreaming of owning a Supra, looking through catalogs and magazines… I had a vision in my head of what my dream Supra would look like. Volk Racing Challenge wheels were the shit back then, so I wanted to use those wheels on my car. I've had lots of different wheels, from the old school flat 5-spoke Work Equip wheels to SSR Professors and stuff, but I like the simplicity of the Volks. Maybe I'll change them if I find some TRD wheels for the Supra somewhere, but those are rare as hell."
Personally, I really like the look and the cleanliness of Brian's hachimaru Supra. I especially love the OEM Japanese roof wing and the OEM fenders and hood. I hate when people ruin a high end Japanese sports car with too much fiberglass crap that doesn't even fit well… and I also don't prefer the usage of American-made custom modular wheels on a high end Japanese car. In my opinion, it's much, much cooler to use rare Japanese wheels on a Japanese car, if you can.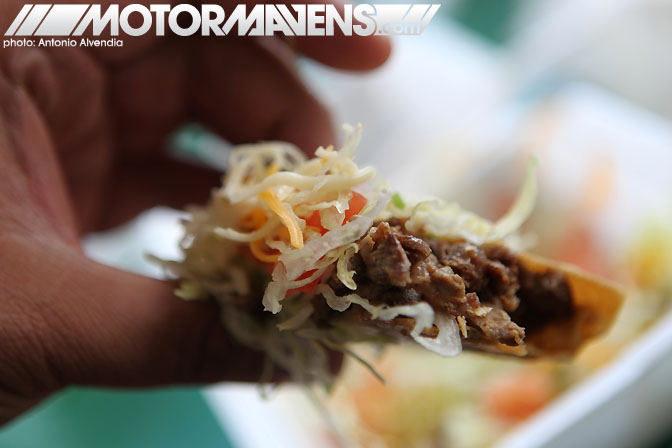 Since we were heading down to the OC, we decided to make a brief detour at my favorite spot in Orange County… a small little Mexican food shack in Costa Mesa called Taqueria El Granjenal.
To be honest, the Mexican food here is just OK, but I'm a huge fan of their freshly squeezed orange juice. Seriously, the fresh OJ that they make daily at El Granjenal is my favorite drink in the world. Just ask anyone who really knows me. Chances are, if they're a close friend, I've taken them there or at least told them about it. I've taken all sorts of friends here, from import models to D1 drivers like Nobushige Kumakubo, Kazuhiro Tanaka, and Toshiki Yoshioka; now those guys are hooked on it as well!
Here's a quick snap of the al pastor tacos that Brian ordered for lunch. You can be damn sure that every time I'm in OC, I try to make lunch plans at El Granjenal with my friends Al (Pastor) and OJ. =)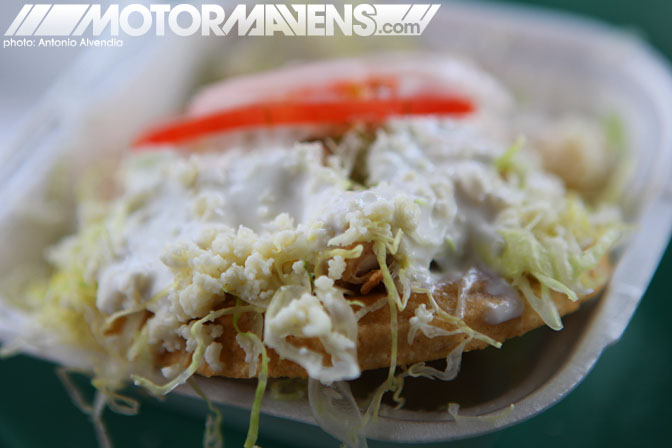 One other item that they have at that spot is sopes. A sope is kind of like a tostada, but instead of having the meat, lettuce, sour cream and cheese on a thin crispy tortilla, it sits on a thick, cornmeal-type tortilla thing. Maybe I'm not explaining it correctly. Whatever. Google it.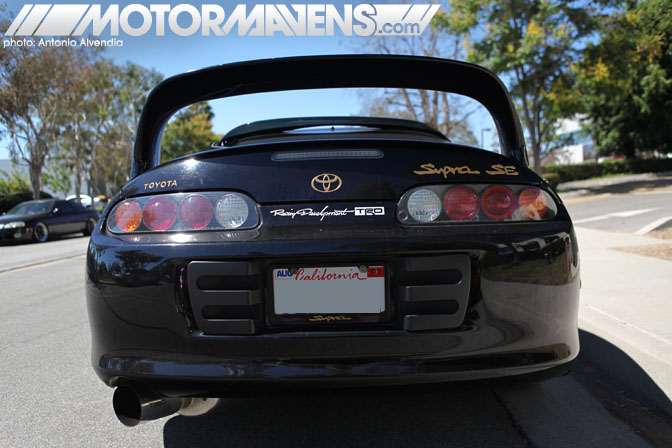 Oh! I'm sidetracked so easily. Back to the cars, here's a rear shot of Brian's JZA80. It wears the TRD exhaust and a TRD Japan sticker, which was first introduced in the 1998 TRD Japan All Parts catalog. Also check out the rear license plate garnish, which is a really cool piece that I had never previously seen, except on Brian's Supra. I think it's a Japanese OEM dealer option or something like that. Either way, I dig it.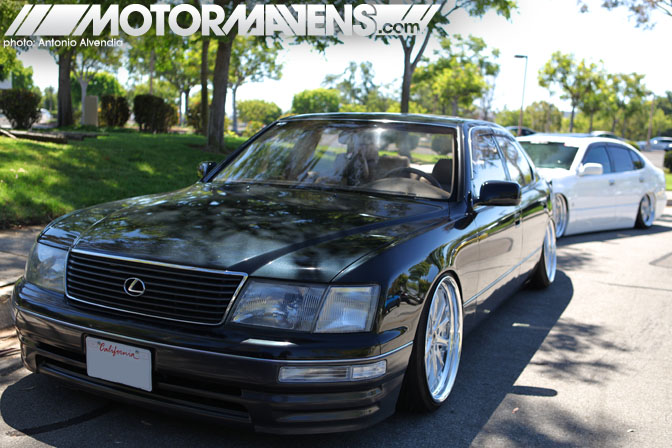 When we first pulled up near the Greddy HQ, Brian and I noticed that all the streets were blocked off, and we had to park a few blocks away. While looking for parking, I spotted this clean example of a UCF20 Lexus LS400. It's kind of rare to see a dark green VIP car, but this particular UCF20 pulls it off very nicely. Super clean!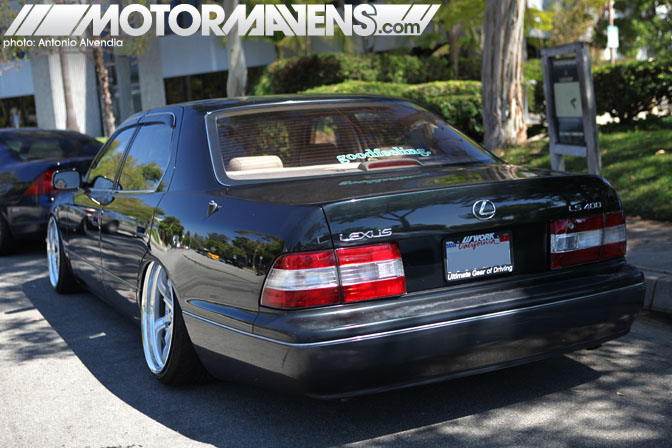 In case you weren't sure, the sticker on the back window lets people know that this LS400 is from Orange County's Goodfeeling crew, which includes quite a few cars with aggressive wheel sizing. I like the updated red/clear taillights too. Very classy!
This car makes me miss my UCF10 LS400.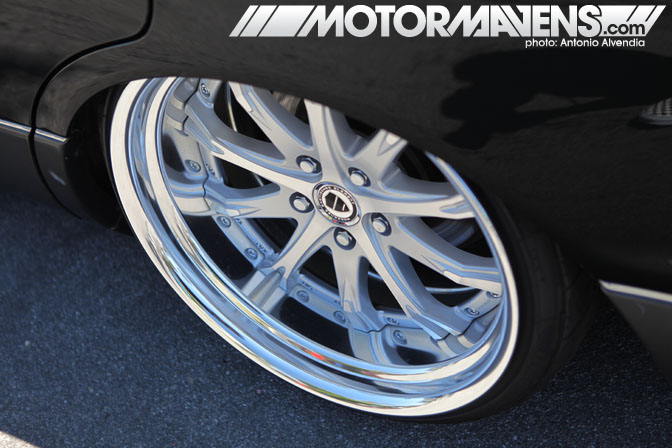 I must not be doing my wheel homework enough these days, because I don't know the exact name of these wheels. They must be from Work Wheels though, since the car is wearing a Work Wheels license plate frame. Excuse my ignorance, please.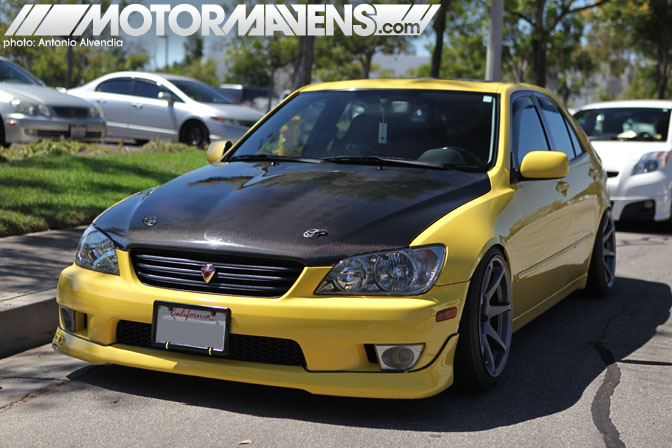 This SXE10 Toyota IS300 looked good with the Japanese Altezza grill (and front bumper too, right?). I also like the low down stance and the super concave rear wheels, but wait… those aren't MB Weapons or whatever are they? If so, it would break my heart, because everything else about this car is so dope.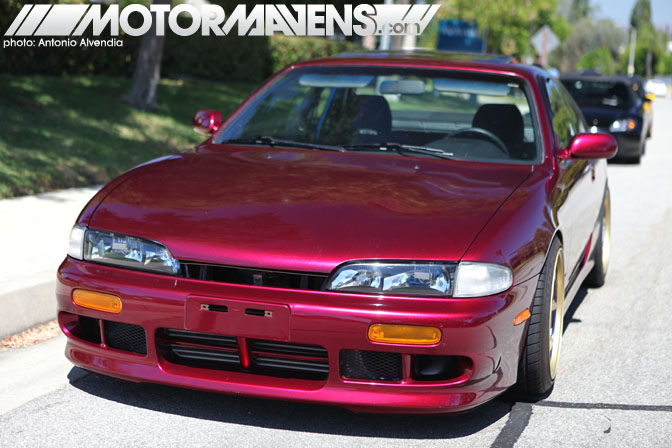 Wow, I don't think I'm used to seeing S14s this clean anymore! I think if my S14 was this clean, I wouldn't have sold it. The gray interior looked extremely well maintained, and the clean body lines and fresh new coat of paint outside certainly make the exterior look good.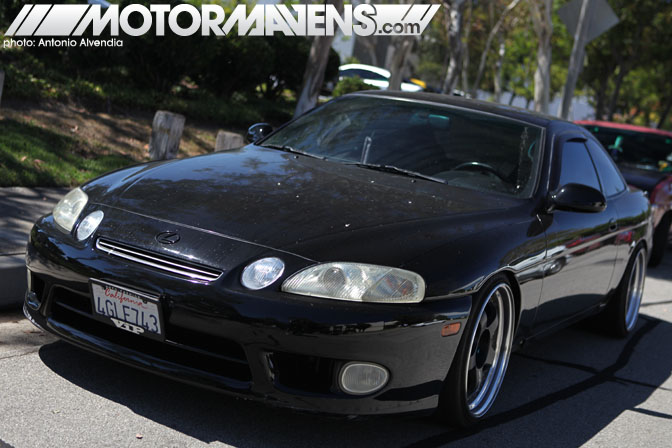 This Lexus SC300 (or SC400?) looked pretty nice. From here, it looks like it has a kouki bumper conversion and a daily drivable street slam on some Work Meister S1 wheels.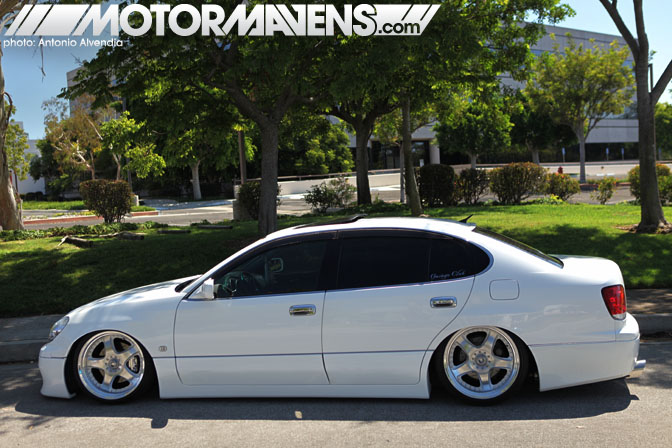 Very nice! This white GS400 looked fresh with the full Junction Produce treatment! I've always loved the way a white Lexus looks, and this JZS161 is no exception. This thing looks dope!
Straight up hard, rolling on Junction Produce Scara wheels. Hell yeah.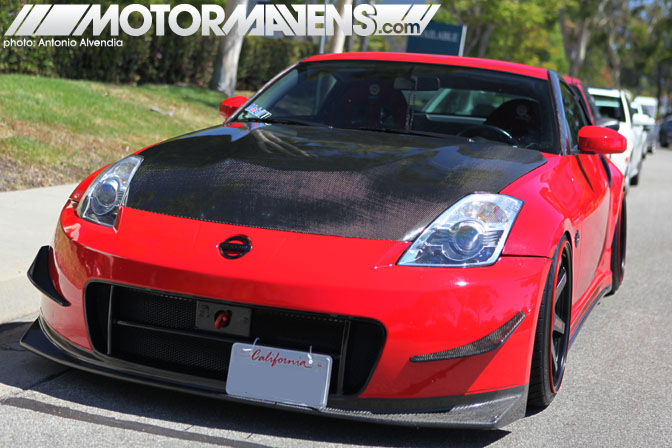 This Z33 350Z looked pretty tough on the street, with the front chin spoiler, canards, and matching red/black Volk Racing TE37 Time Attack wheels.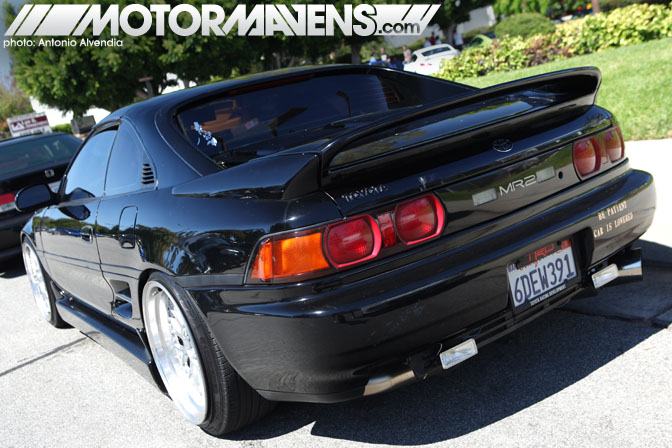 Seeing this SW20 MR2 turbo on the street reminded me that I hardly ever see MR2s driving around anymore. It's a pity… I love the way SW20 MR2s look!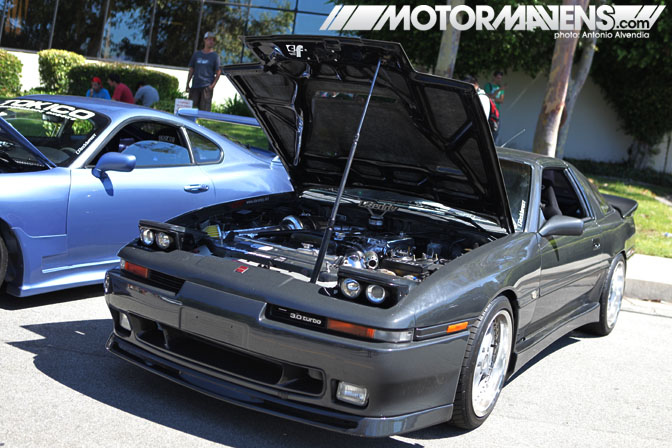 Here's Nick Stonawski's JZA70 Supra, rocking just about everything GReddy has to offer in the engine bay. This car won some sort of GReddy enthusiast award last year, because the car had more GReddy parts on it than anyone else's car did.
The Bomex front lip on Nick's Supra is literally the only part in the entire Bomex catalog that I like. So sorry, Bomex. Just being honest.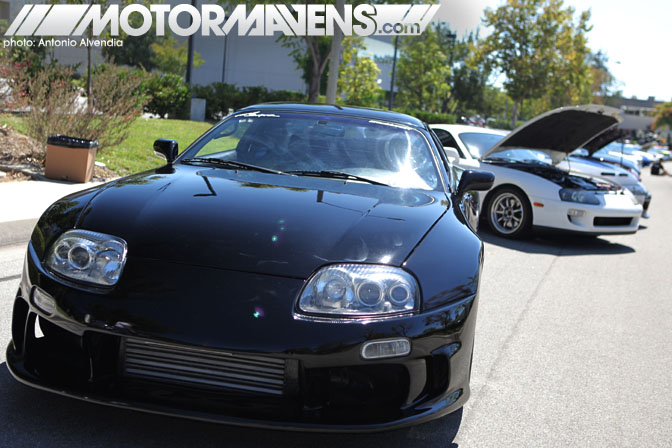 There were actually TONS of Supras at the GReddy event. There were also tons of RX7s and RX8s, as well as tons of 350Zs and even R35 GTRs! There were just lots of really fast cars parked on the streets surrounding the GReddy Festival!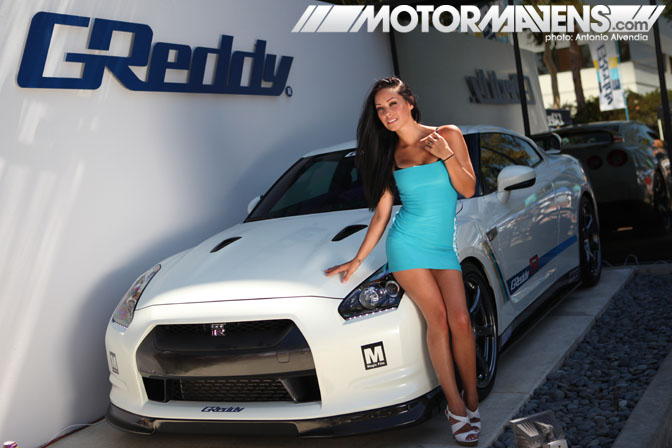 Once Brian and I finally made our way to the front of the GReddy HQ, we were greeted by their R35 GTR and their model for the day, Corissa Furr.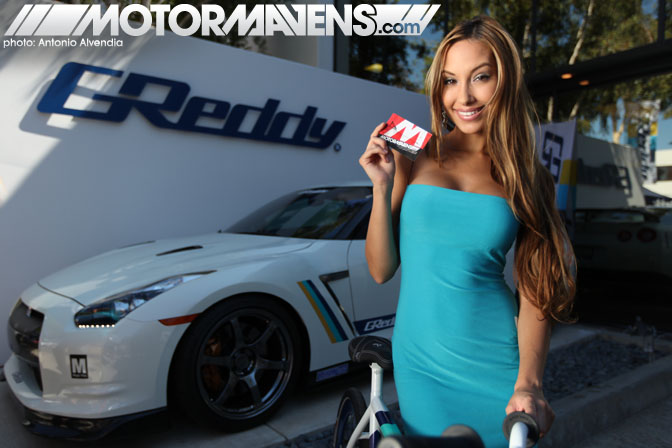 This was certainly a pleasant surprise – I also bumped into Alexia Cortez, who I haven't seen since the Redline Time Attack at Buttonwillow Raceway. Alexia told me that she just got back from Hawaii, and had a great time chillin there. I'm glad to have girls like Alexia down with MotorMavens!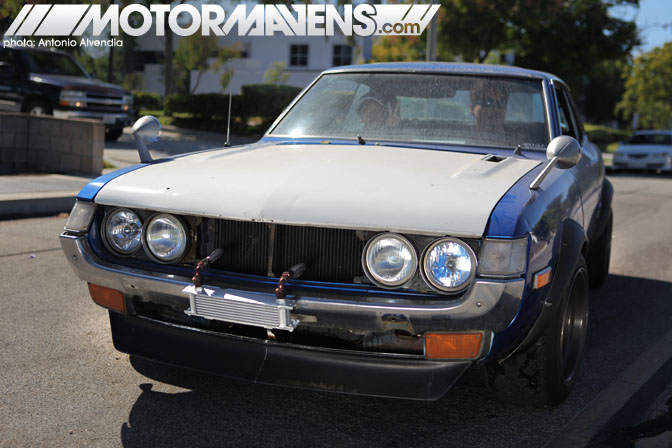 I spotted this RA20 Toyota Celica just outside the GReddy building. It looks to be a 1973 model? The external oil cooler certainly is an interesting choice…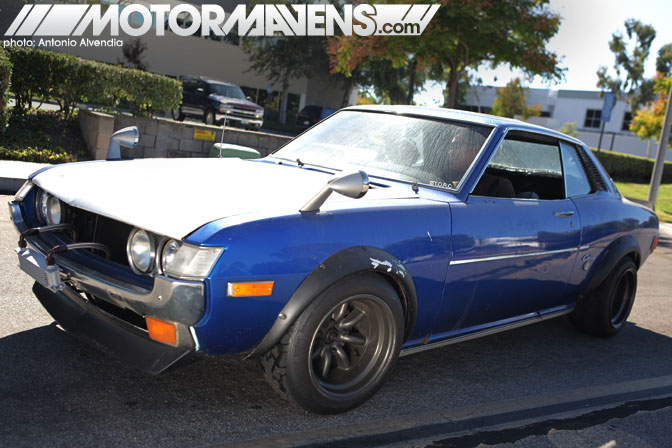 Check out the wheels of choice… 14×9 and 14×10 RS Watanabe wheels! Nice!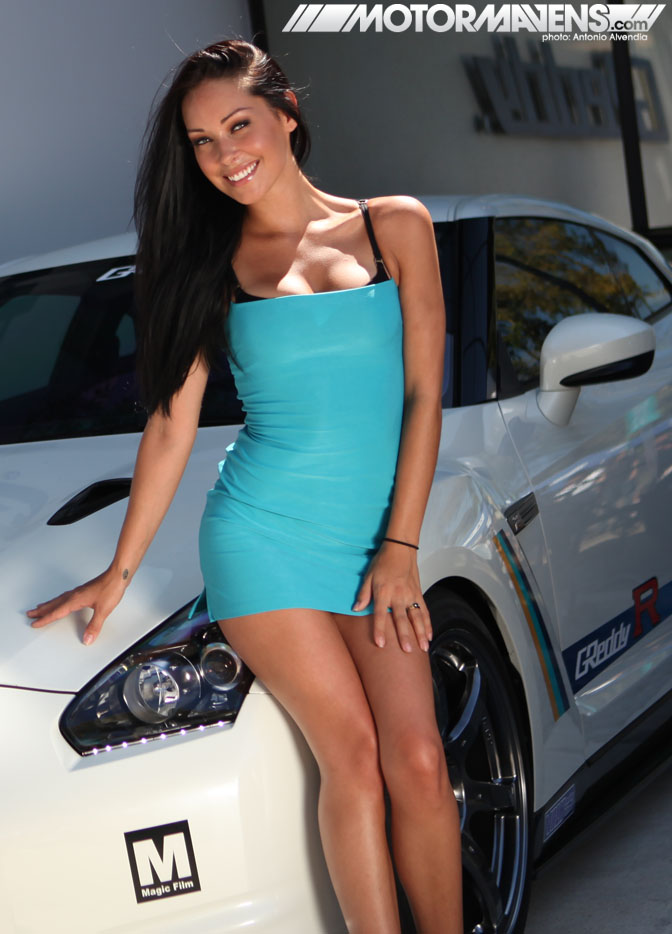 Just in case you wanted a larger resolution photo of Corissa, here you go. Personally, I like women with nice legs and nice skin tone.  Don't you agree?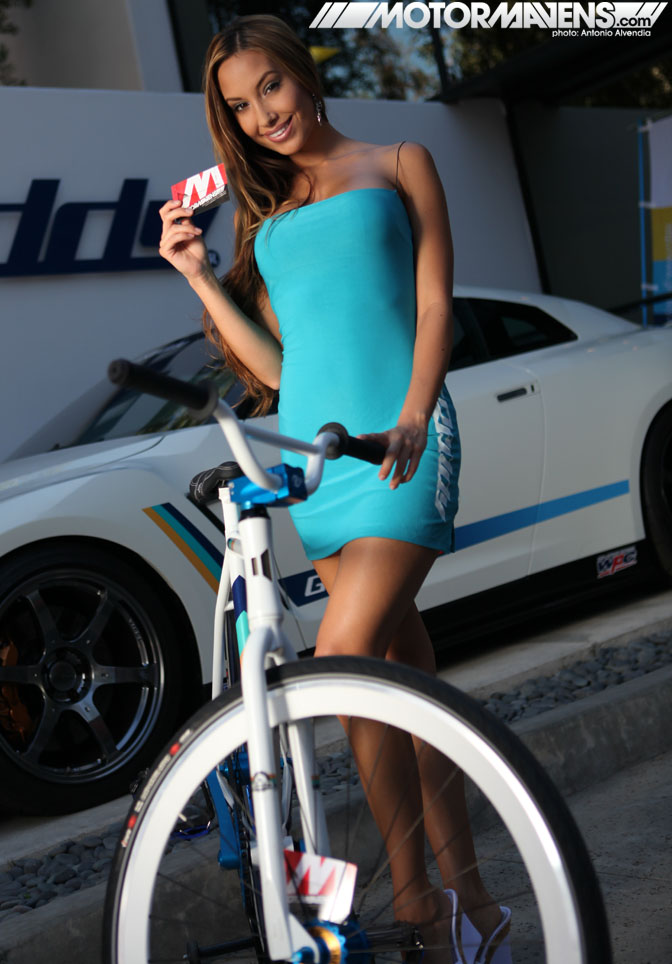 I think we'll end our story with this large photo of Alexia holding up… a GReddy bicycle?! Damn, this bike looks FRESH!!! I wanna ride this down the bike path at Newport Beach! Look at the blue anodized wheel hub and handlebar stem. I love it! Now that is one stylish looking bike… no word on how much it costs though.
I'll have to investigate and report back… that's it for now! If you have photos of your own from the GReddy Festival, make sure to post them up on our forum, and I'll link them to our coverage and promote them on the MotorMavens Tumblr blog and Twitter!
:: Antonio Alvendia
---