I realize that our readers have been patiently waiting for these new photos from our coverage of the IDRC Finale at California Dragway in Fontana, CA. There were quite a few racers in attendance, and quite a few media outlets out there covering the event, so I'm sure there will be lots of great stories and links out on the internet that include everyone's quarter mile times.
Rather than bringing our readers the same stories as the other guys, I thought I would just publish a few more photos of cars that caught my eye. I'll be the first to admit – I don't know a whole lot about drag racing or Hondas, so if I don't go into as much detail as you might expect from one of my stories about drifting or Japanese nostalgic cars, then please bear with me. Actually, I'd love to invite a Honda Maven to share information with us, and even blog on the site! It would be pretty cool, as I know I certainly have a lot to learn when it comes to drag racing and Hondas…
This red EG6 Civic caught my eye on the starting grid, because it looked so mean! It must have been pretty ridiculously intense inside the hollowed out shell of the car, with a stripped interior, full roll cage, and Lexan windows. That thing must be fast. I'm sorry, I have no idea how fast though.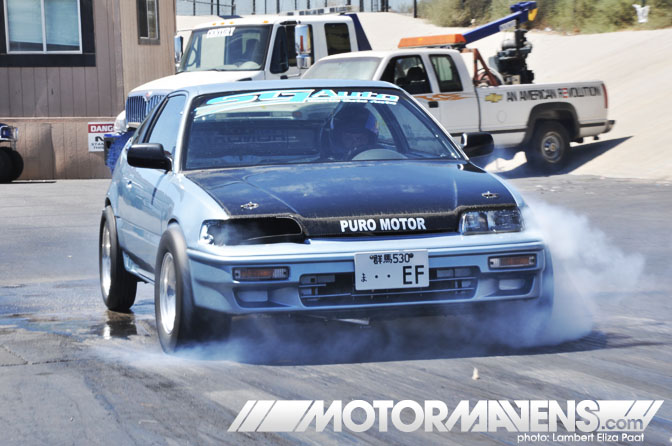 Here's another car from the drag side – an all motor EF CRX, doing a burnout at the starting line. I'm grown to become pretty used to standing right next to cars as they do burnouts… but apparently at dragstrips, that type of behavior is generally frowned upon. Hehe!
One of the Formula D drivers who brought his car out to the event was Fredric Aasbo. I saw his JZA80 Supra drift car parked near a bunch of other Supras, but I didn't see him all day! His Norwegian blood must have been boiling in the 107 degree heat.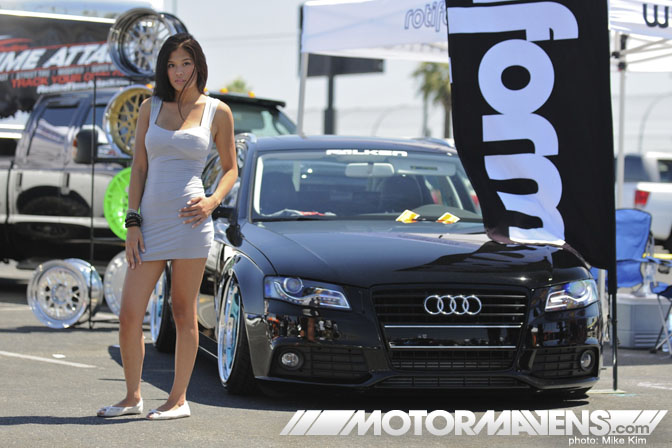 Our resident EuroMaven Tamer Omran invited Samantha, one of his many female friends, out to the event. I didn't get a chance to take any photos of her, so it's a good thing Mike Kim had a camera in hand, ready to shoot! Maybe we should invite her out again, and set up a proper shoot with her. What do you guys think?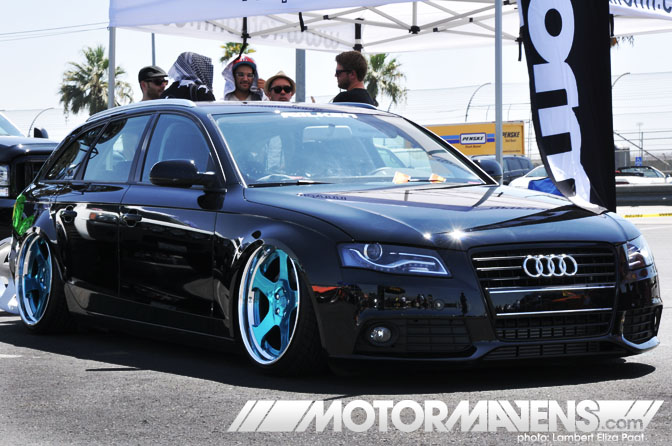 With Samantha standing in front of the Rotiform Wheels booth like that, a bunch of photographers emerged out of nowhere and began snapping pics nonstop. It got so bad that our new MotorMavens shooter Lambert Paat had to politely ask Samantha to get the F out of the way, so he could get a clean photo of the slammed Rotiform Audi A4 Avant that we featured on MotorMavens previously. LOL
Rotiform wasn't the only fresh wheel vendor out at IDRC. Our friends from Infinit Wheels put a bunch of their old school Japanese wheels out on display, like they were apples at a farmer's market. If only deep offset wheels really could grow on trees! This EG6 Civic looked pretty awesome with its sporty Sprint Hart CP wheels, which complement the Honda Primo and Toda Racing decals on the car as well.
Rotary lovers wouldn't be disappointed by this bright green Mazda RX2 sitting in the pit area. Just look at those monstrous slicks out back! Nice!
Old school Porsche 356C, anyone? I can't recall the last time I saw a vintage Porsche at the drag races, but there's a first time for everything. This car looked pretty cool out there!
When I first saw this S13 coupe in the grid lineup, I thought, "wow, that's the tallest S13 I've seen in a long time." However, the owner of this S13 won my respect REAL quickly when he got up to the starting line. This car is all business. I suppose you could say it's a sleeper, except for the fact that most people expect S13s to be built up these days.
While many cars in the drift class did long smoky burnouts, the owner of this S13 just lit up his tires real quickly, getting himself ready for the run itself. When it was time to launch, he had a split second reaction time, with his tires emitting a short, sharp, loud chirp, and the car just took off like a rocket down the 1320. If I remember correctly, this car was doing 10 or 11 second quarter miles! That thing was crazy. The owner even let off the gas at the end because he didn't want to be placed in a lower speed bracket, because he didn't have a rollcage in the car! Crazy. Now THAT is performance.
Here's the engine – an SR20DET blacktop with a GReddy intake manifold and a big Garrett turbine! The details of the internals are top secret!
Wow, when's the last time you saw Weld Drag-Lites on an S13? I don't think I've ever seen them on a 240SX, to be honest. These wheels must have come from a 4-lug Mustang or something, because the S13 comes with a 4×114.3 wheel PCD when it's stock, and the Mustang comes from the factory with 4×4.5″ wheels, which basically equal 4×114.3 millimeters.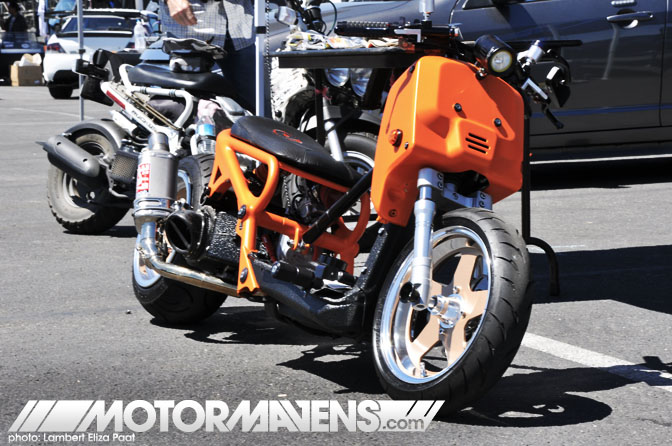 I don't know anything about Honda Ruckuses at all, except for the fact that they look cool and I kinda want one. If I got one, I'd need some sort of van to haul my Ruckus around from event to event… maybe a matching Odyssey?
This Maziora chameleon painted Ruck is a familiar sight at carshows and such. I think it's awesome that it's rocking a MotorMavens sticker! I didn't even put it there. How cool.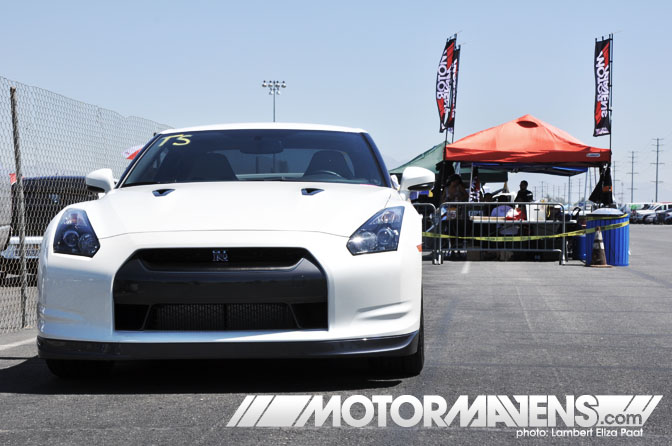 FF Hondas and S13s werent the only cars that came out to IDRC to run. This white R35 Nissan GTR was out at the event, and I'm pretty sure everyone wanted to drive it. In case you've never driven a GTR, it just accelerates sooooo hard it's ridiculous. It's an extremely fun car for accelerating from a dead stop. =)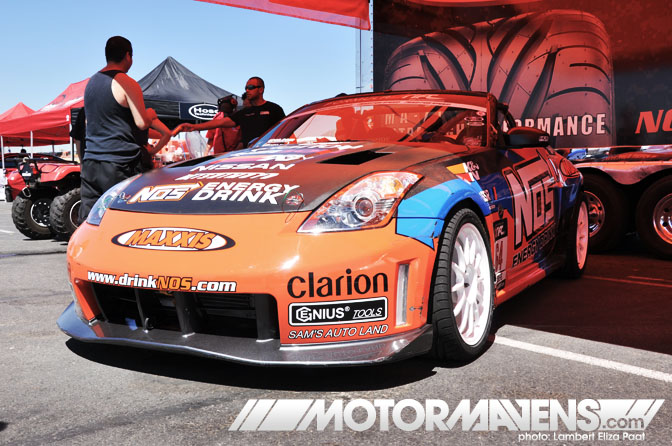 Chris Forsberg's Formula D 350Z was out at the event at the Nos booth, but Chris was nowhere to be found. Smart guy – it was too hot to be alive that day, anyway.
I thought this particular car in the show area was dope! It's not every day you see an Acura TL dumped correctly, sitting on nice wheels! Very cool. I was glad to see this one at the event!
When it comes to brand new cars, I really, really love Lexus IS250s alot. Alot alot. This particular IS250 improved upon the gorgeous OEM Lexus design by adding some fresh wheels, stretched tires, and lowdown stance. I really like the big dish wheel look on a Lexus, but some people prefer a sportier wheel. What's your opinion? I think this car looks pretty good this way, but I have some friends who would argue that a small, nimble car should have lighter, sportier wheels. What's your take on this?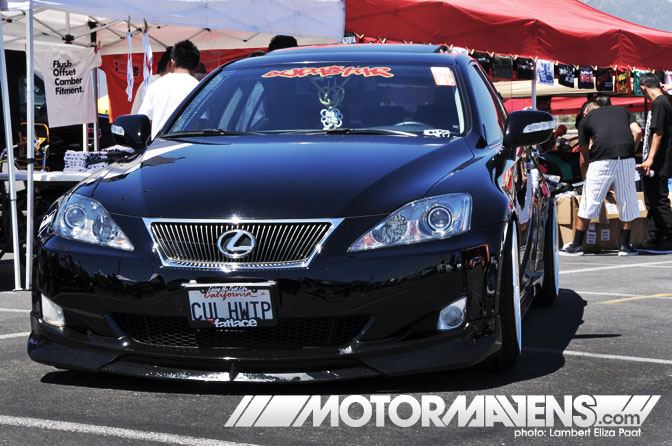 Here's the front of the Lex right here. It sits so low and so clean! Love it!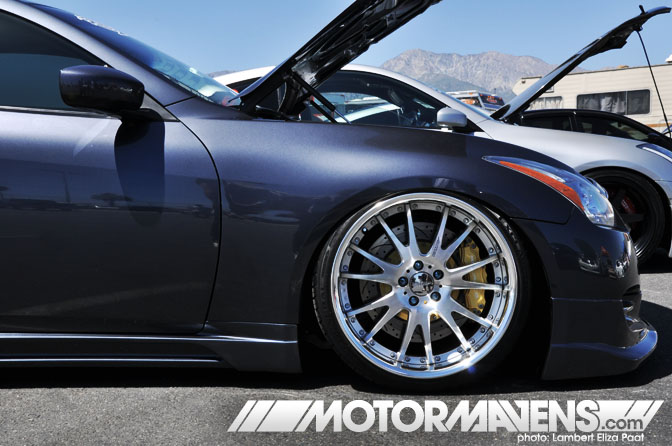 It was really cool to see an Infiniti G37 out there at the event too! This G had to be sitting on air, because I don't think there's any way that someone could roll that low up front with coilovers!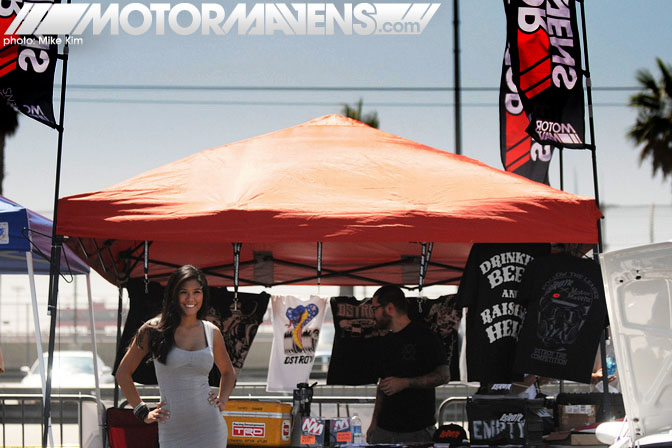 Here's Samantha again, causing trouble by the MotorMavens x DSTROYR booth. The bearded, tattooed guy in the background is Jon Chase, the designer behind the DSTROYR brand. Some people feel compelled to cry or even run away when they see Jon. Perhaps those tattoos are kind of intimidating, but honestly… he's a nice guy, so people don't need to trip out on him! LOL
Here's a quick snap from the trophy ceremony… this is Celine Sino-Cruz accepting an award for one of the Team Supastar cars from the Nos Models, the US Army rep, and one of the DSPORT girls. To be honest, I forgot everyone's names except the girl in blue, because when I asked her, "so what's your name?" She replied, "call me boo." (At that point, I was thinking daaaamn girl, calm down – I hardly even know you! I thought the term boo was referred for your girlfriend, baby mama, or some sort of other category of significant other! LOL) Hey, it's all good. If she wants to be a MotorMaven baby mama or significant other, I'm down as long as she's willing to help me pass out flyers at events! hahahahaha 😉
This GS400 looked pretty clean and simple. I like simple cars for the street – I'm not always a fan of aero kits and whatnot because they're so fragile most of the time. I dug this GS because it's a good example of a realistic daily drivable streetcar. Not too shabby!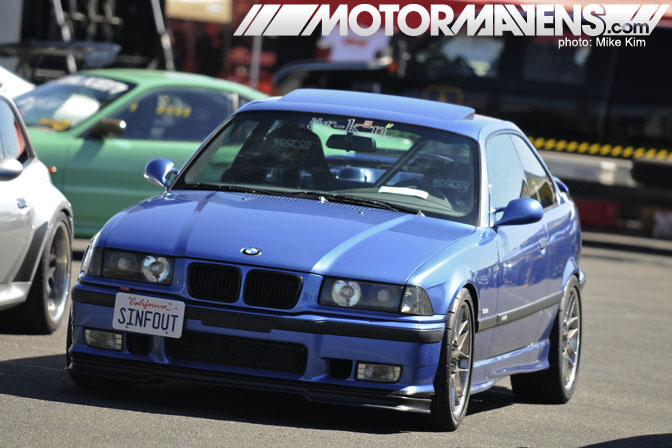 From Team Arkn (sorry, I don't know how to use my keyboard to make those special characters that they use in their team name. I think it's something like a:r~k*n' or some shit like that.) Anyway! This blue E36 M3 looked pretty clean as well. Looks like it would be a fun car to take on the track! It's about time people start bringing cars to shows that can actually be driven!
This S2000 looked pretty crazy. I'm not even sure what kind of widebody kit it has, but that has got to be one of the widest aero kits on an S2000 I've ever seen. I think they should call that thing the S20,000 cause it's so damn wide. That's a humongous turbo sitting in the engine bay too. I'm guessing that with a turbo that big, the car lags like an old Filipino after a heavy dinner, but when the boost kicks in, it'll be like an aircraft taking off!
Man, this Z33 350Z is so dope. It belongs to a guy named Sean from Carson. We shot this car MONTHS ago, and we really want to publish the photos, but the guy who insisted on writing the story is lagging like that big turbo on the S20,000 on the previous photo. (I won't specifically name any names, but his last name starts with a U and ends with a c-h-e.)
Maybe we should just get someone else to write the damn story. I'm sure the readers are sick of waiting. (Ya heard that, Uche!!!!)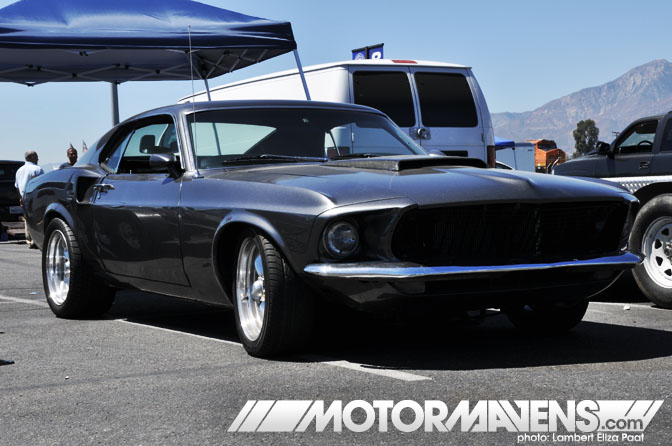 It was kind of cool to see this clean black Mustang sitting in the pit area. I honestly didn't expect any domestic cars to show up to IDRC, especially since the I in IDRC stands for import. I'm glad that the owner of the Stang brought it out! I wish there would be more events that catered to all car owners, not just imports! =)
You requested it to we rewind… here's a larger photo of Michelle, the Redline Time Attack model, in her outfit. If you want to see more of her, you need to go to a Redline Time Attack and introduce yourself!
Last but not least, we have this rather large photo of our new friend, Kerryann. According to Kerryann, she's not like the other females we meet at the track… she can actually drive! If you want to see (and hear) more from Kerryann, then keep your browsers locked to MotorMavens, because we'll be doing more with her in the future!
Okay, that's it for now! Now we want to see some of YOUR photos from the event!
:: Antonio Alvendia
350Z
,
356C
,
Antonio Alvendia
,
Chris Forsberg
,
Civic
,
CRX
,
Drag Lites
,
EF8
,
EG6
,
Fredric Aasbo
,
G37
,
Garrett
,
GReddy
,
GTR
,
Honda
,
Honda Ruckus
,
Infinit Wheels
,
Infiniti
,
IS250
,
Jon Chase
,
Lambert Paat
,
Lexus IS250
,
Mazda
,
Mike Kim
,
Nissan
,
Porsche
,
R35
,
Redline Time Attack
,
rotiform
,
RX2
,
Sprint Hart CP
,
SR20DET
,
turbo
,
Weld
---