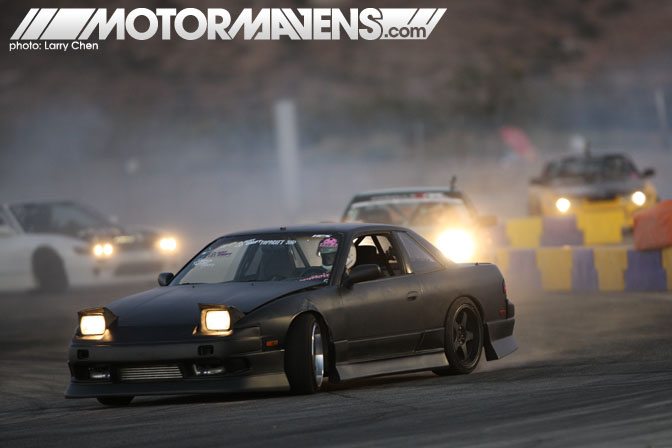 This is it! We're pretty sure everyone has been thinking, "wait, so ASBX is over, and all you're giving us is a lousy fireworks photo?!" Hehe, thank you for your patience! At big events like Formula Drift and/or All Star Bash, many times we end up taking so many photos, it takes us forever to sort through them all!
This week is an extremely busy one for the MotorMavens Crew. As I type this, telephoto sniper Larry Chen is already on his way up to Seattle WA, while I've been extremely busy working on a production run of our new MotorMavens Northwest shirts trying to get everything sorted and organized for our booth at Formula D Seattle this weekend! It's been hectic; nonstop work and meetings and phone calls and errands and editing photos and uploading and drafting stories and… *breathe*
Enough about that. Let's get down to business – All Star Bash 2010 was off the chain! Everyone who has ever heard of the JustDrift/Ziptied All Star Bash knows that it's like woodstock for drifters. All Star Bash is pretty much the West Coast's premier event that brings together the grassroots drifting community.
Want to talk about demographics for a minute? All Star Bash attracts people who are really passionate about drifting. You won't find corporate bigwigs at an event like this; people who are in the professional drifting scene to profit off its youth demographic do not come to All Star Bash. Are you kidding me? Sitting around in the high desert with the heat baking your skin, with wind blowing the tire dust into every crevasse of your vehicle and ingraining it into your pores? Corporate types are not down with that. You won't find marketing departments with matching outfits, fancy leather couches and big screen tvs at All Star Bash. You won't find corporate big rigs with free lanyards and posters at All Star Bash either. You won't find free energy drink samples, DJ booths, big magazine editors, PR agencies or snobby corporate douchebags at All Star Bash either. All those things do not exist in the desert when people gather for All Star Bash. When people get together for the annual Ziptied/JustDrift All Star Bash, the only thing that matters is DRIFTING.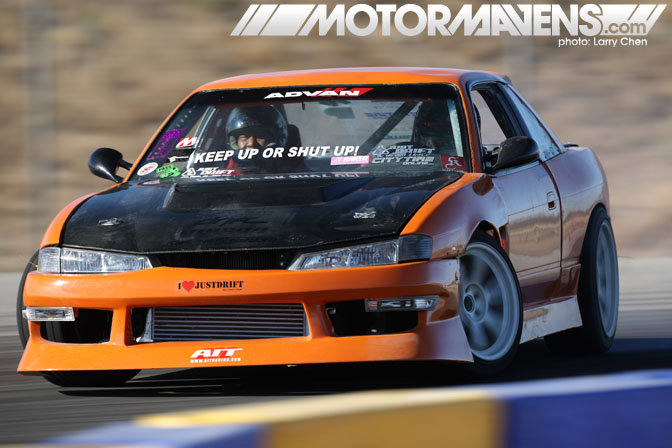 Charlie Ongsingco is the organizer of JustDrift. This guy loves drifting for all the right reasons. No corporate politics, no drama, no bullshit… the whole idea and concept behind his events can be summed up with this quote. "Come on, forget all that crap. Why can't we just drift?"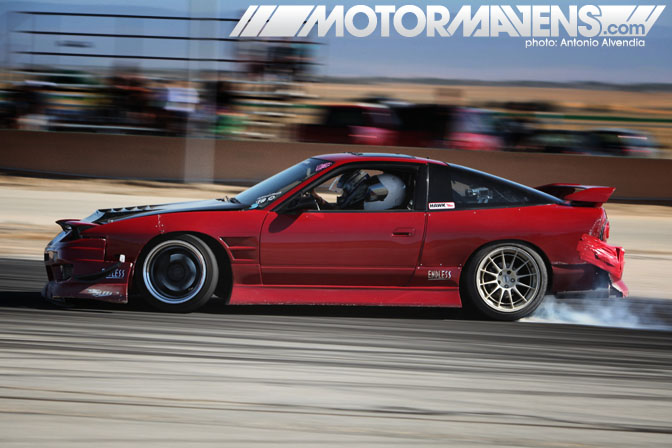 Benson Hsu is an RPS13 veteran driver who has been behind the scenes for way too long. The latest evolution of his car is, in my opinion, the best one by far. Drifting enthusiasts in their late twenties will probably remember Benson's website from the early 2000 timeframe, Sileightymania. Sileightymania was one of the first personal blogs to become popular in the S13/S14 community. I used to hang out with Benson a lot back then, back when hardly any of us had wide wheels and stretched tires. Seriously, it seems like it was light years ago. Man, times have changed.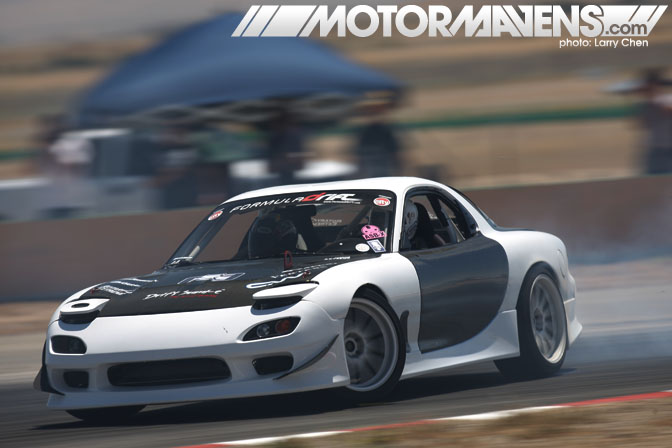 One old school drifting friend who I still hang out with all the time is Calvin Wan. CWan trailered his well known FD3S RX7 down to All Star Bash to have fun with everyone at Willow Springs. It was nice seeing Calvin's FD back on the track, especially now that it's back to its original white color! This is the same car that was once wrapped in the Falken Motorsports signature teal and blue livery, but if you ask me, it looks cooler and cleaner in white. (Just wrap those doors already, Calvin!)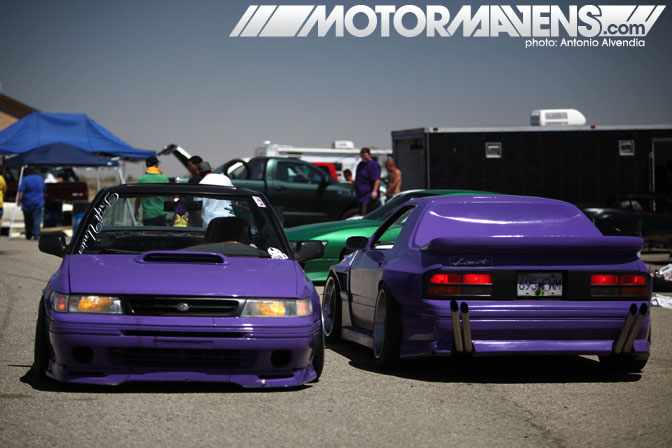 The drivers who most likely traveled the furthest to be at All Star Bash were these two purple tire eaters from Drift Union, a drift team from British Columbia! (That's the west coast of Canada, for the Americans who don't know where BC is.) I noticed their cars in a few Northwest drift videos recently, so it was cool to see both of the cars down in Southern Cali for ASBX. That FC3S RX7 is pretty crazy… the rear window was removed, and in its place, a piece of curved sheetmetal! Man, I bet it was super hot in there – especially in the desert sun!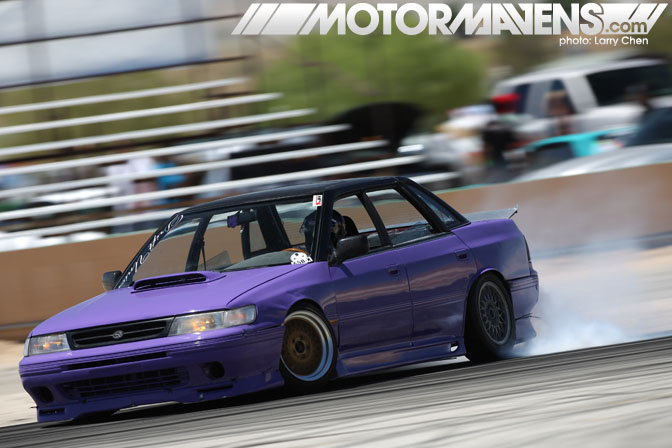 Probably my favorite car from Drift Union was this old school Subaru Legacy. It's the first time I've ever seen this type of Legacy drift, and I think it's cool as hell! Look for more photos and info on the Drift Union cars in the future!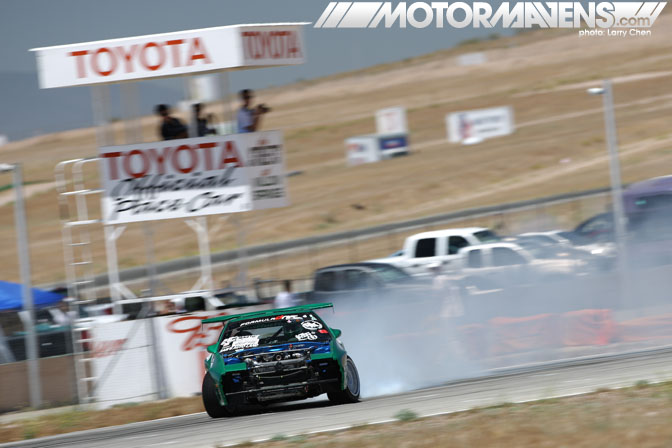 At this year's All Star Bash, JustDrift organizers decided to give the drivers a special treat by letting them run the Streets of Willow course backwards! No, no… the cars didn't drive in reverse (that would have been pretty funny though), they ran the Streets configuration counter-clockwise instead of clockwise.
Running counter clockwise on Streets allowed drivers to accelerate super hard down the main straight, and rock super high speed, super long slides right in front of the pit area's small grandstands. Out of all the drivers who drove ASBX, nobody rocked that straight as mean or as fast or as gangster as Justin Pawlak. Our boy JTP was just killing it, and everyone in the pit area was talking about it the entire day. So sick!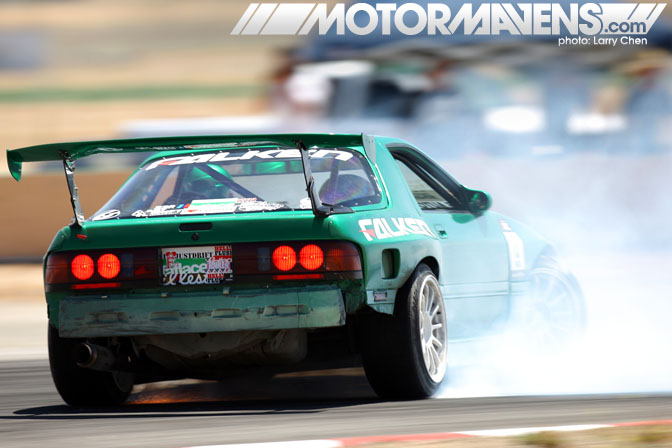 Well, with extreme, high commitment, high speed slides, you also get extremely high speed spins. Here's JTP again, making even a spinout look cool as hell. OR I guess we could just say he was doing a reverse burnout..???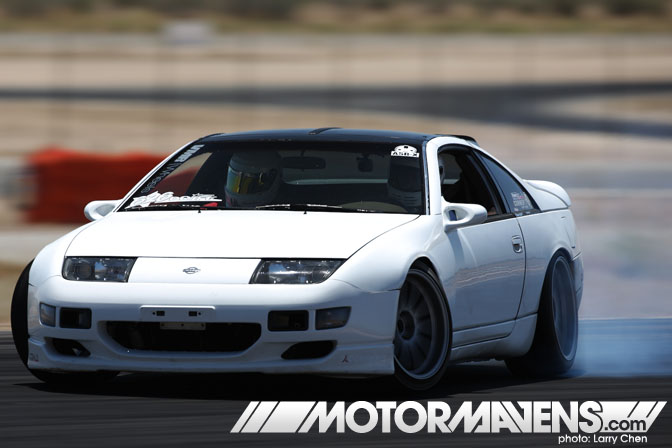 I can probably count on ONE HAND the amount of Z32 300ZXs I've seen that look good. This car is definitely one of them. I don't know who the driver is, or any details on the car, but I'd love to do a feature on it, cause this thing is super sick! If anyone knows who was driving this car, please hit us up. BAD ASS.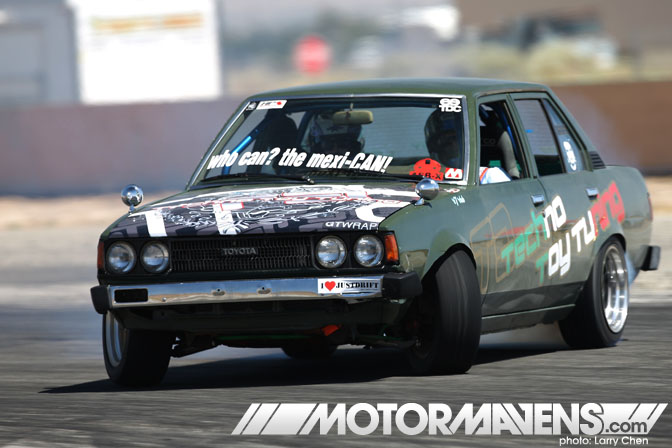 Speaking of bad ass, Northern Cali drift maniac Luis the Mayan Warrior represents pretty damn hard on the track. With his AE72 sedan, Luis basically built a 4-door AE86, as this Corolla is rocking AE86 suspension, LSD, and a high revving 4AG 20 valve engine. Dope! I'm not sure how many lawns he had to mow or how many oranges he had to sell in order to build this car, but I know Luis has been putting A LOT of time and effort into this car! 😉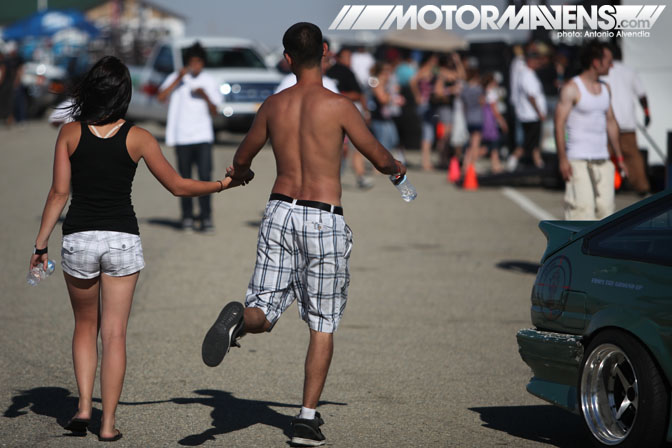 Here's Luis and his girl Elysha walking through the pits, with matching plaid shorts like they're going to a Sadie Hawkins dance. Well, she was walking. He was skipping.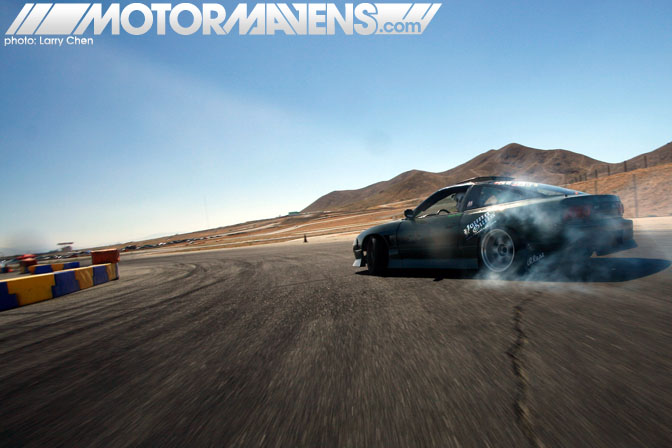 Here's a chase camera shot, taken by the innovative lens of Larry Chen. He strapped his Canon Rebel to the front of his Datsun 240Z and chased down Mickie Frial's green RPS13 on the infield! LOVE IT. (The photo AND Mickie's sick RPS13)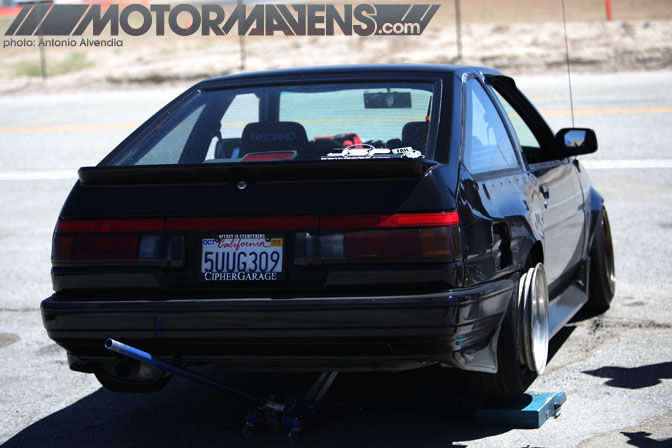 Guess who! JSP fabricator John Russakoff brought out his AE86 street car to the event – this isn't his gutted, fully caged Formula D competition car… he rocks this thing on the street! He was borrowing some RS Watanabes from Taka, and he ended up popping a tire! Ouch! I hope those RSWs are ok! Those are Type R Wats, dammit! But yeah… it's cool that John's car is rocking the old school Offset is Everything license plate frame from Cipher Garage. That's like… 2005 or 2006 status.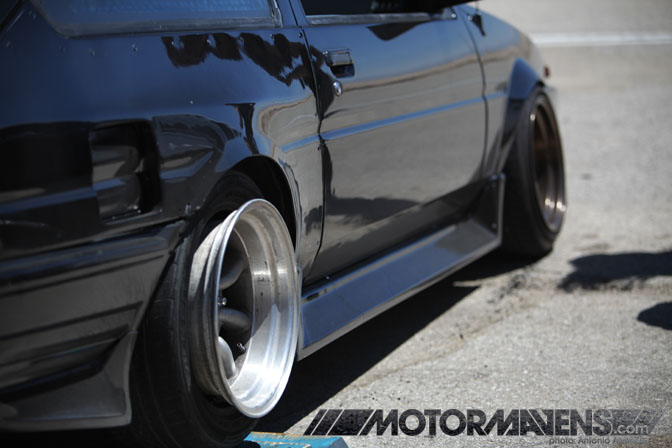 Here's another photo of the car, showing off the wheel after the tire popped off the bead. Still looks cool to me!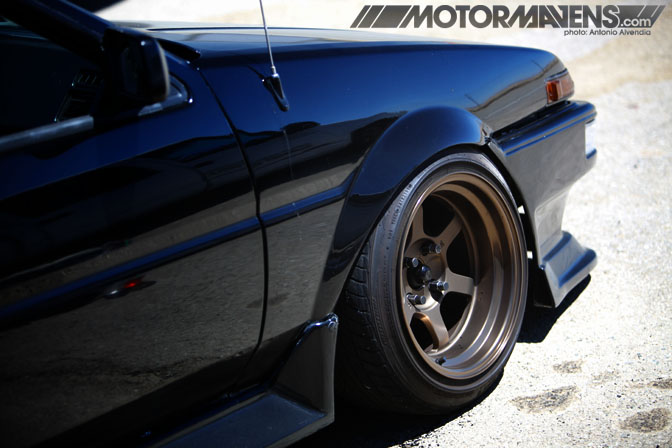 Drooooooooooooooooooooool. On the front, John was rocking a pair of the newly released 15×9 Volk Racing TE37V wheels. SO DOPE! These are gonna be the hot new wheels for AE86 owners, especially since the TE37 wheels were never previously available in wide sizes for the 4×114.3 crowd. I think I need a set in 15×8.5 size for my stock fenders.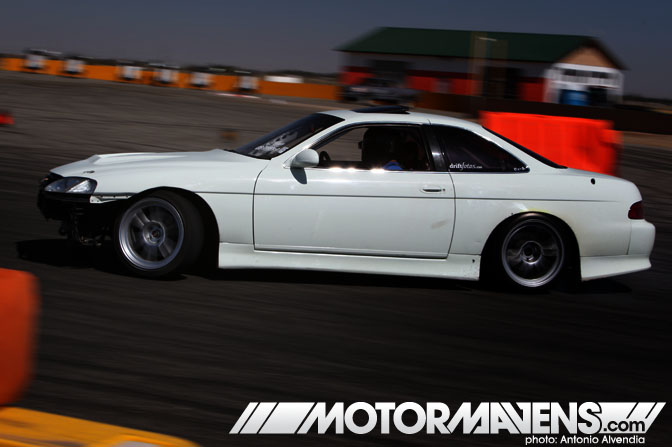 Coming all the way from San Diego to drift at ASBX, this SC300 is a regular at Just Drift events. I wish my photos could capture the high rpm sound this car makes as it screams right past… oh wait. You can do that. It's called video.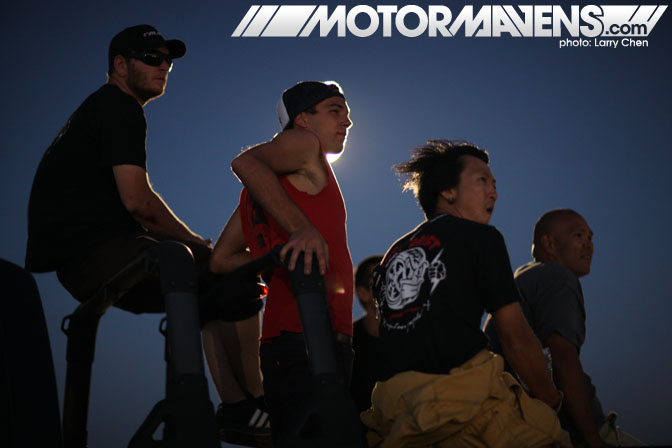 As the night went on, the judges sat above the bleachers, watching and scoring the runs of the team tandem drift competition. From this photo, it looks like Charlie Ongsingco is sitting in Hiro Sumida's lap, as Hiro holds Charlie lovingly in his arms… but that's not the case. That's just how it looks from this perspective, LOL.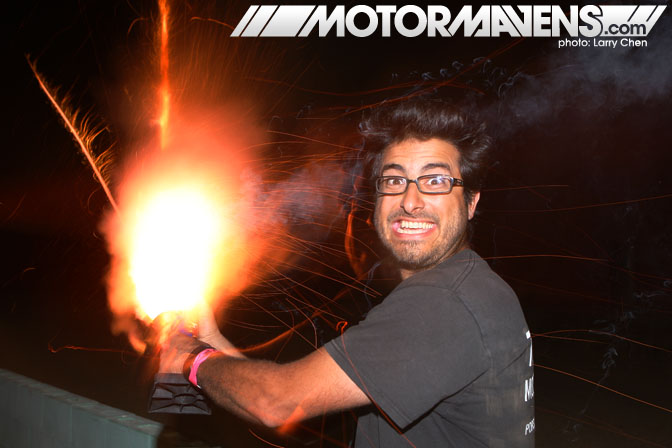 More FIYAHHHHHHHHHHHHHHH!!! Mike Essa was getting a little crazy with the fireworks action on the side of the track! Hahahahaha… spending 4th of July at the race track was a pretty damn fun experience.
We have A LOT more photos and stories from All Star Bash, but we'll have to cut it off here at the moment, because I need to head to LAX! I have a plane to catch! Don't worry though… this is only All Star Bash coverage PART 1!!!
Formula D Seattle, here we come!
:: Antonio Alvendia
---