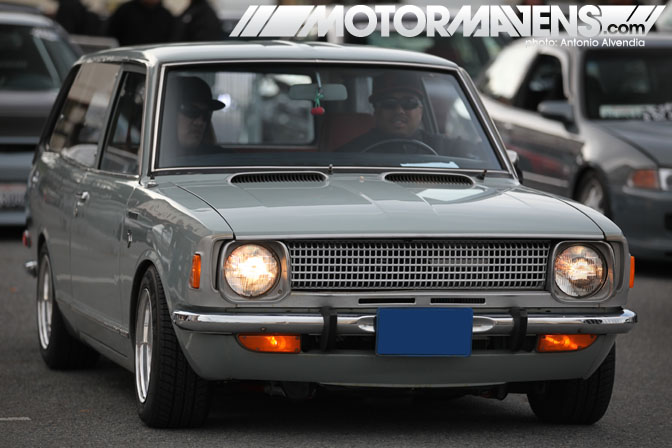 The annual WekFest gathering in San Francisco always has something tasteful to offer. The event brings a sense of unity and community among car builders and enthusiasts from all parts of California, but especially in the San Francisco Bay Area.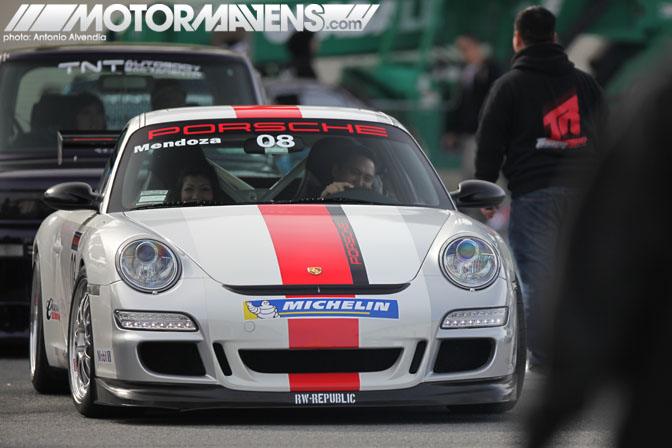 Today's visit is no different. With hundreds of amazing builds to gaze upon packed into San Francisco's Fort Mason Center, the event becomes a bit overwhelming. It really is a sensory overload.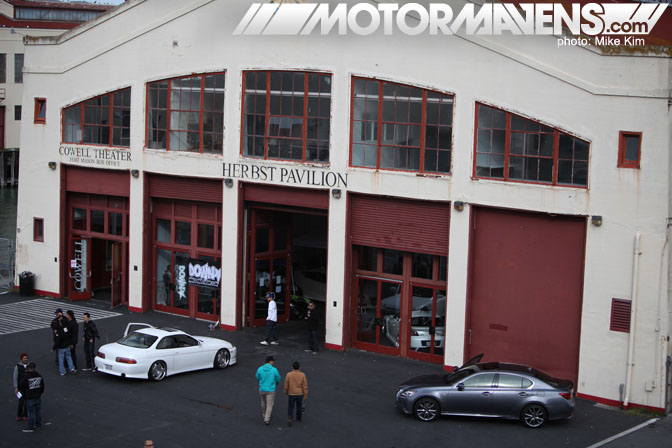 This was the scene early in the morning, as the cars rolled in to Fort Mason's Herbst Pavilion at around 8:30am. This super clean white Lexus JZZ30 SC300 (SC400?) looked classy, yet aggressive with its AME Shallen LX wheels. Parked to the right of the entrance was a new Lexus GS F-Sport, which was driven up from Southern California by Ryan Bacsafra.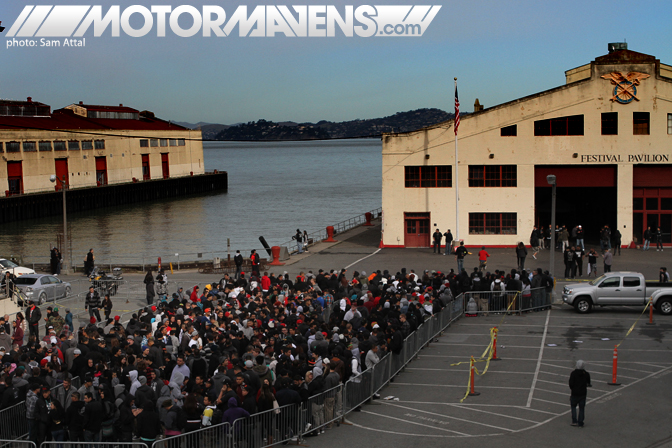 This was the scene here at Wekfest at 10:30am. We heard that some of these people actually camped out overnight, because the Wekfest flyer advertised that the first 100 entrants would be FREE. It's pretty crazy that people would camp out on the night before a car show… especially right next to San Francisco Bay where the wind chill from the water makes it ridiculously cold! This must say something about the current state of the economy. Sheesh, it's hard out here for a pimp!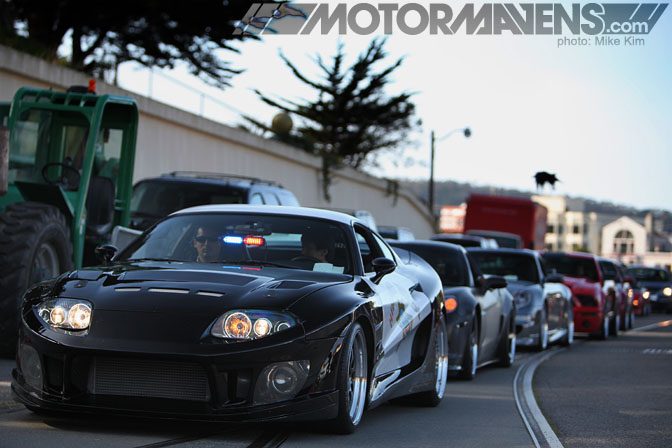 In the long procession of cars making their way into the building for the show, we spotted this JZA80 Toyota Supra Turbo owned by Bruce Nomura. This Supra definitely caught our attention, because of the AB Flug aero kit…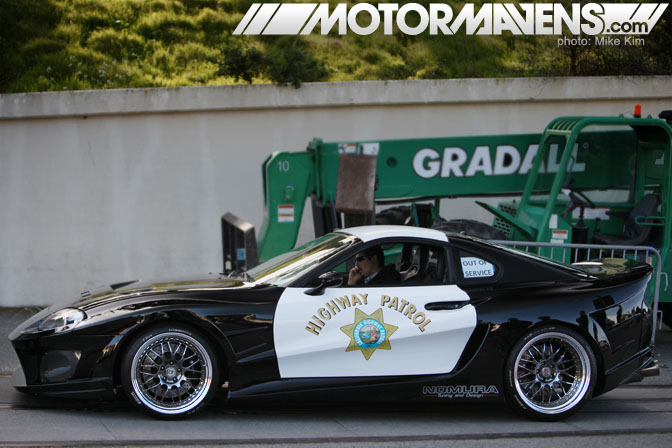 … and also because the car was outfitted with white doors and targa top, and California Highway Patrol logos on the doors. You better not try to run from this Supra if it's trying to pull you over.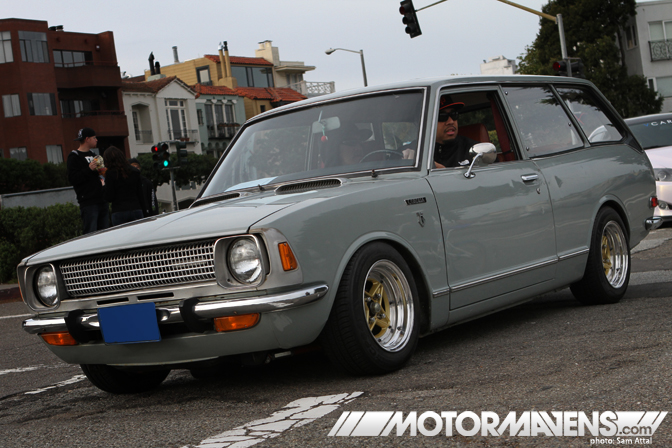 Antonio was super happy to see this 1971 Toyota Corolla wagon! This car looked super clean! There are tons of Corolla lovers in the Bay Area, so it isn't uncommon to see some super clean examples rolling around town… but a 1971 Corolla wagon?! That's rare.
It was sitting on a super clean set of vintage Enkei AP racing wheels – the styling of this car is on point!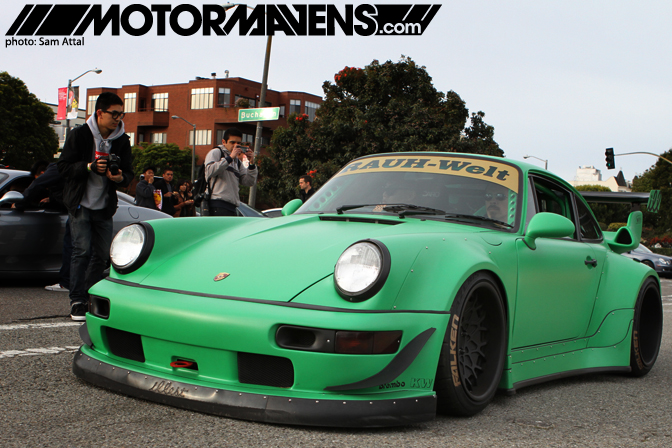 This car needs no introduction. Our friend Mark Arcenal from Fatlace/Illest opened up the US branch of RWB USA sometime last year, and debuted his green Rauh Welt Porsche at SEMA. Since then, it has been in countless websites, blogs, Instagrams, and tweets; it is now making its way to a bunch of print magazines! Look out for it!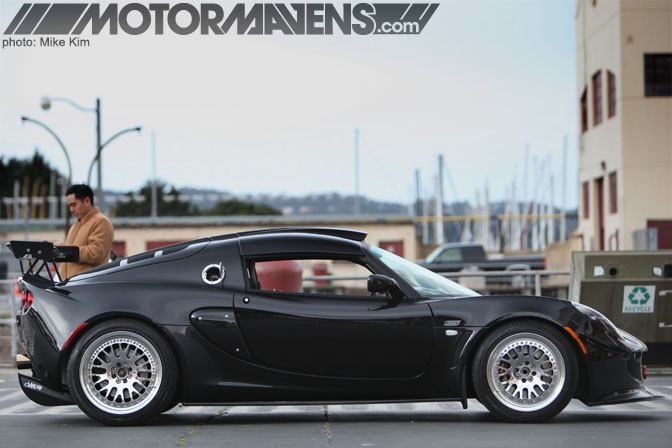 Check out this clean black Lotus Exige sitting on CCW wheels. Very nice!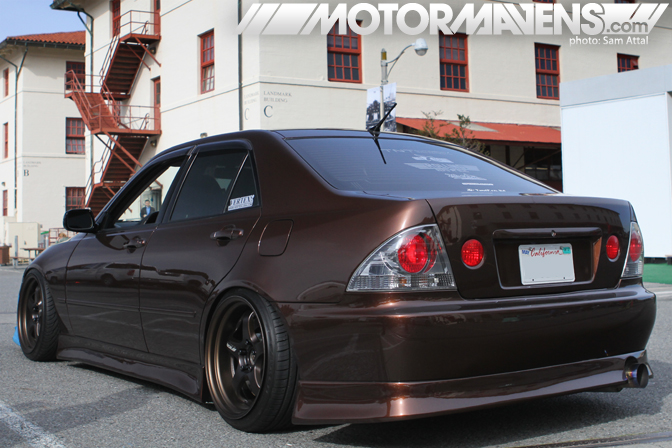 This brown metallic Lexus IS300 was sitting in the parking lot revving his motor and burning fuel for over 30 minutes, because his car had just a little more gas in the tank than what was allowed in the venue. It was a good opportunity to talk to the owner, Charles Monasterio. This car has some really nice details… maybe we should take a closer look at it in the future!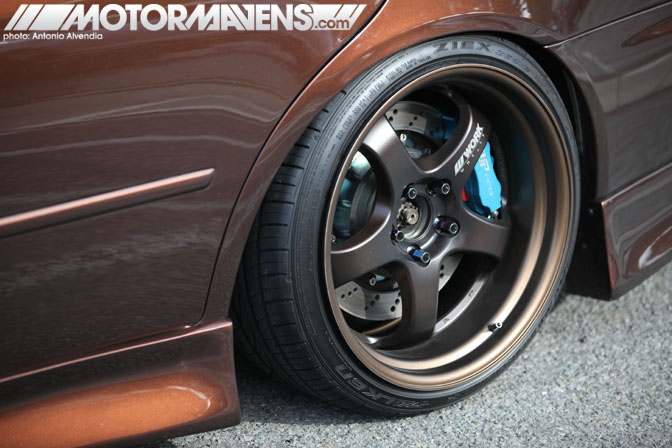 One of the things that really set this car off was the root beer metallic bronze hue of his Work Meister S1 wheels. These Meisters look AWESOME in this color!!!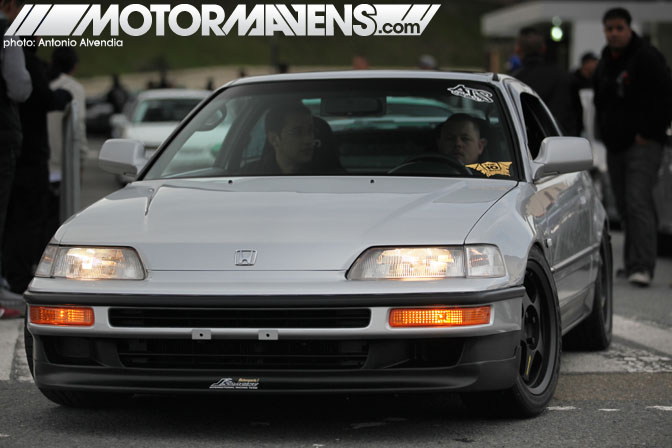 This silver CRX with J's Racing front lip spoiler and Spoon Sports wheels looked suuuuuper clean! This CRX belongs to one of the members of the ATS Crew from Daly City/South San Francisco; these guys really know how to build a fresh Honda. Respect!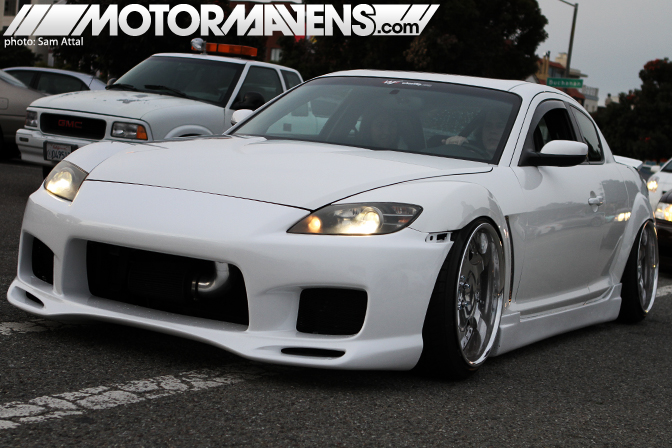 Check out this super aggressive white Mazda RX8 with Weds Kranze Bazreia wheels in the Wheelflip booth! You'll be seeing more of this car on MotorMavens soon!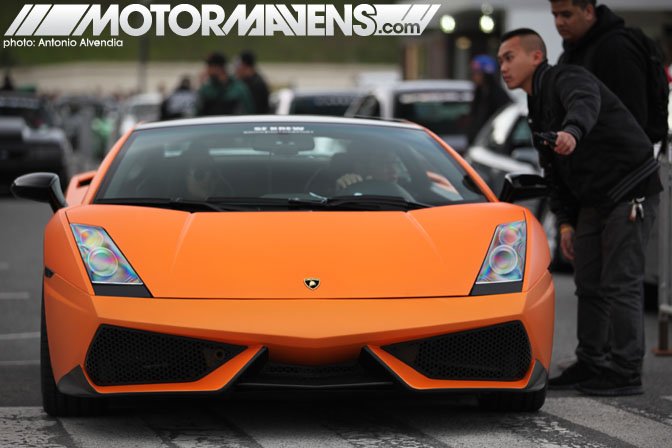 If Wekfest doesn't prove that some individuals still manage to keep the Bay Area thriving with car culture, nothing does! Even through hard economic times, the car enthusiasts in Northern Cali have made sure to stay on top of the scene with the massive WekFest!
Stay up to date with our adventures here at Wekfest by following @MOTORMAVENS on Instagram and Twitter! We're posting live updates from the event RIGHT NOW!!!
::Sam Attal
2012
,
Ab Flug
,
AME Shallen LX
,
Bay Area
,
Bazreia
,
Bruce Nomura
,
CCW
,
Exige
,
Fatlace
,
homepage
,
illest
,
IS300
,
J's Racing
,
JZA80
,
JZZ30
,
Kranze
,
Lexus
,
Lotus
,
Mark Arcenal
,
Meister
,
Mike Kim
,
Norcal
,
Rauh Welt
,
RWB USA
,
RX8
,
Ryan Bacsafra
,
Sam Attal
,
San Francisco
,
SC300
,
Spoon Sports
,
Supra
,
T&E
,
Toyota
,
turbo
,
Vertex
,
Weds
,
wekfest
,
Wheelflip
,
Work
Comments Closed