For those of you unaware of the North Carolina/Tennessee hidden treasure called Deals Gap (also known as Tail of the Dragon), prepare yourself to be hit with some knowledge. Deals Gap has become an international sensation for car and motorcycle enthusiasts. What you won't find up there is anything. There is literally, and I mean literally, absolutely nothing in the surrounding area. That is unless you like camping/hiking/ or antiquing (where is that roll eyes smiley at? LOL!)) What you will find is miles of curvy mountain roads and plenty of rally rental car roads. Who's feeling me?
That said, the Tail of the Dragon is an 11-mile stretch of two lane road in Tennessee and is said to have 318 curves – and one very large cliff face to launch off! The speed limit is 30mph and there are Tennessee Troopers there to graciously remind you. They are quite nice when they hand you a ticket and, after nine tickets (hand delivered) that Saturday, I am very qualified to testify to their manners.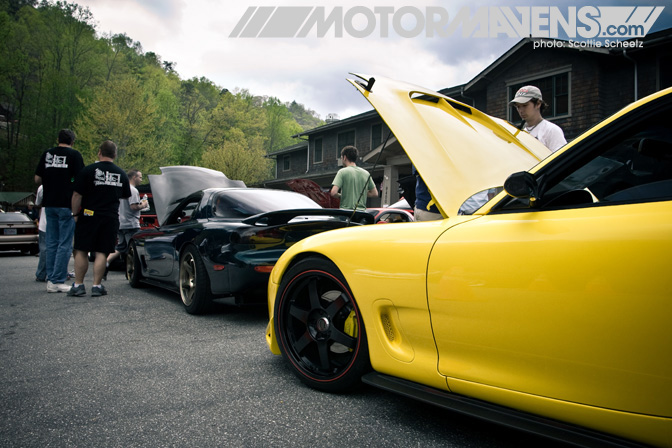 The actual car meet was hosted in the Nantahala Village lodge parking lot, roughly 20 minutes from the Dragon. Nantahala Village is a grouping of rental cabins, which range in size from modest to freakin' huge. The one I stayed in technically had 10 beds between two duplicating stories. Of course, this doesn't include non sofa-beds or billiard tables (my personal bed of choice early Saturday morning). Don't judge me, just let me explain.
From Jacksonville, I had an eight hour drive with my two road trip friends – we left at 7 PM on Friday. Arriving at the cabin around 3 AM, we found our roomies still awake and partying. So, of course, we joined in and helped them continue to do so until the sun came up! At 7 AM, I found myself and two other people still awake, hungry for breakfast and (by now) bored. With no ability to drive, nor a clue where to find a place to eat, we walked the lodge parking lot and took in the sights of warmly lit RX7s and RX8s. After taking some photos (and realizing that my sleep deprived eyes were making me believe underexposed photos looked good), we made our way back to the cabin. So (still pleading my case, here), as you can see, at this point I did not care. Spotting the billiards table, I used my camera bag for a pillow and took a nice power nap. Makes sense, right?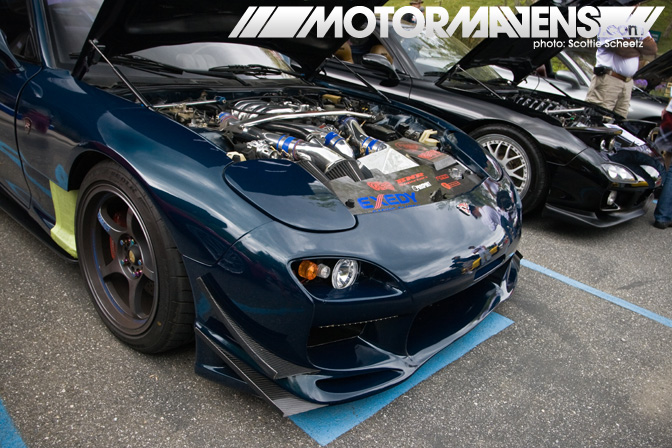 I awoke fully recharged and, when the event set up was completed, the real photography could commence. This delicious Montego blue FD is owned by Philip Sohn, the man spear-heading Deals Gap Rotary Rally (DGRR). His car is simply amazing – effortlessly and perfectly blending a mixture of track and street. If you look behind Phil's car you will spot David Hayes' 20B FD3S beast which I covered just a bit ago.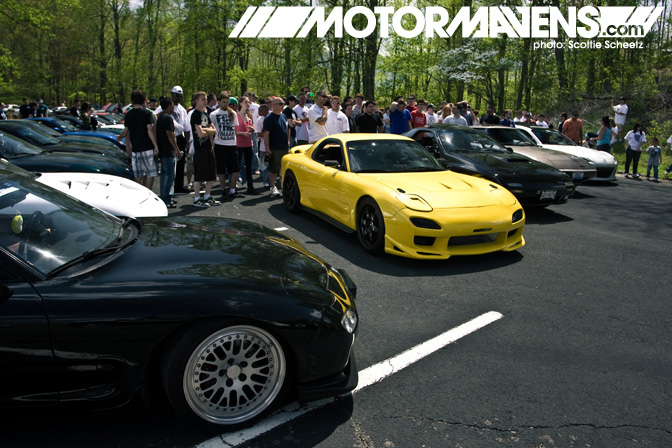 In the afternoon everyone drove to the Fontana Dam for a group photo. The four common RX models are up front (from left to right FD, FC, FB, RX8) with a group photo of everyone who came out to DGRR. Well, I should say a photo of those who wanted to be in the picture – some wandered in the back and others just sat in their cars. It seems not everyone wants the glory of a MotorMavens feature! LOL! The dam has some amazing views, but the mountain roads you take to arrive there are 99% of the fun!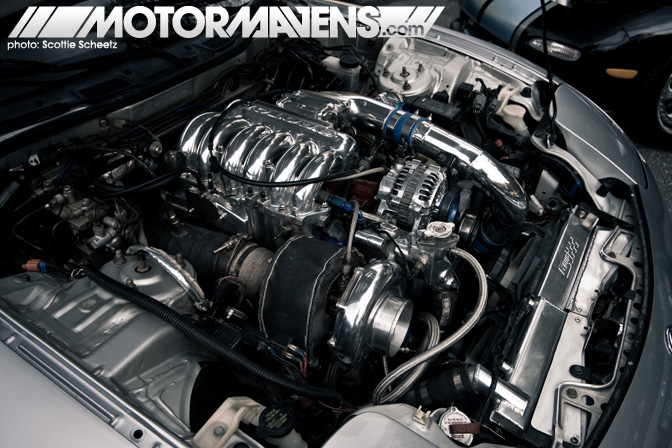 One thing that absolutely stunned me was the amount of 20B swaps that showed up. This silver FD has an amazing swap and one beautiful large turbo. From the outside, you would never guess the power she holds with the subdued 99-spec front end. The only give-away is the license plate which reads quite blatantly – 3 ROTOR. I love how the polished parts flow nicely with the silver and black bay.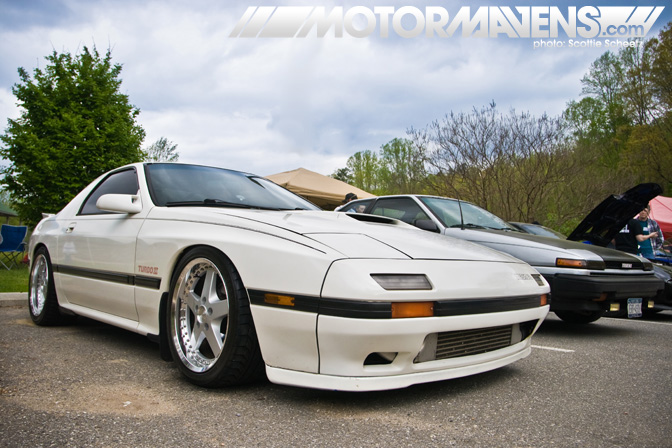 This white Turbo II FC3S RX7 sitting on Work Equip wheels had one of the best stances of the weekend. I have never been a big fan of black moldings, but for some reason it just looks so sexy with a white car. I honestly found nothing wrong with this car, it is everything I would want "my" FC to be.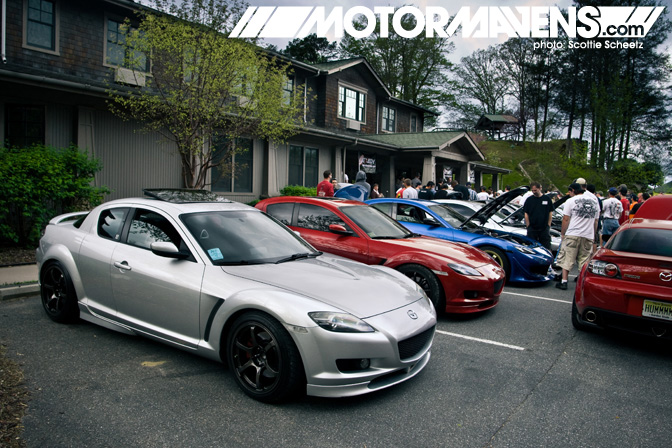 For all of you RX8 fans, this is me keeping my solemn promise not to leave you out. There were plenty to view and many of them had flush wheels and a nice stance.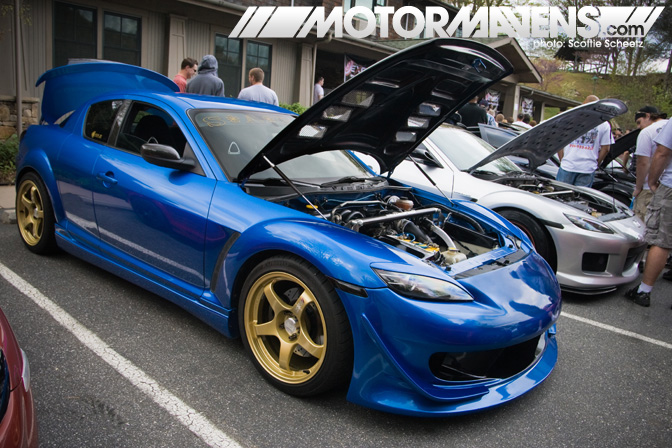 This brilliant blue RX8 hailed from Virginia and is sponsored by Sage Autosports in Virginia Beach (great guys by the way). Try as I might, after five minutes of trying to spot the turbo I gave up – but rest assured, this RX8 is turbocharged. The only true tell-tale signs come from the front mount intercooler and the HKS bov. The gold SSR GT2-H wheels look amazing and finish off the overall stance of this beast.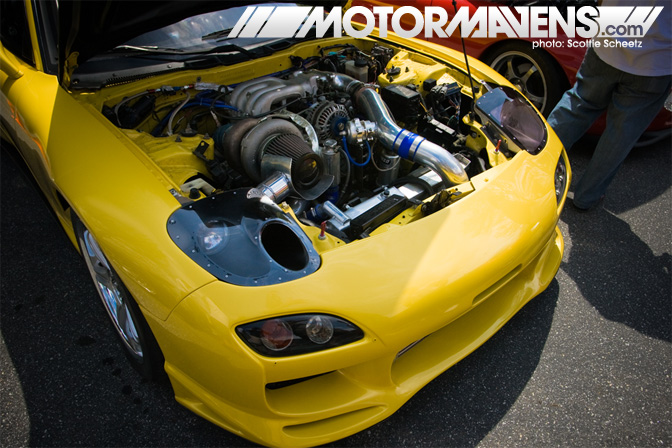 Ernie Taylor's Competition Yellow Mica (with some added pearl) FD3S is something of an oddity. His FD holds a trump card up its sleeve. Not only does the car drive on the street and through the twisties, when he bolts on his chute and radials the car will run a high 9 second quarter mile with just under 800 RWHP (as I write this I am making a note to self that he just ordered a new turbo as well – so I await the lap times that result). Somehow, Ernie managed to make a do-all, end-all FD and I could not be any more envious! His car won the People's Choice award to top it all off.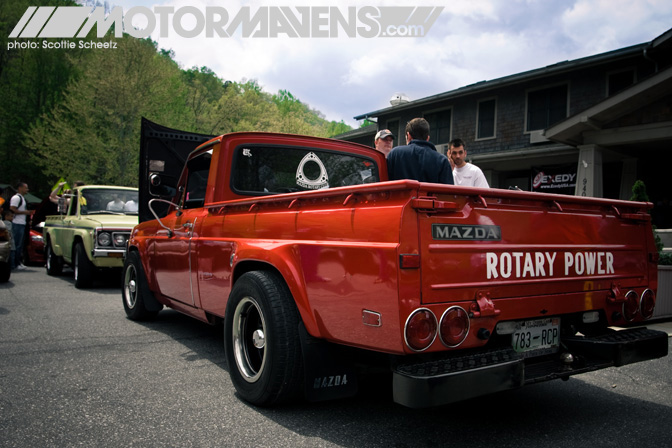 There were a few rotary rarities amongst the RXs this weekend. From factory built rotary motorcycles, to a rotary swapped old school Celica and a few REPU trucks. This REPU was in incredible condition, had a great stance and frankly, I really want one. What more can you ask for than to have a rotary powered truck hauling your RX7 for your track day fun?!! Just to clarify, Mazda sold the Rotary Engine PickUp (REPU pronounced Rhee-Phoo). These are not swaps, by the way. While they were not around for long, they are simply beautiful machines.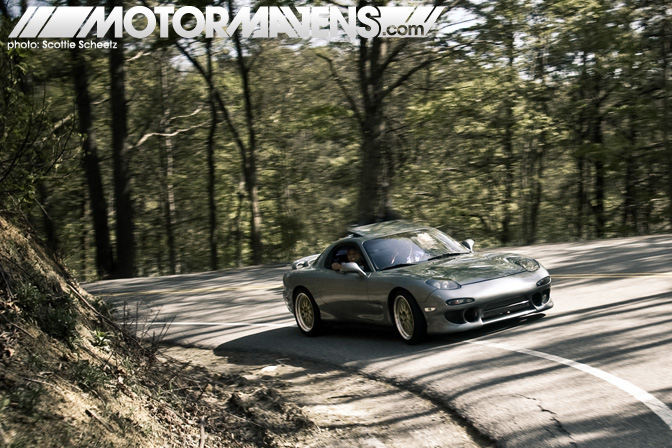 This shot makes me smile. Not just because I love grey FDs with gold wheels – but also because my buddy Gene is grinning ear to ear in the passenger seat as they blast around the Dragon.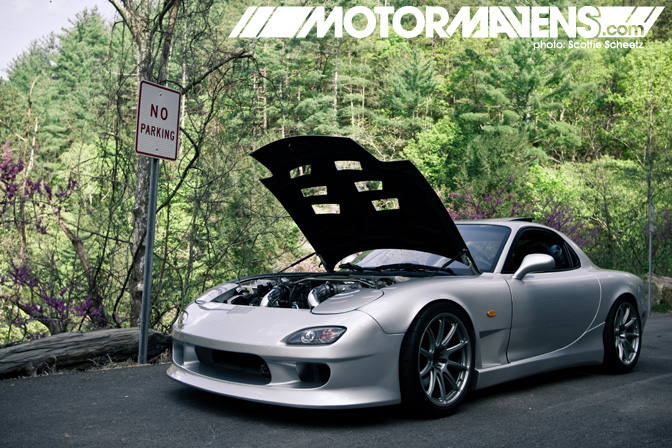 One of my favorite RXs is this silver stone FD3S, not to mention he won Best of Show and runs it as a track car (which only goes to further validate why I like it so much)! Running a single turbo GR67, the car made 420hp at 15.5 lbs when it was dyno tested some time ago. I love the overall look and stance of this subdued track car. The silver paint accentuates all the curves of the FD and the flow of the Vertex front bumper. Your eyes then dip to the wheels and you see how well the Prodrive GC10E's 18×9.5J (+15) (wrapped in 255 up front and 18×9.5J (+10) with 265 in the rear) sit with the custom Zeal Function X coilovers. I just happened to catch him at the turn-around lot on the Dragon as he let his motor cool down.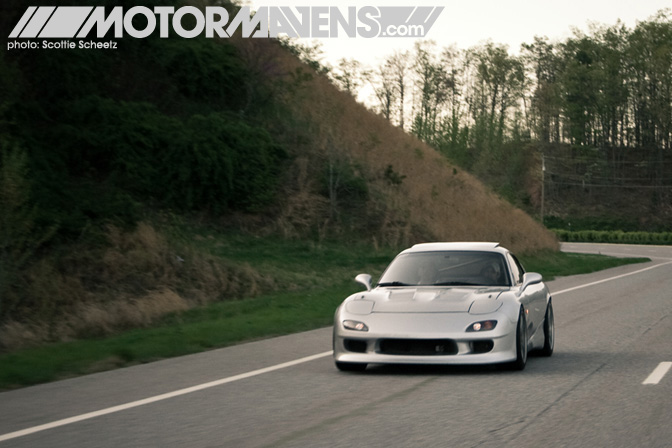 The last photo I will leave you with is the same beautiful FD blasting past me as everyone headed back to the village. My car was already cruising somewhere around 70 (as that is the speed limit on the highway *wink wink*) when my driver spotted the beast blasting toward us in the rear view mirror. I just managed to pop out of the passenger window in time to set up a nice pan before the rocket ship disappeared around the next corner.
While this past weekend may have been one of the most sleep deprived weekends I have had in a long time, I sure as heck will be going again next year! Hanging out the passenger window with a seat belt wrapped around my waist taking photos as we wove through the Dragon was an adventure all in its own!
:: Scottie Scheetz
13B
,
20B
,
Deals Gap
,
FB
,
FB3S
,
FC3S
,
FD3S
,
Mazda
,
REPU
,
Rotary
,
RX7
,
RX8
,
SA22C
,
Scottie Scheetz
,
SSR
,
Tail of the Dragon
,
Work Equip
,
work wheels
---