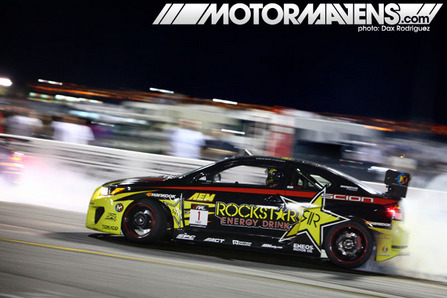 The latest round of the Formula Drift Championship took place this past weekend in Las Vegas, Nevada. It was sooooo incredibly hot in Las Vegas this past weekend; the Formula D teams had to work hard to make sure the drivers remained hydrated enough to perform at peak levels (last year, I remember seeing one of the drivers pass out because of the intense heat inside the car).
As a member of the media with a trackside photo pass, I remember being extremely uncomfortable because of Formula D safety rules requiring us to wear long pants instead of shorts at the track. However, just think about what the drivers must be feeling like – wearing full fire suits and Nomex underwear and HELMETS, sitting inside hot cars without air conditioning; with hot metal roofs working like a broiler due to the lack of headliners and insulation in a professional drift car.
Nevertheless, the crowd at Formula D remained upbeat and excited, due to the level of driving prowess they were treated to. Vegas drift fans are hardcore! Regardless of the heat, these fans were down to sit outside in the stands, sweating and cheering as their favorite professional drifters slid past them, dousing the grandstands in a bath of tire dust.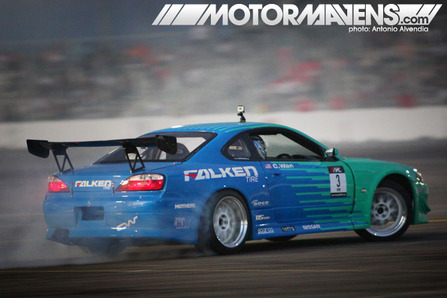 Drifting Performance Handbook author Calvin Wan was only seen drifting on the Friday practice day before the actual event. With help from Falken's trackside suspension engineer Mike Kojima, Calvin was getting his Falken S15 Silvia's suspension sorted out for optimum traction on the flat surface of the Vegas track.
Unfortunately, technical gremlins always seem to plague the Falken team, and Calvin's teammate Darren McNamara wound up with a blown motor in his Saturn Sky even before he was able to practice! It seems everyone in the pits that weekend was talking about how crushed Calvin felt when Falken management pulled team orders on him, asking Calvin to give up his S15 Silvia so that the newest Falken star driver, D-Mac, would have a car to drive at the event. This means that Falken officially pulled Calvin out of the event before he had a chance to qualify, giving his S15 to D-Mac, hoping for a podium result.
Unfortunately for Falken, this swap-out strategy didn't work at all; D-Mac is a talented driver, but he wasn't used to the balance of Calvin's S15 and spun during qualifying. According to Formula D rules, a spin results in zero points, and Darren didn't qualify in the Top 32 for the big show on Saturday. The two Falken pro drivers were knocked out of the running before the event even began.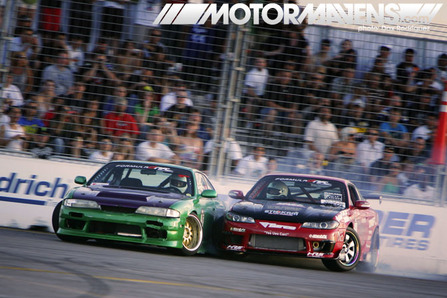 Formula D Pro Am favorite Matt Powers (green zenki S14) had an epic tandem battle with Katsuhiro Ueo (Driftspeed S15), the former D1GP star who captured the hearts of American drift fans when he beat Nobuteru Taniguchi's HKS S15 Silvia (now driven by Calvin Wan/Darren McNamara) at the very first D1 Grand Prix event on US soil, which took place at Irwindale Speedway on August 31, 2003.
Just look at Ueo's front tire! It's basically rubbing against Matt's door! Incredible.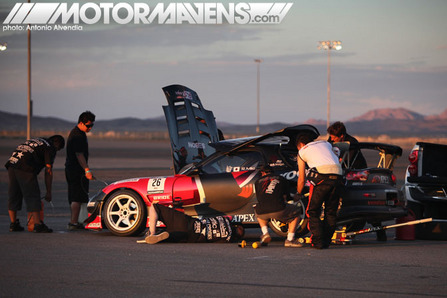 The Apex'i team worked really hard all weekend on Ryuji Miki's FD3S RX7, with assistance from their good friends from the Dynamic Autosports team. I think it's awesome when different teams work together and help each other due to friendship and camaraderie; this is what makes drifting special. This is what it's all about.
In this photo, you even see Hankook/Dynamic Autosports 350Z driver Robbie Nishida lending a helping hand to help the Apex'i team get Ryuji's car sorted out asap. And by the way, it's RYUJI MIKI. Not RYUJU.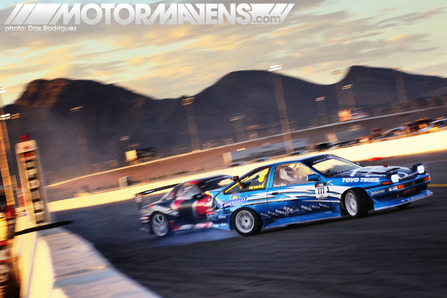 Here's a shot from the course entry – here we see Ryuji Miki's FD3S chasing Las Vegas local AE86 driver Tommy Suell. Tommy is a Vegas native, and one of the best privateer drivers out there. He completely totaled his AE86 at Formula D Long Beach; this car is actually a newly constructed shell that he transferred all his parts to, only one weekend after his crash in Long Beach.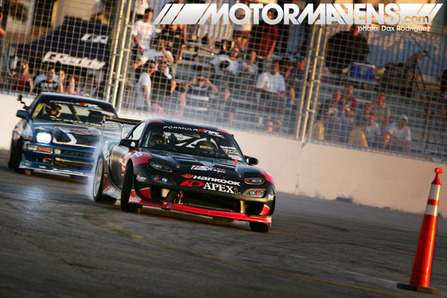 Tommy ran really strong all day, but his SR20DEt powered privateer AE86 was no match for Miki's driving skills and FD3S built by the Apex'i crew, and Miki won their tandem fight.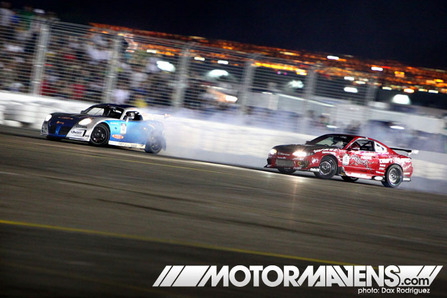 Ryan Tuerck (Gardella Racing Pontiac Solstice) had an intense tandem fight with Katsuhiro Ueo (Driftspeed S15 Silvia), including a big crash that sent Tuerck airborne… but I don't think I'm going to post up the photos of the crash because it's a bit blurry and not of Motor Mavens quality.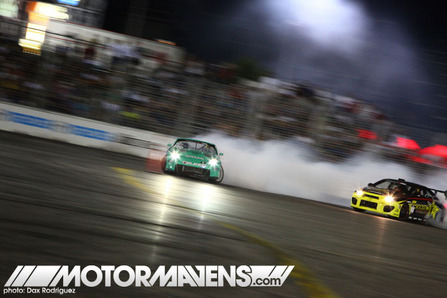 The battle of the V8 engines… Here's a super slow shutter pan from Dax, showing Tyler McQuarrie's Falken 350Z with huge amounts of speed, smoke, and angle. Tanner Foust's Rockstar Scion TC was able to catch up, due to his powerful TRD Nascar V8 powerplant, and ultimately, Tanner won the bout, advancing up the ladder, and leaving Tyler to face Chris Forsberg in the battle for 3rd Place.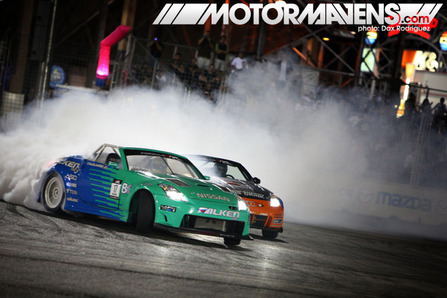 V8 350Z convertible vs V8 350Z convertible: Here's Chris Forsberg's Maxxis Tire 350Z, "the OG Nissan V8 vert" vs Tyler McQuarrie's Falken Tire 350Z. This was an extremely exciting battle, as both cars seemed equally matched from a fan's perspective – in their overall looks and powerplant.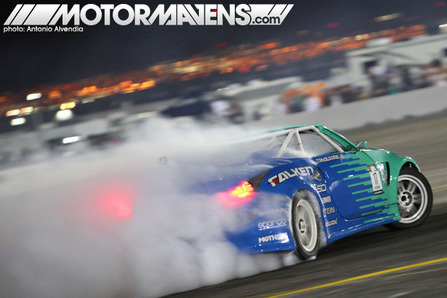 Even though Forsberg won the tandem match, many people I was standing with  trackside was extremely impressed with Tyler McQuarrie's performance. He was killing it all weekend long, with ridiculous amounts of smoke and angle!
Everyone is used to seeing Chris Forsberg on the podium, but Tyler McQuarrie has only recently been gaining momentum as a premier name in the Formula D Series. Don't forget though! Tyler may have a low key personality, but I think people need to remember how hard he kicked ass in the JIC/Hankook Porsche 993 last year in New Jersey… and even back in 2004 at Houston in the Jasper Performance JZA80 Supra. This guy can DRIVE. And he's a super cool guy too. (But he doesn't look THAT cool when he's drunk at pool parties and he slices up his forehead by headbutting empty beer cans and starts bleeding all over the place. LOL)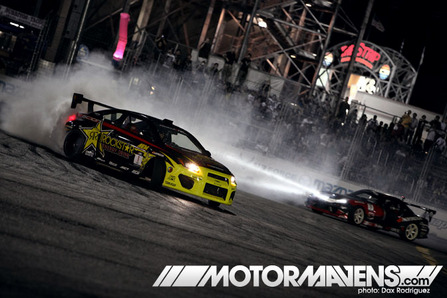 All in all, Formula D's "All In" Las Vegas event was extremely exciting, even up to the final battle, which pitted former D1GP Series Champion Ryuji Miki's Apex'i FD3S RX7 against two-time Formula D Series Champion Tanner Foust's Rockstar Scion TC.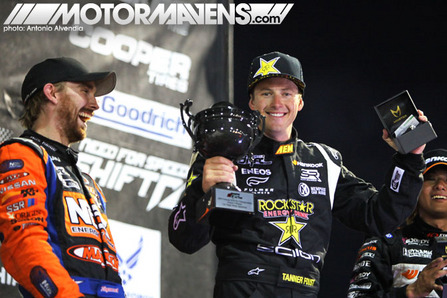 At the end, Tanner emerged victorious atop the podium once again, with 3rd Place finisher Chris Forsberg looking like he's laughing hysterically at some of Tanner's podium-top banter.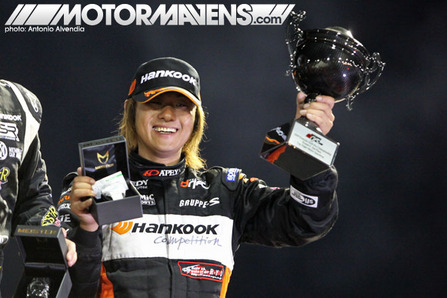 We'd also like to congratulate Miki for getting his mojo back! Ever since he joined the Formula Drift series, Ryuji Miki has been having problem after problem… whether it was the car, or just his own driving ability. However, at Las Vegas, Miki came through with a 2nd Place finish, much to the delight of his team and his sponsors. However, don't think Miki is satisfied with 2nd Place. When he stepped out of his car at the end of the tandem battle, I immediately congratulated him, but he said "No, no… I want to be First." (Cause if you're not first, you're last.)
So keep your eye on Ryuji at the next round of Formula D, in Seattle… and stay tuned to MotorMavens.com for more photos from Formula D Las Vegas… coming very, very soon!
:: Antonio Alvendia
More MotorMavens coverage from Formula D Las Vegas
---