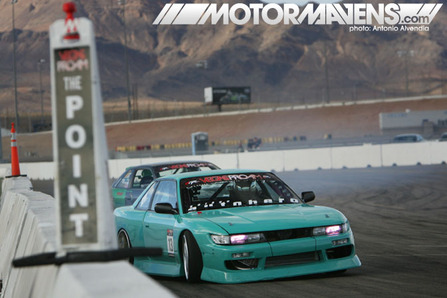 Continuing our Motor Mavens Coverage on Formula D Las Vegas… many of the fans and media members seem to have been focused on only the Top 32 tandem competition, but those who braved the Vegas heat earlier in the day were treated to some pretty exciting tsuisou action from the Formula D Pro Am drivers. Props go out to all the Pro Am drivers for coming up through the ranks and doin it big!
Here we see the teal S13 Silvia driven by Seattle's Roland Gallagher (definitely one of the cooler looking Pro Am cars, in the eyes of the Motor Mavens crew) accelerating hard and initiating super close to the wall, as Vegas/Phoenix/Oahu local drifting sensation Forrest Wang charges aggressively from behind. (Wait. That didn't sound odd, did it? nm.)
One thing I noticed while listening to Formula D announcer Jarod DeAnda's commentary is that he mentioned Forrest earned a podium finish at the D1 Grand Prix event in Anaheim. I thought it was cool that Jarod (and the Formula D guys) didn't mind talking about the D1 USA events during their commentary. It shows that they are cool about it – one would expect such organizations to be more politically charged, and not even make a mention of a competing series. (Or maybe the guys at Formula D don't see D1 as competition? I dunno, you make the call on that one.)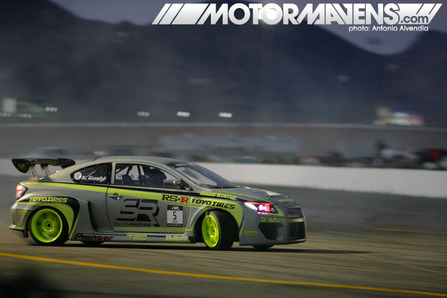 Here's Kenshiro Gushi initiating drift near the first clipping point. Tanner may have won First Place at the event, but Gushi definitely gets the prize for having the coolest looking Scion TC there. The fluorescent yellow Rays wheels look awesome with the flat gray paint and matching fluorescent yellow graphics scheme.
We hope that Ken is able to keep pushing his TC to the limit and get a podium this year. Admittedly, most of the Motor Mavens tend to prefer the boxy, practical XB, but we just gotta say… Gushi's car is the coolest looking Scion TC we've ever seen in our lives. Ever.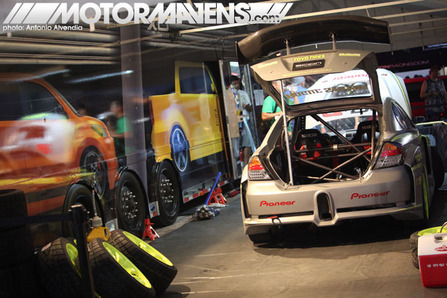 Here's Kenshiro's car next to the corporate Scion Racing rig, which was converted to his pit area. We think the exhaust on Gushi's car looks interesting, but not as interesting as those extra yellow Rays wheels just laying around… wonder what else those wheels would look good on?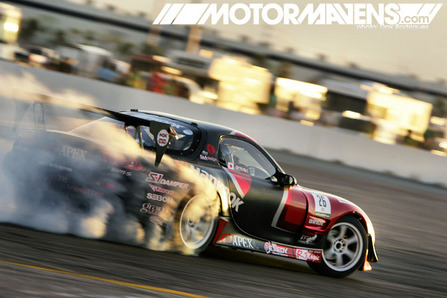 We'll let this photo speak for itself. Driver Ryuji Miki and photographer Dax Rodriguez straight up killin it.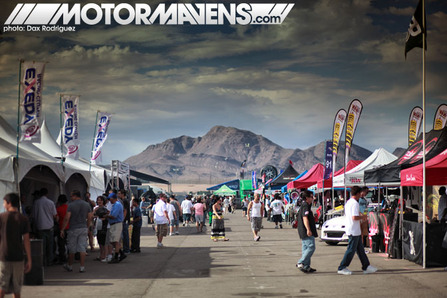 The vendor area in Las Vegas was actually pretty busy in the afternoon… it was just incredibly hot all day, making the place look pretty barren under the heat of the 3pm sun, as seen in this photo.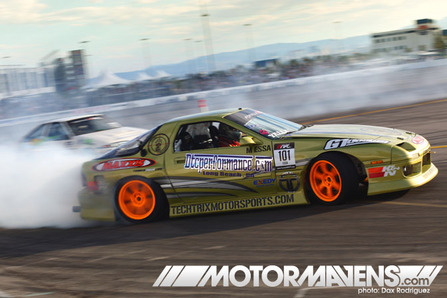 Southern Cali All Star Basher Mike Essa did extremely well at the Vegas FD event, advancing pretty far into the tandem ladder. His driving prowess combined with all the big torque of the LS1 engine in his FC3S RX7 made it almost easy for him to smoke his competition – Yasuomi Kondo in the Kaaz USA/LemonChex S13 Silvia-faced AE86.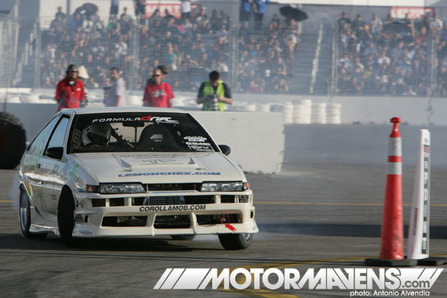 In case you don't know what Lemon Chex is, it's not a breakfast cereal… according to owner Ray Nakadate, LemonChex is a used car inspection service. LemonChex checks vehicles for their clients (which are either private owners or banks) before cars are purchased or financed. It's a way to check a car out to make sure it isn't a "lemon."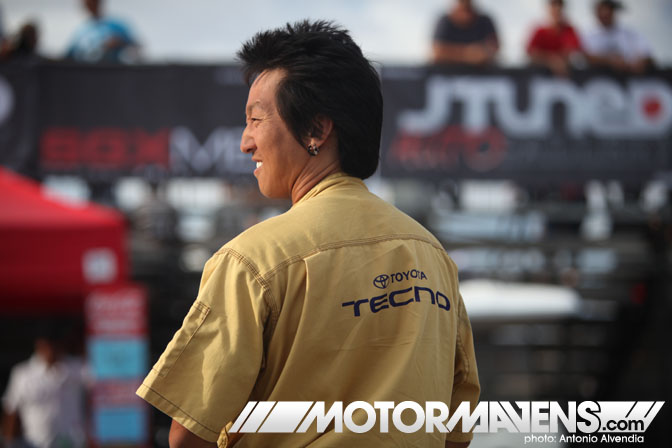 Formula D driver Hiro Sumida was spotted walking around in the pits, rocking this awesome JDM Toyota Tecno mechanic's jumpsuit! This is authentic as hell – this jumpsuit is an official uniform from a Toyota dealership in Japan. It's what you would wear if you worked as a mechanic at the Toyota dealer.
He may not have a Hasselgren V8 IS350 backed by Falken anymore, but Hiro gets maximum respect from the Motor Mavens crew for being an awesome driver and an overall super nice guy. Not to mention, props and style points for being so very cool with that jumpsuit!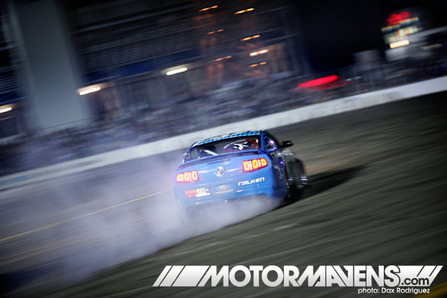 The Falken Motorsports crew was able to repair 2010 Mustang posterboy Vaughn Gittin Jr's competition car in time for him to qualify and run tandem, which was an amazing feat if you think about how badly JR smashed that thing into the wall during practice.
Props go out the Falken crew for getting the car back together in no time flat, and to JR for being able to drive a less-than-straight car into competition rounds. In the end though, JR ended up getting knocked out by Justin Pawlak in the Bergenholtz Racing Mazda RX8 R3.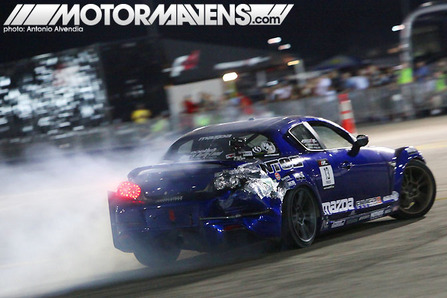 Here's a shot of Justin's RX8 R3 on his final run against JR, right before he took the win. For some reason that bare metal fender and the glowing red LED taillamps make me think of the Terminator 2.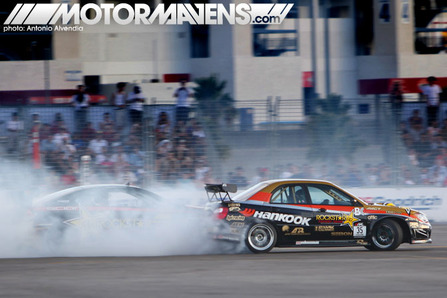 Irish ProDrift star driver Eric O'Sullivan had a very exciting tandem bout with his teammate Tanner Foust during the Top 32 tandem round. These two have the same title sponsors – Hankook Tire and Rockstar, but only one could advance to the next round. Eric had a very strong run, with lots of smoke, deep angle and fast entry speed…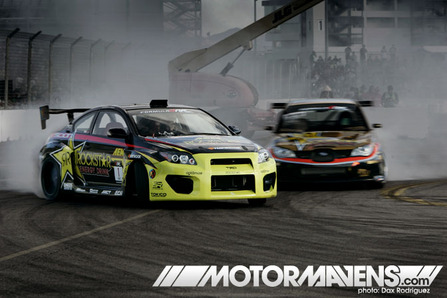 However, the judges determined Tanner Foust's run to be stronger, as Tanner was closer to Eric in following, and even though Eric did follow Tanner closely thoughout most of the track, the torque from the monstrous Nascar V8 engine in the Scion TC proved to give a big advantage over Eric's Rockstar/Hankook Subaru Impreza.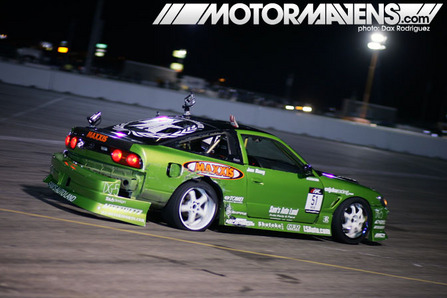 Joon Maeng is an outstanding driver despite his big crash in Vegas. We love reading Joon's blog site which talks about how he perseveres, maintaining a positive attitude and working hard every day to support his drifting effort.
But we were all laughing our asses off when the Formula D announcer J-rod nicknamed our boy "Joon 'Gentle' Maeng." LOL It's so funny because when you see guys like JR run, you hear Jarod saying stuff like…
"Whoa! Look at that GANGSTER initiation from Vaughn Gittin Jr, the beast from the east, 2010 Ford Mustang Falken Tire Rockford Fosgate Drift Alliance from Glen Burnie Maryland letting it all hang out…"
…and then when Joon is doing tandem, he says stuff like "This is Joon 'Gentle' Maeng, one of the nicest guys you'll ever meet at Formula D, and his parents own a Korean restaurant in Orange County!"
HAHAHA that nice guy stuff from Jarod's commentary makes us think of Joon kissing babies and serving bulgogi, instead of smashing into opponents and repping sponsors. 'GentleMaeng'… It just cracks us the hell up!!! LOL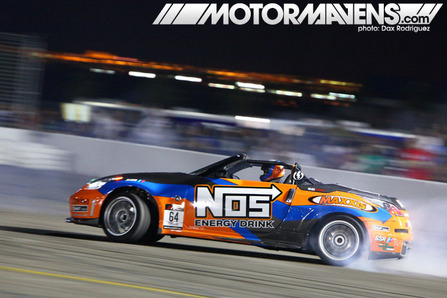 We'll pause this installment of our Formula D photos with a shot of Chris Forsberg's Nos Energy Drink/Maxxis Tire 350Z convertible blasting into the first left hand sweeping turn in Vegas. Congrats to Chris for his 3rd Place podium finish – he sure fought hard for it, with an AWESOME 350z vert vs 350Z vert tandem battle with Tyler McQuarrie!
We can't wait to see Chris and Tyler go at it again… hell, they should form a "Formula D Team Drift" team, and have some sort of Nissan dealership sponsor it! Whaddaya say, Performance Nissan? Superior Nissan? West Covina Nissan? Handle it!
:: Antonio Alvendia
More MotorMavens coverage from Formula D Las Vegas
240SX
,
350Z
,
Bergenholtz Racing
,
Chris Forsberg
,
Dax Rodriguez
,
FC3S
,
FD3S
,
Formula D
,
Formula D Las Vegas
,
Formula Drift
,
Hiro Sumida
,
Impreza
,
Justin Pawlak
,
Ken Gushi
,
LS1
,
Mike Essa
,
Mustang
,
Pro Am
,
Rays Wheels
,
Roland Gallagher
,
RX7
,
RX8
,
Ryuji Miki
,
S13
,
Scion
,
Silvia
,
Subaru
,
TC
,
TRD
,
Vaughn Gittin Jr
,
Vegas
,
Z33
---