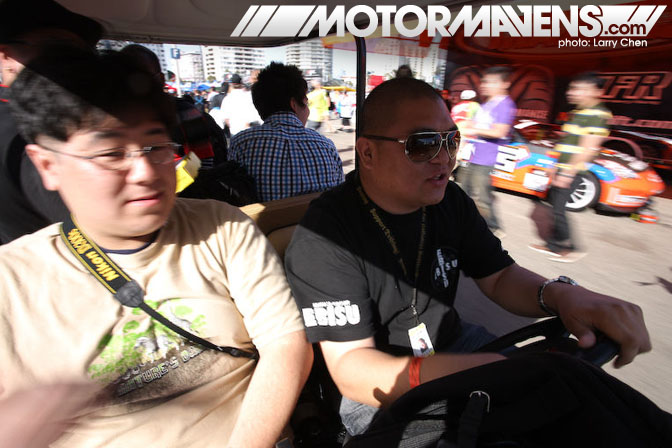 I know, everyone has been waiting to see our first installment of Formula D Long Beach pics. So have I! We just had to get some other deadlines out of the way before we could begin posting our images from this weekend's Formula Drift event on the Streets of Long Beach!
This past weekend was certainly an exciting one. I was excited to see all the new cars that were debuting at Long Beach, as well as seeing a lot of good friends from different parts of the world, even if it would be only for a brief moment. Unfortunately, when you're working at the event like I am, you're usually hustling about, going from one spot to the next, and you don't have as much time as you'd like to just chill and spend time with good friends. This event was definitely like that for me.
I was trying to juggle shooting photos for the website while overseeing the Motor Mavens Crew's event promotions efforts. Not an easy task! Also, on the Saturday of the event, I was asked to help out with the filming of The Grid, which is a UK-based motorsports television show that airs in 120 countries around the world! And… on top of all that, we debuted the new MotorMavens X DSTROYR "Follow The Leader" shirt at our booth, which was managed by super designer Jon Chase, the creative genius behind the brands DSTROYR and Famous Stars and Straps. I and the entire Motor Mavens Crew definitely had our hustle mode switched ON this weekend!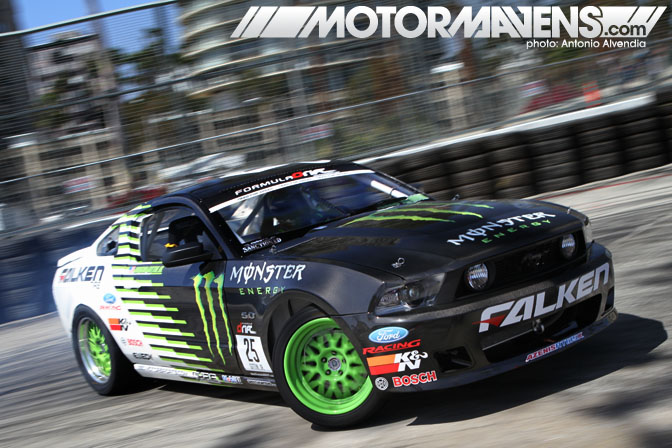 One of the cars that everyone was interested in seeing was Vaughn Gittin Jr's Monster Energy Mustang, which debuted at Rob Dyrdek's Fantasy Factory in Downtown LA just before the event with an open bar party with plenty of hot women and drunk drifters walking around.
Even though plenty of people were making comments about its wheels and ride height, the car's light weight (see the carbon fiber skin?) and aggressive driver behind the wheel helped the car win top honors at Formula D Round 1. Congrats to JR, Abby, JR's dad Vaughn, and the entire team on that victory!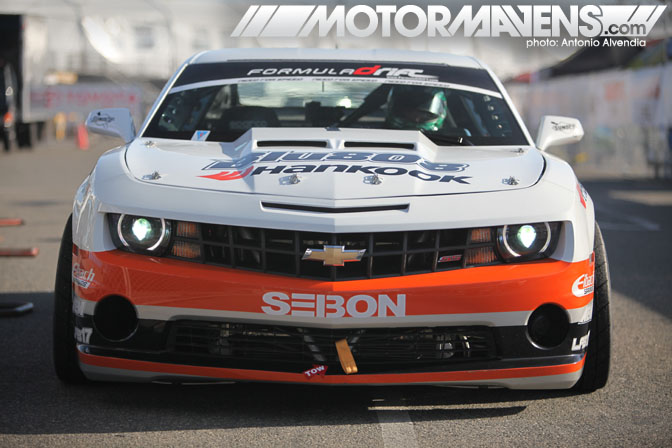 The Mustang wasn't the only muscle car that drifting fans were waiting to see – we were all excited to see the drifting debut of Conrad Grunewald's CGR/Blu808 Camaro, which is shown here with a nice, aggressive stance. I like the front camber and the wheels sticking out from under the fenders… put that together with the glare from the headlights, and you have one mean looking mofo in your rearview mirror.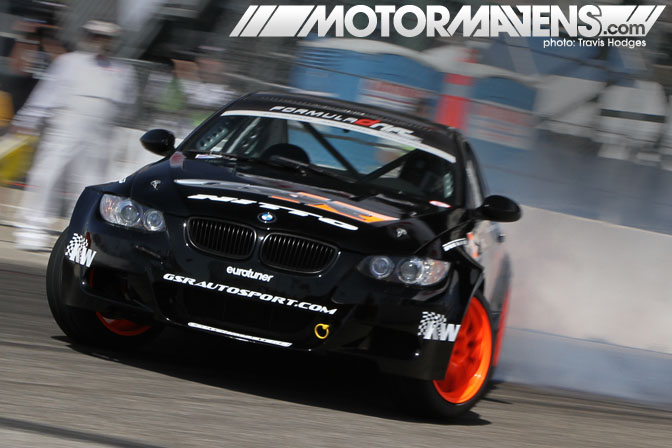 Yet another car that was getting A LOT of media buzz was Mike Essa's new BMW 335i. It was hard not to notice the car, with its neon orange wheels and super loud V10 engine from a BMW M5.
Unfortunately, just a few seconds after the above photo was snapped, the car ended up in the wall. Thankfully, Mike was unhurt, but the car was damaged pretty bad, as you can see in this photo. However, miracles do happen… the GSR team busted ass and got the car back together in time to run the next day. Too bad Essa and crew didn't coat this awesome new Bimmer with a European livery… that would have been ridiculously awesome. I can't wait to see more of this car at the next event in the Formula D Series… it should be an absolute monster on Atlanta's road course!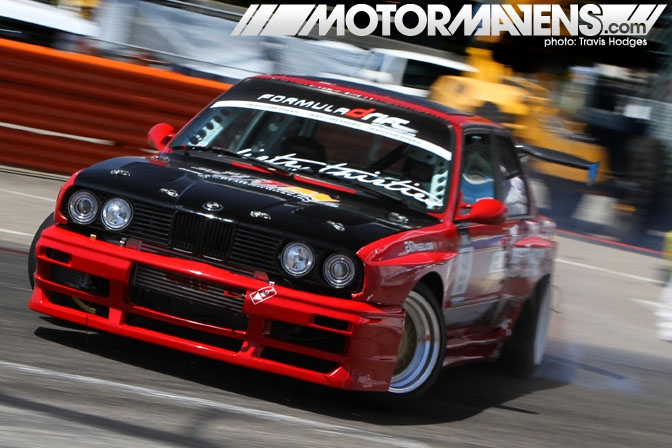 Speaking of Bimmers, Dave Blunt from San Diego was out at Long Beach in his red E30. It's great to see grassroots drifters from Just Drift and the All Star Bash come up in the ranks of Formula D!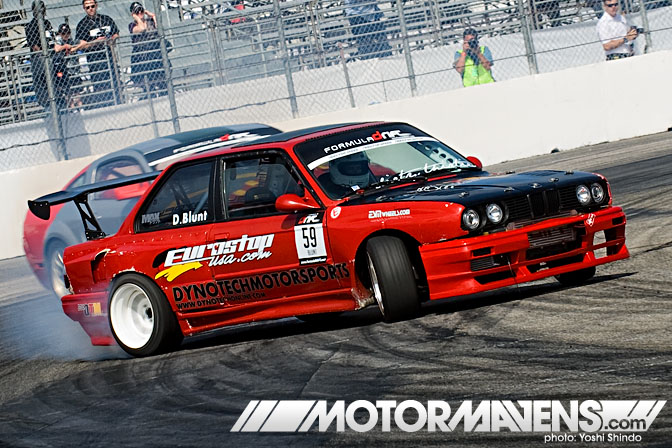 Dig the rear wheels on Blunt's dirty thirty. I like the white barrel and the tire stretch for sure!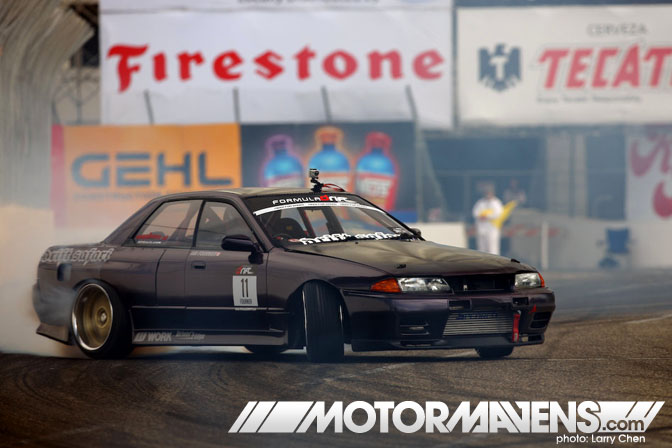 Restoring our faith in Vancouver BC is Ian Fournier in the Drift Safari R32 Skyline four door. Kids, this is what an R32 4 door should look like. Aggressive, clean, with outstanding looking wheels, tons of angle and tiresmoke.
Look out for much more on Ian's Drift Safari R32 on Motor Mavens in the future… but for now, if you want to find out more about these countersteering Canucks, then check out the Drift Safari homepage to learn about the team members and their entourage! =)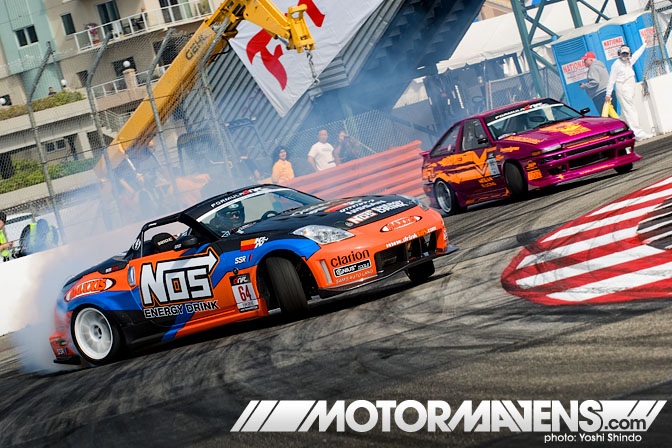 I'm continually impressed by Chris Forsberg and his NOS Energy Drink Z33 350Z roadster. Chris is a top ranked privateer running his own show, but he makes it work and looks completely professional all the time. He doesn't have 5 million horsepower, so he has to drive that 350Z at high RPM like it's a Corolla. I like that. Forsberg isn't a blap-blapper when it comes to feathering the throttle around the course. That guy puts the pedal down and never lifts. Fcking cool.
Perhaps the best example of a driver who NEVER LIFTS is Taka Aono, who is seen in this photo chasing down Chris's Z33.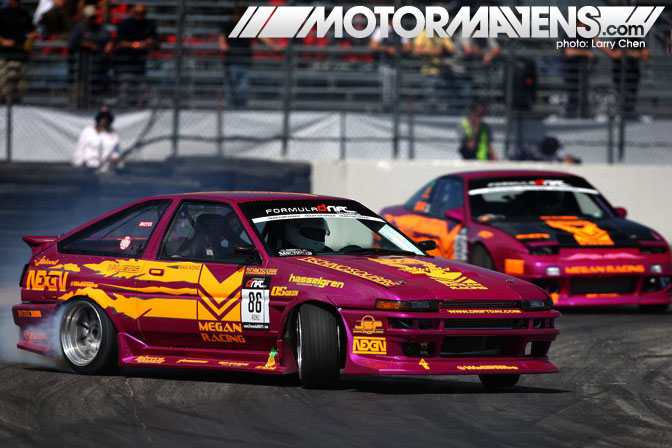 At first, when I heard that Taka was going to be sponsored by Megan Racing, I was worried about what the car would look like… real worried! It's no secret that the previous "livery" (if you could call it that) on the Megan cars was less than fashionable. However, Megan seems to have redone the design of its logo and its graphics, thanks to Drift Day chief Naoki Kobayashi… and I gotta say, it doesn't look half bad!
Big thanks to Megan Racing for funding one of my favorite privateers in the Formula D series, and big thanks to Naoki for not making the graphics look wack. Whew! Everyone in the grassroots drifting scene loves Taka Aono to death, and has nothing but the greatest respect for him as a driver and a leader in the grassroots drifting community. I'm so glad his car looks good with the new livery too!
Just look at that tire stretch, with the fat RS Watanabe Type R lips sticking out from the Nexen tires. Yep, Nexen.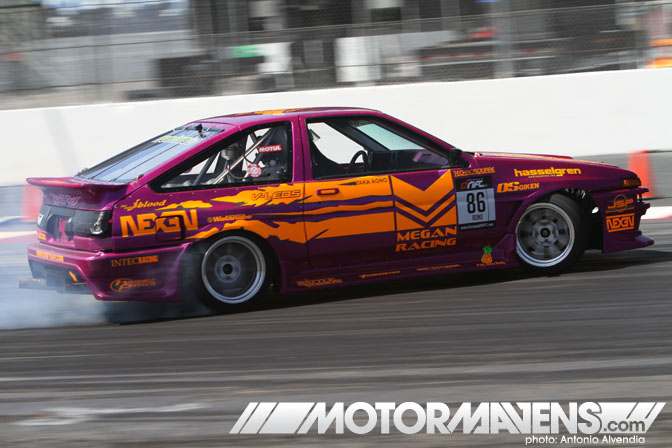 Here's another photo of Taka's AE86 as he accelerates through the course. The new paint isn't the only change on Taka's car… check out the aero kit too. It's the newest J-Blood kit for AE86. What do you think? Are you a fan of it? Or not?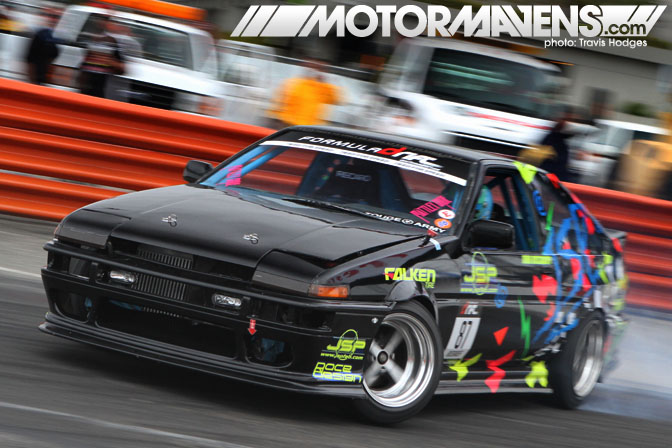 I was happy to see John Russakoff's light blue Corolla repainted to gloss black. That sh!t looks TOUGH in black! I can't say I'm a fan of the pointless neon confetti on the car, but can say that I am a huge fan of the way John is the builder AND the driver of this car. He drives it aggressively too, which always makes it exciting to watch on the track!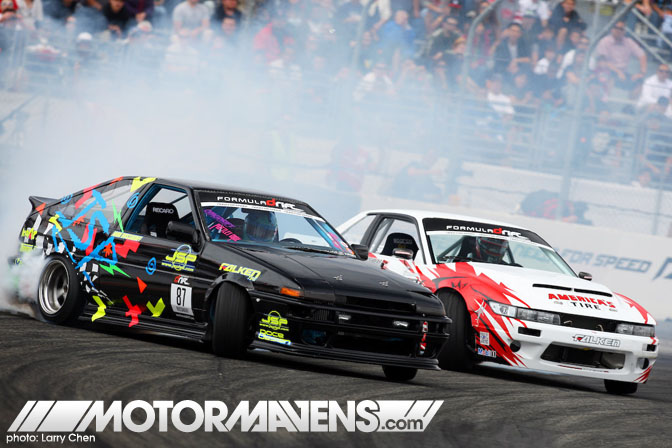 Here's JSP John doing tandem with our boy Daijiro Yoshihara, who's closing in on the AE86 in the Discount Tire V8 S13. Dai's car is rocking a new Rocket Bunny aero kit, which looks pretty good… everyone knows Dai for being a hardcore "S13/S14/S15 with SR20DET" driver, so I asked him how he felt about the V8 under the hood of his car.
He admitted that he wasn't sure about it at first, but once he adjusted his driving style and got used to it, he said he actually liked the feeling because he had so much easy power and torque all the time. It totally makes sense. However, at the same time, I'm kinda sad because it seems that this is the beginning of the end of SR20DETs and 4AGs in professional drifting.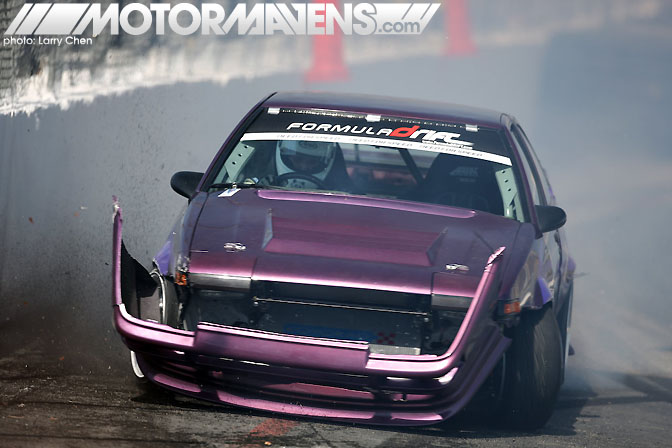 Hey! Who wants to see another Corolla from the event? I do! Here's Kaaz USA driver Yasu Kondo's RHD AE86 Sprinter Trueno, which was possibly the best looking AE86 at Long Beach (in my opinion). I'm so sad that he crashed it… but I hope we get to see it again, for Round 2 out in Atlanta!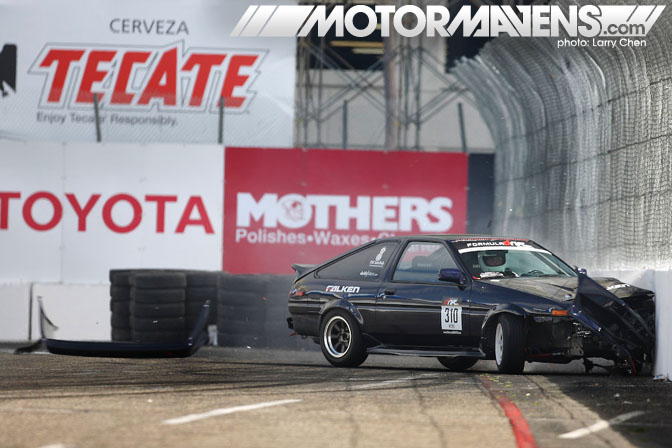 Oh nooooooooo! Another AE86 crashed! This time, it belongs to newly licensed Formula D driver Keith Wong! Keith's kouki AE86 hatchback was sooo incredibly clean before the crash. I remember seeing it when it was factory blue with white Volk TE37s on it. Pretty damn nice! Keith kept driving it and progressing with his driving skills until he had earned his Formula D license… but unfortunately, the very first event of Keith's professional Formula D career included some scary white walls.
I was really sad to see Keith's super clean AE86 crashed like this, but don't worry he'll fix it and be back on the track again!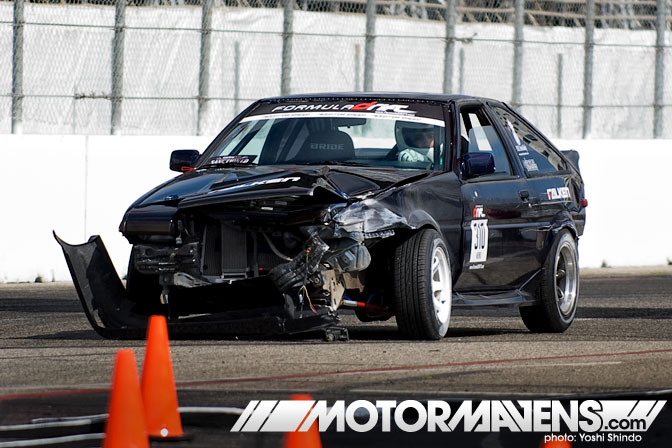 OUCH!!!!! Here's the view from the front. I hope those TE37s didn't get jacked up too.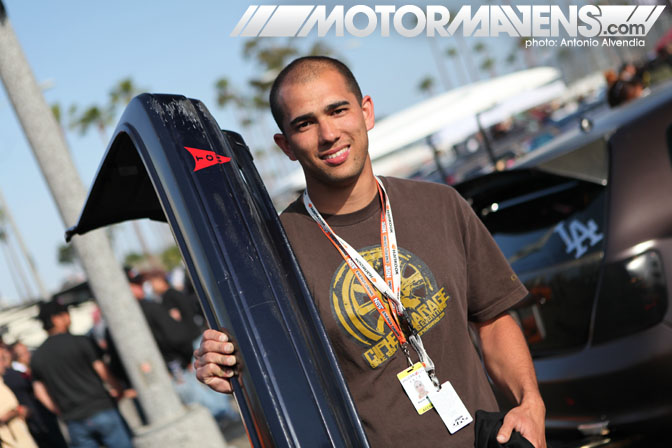 Here's a photo of Keith after he recovered his rear kouki bumper from the track. As a hardcore AE86er, Keith has always been a big supporter of Cipher Garage, and I really appreciate that! He would always buy shirts at the Cipher Garage booth at events, and he's still rocking them today!
Keith is shown here rocking an original Cipher Garage/RS Watanabe "Offset is Everything" shirt, which I first released 5 YEARS AGO! Can you believe it's been FIVE YEARS since I first made those Offset is Everything shirts? Pretty crazy. The term is just now beginning to become popular!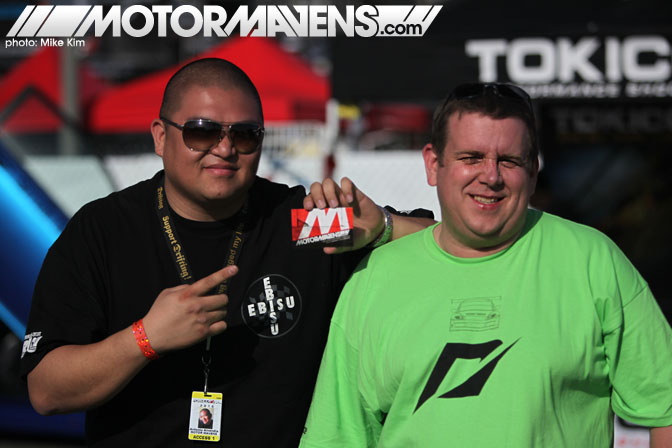 Another big supporter of the clothing that we've been producing is veteran automotive livery designer Andy Blackmore, from the EA Games Need For Speed team. Andy and I worked together when I was contracted by Electronic Arts to help build and develop content for the EA Games Speedhunters car blog. It was an honor to work with a guy who has designed famous racing liveries for famous teams like McLaren, Gulf, Porsche, and AC Schnitzer in the world of Le Mans and BTCC racing!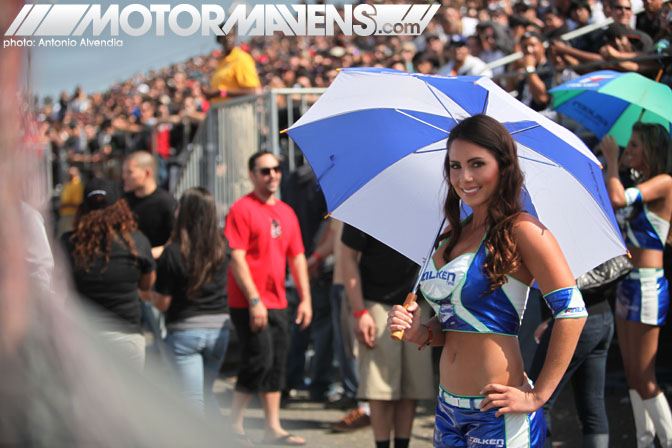 On the spectator side, I saw the gorgeous Falken girls out in full force, with Joyce Lex cracking the whip and providing direction to her new girls. Here's one of the new girls on the Falken team. I forgot her name already, but I think she looks good! Good choice, Joyce.
By the way, this weekend's Formula D event was SUPER PACKED. I haven't ever seen an FD Long Beach event this packed! There must have been somewhere around 12-15,000 people in attendance! It's great to see that Formula D is growing despite what everyone says about our country's financial problems. Could it be a sign that we're almost out of the recession? I hope so!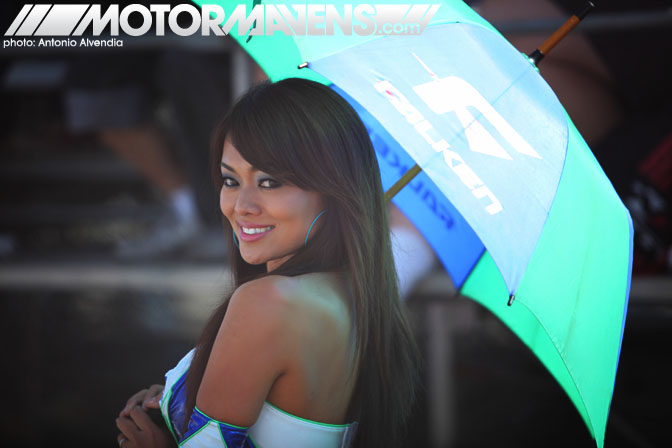 One of my favorite holders of an umbrella would have to be Eri Moriyama. Gorgeous looks, with brains and a personality to match. She's always a pleasure to be with!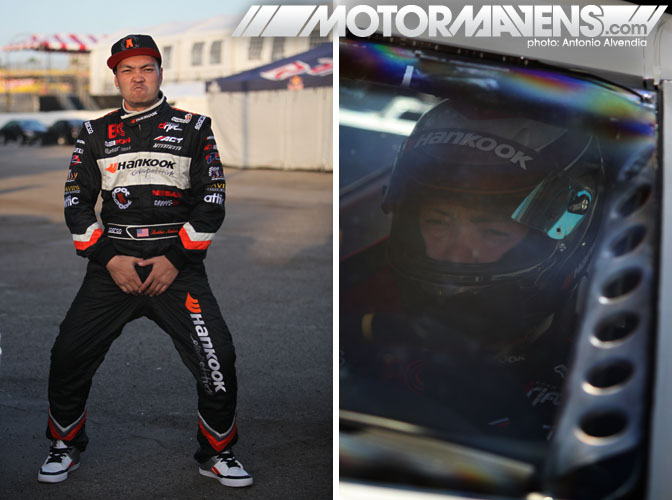 On Friday/qualifying day, I got a chance to hang out with one of my friends from Japan for a short period of time. This is Robbie Nishida from Yokota, Japan-based AE86 drift team Hey Man! I was telling him how I thought his driver's suit looked pretty cool. It has to be one of the coolest looking Sparco suits I've ever seen, to be honest. I like the logo placement and colors on the suit! I also noticed he had some perfectly matching white/orange/silver sneakers on! I was like, "damn man! Those are dope! Did The Attic hook you up with those kicks?" And Robbie just replied, "haha naw man! I found these things at Ross Dress for Less for like 20 bucks!"
Haha, that's dope. Robbie always knows how to get a good deal. However, Robbie unfortunately was faced with a bad deal at Long Beach. His Dynamic Autosports/Hankook R35 Nissan GTR wasn't ready to run, and Robbie couldn't qualify, practice, or run the event. In essence, neither Robbie nor his Hankook teammate Eric O'Sullivan were able to drive their cars at Long Beach, even though they were flown in (from Japan and Ireland respectively) for the event.
What a disappointment to the drivers, teams, sponsors, and fans. I really, really hope the cars will be ready for Atlanta. That R35 should be perfect for a big power track like Road Atlanta!!!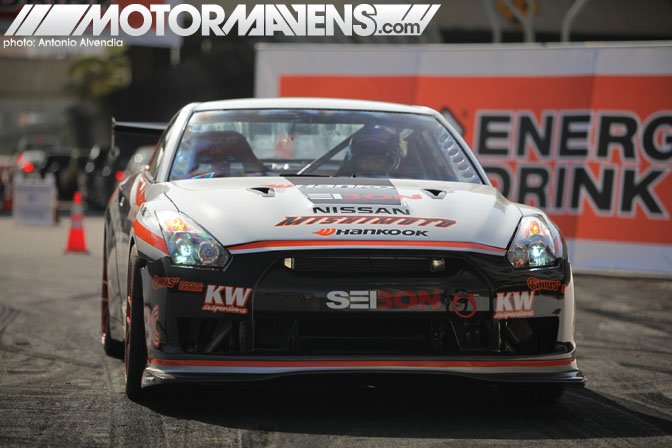 Here's Robbie, all suited up and strapped in to his R35 GTR at the start line, after the event was over. Robbie was trying to test out the GTR after the event was over, since it was finally running, but I'm not sure that he was ever able to. I stood around and waited a long time, but we ended up just going back to the booth and packing up. I never heard or saw the GTR run after that. Another disappointment… but the car looks so bad ass!!!
I can't wait to see it run. I hope Dynamic Autosports team owner Eddie Kim paints the middle section of the GTR front bumper back to dark gray. It would look 100% better than the black center piece it has now, and would provide some nice contrast to the front of the car – it even matches the livery! However, I suppose Eddie has bigger issues to worry about right now. I hope the Dynamic team can make it happen for ATL. Keeping my fingers crossed!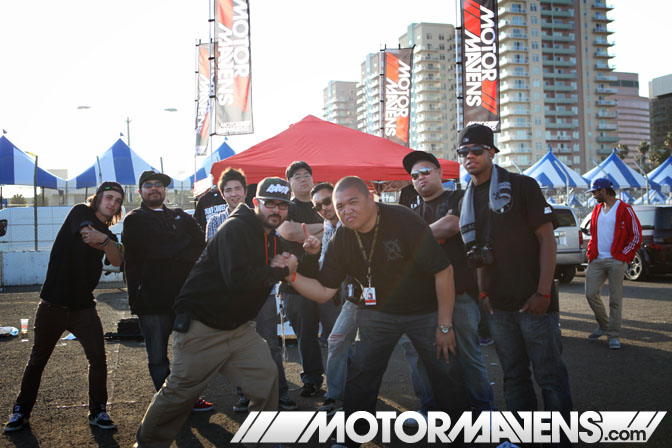 At the end of the day before we packed up the booth and headed home, Jon from DSTROYR and I thought we should take one of those old East LA gangster style photos, with the gang leaders up front and the crew gathered all around. This is just a few of the Motor Mavens Crew members we had in attendance at Long Beach.
From Left to Right, we have: Justin Shreeve, Lucas Perez, Abbitt Wilkerson, Jon Chase, Mike Kim, Tamer Omran, me, Yoshi Shindo, and Edward Uche. The Unstoppable Motor Mavens Movement!
Stay tuned for our more photos and stories from FD Long Beach very soon!!! This was just the first installment!
:: Antonio Alvendia
Photography by Antonio Alvendia, Larry Chen, Mike Kim, Travis Hodges, and Yoshi Shindo
Buy copies of these photos at www.DriftFotos.com
335i
,
350Z
,
AE86
,
Antonio Alvendia
,
BLU808
,
BMW
,
Camaro
,
Chris Forsberg
,
Conrad Grunewald
,
Daijiro Yoshihara
,
Dave Blunt
,
Dirty Thirties
,
Drift Safari
,
Dynamic Autosports
,
E30
,
Edward Uche
,
Eric O'Sullivan
,
Ford Mustang
,
Formula D Long Beach 2010
,
GTR
,
Hankook Tire
,
Ian Fournier
,
John Russakoff
,
Kaaz USA
,
Keith Wong
,
Larry Chen
,
Mike Essa
,
Mike Kim
,
Monster Energy
,
Nexen
,
R32
,
R35
,
Robbie Nishida
,
Rocket Bunny
,
RS Watanabe
,
S13
,
Skyline
,
Taka Aono
,
Travis Hodges
,
Vaughn Gittin Jr
,
Work Equip 01
,
Yasu Kondo
,
Yoshi Shindo
,
Z33
---