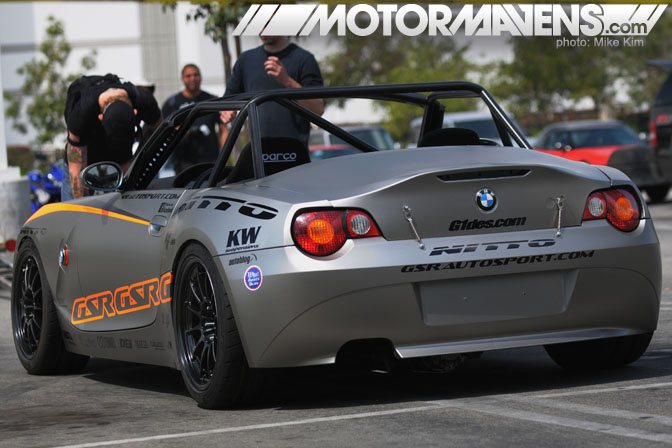 Every year, before the Formula Drift series starts, they have a technical inspection of the cars.  Rules are strict and inspections are thorough, with a handful of cars not passing on the first look.  The Annual Formula D Tech Day isn't just about standards and regulations, it's also a lot of fun.  Checking out the newly built cars up close, without the massive crowds at an actual Formula Drift event, is a little more special than seeing it just fly by on the track.  It gives you a nice glimpse of what it takes to build one of these cars, which takes more then just a weekend in the garage.
In the past, they had vendors, loud music playing, and a JTuned meet, with Jarod DeAnda emceeing the event. However, this year was a little more toned down and all about business. As the cars rolled through and teams showed up, the teams would get the inspections done quickly then, head out as soon as they had a chance to finish prepping the cars.  However some of the drivers stuck around after their teams had hauled away their cars to check out the competition.  
Chris Forsberg spent some time checking out GSR Motorsports and Mike Essa's BMW Z4 with its (strangely not V10 engine from last year's E92 350R) 3.2L inline 6, lifted from the E46 M3.  With a turbo charger slapped on, it had taken place of the original engine in his new chassis.  For any drifting fan, a straight six with a turbo should be a nice sight and sound amongst the many V8s showing up in the sport.  I didn't get a chance to hear the car, since it was already finished with its inspection when I arrived to UTI, but I'm sure its a different sounding beast from the V10 of last year.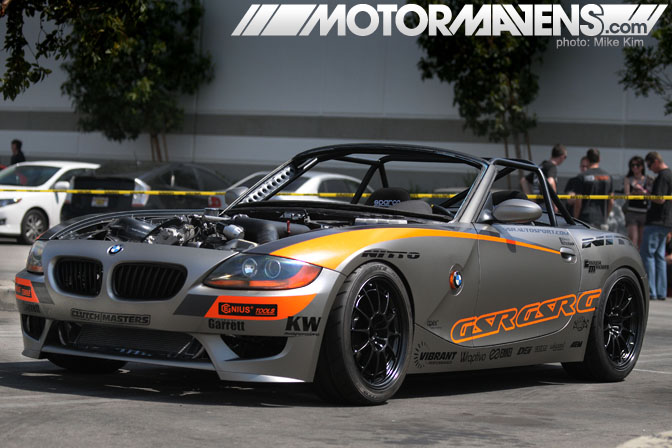 Mike Essa's new graphics and livery is reminiscent of his mid year change on the E92 but it definitely is a clean and sharp look.  The contrast of orange to titanium looking silver is a good combo, especially for the GSR Motorsports logo.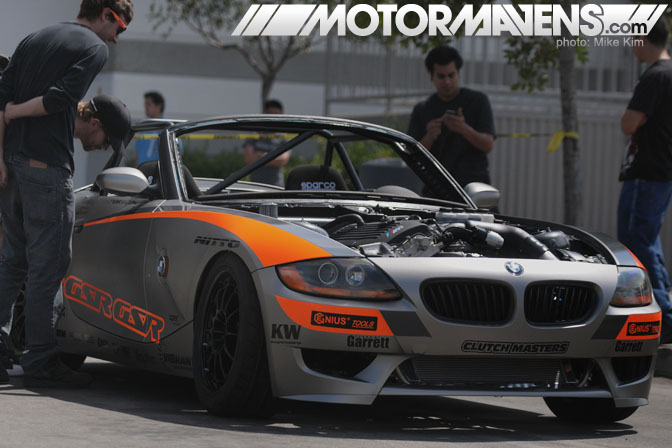 I really like how they had kept the car very sleek with OEM bumpers giving it a very subtle and clean look.  The Enkei NT03s in black match his interior and roll cage and give it a nice low profile look to today's ever popular highlighter colored wheels.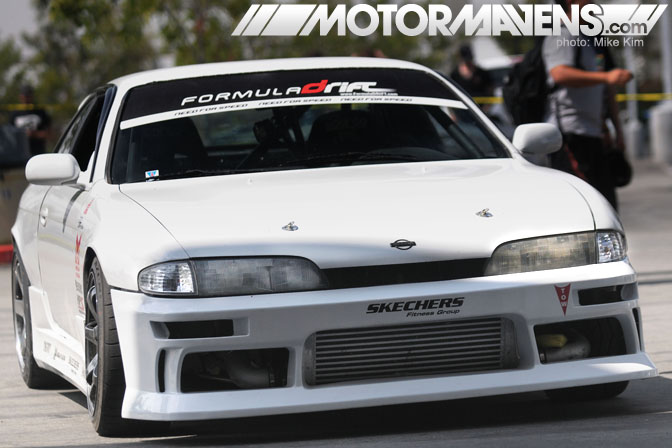 Congratulations to Chris Licup on obtaining his Formula Drift license during last year's ProAm competition.  He runs a 400 horsepower SR20DET with a massive front mount, while getting some mechanical help from our friend Tom Flowers.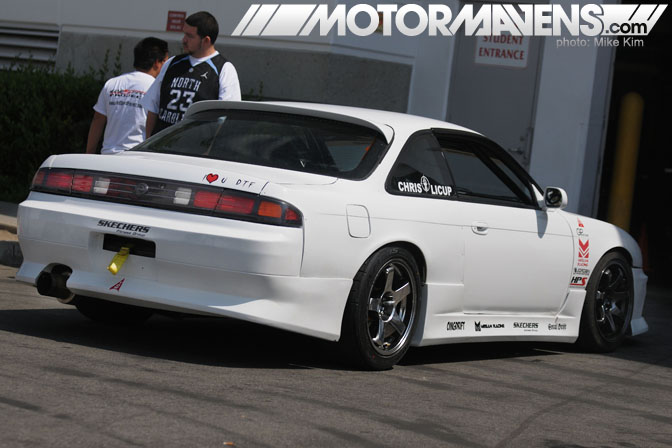 I don't know if his paint scheme and liveries are completed yet, but as it sits with the roll call on the side, it has a very clean look for a pro race car.  If he runs this season with minimal graphics it's definitely going to be one of the cleanest cars on the track.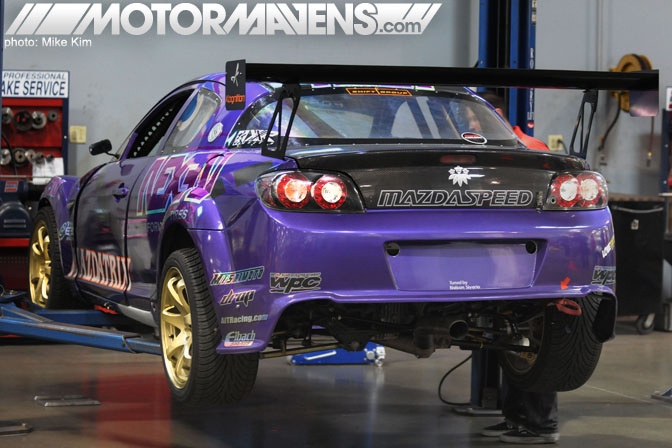 Kyle Mohan brought out his RX-8 with new aero and subtle livery changes.  As always ,his 3 rotor powered SE3P had a loud wicked sound when they started it up to check the kill switch.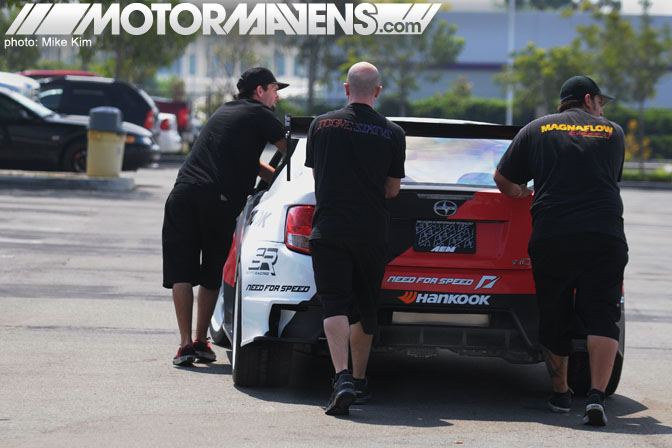 This was the only shot I got of Fredric Aasbo's rear wheel drive Papadakis Racing 2011 Scion TC.  Stephan Papadakis and his crew were pushing the massive wide-bodied TC back to the trailer when i arrived.  I got a small glimpse of the undercarriage which has nothing Scion TC left on it.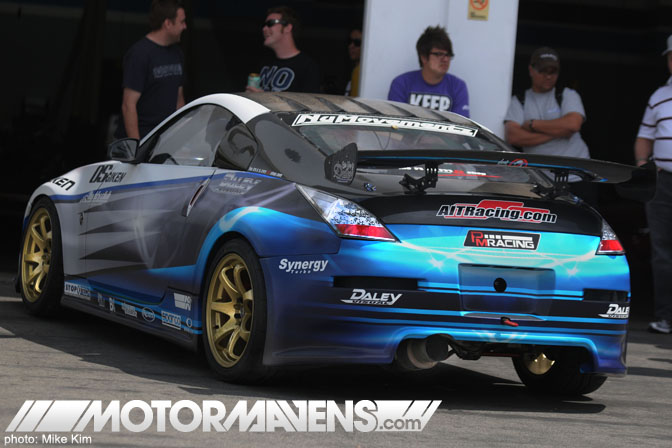 Pat Mordaunt's Z33 350Z is sporting all new liveries this year with a lot of carbon fiber on the top half of the car.  I think its a nice color change from last year's gold and black with a cooler feeling to it.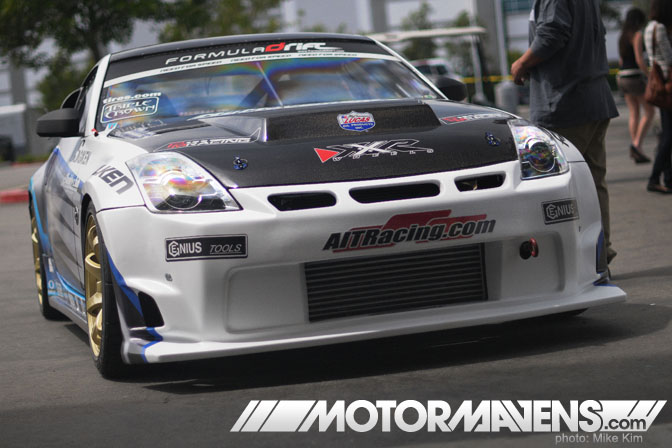 Aero hasn't changed much from last year but the new color scheme gives it a nice clean look.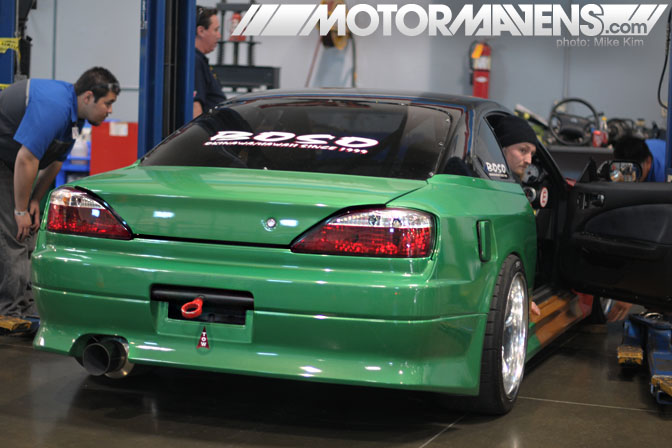 Ross Petty and Frank Siharath rolled in later in the day with the Garage BOSO S15 with its fresh new paint job and engine build.  They went back to their original color scheme with a twist.  The car has a black roof with gold pearl on top with the green on the back and red up front, which Ross was painting while Frank was assembling the engine next to him.  They haven't yet finished the graphics on the car but Frank told me they have some cool stuff coming soon.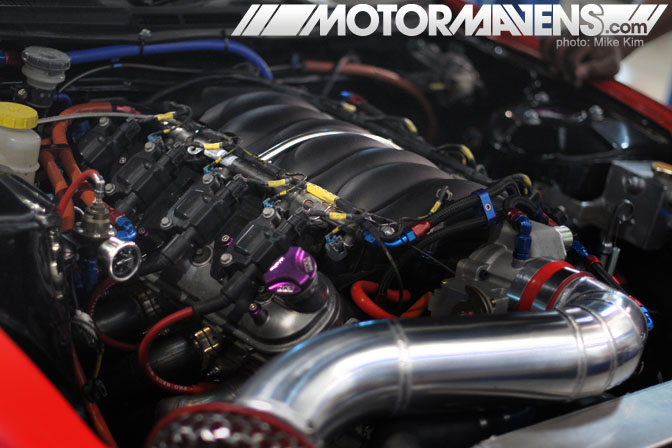 They biggest upgrade they made to the car this year was the new fully built LS3 V8, putting down 600 horse power naturally aspirated.  Don't worry, the original soul of the S15 now lives in their similarly styled kouki S14 which was also getting inspected at the time.  Frank gave me the run-down on his new setup with a full port and polish, new top and bottom end with a bore and stroke to match the Chevrolet LS7.  He made subtle changes and additions to the motor to help fit the JDM theme with a HKS oil cap and purple spacer nuts.  He even added a personal touch with the wiring harness, which was hand built, by putting a "BOSO" logo on the wire loom.  The custom headers were an 8 to 1 collector which made a terrifying sound when Ross revved the engine.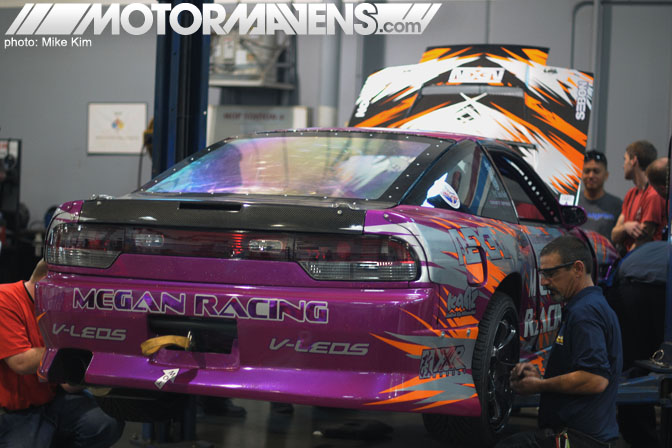 Megan Racing rolled deep to UTI this year with 4 cars to be tech inspected.  Cyrus Martinez's SR20 powered S13 with its fresh graphics was being wrapped up while one of the tech inspectors gave him the rundown about his car.  BTW, I owe a BIG thanks to Naoki Kobayashi, Megan Racing's team manager, for helping me get my wrecked NB Miata out of the tow yard after I flipped the car on the freeway last December on my way home from work.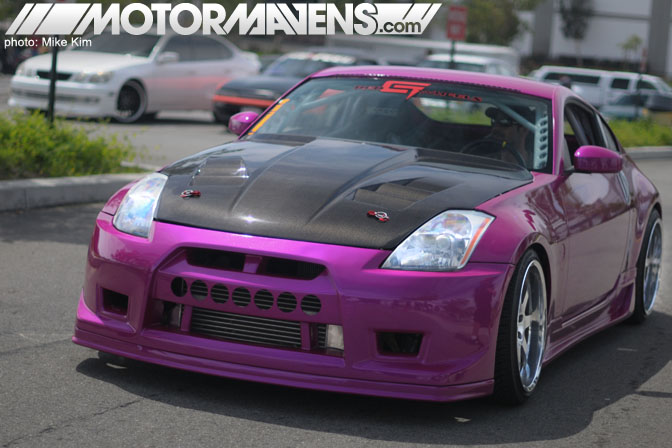 Alex Pfeiffer is a new addition to the Megan Racing family, with his newly built Garage BOSO tuned VQ powered Z33.  His setup consisted of twin turbos putting down 700 horsepower and he couldn't wait to do a burn out with it.  The car made some wicked noise when he was moving it around the parking lot.  I personally can't wait to see him run at FD Long Beach.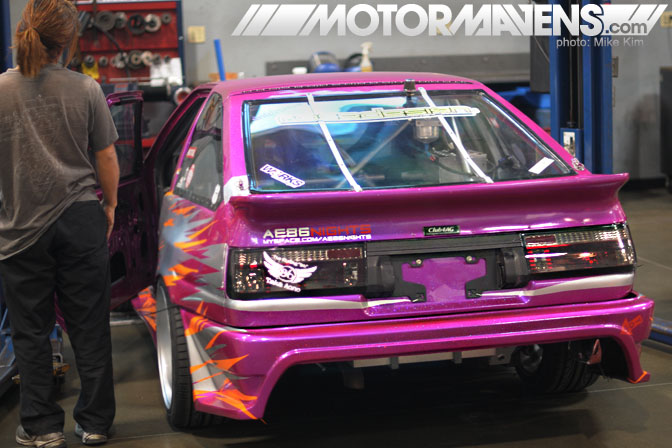 Of course the legendary Taka Aono brought his turbo charged AE86 to get inspected.  He passed tech with flying colors as he watched the inspectors going over the fine details of his car.  He did not change the chassis this year, so tech was a breeze.  With all new graphics and fully healed leg, I can't wait to see one of the few remaining 4 cylinder cars in Formula Drift compete.
Taka was explaining to me how his new Megan Racing 2 way dampening adjustable coil-over suspension was killer and he could fine tune it for each track.  I think Taka's AE86 had the sickest stance amongst the cars that day at UTI.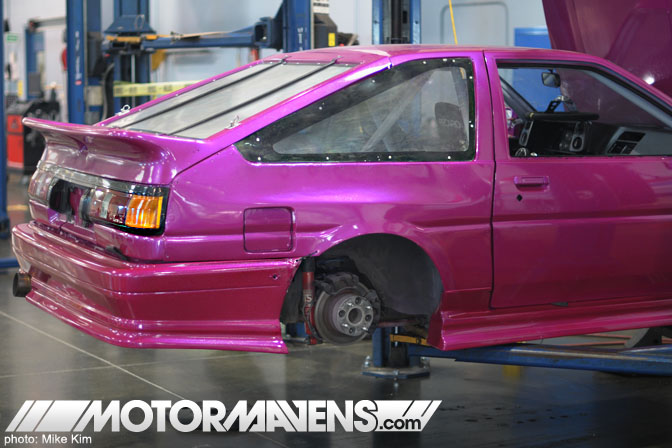 Congrats to JSP Fab's John Russakoff also for joining team Megan Racing.  Almost as if Taka had stripped his graphics off, John's newly painted AE86 will look almost identical to Taka Aono's car once the liveries and graphics are done.  John was running the turbo F20C, in his AE86.  Now that he's with a major team, we can expect to see him at all 7 Formula Drift events this year!  Can't wait!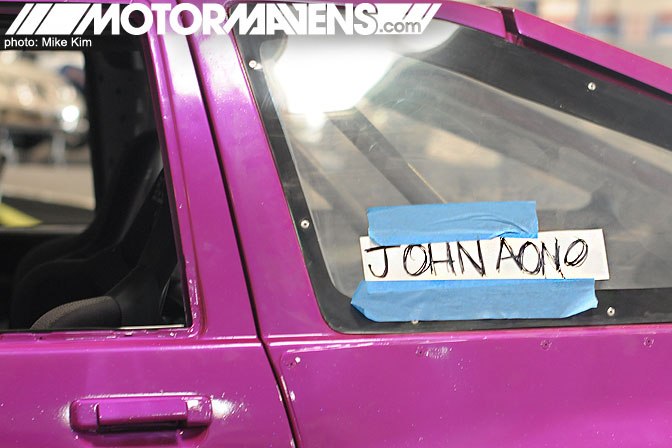 John thought it would be funny to change his last name for the season as well.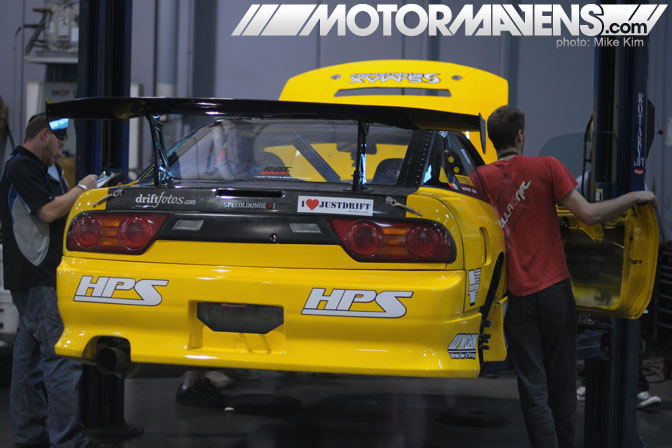 The HPS Racing VQ powered strawberry faced Sileighty made an appearance while it was getting inspected.  I heard Robbie Nishida might be driving this car for this season.  I guess we'll see whats to come at Formula Drift:  Streets of Long Beach April 8-9.  Come out and join the MotorMavens Crew this weekend in the LBC!
That's it for our Formula D Tech Day photos, which one is your favorite car?
::Mike Kim
---