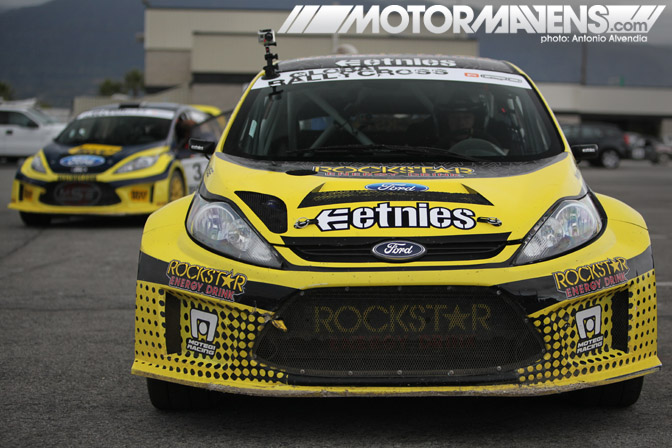 This past weekend's Global Rallycross event at Irwindale Speedway was definitely not what I expected. I mean, I've been to amateur rallycross events in the past… but this was just… different. To most people in the racing community, the term rallycross is what people use to describe an event that looks like an autocross event in the dirt. A rallycross normally takes place in a large dirt area, with marker cones denoting the course layout. The cars that normally participate in rallycross are the type of cars that you would see in an issue of Grassroots Motorsports Magazine – budget built, weekend racers built by everyday people like you and me.
Well, I suppose the Global Rallycross Championship is just like that – but replace the budget rallycars with fully-built factory-backed professional race cars with full welded rollcages, built engines, and top notch suspension and safety equipment. Also, replace the everyday-Joe shadetree mechanic type with professional drivers from the X-Games, Formula Drift, Pike's Peak International Hillclimb, and the World Rally Championship (WRC). Oh yeah… and replace the dirt parking lot with a humongous man-made dirt course, complete with dirt ramp for catching some big air! This, my friends, is the Global Rallycross Championship. It sure as hell sounds exciting, doesn't it?!
Before you look at the rest of the photos, I really should mention that the Global Rallycross Championship at Irwindale was pretty much the coolest event that nobody knew about. Please don't take that the wrong way – my intent in saying that is NOT to put down the event promoters. I just know that a lot more people would have spent the weekend at Irwindale if only they KNEW that all these professional rally cars would be at Irwindale. Walking through the Irwindale pit area, I couldn't stop gawking at all the bad ass pro rally cars, which had some of the top names in rally behind the wheel. Now THIS is the type of event that the MotorMavens Crew would love to get involved in promoting!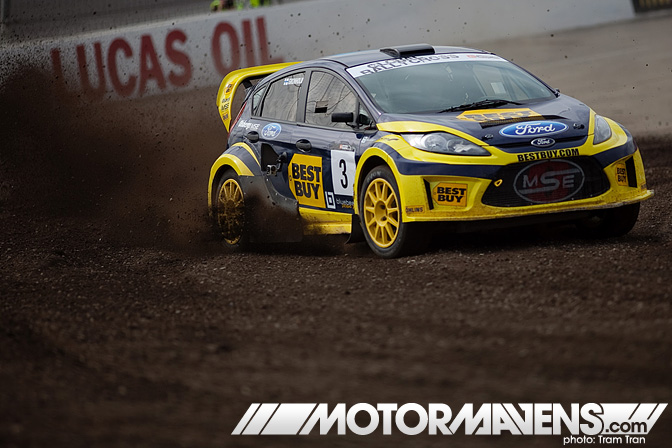 Come on! Kicking up dirt like that sure looks fun! This Best Buy-sponsored Ford Fiesta was piloted by none other but WRC star driver Marcus Gronholm. This flared-out Fiesta sure looks a lot cooler than those feminine-looking Geek Squad VW Beetles!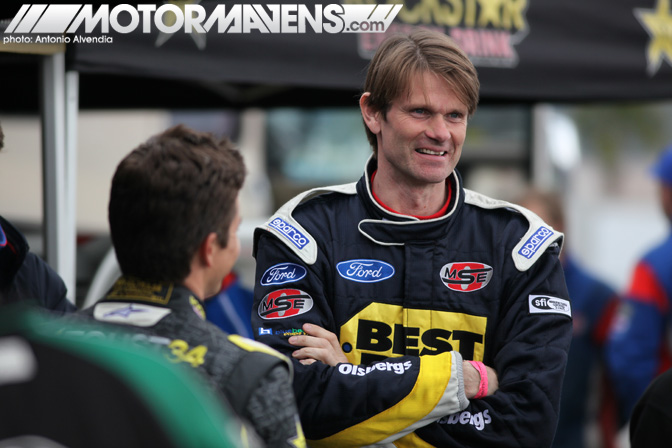 In between sessions, I captured an image while the Ford drivers were talking. You can definitely tell that Tanner Foust looks up to Marcus Gronholm. That guy sure is tall!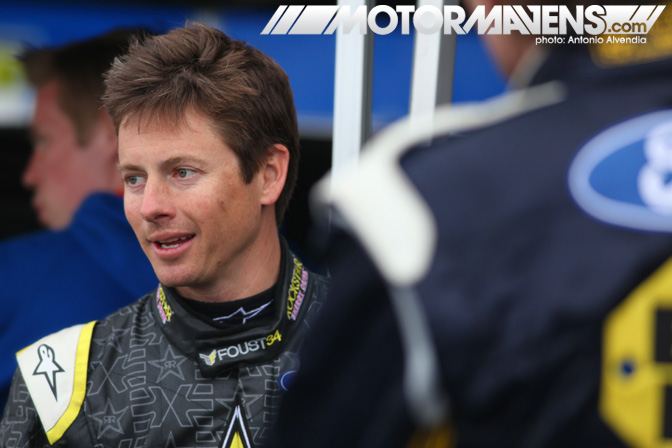 It's a pity that Tanner won't be competing in this year's Formula Drift series. I'm sure his many fans in the drifting scene will miss his presence, but honestly, I think what he's doing is a smart move for his career. He has already mastered competitive drifting in the United States – his Formula D Series Championship stats tell the story all too well.
However, in order to really be the best driver he can be, he needs to compete against the top ranked guys in other forms of motorsports. I read something like that in a book recently…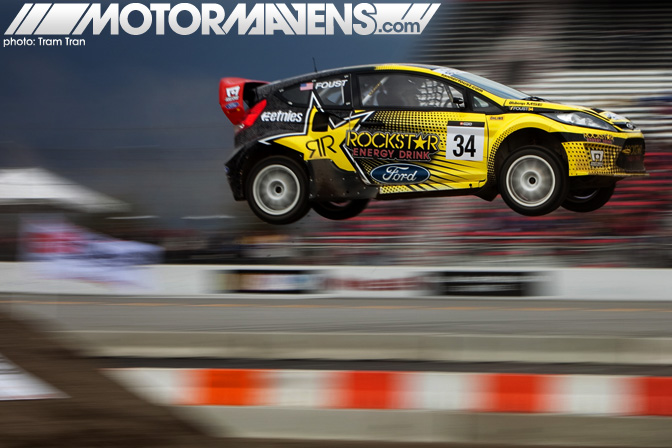 I've been to Irwindale on many, many occasions. However, I can't recall another occasion at Irwindale where I got to see Tanner Foust jump a Ford Fiesta from one ramp to another. Seeing this flying Fiesta "party in the sky" was just nuts!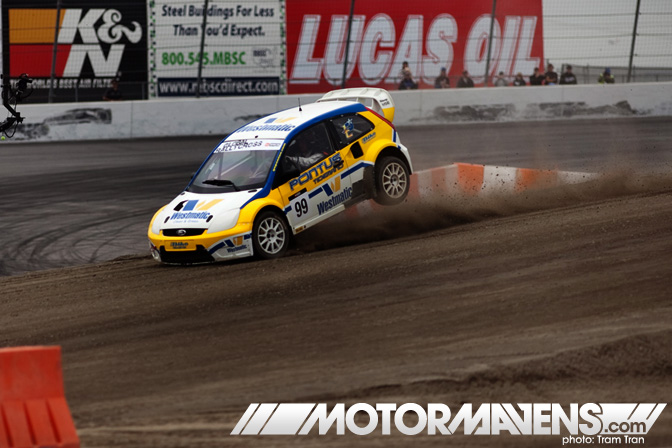 Have you ever been on an airplane flight that had a hard landing? It definitely looked like Pontus Tidemand experienced something very similar in his rally prepped Fiesta. This is the type of landing that makes normal cars bend control arms or strut assemblies!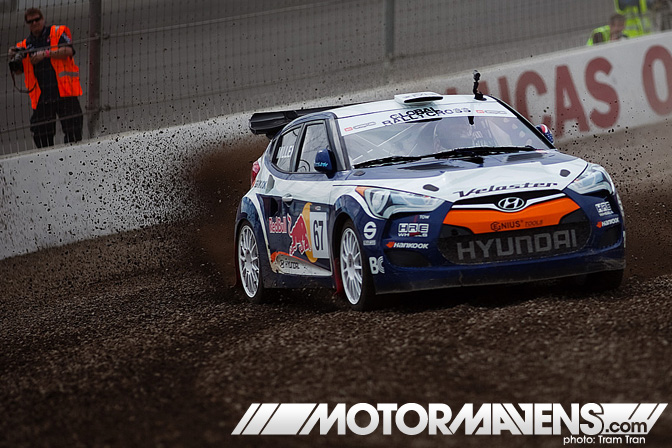 Rhys Millen is definitely a well known name in the rally scene, with a family history of being successful in rally, drifting and other forms of racing. The San Juan Capistrano native returned to Irwindale sporting his all-new Hyundai Veloster hatchback and an all-new tire sponsor. One thing that I appreciate about Rhys Millen's racing program is the fact that he always has such a professional appearance – the liveries on his cars, his suit, his 'booth activation' campaign, his crew, and his trailer. It's no wonder he always attracts the top sponsors. Younger drivers need to watch him closely and take notes.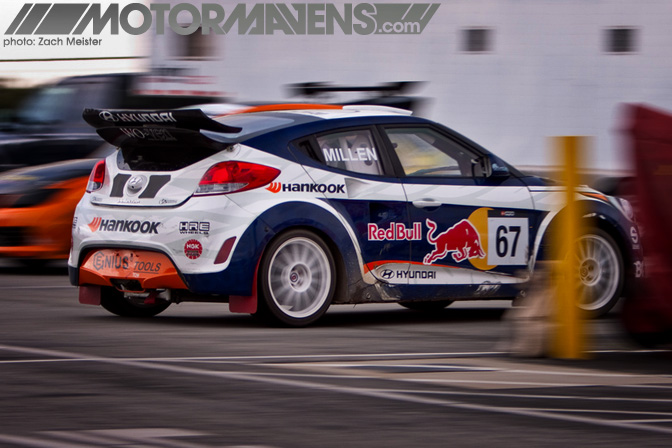 Wow! With all those new sponsors on board, I wonder how well Rhys can say 'Thank You' in Korean! ;D Pretty soon, we might even find him hanging out on the intersection of Vermont and Olympic in the heart of Koreatown in Los Angeles, eating kalbi tang, chain smoking cigarettes, and drinking soju at norebang studios until 5am. Hehe!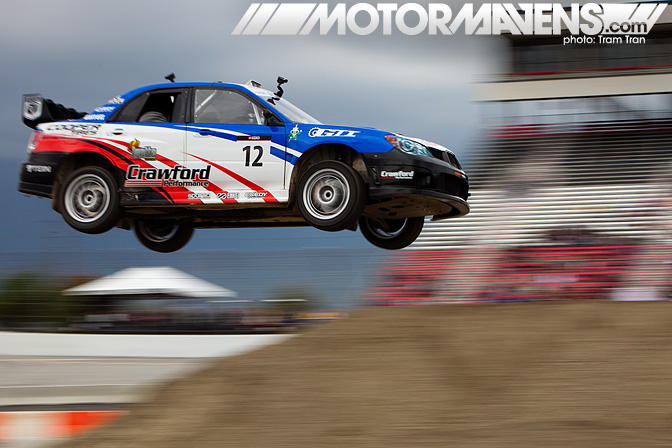 Now I wonder which song is more appropriate for this photo of Stephan Verdier jumping his Cooper and Crawford-sponsored Subaru at Irwindale: "Fly Like An Eagle" by the Steve Miller Band or "Jump" by Kriss Kross? That being said, I really hope you don't have Kriss Kross in your MP3 collection.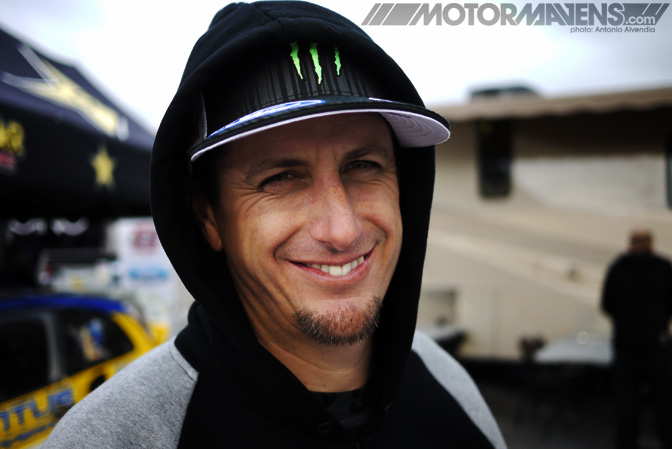 Oh! Speaking of Crawford Performance, I had the opportunity to chill out with another driver in the pits who had his Subaru built by Crawford a couple years ago – DC Shoes founder and viral marketing powerhouse Ken Block! I haven't seen Ken since last December, when we organized the MotorMavens Mass Appeal car show at his Ken Block Gymkhana Invitational. He seemed to dig the show, and was all smiles for my new 'point&shoot' Panasonic GF1 camera.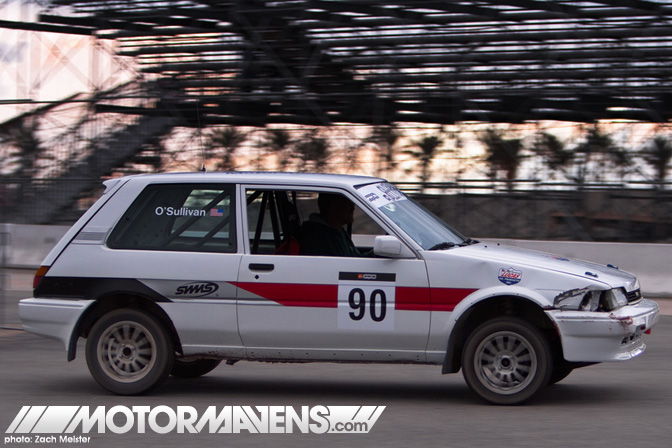 Now here's a car that we don't see on our website very often – the Toyota Corolla FX16 GT-S, which was sold in the USA in 1987 and 1988 if I remember correctly. The AE82 FX16 is front wheel drive, but it's powered by the same 16-valve twincam 4AGE engine that's in the popular rear wheel drive AE86. As far as FF Corollas go, the FX16 has the same 112hp powerplant (can you handle all that power?!) as the AE92 Corolla GT-S, but the FX16 is actually more nimble, due to its lighter weight and shorter wheelbase.
The AE82 FX16 GT-S also has a rich history in rally – in fact, somewhere in my garage, I have a Toyota magazine advertisement with the image of an FX16 GT-S competing at the Olympus Rally in 1987. Very cool!
Here's a shot of X Games pro BMX rider and Subaru Rally Team driver Dave Mirra attacking the asphalt section of the track in his new Subaru Impreza WRX STi.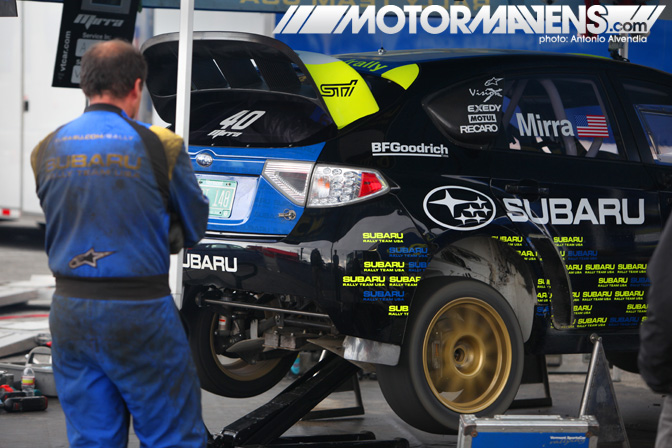 Mirra's crew worked pretty hard on the car – they were tuning it and aligning it in between sessions, which looked pretty cool.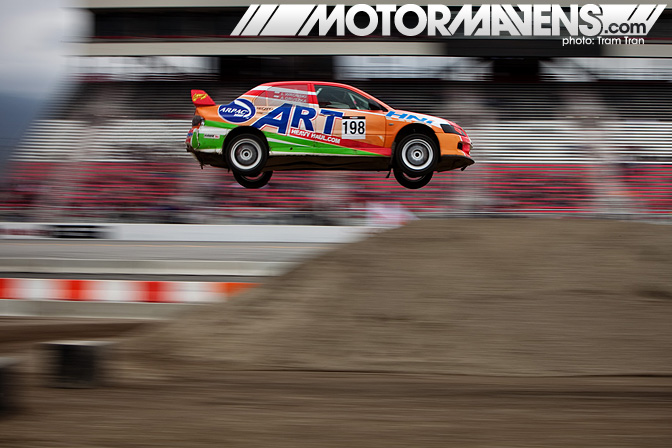 Unfortunately, I didn't see a lot of Mitsubishi Lancer Evos competing in the event, but the ART Evo definitely stood out as it flew through the sky. I don't even know who drove the car, so if you can shed some light and help us fill in the blanks here, it would be appreciated!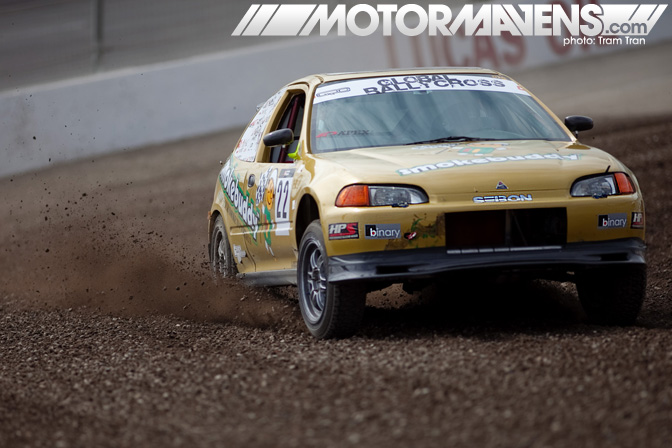 In the Front Wheel Drive class, I was surprised to find Apex'i USA mechanic Keith Covey behind the wheel of an EG Honda Civic hatchback. Usually when I see Keith at events, he's wrenching on the Apex'i Mazda RX7 or Lexus SC430 competition car. It was cool to see him driving in the event! Wait a minute… his title sponsor is a company named Smokebuddy? I'm not exactly sure what they make, but if I had to take a guess, I can think of several other professional drivers that they should sponsor!
That's it for this edition of our Global Rallycross photos! Stay tuned to MotorMavens for more from the rallycross. People will be posting up photos in the forums!
:: Antonio Alvendia
Photos by Tram Tran, Antonio Alvendia, and Zach Meister
5dmk2
,
Canon
,
Crawford Performance
,
Fiesta
,
Ford
,
Ford Fiesta
,
GF1
,
Global Rallycross
,
Global Rallycross Championship
,
Grassroots Motorsports
,
GRC
,
homepage
,
Hyundai
,
Irwindale
,
Ken Block
,
Lumix
,
Marcus Gronholm
,
Panasonic
,
Pontus Tidemand
,
rally
,
rallycross
,
Rhys Millen
,
Stephan Verdier
,
Tanner Foust
,
Tram Tran
,
Veloster
,
WRC
,
x games
,
Zach Meister
---