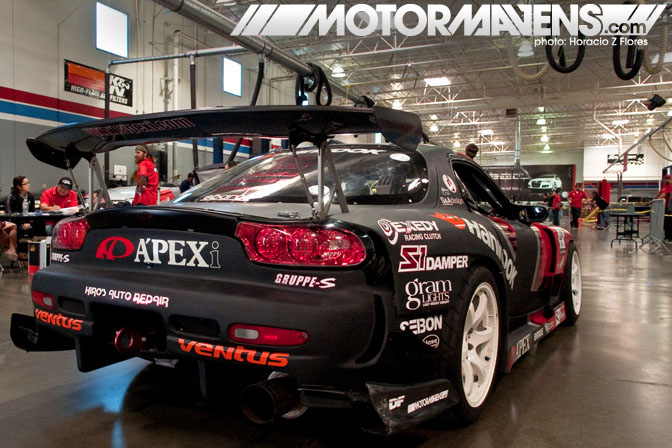 There sure were a lot of car events to hit up this weekend in Southern California, and the Formula D season hasn't even started yet. Man, it's going to be a super hectic year for sure. On Saturday morning, Formula Drift held their annual pre-season tech inspection at Universal Technical Institute in Rancho Cucamonga, CA. This tech inspection is open to the public, and it gives drifting fans an up close and personal glimpse at the cars that will be running in the series before the season starts.
For those who don't know, Universal Technical Institute is a mechanic's training school, located out in the IE (Inland Empire), right across the street from the old Falken Tire headquarters, and right next to Kumho on Sixth Street and Haven. I've had an increasingly extremely full personal calendar, filled with things I need to do and places I need to be… and this weekend was no different. As much as I wanted to, I couldn't even make it out to the tech day myself, so I am super appreciative that new MotorMavens contributors Horacio Flores and Mike Kim (no, not the Mike Kim from UrbanRacer) offered to go to UTI and see what was going on. Thanks a lot guys! Enough about these details though – let's have a look at the cars!
Up above is the Apex'i USA FD3S RX7 turbo inside UTI's massive service bay. Thanks for reppin us on your car, Apex'i family! You guys are awesome.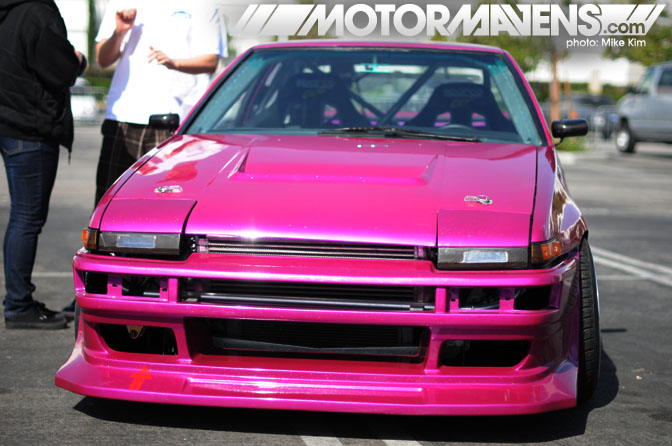 Let's get down to business. Probably the car that I was personally most interested in seeing at the Formula D tech day was Taka Aono's AE86, powered by a mighty 4AG turbo! I have nothing but the highest level of respect for Taka for continuing to Live The 86 Life with his hachiroku. With his undefeatable spirit and his full-commitment/full-throttle driving style, Taka Aono makes me proud to be an AE86 owner too.
I think 86 owners around the globe need to get together and help Taka out. He needs our support! Let's keep his AE86 in the Formula D series… because if we don't do it, nobody else will. Most of the big companies out there that now support drifting don't care about an older chassis underdog like the AE86. They only want current body style, tube chassis cars with V8-10 engines. That's fine for the growth of the professional sport I suppose, but let's not lose focus of WHY most of us were drawn to drifting in the first place – THE CARS!
This is why I have so much respect for Taka. He KNOWS it would be easier (and probably cheaper) to switch to a newer chassis. He KNOWS that there are a lot more sponsors (parts-wise and money-wise) who would be willing to kick down if he drove a newer car. However, Taka is as hardcore an AE86er as they come. He knows that it's more difficult to campaign his beloved AE86 chassis in today's level of professional drifting. He won't stop though… with the help of his friends, sponsors, and FANS… he digs in and forges ahead with as much determination and strength as he can. And THAT is why we should do all we can to support this guy. If you're down to help MotorMavens help Taka, hit me up.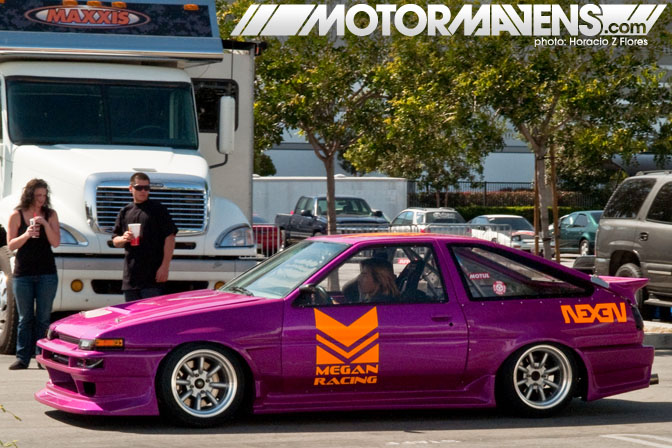 Here's a new tire sponsor for the Formula D series – Nexen. I've never tried out a set of Nexen tires in my life, so I can't really speak on their quality or their performance. Same thing with Megan Racing parts. A lot of people talk trash about Megan Racing parts because they're inexpensive or whatever… but the fact is, I know a lot of drifters are starting to use their parts. Same thing goes with Megan stuff – I've never personally tried anything that Megan Racing made, so I can't really comment on their quality or whatever.
However, I'm glad that Megan and Nexen stepped up to support a person so important to drifting. Taka is always out there lending a helping hand to upcoming drifters. Seriously people, it's time to give back.
And just look! His car is still super low, and rocking super wide RS Watanabe Type R wheels! Oh yeah, in case you were wondering, the aero kit on his car is the very first copy in the USA of the new J-Blood aero for AE86s. The style looks a bit crazy for my personal taste, but I know a lot of guys on Club4AG are going to want this stuff.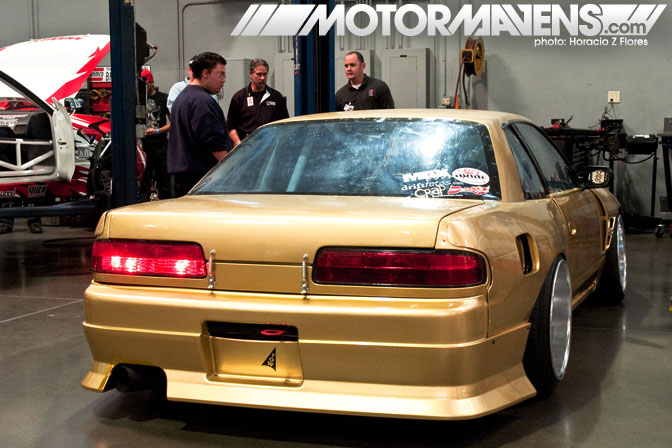 Here's another good looking car that will be competing in Formula D. There's still hope, kids! This is Tommy Roberts' S13, back from the ashes. I bet the UTI guys have never seen anything that has perfectly fitting wheels like this in their service bay!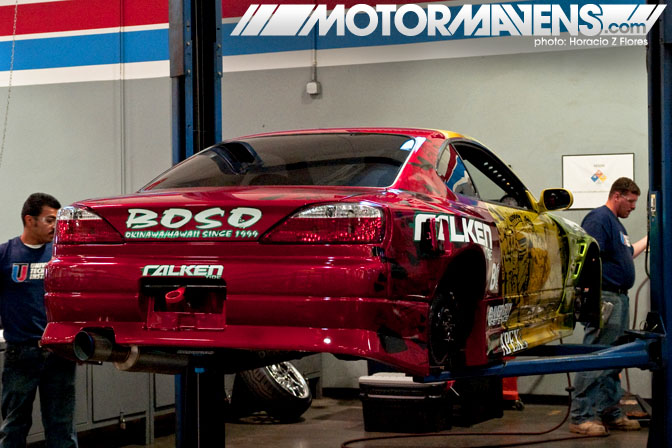 Apparently Ross Petty, Frank Siharath and the Garage Boso crew were busy redoing their S15 Silvia with a new paint job (and I'm sure they added a lot of new performance upgrades too). I'm not too sure why they felt they needed to paint it, because the paint looked pretty damn good the last time I saw it. I suppose they just wanted a change to make their car even more gangsta than it was before, if that is even possible. This is one of the very few cool looking cars in the FD series. They sure have style! I think other car builders need to take notes from Garage Boso… they deserve a high-5 for their efforts in designing a stylish livery. (When I say high-5, I think you know exactly what I'm talking about. hehe)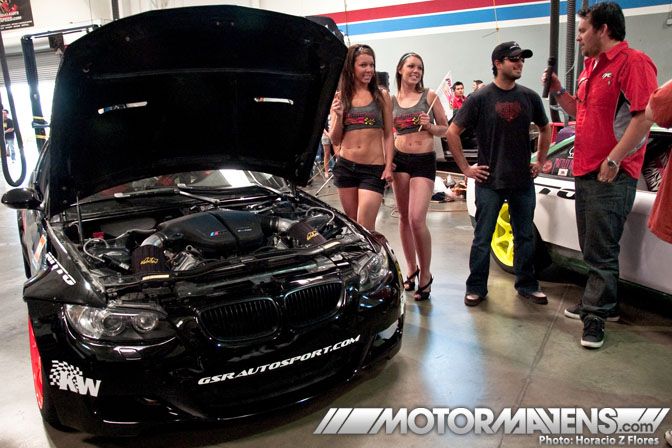 Well HERE is a car we haven't seen before! This is Mike Essa's new baller status Bimmer, already proving the statement that BMWs attract women. I've never seen Mike grin like that before! I'm super excited to see a new model BMW compete in Formula D competition! I hope a big BMW dealer sponsors Essa, as this new BM-double is going to make people want to buy a new 3 series for sure!
Seeing European cars entering Formula Drift is a good thing. It means that more European aftermarket companies will have a perfect fit in American drifting. It looks like George Ciordas from German suspension powerhaus KW Automotive already signed on board with this project.
I wonder who's next? Let me think, real quick… Bavarian Autosport and Dinan would make a lot of sense on this project, don't you think? (Hey Mike, if Bavarian Autosport ends up sponsoring you, please let me know! Andy Sapp and I need some BMW parts!)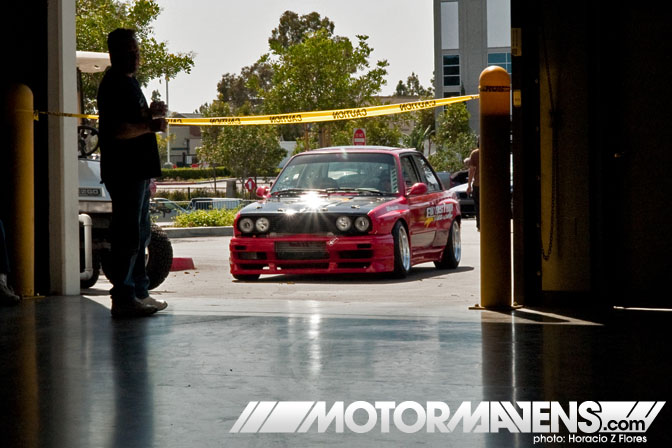 Here's some older BMW love… this is Dave Blunt from San Diego, keeping it real for everyone out there who loves dirty thirties…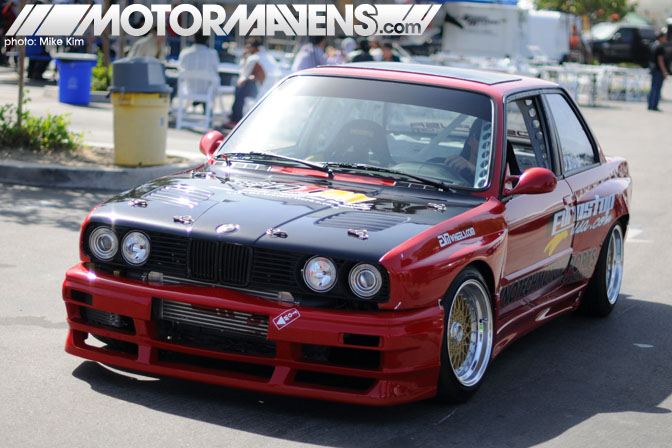 Here's a closer look at Dave's E30 BMW. It has a pretty wild bumper and sideskirt combo, don't you think? I this those huge exaggerated M3 flares look great on his car, as does the roll cage and the negative camber. I'm sure that Dave's E30 makes Horacio Flores miss the E30 M3 he used to own like crazy!
On the right is new Formula D driver Cyrus Martinez (woot woot!), a former AE86er who is now driving the purple Megan Racing RPS13. I think it's lucky that Megan Racing has an employee like Cyrus, who can work in the office M-F, and rep the company by drifting at events on the weekends!
Cyrus must have that look on his face because he's thinking, "damn, Naoki turned all hipster on us!" LOL It's a good look for Naoki, who is usually seen rocking a Drift Day t-shirt at events… but I just don't know if I can get used to seeing the organizer of Drift Day events rocking v-neck t-shirts, glasses, scarves, and skinny jeans. Next thing you know, he'll be riding a fixie with aero spokes to pick up cones on the side of the track!
Anyway, check out the clean engine bay in Cyrus's RPS13. Nice shot from Mike Kim!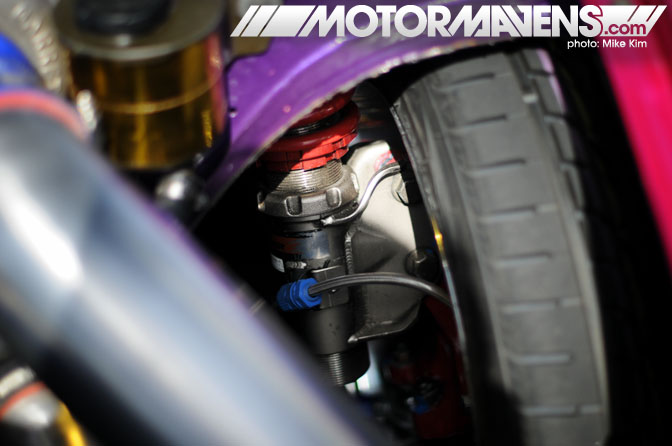 Crazy… I guess the inner fender apron on this car is cut out? I'm guessing Cyrus is planning to tub his fender aprons for more angle and clearance?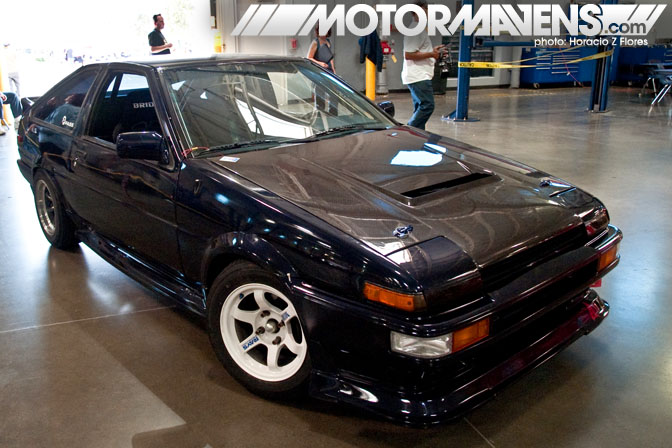 Now, it's time to bring it back to Eighty Six, with PCH AE86er Keith Wong's car, rocking Volk TE37s up front. I'm super happy to see Keith's car in professional Formula D competition. This is a true story of a drifting fan who kept practicing at Just Drift events, and eventually became good enough to qualify for a Formula D license! He does a hell of a job drifting with his hachiroku – especially since it's powered by a naturally aspirated 20 valve blacktop engine!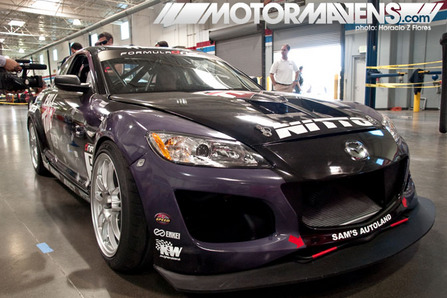 Here's Joon Maeng's new car, which prompted press releases from Bergenholtz Racing and Formula D. Looks pretty cool thus far. I'm wondering how many legs they can chop off with that front lip spoiler. Looks like they got some new Enkei wheels too! The car sits nicely up front.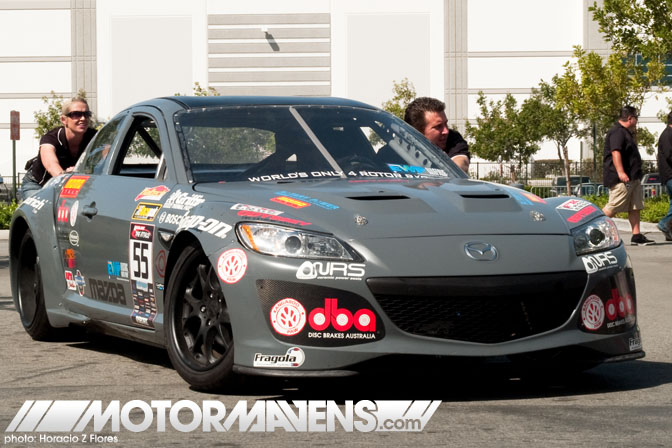 Oh my, what big flares you have! Looks like Bergenholtz Racing and Kyle Mohan aren't the only RX8 competitors in town… this car apparently is the only RX8 in the world with a 4 rotor engine.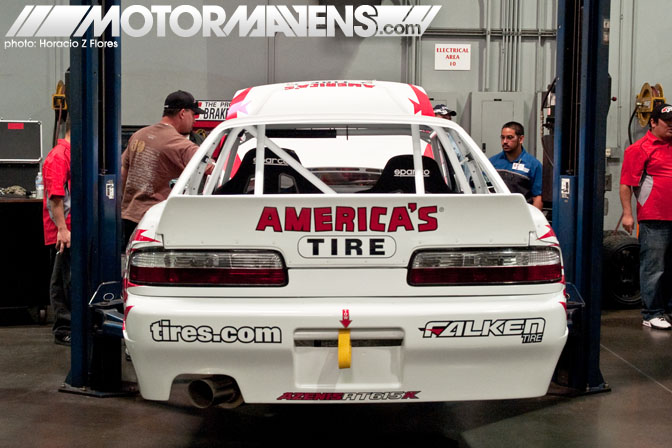 Pac Rim drifter Daijiro Yoshihara got a stylish new JDM steez wing and rear bumper to go with the Nascar graphics on his America's Tire V8 S13 Silvia. Man, typing that just sounds weird as hell.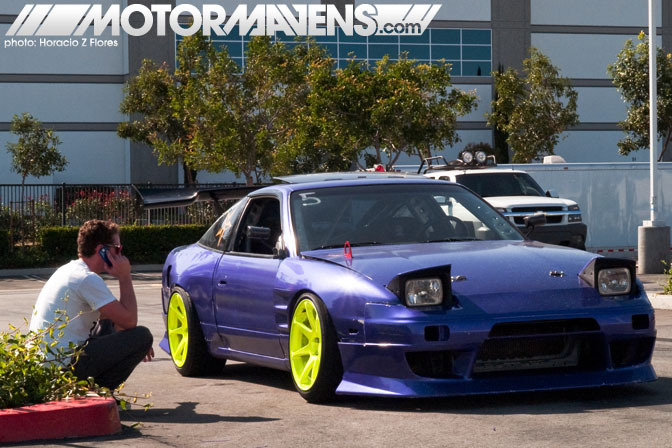 Okay, one last photo, from another driver who came up through the ranks of grassroots drifting. It looks like all hope is not lost. There are more grassroots privateers entering the Formula D series this year, and that excites the hell out of me. I can't wait – it's gonna be an awesome season! See you all at Long Beach!
:: Antonio Alvendia
AE86
,
Antonio Alvendia
,
Apex'i
,
Bergenholtz Racing
,
BMW
,
Challenger
,
Cyrus Martinez
,
Daijiro Yoshihara
,
Dave Blunt
,
Drift Day
,
E30
,
Enkei
,
FD3S
,
Formula Drift
,
Garage Boso
,
George Ciordas
,
Hankook
,
Horacio Flores
,
Joon Maeng
,
Just Drift
,
Keith Wong
,
KW Suspension
,
Megan Racing
,
Mike Essa
,
Mike Kim
,
Naoki Kobayashi
,
Nexen Tire
,
Nitto
,
Ross Petty
,
RX7
,
RX8
,
Samuel Hubinette
,
Taka Aono
,
Tommy Roberts
---