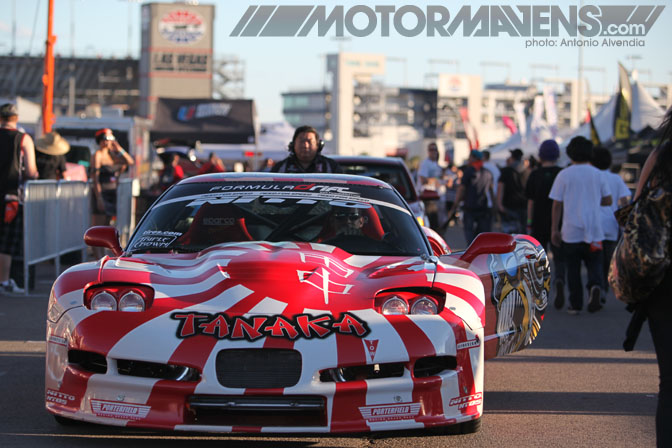 When it comes to Formula D Las Vegas, what can I say that hasn't been already mentioned? It was hot. Damn hot. Too hot to be outside without air conditioning. I don't understand how Las Vegas locals can handle the incredible heat over there, but they say they're just used to it now. Getting used to it is one thing… but I wonder if they like it though?
Just like the gypsy camps in the days of old, this year's Las Vegas round of Formula Drift brought thieves out of the woodwork. I was really surprised to find out that former Formula D judge (and current Tanaka Racing Corvette driver) Alex Pfeiffer's helmet was stolen. I suppose someone was a fan of Alex's Hawaiian print helmet, which had the traditional Hawaiian plumeria flowers painted on one side. The only question I have about that is… Okay, thieves. Now that you have Alex's helmet, what the hell are you going to do with it?
I wonder if the thieves will display Alex's helmet in their garage secretly, admiring the airbrushed artwork..? I hope they don't think it's a good idea to use the helmet, as the insides will be covered in damp stains from Alex's sweat, and most likely will smell like a mixture of tire smoke, cigarettes, and (let's be honest here) beer. Hey thieves, are you really going to wear that helmet? That's pretty gross, man. Wearing someone else's helmet is like wearing someone else's underwear or something… unless you actually like the idea of having someone else's sweat pressed all up on your face. Either way, I'm pretty disappointed that someone would actually steal a helmet that belongs to a Formula Drift competitor. It's the first time I've ever heard of that happening. Someone's parents did a lousy job of raising them. Oh, brother.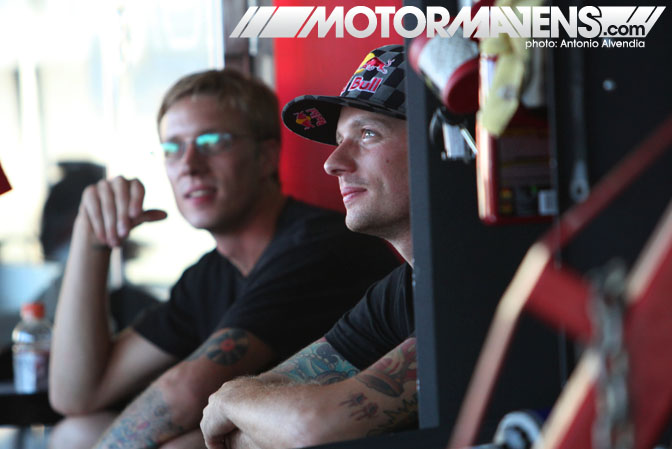 Speaking of brothers, there seems to be some innate drifting skill happening in the Tuerck family from New Hampshire. The brothers Tuerck are both pretty naturally talented when it comes to sports, and drifting is certainly no exception. It's great to see how far Ryan Tuerck has come in so little time.
I remember when Ryan was competing in the Drift Showoff series as a grassroots driver back in 2005. Organized by Ken Miyoshi of Import Showoff/Nisei Showoff fame, Drift Showoff was a nationwide tour that invited grassroots drifters to compete against each other at the various stops of the tour. The very first time I had ever seen (or heard of) Ryan Tuerck was in 2005. At the time, I was traveling with Drift Showoff as the official voice of the Drift Showoff series; we had an event at FedEx Field in Baltimore Maryland where Ryan Tuerck was driving his personally owned RPS13 240SX… which, as current team owner/manager Gary Gardella puts it, "had all sorts of parts falling off of it."
Fast forward just five years later, and Ryan Tuerck is now a recognized name in the Formula D Top 16. He no longer drives an RPS13 240SX in competition; he drives a high horsepower Pontiac Solstice now, which just debuted its new GM V8 LS series engine at FD Las Vegas. (Prior to that, Tuerck's car was powered by the turbocharged 4 cylinder GM Ecotec motor that Gary enjoyed so much success with as a drag racer.) Ryan Tuerck and his drifting efforts are now backed by Gardella Racing, who enjoyed success as the most heavily sponsored team in the NHRA Sport Compact drag racing series.
Back before I had ever met Gary Gardella personally, I remember hearing people talk about him at the NHRA Sport Compact events. Back then, people told me that in the sport compact drag racing scene, he was the man to beat. He apparently had most of the top sponsorships on lockdown, and ran one of the most successful racing programs in the world of sport compact drag racing, with companies like General Motors and Mobil 1 backing him. I can't wait to see what type of results Gary and Ryan can pull now that there's a more torquey engine in their car. We'll have to see at Sonoma!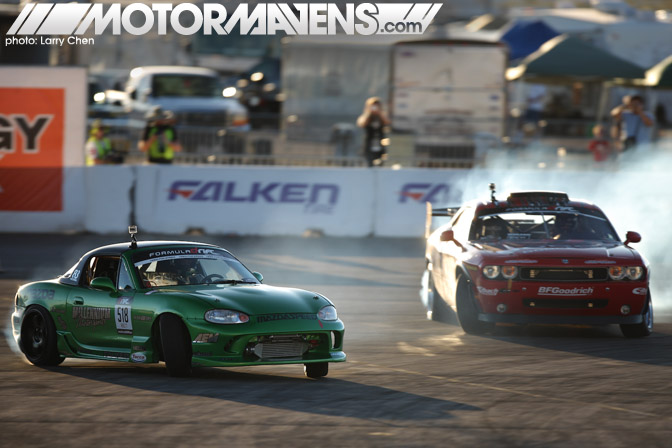 Okay, one really interesting tandem bout that happened in Las Vegas was the Top 32 Tsuisou fight between grassroots NB Mazda Miata driver Jeff Abbott and Dodge frontman Samuel Hubinette. Talk about intimidation, right?! Ever since Formula Drift started in 2004, Samuel has been pretty much on top, winning series championships and standing atop the podium on more occasions than I can count.
Jeff Abbott, on the other hand, is a grassroots driver and a rookie in the Formula D series. I first saw his car enter the series at Formula D Long Beach, and to be honest, I don't remember seeing his Miata at any of the other events this year. Jeff probably didn't have enough monetary support to travel to all the rounds, but he certainly is coming up!
At Las Vegas, Jeff qualified as Number 32 – the very last qualifier to make it into the tandem battles on Saturday. This means that he had to go up against the top qualifier – Samuel Hubinette. I could only imagine what would be going through my head if I was strapped into the cockpit of a small green Miata at the starting line, with a menacing Dodge Challenger poised for battle right beside me, engine rumbling and revving with an "I'm going to eat you alive" tone. Shoot… wouldn't you be intimidated? If I had Hubinette chasing me all over the track, I know I'd be praying to God.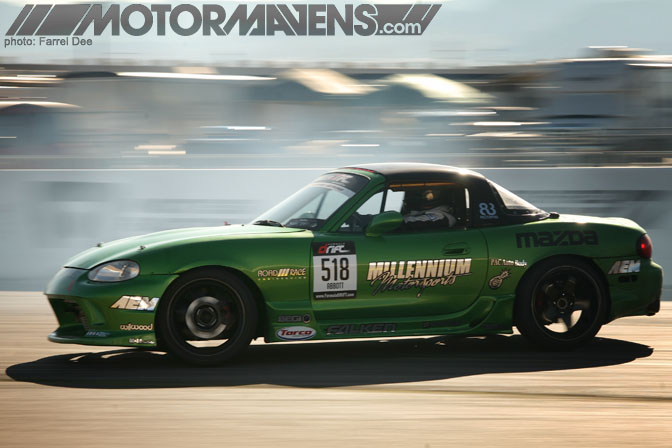 Here's a closer look at Jeff's Miata, so that the people who sponsor him can get some return on their investment, and so that Jeff's car can get a little more love from its supporters – Factory 83, Millenium Motorsports, Road Race Engineering, Falken, AEM, Wilwood, Torco, and PAC Auto Body. MotorMavens Crew believes in supporting the grassroots drivers, because our crew is very grassroots ourselves. We're the spitting image of the term baller on a budget… so we're definitely down to support those who really need uplifting.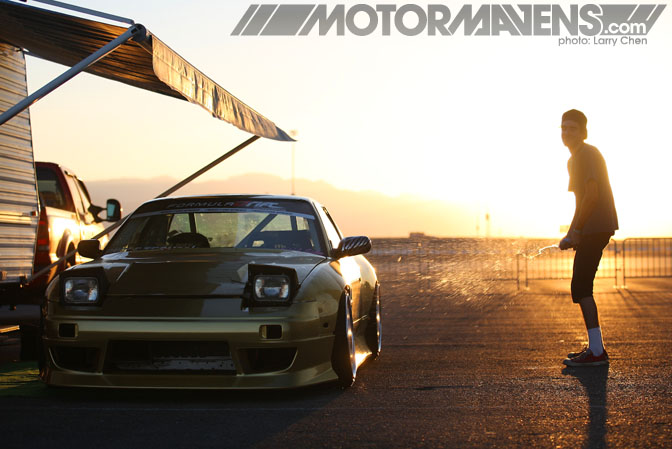 Wait. Is that All Star Bash driver Tommy Roberts urinating on his own car?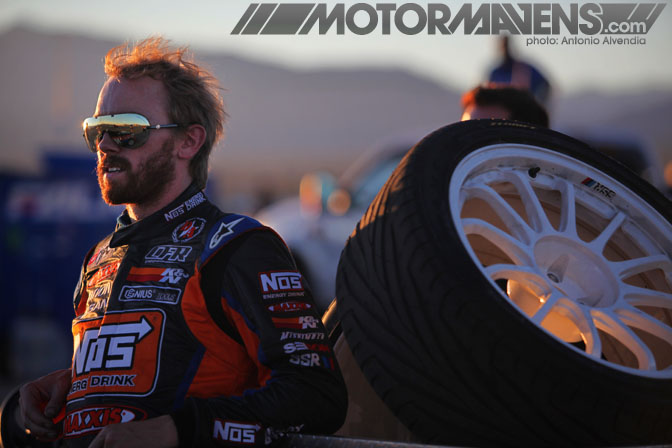 As I look at this photo, I can hear Harold Faltermeyer's theme music from Top Gun in my head. Remember the song from that scene in the beginning of the movie, where the sun is coming up and the F14 Tomcats are being elevated onto the flight deck of the aircraft carrier? This sure looks like it fits the whole "Highway to the Danger Zone" theme.
The tandem battle between Conrad Grunewald and Pat Mordaunt certainly had more than a few people scratching their heads with a "WTF, are you serious?" look on their faces. When Conrad's Chevy Camaro squared off against Pat Z33 350Z, Conrad took the lead on the first run. However, he must have gotten a bit too aggressive on his Camaro's steering angle, because he spun out while Pat was chasing him! I'm sure that Conrad must have yelled quite a few choice words in exclamation when this happened, because on the next run, Pat would be leading. All Pat had to do at this point was complete the entire run without spinning out, and he would have been awarded the win… but he didn't. He went off course, and the judges declared a One More Time run as everyone in the audience reacted like… Serious?! *facepalm*
Honestly, something like this is easier said than done. Hell, I've never driven in Formula D competition, so I don't know what kind of nerves or feelings Pat might have been experiencing. Things are certainly easier when people are talking from the other side of the steering wheel. Needless to say, though… I think everyone was pretty shocked. Better luck next time, Patty Cakes.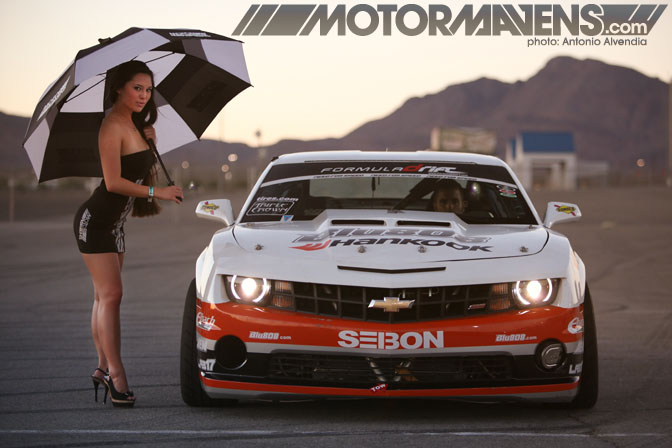 One theory might be that the pre-grid presence of our Las Vegas MotorMavenette (her name is Michelle) might have given Conrad Grunewald's Camaro a little bit of good luck. Check out those curves!
Here's a closer look at Michelle (since I know you'd be asking for it), rocking the MotorMavens umbrella as the sun goes down. Since we're on the topic of umbrella girls, here's a bonus photo of the Falken girls also! On the left is the Las Vegas local Megan Renae, and on the right is a Falken blast from the past… I know quite a few guys who are still shook on Melanie Tillbrook.
One of the top drivers in the Falken camp is undoubtedly Daijiro Yoshihara. Check out the camber differences in the wheels as Dai chases down Taka Aono's AE86. Dai's S13 is actually set up sort of like an AE86 would be! Very cool!
Props to new MotorMavens contributor Farrel Dee for capturing this dope photo of Dai and Taka in tandem! I like how Taka's AE86 and the background are completely blurred while Dai's S13 is completely in focus, with the front wheels countersteered and spinning, while the rear wheel is locked up, tire spewing smoke from the fast e-brake entry! Great job, Farrel! (Oh… and umm… good job Dai!)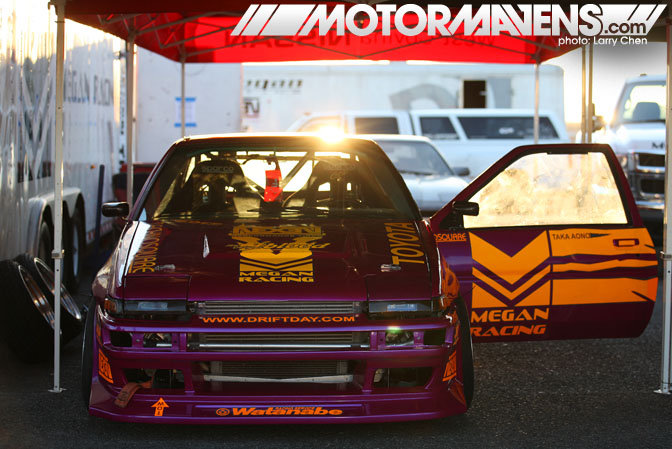 This AE86 is such an inspiring car, piloted by an inspiring driver. Taka Aono broke his leg last month. Literally, his bone was pretty much chopped in half when he crashed at Formula D Seattle. In case you didn't hear the whole story, his AE86 hit the wall, and the front left wheel (and suspension) was pushed into the cockpit, pinning Taka's leg in the pedal area and breaking his tibia. PAIN!!!
Most people would say, "F that (Forget that), I'm not going to Formula D Las Vegas. I'm gonna chill out right here and let my leg recuperate and get healthy again before I do any driving."
Well, Taka Aono doesn't think that way. He is so dedicated to the Formula Drift Series that he actually had some metal braces installed in his leg while his car was getting fixed at the body shop. Taka has never missed a Formula D event EVER. He was not about to let even something major (like a broken bone in his leg) stop him from drifting at Formula D Las Vegas. Taka is just crazy. That is some insane dedication though! Formula D better give him some sort of award or something at the year-end banquet. I don't know anyone who's down like that! Only Taka…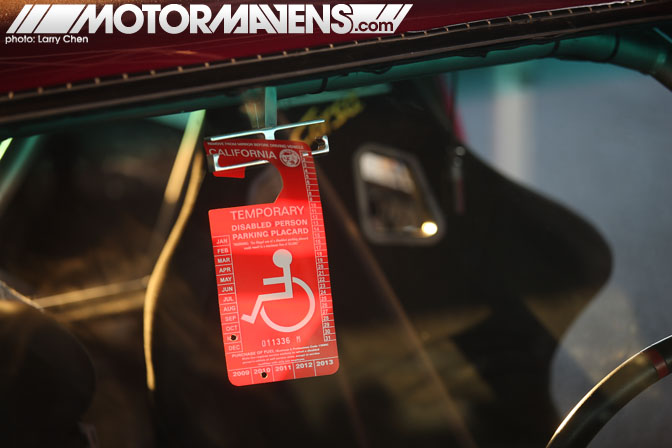 Here's something pretty crazy… Taka's AE86 was parked in the paddock with a disabled person parking placard.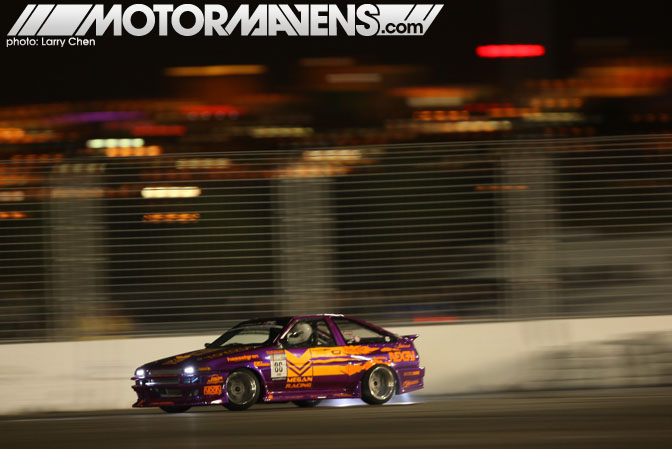 Honestly, I don't know how he did it… but Taka turned a disability into drift-ability, because he was driving just fine at Formula D, with the lights of Las Vegas blurred in the background! Taka is just amazing. Seriously!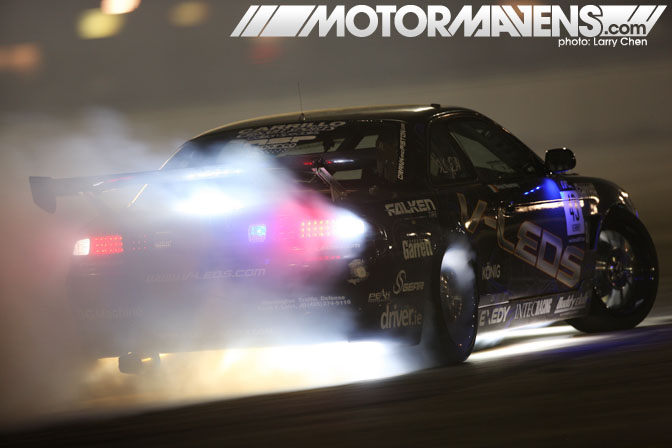 Here's a pretty sick shot from star sniper Larry Chen. This here is the V-Leds S14, illuminated like crazy with LEDs everywhere! Lawrence and the Intec Racing crew certainly did a great job putting LEDs all over the place in this car! Hmmm… it kind of makes me want to try out LEDs in my own car, especially if they're gonna be crazy bright like this!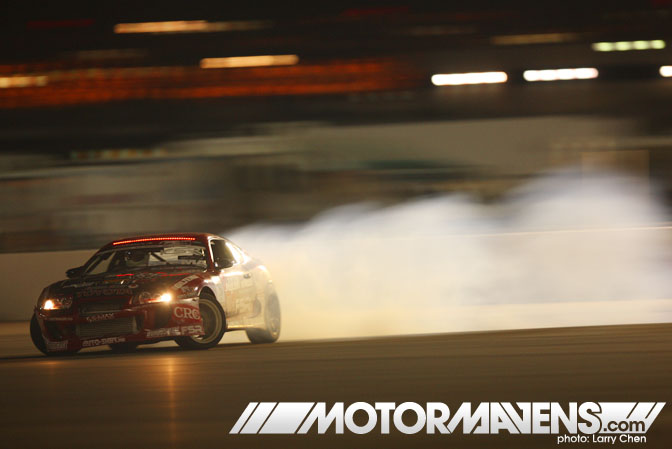 When you look up killing it on dictionary.com, you see a photo of Fredric Aasbo and his JZA80 Supra. High revving, full throttle, big smoke, and great angle…? What's not to love about his driving style?!
Our boy HerbrockOne got a chance to party in Vegas a little with Fredric's crew. I couldn't hang with them, so I had to go back up to my room. However, I did think it was funny when we were talking to Fredric's sister Camilla… she called his car a Nissan Supra on accident when she was talking. Hehe! (I didn't say anything, but I did notice! LOL)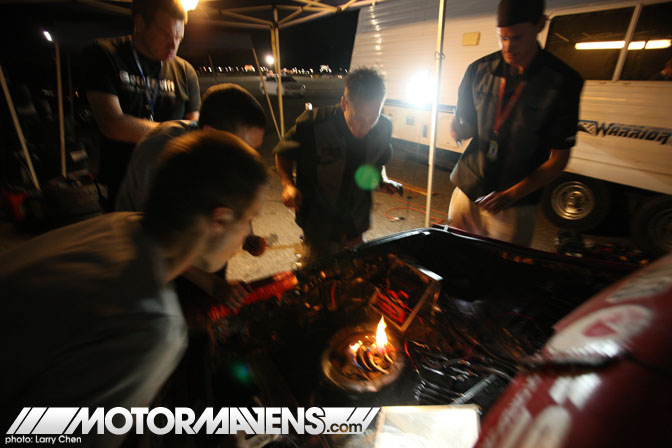 Here's something crazy for you guys to notice. This is Fredric Aasbo's fuel pump catching on fire! What!!! The crazy thing is, Larry Chen said that when it caught on fire, Aasbo's whole crew leaned in to put the fire out right away! Crazy guys! Please use a halon fire extinguisher next time! (Crazy… I know they just reacted to the moment, but for real… these guys could have been seriously injured. I actually have a friend who had his face completely burned by an automotive fire. You don't want that to happen to you.)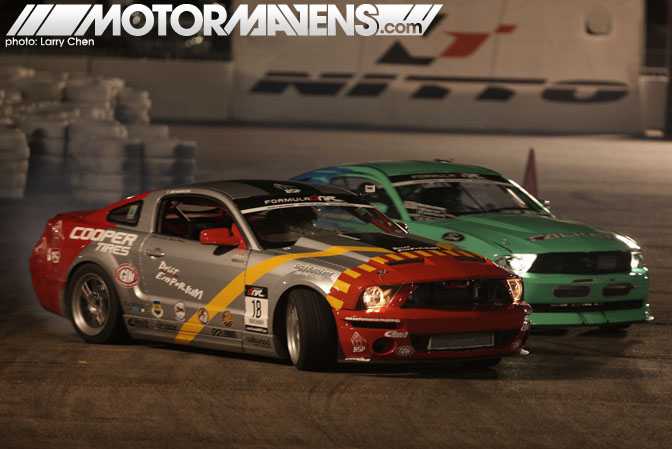 Speaking of on fire, Tony Brakohiapa is really on fire right now. I'm so proud of this guy! Tuskegee Tony B has been focusing and pulling in results! It's been a long time coming, too. Tony has been campaigning this same Ford Mustang since 2005 or 2006, but back then it had Saleen Mustang body cladding and it had the Team X livery, with Ralph Lauren model Tyson Beckford on the team. (I remember back in the day, seeing pics of Tyson with Tyra Banks in the hip hop magazine The Source. I'm talking way back, when Biggie wore the red and black lumberjack… with the hat to match. haha – serious though, the photo shoot that Notorious BIG talked about in the song actually was in the same issue)
Back to Tony B though, I really gotta congratulate him on his TOP 4 finish! That's an amazing feat! Tony's home track of Infineon Raceway is where Formula D's next round will be… let's go to Sonoma and see if Tony can close the deal and bring it home!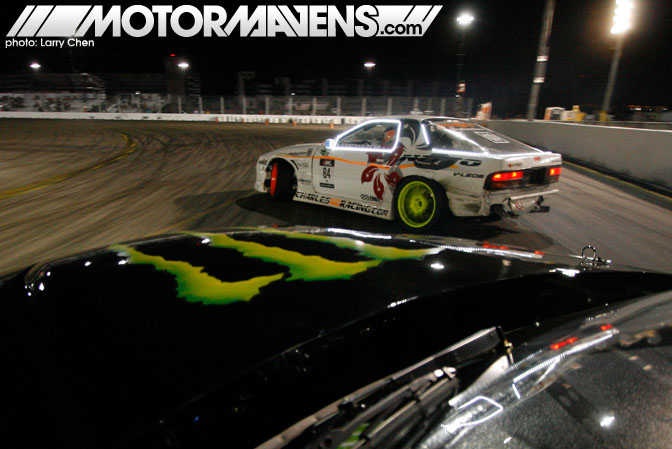 When it comes to closing deals, I think that there are hardly any people in the series that can compete with Vaughn Gittin Jr. JR has been getting stronger and stronger as a force in the Formula D series, with all sorts of sponsorship dough flowing in his direction! Ford, Falken, Need for Speed, DC Shoes, and now Monster Energy Drink?! People need to follow JR's lead when it comes to getting sponsorships.
However, for now, here's an amazing Larry Chen photo of JR following Charles Ng's lead into the track at Las Vegas Motor Speedway.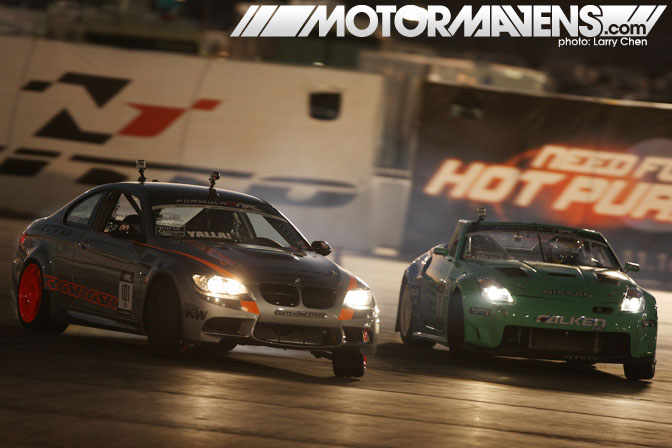 Let's shift gears for a moment and check out this capture of Mike Essa's GSR Autosports E92 BMW 3 series, leading Tyler McQuarrie's V8 powered 350Z roadster in the Vegas infield! Both of these drivers have amazing stories to tell from Las Vegas; I heard that Mike Essa was breaking in a newly built motor, because he actually blew his BMW M5 engine at the Hollywood Park Gymkhana event that happened in Los Angeles earlier in the month!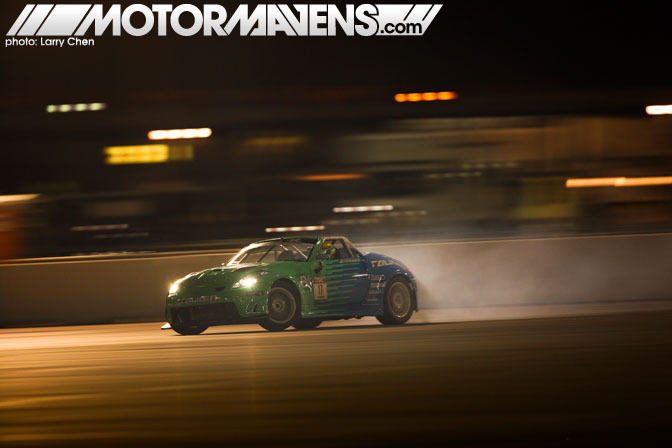 Perhaps the most amazing story to tell would be from Tyler McQuarrie's own mouth. Tyler has been on a road to success all year, but he was really really doing an amazing job at Formula D Las Vegas. This is a driver who is focused and ready to go at all times! He certainly has come a long way. Old school Formula D heads might remember when he was driving the Jasper Performance JZA80 Supra at Formula D Houston! If you don't know what I'm talking about, get a copy of the Drifting book.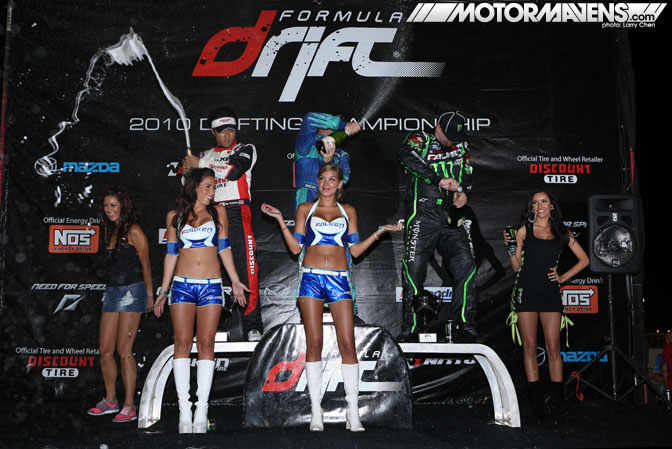 Aaaaaaaand the podium shot! Here's Tyler standing high above everyone else, blocking his own face as Dai shoots his off first, and JR is still trying to make it work. Hahaha… it looks like Dai is getting a bird's eye view of one of the Falken girls (damn, I keep forgetting her name, but I know she's a San Diego Chargers cheerleader).
On the left is Ms Formula D (the one that you guys like to call Miss Formula Deez) Melyssa Grace, although she isn't in her normal Formula D dress. I wonder if she forgot that she was supposed to be outfitted for the trophy ceremony?
I just noticed this right now… the Monster Energy girl on the right side is my good friend Mercedes Terrell, who now lives in Vegas! I didn't even know Mercedes was working at the event, because I didn't see her all day! I would have wanted to catch up with her! We used to book our flights and sit together all the time because we traveled together for the Drift Showoff series. Those were some fun times, especially at the Denver Airport when I kept pushing her to ask people how she could find the Mile High Club. LOL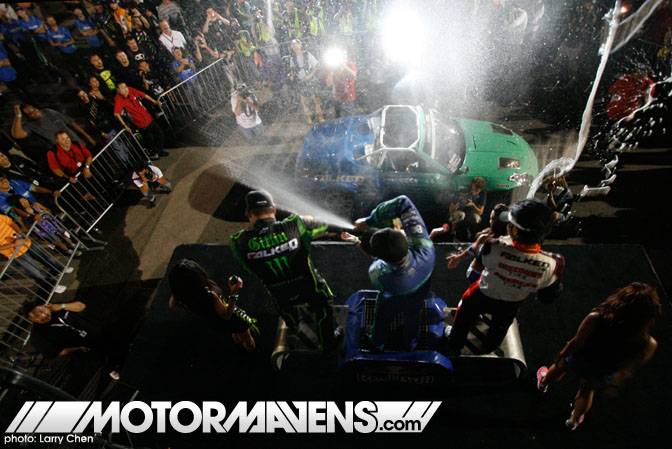 Formula D Las Vegas spelled a 1-2-3 victory for Team Falken… a pretty amazing feat! I was in an important business meeting during the time the podium ceremony was happening, so I didn't even get a chance to see the podium stuff myself. This being said, I'd like to take this opportunity to congratulate all the drivers AND TEAMS who made it to the top of the podium!
Hope you guys liked my random thoughts and ramblings from the event! Make sure to click through to the MotorMavens Forum for more photos from FD Las Vegas, and make sure to POST YOUR OWN PHOTOS from the event in the forum too!
:: Antonio Alvendia
350Z
,
AE86
,
Alex Pfeiffer
,
All Star Bash
,
Antonio Alvendia
,
ASD
,
Camaro
,
Charles Ng
,
Chris Forsberg
,
Conrad Grunewald
,
Daijiro Yoshihara
,
Dodge Challenger
,
Drift Showoff
,
drifting
,
Drifting Book
,
Falken
,
Farrel Dee
,
Ford Mustang
,
Formula D Houston
,
Formula D Long Beach
,
Fredric Aasbo
,
Gardella Racing
,
Gary Gardella
,
GSR Autosports
,
Gymkhana
,
Harold Faltermeyer
,
Hollywood Park
,
Infineon Raceway
,
Intec Racing
,
Jasper Performance
,
Jeff Abbott
,
JZA80
,
Ken Miyoshi
,
Larry Chen
,
Las Vegas Motor Speedway
,
Lawrence Ojas
,
Megan Renae
,
Melanie Tillbrook
,
Melyssa Grace
,
Mercedes Terrell
,
Miata
,
Mike Essa
,
NB
,
NHRA Sport Compact
,
Nisei Showoff
,
Pat Mordaunt
,
race queen
,
race queens
,
Ryan Tuerck
,
S13
,
Samuel Hubinette
,
Supra
,
Taka Aono
,
Tony Brakohiapa
,
Top Gun
,
Tyler McQuarrie
,
Tyra Banks
,
Tyson Beckford
,
umbrella girl
,
umbrella girls
,
Vaughn Gittin Jr
,
Z33
---