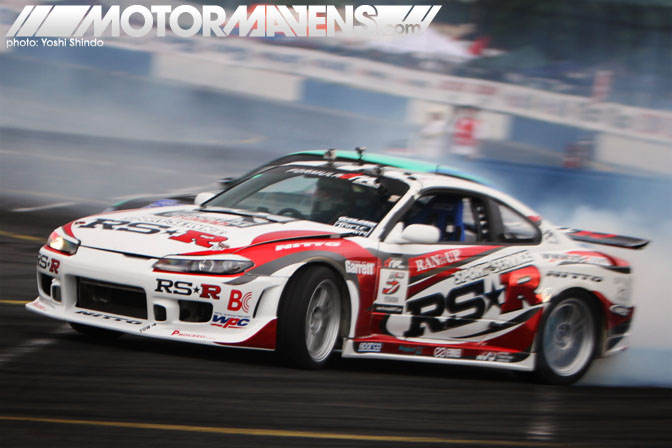 Formula Drift Round 5 at Evergreen Speedway has to be one of my favorite events all year (albeit, I'm biased as a Seattle local)! Not only is it my home town, but this race track has one of the biggest bankings in the series – and just like Irwindale Speedway, there's not much room for error. Everyone in the Northwest drifting community has witnessed a lot of crashes at Evergreen Speedway in Monroe WA throughout the years, and with something like 56 drivers registered for this event, we are sure to get one hell of a show this year!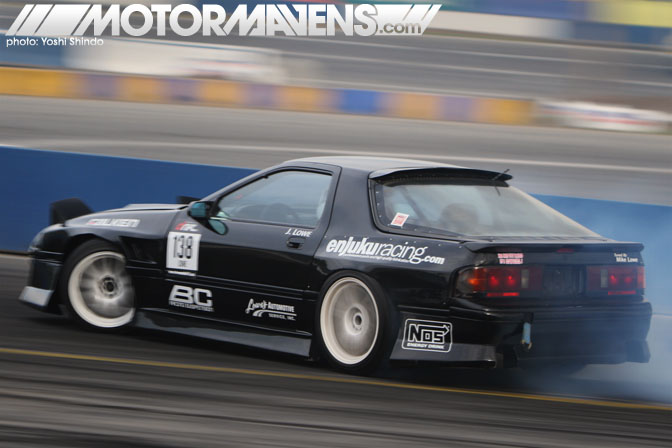 Jeremy Lowe was looking pretty consistent out there. Since he is still in his rookie year, I believe this is the first time he has driven Evergreen Speedway. I also like how his car is still low compared to the other cars in the FD series… and his vinyl consists of just his sponsors and nothing crazy looking. Nice!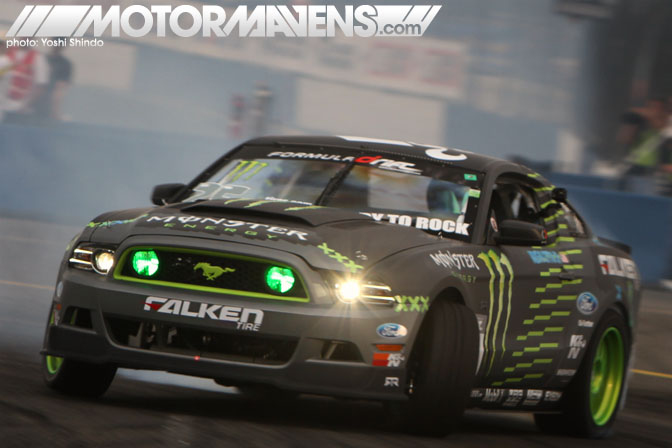 Vaughn Gittin Jr has some "Monster Green" XXX decals on his Ford Mustang fenders and hood. Either that triple equis sticker is meant to simulate the zipties that a lot of drifters use to hold their bumpers to their fenders, or he's starting up a porn site. Not sure which one it is, but he does have a ton of POV cameras around him all the time, and his windshield says he's "ready to rock." You figure that one out!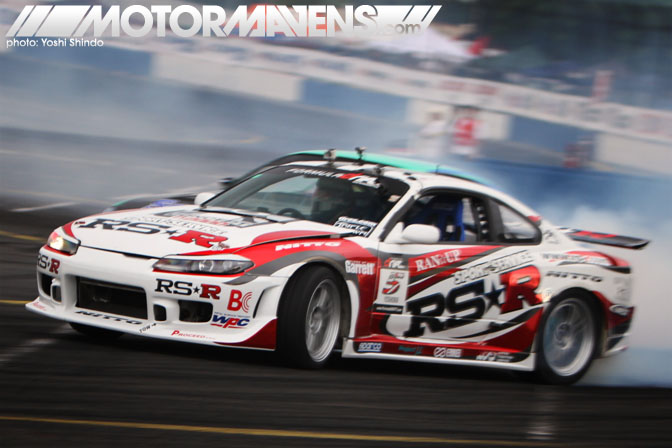 Here's legendary AE86 driver Toshiki Yoshioka piloting his RS*R Nissan S15 Silvia around the last turn. This S15 has to be one of my favorite cars in Formula D this year! I wonder if RS*R is going to put Yoshioka in a Scion FRS in the future? It would only make sense! He is the top AE86 driver on the planet, and RS*R does make FRS suspension parts already!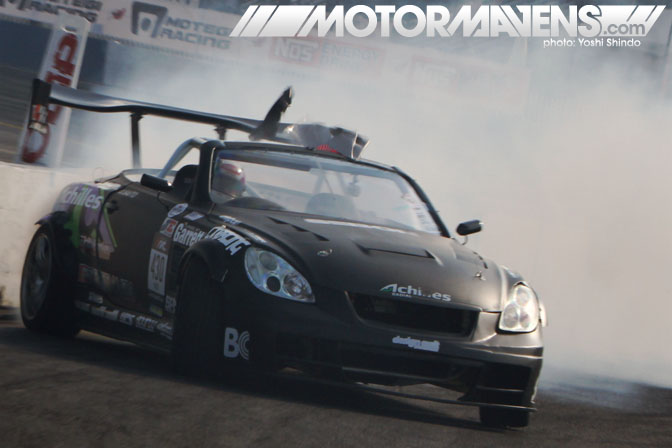 Daigo Saito seemed like he was having a few issues on track today with his Lexus SC430. He ended up hitting the wall and breaking some suspension arms! He also broke off his crazy big wing too. If you notice, I think his Formula D windshield banner is flying off. What's going on here?! Maybe the insane horsepower from his "detuned" 1200hp engine is making the rest of the car fall apart!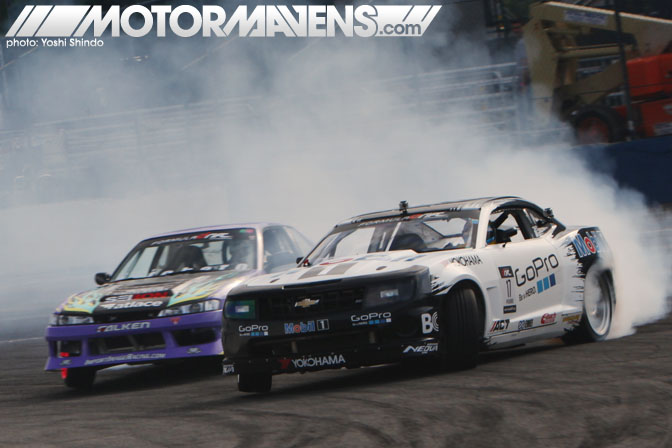 Last year's top qualifier Tyler McQuarrie was laying down big smoke in the Go Pro Chevrolet Camaro, leading hometown hero Walker Wilkerson in his S13.4. Both guys are looking strong today! Can't wait to see them both in the big show!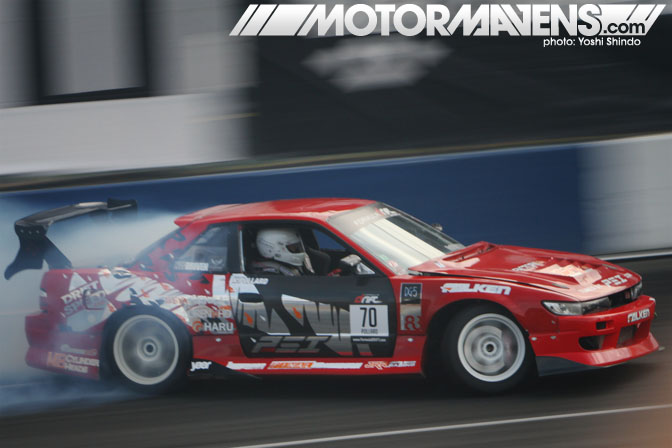 Kyle Pollard had quite a few car issues in the past, but it seems like the Portland Speed Industries crew finally worked out all the bugs on his S13! He's been tearing apart the track all day.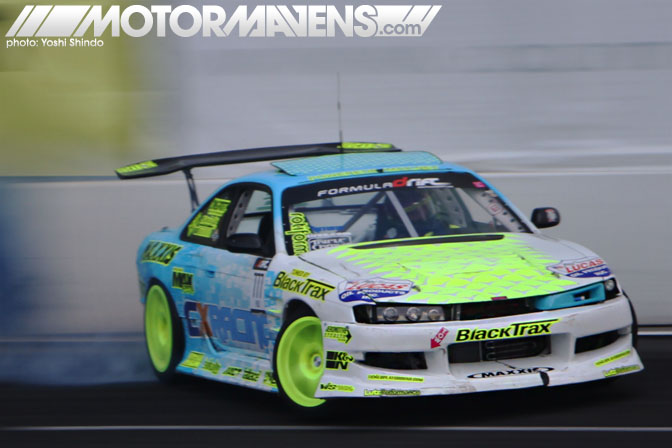 Matt Field was also looking very strong today as well! It's crazy how he was able to rebuild his motor at Garage Autohero so quickly – only a couple days before today's practice! This was the same engine that blew up at Formula D Round 4 in New Jersey. He also ended up breaking his S14's ring & pinion… I ended up just giving my stock S14 ring & pinion to him, since my own S14 still isn't complete yet! *cough*cough*ahem*Ray*ahem*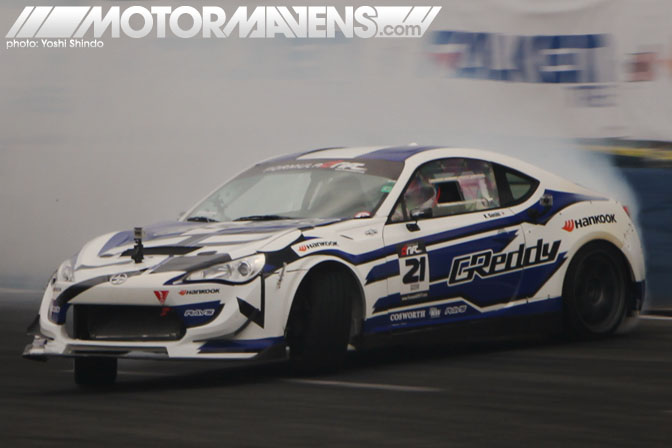 Ken Gushi was killing it today in his GReddy Scion FRS! I think he was the best one out there! Hopefully he can keep it up for qualifying. Good luck, Ken!
I'll sign off with this shot of Conrad Grunewald's Camaro leading Matt Field's S14 at end of the big 5/8ths bank. If you look closely, his front trailing tire is off the ground!!! If you've seen any footage closely,  you can see that Evergreen Speedway is actually VERY BUMPY. There's also a decent size dip coming off the bank as well… this track is harder than it looks!
Stay tuned to @MOTORMAVENS on Instagram and Twitter for more coverage throughout the weekend!
::Yoshi Shindo
Camaro
,
chevrolet
,
Conrad Grunewald
,
Daigo Saito
,
Evergreen Speedway
,
FC3S
,
Formula D
,
Formula D Seattle
,
Formula Drift
,
FRS
,
Garage Autohero
,
GReddy
,
Jeremy Lowe
,
Ken Gushi
,
Kyle Pollard
,
Lexus
,
Matt Field
,
Mazda
,
Monroe
,
Mustang
,
Nissan
,
Portland Speed Industries
,
RX7
,
S13.4
,
S14
,
S15
,
SC430
,
Scion
,
Scion FRS
,
Seattle
,
Silvia
,
toshiki yoshioka
,
Tyler McQuarrie
,
Vaughn Gittin Jr
,
Walker Wilkerson
,
Yoshi Shindo
---