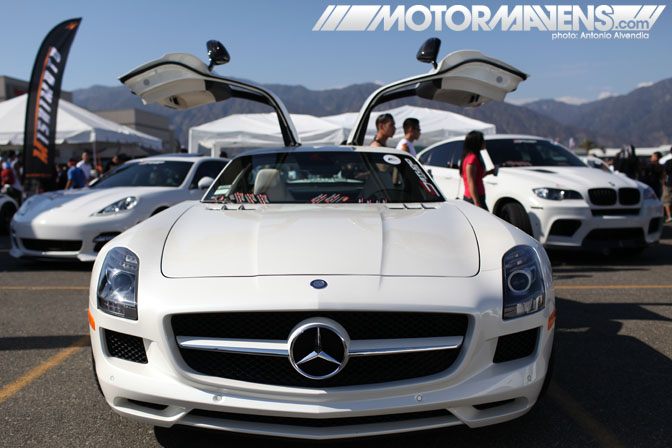 This weekend's Autocon event at Santa Anita Racetrack was hot. Super hot. There were lots of other car events happening in other parts of the west coast, but it seemed as if most people naturally just flocked to Autocon, because it's a new event series that's gaining some good momentum. It was initially started as a smaller car gathering in Southern Cali's City of Industry, but it has seen quite a bit of growth recently. I even saw some of the core team from the old Hot Import Nights (the crew that was behind HIN when it was strongest) and Global Time Attack behind the scenes this weekend.
I've been traveling out of state for the past few weeks, but I decided to fly back to Los Angeles for this weekend's event – it was the perfect chance to enjoy summertime in Southern Cali, spend time with good friends, and finally check out Autocon in person. I was unable to attend the previous Autocon events because of scheduling conflicts, but this weekend, I was finally able to attend and observe this growing event in person!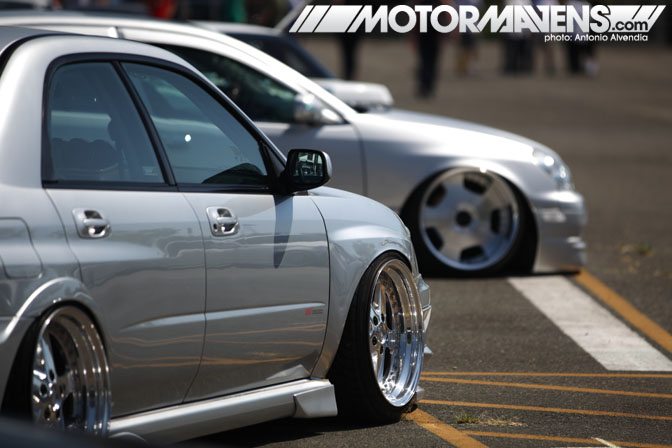 While most of the big automotive vendors were up in Seattle for Formula Drift this weekend, most of the cool cars in the Southern Cali scene were present at Autocon. To be honest, there were a few random cars scattered throughout the show that made me raise an eyebrow and shake my head, but there were plenty of fresh, well done cars like this slammed Subaru Impreza WRX STi on Work Equip wheels and this Lexus JZS161 GS in attendance. I love how these cars sit – so aggressive!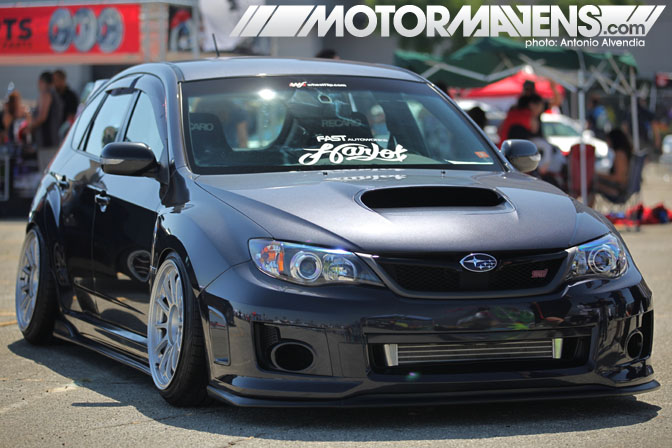 Speaking of Imprezas, it's always a pleasure to see this particular WRX STi from local wheel-loving group Harlot. It's so clean and so well done!
This is probably the first time I've seen a Scion FRS on BBS wheels – how about you? Finding good wheels in 5×100 has been a challenge in recent years, but I imagine it's about to get a lot easier in a minute, because of the popularity of the new FRS.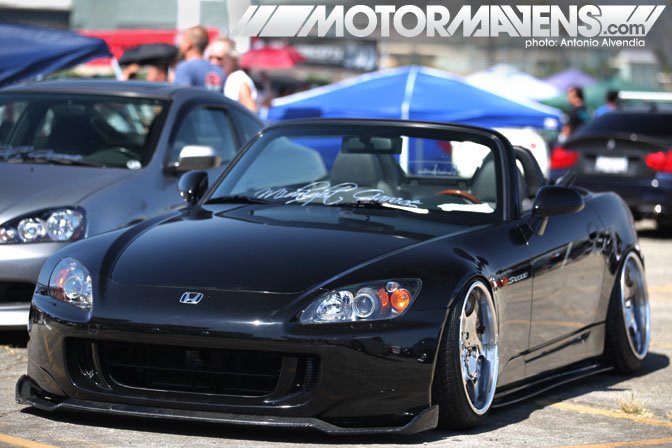 I really love the Honda S2000, even in stock format. However, look at THIS black S2K, with its incredibly low stance! I was walking around the show with my friend Stephanie, and she tried to test how low the car was by carefully trying to fit her foot underneath the front lip of this S2K, but she couldn't even do it. This S2000 was THAT low. Crazy!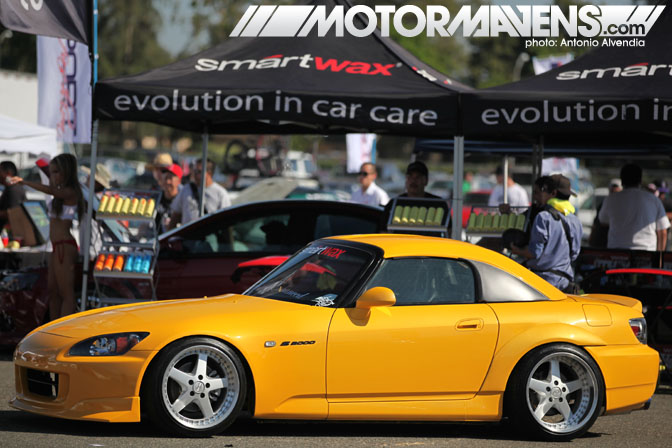 This yellow S2000 also caught my eye. I just love the hardtop, rear lip wing, and of course, the Work Equip wheels. Those Work Equips are some of my favorite 5×114.3 wheels ever made.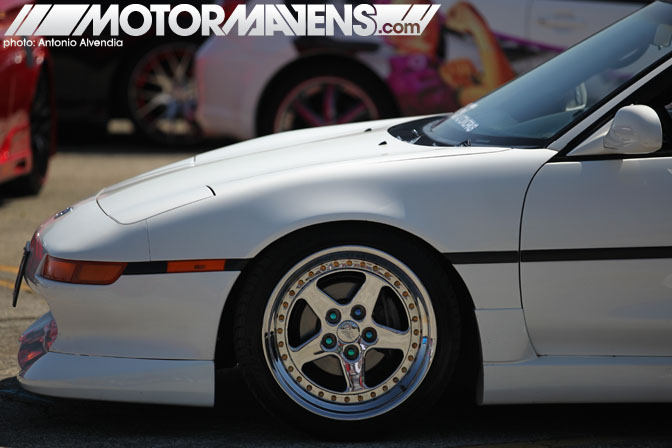 It's really becoming more and more rare to see clean SW20s on the street these days, so it was great to see this clean, stock bodied S-dub at the show. Very nice.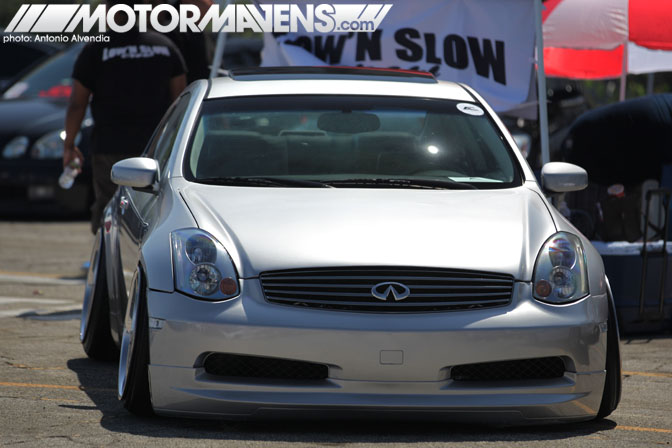 Our friends from the Low N Slow crew are always scraping their cars around the San Fernando Valley. These guys are out at pretty much every single show and meet I go to… and when they're not at carshows and meets, you can typically find them at either Bob's Big Boy or a certain gentleman's club named Deja Vu. haha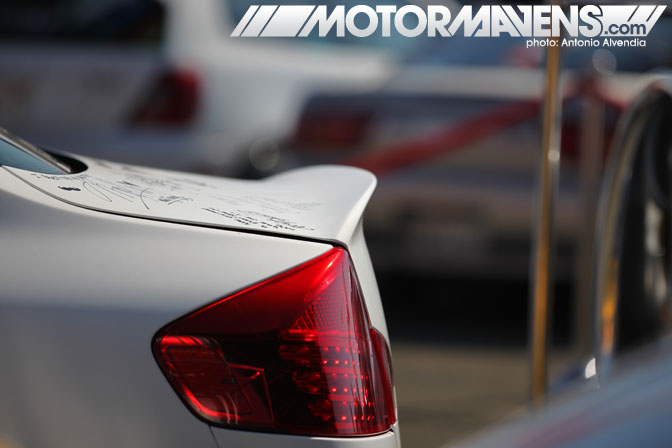 I noticed this G35 sedan near the SSR Wheels booth – I thought the rear trunk lid looked pretty interesting! Although the (fiberglass?) trunk doesn't look like it has a perfect OEM fit, the addition of the upswept duckbill on the trunk lid looked really cool in my opinion. It reminds me of the Turner Motorsport rear trunk used on E46 M3 race cars.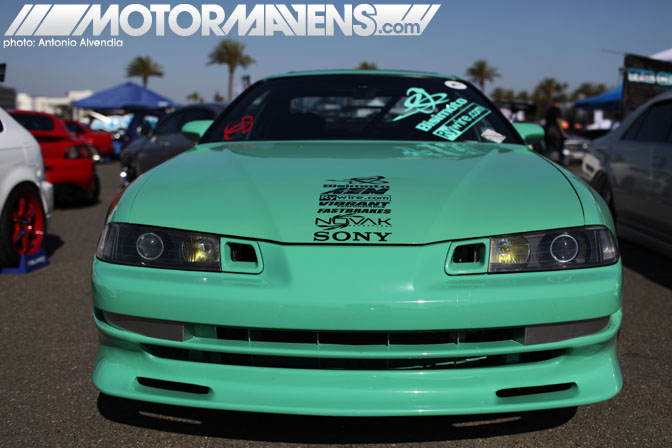 EVERYONE knows this car. Big Mike's Prelude is certainly the bizness! Big Mike has one of the cleanest engine bays around!!! Guys drop their jaws and spend hours looking deep into the mint green engine bay, while Big Mike smiles, looking deep into the eyes of their girlfriends. It's a perfect strategy that always ends favorably for Big Mike.
Hey man, don't hate the player. While you were busy paying attention to the details on Big Mike's Prelude, Big Mike was paying attention to your girl – and she had a big smile on her face the entire time. I bet they're already friends on Facebook and Instagram, too. Haha! 😉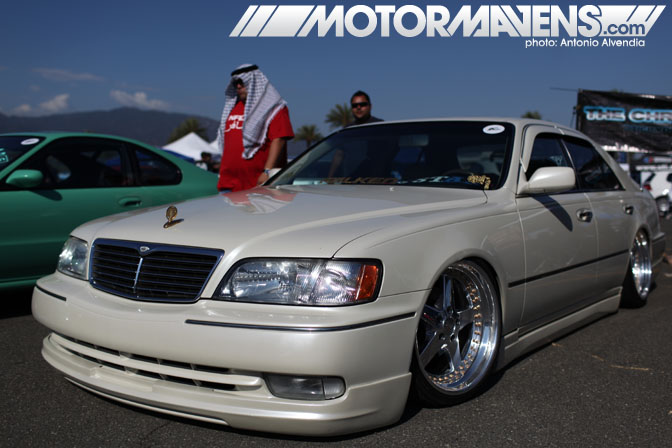 Cleeeeean. Lowwwww. I guess even big guys from Dubai were examining cars at Autocon.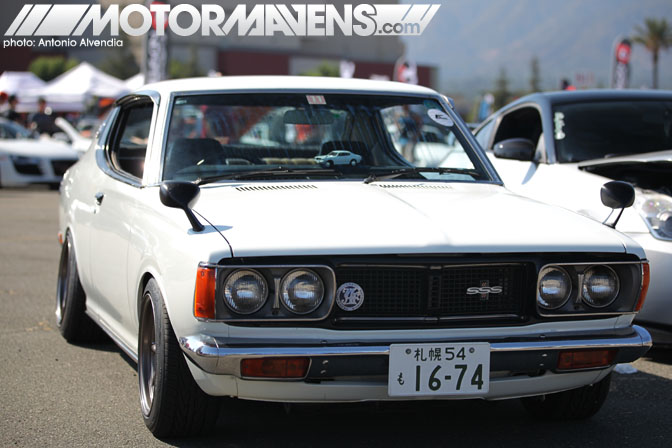 This Nissan Bluebird SSS was definitely one of my favorite cars at the show. It's not the type of old school car that you'd normally see at an event like Autocon. It's more the type of car you'd see basking in the sun at JCCS. We'll show you more of this car in a future story on MotorMavens.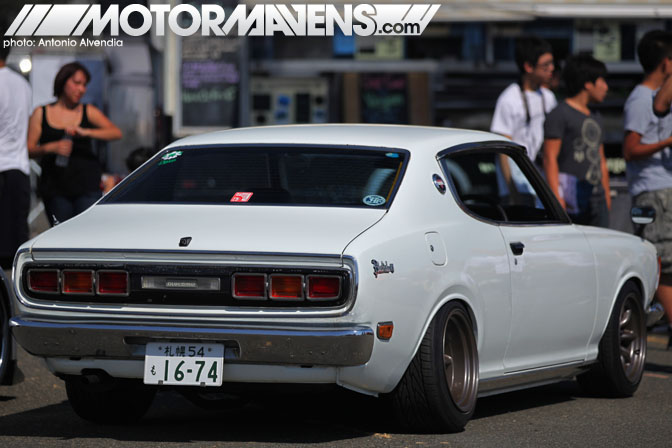 The rear end of this Bluebird looks so tough with those RS Watanabes! Damn, I love RS Watanabe wheels like no other. Stay tuned to MotorMavens for more on this car!
This RPS13 was super clean. I love clean, streetable, classy S13s like this. See, there's no need to hang stuffed animals on your towhook, and your wheels don't need to be neon colors to attract attention. Many times, simpler is better. Much better.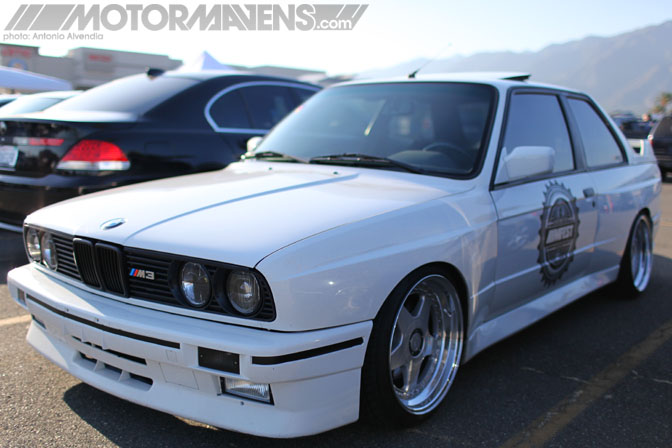 Just as I was leaving Autocon with my good friends from State of Stance from Miami, I spotted this super clean E30 M3 in the parking lot, sitting on OZ 3piece wheels, with a big MFest logo on the door. It wasn't even in the carshow, but I love this car! So clean!
For A LOT more photos from Autocon, make sure to follow @MOTORMAVENS on Instagram and Tumblr. We post a lot of content in our social streams that don't even make it to the website!
:: Antonio Alvendia
Antonio Alvendia
,
Autocon
,
BBS
,
Big Mike
,
Bisimoto
,
bluebird
,
E30
,
FR-S
,
FRS
,
homepage
,
Honda
,
Low n' Slow
,
M3
,
Mercedes
,
MR2
,
Nissan
,
OZ Wheels
,
Prelude
,
RPS13
,
RS Watanabe
,
S2000
,
Santa Anita Racetrack
,
Scion
,
slammed
,
SLS AMG
,
SSR Wheels
,
stance
,
STi
,
Subaru
,
SW20
,
Work Equip
,
work wheels
,
WRX
---