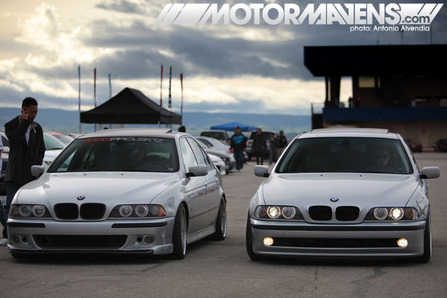 I know you've been waiting for it, so here's the second installment in our HellaFlush 3.5 event coverage from Buttonwillow Raceway. I'm not sure that there have ever been this many cars with aggressive fitment and stance at the Lerdo Highway exit off the California Interstate 5 highway.
Honestly, I gotta give props to all the Northern California people who came down to this event. Not only does it show that Northern Cali folks are super down and committed, but it was also great to see a lot of cars come out of the woodwork that we normally don't see on blogs and websites. I'd love to expand the MotorMavens reach from doing mostly Southern California events all the time, but it really is kind of difficult as we're doing this as privateers, and we don't have a big corporate budget of several hundred thousand dollars to spend each year like some of the other blogs out there. However, we're resourceful, so we will keep trying to break boundaries, and keep doing our best with the Macaroni-and-Cheese/Cup-o-Noodle budget that we currently have. Hope you like the photos!
I've been digging BMWs a lot lately (maybe it's time for me to dig out some of the BMW photos I have in my archives?), so I was really happy to see these two E39 5 series Bimmers side by side. Notice the subtle differences in the cars. Obviously you can see that the one on the left side has an aftermarket bumper, while the one on the right retains an OEM kouki bumper. The 5 on the left also has aggressive black kidney grills, whereas the one on the right has chrome surrounds. Notice the headlights too. On the left side, the projector headlights have clear turn signal indicators with an orange reflector next to it, whereas the Bimmer on the right has an opposite setup. The European Hella headlight assembly on the right has an orange turn signal lamp and a clear reflector next to it.
I never realized there were so many subtle differences in headlights until I stared at these two cars next to each other. The car on the right side belongs to none other than PavelK, the previously featured troublemaker who was recently banned from the Bimmerforums for his aggressive stance and aggressive opinions. LOL More on the troublemaker and his car later…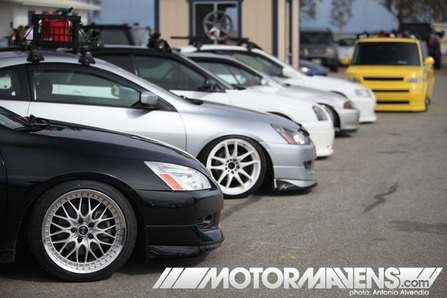 One of the things that continually amazes me at these types of meets is the amount of aggressive offset Hondas that are coming out of the woodwork. I'm not just talking about Civics and Integras… look at these Honda Accords! Man, I never really thought to even look at Honda Accords… but these ones that have been coming out sure do look legit as hell. Respect! Maybe we should take a closer look at some Accords in the future. Big FF cars aren't normally my thing, but I dunno, maybe a change of pace to showcase the new trend?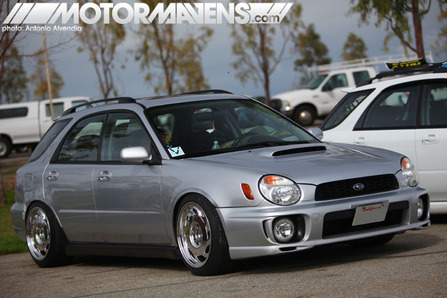 This super clean bugeye Impreza wagon definitely stood out; not just because of its aggressive wheels, but also because the car's rocking sawblade wheels from a Corvette! Some people may or may not like wheels with a directional-spoke design, but some people have been turning to these wheels because they're available for relatively cheap from junkyards. If I'm correct, I think these 5×114.3 wheels come in 17×9.5J size, but I'm not sure about the offset.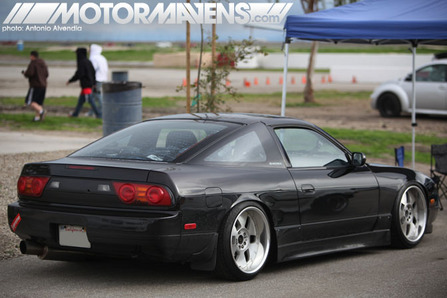 This black RPS13 looked simple, but super dope. I love the way black RPS13s look when they're clean; especially when they're rocking a good looking exhaust, kouki tails, and fresh kicks like this one.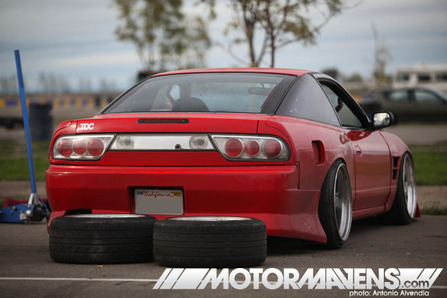 This red RPS13 widebody from Northern Cali also looked dope, but the style is completely different from the first. The wheels are more aggressive, and so is the aero kit. I remember speaking to the owner, who told me that the sideskirt on the right side caught on something while the car was driving down to Buttonwillow, and just fell off on the freeway! That's funny, even though it does kinda suck to lose a sideskirt! The car looks dope nonetheless.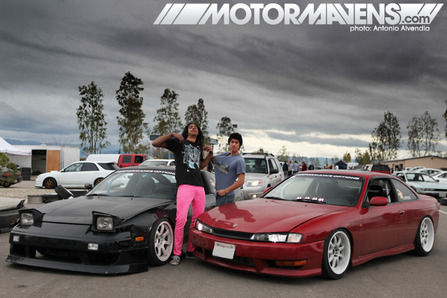 Walking around the pits further, I met this crazy crew from the South Bay Area/San Jose. It was cool to see San Jose stepping its car game up, but these kids didn't come all the way out just to shine up their cars and stand next to them with a bboy stance –  they came to drive. I spoke to them very briefly, but they seemed super cool, and I'd definitely like to kick it with these guys next time I chill up in San Jose. It sucks that my family sold our old house in San Jose; I don't get to go back up there anymore and chill as often as I'd like to!
These guys had a group of S13s and S14s, and they told me the name of their crew was Wolf Reign. When they first said the name of their crew, I was like… "what? Wolf Brain? Wait… Wolf Rain? I don't get it… OH! Wolf REIGN with an IGN!" haha Super random.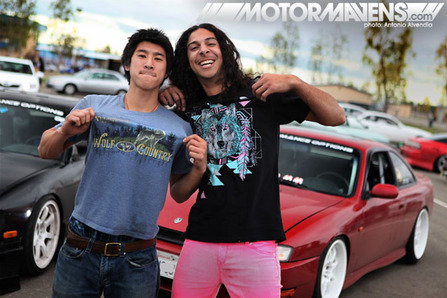 The funniest thing is, they were all wearing these completely random old school wolf shirts!!! LOLLLLLLLLLLLL I'm still laughing my ass off about it. It was even funnier that they took time to match their outfits to those random wolf shirts, haha!
This here is Aaron Wong (left… obviously) and Darius Ghassemian from Wolf Reign. It sucks that the other members of the crew, Jeff Wolfson, Xander Newell and Miles Kwan weren't around when I was taking this photo. The guys say they've been good friends for quite a while, but they only decided to organize themselves into a team at the end of 2009.
When I asked Darius how the hell they came up with a random ass name like Wolf Reign, he said, "well, like… we've always been into wolves (LOL WTF?!?), but we didn't want to call it The Wolfpack, or something corny like that." (HAHAHAHAHAHA!!!) Darius says they've been drifting since 2005/2006/2007 timeframe, and the others have been drifting for a lot longer than he has. Keep up with these guys and their crazy antics on the Wolf Reign Blog.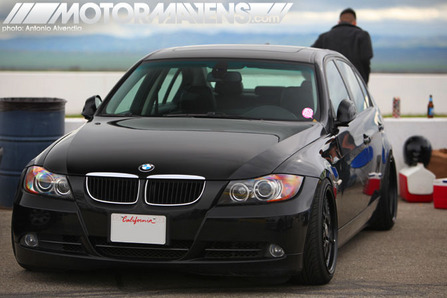 Man it's not often that I personally see newer Bimmers done up with proper fitting wheels, so it was great to see this one. Such a nice contrast to the endless sea of DUB-style BMWs that plague Southern California streets. Sigh.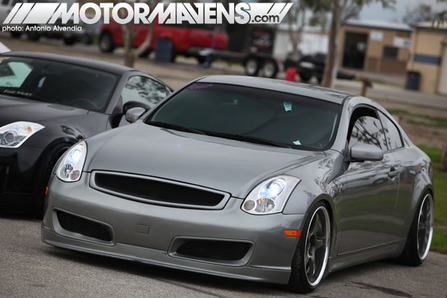 Another car that I often see done up wrong is the Infiniti G35. There are soooo many wack ones driving around, it just makes me roll my eyes. However this particular G came equipped with some nice fitting wheels and an aero kit that I'm unfamiliar with. Does anyone know what kind of aero it is?
I didn't really want to go up there and knock on the window to ask questions about the car, since it appeared like the driver and his girl were putting up a sunshade in the window… but it wasn't a sunny day, and I didn't really see them get out of the car. KnowhatI'msayin? Hell yeah homie, handle that! LOL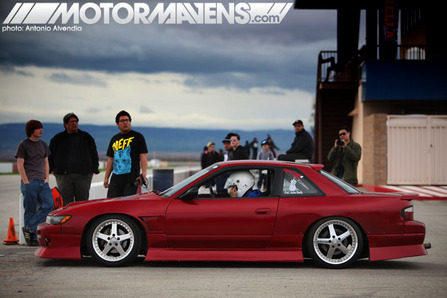 If you've followed the All Star Bash footage on MotorMavens, then you're no stranger to this red metallic S13 Silvia. Flybert's S13 always looks good, with its awesome looking aero kit, metallic paint, super dope Work Equip wheels, and of course… his aggressive driving style. Here he is getting ready to enter the course… man, Buttonwillow is such a great track to drive!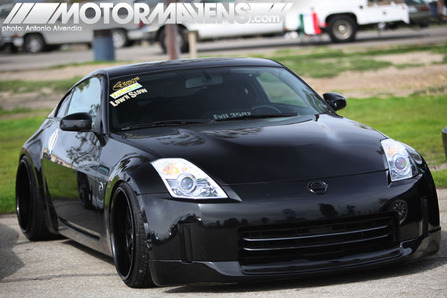 Pick your jaw up off the floor. This black Z33 350Z was off the fcking hook! Menacing and moody in black, this "Evil 350Z" definitely had me jocking. From the cleanliness to the wheel fitment… the lip, plus the drop, plus the stretch… hell yeah, 350Z done right. Notice the stickers on the windshield? Wrong Fitment Crew, HellaFlush, and LowNSlow. Well, I don't think 350Zs are slow though…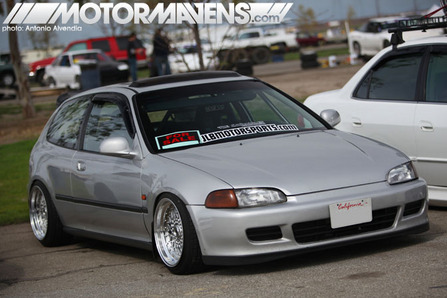 This EG6 Civic hatchback was for sale, rocking some fresh mesh wheels, and a stance that makes you think it's an FR car. Big respect to the owner of this Civic! But umm… I guess YOU could own it too, as it's for sale. I don't know who owns it, but I did see a familiar sticker, from Joey's blog, The Chronicles.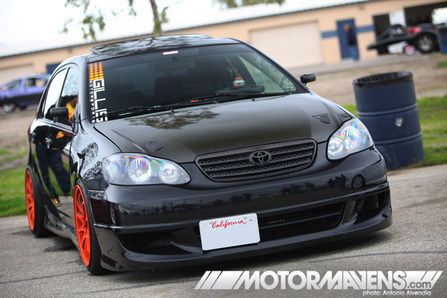 I spotted this brand new Corolla almost immediately when we got to the track. What the hell?! This is the first time I've ever seen one of these Corollas done up with nice fitting wheels and a good stance!
I'll just state the obvious here… most of the time, the type of people I see driving this type of Corolla are old Asian ladies or (interestingly enough) hot chicks. Honestly… I do know at least three females that I chill with on the regular that own this body style of Corolla. Could it be that these NEW Corollas are chick magnets?! Damn, and all this time that I've been messing with my OLD Corollas, I never noticed until just now that my cars mostly get smiles and thumbs ups from… other guys. Damn.
Anyway, this Gillis Motorsports Corolla apparently has a turbocharged 2ZZGE in it (if you read the comment from one of our readers on the first installment of the coverage), although nobody said anything to me about it… even though I spent a bit of time chillin under the Gillis Motorsports tent, talking to Morgan Gillis and Patrick David from AIT. So how the hell was anyone supposed to know there was a turbocharged 2ZZGE under the hood, if nobody said anything, and the hood was down all day? Come ON guys, I would have loved to take photos of that engine setup!!! 2ZZGTE and I didn't get to see it?! Angry face!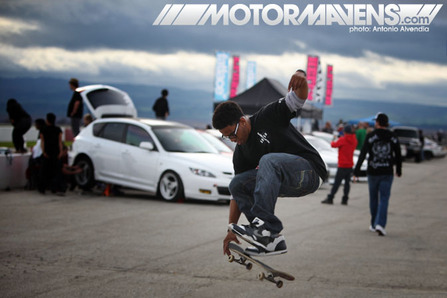 I have A LOT more photos of all the different cars from this weekend's event, but I need to get to the office right now, so I gotta make like a newborn and head out. I'll close this installment of the coverage with this photo of Motor Mavens Crew member Edward Uche bustin out some of his skate tricks on a board that he borrowed from our good friend Phil Velasco from iPhilms… you may know Phil better from the DVD series he created – JDM Insider. (More on Phil and his new projects later!)
Keep an eye out for the THIRD installment in our HellaFlush 3.5 coverage very soon… and hey! If you like the Ebisu Circuit T-Shirt that Ed is wearing, make sure you get one by CLICKING RIGHT HERE. Supplies are running out! Don't sleep – get it while you still can!
:: Antonio Alvendia
240SX
,
330i
,
528i
,
agressive fitment
,
BMW
,
bugeye
,
Buttonwillow
,
corvette
,
E39
,
G35
,
GDB
,
Hellaflush
,
Impreza
,
Infiniti
,
offset
,
PavelK
,
RPS13
,
S13
,
S14
,
sawblades
,
stance
,
Stanceworks
,
Subaru
,
Wolf Reign
,
WRX Wagon
---