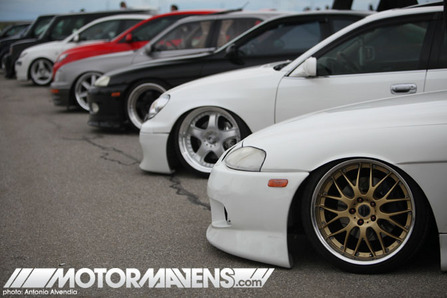 This weekend, many of the best stanced cars in California made their way to the HellaFlush 3.5 meet at Buttonwillow Raceway, which was located in the middle of BFE, along the Interstate 5 highway. The stretched tire movement has finally been getting a lot of attention in the past couple years, which is awesome because I've trying to promote it for quite a while… but it took a long time for it to catch on. Now that insane offset cars have been popping up all over the internet for the past couple years, people have started building their cars with a focus on aggressive stance and aggressive wheel offset. It sure took a long time for the message to spread though. I first began writing stories about how "Offset is Everything" in magazines, websites, and talked about it at drifting events/carshows that I emceed since… 2004? 2005? It's funny to think that people used to make fun of me when I would talk about rocking negative offset wheels, demon camber on AE86s, super low down (shakotan) stance, hippari tires (stretched tires), and tsuraichi (cars running aggressive offset wheels and tucking tire). In fact, I distinctly remember emceeing a Drift Showoff event out in Houston TX in 2005, and some of the DA homies were like, "Dude. It's like negative offset is all you ever talk about!" (HAHA, they were absolutely right.) I'm so glad that multiple forward thinking websites, forums and blogs across the internet have virally spread this message and made aggressive stanced cars popular; now it's a whole different ball game!
The way a car sits has absolutely everything to do with the image it projects – it all has to be just right! Aggressive offset wheels that stick out too much = lowrider. Big wheels with thin tires (non stretched) on cars that aren't slammed enough = DUB style. (Yuck.) Slamming cars to the ground without enough width, offset and tire stretch = 1990s FF Honda style.
Since neither of the aforementioned styles are desirable when it comes to making a fashionable looking car, it's nice to see that car owners all over North America have been stepping up their wheel game – a game that was rumored to have started in Europe (gotta give props to those Euro car guys… Mk1 Golfs FTW!) or Japan (Bosozoku/Yanki car builders, kyusha kai car builders, and VIP car builders). While I'm not exactly certain of the exact origins or history of this style of automotive stance, I personally first noticed it in the late 1990s/early 2000s, thanks to AE86s that were built by my favorite drift teams – Running Free and Rough World.
It was awesome to see some of the West Coast's most dedicated car owners with aggressive stances come out to the event. I saw Toyota, Honda, BMW, and Lexus owners from Southern California; Northern Cali Toyota, Nissan, Lexus, and BMW owners from as far as Fairfield CA and Sacramento… I even saw a slammed Mercedes Benz from Las Vegas (Whatup Paolo)!
From Southern California, we have members of the DSTROYR, Cipher Garage and Dori Saru crews, who were all laced up in fresh gear from Driftwell, Cipher Garage, and DSTROYR. If you have an iPhone or Google Android phone, make sure to search your App Store for the DSTROYR app for your phone, and download that joint!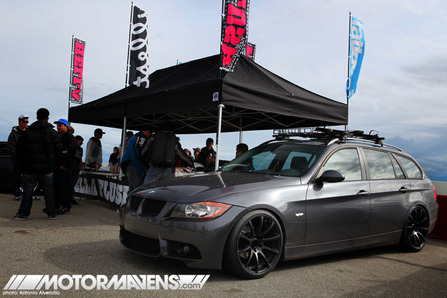 Under the HellaFlush EZ-Up tent, event staffers were selling t-shirts, stickers, license plate frames, and engraved yo-yos… while Mark Arcenal's new Bimmer wagon showed off its "Black is Beautiful" accessories. It's nice to see that I'm not the only one that's been digging wagons. All the cool kids are rocking them!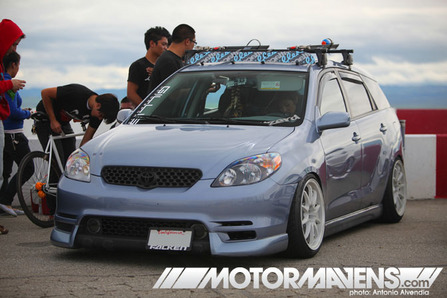 This Hellaflush honey was doing her makeup in the driver seat of this Toyota Matrix. This car caught my eye, because it's not often that you see a Matrix done up, much less done up with a good stance.
It just goes to show that Matrixes (Matrices?) can look pretty good when they're slammed with the right wheels… and if you're looking to buy a Matrix, look out for an XRS model, which comes with Toyota's 2ZZGE engine – the same high revving Yamaha designed DOHC engine that comes in the Celica GTS. The 2ZZGE revs for days – why else do you think they come as factory equipment in the Lotus Elise?
It was pretty cold outside, but that didn't stop our boy Edward Uche from the MotorMavens Crew from shooting mad photos and passing out flyers. Dig the glasses.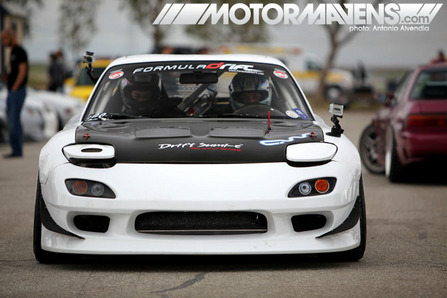 In the pit area, Ed and I ran into our boy Calvin Wan, who recently got his FD3S RX7 turbo running again, after its trip to the Dominican Republic for a drift demo. Sitting shotgun with Calvin is Allister from Objectify Inc, the company that contracted Calvin to help with the development of the Drift Sumi-e iPhone game, which blends drifting and Japanese brushstroke artwork. Download it on the App Store!
Calvin unwrapped all the teal and blue Falken scallops from his FD to bring it back to its original white paint underneath. I think Calvin's FD looks gorgeous in white! Don't you guys think?! It looks way better like this; super clean! I know Uche was jocking it. Calvin has a thing for white cars… he has this white FD, two white SUVs for towing, a white S14, a white BMW… sheesh, calm down there.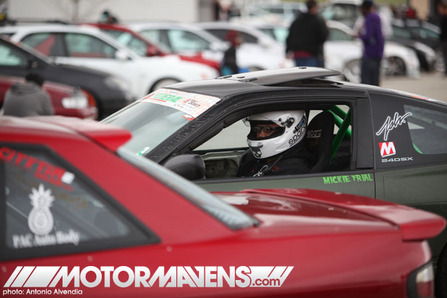 I spotted our boy Mickie Frial in the pit area, just as he was pulling out onto the track. Mickie's dark green RPS13 looks sick! I wonder if anyone would be interested in having us shoot a full feature on Mickie's car…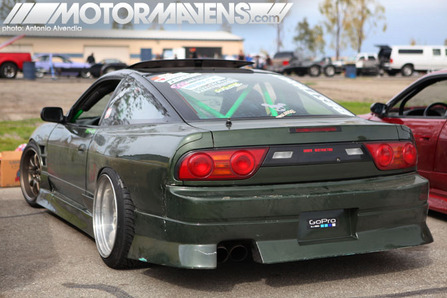 Here's the ass end of his RPS13. Looks dope, right?! Especially with the new wheels! Man, I wonder if his exhaust burns/melts his rear bumper, cause it doesn't stick out too far…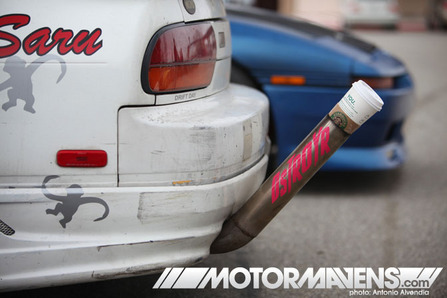 Whereas, this S13's exhaust sticks out ALOT. Haha, Dori Saru x Dstroyr SPL exhaust with Starbucks silencer.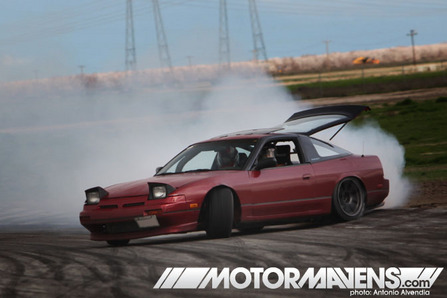 Speaking of S13s… this particular driver was running pretty sick all day! Super aggressive… big smoke, big angle, and hatch poppin! Turns out it's another one of the Northern California cars that made their way down to Buttonwillow for the event! This is Jeff Wolfson from WolfReign! He was driving so aggressively and flicking his car so hard that his trunk flew open. Dope.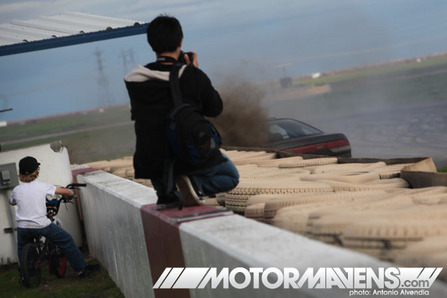 I'll end this particular set of photos with yet another S13 shot… this is just a reminder to drifting fans who like going out to grassroots events… photographers, please stay off the K-rails/retaining walls! If that S13 crashed into the barrier about 6 feet after where it did, chances are, the photographer on the barrier might have gotten knocked off the wall. We don't want anyone to get hurt! Also, kids on bicycles, please try not to sneak into the hot areas of the racetrack!
Keep drifting safe! And in the immortal words of Andy Sapp, "Keep Drifting Fun… OR ELSE!"
More pics coming soon!
:: Antonio Alvendia
---