I know many have been eagerly awaiting our photographic coverage of this year's Japanese Classic Car Show in Irvine, CA. I would have wanted to post up our photos immediately on Saturday night or on Sunday, but it has been an extremely hectic weekend full of photo shoots with out of town cars!
There were TONS of people at JCCS this year. I really need to give props to Koji and Terry Yamaguchi for creating this show and making it better and better and better every single year. Instead of droning on and on about the history of the JCCS show and talking about how many people traveled from all over the USA to bring their cars to this event, let's just dive into the photos of the cars! After all, that's what you came here for!
Above, this cream colored Datsun 2000 Roadster looked so gorgeous and clean! I think it's safe to say I'm probably not the only one who absolutely adores the paint color of this car, and the plain-yet-detailed design of the SSR Mark I wheels really bring life to this car.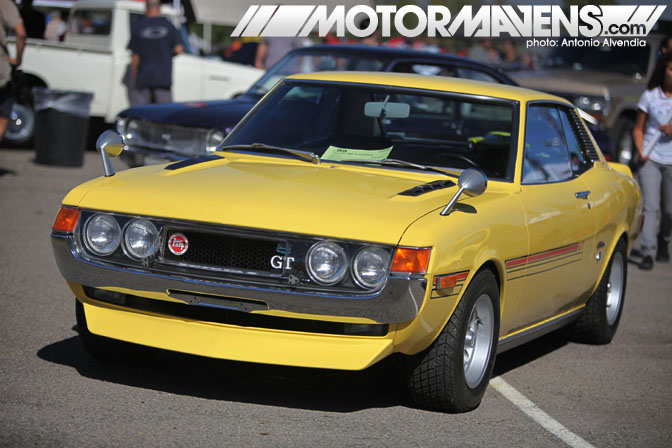 It was pretty impossible not to notice Joji Luz's "Number 5" Celica sitting up front at the entrance of the show. For those wondering why it's called the "Number 5," you may want to dig up an old issue of Sport Compact Car Magazine if you can find it… this was the FIFTH RA20 series Celica ever produced by Toyota. Crazy, right? The VIN code actually says something like RA20-000005. Check it out next time you see this car in person!
Joji's Celica is no longer an "RA20" though, as the original engine has been swapped in favor of a Japanese market 2TG engine – the well loved Yamaha twincam, 8-valve powerplant of the original TA20/TA22 Celicas in Japan. I noticed that the Number 5 is now wearing some new red GT stripes on the side… and see the clear TRD Japan headlight covers? Good luck finding those, Celica owners.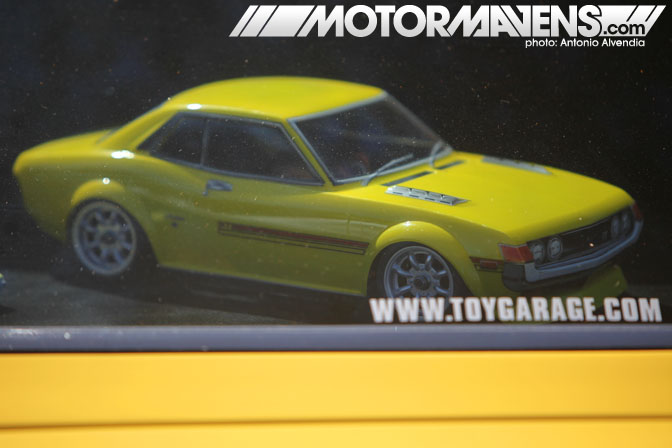 Sitting on Joji's rear deck was this perfect replica RC car – it looks exactly like Joji's Celica, and was featured on our site previously. According to  Japanese Nostalgic Car Magazine, you can obtain one of these RC car bodies from ABC Hobby.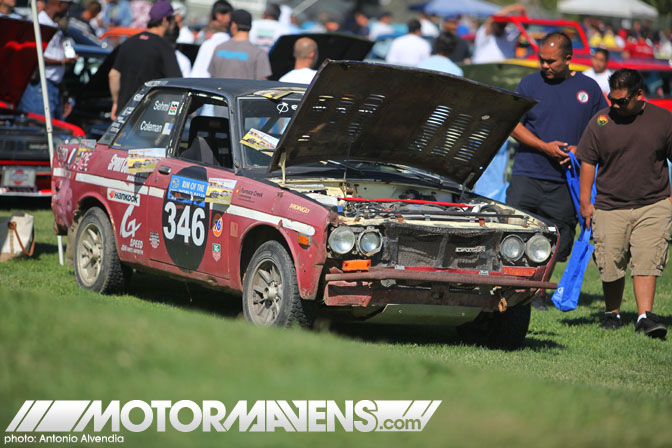 Not all cars at this year's JCCS were meant for car shows. This particular rally beater belongs to esteemed journalist Dave Coleman of Sport Compact Car and MotoIQ fame. I remember seeing some pretty cool action photos of this car attacking the dirt in older issues of Sport Compact Car Magazine. It's so sad that Primedia/SourceInterlink killed SCC. That was definitely the best "import" magazine they ever produced in my opinion. I used to learn so much from that magazine!
If you were a fan of SCC, don't worry about trying to dig up old issues… the ex-SCC crew has a new website called MotoIQ, and we definitely endorse the hell out of it. MotoIQ is the best spot on the web for automotive tech nerds to geek out and LEARN more about cars than just good looks and stance. (Not that stance and style are a bad thing, obviously!)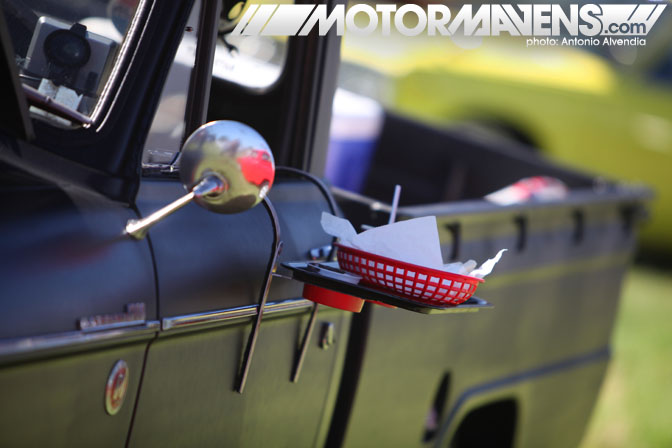 This old school Datsun pickup was rocking an old school drive-up style tray hanging off its door. Man… I would have covered the bottom rails with rubber or something – no sense scratching up your car just for some burgers and fries… even if they ARE 1/2 pound flame grilled gourmet burgers with applewood bacon and gouda cheese and caramelized onions and authentic Belgian pomme frites from The Back Abbey in Claremont, CA.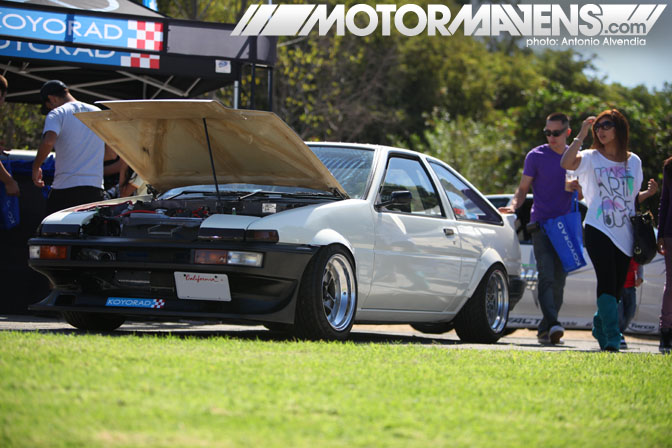 Also rocking cream paint and old school SSR wheels… was Ray Nakadate's new AE86 Trueno at the Koyo Radiator booth, with SSR Mark II wheels! It looks soooo dope!!! I was rushing around the show, trying to look at everything, I just now realized I didn't even look at this car closely. I just snapped a couple photos and thought, "I'll come back to it later, when Ray's around," but that didn't happen. As I walked around the show, I kept running into old friends I hadn't seen in a while… and of course, meeting new friends that share the never ending love of Japanese classic steel.
I love love love love love the cream paint on Ray's Trueno, because it reminds me of two of my FAVORITE AE86s of all time – the Coasters AE86 from Auto Gallery Yokohama (Circa 1999 – I'll post up photos from my 1999 visit to Auto Gallery Yokohama and Crystal Body Yokohama later) and the cream AE86 kouki Levin owned by Yamashita Koichi from Running Free (Circa 2000 – again, I'll post pics of this car sometime later).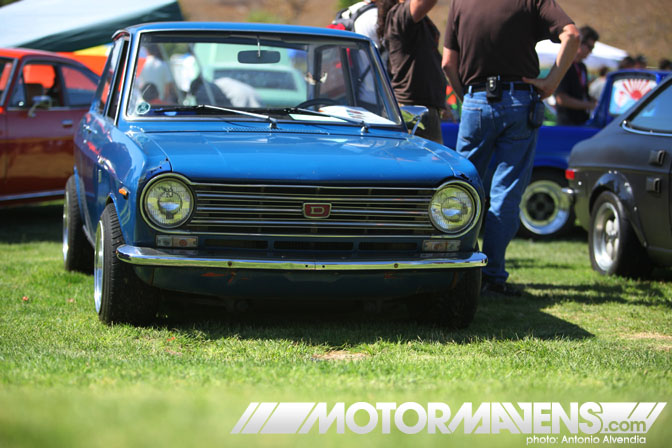 I absolutely freaking LOVED seeing Dave Chick's first generation Datsun Sunny 1000!!! It looks so awesome with its shiny blue paint and RS Watanabe wheels (so what if it has a little rust). This was my favorite 1000 Sunny at the show, by far. I don't know if I've ever seen one of these cars in person before. The face of this Sunny just looks so damn cool!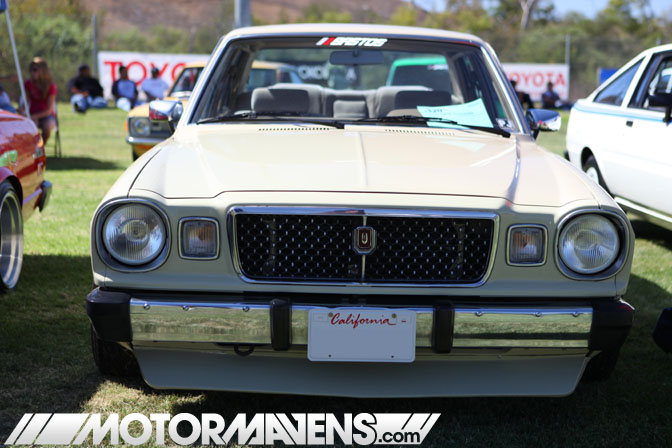 Speaking of cool… or better yet, gangster… is Marvin David's MX30 Cressida, which looks awesome with its clean cream paint, perfect chrome bumpers and front air dam. I want one of these MX30s sooooo bad. Please hit me up if you know of someone selling an MX30 Cressida SEDAN like this one!
Marvin is an old school AE86er and an awesome driver – I remember driving at autocross events with Marvin years ago… I could never even get close to his time. Nevermind the car – Marvin is a fast DRIVER. I need to get my car out of storage and start driving events again. So fun.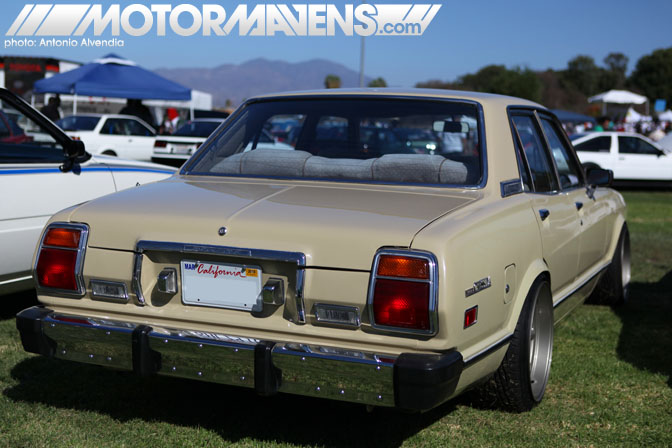 Aggressive lips and and stretch on Marvin's Cressida perfectly match the old school VIP look of this car! Perfect for an early 1980s gangstermobile.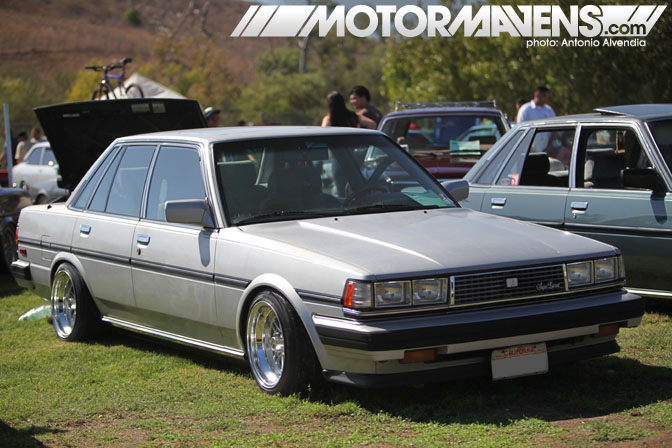 I had to keep coming back to this MX70 Cressida because for much of the day, there was a family of kids playing inside the car, haha! I love the clean body, and of course it's no secret that SSR Mark III make my heart melt. This car looks awesome!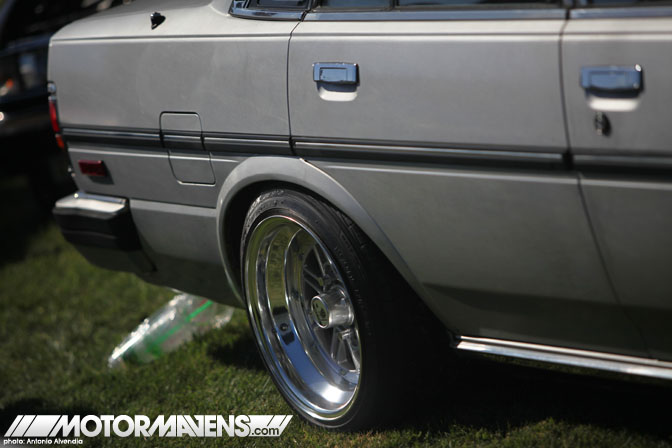 Here's a close up of the Mark IIIs, complete with original centercaps too. It's cool that this guy actually uses his centercaps… my Mark III centercaps just sit in their original boxes, as part of my parts collection.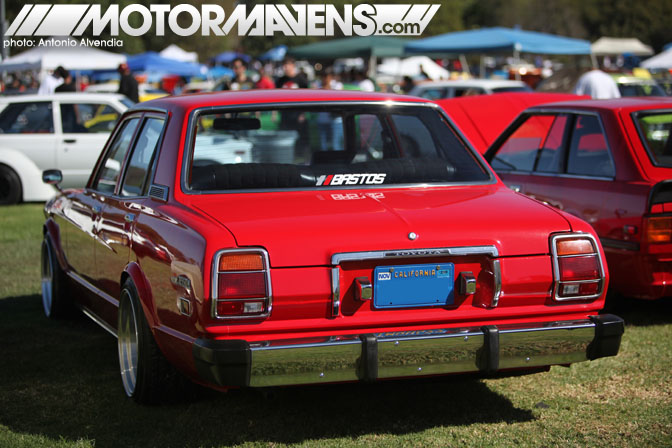 More Cressida photos? Yes please! I've got a ton! This red MX30 was painted by PJ Bonifacio's body shop, and is a staple at JCCS events. It sits nice and aggressive, with clean RS Watanabe Type R wheels and fender mirrors. Gorgeous!
That's it for now – expect more old school Japanese car photos on Motor Mavens very very soon!!!
:: Antonio Alvendia
---