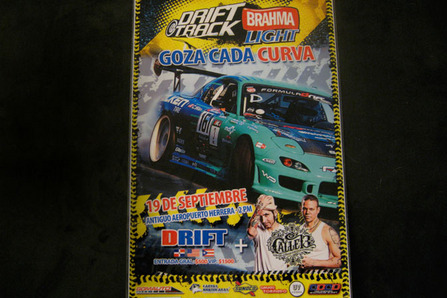 You might not immediately think of the Dominican Republic when you think of drifting, but last month, the biggest drifting club in the DR, the Club Dominicano de Corredores de Drift (referred to as CDCD) put together a huge drift event and concert together with their racetrack's title sponsor, Brahma Light. Casper Canul and I were invited to do a drift demo with our US-based Formula D cars during their drift series-opening event on September 19th, 2009.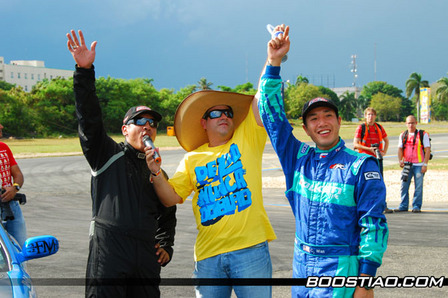 We went out there a couple of days early to prep our cars, test and setup their new drift track, marking all of the clipping points and track outline of the course.  We spoke with the drivers and setup a driver's meeting on competition day to go over all of the judging criteria and track rules with their local judges.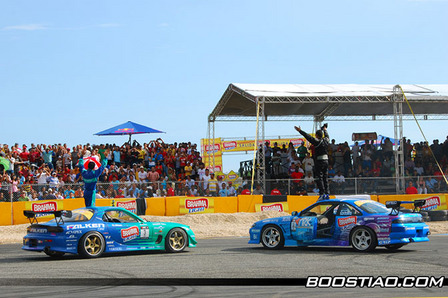 There was a huge turnout of fans at the event, with all 7,500 of the presale tickets being sold out. The crowd was ecstatic and going crazy during the entire event; in fact, we were able to hear the crowd's roar from all the way down the runway to our pit area!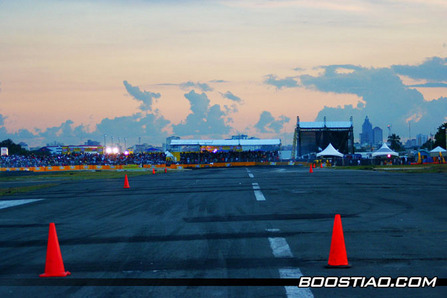 The track was actually an old airport runway that is now solely used for drifting in the Dominican Republic's capital city of Santo Domingo. It is a pretty huge deal to have a track within the borders of the biggest city of Dominican Republic. This will guarantee spectators every time there is a drift event on this Brahma Light Drift Track. There was a huge crowd of people lining the outside fences with cars double parked, just dying to get a glimpse of the action on the track every single day we were running.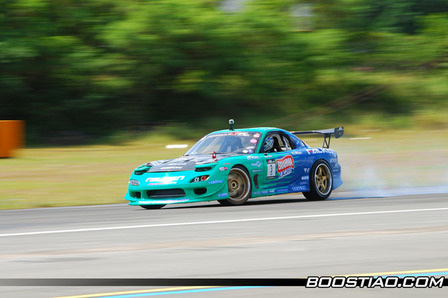 The straightaway is a huge runway, which is capable of 100+mph 4th gear entries. We moved the start line up so that the DR competitors would enter in 3rd and initiate with a big feint entry into the left land sweeper, finishing off with some esses. They are planning on repaving the track in the future to create even more course configurations. I can't wait to see the new possibilities once it's repaved!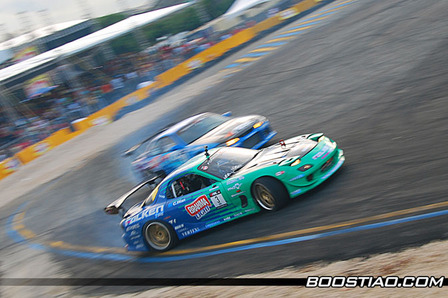 Casper and I choreographed some drift demo routines for the pumped up Dominican crowd. They were all excited to see our fully built-high power competition drift cars. We are hoping that by them seeing our cars, it will inspire them to build up their cars more so they in turn can put on a better show for their local spectators.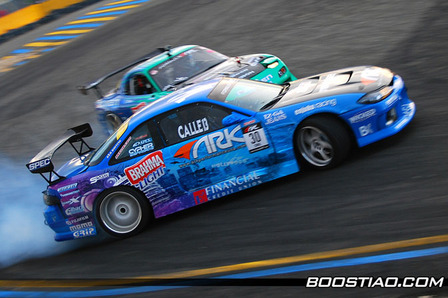 During our demo sessions, we showed them some different style tandem runs – competition style, passing, synchronized manjis and routines. We even did some "Team Orange style" head-on passes, which the crowd went nuts about.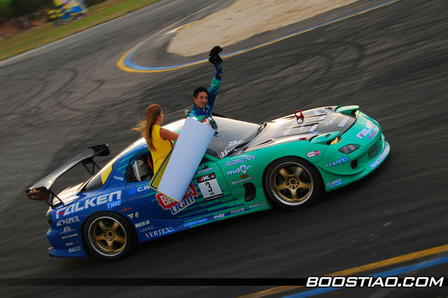 We did demos in between the tandem rounds and presented the semi finals with a Brahma Light model along side us in our cars throwing up a sign showing which round we were going into… It was kinda like how they do it in boxing, which I thought was a nice touch.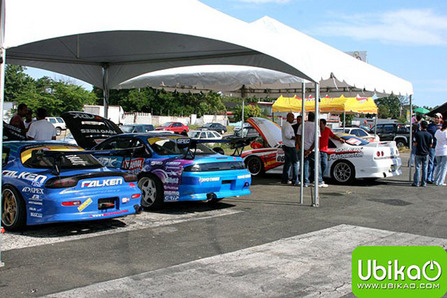 Our paddock was staged at the beginning of the straightaway, and the competition cars were covered under tents. No trailers were present at this event for pit areas, as most of the competitors drove their cars to the event. The Dominican Republic has some pretty loose automobile and traffic rules. You can pretty much drive almost anything you want, however you want in the streets of DR. Crazy! It's a car enthusiast's paradise.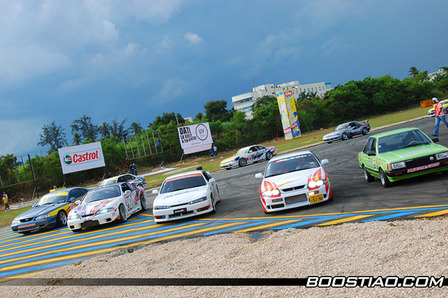 There were some pretty diverse drift cars out on the circuit. The Dominican Republic has a very strong motorsports culture. People there are into either baseball or motorsports. They are actually really into JDM style tuning and importing their cars straight from Japan. However, for these imported cars to be street legal in DR, they have to be converted over to left hand drive. The car builders in DR do such a good job converting them, the interiors look stock! Casper and I were rolling around in LHD S15s, Mark IIs, Skylines, Evos, even little Glanzas were converted.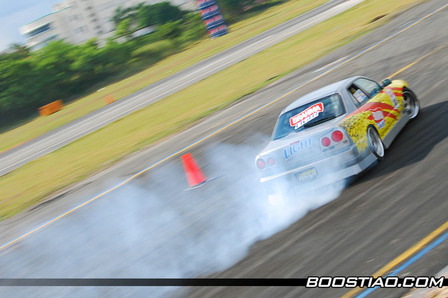 Carlos Rodriguez, featured in this pic with his ER34 Nissan Skyline, was the first person to drift in DR. He actually rented a track and drove an S-chassis he previously had and learned on his own 5 years ago. Carlos is the President of the CDCD Drift Club and the head organizer for this Brahma Light Drift Track series. He drove well this event and finished 4th.
We were pretty surprised how much the DR drifters improved from what we saw during the first practice day to the competition.  This track is a new course for them so they were still getting adjusted and learning how to run it. Most of them have not tried initiating with the feint or even tried clutch kicking yet. They have been used to initiating with the e-brake, which they learned from Casper when he went there last time.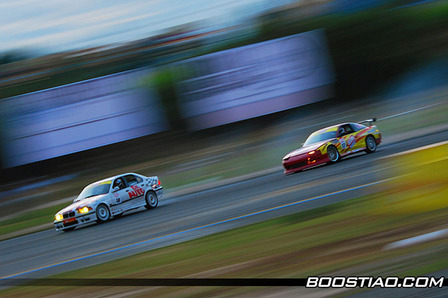 This is the final battle between the two most aggressive DR drifters, Jonathan Castro in the red RPS13 and Juan Almonte in a white 4 door E36 M3. These guys were drifting clean with the feint entry all day. In the end, it was Jonathan that followed tighter and claimed the overall victory.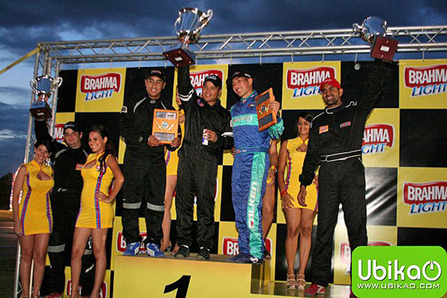 The podium finishers of the inaugural round of the Brahma Light Drift Track series were…
1st place: Jonathan Castro in the red RPS13
2nd place: Juan Almonte in a white 4 door E36 M3
3rd place: Ricardo Hurtado in a red 2 door E36 M3
They even gave Casper and I appreciation plaques for participating in the opening of the series.  This event turned out to be a great success and new beginning for drifting in the Dominican Republic!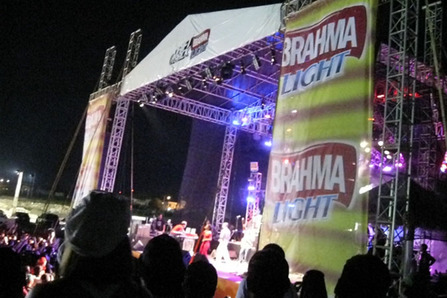 After the podium ceremony, they switched gears and went into full concert mode. They had Calle13, a popular Puerto Rican hip-hop band perform in front of this sellout crowd. Calle13 is a five-time Latin Grammy Award and Grammy Award-winning Puerto Rican hiphop and alternative-reggaeton duo. This whole event was a huge production with separate VIP areas and catered food and vendors. Brahma Light and CDCD are currently planning on putting on more events like this in the near future. I am very excited to see what they have in store. I can't wait to get back out there for more.
:: Calvin Wan
www.calvinwan.com
www.caspercanulracing.com
www.cdcd.com.do
www.boostiao.com
www.dominicandrift.com
www.brahma.com
---