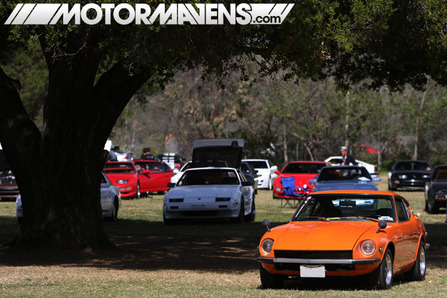 Yesterday, we attended the annual Motorsport Auto Z-Car Nationals in Orange County! Admittedly, we were out late with some out-of-town friends on Saturday night, so we got to the show a bit later than expected. On our drive to the show, we saw lots and lots of 240Zs, 280Zs, 300Zs, and a few 350Zs cruising all over Orange County, some heading towards the show, and some apparently heading in the opposite direction. (Maybe they were leaving already, because we were late? Oops!)
We took tons of photos at the event yesterday, so we'll have to spread out the Z photos into more than one posting. We admired Japanese Classic Car Show organizer Koji Yamaguchi's gorgeous orange 240Z as it basked in the sunlight, with it's straight up Japan-style look, fender mirrors and all.
Click here to check out more of our Z-Car Nationals photos after the jump!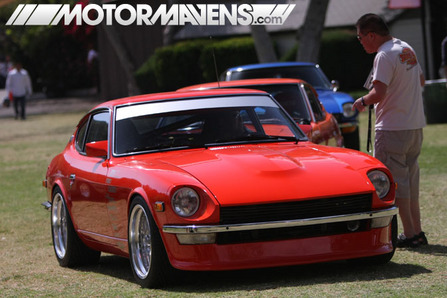 Tod Kaneko and his crew of spotless orange 240Zs were in attendance, and obviously attracted a lot of attention as they rolled in and out of the show together. Super clean paint – can anyone guess the width and backspacing on those 17-inch wheels on the car?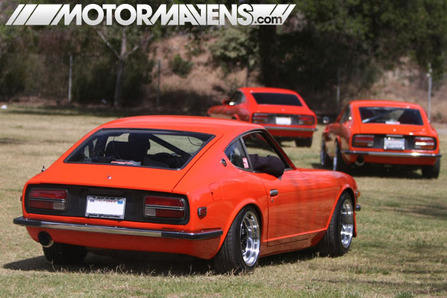 We loved watching the row of three orange Zs roll out together when it was time to go home, but this particular Z stood out in our eyes. We just loved the super low stance, gorgeous orange paint, and the smaller, old school wheels!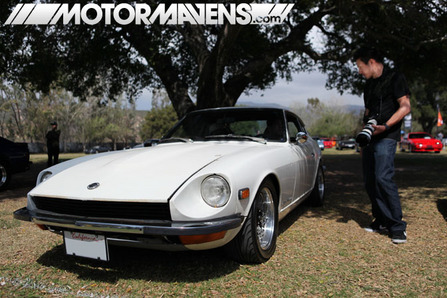 We spotted professional drifter Calvin Wan from Team Falken walking around, taking pictures with Antonio Alvendia from Cipher Garage/Speedhunters. We caught up with them as they talked to some of their friends, who drove in with this white 1972 240Z with SSR Reverse Mesh wheels.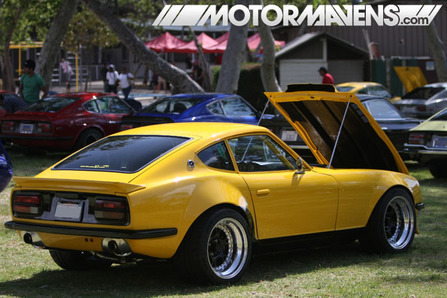 This yellow Z looked pretty radical, with its shiny-lipped super wide wheels, smoothly flared fenders, engine swap, and customized exhaust setup. Cool rear wing too!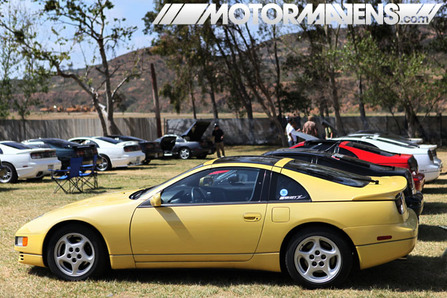 There were lots of Z32 300Zs in attendance as well – some were completely modified, and some were bone stock. We remembered admiring the OEM Z32 yellow paint on the 300Zs when they were new. It was cool to see such a clean yellow, stock looking Z32 like this in attendance at the show. We love that color!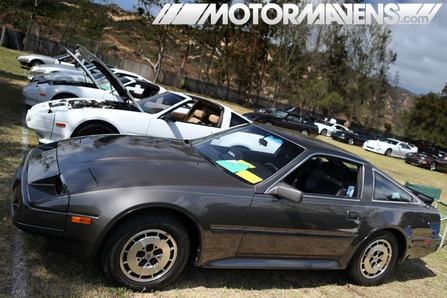 There were actually quite a few Z31 300Zs at the show as well. Although, to be honest, this isn't one of our favorite Z body shapes, we were glad that several Z31 owners brought out so many shining examples of clean Z31s. People are now beginning to take a nostalgic approach to keeping and restoring these Z31 300Zs, which is great! Someone has to do it, otherwise, there won't be any clean Z31s out there for future generations to look at.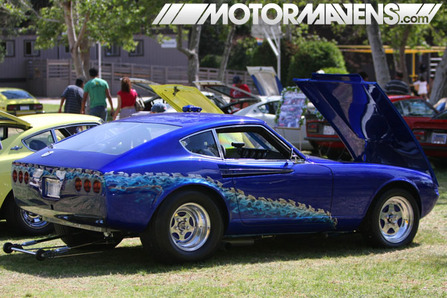 Don't let our images of stock, restored Zs fool you… there were plenty of wildly modified Zs at the show. Just check out the crazy looking paint job and taillights on this drag racer Z, complete with Lexan windows, 5-lug conversion, Weld wheels and wheelie bars!
While the paint job and taillights don't really match our taste in 240Zs, there was something for everyone at the show. Check out more photos on our next installment of Japanese Nostalgic Car Magazine!
::Dan Hsu
---