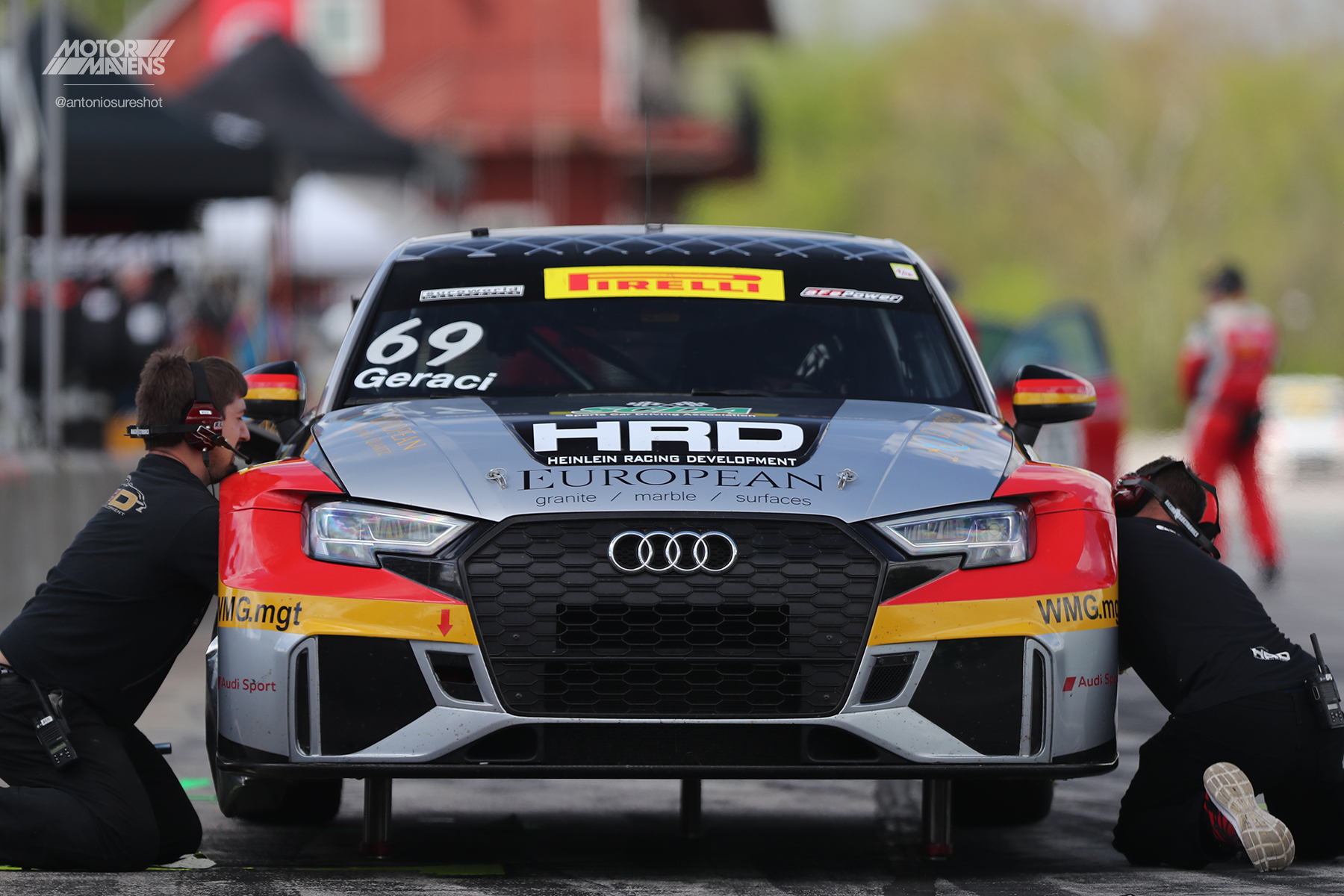 Although I've been blessed to have the opportunity to shoot photos at tons of racetracks all over the world, this Pirelli World Challenge SprintX race at Virginia International Raceway actually marked the very first time I ever visited VIR's 17-turn, 3.27-mile road course.
Situated right above the Virginia-North Carolina border, the lush greenery and rolling hills at VIR make this track stand out as one of the best looking racetracks in the United States. This place is gorgeous! When I first started working on my coverage, I realized that anyone who follows the Pirelli World Challenge on social media or has watched the races on the PWC YouTube channel already knows the race results, so there's no point in me talking about those in the story – I'll just talk about my experiences at the event instead.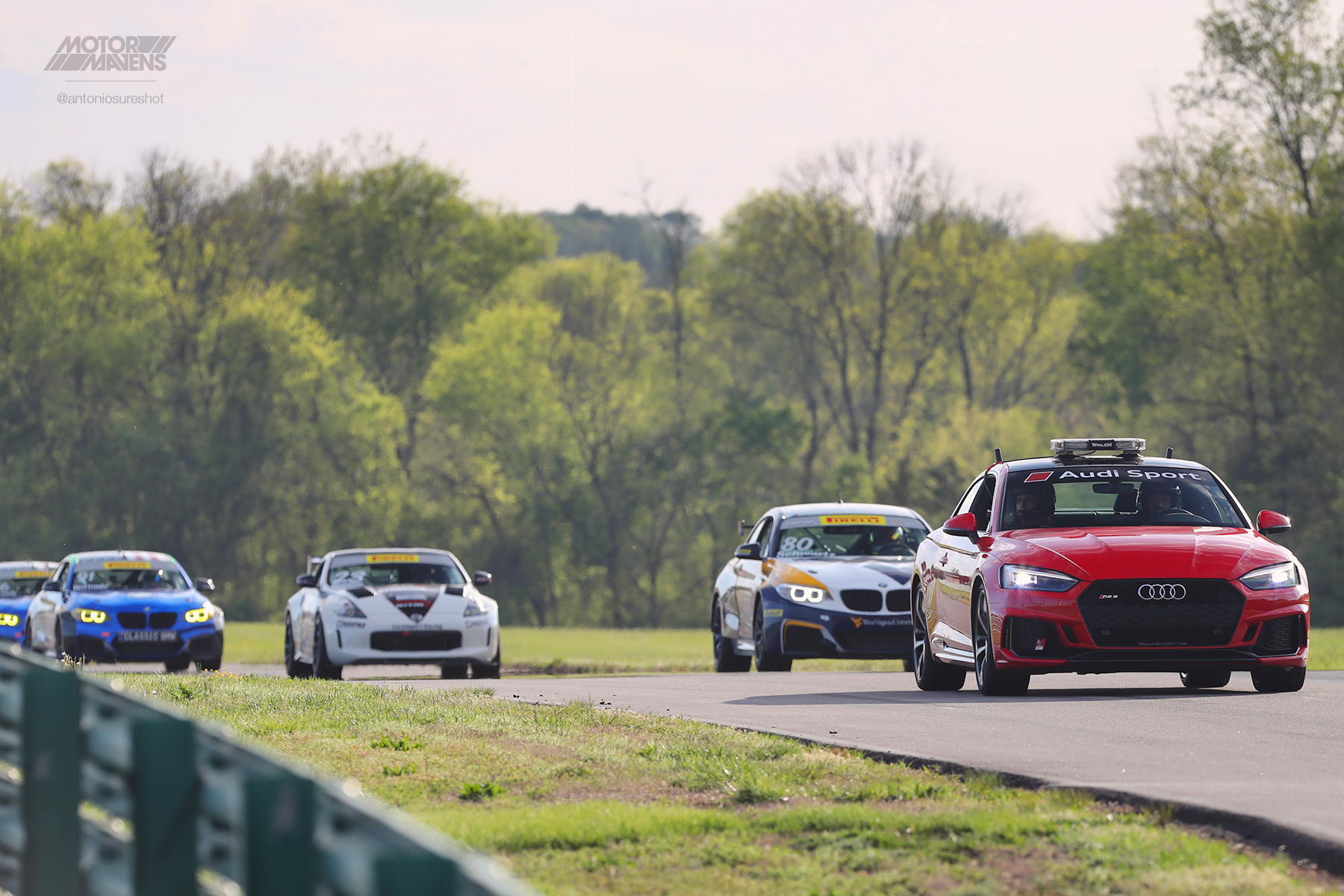 Virginia is for racers.
I was invited to come out to PWC VIR as a result of the story I published about the Pirelli World Challenge race at the Long Beach Grand Prix, so I jumped at the opportunity to be reunited with the cars of the World Challenge series!
This event at VIR was sponsored by Audi Sport, which is based in Virginia, so they transported a brand new Audi RS5 to the track for safety car usage. I had the opportunity to test drive the RS5 at a different race track when it first came out – definitely a beast of a car to drive on track!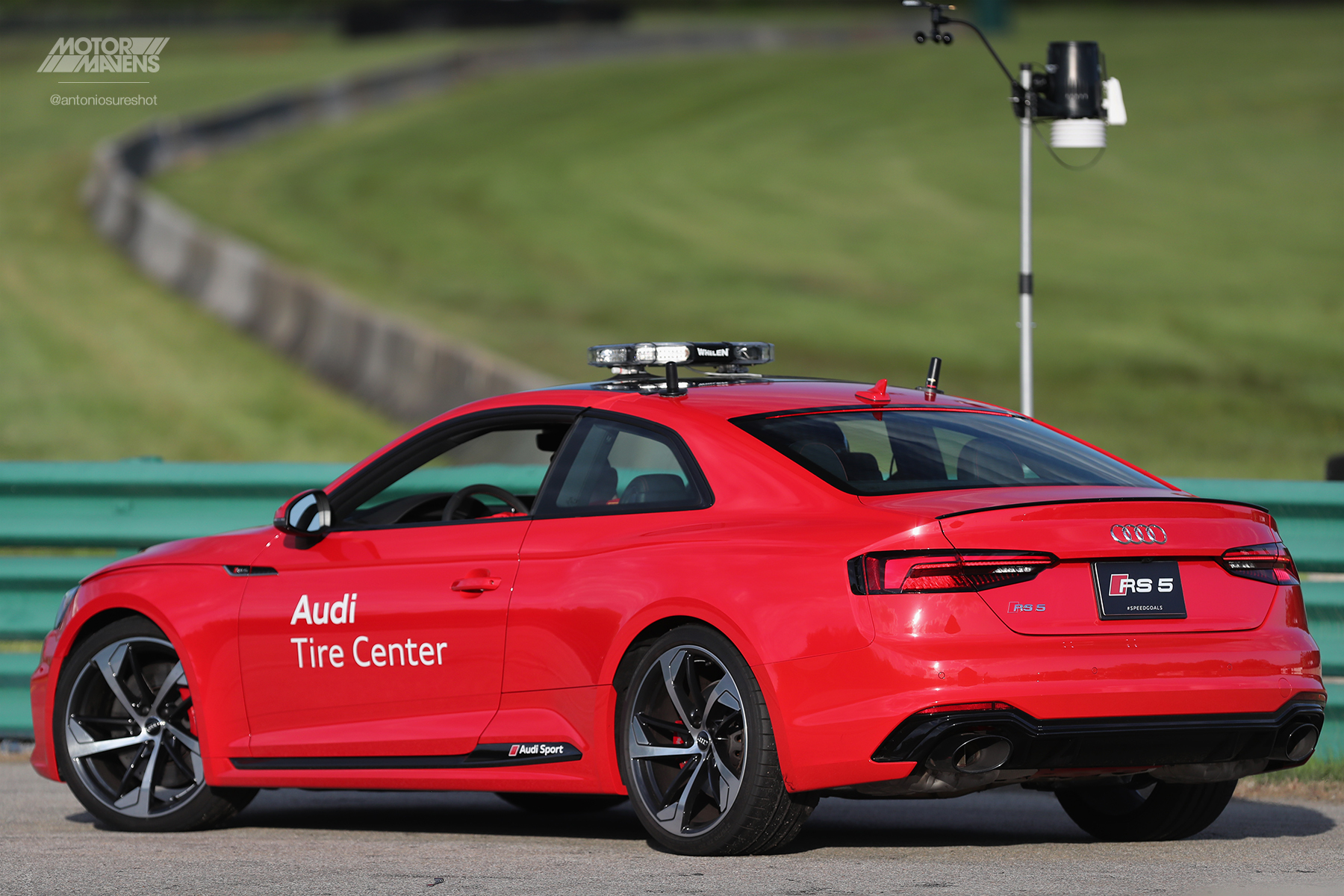 The RS5 already sits pretty low from the factory, with fairly aggressive offset wheels.
Just imagine, if you bought one, you could simply swap out the wheels for an aftermarket set that's about an inch wider, and you could even use the same exact tire size as stock, and it would sit PERFECTLY. If you wanted a more aggressive drop, you could even lower it a little for the perfect height. Just add an exhaust, aggressive brake pads, downpipe, intake filter, and an ECU tune, and you're in business! 😀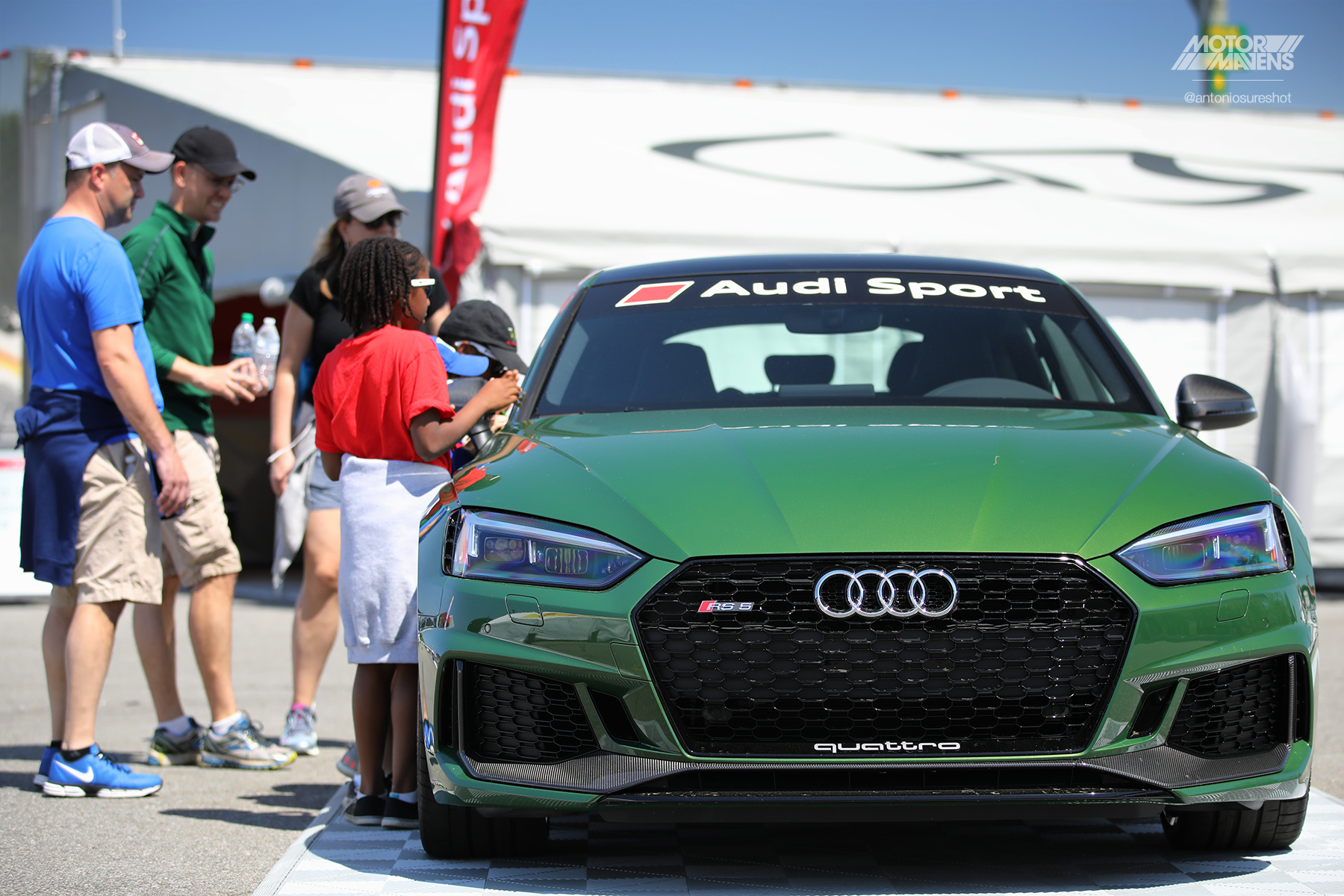 Although I absolutely love red cars and own a ton of them myself, I just couldn't stop looking at the breathtaking Sonoma Green RS5 parked outside the Audi hospitality tent for sponsored drivers, teams, and guests. Robbie Montinola from PWC told me that this color debuted very recently at the New York International Auto Show. You absolutely need to see it in person, in the light and in a backlit shadow situation. It definitely stands apart from other cars – in a good way.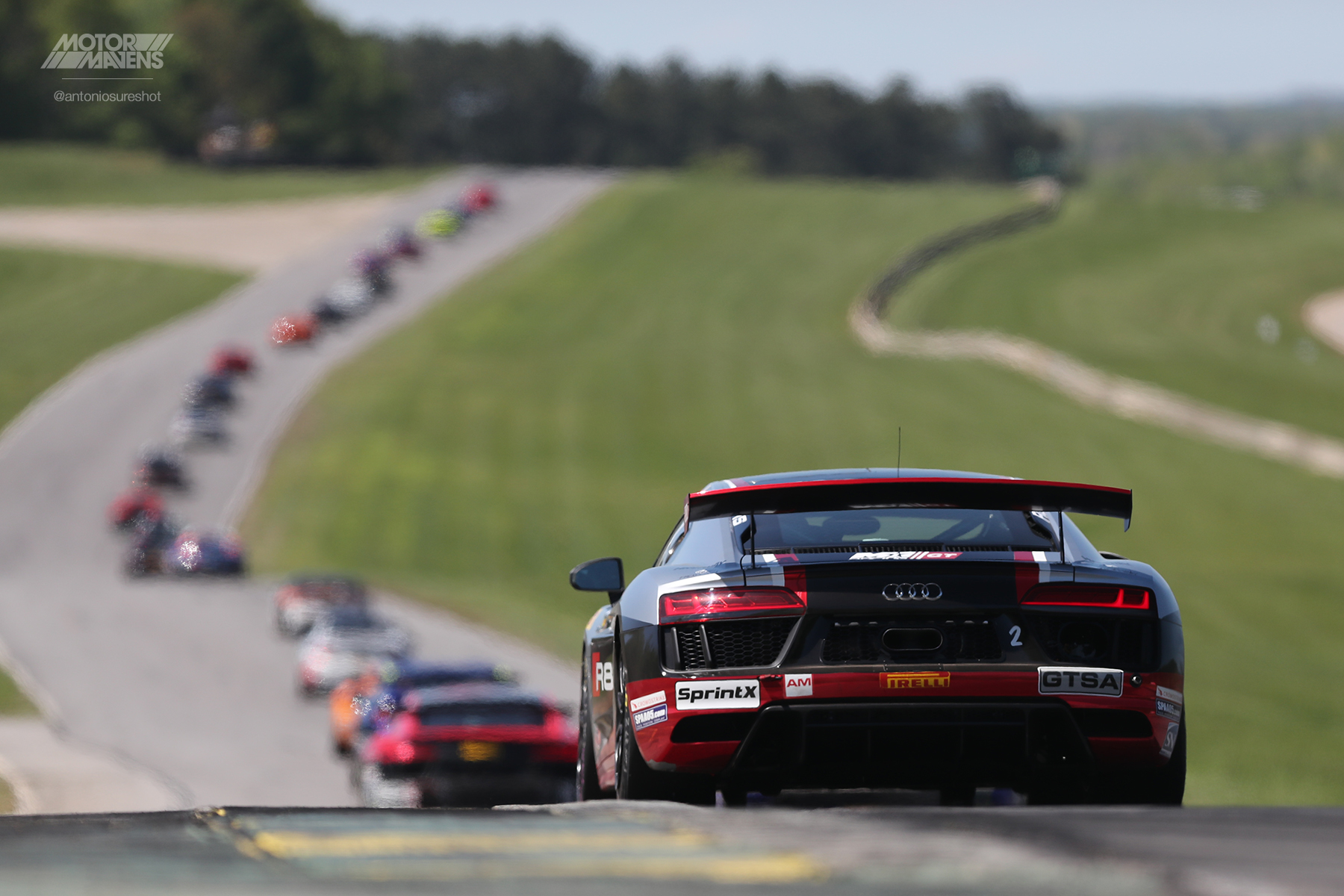 The GTS and TC/TCR classes contain some of the most competitive racing action in the entire series.
While I was obviously captivated by the cars in PWC's GT class, this PWC VIR event marked the very first time I had the opportunity to check out the vehicles in the GTS and TC/TCR classes. There were TONS of them battling it out, bumper to bumper and fender to fender, and that definitely makes for some exciting racing!
In fact, I took the liberty of embedding the video because I think people really NEED to watch highlights of the race on YouTube!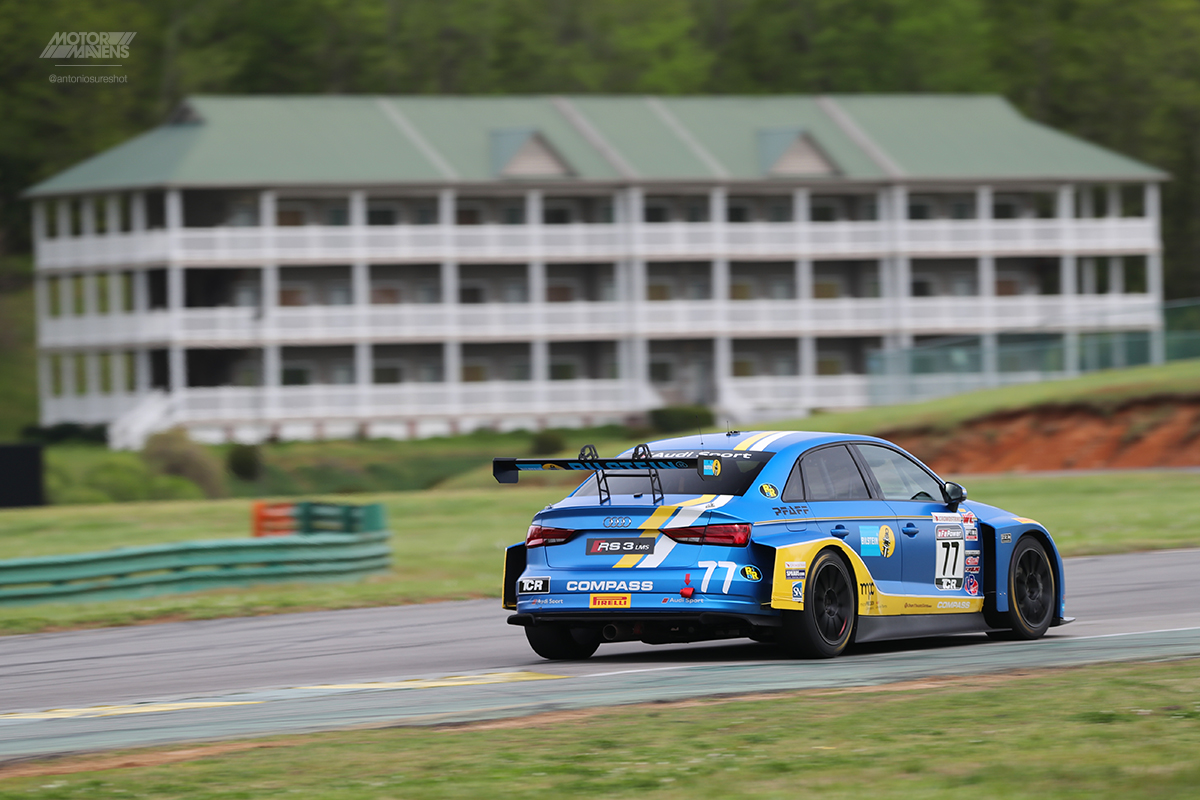 Just after cars accelerate onto the track from the front straight, a great place to watch the action up close is somewhere around Turns 3 and 4, because you get to see and hear all the cars under hard braking while they negotiate corners and accelerate into the uphill esses.
This Bilstein sponsored Audi RS3 LMS from Compass Racing was definitely one of my favorite cars to watch in the TCR class. I just love the way it looks!
As a side note, that white three story building in the background is actually The Lodge at VIR – a hotel sitting right on the racetrack premises. We stayed on the 3rd floor during the race weekend, and I definitely recommend that people consider booking a room here if they're attending a race at VIR! You can literally watch the race from the big chairs out on the hotel deck, right outside your room! So awesome. The hotel doesn't have an elevator though, so keep that in mind if you have big heavy camera bags like I do.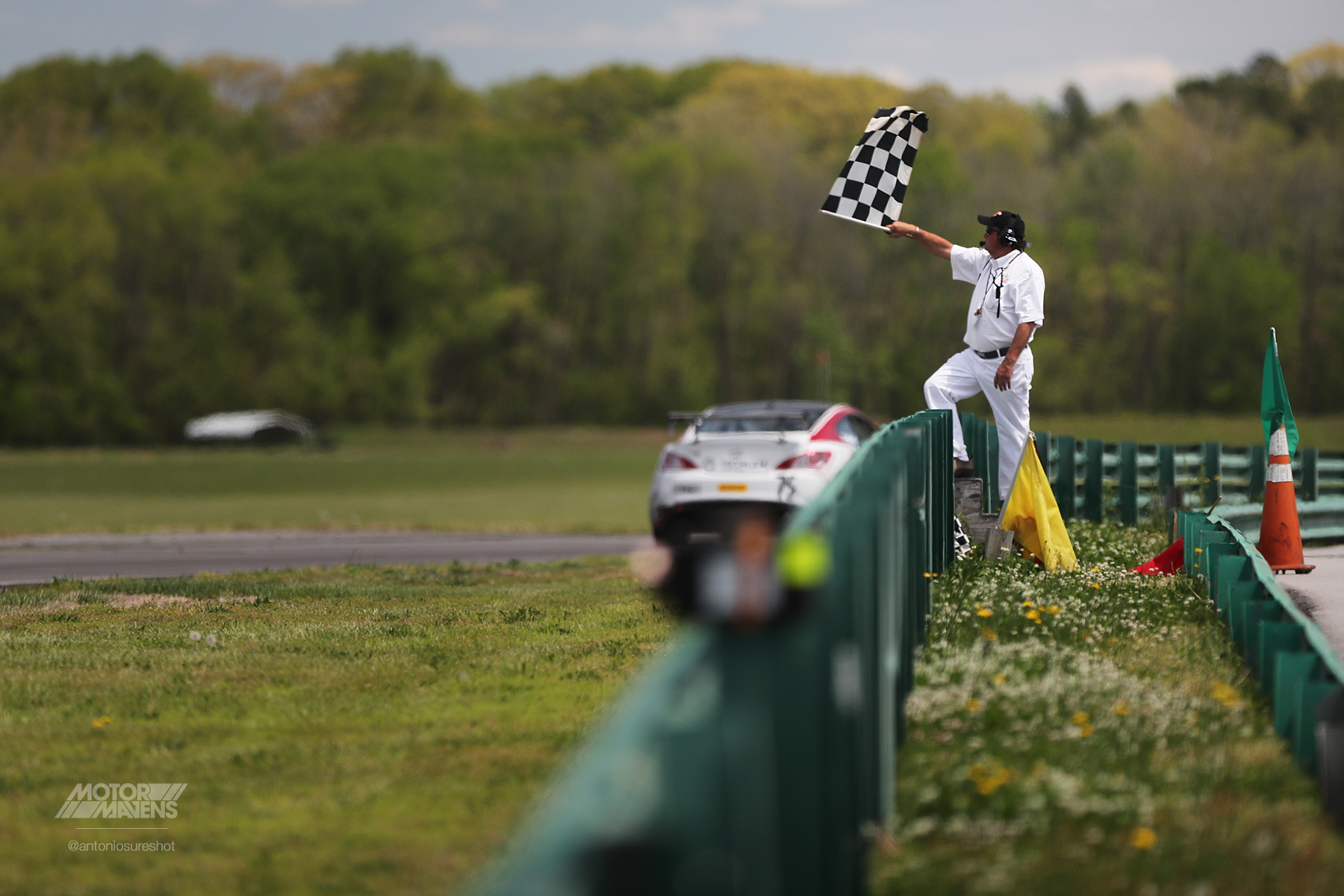 Although I typically don't hang out on the straights when I'm at racetracks, it's actually a really great place to listen to the cars whizz by if you like listening to the different exhaust notes and sounds of transmissions shifting like I do. The track official waving the checkered flag certainly got a great view of the cars accelerating past all the lush greenery at VIR.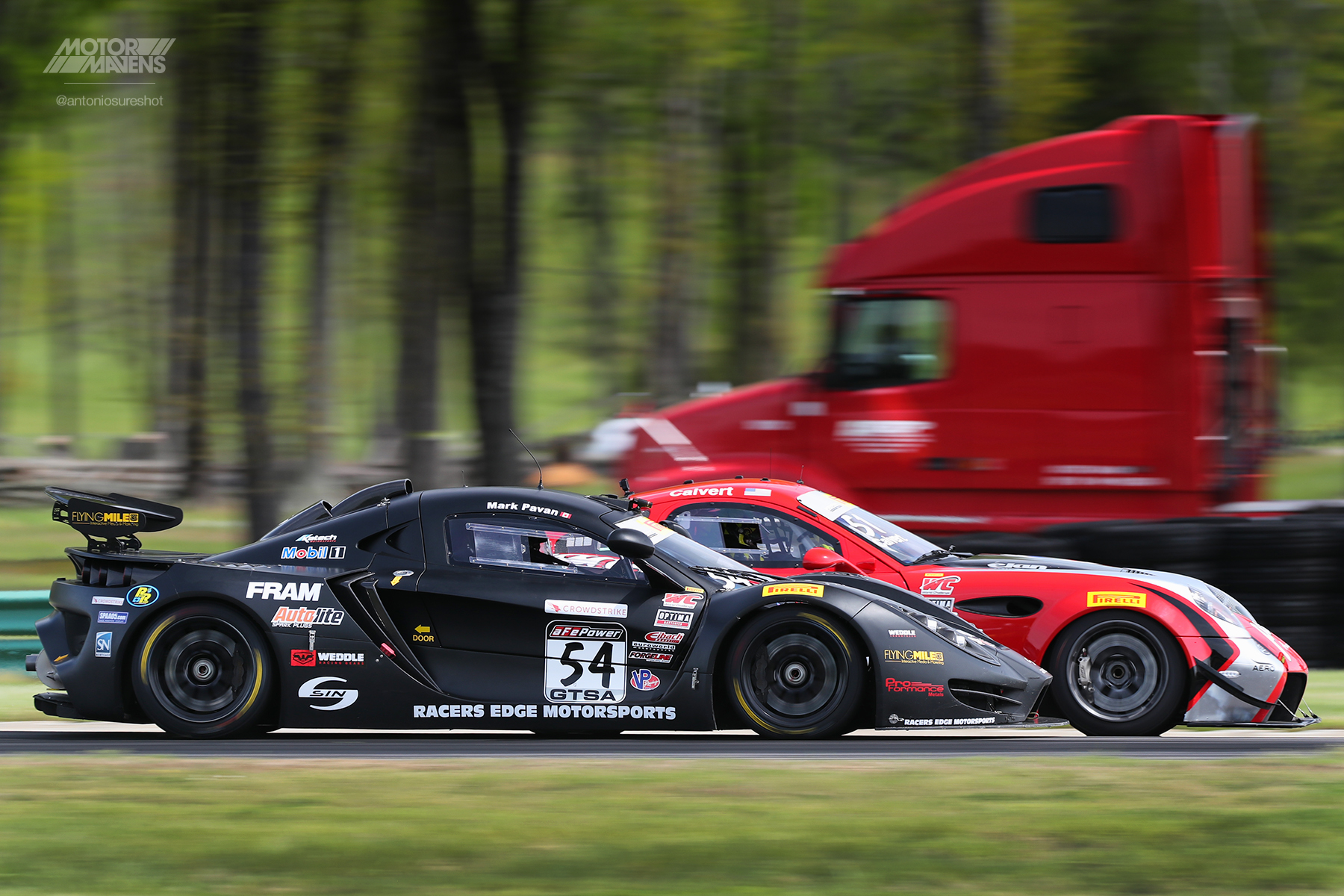 At Turn 3, I caught some pretty good battles as drivers jockeyed for position. Here's Mark Pavan in the Racers Edge Motorsports Sin R1 drag racing Dr. Preston Calvert in the Panoz Avezzano GT.
I know that the Sin R1 is a race car chassis powered by a GM LS3 engine, but I didn't know much about the Panoz, so I had to Google it. Apparently, the Panoz Avezzano GT race car is based on the new Panoz Avezzano GT sports car, a street-legal fastback with an aluminum chassis and body, and a 6.2-liter, 450-plus horsepower Panoz/Élan aluminum block GM LS (I think it's actually a supercharged LSA?) V8 mated to a heavy duty, close ratio six-speed manual gearbox.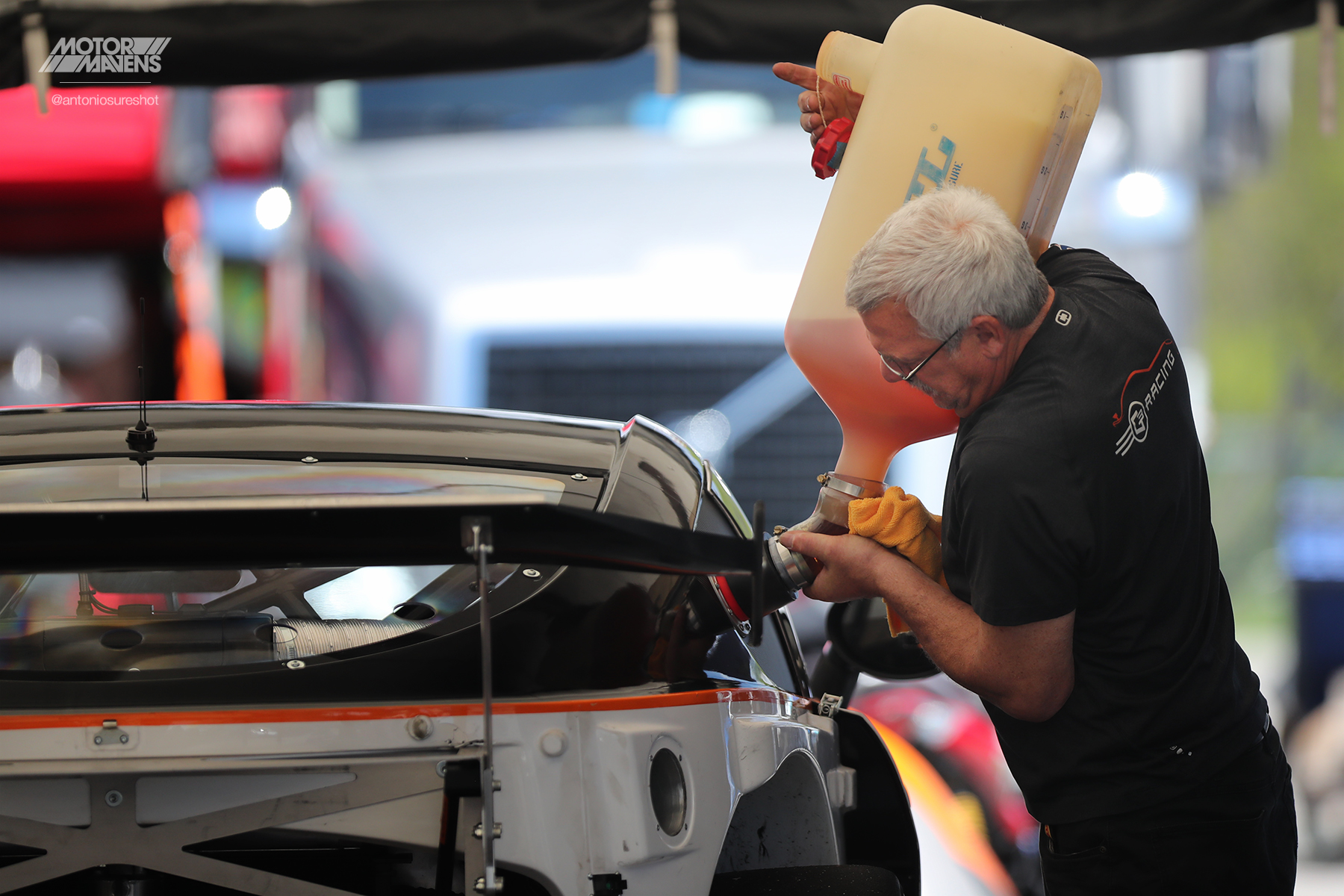 In the paddock area, I spotted the Ginetta teams prepping their cars for action.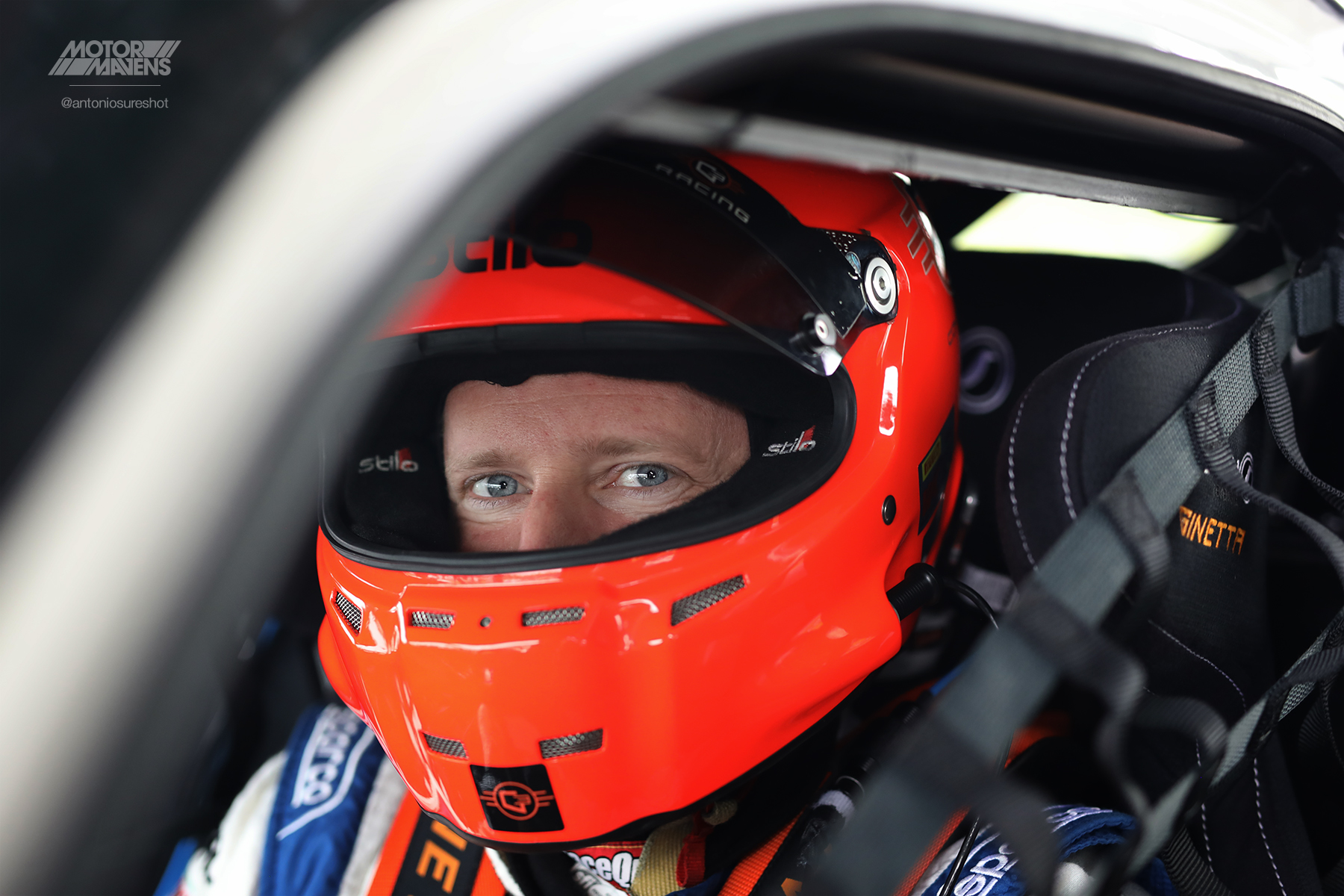 I looked closely at one of the cars, and noticed that it was being driven by Drew Staveley, who won First Place at the PWC St Petersburg race. I was actually introduced to Drew over 10 years ago by a mutual friend of ours named Felix Tang. Felix is one of my old AE86 friends who used to help me run the Cipher Garage merch booths at events where we were selling copies of my hardcover book, along with t-shirts and other merch.
Back in those days, Drew was driving a Miata and was already a fast driver. He rose through the ranks of the Spec Miata series and won several SCCA National classes, eventually graduating to drive a Rolex Grand Am RX8 GT. In 2008, he finished in the top 10 at the 24hrs of Daytona driving that Mazda RX8 GT for Racers Edge Motorsports.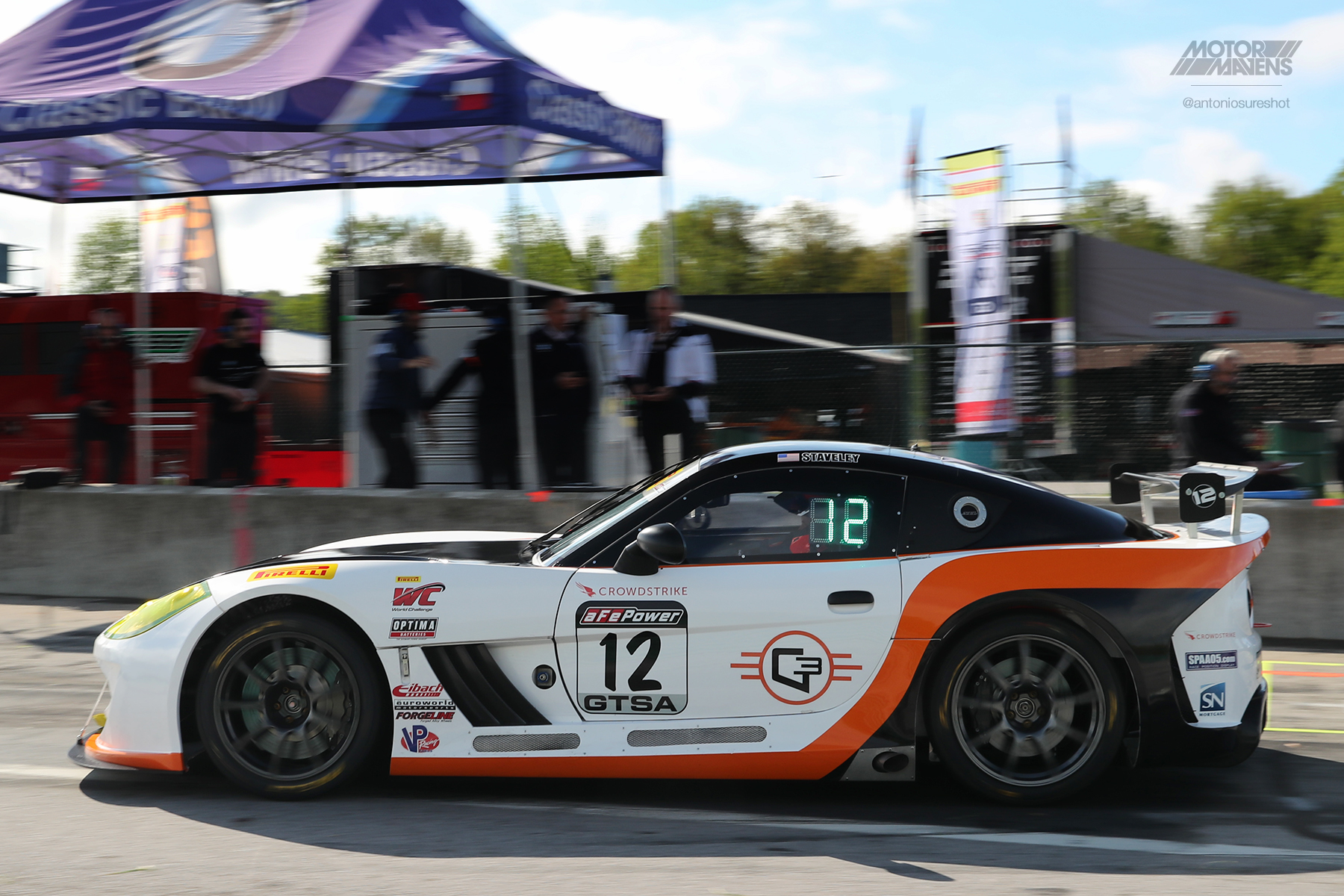 It was really cool to see Drew again, even though we didn't really get a chance to talk much because I was busy shooting and he was busy driving. This is the Ginetta G55 GT4 he was driving – it's a purpose built tube chassis race car, powered by a Ford 3.7 liter V6 engine with dry sump and Hewland 6 speed pneumatic paddle shift gearbox with auto throttle blip.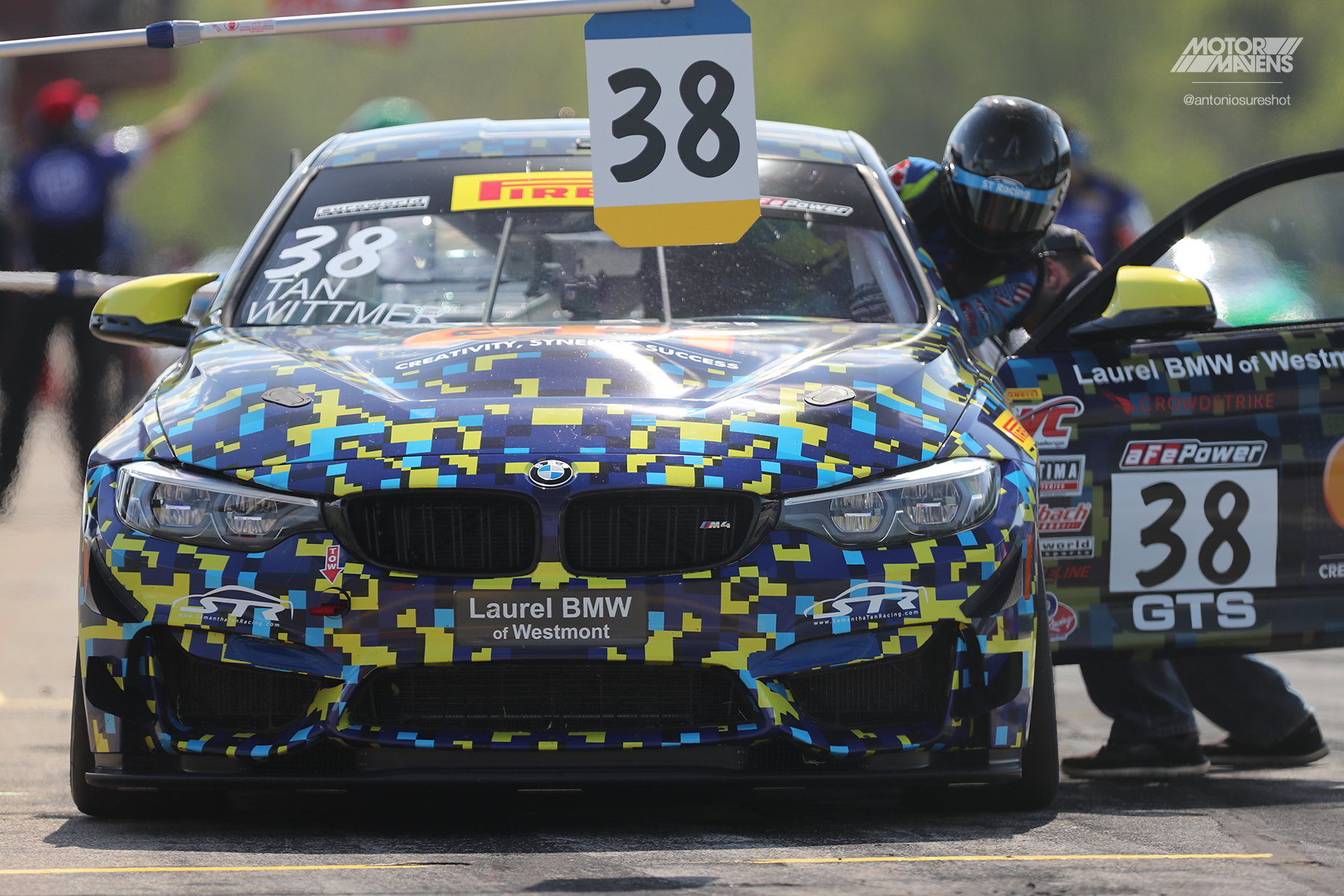 The PWC race at VIR was actually a SprintX event, a race format that includes a mandatory driver change. Pictured here is Toronto native Samantha Tan of ST Racing jumping out of her BMW M4 GT4 in the GTS class during the driver change.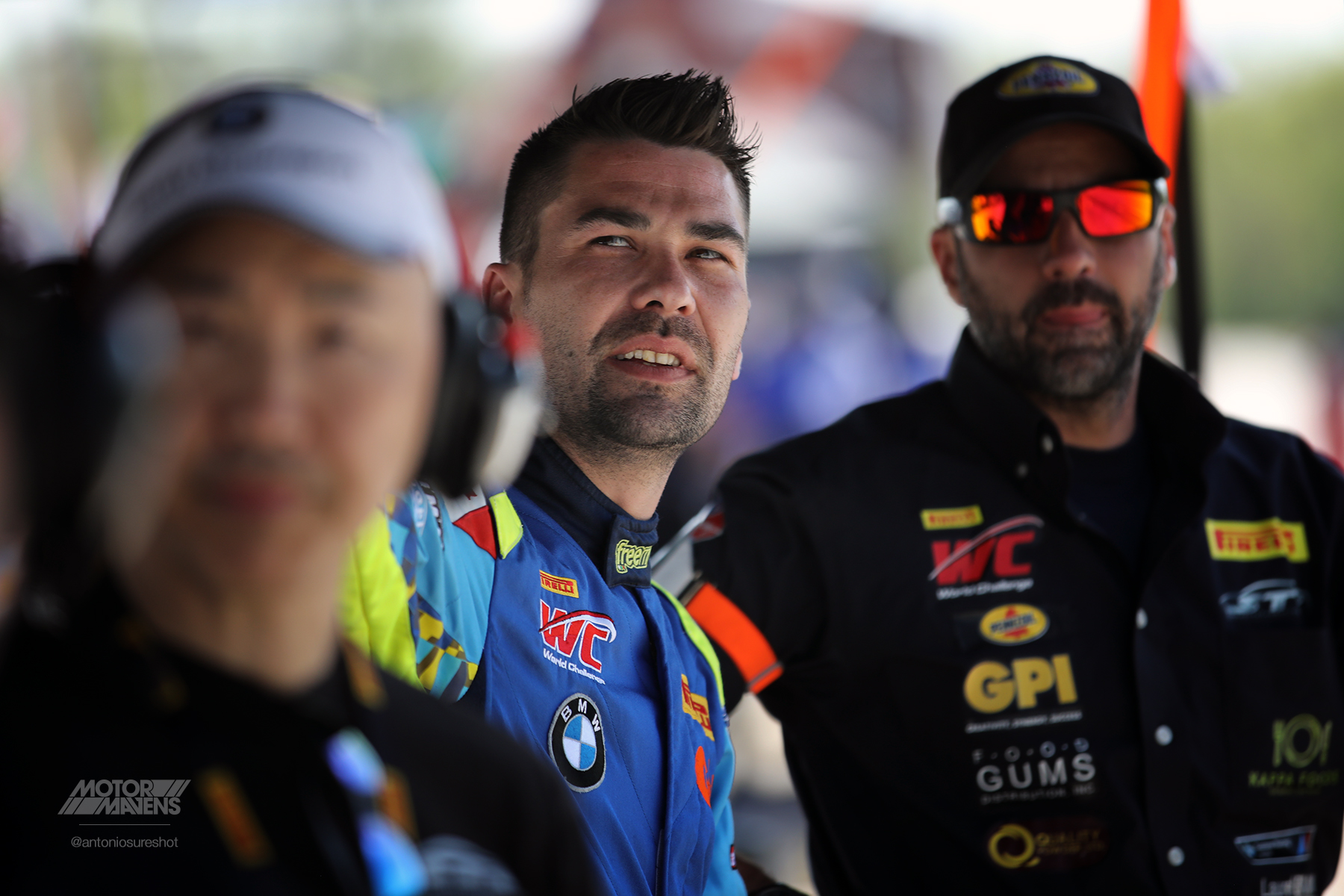 This is Samantha's teammate Nick Wittmer, also from Canada. Nick is quite a skilled driver, battling it out at the front of the pack on the start of the GTS SprintX Round 4.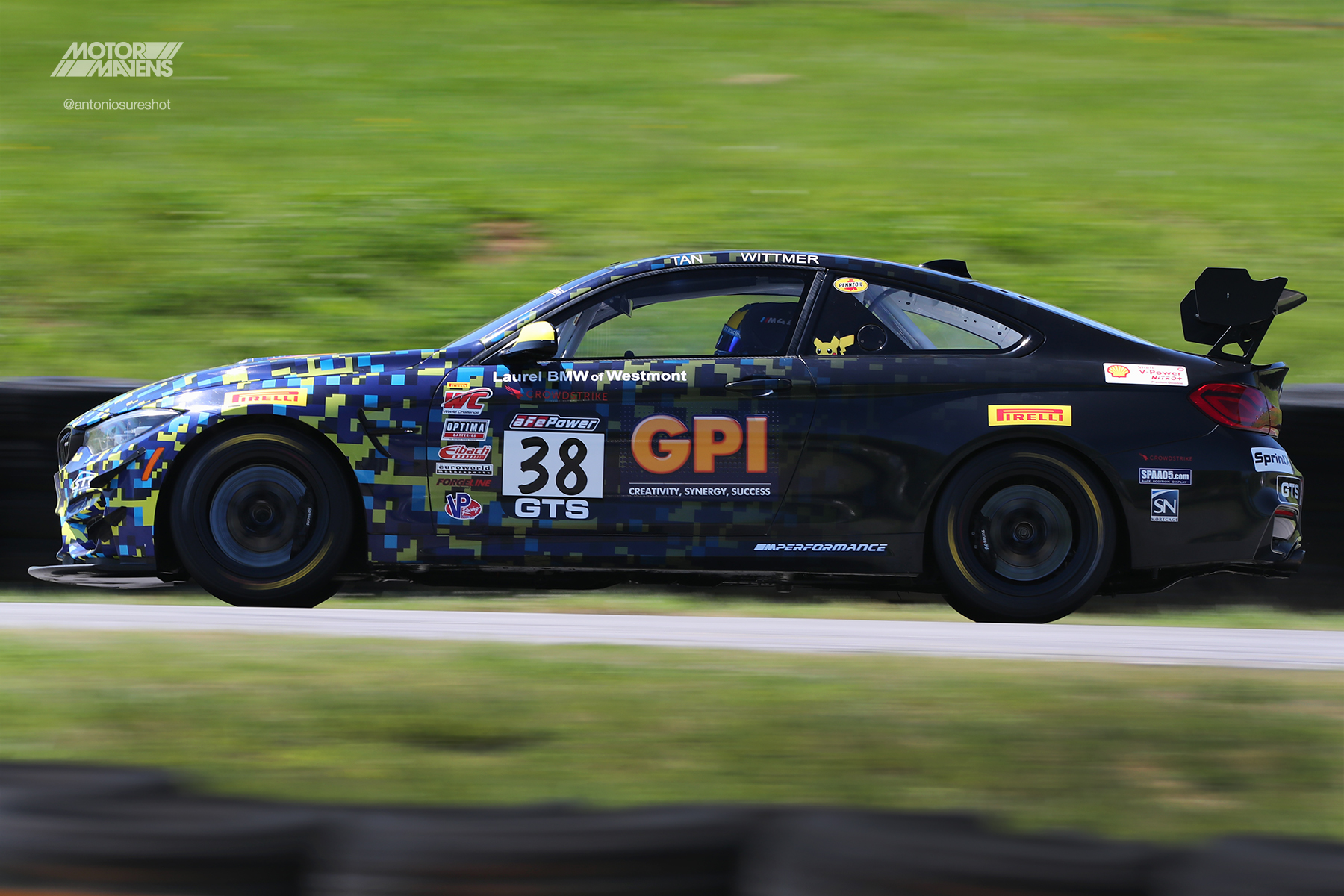 After being passed just after the race start when his BMW M4 GT4 was slightly pushed off the pavement, Nick fought his way up from 3rd place to become race leader in a few exciting laps, and maintained that lead until he pulled into the pits for the driver change.
Since this is a race event, one might think that the objective of the game is to perform car servicing, swap out the driver seat, and handle the driver change as soon as humanly possible, but that isn't always the case.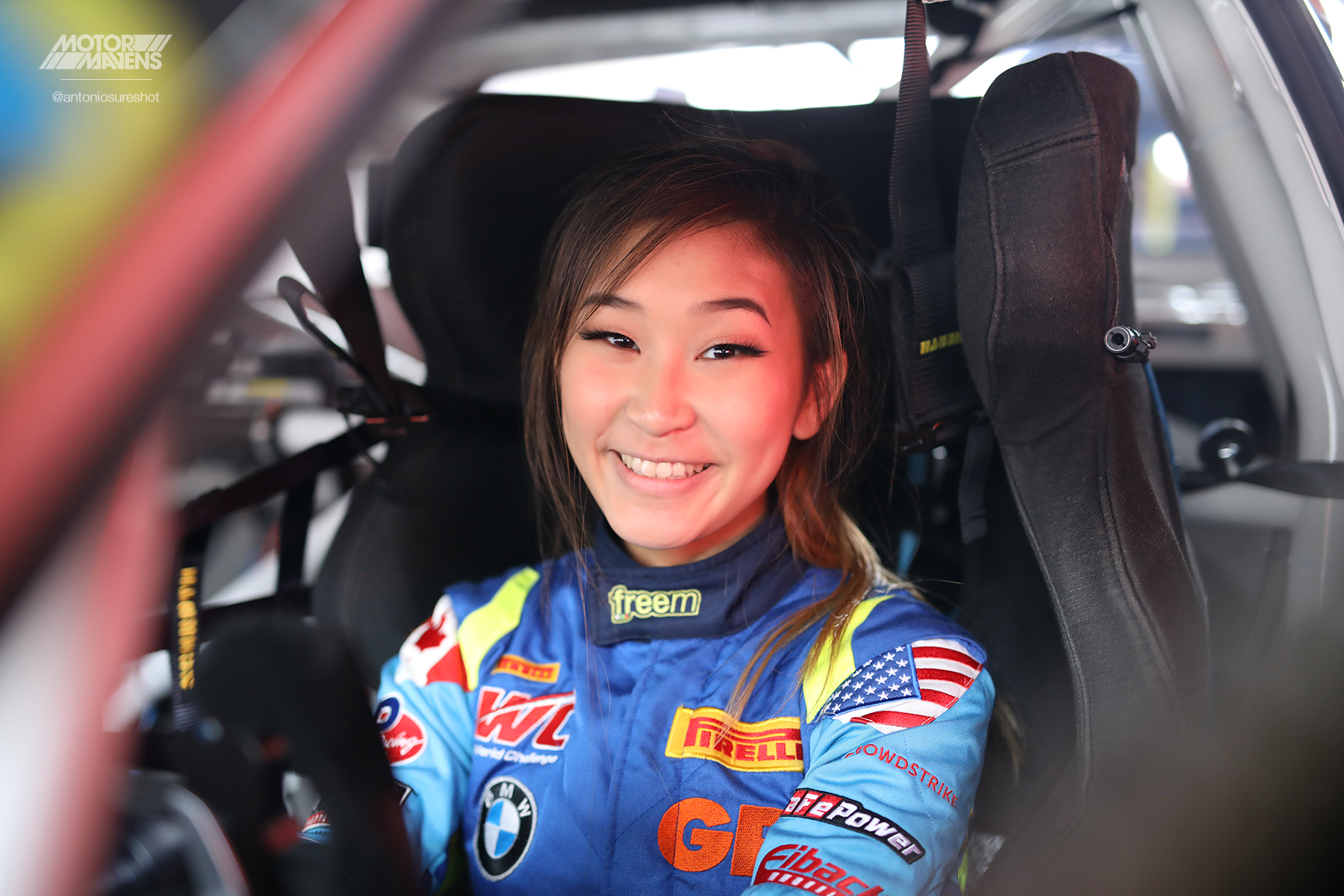 Apparently, Samantha and the members of ST Racing are actually too efficient in their movements, and performed their driver change and mandatory pit stop too fast by only a fraction of a second, which resulted in a penalty for the team! (Insert shocked face and facepalm emojis here.)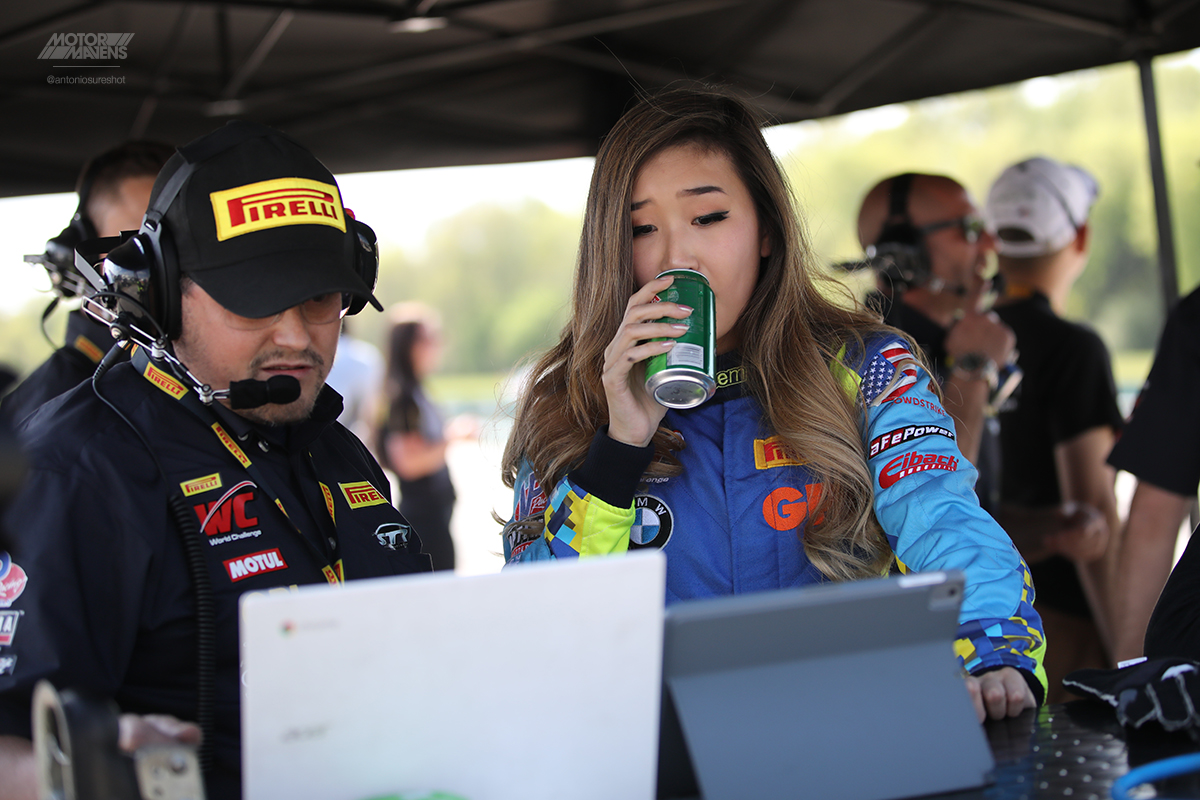 I can just imagine their Toronto-based race team reacting to the penalty super politely in the pit area, "WOT? I don't even know what those race officials are talking aboot! I know, eh… it's not our fault we're efficient, eh!"
Just in case you think I'm exaggerating on the Canada jokes, here's a pic of Samantha anxiously watching the race while sipping on a can of Canada Dry. LOL!!! I can't even make this stuff up.
Okay, okay… the members of ST Racing don't really speak like the Canadian stereotype, but it would be amazing if they did. It would also be amazing if ST Racing were sponsored by Canada-related brands like Canada Dry, Tim Horton's, Roots, Canada Goose jackets. I really hope that happens in the future.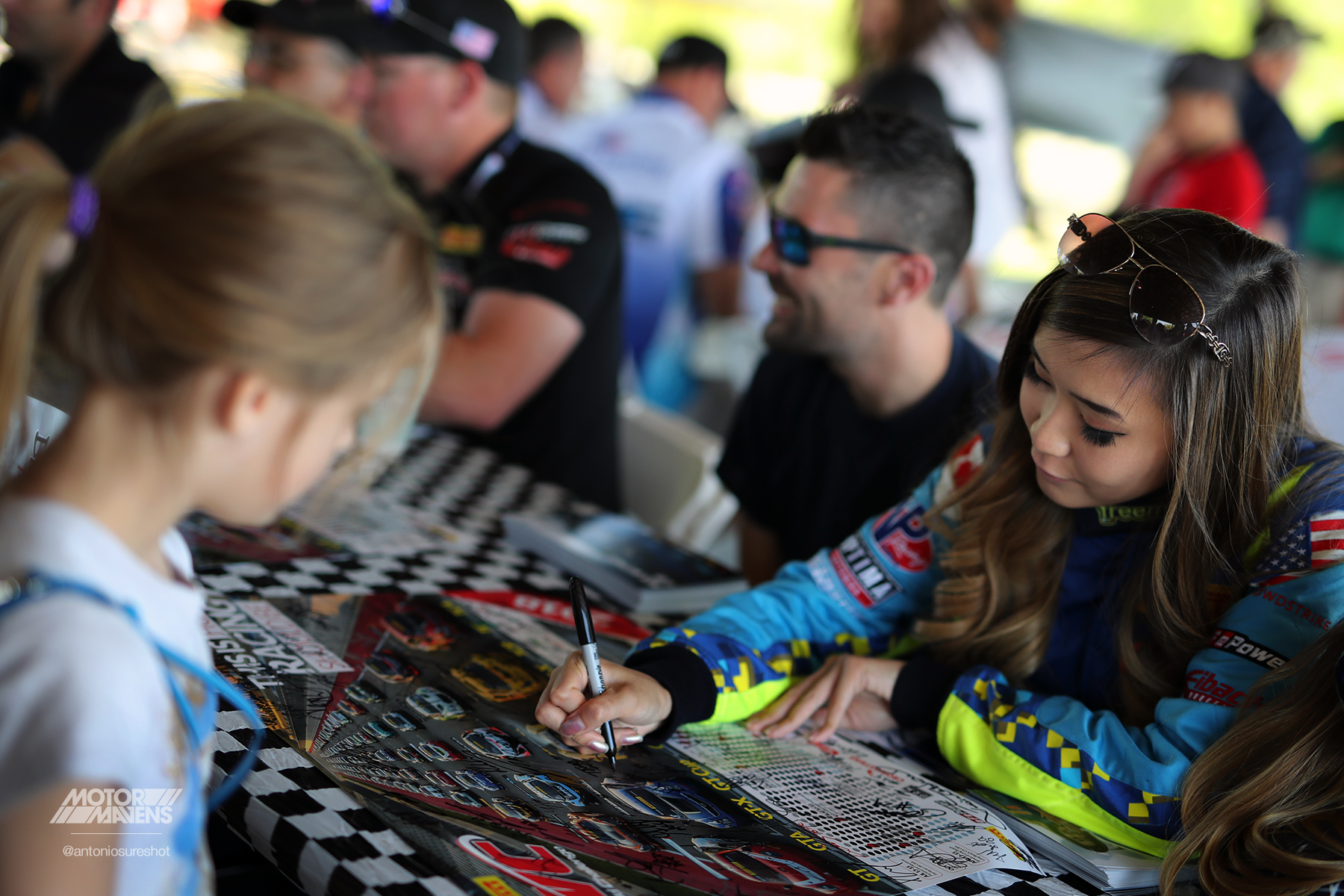 Inspiration for the next generation of race fans.
All jokes aside, I thought it was really cool to see young women like Samantha and her teammate Aurora Straus racing in the Pirelli World Challenge series. Having young female drivers like Samantha and Aurora in the driver seat can certainly inspire younger generations of race fans.
I observed an interaction of several little girls coming up to Samantha and Aurora during the driver autograph session. Even though the little girls didn't really vocalize this, I could kind of tell by the way the little girls were looking at Samantha and Aurora – they were both captivated and inspired to see these two young ladies in race suits instead of grid girl uniforms. On top of that, both drivers are friendly, so it was really great seeing how the young children interacted to Samantha and Aurora – with wide eyes full of wonder.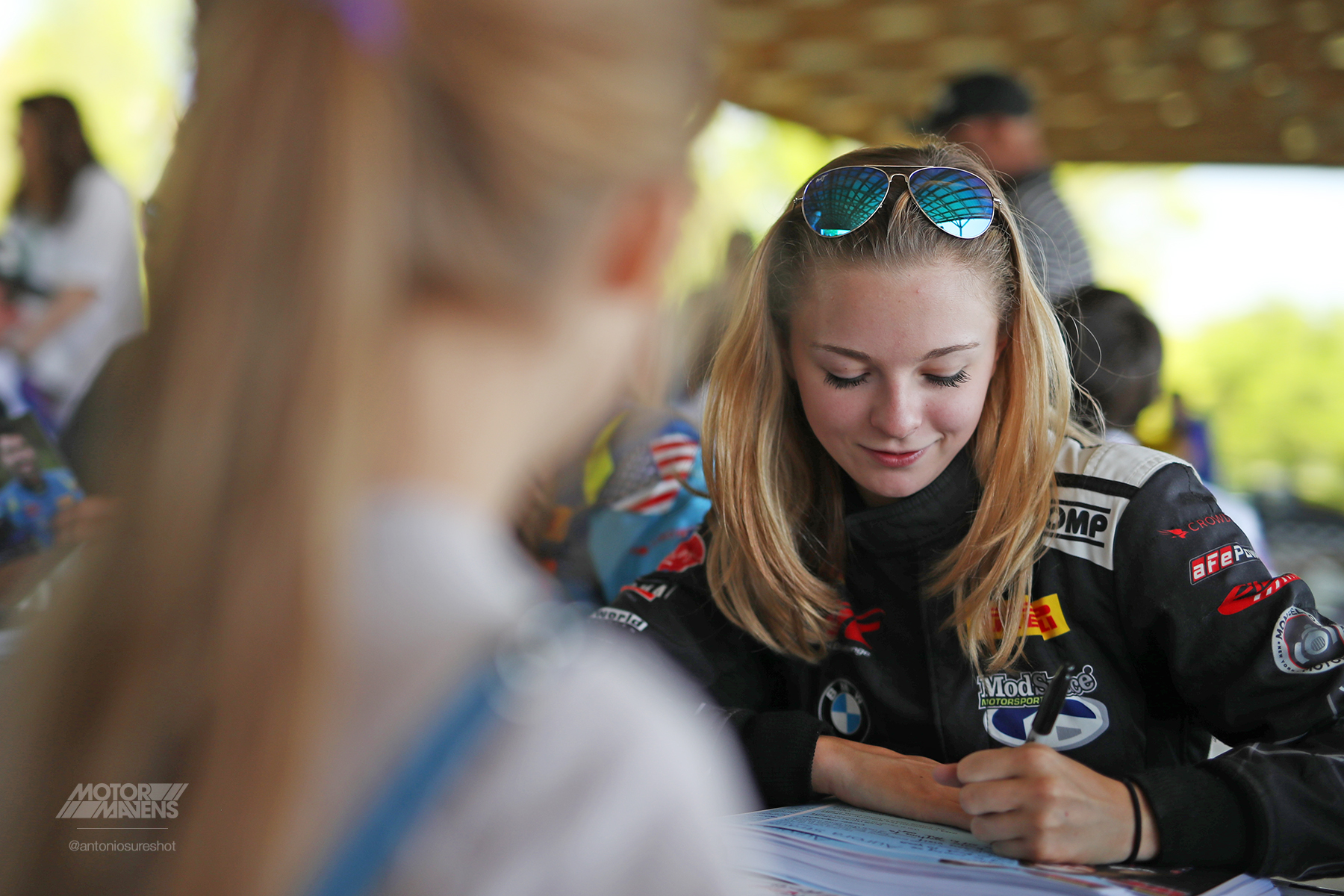 You just never know… sometimes it's even the smallest interaction that can create a spark of inspiration in a young mind. Possibly seeing Samantha and Aurora in their driving suits could help cement the belief in the minds of young female race fans that they too can achieve anything they set out to do; no matter what others may think, regardless of the limitations or traditional gender roles that others might try to impose on them. I realize I'm kind of straying from the topic of race reporting with this thought, but I just know how impressionable young minds are, so I think having these ladies compete as part of the series is really good for the sport in general.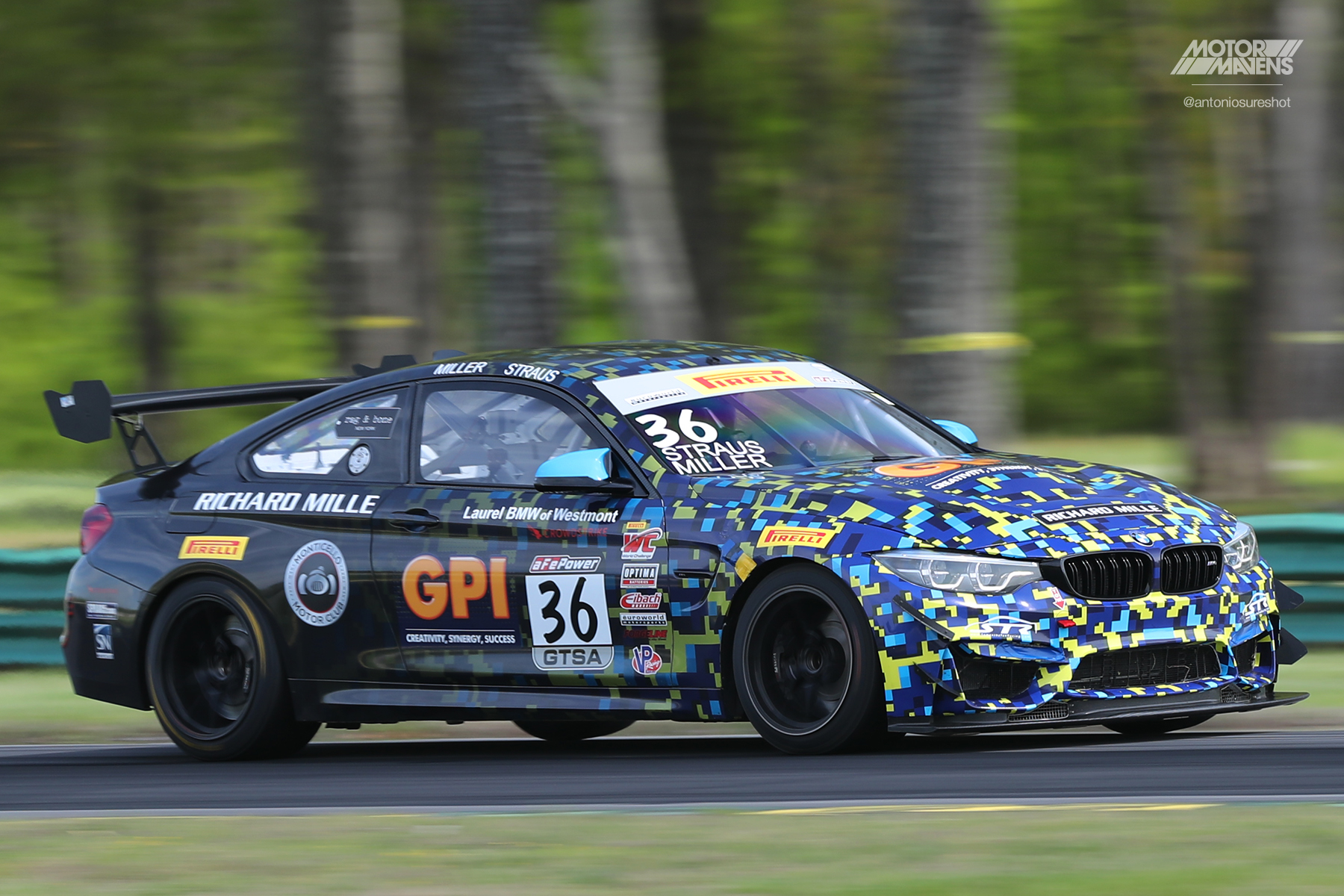 Oh, by the way… don't be fooled into thinking Aurora Straus is just eyelashes and Girl Scout Cookies. She is a fast driver, and definitely holds her own behind the wheel of the Richard Mille ST Racing BMW M4 GT4.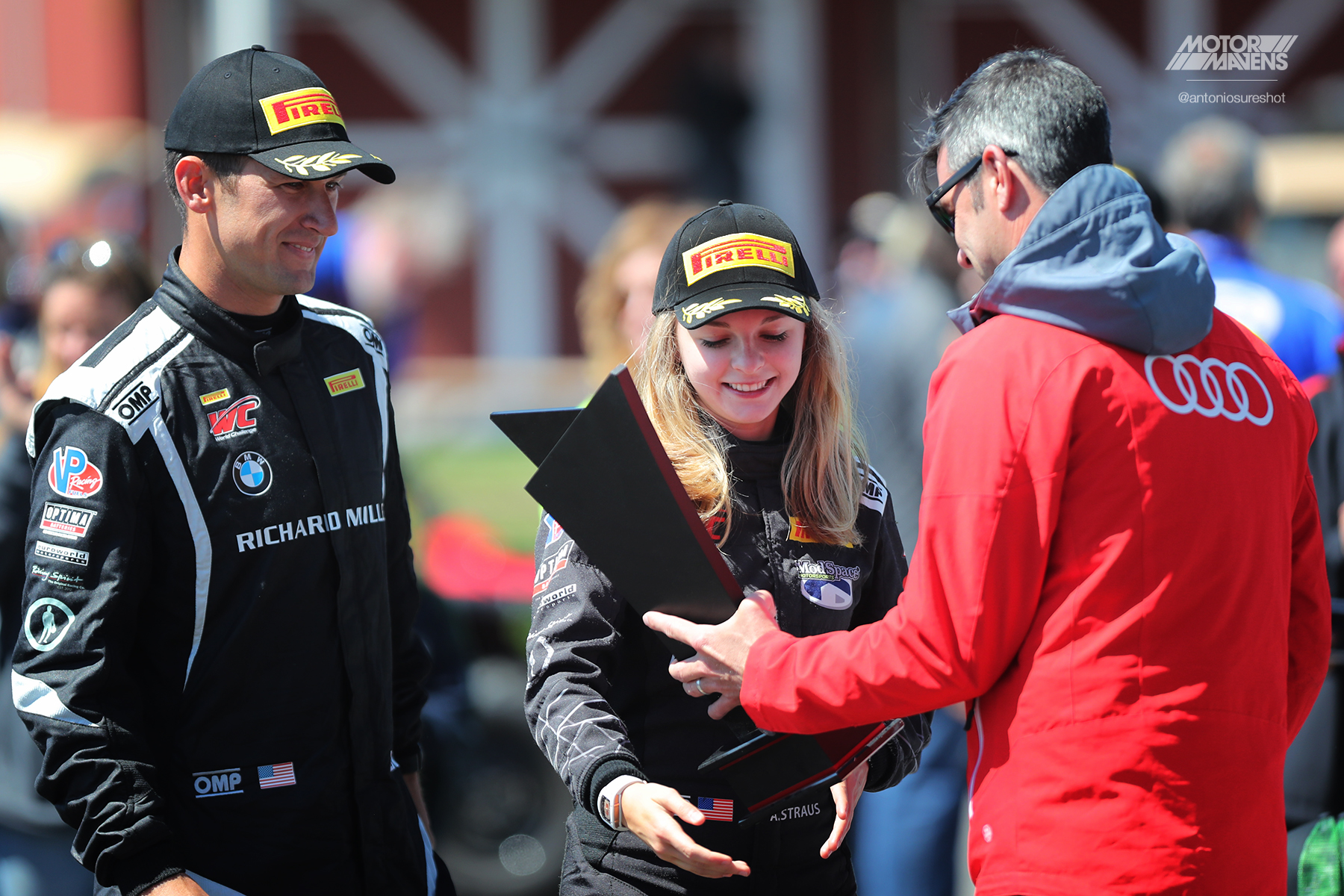 At the end of the race, Aurora and teammate Jon Lee Miller reached the top of the podium, winning 1st Place in the GTS SprintX at the end of the day on Sunday!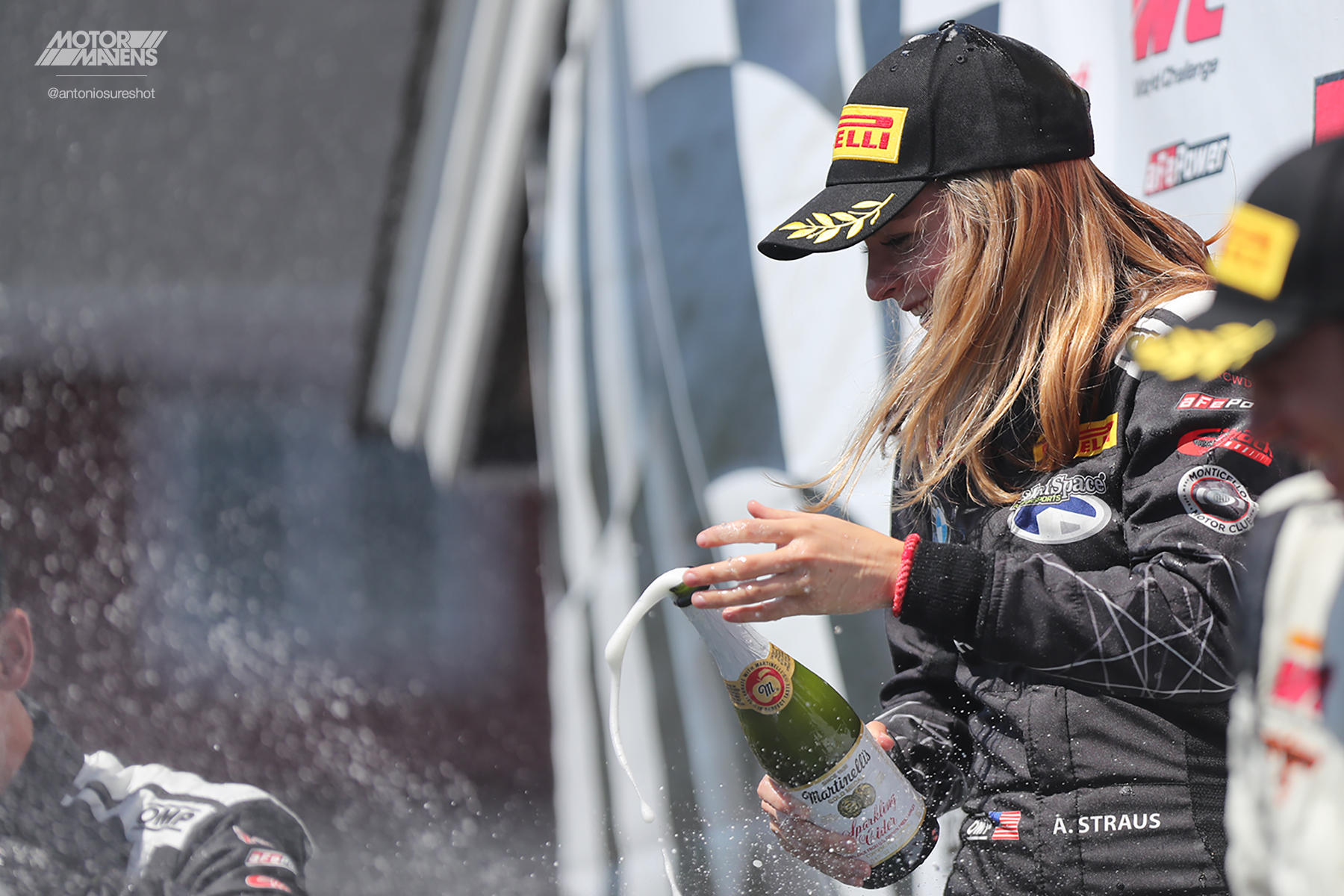 I really hope the little girls who got Aurora's autograph earlier that weekend were able to see her stand atop the podium, shaking up her Martinelli's sparkling cider! How awesome would that have been!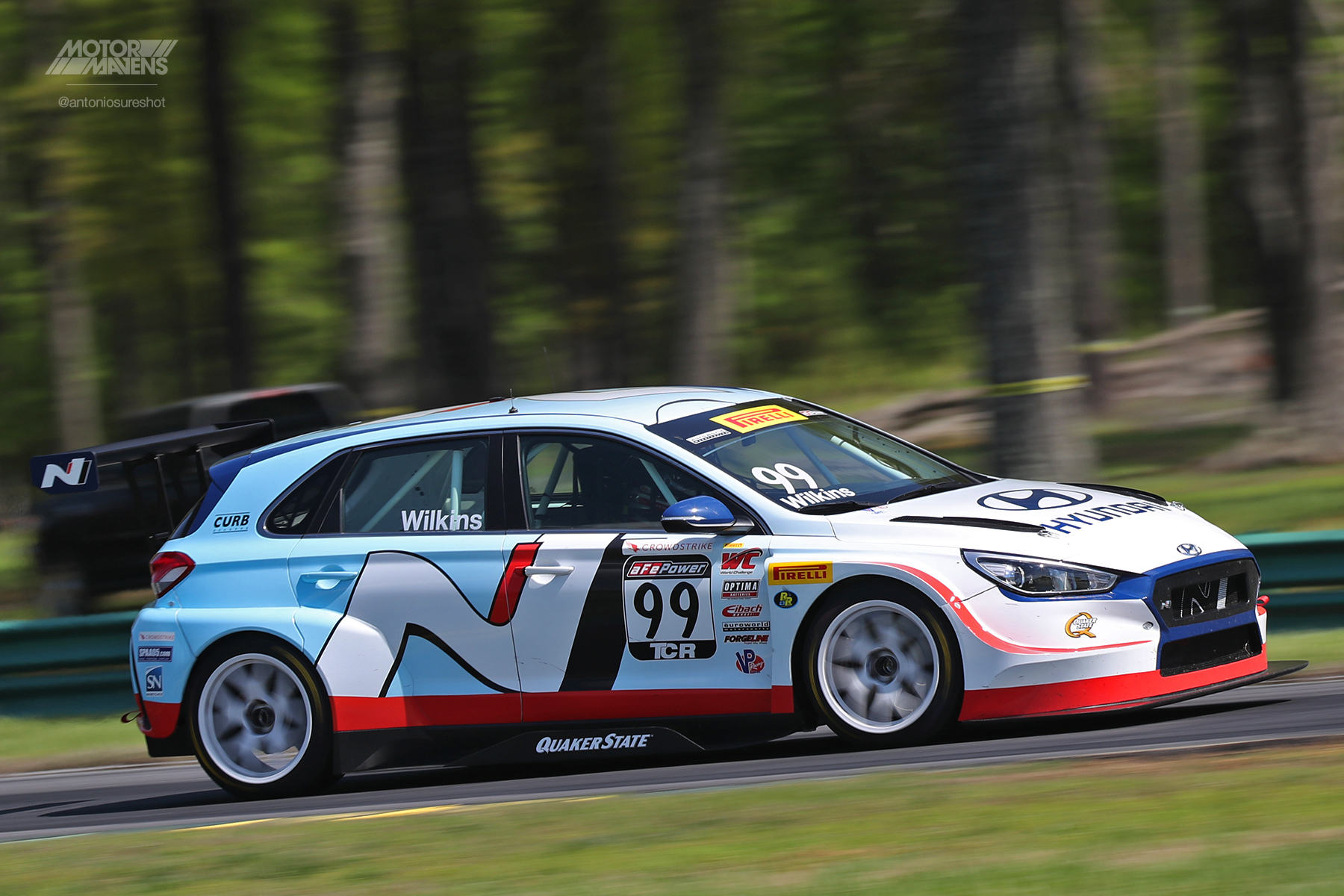 New to the Pirelli World Challenge Championship is the TCR class, which apparently started in Europe for teams who built widebody touring cars. Hyundai had a presence as a manufacturer team, campaigning a pair of i30N 5-door hatchbacks, and started the TCR race in first and second place.
To be honest, I don't know a whole lot about the i30N but it looks pretty dope. It seems a bit similar to the Hyundai Elantra GT, but I do remember seeing an i30N race car from the legendary Nurburgring 24H on display at the Hyundai booth at SEMA 2017, and the front end of both cars looked slightly different.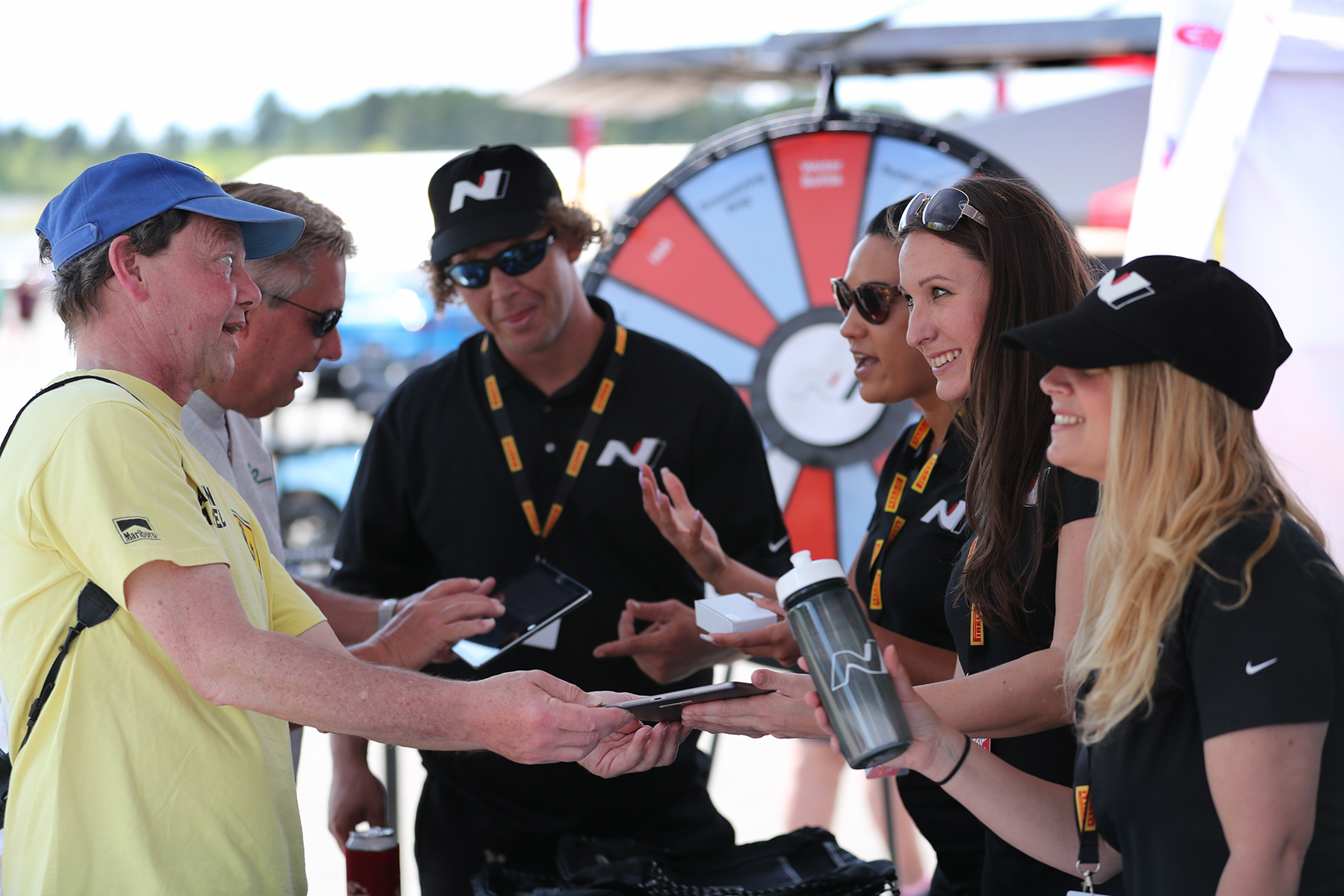 Hyundai also had a display booth at the event, with giveaways for people who came up to ask about the cars.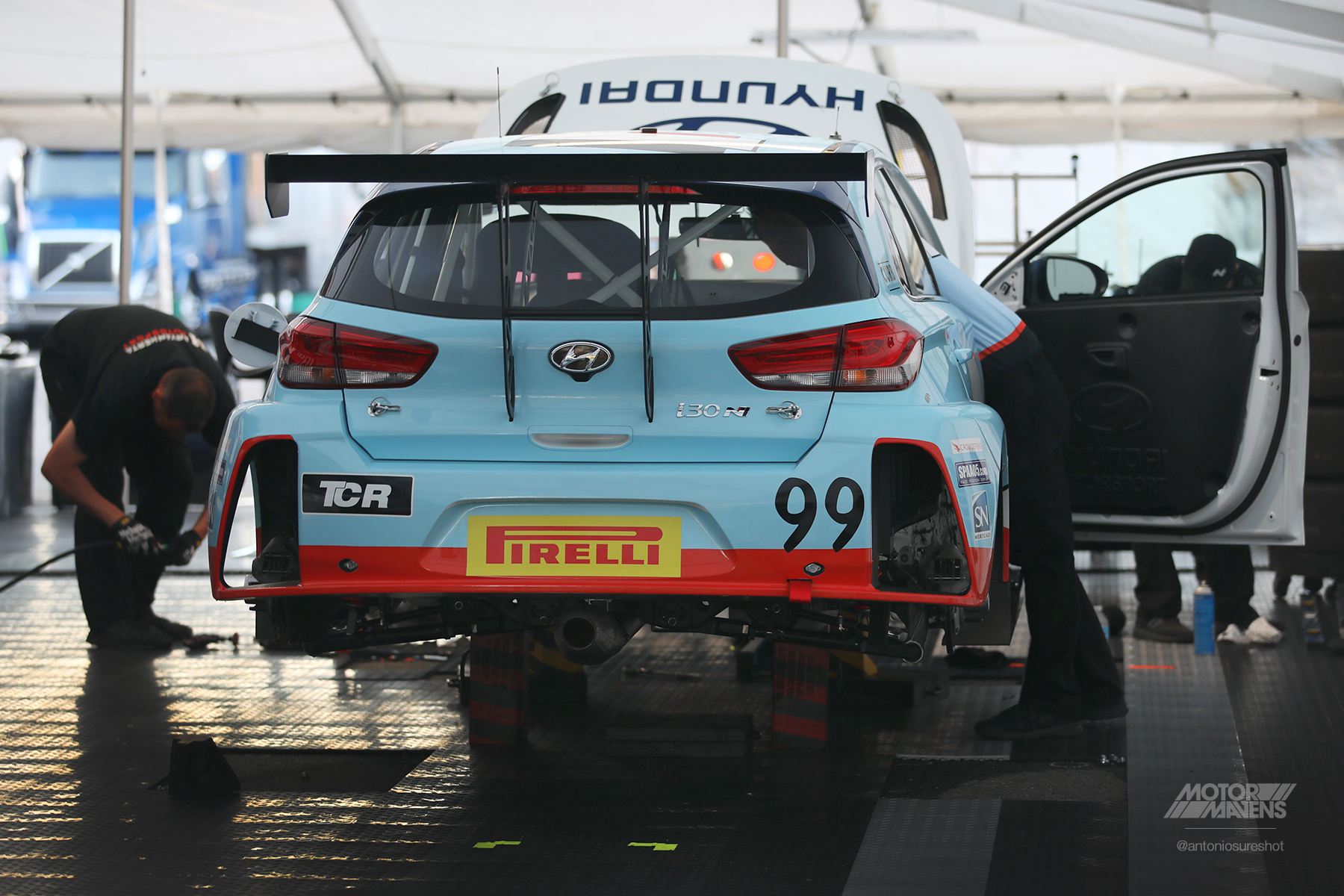 Next to the booth was the garage area where the Hyundai team was working on their pair of TCR i30N race cars. Those wide fenders and bumpers with aero reliefs do A LOT to make the cars look cooler than the normal street car that you can buy from dealerships. It would be pretty cool if someone built a street car based on the look of a TCR i30N, minus the big GT wing.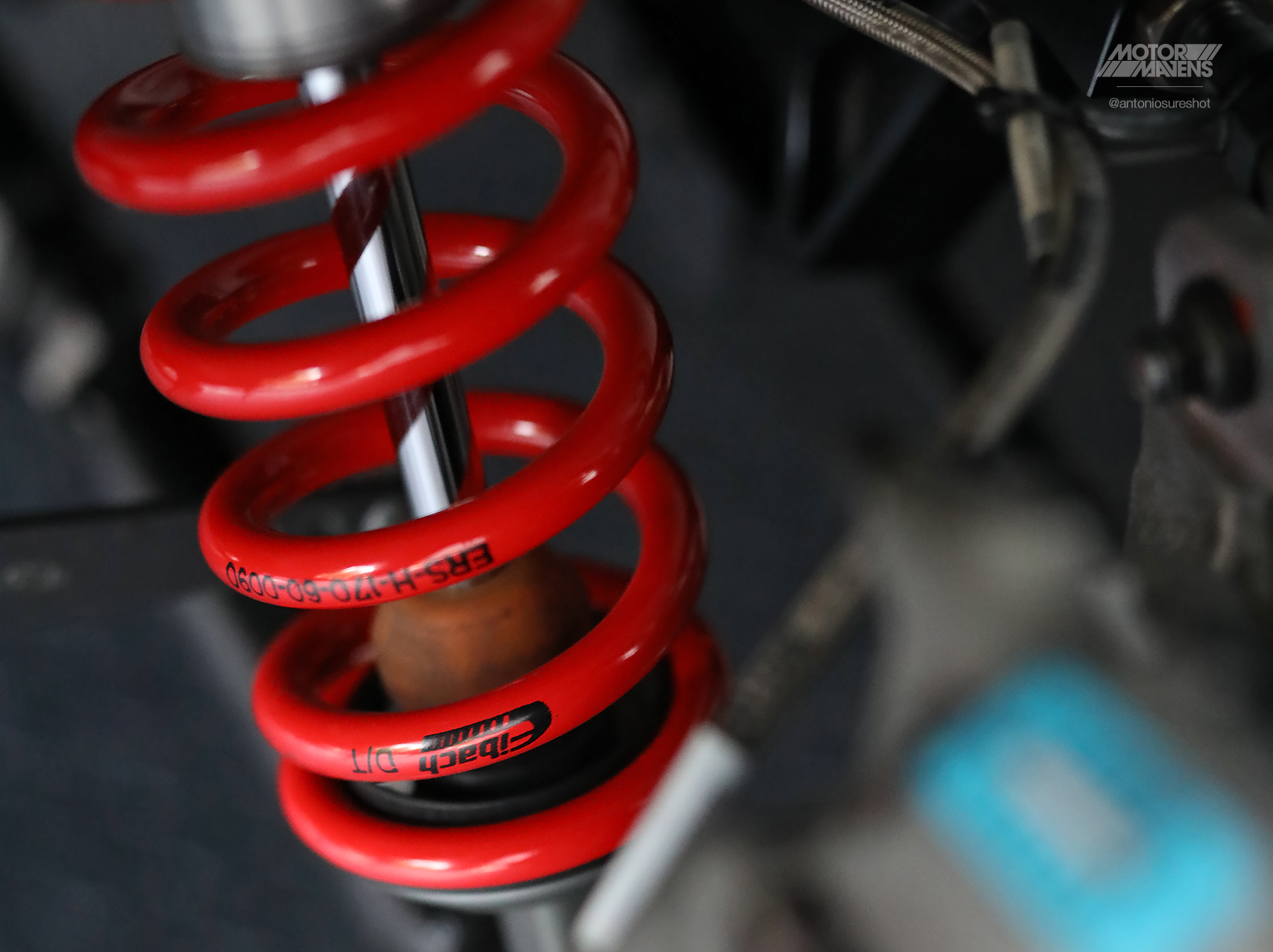 Since the wheels were off, I noticed that the Hyundai team was running Eibach ERS springs on their coilovers. Do you know how to read the numbers on the spring?
In this case, the Eibach springs on the rear of the Hyundai i30N say ERS-H-170-60-0090. This means the spring length is 170mm, and spring's inner diameter is 60mm, and 0900 denotes the spring rate, or stiffness.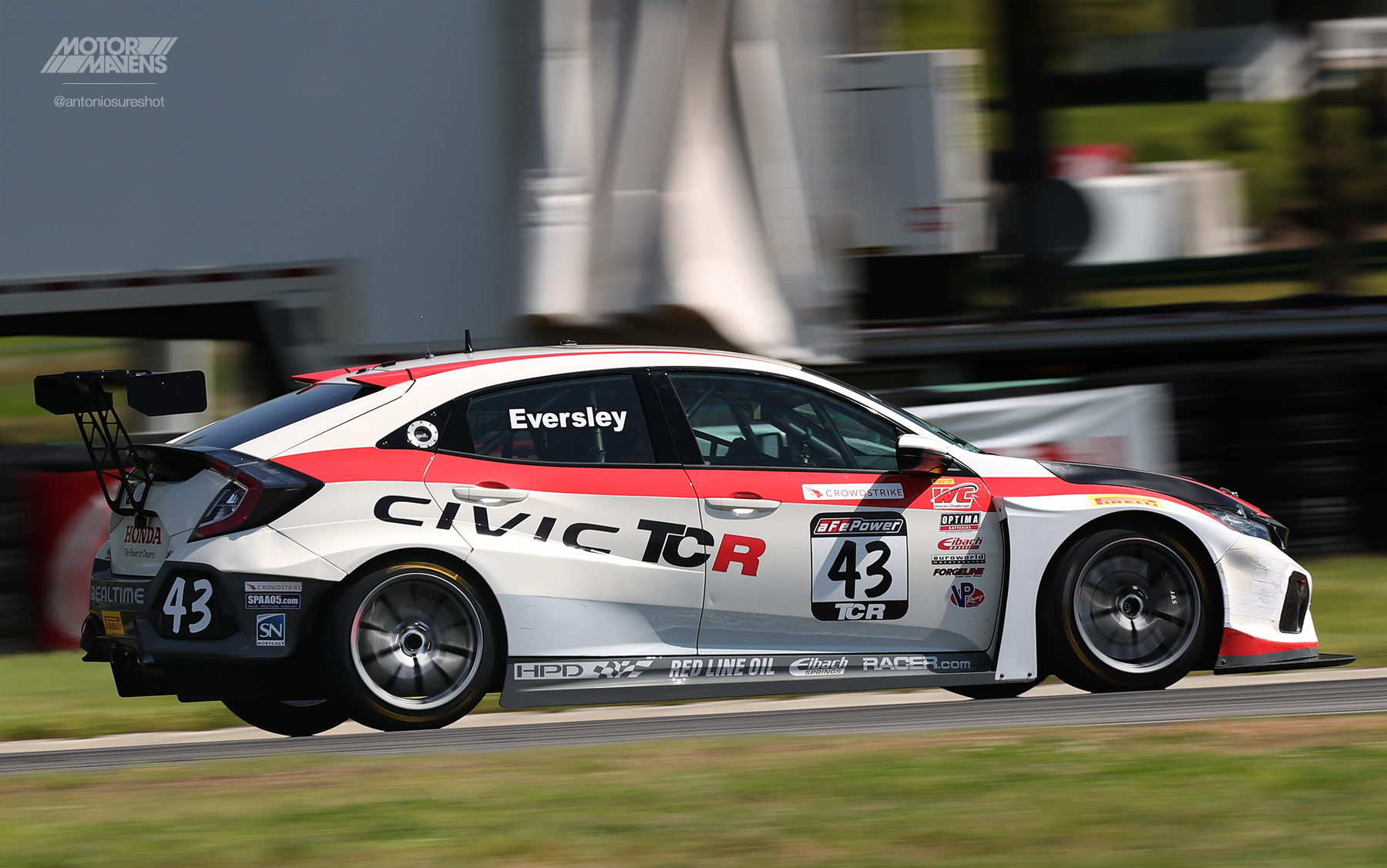 Also running on Eibach Suspension is the Real Time Racing Civic Type R driven by Ryan Eversley, who won First Place in the TCR class, recording the first-ever North American race win for the new Honda Civic Type R!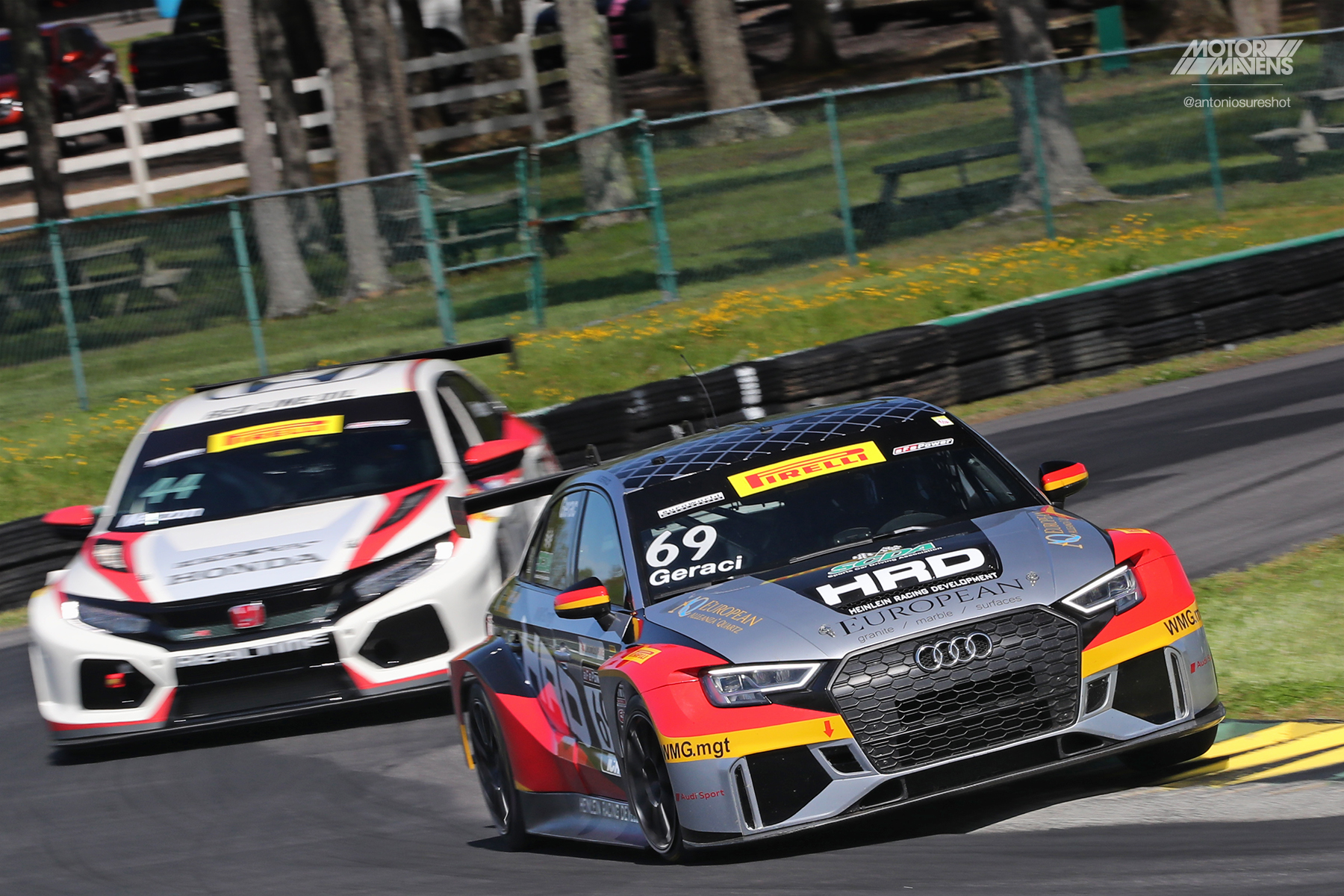 One of the cars from the TCR class that my camera seemed to love the most was this Heinlein Racing Development Audi RS3 LMS, driven by Anthony Geraci from Brooklyn New York. Just look at how mean this thing looks as it attacks the rumble strips!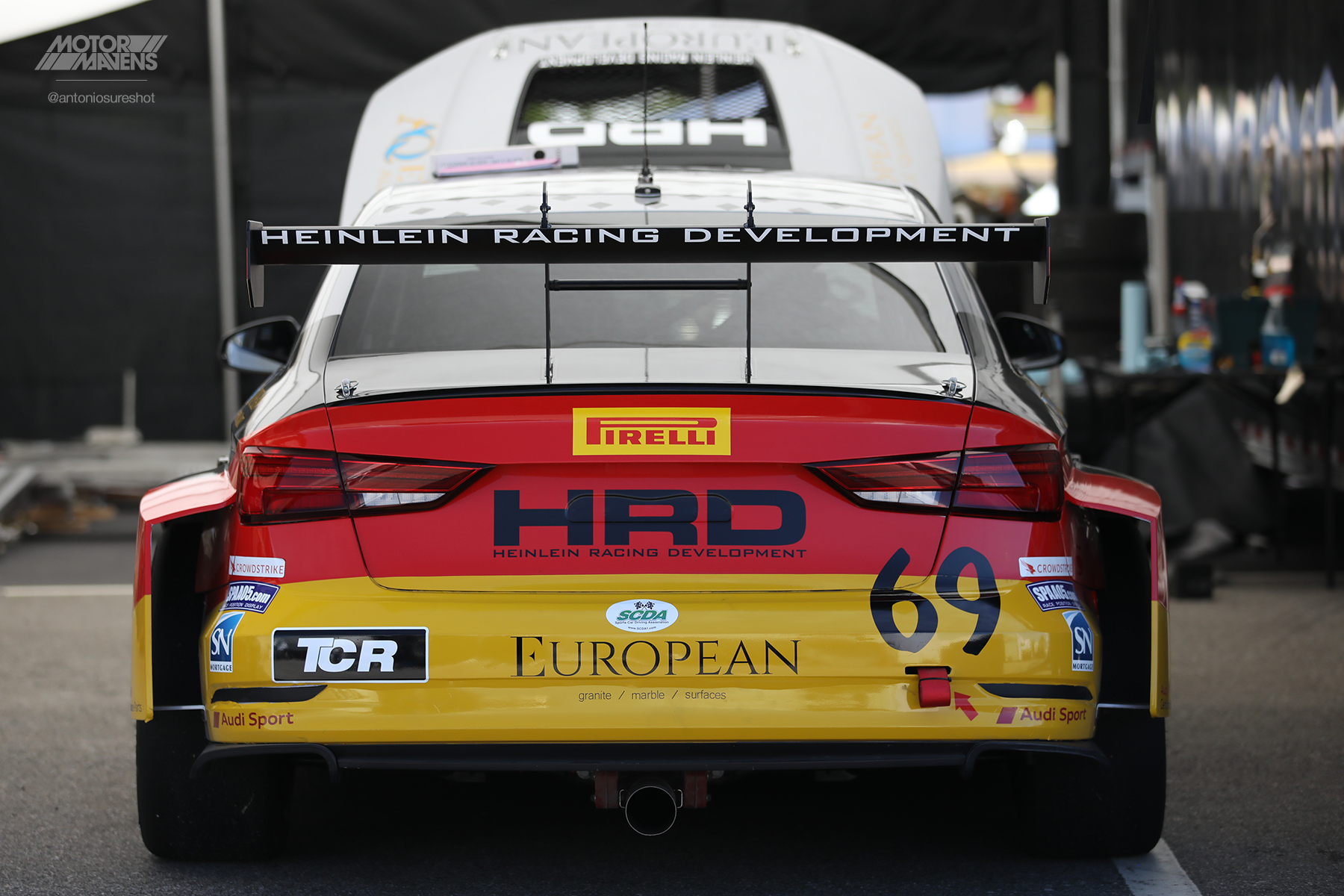 "This RS3 is HRD as hell… Battle anybody, I don't care if you tell!"
When I think of Audis, I think of AWD performance, but these Audi RS3 LMS cars are actually front wheel drive, just like all the other cars in the TCR class. Check out that center exhaust too!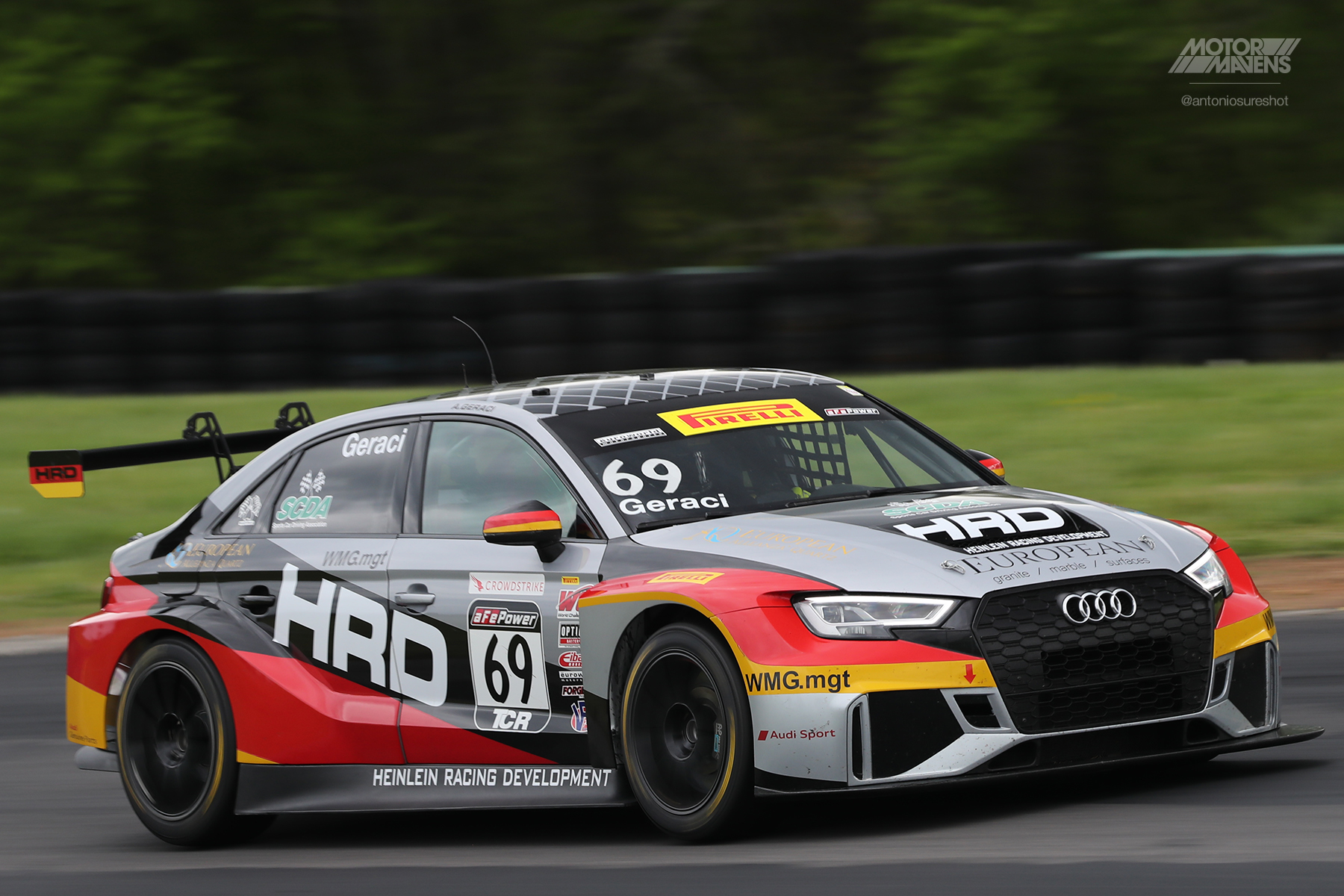 Look at those crazy DTM-esque rear box fenders too – these cars don't look like they're FWD!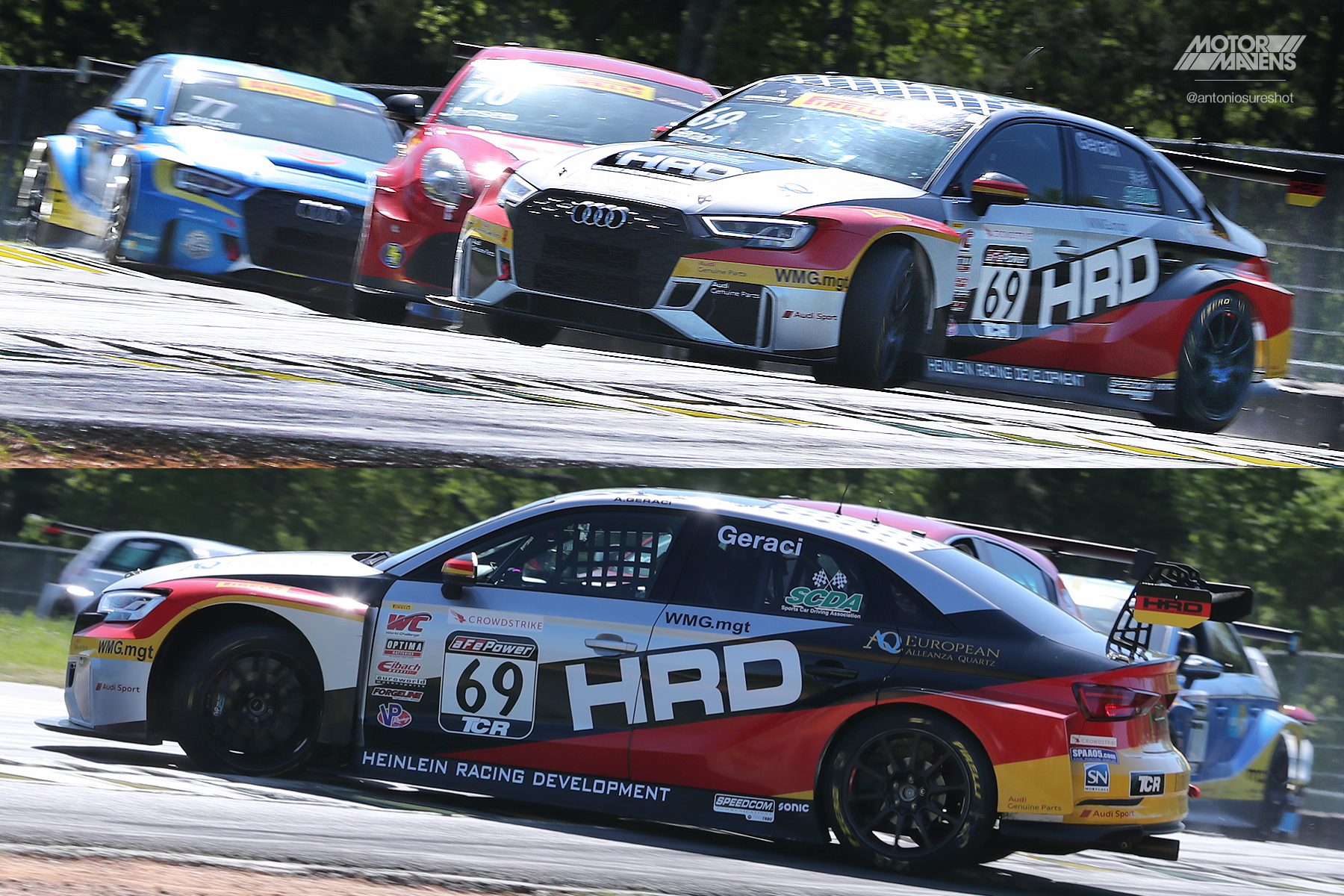 Wait… doesn't this look like a three-car tandem drift photo?!
I realize the top photo isn't even in focus, so I wouldn't normally post it, but I decided to post this capture anyway because when I was shooting on top of the hill near the Oak Tree corner, I saw Geraci's FRONT WHEEL DRIVE Audi RS3 LMS starting to slide around the corner with two other cars hot on his tail!
It definitely looks like the type of three-car tandem drift image that I normally shoot when I'm in Japan, but this all took place in a race amongst FWD cars.
Anyway, nice save from Geraci… he didn't spin. It just goes to show how close these cars are running and how fierce the level of competition in the TCR series is. Everybody loves the GT cars, but TCR was actually one of the most interesting race groups to watch over the course of the weekend!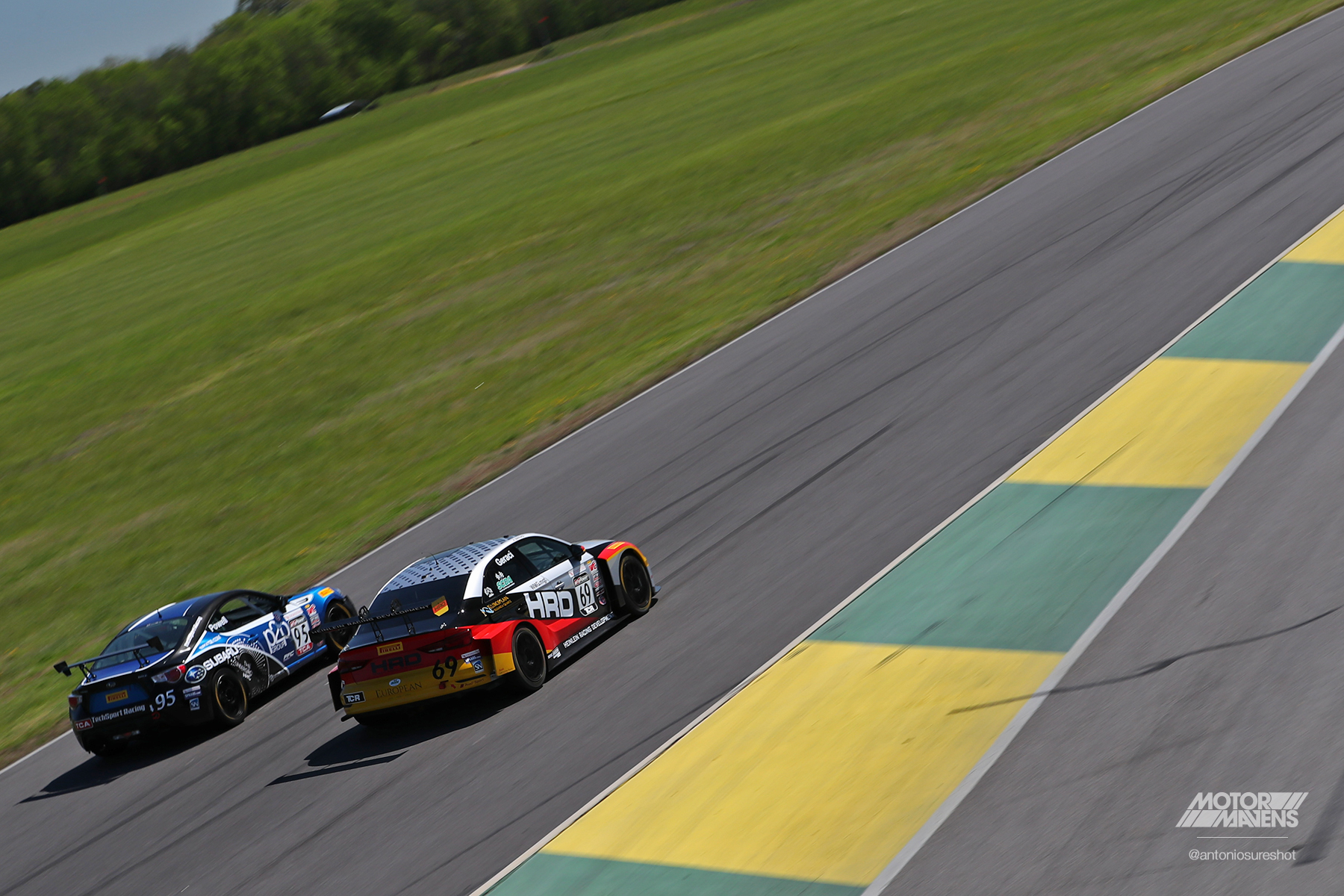 All the way on the other side of the track, I decided to climb up the flagger's tower to get a high viewpoint of the action, and I saw the HRD Audi RS3 LMS drag racing this ZC6 Subaru BRZ down the front straight.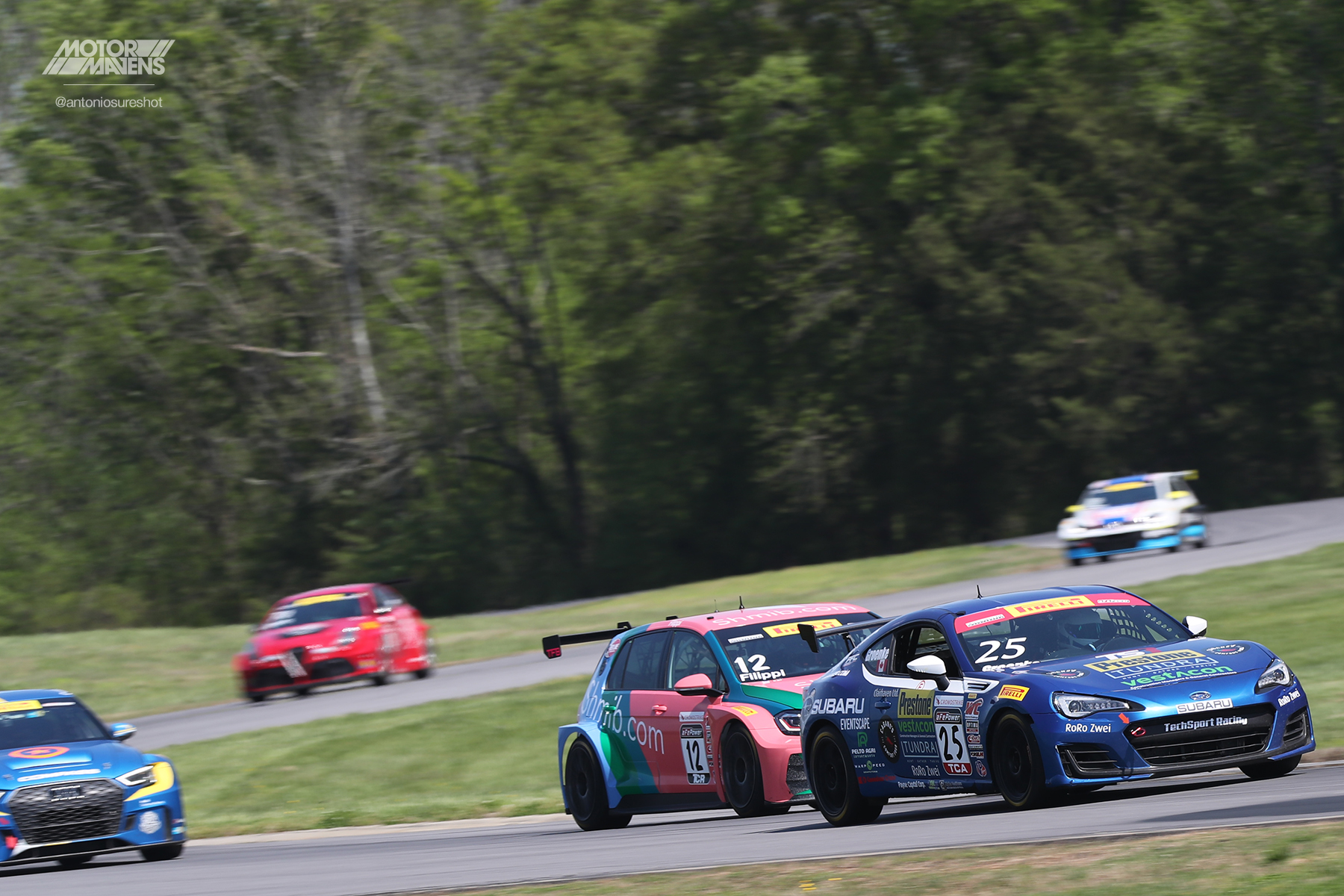 This BRZ is being campaigned in the TC class by a team from New York called Tech Sport Racing. When he found out that I'm the owner/organizer of 86FEST, North America's largest event catering to the Subaru BRZ and Toyota 86 platform, the team owner mentioned to me that he also runs a business that sells parts for these cars, called BRZ HQ, so I thought I'd give them a mention.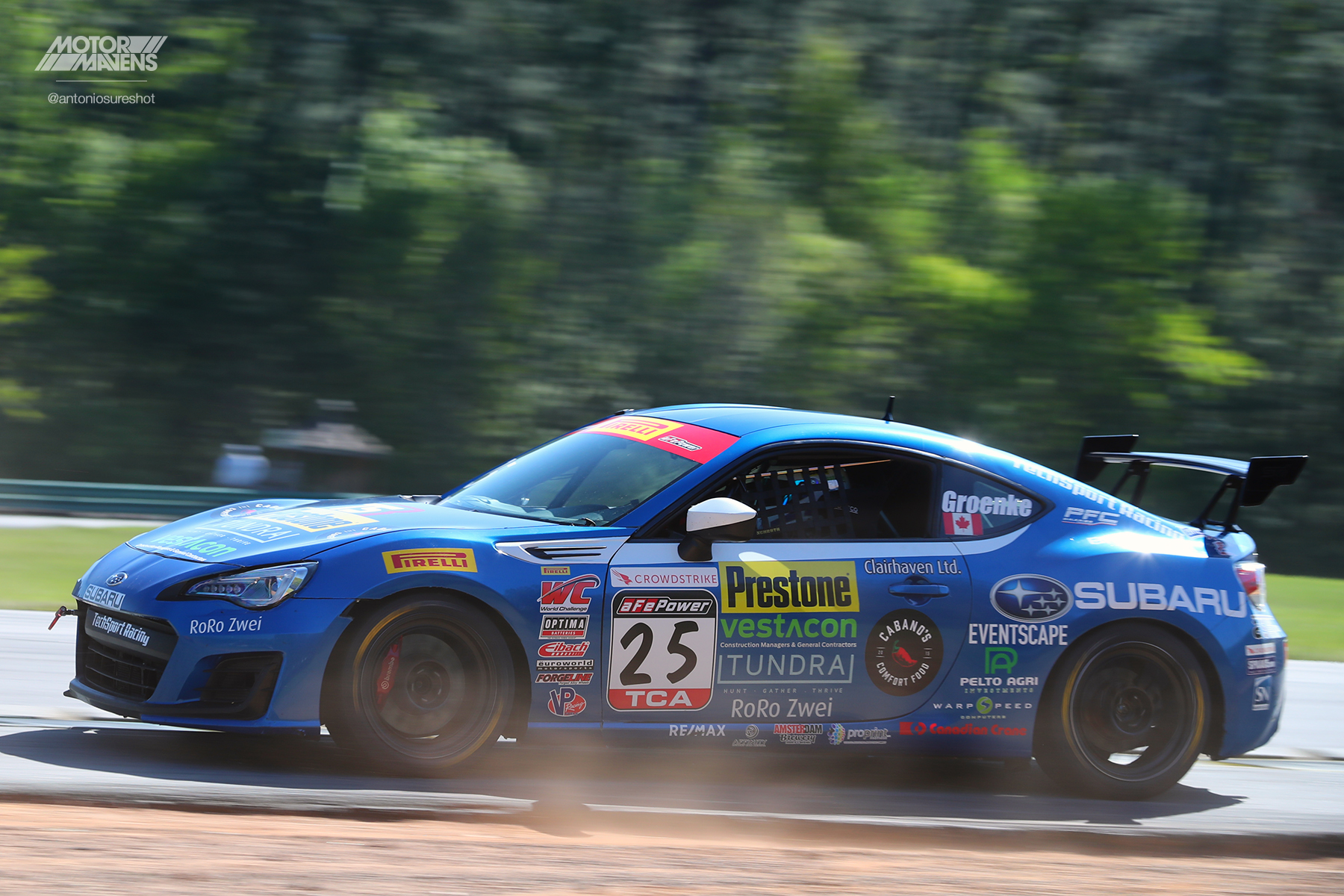 It seems that there are actually quite a few Canadians racing in the PWC series, as this BRZ is being driven by PJ Groenke from Toronto Ontario.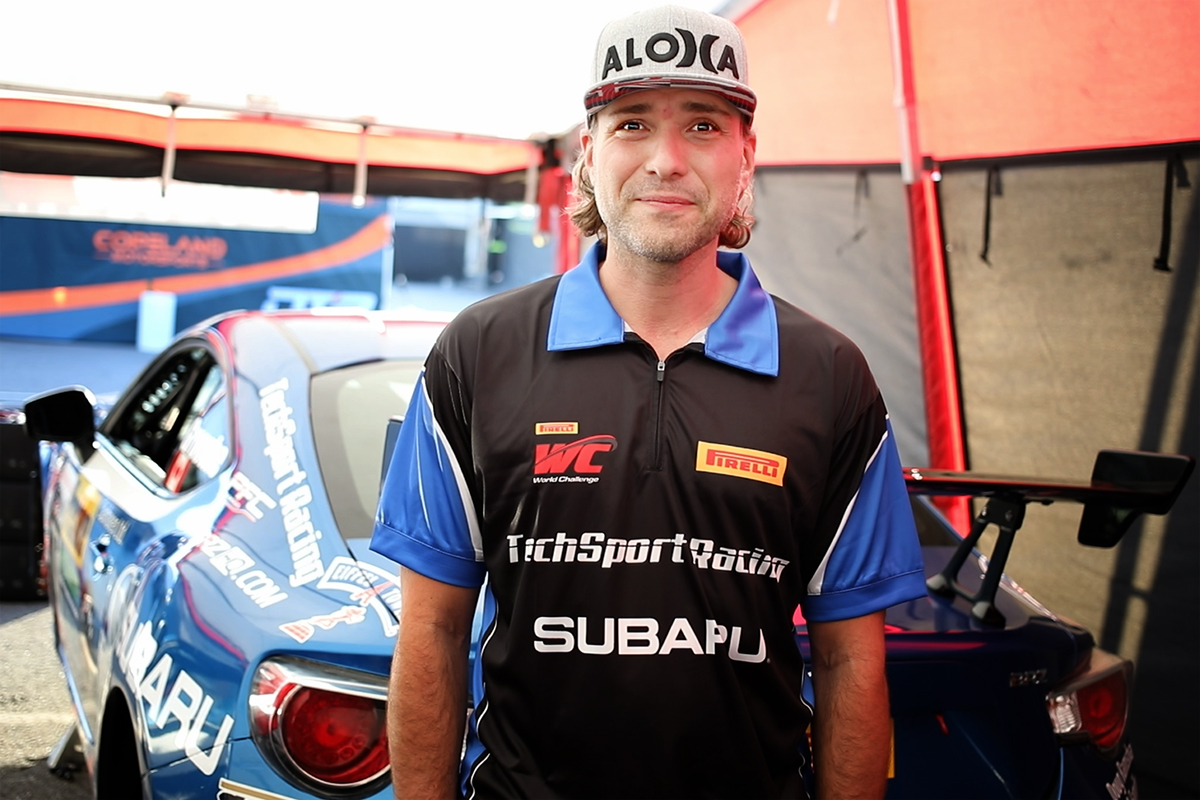 This is a screen capture of a video I shot of PJ for the Pirelli World Challenge Instagram. PJ was super nice and humble, but I learned that he was the PWC Touring Car B-Spec (TCB) Driver's Champion last year! Apparently, he loves Hawaii a lot too. Shoots!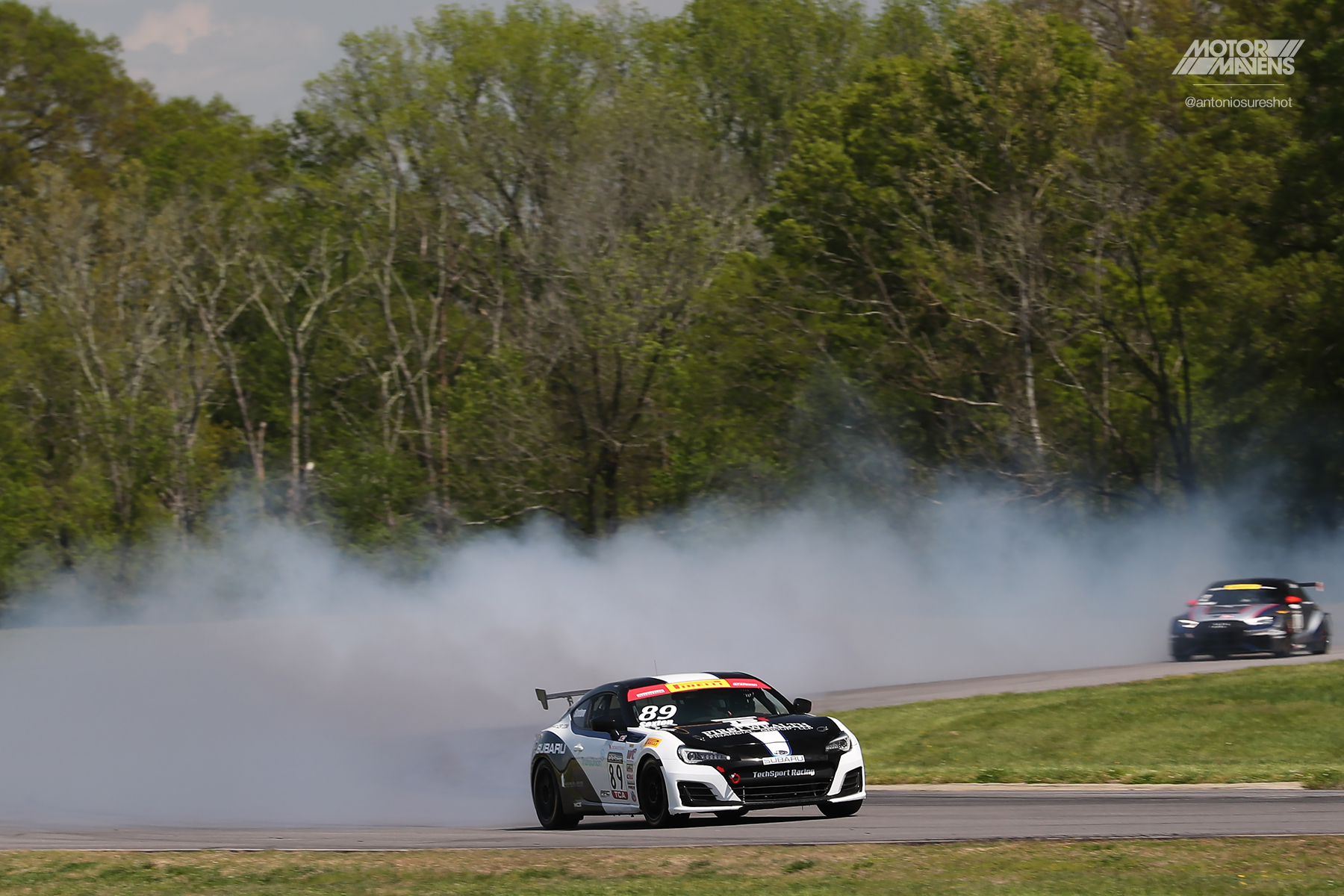 When I see the new ZN6 Toyota 86 or ZC6 Subaru BRZ chassis in motorsports, it's usually at a drifting event. Doesn't this look like drifting though? From the plumes of smoke coming out of the #89 BRZ from Tech Sport Racing, it looks as if this car popped a motor because that smoke was coming out of the exhaust, not the fender wells!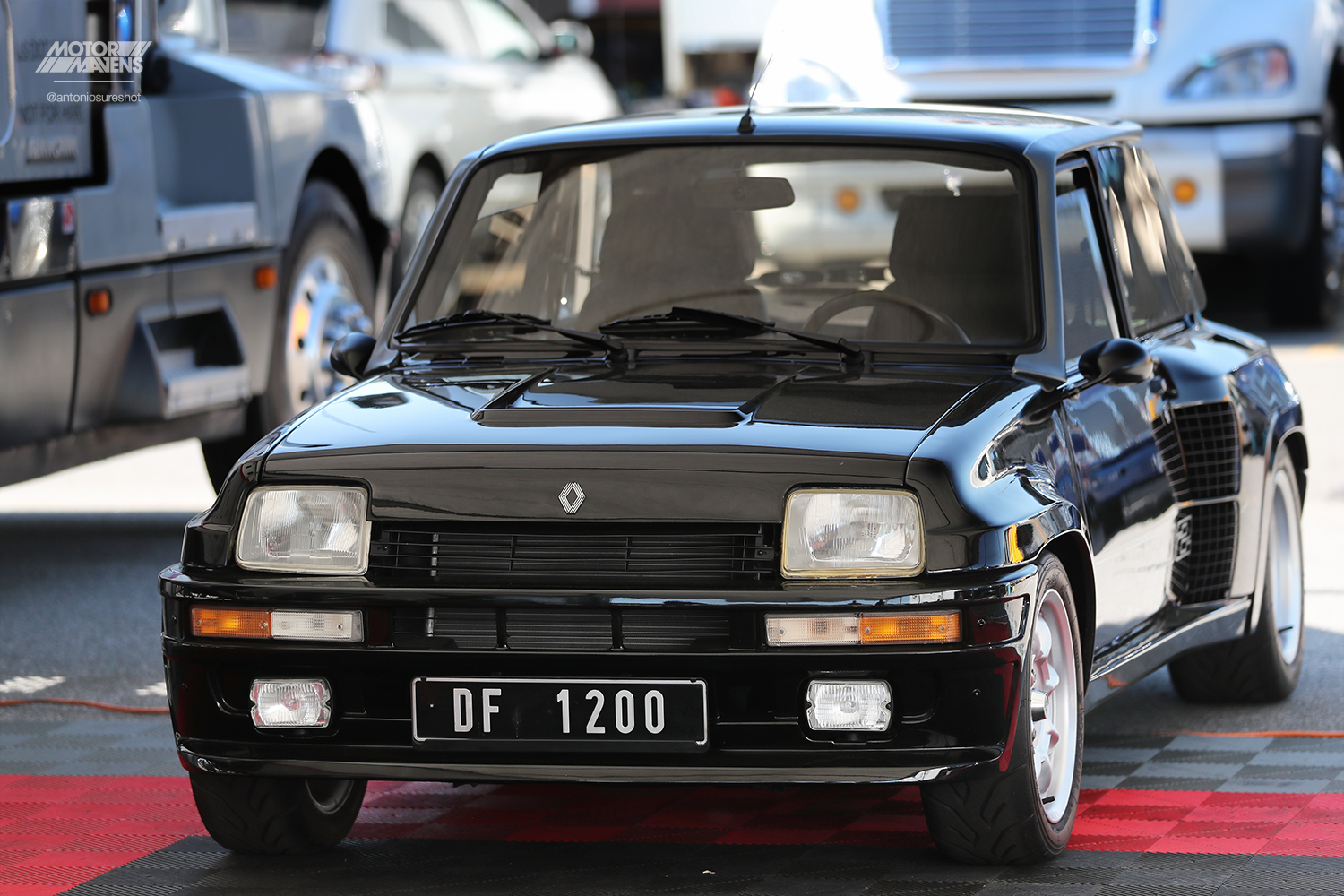 Walking through the paddock area, I spotted an awesome widebody hot hatch that wasn't even part of the race – this classic Renault R5 Turbo. Apparently it belonged to one of the BMW drivers (I'm sorry, I forgot which one).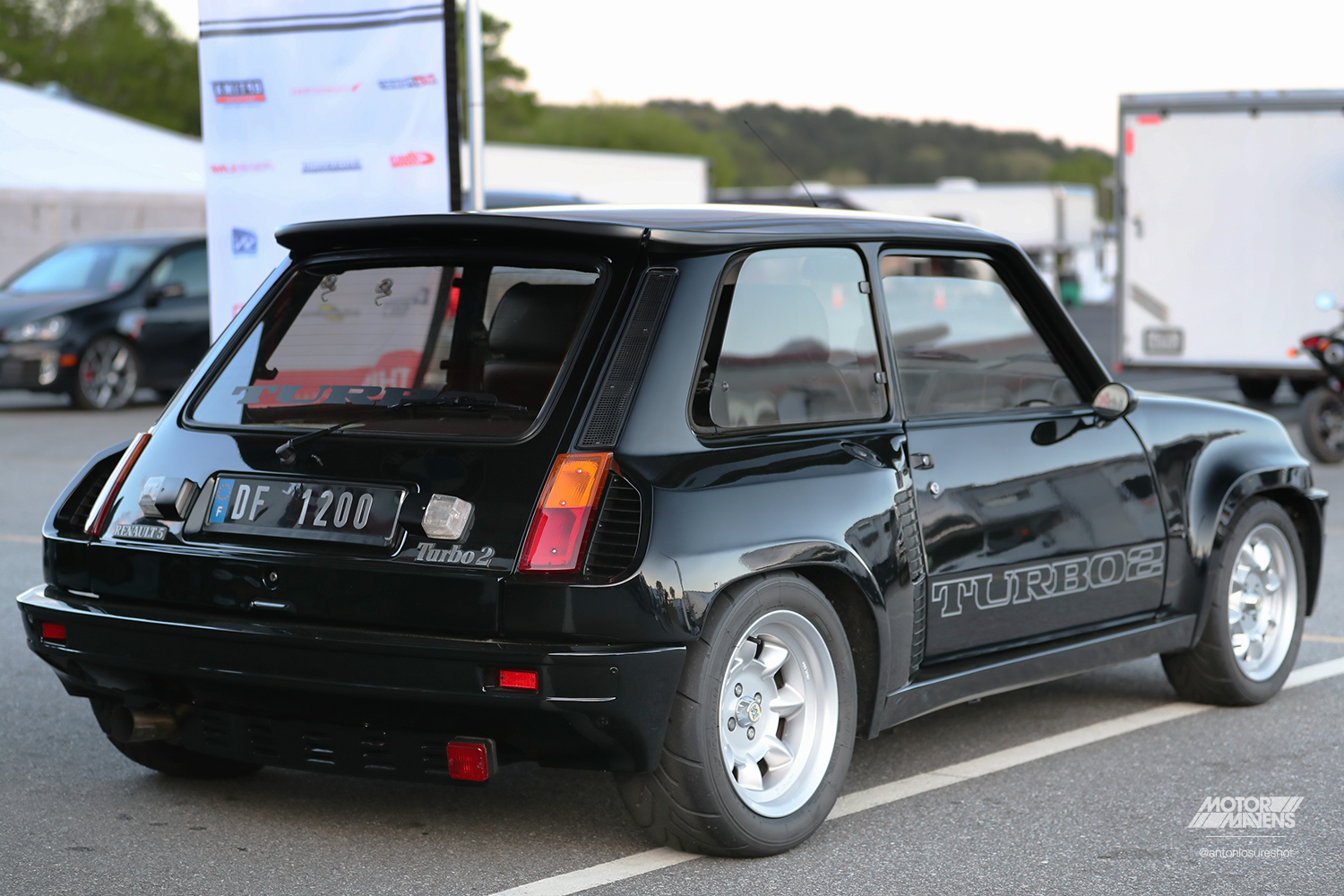 Since the owner of the R5 was nowhere to be seen, I didn't get a chance to look under the hood, but I did notice that it was sitting on some low offset Minilite wheels wrapped in Yokohama Advan A048 tires.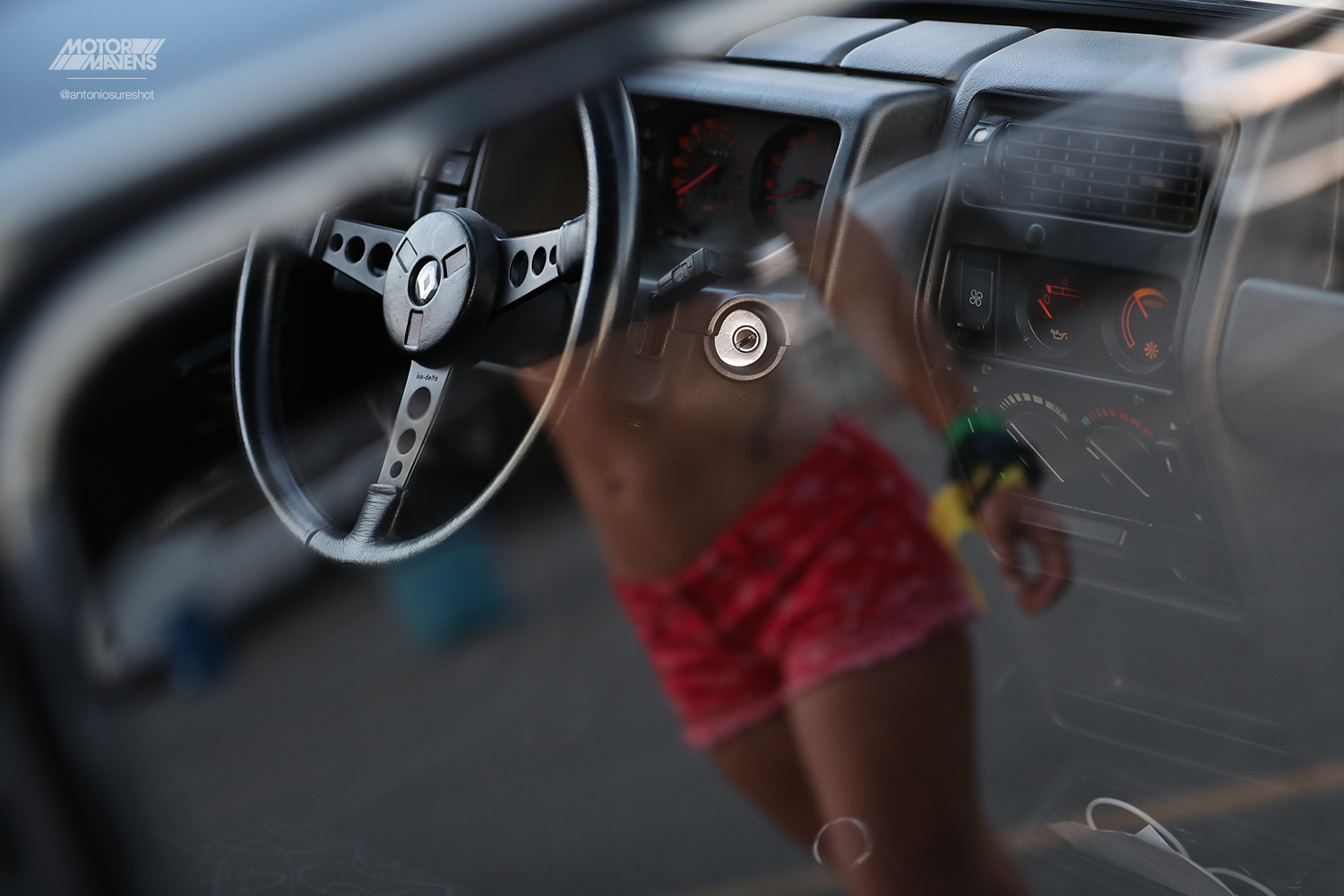 As I peeked through the crack in the passenger window to look at the interior and steering wheel, I noticed I wasn't the only person admiring the glossy black R5 Turbo.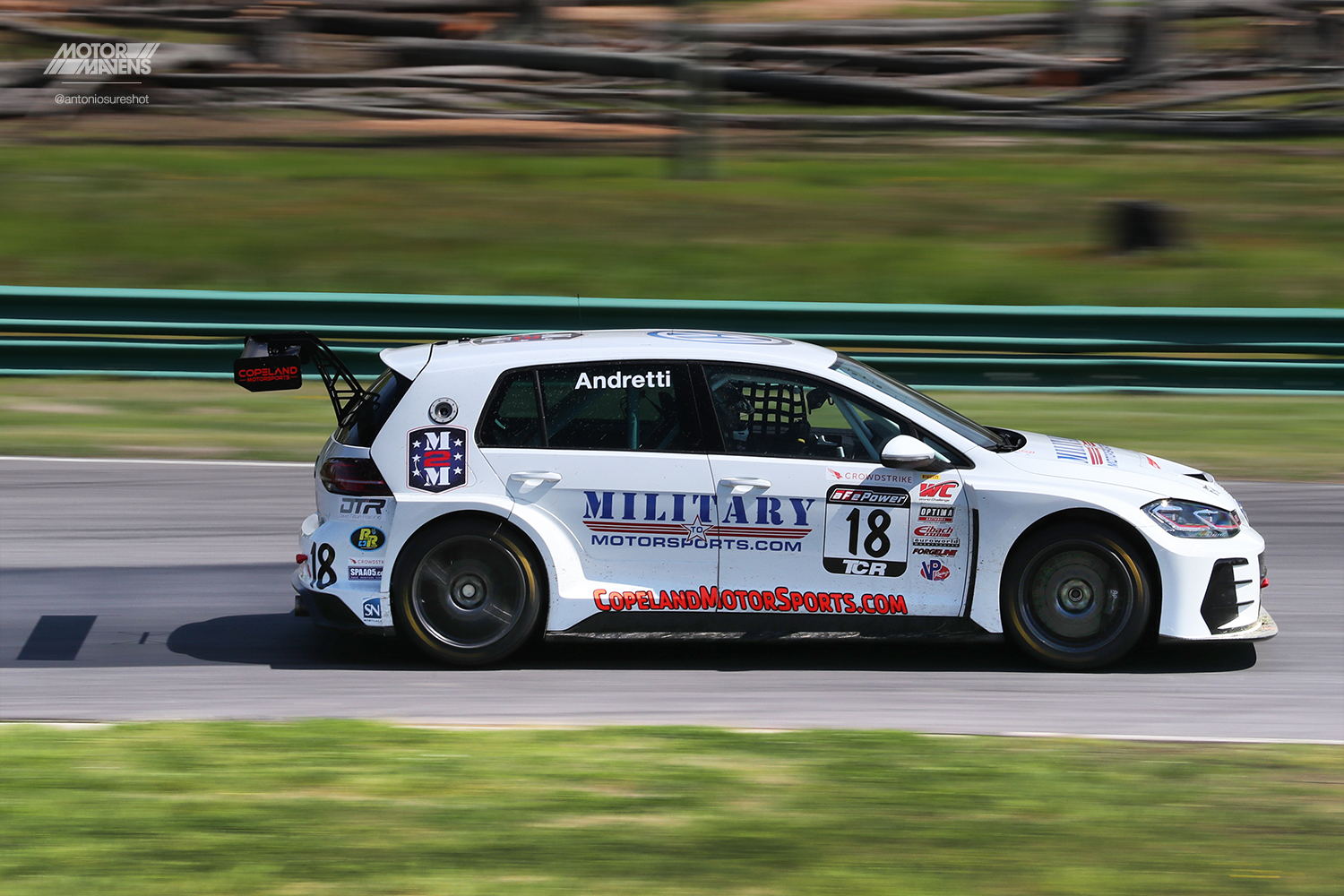 Speaking of hot hatches, did you know the whole term "hot hatch" was coined back when the original Volkswagen Golf GTI was first introduced? It's true – click here to read a previous article I wrote about the Golf GTI on MotorMavens. This particular Golf GTI in the TCR class was driven by Jarett Andretti – son of John, cousin of Marco, nephew of Michael, grandson of Aldo and great nephew of Mario Andretti. (LOL, doesn't this sound like one of those Old Testament Bible verses?)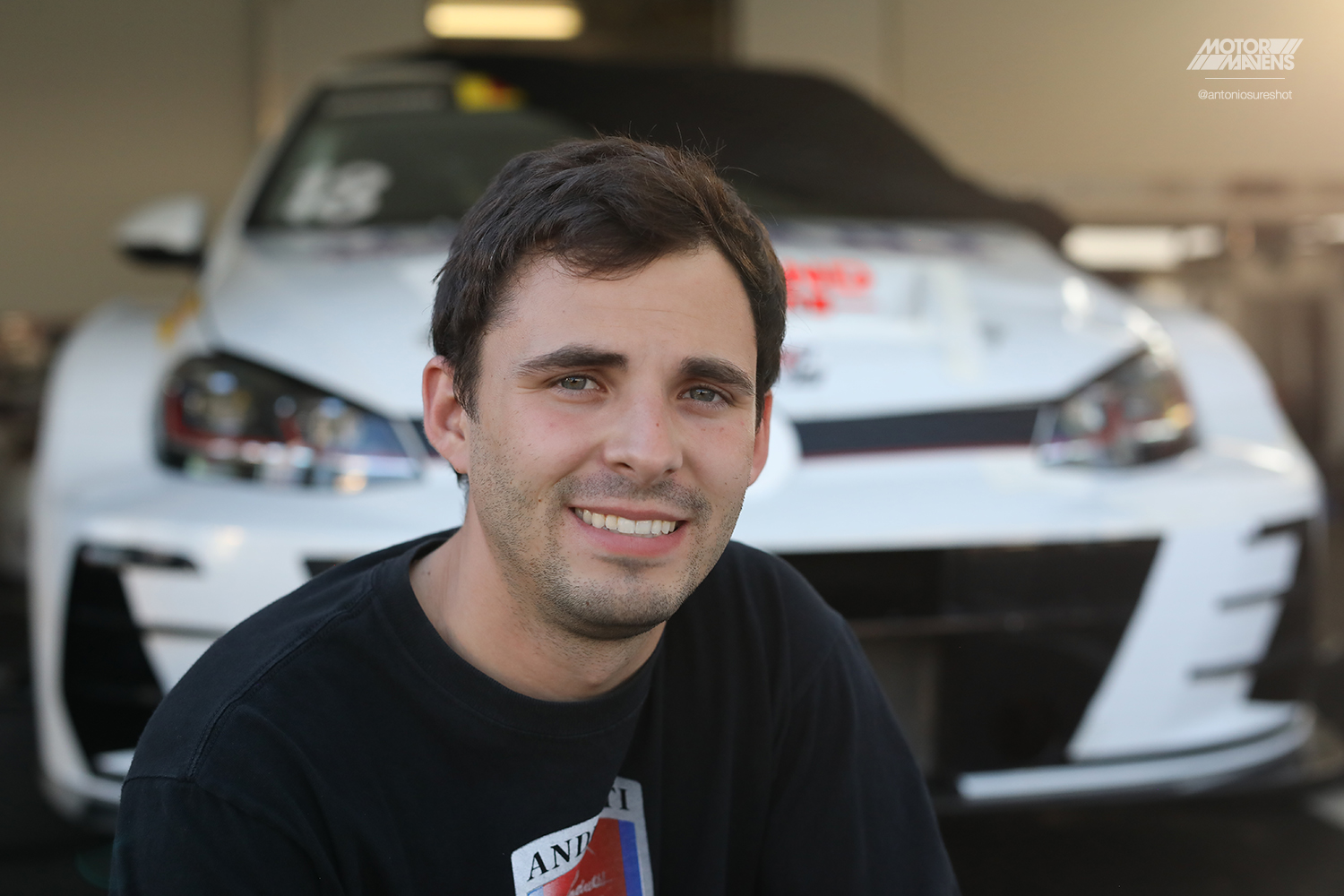 Anyway, I had a couple minutes to talk to Jarett, and he is excited to be bringing the Andretti name into the PWC series. He admits though, that driving these TCR class cars are a lot different than what he's used to – driving open wheeled sprint cars. He's driven in several series, including winning championships in go-karts and the USAC Eastern Ignite Pavement Series. He even earned Rookie of the Year honors in the Sprint Car category at Lawrenceburg (Indiana) Speedway, in the shadow of the famous Indianapolis Motor Speedway.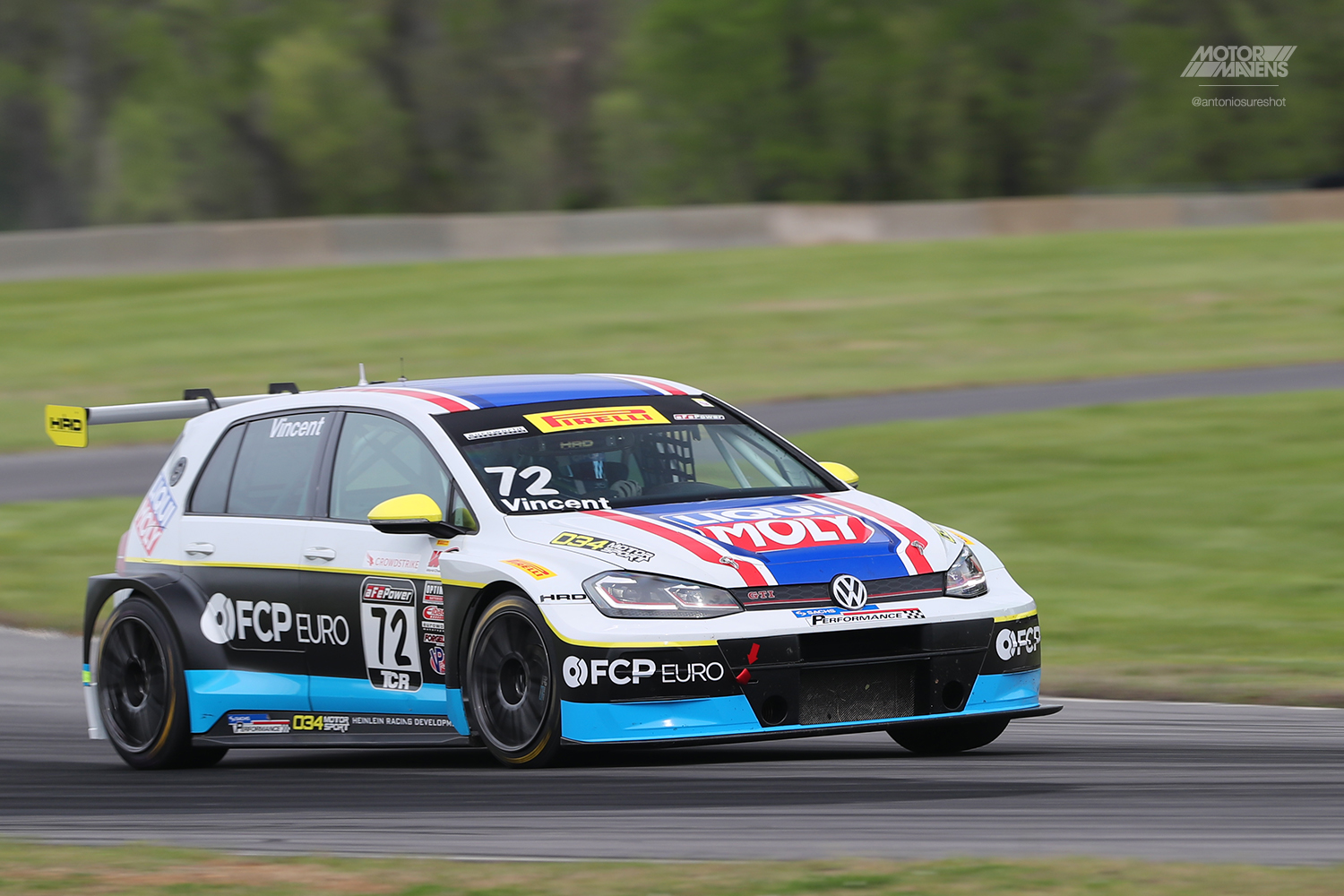 Apparently, sponsorships of race cars actually do help to promote brands. Even though I've owned several BMWs in the past, I had previously never heard of FCP Euro until I saw it on this TCR Golf GTI at VIR.
Apparently, FCP Euro specializes in selling OEM parts online to BMW, Volvo, VW, Audi, Porsche, and Mercedes owners… and even though I've been a car enthusiast ever since I started driving, with tons of friends who own VWs, Audis, Bimmers, Benzes, and Porsches… I had never heard of this company until I saw them at World Challenge.
If you know a decision maker at a company in the automotive industry, you really should tell them to consider working with a race team that gets attention!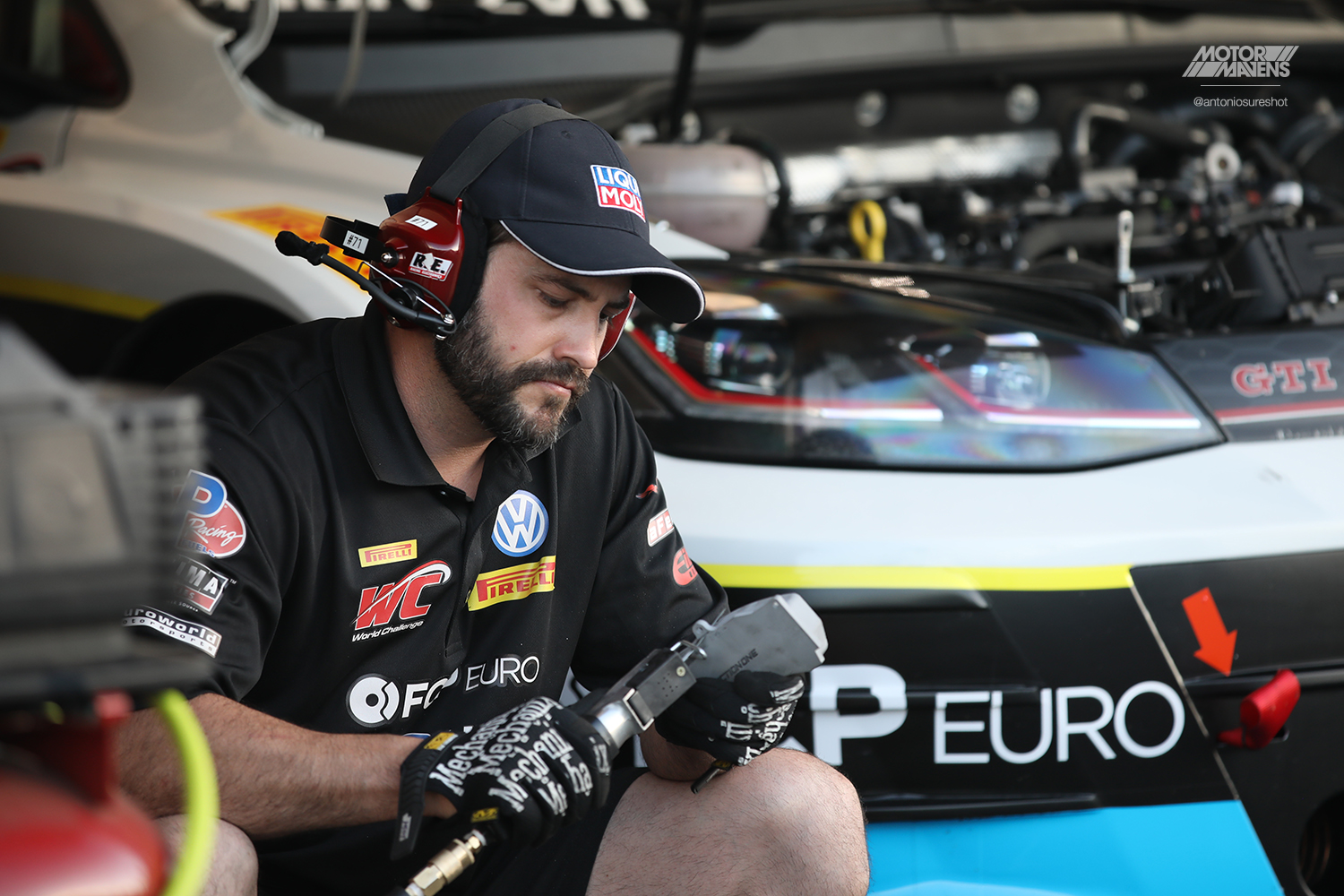 In the paddock area, I saw this guy from FCP prepping brake pads while the other crew members worked on other parts of the cars. It takes a concerted effort from many people to keep these cars running!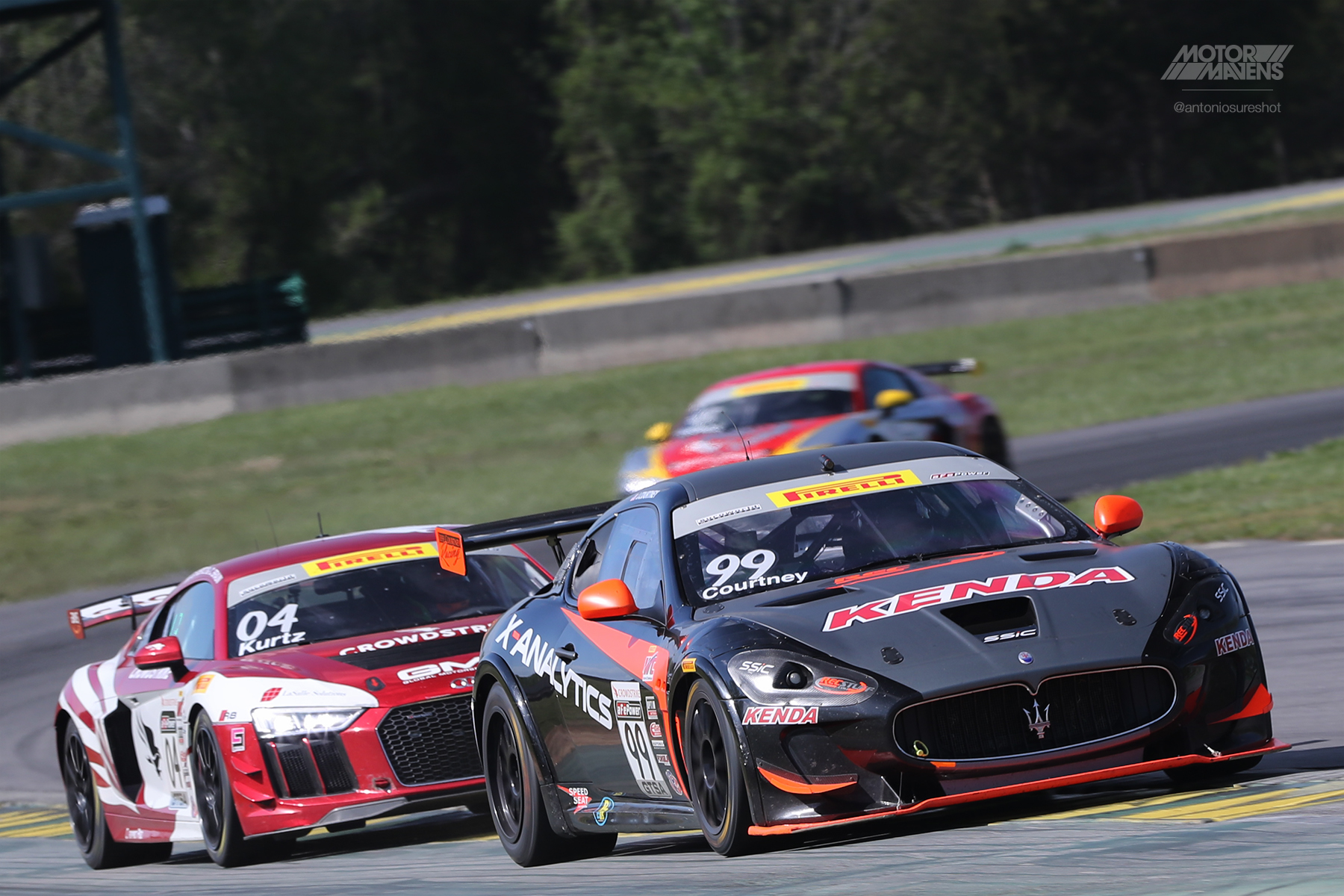 It was interesting seeing this X-Analytics sponsored Maserati Gran Turismo MC GT4 competing in the GTS class! I don't normally see Maserati owners at the race track, so this was a nice change and just goes to show how diverse the field at PWC is!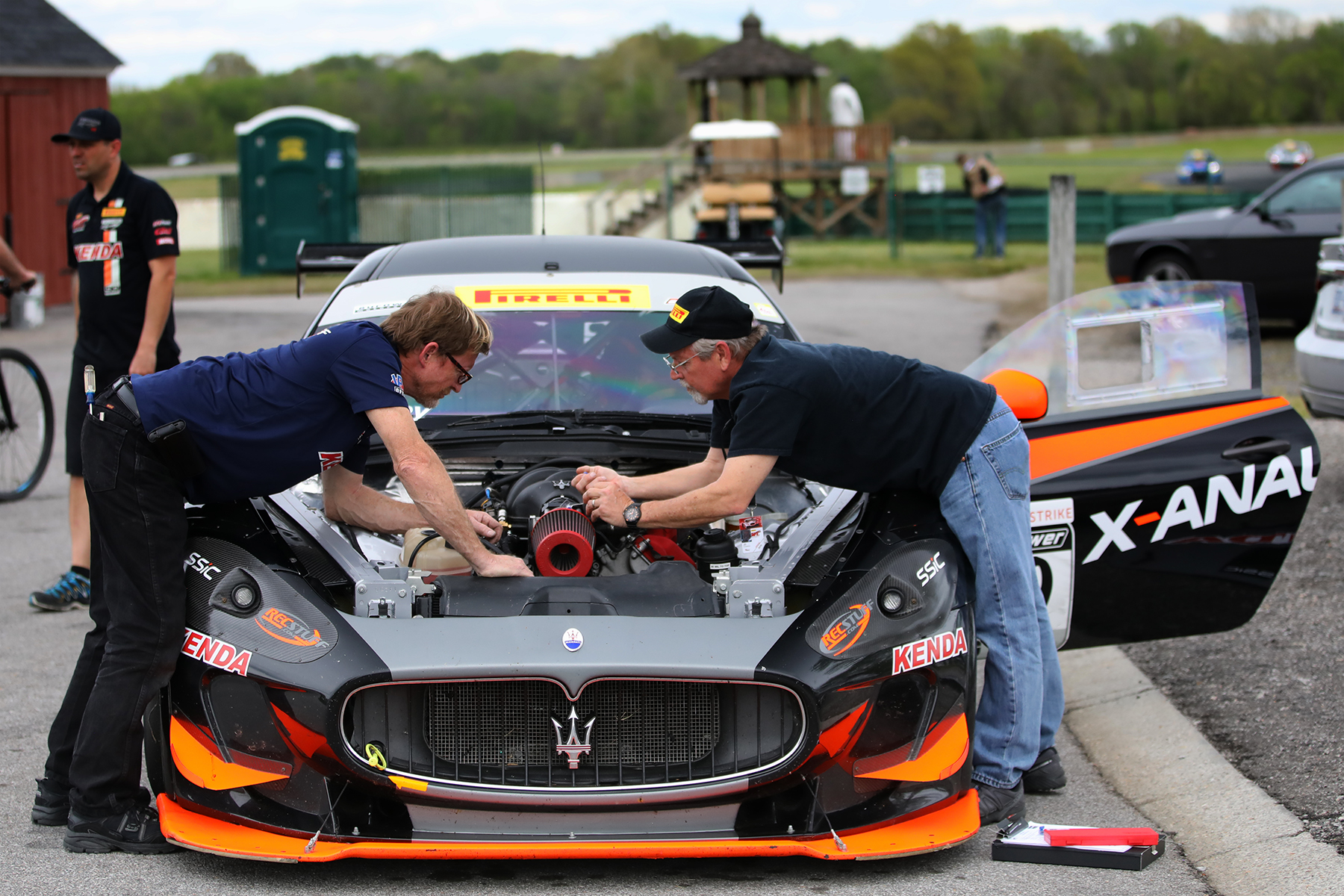 Just outside the tech inspection bays, I saw this scene and it cracked me up. (I know, I always laugh at inappropriate moments…) I just laughed because of the decal placement. It might have been a good idea to move the X-Analytics logo back a bit, so that when the door is open and the mechanics are bent over, making adjustments to the engine, the door doesn't say "X-Anal."
Again, I didn't open the door or create this situation… I just seem to notice certain details that others might not. LOL 😀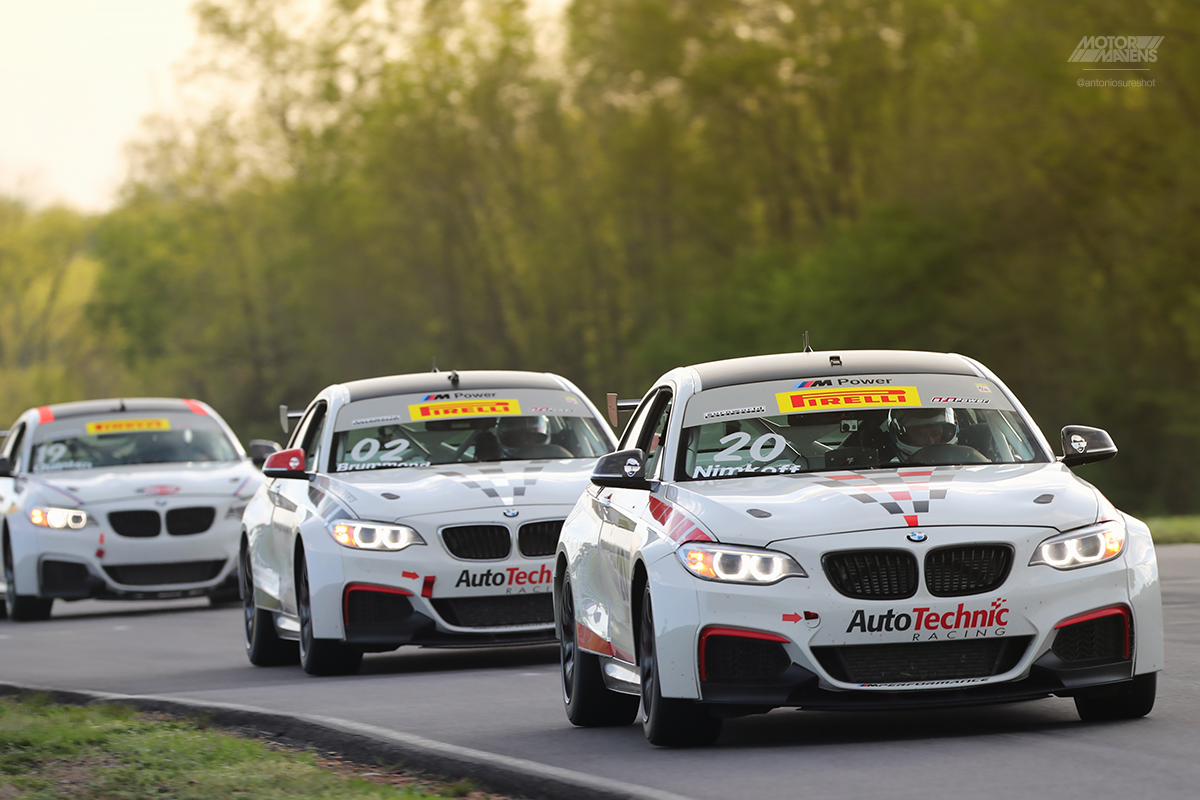 All in all, my experience at VIR for Pirelli World Challenge was awesome! Check back soon for my upcoming photo updates on the MotorMavens site and social media channels, with more photos from the PWC VIR race!
:: Antonio Alvendia
24hrs of Daytona
,
A048
,
Advan
,
AMG
,
AMG GT
,
Anthony Geraci
,
Audi RS3 LMS
,
Audi RS5
,
Audi RS5 Sonoma Green
,
Audi Sport
,
Benz
,
Bilstein
,
BMW M4 GT4
,
BRZ HQ
,
Canada Dry
,
Cipher Garage
,
Civic Type R
,
Compass Racing
,
David Calvert Jones
,
Dr. Preston Calvert
,
Drew Staveley
,
Eibach
,
Eibach ERS
,
FCP Euro
,
Felix Tang
,
Ford 3.7 liter V6 engine
,
Ginetta G55 GT4
,
Gran Turismo
,
Heinlein Racing Development
,
Hewland 6 speed
,
homepage
,
Honda Civic Type R
,
Hyundai
,
Hyundai Elantra GT
,
i30N
,
Jarett Andretti
,
Jon Lee Miller
,
LS3
,
LSA
,
Maserati
,
Maserati MC GT4
,
Mercedes
,
Mercedes Benz
,
Mike Skeen
,
Minilite
,
Panoz Avezzano GT
,
Pirelli World Challenge
,
PJ Groenke
,
PWC
,
Racers Edge Motorsports
,
Real Time Racing
,
Renault R5 Turbo
,
Richard Mille
,
Robbie Montinola
,
Ryan Eversley
,
Samantha Tan
,
Sin R1
,
Sonoma Green
,
SprintX
,
ST Racing
,
Subaru BRZ
,
TCR
,
Tech Sport Racing
,
The Lodge at VIR
,
Touring Car
,
VIR
,
Virginia International Raceway
,
X-Analytics
,
Yokohama Advan A048
,
Yokohama Tires
,
ZC6
---