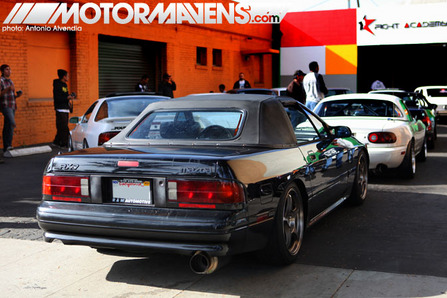 What's going on! My name is Edward Uche. I live in Los Angeles, and I am the newest addition to the Motor Mavens Crew. I've followed this automotive blog since it began back in April and words cannot describe how excited I am to join as a contributor. As the owner of a turbocharged FC3S RX7, I'd love to meet other readers of this site at a track day or event in the near future.  However, right now it's my honor to present you my first contribution, which deals with a subject I'm extremely passionate about –  seeking knowledge involving all things Rotary. I'm happy to connect with all you fellow car enthusiasts and mavens out there; now lets begin…
What happens when you combine a national holiday and time off work with family and friends? …a well devised plan for a cruise, that's what. During my Thanksgiving festivities this past week, I couldn't help but squirm with anticipation for this weekend's big rotary event, RX7Club.com's annual "Turkey Run." The meeting location launching the rotary/old skool massive would be RX3 owner and MMA trainer Savant Young's Fight Academy in Pasadena CA.  There were so many varieties of cars to be seen; RX2s, RX3s, FCs, FDs, Miatas, and even Toyota TE21s and S13s.
Keeping up with the latest in grassroots events, the members of the Southern Cali Motor Mavens Crew were on a mission to bring our viewers a look into the organic Los Angeles car culture. Witness.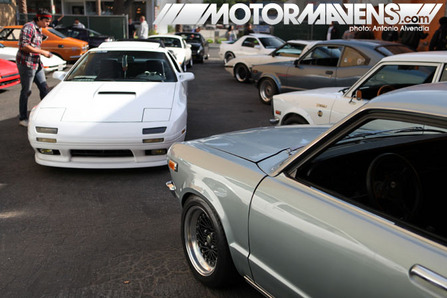 Savant Young's silver turbocharged Mazda RX3 proudly sat in the driveway of his Fight Academy, glancing at its younger sibling, Kent Soliven's white FC3S RX7 TurboII, which looked clean rocking an OEM style lip.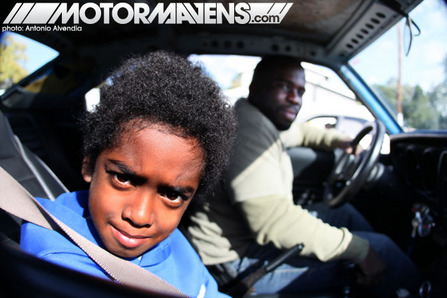 Father and son. This is little Saadiq Young with his father Savant behind the wheel. Saadiq's future looks promising as someday he will carry the legacy of his dad's finely built turbocharged Mazda RX3.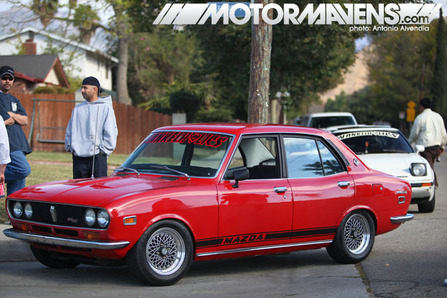 I spotted this four door Mazda RX2 sitting alone on the street when we rolled up to 7-Eleven in Sun Valley, our second meeting spot. Wankelholics on corner duty rightfully kept on eye on this gem as well. Peep the OG Mazda print alongside the door…so fresh with the vintage graphics.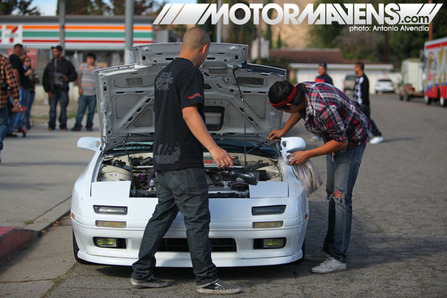 Royce (Hoyce) Ladia and Jaime Gonzalez are both highly knowledgeable in rotary engine maintenance; they're shown here lending a helping hand to ensure Kent's Mazda TurboII FC3S stays well oiled as it gets driven up the canyons. I can't stop admiring that front lip and piercing foglights. Love.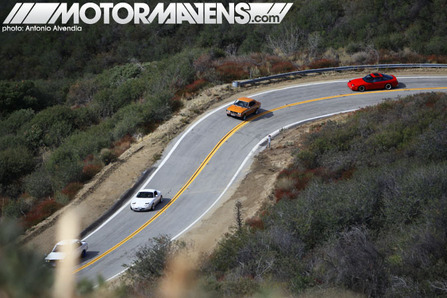 After meeting with more car owners at 7-Eleven, we all drove up into the canyons in a caravan. This quick snapshot while we were driving shows a perfect blend old and new carving multiple turns and elevation changes in the canyon.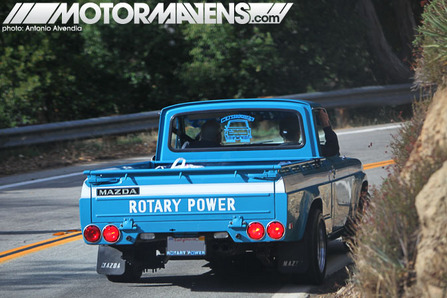 MotorMavens crew tailed this classic Mazda REPU (Rotary Engine Pick Up) as it nonchalantly negotiated all turns of the canyon road. This truck looks gorgeous in blue, and the owners had several cases of Corona in the back.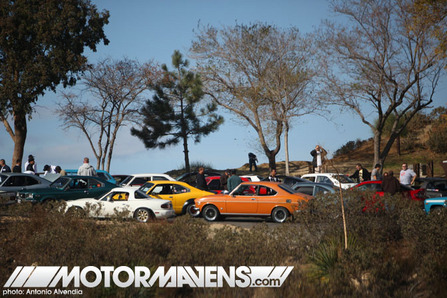 Upon arrival we were greeted by this automotive spectacle, deep in the middle of the Angeles National Forest… Thank you, Southern California.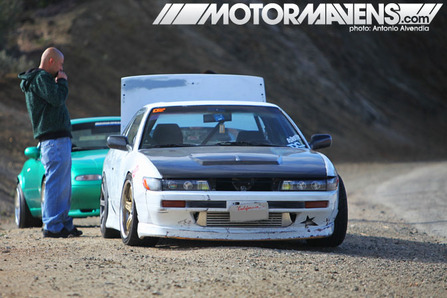 This nicely lowered S13 unloaded it's cargo and cooled off a bit following the 14 mile drive up the canyon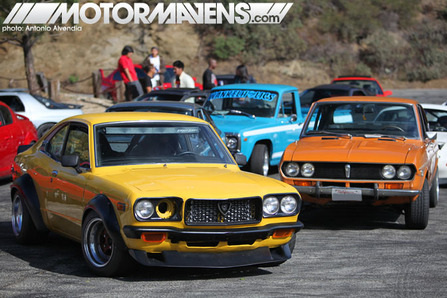 This here is Arnell's RX3, which has beautifully hand crafted overfender flares, with wide, low offset SSR Mk-II wheels sitting under them. Don't you just love the colors of 1970s Japanese cars?! I know I'm in love, how about you?
Even though most of the cars in the cruise were rotary powered, Henry Mendez brought his TE21 Corolla out to show how the piston-heads keep things aggressive… especially since his car is fitted with -26 offset Centerline wheels.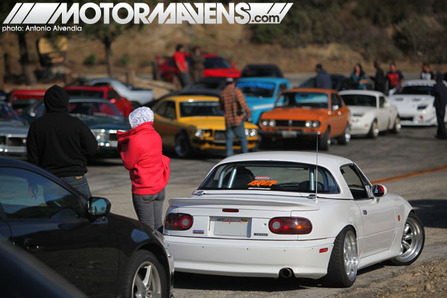 Turbo Tony Pham's flamethrower Miata drift machine sustains its ride height supremacy while sitting low, awaiting its next launch back down through the twisties.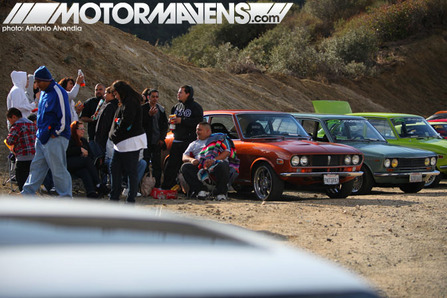 The East Los Angeles based rotary collective R-Power joined the gathering and enjoyed good times with their closest homies, bringing an army of Rotary classics. When people say "don't mess with rotary owners," they're probably talking about R-Power. Haha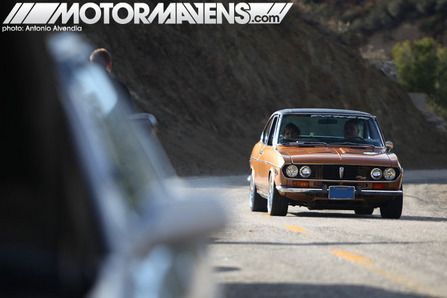 This RX2 is owned by Victor from R-Power. The body is super clean, and to complete the 70s look, it sports the old school dealer applied vinyl top.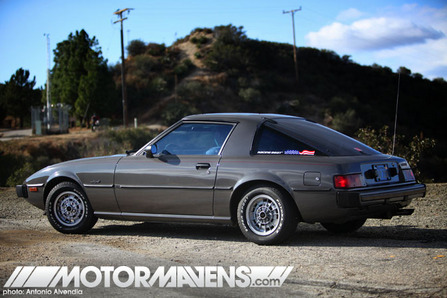 This FB3S RX7 is sporting the old school factory optional aluminum mesh wheels. I like them because they look like Campagnolo wheels from Italy, which were the basis and inspiration for many famous wheels, like these optional OEM RX7 wheels, TRD wheels, and even Mugen wheels.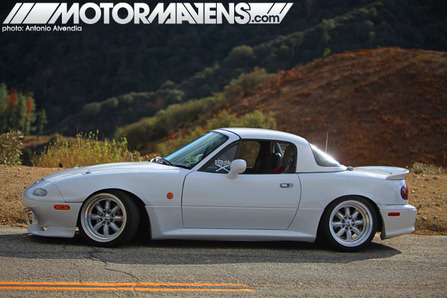 Here's a sneak peek on a future MotorMavens car feature…. before other Miata owners even think of stepping to Tony and his turbo NA6, you better brush up on your driving skills or get DSTROYD. You've been warned.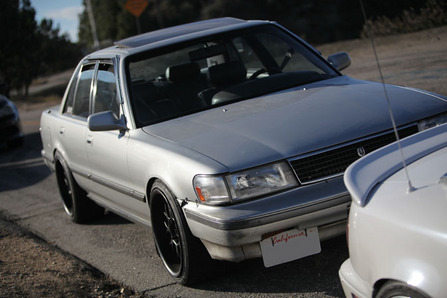 This gorgeous silver MX83 Toyota Cressida is owned by John Sayno, a professional chef who has a history of owning 1JZ/2JZ powered vehicles. He was always easy to spot at the track, because his Toyota Supra and Lexus IS300 stood out from the sea of Nissans that were out drifting.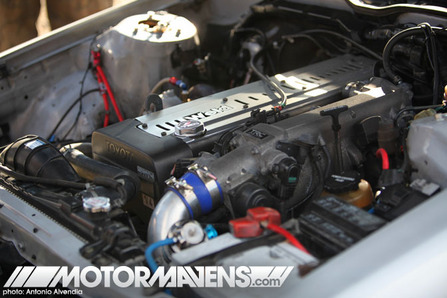 Under the hood of his MX83, John has a 1JZGTE engine. Check out that Weld engine cover… pretty cool.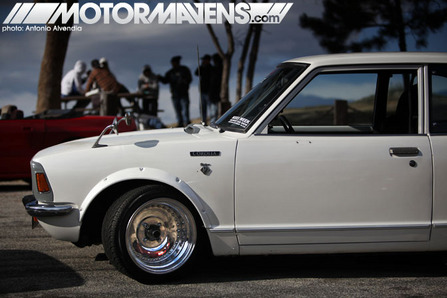 I just love how well polished and pristine the wheels appear on Henry's TE21 Corolla. Purchased  at a very upsettingly low price as well.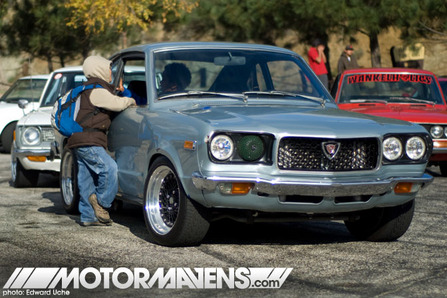 These two kids are getting a rotary education by going out to all these events with their parents. Outside with the backpack is Little Nate, talking to Saadiq, who's sitting shotgun in his dad's RX3. You can always tell which RX3 is owned by Savant, because he has his green HKS air filter fitted where one of his headlights should be.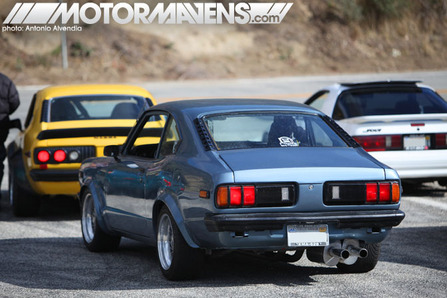 This here is Mel's blue RX3 sitting pretty on polished Epsilon mesh wheels. Only a few select people know where he acquired those flares, haha.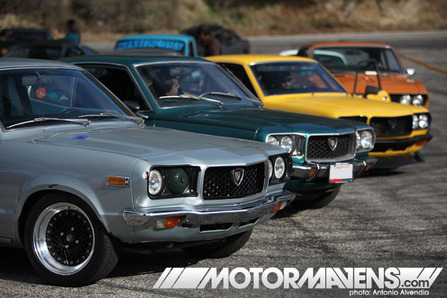 Respect your elders… classic Rotaries are alive and strong in Southern California. Come on out to one of our events and absorb the feeling of what it's like to own one of these old school Rotaries. I used to own an RX3, and seeing these RX3s out in full force today makes me want to buy another one really, really bad.
:: Edward Uche
Antonio Alvendia
,
Avon Bellamy
,
Edward Uche
,
FB3S
,
FC3S
,
FD3S
,
Mazda
,
Miata
,
Rotary
,
RX2
,
RX3
,
RX7
,
S13
,
SA22C
---