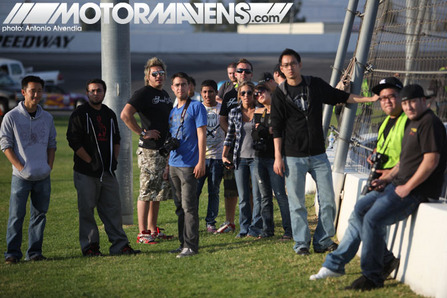 Continuing our coverage of the Formula D Pro Am Finals…I thought I'd do a little name dropping, since that's apparently what I specialize in over here. Haha… click through to the story and see if you can recognize some of the faces and the cars they belong to…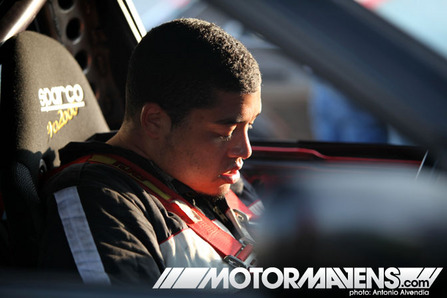 Strapped into this Sparco Pro 2000 bucket seat is Mike Pollard. I captured this photo as he was putting on his helmet and getting ready to run. He was definitely an unfamiliar face to me, so I thought I'd wait til he returned to the pits and introduce myself (and our website). Mike is a 23 year old drifter from Plymouth, Minnesota. He definitely traveled a long, long way to make it out to Irwindale for the Pro Am.
When he told me he was from Minnesota, I was surprised… like "whaaat?" Never met drifters from Minnesota before, at least as far as I can recall. He said the scene in Minnesota is really small. Mike says he's been drifting for about seven years, and since he was 15 or 16 years old, he has always seen the same thirty cars showing up to the drifting events in his local area. According to Mike, of those thirty cars, there are only about four of them that really stand out… and those four drivers have been drifting much longer than the others; at least 5 years or more, per Mike's recollection.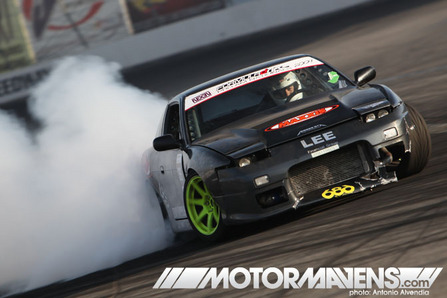 This RPS13 is Mike's car; he has had it only a few months – since this year's D1 event in New Jersey. He traded his bone stock daily driven S13 hatchback for a rolling RPS13 chassis (this car), which already had a cage in it when he got it. As I stood trackside, I remember thinking that the smoke that he was making at Irwindale just had to be from something more powerful than an SR20DET. After speaking to him, he confirmed that his car has an RB25DET with a Garrett T4 turbo under the hood, and it makes 350hp to the wheels. He also said that he's had an RB25 in his car since he was seventeen! Crazy.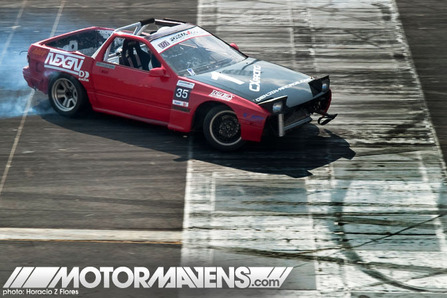 This FC3S RX7 truck was being driven by Kelvin Arreola, who runs with the Jeff Jones Racing crew in the San Fernando Valley. If you've been paying attention to the event coverage we've posted on our website, you'll know that Kelvin flipped his FC3S over at Formula D Las Vegas, but that didn't stop him from showing up at the Ziptied/JustDrift All Star Bash with the car, which had the roof cut off and was now a convertible. Dope.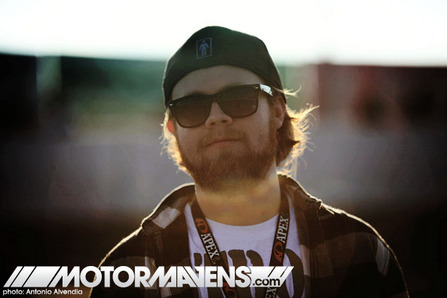 This bearded guy right here is Josh Herron, whose name you might recognize from all his drifting films that have been posted on our site. This Las Vegas native may look like a hobo, but he actually does have a home… he recently moved to Los Angeles to live with Formula D judge Tony Angelo. Wait, that sounds a bit odd. It's not like that. They have separate rooms, from what Josh tells me. But I'll believe it when I see it.
Josh is also actually pretty talented behind the wheel of his zenki S14, not just behind the lens of his videocamera. Keep an eye out for this guy at future Pro Am Qualifiers!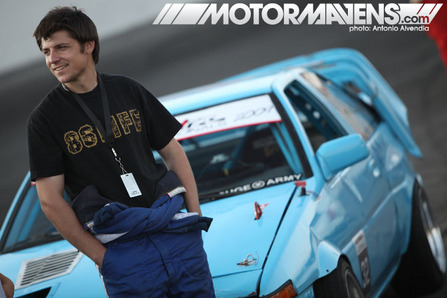 Back in the pits, I ran into John Russakoff, who was Living the 86 Life and chillin with Joon Maeng and Justin Pawlak. John had just finished driving his AE86 right before I got there… so unfortunately, I missed the chance to grab some action shots. My bad. But hey, if you're looking to do some sort of crazy engine swap or need some custom engine mounts or headers or a turbo manifold fabricated, John's your man. Hit him up through his shop's website, JSPfab.com and tell him you got the info from Motor Mavens!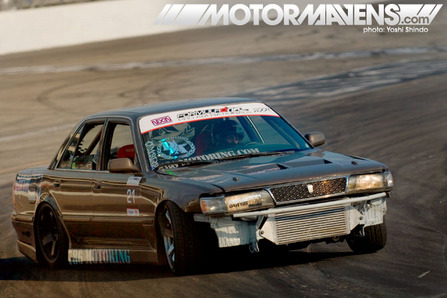 Comin straight out of Houston… seeing 786 Motoring's Ameen Rizvi drive his MX83 Cressida with a 2JZGTE swap has been pretty inspirational for many. The car just looks so cool, and Ameen just drives it so well. It's time to start hitting up Craigslist and eBay for those sub $2000 (or even sub $1000) Cressidas and begin building!
Even if you decide to keep driving the Cressida with the stock 7MGE engine (be careful, as it will blow eventually), you can still swap out the crappy stock Cressida automatic transmission for a 5 speed W58 out of an MA70 Supra. However, if you want to handle higher horsepower from a 1JZGTE or a 2JZGTE, then you should definitely pay the extra money to get an R154 trans. Just please don't bother building a 7MGTE… 1J engines are cheap enough nowadays!
Stay tuned to Motor Mavens for more photos of Ameen's car… coming soon!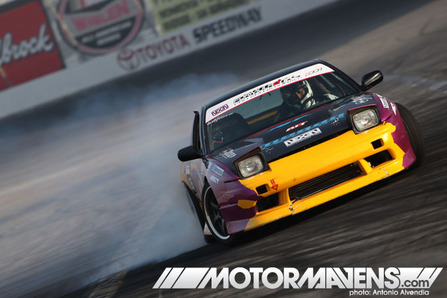 Here's Cyrus Martinez in the Megan Racing RPS13. Cyrus has been active in Southern Cali's grassroots drifting scene for quite a while, driving his AE86 coupe… but now that he has a M-F job working for Megan Racing, he drives for them as well. I think the brand could do with a whole new image… which includes work from a good graphic designer, to revamp the current logo and the coporate identity into a bolder, stronger one so that it would work better on all their cars and stuff. But that's just my .02 cents from a graphic design aspect.
I can't say anything about their products, as I've never tried them. A lot of people hate on Megan Racing parts because they say it's not high end and OG like HKS, GReddy, Apex'i, etc but Cyrus seems to be doing well with them. And I know a lot of people who run their products on grassroots drift cars because they can actually afford them. I'm curious to see what our readers think about this topic…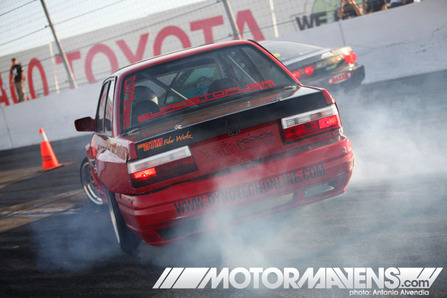 Dave Blunt from San Diego has been making quite a bit of progress with his Dirty Thirty. This E30 BMW is getting crazier and crazier every time I see it! Those exaggerated M3 style fender flares look awesome. It's kind of like a BN Blister fender, but with E30 M3 styling.
Just like Ameen Rizvi's car makes me want a Cressida, Dave Blunt's Bimmer makes me want to get an E30…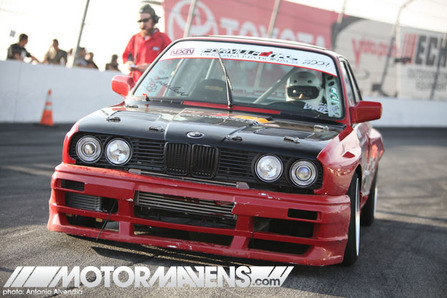 Full dimpled Formula D spec rollcage and big flares, and lots of front camber… what's not to like? And E30s are pretty affordable. Check Craigslist… you'll find them cheap, all day long.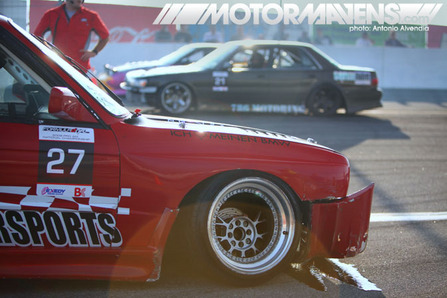 Unfortunately, Dave returned from an awesome run/crash with a broken wheel. I haven't seen a wheel break like this in quite a long time! Pretty crazy… I wonder what brand of wheel this is. Dave told me, but I forgot what they were. They looked pretty good on his car before the face split off the rim. Well, who am I kidding… they still look pretty cool, because you gotta be driving pretty effin hard to make the wheel face come off your rim! E30 owners should definitely be cheering Dave on.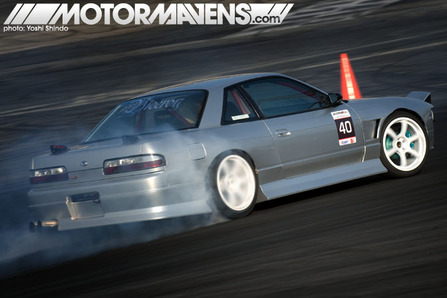 Another car that says "Don't mess with Texas" is Stewart Leask's S13 Onevia. This car looks sooo good! It's just super clean… I love the aero, the mirrors, the tails, the Project Mu brakes peeking out from behind the Gram Lights wheels, and I definitely LOVE the exhaust. This thing is bad ass, and Stewart was driving it bad ass too. I didn't get to actually meet or talk to him, because he didn't roll with the other Texas drifters to meet up with us after Pro Am, so I was pretty disappointed. Awesome car.
And I heard it has an LS1 engine! This definitely seems to be the trend; dropping in LS engines in drift cars gives people horsepower, torque, and overall reliability for a relatively cheap price. Simple setup, too. And if you get all the necessary sensors, catalytic converter, etc… it can be made street legal so you can drive it every day. People may or may not like GM vehicles, but there's just no denying that the LS motors are pretty lethal for drifting.
I'm definitely what one would call a purist when it comes to cars. I like AE86s that have engines from the 4AG family, RX7s that run some sort of rotary motor, whether it be 12A, 13B or 20B… and I like Nissans to run Nissan motors. However… these LS engines do make a lot of sense. I wonder what the rest of our readers think about this…
Would you guys consider putting an LS1 variant into a Japanese or European car? Have we seen any Bimmers with LS variant engines? Pretty curious about this.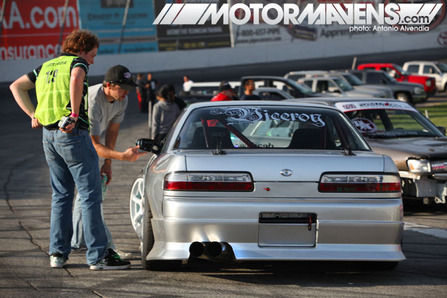 Yeah… nice rear end. I'm talking about the car, not the guy pulling up his pants.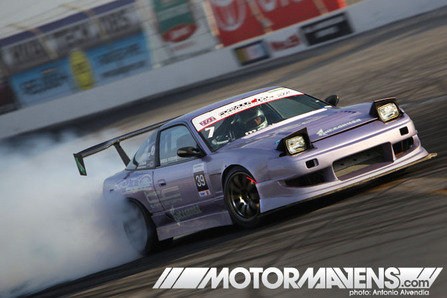 Hell yeah! This RPS13 looked pretty damn good out there! This is another Texas car! Texas is bringin the heat, I'm telling you! This car is owned by Russell Walker, a big cowboy of a guy who drifts with cowboy boots on. Serious, I'm not joking. When I first met him, I tripped out. If you've ever seen him, you might understand. He just doesn't look like he would own this particular car! It's a fully built up RPS13 and it's metallic purple for crying out loud!
Stay tuned to Motor Mavens for more photos of this car!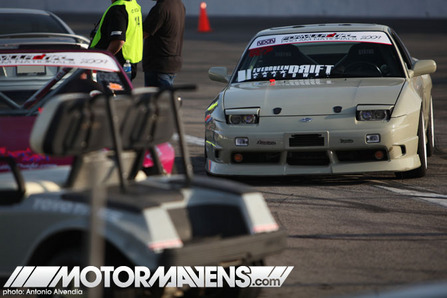 Nikolay Konstantinov's RPS13 sure does look pretty outstanding. I'm honestly not a fan of Aerocatch hood locks (because they're so damn huge), but Nikolay's car is another example of how bad ass an RPS13 can look with clean execution, attention to detail, and a high quality paint job. You gotta love Nikolay's style. This isn't a ghetto built S13 like most of the cars you see out there on the grassroots drift scene. This car exudes class and sophistication. Great job, Nikolay.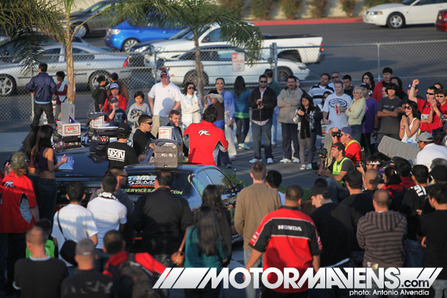 This was the scene at the podium ceremony… there weren't a ton of people, but everyone there was a staunch supporter of grassroots drifting, as they should be. I don't think Formula D even brought out the real podium to the event, but I'm sure all of the top three drivers – Ian Fournier, Mike Pollard, and Chelsea Denofa felt like they were ten feet tall that day anyway. Look at Felicia on the right side, she looked so excited when Ian's name was being announced as winner!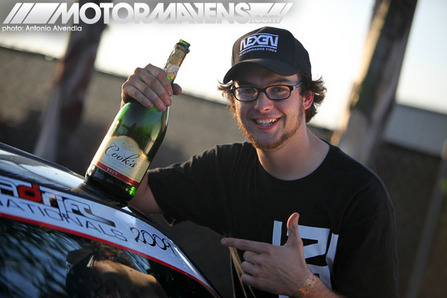 Here's Chelsea, holding his champagne and pointing at his E36 BMW, saying that drinking and drifting don't mix. haha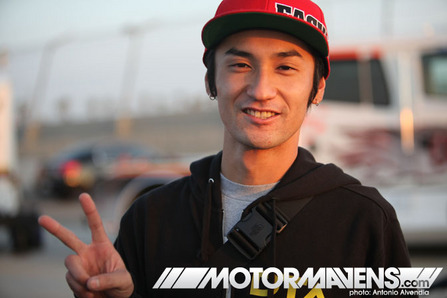 Kenshiro Gushi was one of the few pro Formula D drivers in attendance, showing support to the grassroots guys. I think maybe he was cheering for Ameen, because Ken loves MX83 Cressidas too.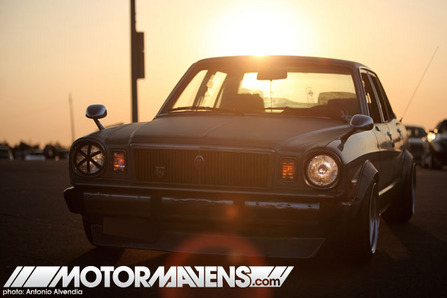 Check out Lloyd Letherman's MX32 Cressida, looking mean and sitting low! This is the only photo of his car that I decided to publish from the event, because it the most flattering one I have of his car. You need to clean up your stickers, Lloyd! Hell, I'll come over this weekend and help you if you want! Random stickers do NOT belong on this car! Keep it classy, San Diego!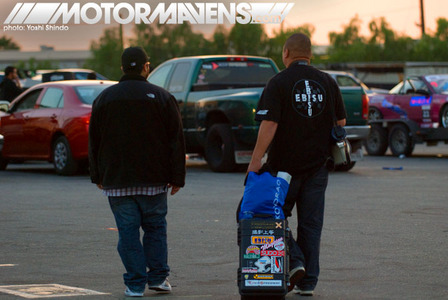 Okay, I'm just gonna put this out there. I'm sorry Yoshi. If you were to pick up Yoshi Shindo's camera at any time during a drift event and look through the images, you'd find a random mixture of hot drifting photos… and random "butt shots" of hot chicks at the event. LOLLLLL I'm sorry to put you on blast, man… but everybody who knows you already expects it, there are no secrets here. But you can imagine how disturbing it was when we were looking through Yoshi's memory card and we found this photo of me and my fellow red zenki AE86 brother Lucas Perez walking through the parking lot! WTF Yoshi!!! Mad face! Are you taking photos of our asses?! I'm gonna kill you!
Oh, but if you like that new Ebisu Circuit shirt on the right side of the photo, then click right here to get the goods!
Peace!
:: Antonio Alvendia
More Irwindale Pro Am photos, stories, and videos on MOTOR MAVENS
---