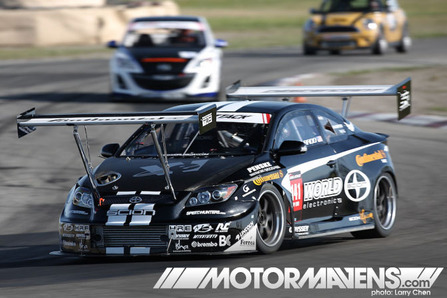 Many automotive media outlets, drivers and teams traveled out to Buttonwillow Raceway this weekend for Round 1 of the 2010 Redline Time Attack Series. I've been so pre-occupied with other projects that I almost screwed up and forgot that Redline was this past weekend, but luckily I received a friendly reminder about the event from Brandon Scarpelli from WebRidesTV! If it weren't for Brandon, I probably would have spaced out and forgotten about it – and that wouldn't have been a good thing!
I drove up to Buttonwillow with Edward Uche and his boy Asim; both of them FC3S RX7 owners hoping to see some rotary goodness out at the track. When we arrived, we split up so they could check out the Mazdatrix RX8, while I stopped in to check out Chris Rado's World Racing Scion TC.
There has been a lot of controversy (including some trash talking and hating) surrounding Chris's Scion TC. I've read some comments on the internet that bashed this car, hating on the usage of the huge front wing. I gotta admit, it does look a bit crazy, but as long as I've known him (10 years I think), Chris Rado has always been a bit of a crazy individual. He's a forward thinking, rule-breaking person that's always trying to dream up some new sort of innovation for his car. I remember back in 2000, we were hanging out at the SEMA "International Auto Salon" in Pomona, and he was telling me about how he installed videocameras on the back of his JZA80 Supra turbo with a small video screen inside the car. I thought it was a pretty crazy thing to do back then, but now it's commonplace on OEM cars.
This being said, when Rado says that having a big ass F-Wing on the front of his Scion TC really helps the performance of his car, I believe him. Of course there are critics out there who say it looks dumb, but remember… people said the same thing about putting wheelie bars on front wheel drive drag cars, but it has been proven to work.
At the end of the day, numbers talk. Chris drove his F-Wing fighter and ended up breaking his own course record at Buttonwillow, winning top honors in the Super Modified Front Wheel Drive Class with a time of 1:46.736.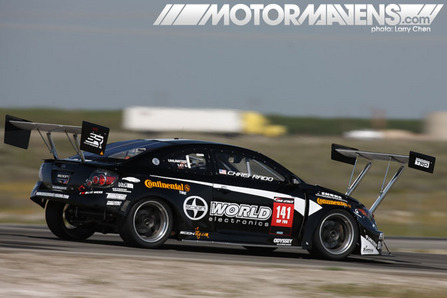 It does look like it's getting ready for takeoff… but apparently, the aero modifications on the car are completely functional. Check out the front chin spoiler, cutting through the air, with the high cut rear bumper and rear splitter directing the air underneath the car, and cutting back on drag. It looks as if the big F-Wing is also connected to the chassis, pushing down the front end and giving Chris more grip on the front drive wheels.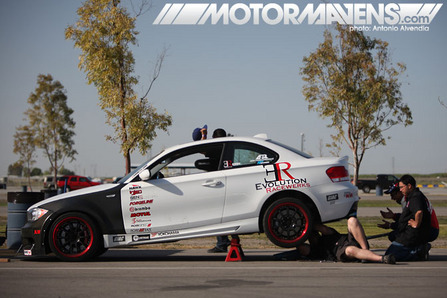 Walking around the pit area, everything seemed pretty chill and quiet overall… pretty good atmosphere for a relaxing day of checking out cars, or working on them. I'm still not used to seeing 1 Series BMWs out on the road, so it was pretty interesting to see this one out at the track this weekend.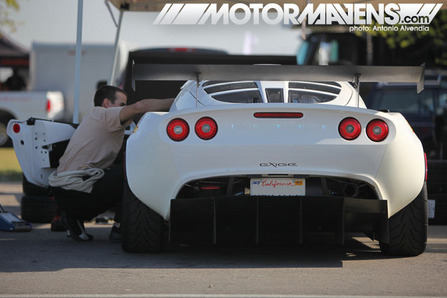 This Lotus Exige looked pretty tough in the pits, as it was being prepared for its run group. I dig the rear splitter and wing on it. Pretty dope. I've never driven one of these before, but I can only imagine it would be fun as hell.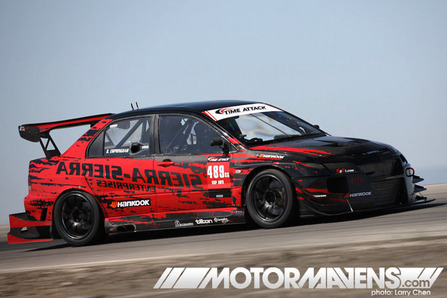 Out on the track, the Sierra Sierra Enterprises Mitsubishi Lancer Evo won the Super Modified AWD Class, with David Empringham behind the wheel, with a best time of 1:44.344.
I tried to find some info on this car, as I don't know much about it… I don't even know what Sierra Sierra Enterprises is. I couldn't really even find any decent info on the web! I know it was featured in a magazine sometime last year, but I don't remember which one featured it. I love magazines, but to be honest, I haven't really been reading many car magazines for the past couple years, with the exception of looking at photos in Japanese mags. For some reason, a lot of my friends tell me the same thing. I wonder why this is happening. I used to work in the magazine industry. I absolutely LOVE magazines… maybe the web is killing them… that kinda sucks.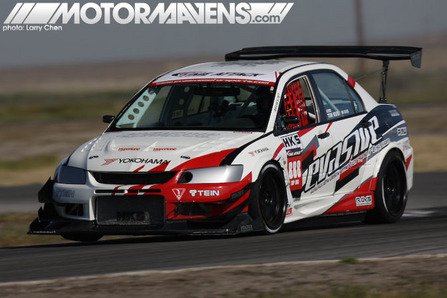 This was a good weekend for Evos! The Evasive Motorsports Evo was being driven by Tim Kuo, resulting in a Second Place finish in the Super Modified AWD Class with a time of 1:47.987.
This is a pretty awesome looking car!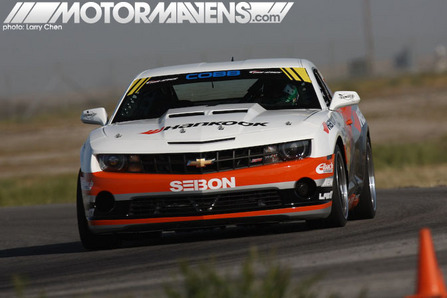 Another car that looks pretty damn awesome on the track is Conrad Grunewald's 2010 Hankook Camaro. I'm not really sure if it was his best time of the day because I couldn't understand the info on the Redline Time Attack website, but apparently Conrad ran a 1:57.896 in practice. Not bad for a car that was set up for drifting!
I can NOT wait to see Conrad's Hankook Camaro trade paint with Vaughn Gittin Jr's Falken Mustang at Formula D Long Beach! That will be some epic battling! Chevy vs Ford… Camaro vs Mustang… Hankook vs Falken… East Coast vs West Coast! So excited!!!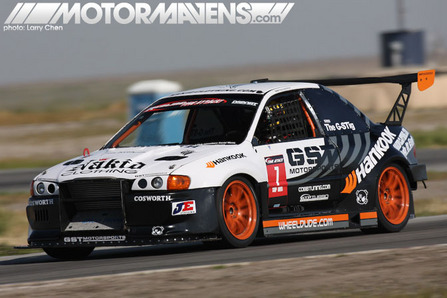 Here's a shot of the GST Motorsports GC8 Subaru Impreza WRX STi on the track before it broke down on Saturday. It unfortunately couldn't finish the race, but according to the Redline TA website, it did a 1:48.108 in practice.
I don't even know who the driver is, because every piece of information that is in the Redline Time Attack records says G-STig. I'll guess it's Gary Sheehan? Or maybe we're just not supposed to know…???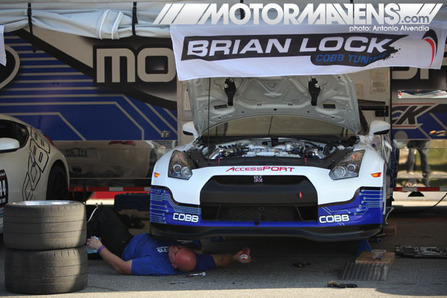 Cobb Tuning had a huge display set up, with big rigs and all. It was pretty cool seeing their R35 Nissan GTR out at the track, especially since they brought it out all the way from Utah! It was being driven by Brian Lock, who had a best recorded time of 1:48.897.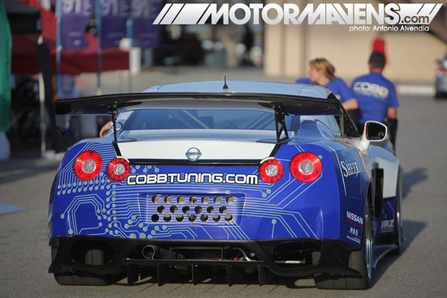 Here's the rear end of the Cobb R35 GTR again. I know that Cobb is a company that started out by building Subarus, so it's pretty cool to see them branching out into Nissan GTRs! I wonder what kind of rear splitter, wing, and aero kit that is..? Looks pretty aggressive.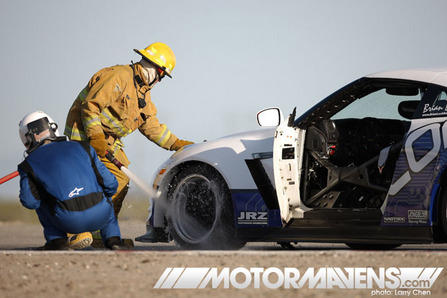 Unfortunately, the Cobb R35 GTR caught on fire on Sunday! I wasn't there to see it myself, but good thing photo sniper Larry Chen was on the premises to capture the fire crew doing work to extinguish any remaining flames under the hood of the car!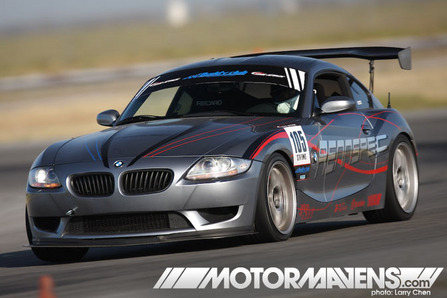 I absolutely loved seeing this Rennspec E85 BMW Z4 out on the track! It looks awesome! It was being driven by Terry Liu in the Street Tire RWD Classs. Terry had a best time of 2:02.273.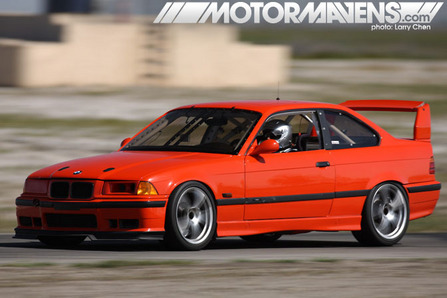 Speaking of BMWs, I thought this E36 M3 looked pretty awesome on the track too – and with the fully welded rollcage in place, you know the car means business! The front bumper and headlight vents look pretty aggressive too, in case the gargantuan rear wing didn't catch your attention.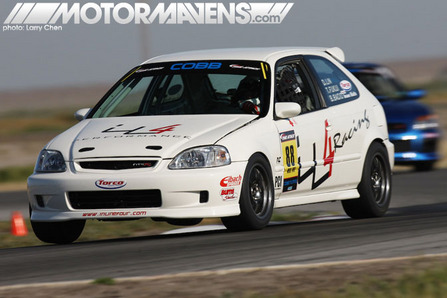 In the Modified FWD Class, Tetsu Fukui put down a 3rd Place finish with a time of 2:05:841. I didn't realize it until just now, but I remember seeing Tetsu drive certain Southern California canyon roads on the regular when I first moved to LA. This was about ten years ago… he was fast as hell back then, and he is still fast! This guy is a true to life touge runner for sure.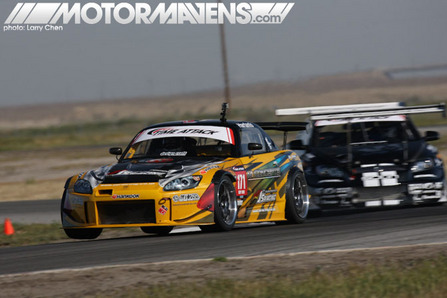 Andre Hartanto was driving the J's Racing/N1 Racing Honda S2000, taking home the top honors in the Super Modified RWD class, with a time of 1:54:832. I've seen this thing at about a million car shows, so it's pretty awesome to see it out at the track doing its thing, and WINNING its class. Congratulations!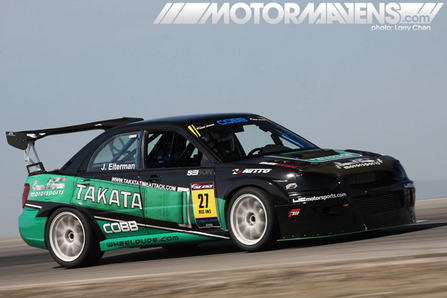 I wonder what kind of seatbelts this car uses? This here is James Elterman driving the Takata/LIC Motorsports Subaru WRX STi in the Modified AWD Class. He had a best time of 1:53.850.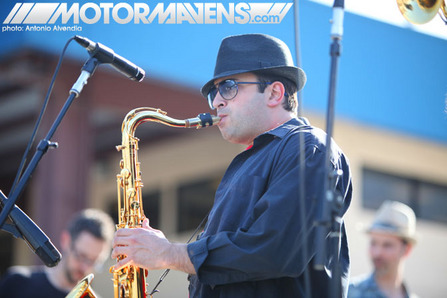 While the cars were running, the few people who were chillin around the stage area were treated to a super dope live performance from super popular live funk/soul/jazz/breaks band Breakestra! I was surprised as hell when I first heard that Redline Time Attack was going to be hiring a well known group like Breakestra to be performing at the time attack!
I was really excited at first, but then I thought about it… wait a minute. Is Redline Time Attack really the best place for Breakestra to be performing? Most of their fans probably aren't planning to drive all the way out to Buttonwillow to see them perform, and I'm pretty sure not many people in the backwards town of Buttonwillow/McKittrick have even heard of Breakestra!
On the other side of the coin, I don't even know if Breakestra is the right band for an event like this. Breakestra has a huge following, but mostly it's with people that are deeply rooted in hip hop, funk, soul or jazz… and most of the time, people expect them to be playing at a big music festival like SXSW, or intimate spots in LA that are all about music, like The Root Down* and stuff like that. What a trip to see them out at Redline! haha
(*Interesting completely random fact for those who are in the know about The Root Down… I actually met one of The Root Down's resident DJs, Jeremy Sole while we were both being filmed for a WebRidesTV episode about the newest body style Scion XB. Hilarious… Jeremy is a super cool cat too!)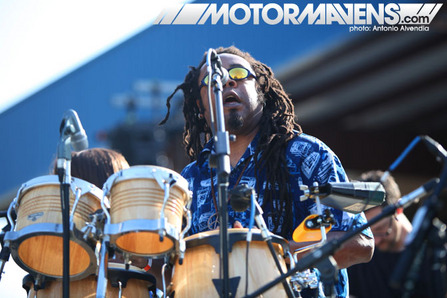 If you like funk, soul, jazz infused hip hop, then you should definitely check out one of Breakestra's awesome performances! I was kinda disappointed for Breakestra though, cause there were hardly any people there that were interested in watching them perform. Definitely not the type of venue that they normally rock.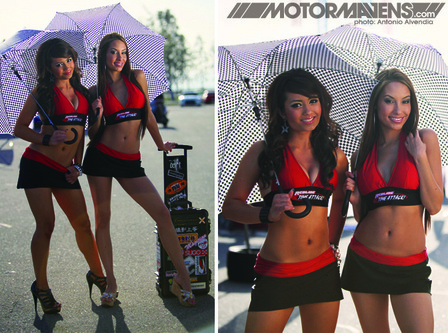 Oh yeah, and as we were walking around the track, somehow we ended up chillin with the Redline Time Attack umbrella girls. On the left is Novella, and Alexia is on the right. They were super cool, and ended up chillin with us for pretty much the rest of the day, since everyone else was out on the track with their cars…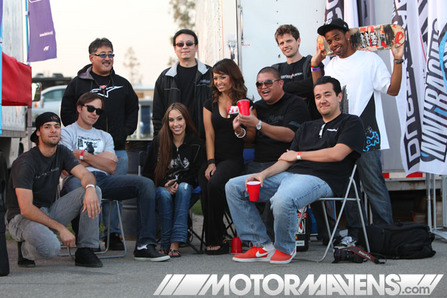 Towards the end of the day when everything started winding down at Redline Time Attack's Saturday session, we all ended up chillin with our friends at the Buddy Club booth. Thanks to Kevin and Tree from Buddy Club for hooking up the drinks! (And THANKS for dinner at Willow Ranch BBQ too, Kevin!)
We had a pretty relaxing end of the day, drinking Captain and Cokes as the sun set over Buttonwillow, listening to the exhaust notes of the last remaining cars finishing their laps on the track. This kind of turned into a automotive media kick-back spot…
From L-R, we have Luke Munnell and Pete Tarach (Source Interlink), Mike Kojima (Formerly a race car engineer for TRD when the AE86 was new! Then, a race car engineer for Nismo when the Sentra SE-R and Z32 300Zs were new, now the head nerd at MotoIQ), Alexia, Kevin from Buddy Club, Novella, me, Jeff Naeyaert (MotoIQ), Tree Feierday, and Edward Uche.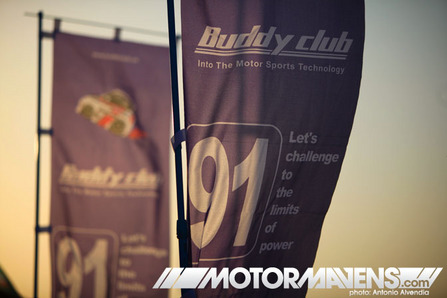 All in all, the Redline Time Attack this weekend was enjoyable and relaxing for those of us that were only spectating… but screw taking pictures of other people driving… I want to DRIVE!
:: Antonio Alvendia
Photography by Larry Chen (www.DriftFotos.com) and Antonio Alvendia
PS: Team Owners/Car Owners, make sure to keep records and memories from the event by going to Larry Chen's website and ordering his photos of your cars! It's CHEAP!
---