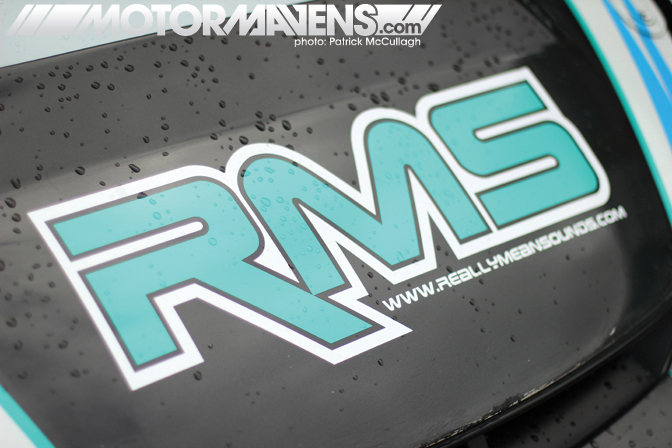 ReallyMeanSounds.com (or RMS) is a local motoring forum here in Northern Ireland. The site was set up by Andy Cooper many moons ago to showcase ICE installations but, as the popularity of the forum grew, it became one of most popular motoring forums in Ireland. I have been a member since late 2006 when I was losing heart with my rallying exploits, and RMS was just the fix I needed.
The site and its members have been very good to me in the last few years. I have made many great friends and have had very special times going to car shows and meet-ups. Now, in its tenth year, Graham Curry, who is the RMS resident photographer and a good friend of mine, decided that the milestone should be marked with a Birthday show. So, after months of planning, we found ourselves at Junction 1 in Antrim – where all sorts of fun ensued!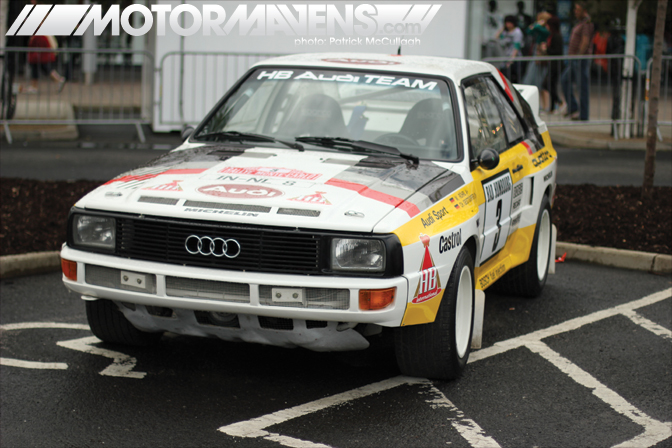 The show was packed full of amazing cars like this original Group B Audi Sport Quattro. This car was used by the legendary Walter Rohrl in the 1985 Monte Carlo Rally and finished second to the Peugeot 205 T16 of Ari Vatanen after a great battle in the hills above Monaco! To be honest, this was my favorite car at the show and it just gave me goose pimples when I spotted it.
I remember watching a video of Walter testing this car before the '85 Monte and he was describing how he didn't believe that left-foot braking was necessary but, after he had driven the Quattro, he realised it was essential! I wish I had more photos of this car but I was just drooling a little too much – a little star struck, I'm afraid.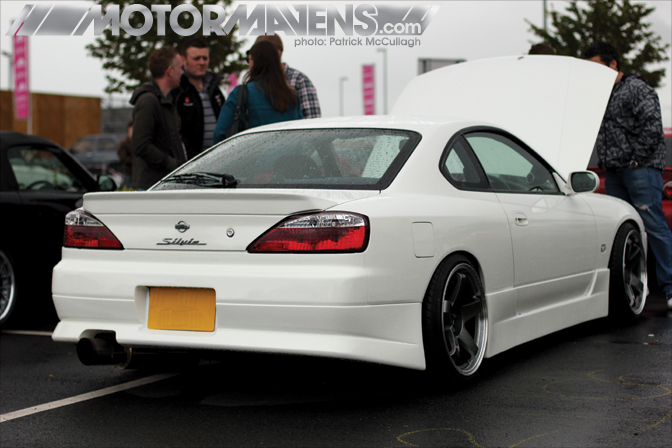 One of my favorite road cars from the show was this S15 Nissan Silvia. When it pulled up behind my car at the show, I was gob-smacked – although I tried to play it off as if I didn't think that much of it. You know that feeling where deep down you're thinking "wow that's gorgeous!" all the while your outward expression is "meh".
I think the car looks great on the graphite Rotas – and best of all it only has 24,000 miles on it! The owner allowed me a quick sit in the driver's seat where I began to start thinking of drifting the car. Total nonsense, I know, but I tend to dream like that.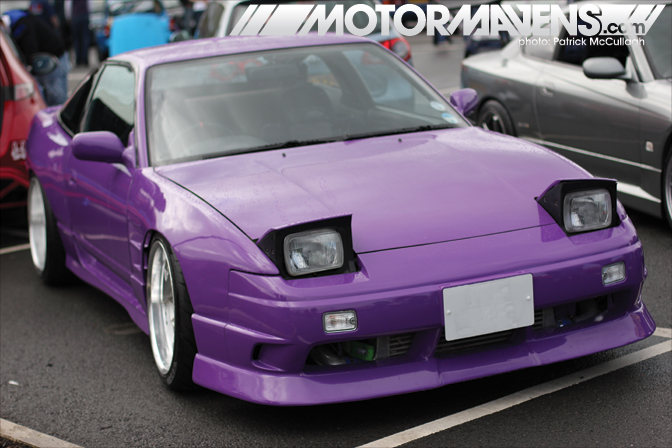 This Nissan 200SX belongs to Dylan Harte – the color is just mental. I know in the States you guys are used to these kinds of colors but something like this in Ireland is pretty rare. The modifying scene here is very much about subtle OEM+ type mods so, when you see something like this, it's always quite special. Stay tuned to MotorMavens over the next week or so for the full low down on this car. That is, if you want to see it again…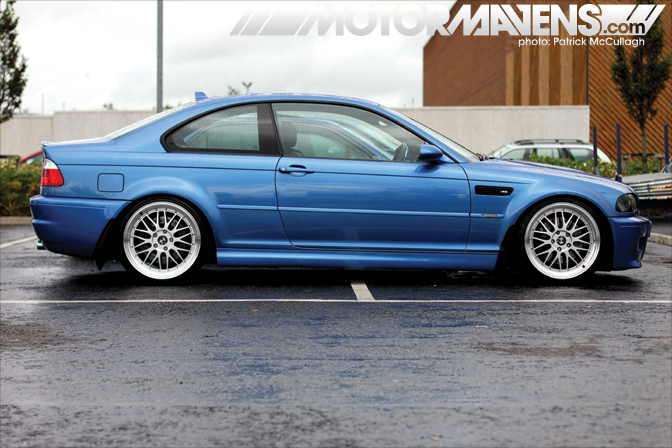 One of the nicest E46 BMW's I have seen has to be Gary Reilly's Estoril Blue M3. As I was saying earlier, here in Northern Ireland, OEM+ style mods are really popular. Lowered 50mm on FK coilovers with 19″ BBS LM's and the car looks amazing! The front has a dark grill and darkened indicators – perfect! I know a certain friend of mine was drooling over it and I don't blame him at all.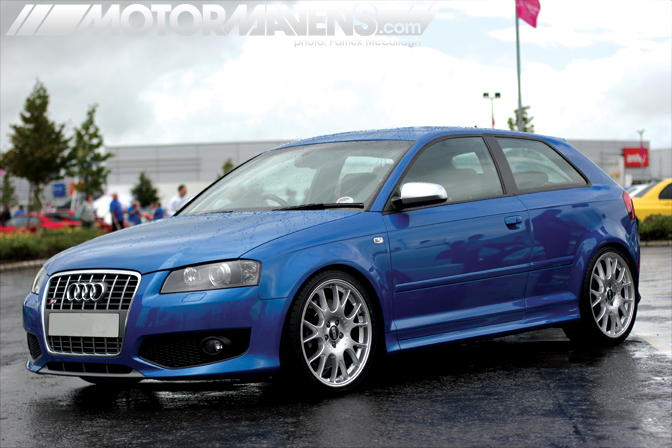 Staying with the OEM+ style, here we have Andrew Boyd's Sprint Blue Audi S3. A lot of subtle touches that, to the casual observer, would be missed but that is the point of OEM+. Like Gary's M3, the main mods are the coilovers and wheel change. Andrew opted for BBS CH's to fill the arches of the S3. The engine has undergone quite a transformation with Stage 2 Revo mods producing 353bhp and 300lbft of torque. You just know the sound of the Milltek exhaust on full chat will be awesome!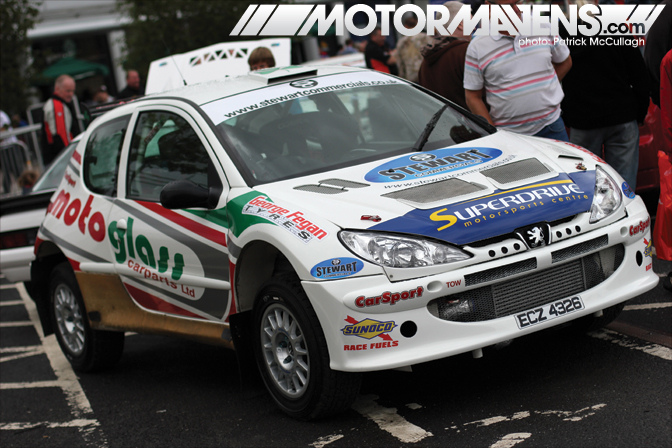 Now before you ask, this is NOT a monster truck. This Peugeot looks like a 206 S1600, with the wild flared arches on the outside but, it is in fact, a Mitsubishi on the inside. The car was built from the ground up into Lancer Evolution running gear which probably makes it one of a kind. I know I certainly have not seen one like it before.
The car is also in "gravel spec" sitting on knobbly forest tires which is why it's sitting so high. The oddest thing about this car is the very distinctive "Evo" sound that it makes at a rally when coming through stages – you automatically expect to see a Lancer and then this car appears. It catches me out every single time.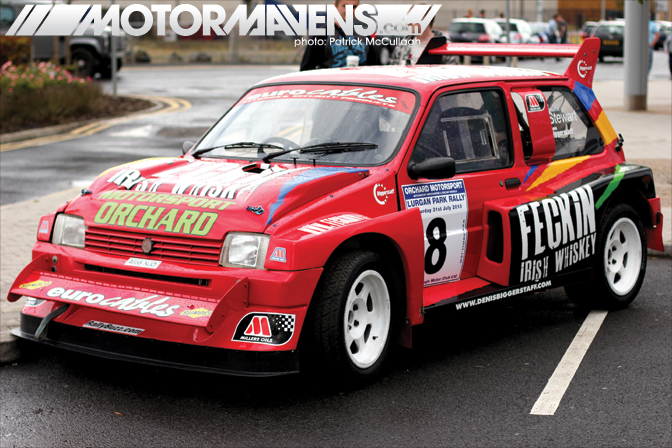 More Group B goodness – this time in the shape of a fat and ugly Metro 6R4. I might be sounding a bit rude by calling the Metro "fat" and "ugly" but I mean it in the best possible way. Personally, I don't want a rally car to be "pretty" or "nice to look at". I want the car to be purposeful and mean-looking and the Metro is just that!
This particular 6R4 is owned by former British Rallycross and Northern Ireland Stage Rally Champion Dennis Biggerstaff. Dennis told me that this Metro is one of the first 6R4's built and was campaigned by the late, great Tony Pond. The 6R4 was the only Group B 4wd car that was not turbo'd or super-charged.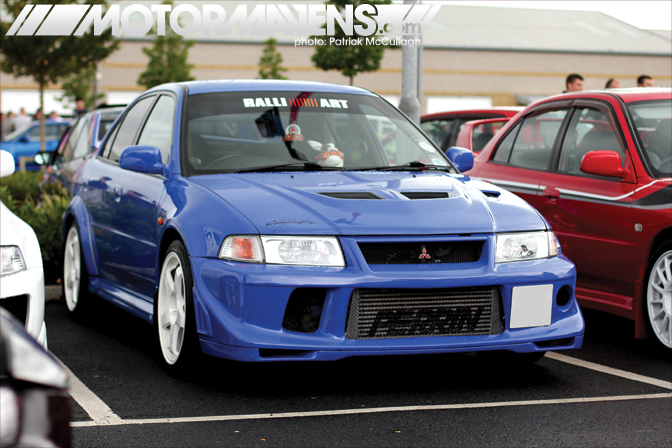 Before I go any further, I love this Mitsubishi Lancer Evolution VI with its Tommi Mäkinen front bumper. When I saw this Evo a few months back, in my home town, "green with envy" wouldn't have begun to describe my feelings. The Reims Blue color is just awesome looking and I love the Perrin Performance inter-cooler which gives it even more of a rally "feel". The only thing that I would change would be the "Ralliart" sun strip but that is only a minor detail.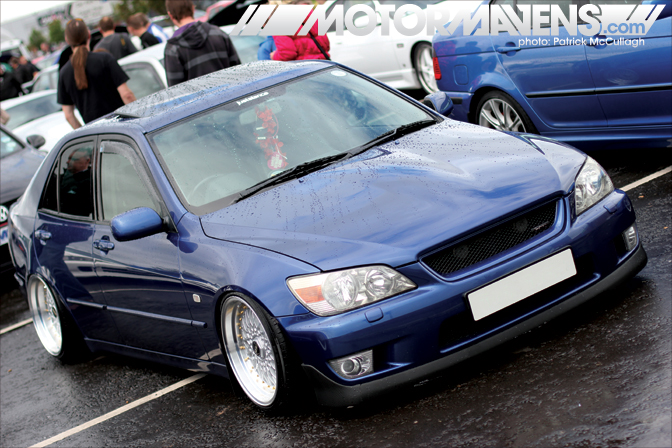 A modification that is relatively new to our shores is juice or air suspension. This is mainly down to John Peden of Peden Conceptz. In the UK and Ireland, John is widely respected as one of the best car modifiers we have. I love JP's work so much that I bought one of his cars!!
This Lexus IS200 had had the Peden Conceptz treatment when owner Dee McConville asked John to fit Rayvern hydraulic suspension into the car to give it that stance. The car originally sat on Mercedes Monoblocks but Dee decided on BBS RSs (8.5×17 on the front and 10×17 on the rear) and that choice has completely transformed the car.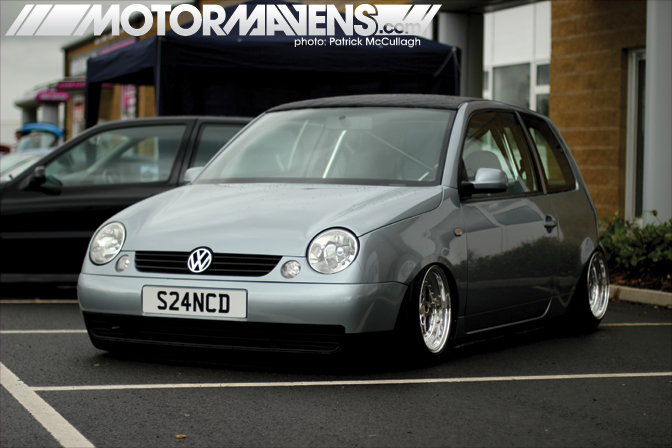 Another car to get the Peden treatment is Niall O'Dowd's slammed Volkswagen Lupo sitting on Tramont TY2s (8×14 front and 9×14 rear). How can 14s look so cool? The car has also recently undergone a paint transformation from the standard "people's car" red to this cool Monza Silver that came from another VAG car; the Audi TT-RS.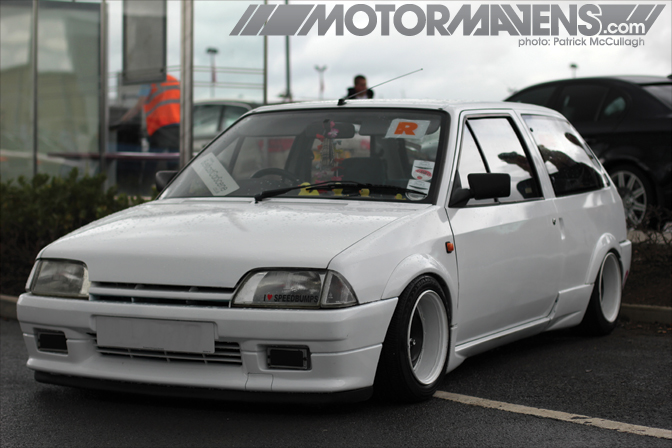 This Citroen AX is also on Rayvern hydraulics but this is a home grown project that driver Aaron Cole devised. Aaron, like me, has a real affliction – I love 106s and he loves AXs. Both of us have competed in motorsports in our respective afflictions and both of us have juiced versions of them too. Usually, I have no love for the AX but I appreciate the fact that they are pretty rare now – plus, seeing a car "on the deck" like this makes me smile since it reminds me of fun times in my 106.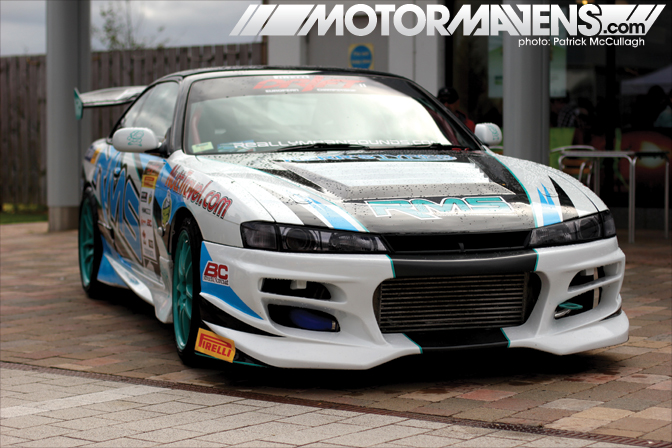 The RMS "head honcho" is not merely the founder and owner of the site, he is also a drifter. Andy competes in the European Drift Championship (EDC) in this: The RMS14a. Recently, I accompanied Andy and the RMS drift team to Cadwell Park in England – you can check out the event through my eyes on OMGdrift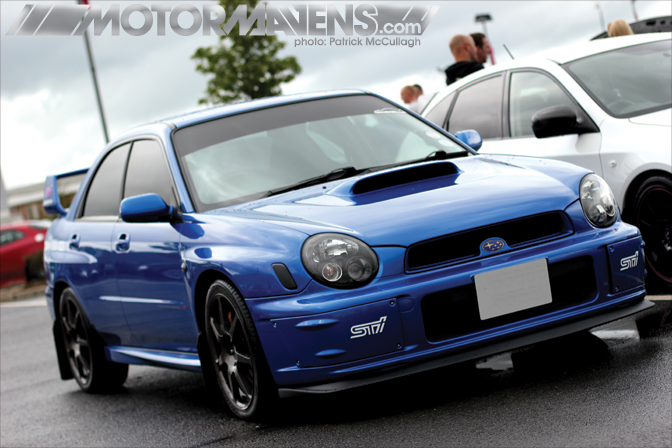 I feel that this "Bugeye" Subaru Impreza is an often over-looked gem. In standard format, they are pretty dreary looking. I am willing to admit that. But, when you see examples like this one, with the Prodrive front bumper and darkened headlights, they just look epic!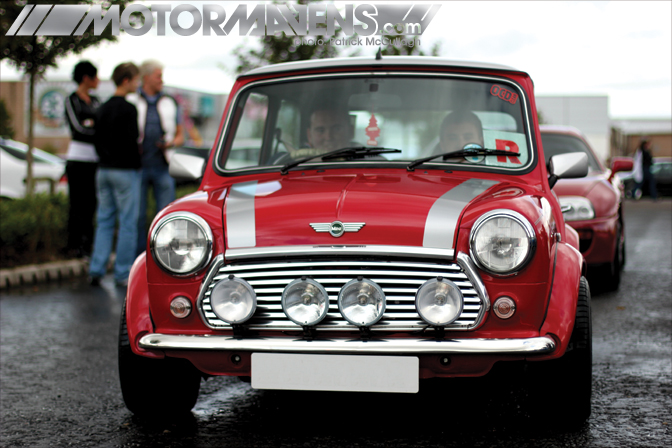 Classic shapes like the original Mini will never die. Especially when you have people like 21 year old Jayme Hill who has brought this Mini back to its former glory after owning it for almost three years. I love the arches and the track of this little Mini that make it handle like a go-kart. The four rally spotlamps on the front remind me of the Mini driven by Northern Irish rally driver Paddy Hopkirk who drove the marque to victory in the 1964 Monte Carlo rally.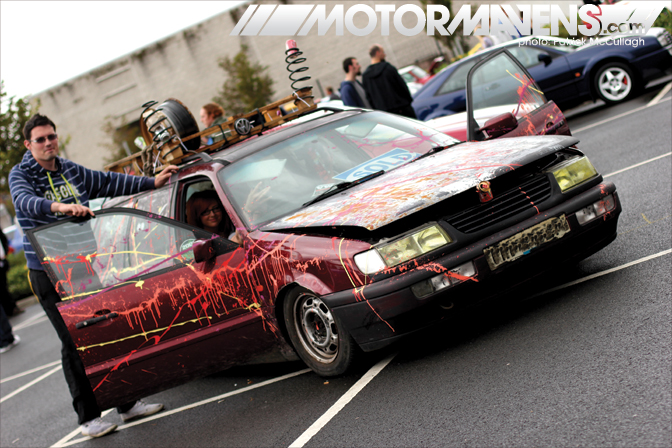 At any show, no matter where you are in the world, there is always that one car that makes you say: "WTF!". At this event that car was this Volkswagen Passat estate. When looking at it, a few friends of mine were discussing not so much "why" but "how" do you go about doing this to a car? My thoughts were that you just go into your garage and grab all you can and then just throw it at the car and whatever sticks – sticks! The "SOLD" sign was obviously a joke…. wasn't it?
Make that two cars that make you say "WTF?" The wood-panel effect was convincing from about 400 yards. I really don't think this Rover 200 knew what hit it. Obviously, the owners of these types of cars don't take them too seriously and they do provide comic relief after seeing literally hundreds of really fine cars. So, I thought I would share the laughs with my MotorMavens mates stateside.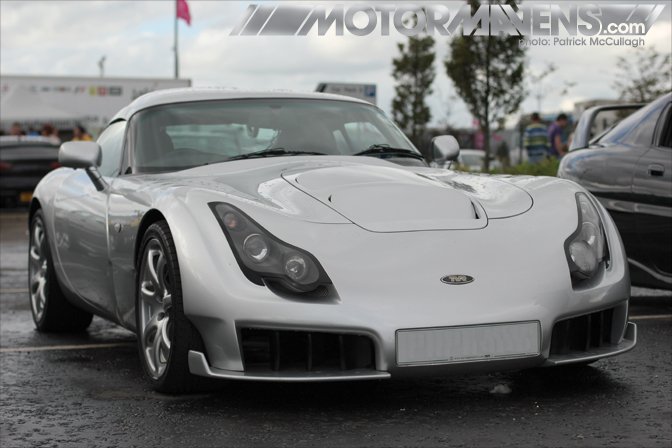 And now, back to our regularly scheduled programme…This TVR Sagaris is a favorite of the RMS members – since, as I'm sure you'll agree, it looks amazing! The car has a 4.0 litre straight six that puts down 380bhp at the rear wheels. It truly is awesome looking and can definitely "boogie" when it needs to.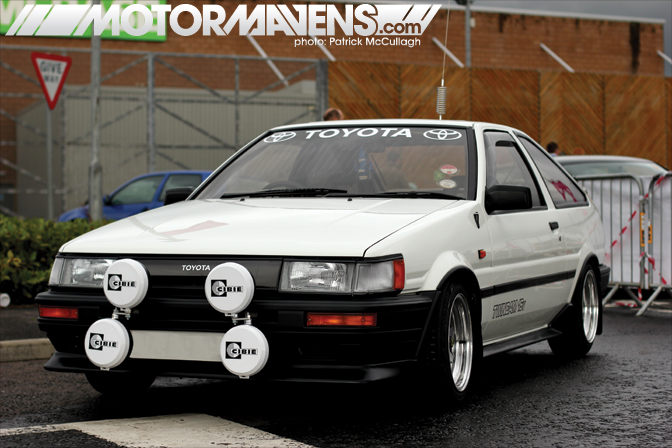 I wanted to finish with this UK spec AE86 Toyota Corolla GT Twincam 16v (quite the mouthful). I'm a fan of the AE86 but not so much in this style. However, I can't argue with this particular one as it looked really smart. The classic Cibie spots and huge CB-aerial on the roof are very typical of the UK spec AE86 in Ireland and they command very high prices for obvious reasons. It does however have a little bit of a bad reputation here amongst non-car enthusiasts. I'm looking forward to hearing what Antonio thinks of it.
Finally, a huge thanks goes out to all the RMS crew and all the helpers during the day. Graham Curry and his partner Jo Baalham did an excellent job in creating one of the best shows I have been to in a long, long time. Not only was this an excellent show (to be honest, there were so many cars there I could have taken pics all week), it was a charity show too and it raised £3330 for Arthritis Care NI! Excellent!
Huge thanks also go out to all the sponsors of the event including Usedcarsni.com, Monster Energy, Blackwater Graphics, Autofashion.ie, Meguiars, ProCar, Autowindscreens & Motorspares, TheMotorGym and, of course, Junction 1 for providing the show with an excellent location. The team at Junction 1 said they had never seen it so busy at an event held at this venue so, with all that in mind, it was a MASSIVE success! Here's to ten more successful years of Reallymeansounds.com!
::Patrick McCullagh
205
,
205 T16
,
Aaron Cole
,
AE86
,
air
,
Ari Vatanen
,
Arthritis Care NI
,
Audi
,
BBS
,
BMW
,
Cadwell Park
,
charity
,
Citroen
,
cooper
,
Corolla
,
Dennis Biggerstaff
,
E46
,
EDC
,
England
,
European Drift Championship
,
Gary Reilly
,
Graham Curry
,
Group B
,
ireland
,
IS200
,
Jayme Hill
,
juice
,
Junction 1
,
Lexus
,
LM
,
Lupo
,
Mercedes Monoblock
,
Milltek
,
mini
,
Mitsubishi Lancer
,
Monaco
,
MotorMavens
,
Nissan
,
northern ireland
,
Paddy Hopkirk
,
Patrick McCullagh
,
Peden
,
Peden Conceptz
,
Perrin Performance
,
Peugeot
,
Quattro
,
Ralliart
,
Rayvern
,
reallymeansounds
,
rms
,
RS
,
S13
,
S15
,
S1600
,
S3
,
Sagaris
,
Shine
,
show
,
Silvia
,
slammed
,
Stage 2 Revo
,
Subaru Impreza WRX
,
Tommi Mäkinen
,
Tony Pond
,
Toyota
,
Tramont
,
TT
,
tvr
,
TY2
,
Volkswagen
,
VW
,
Walter Rohrl
---