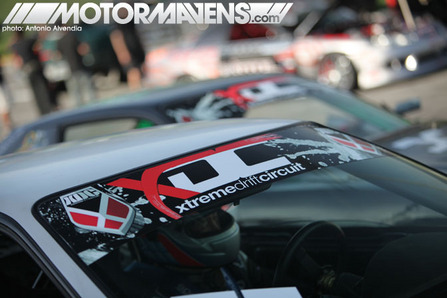 Most people that are familiar with drifting in the United States have heard of Irwindale, California. After all, Irwindale's most famous attraction, Irwindale Speedway has been home to many major "firsts" in the drifting community. Irwindale Speedway was the venue for numerous early Drift Day events; the Video Option Ikaten on January 17th, 2003; the first Drift Showoff on March 3rd 2003; the RS-R Drift Festival on April 6, 2003; the first D1 Grand Prix event in the USA on August 31, 2003; and the first Formula D homecoming at Irwindale on August 29, 2004.
I mention these particular events because they were all milestone events for the grassroots drifting community. Since then, Irwindale has become a recognized name and a home for grassroots drifting in the West Coast. This past weekend marked the first ever XDC (Xtreme Drift Circuit) event at Irwindale. Whether or not this XDC event (or the series in general) will turn out to be a major milestone in the minds of drifters in the United States remains to be seen. However, I can tell you that I observed some re-invigoration and renewed interest in high level grassroots drifting competition from some of the drivers. Hell, if having high-skill-level grassroots drivers spend the time and effort in making the journey from most major regions of the United States (and Canada too) just to compete in this event doesn't indicate what kind of hype this new series is generating, then I don't know what will. It looks as if XDC is heading towards becoming a major force in the grassroots drifting arena.
I'll be honest – when I first heard about yet another drifting series launching this year, I kind of rolled my eyes, just like everyone else did. "Oh jeez," I thought. "Another drifting series is trying to come up and compete with Formula D again?" Well, if you observed how the whole "Nopi Drift Series" turned out, you might understand where some of the drifting community's skepticism comes from. However, when I found out that this new XDC Series was actually slated as a "feeder series" which would sharpen up the skill levels of grassroots drifters across the country and allow them to graduate into Formula D competition, I thought, "hmmm… I think this might actually work out."
The Motor Mavens Movement is all about supporting grassroots drivers and local street teams and crews from all over the world. Formula D did a good thing by empowering the local drifting organizers in different regions to hold Pro Am "driver search" events (like Vegas Pro Am and Evergreen Pro Am, etc), but what I think really boosts the level of drivers that want to graduate into the Formula D series is having the ability to compete regularly on different tracks, against different drivers from different geographical regions.
This "nationalization" and/or "globalization" of competition between the drifting community's hometown heroes is the only way grassroots drivers can really prove how good they are. However, with the level of drift car builds and big money that's required to actually run an entire Formula D season nowadays, it's nearly impossible for REAL grassroots drivers with REAL grassroots style drift cars to actually compete against the Formula D series' hundred-thousand-dollar engine builds, Nascar V8s and full race cars with silhouettes of their OEM bodies dzus-fastened onto tube frames. It saddens some people to see drifting turning into a major pro motorsport like Nascar, but it's all a natural progression, I suppose.
From the looks of the XDC Series so far, it looks like a series that might be a decent battleground for drivers that actually represent the real drifting community – with cars that drifting enthusiasts actually drive (like SR20DET-powered S13s and S14s competing against (high horsepower) AE86s and RX7s.  This part of XDC has me excited! Don't get me wrong though – they don't have all the bugs worked out of the system yet. They could do some things to improve media access, on-track safety, logistics and promotion… but after attending the first event in the series, I can honestly say I'm optimistic.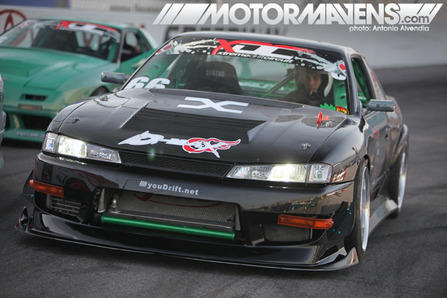 Here's a driver that many fans are optimistic about – this is Forrest Wang, the native Hawaiian that now resides in Las Vegas. This guy should get sponsored by the California Hotel in old Las Vegas, because that's where all the Hawaiian tourists seem to stay.
I think it would be great if more grassroots drivers put in effort to make their cars look as good as Forrest's S-chassis does. It looks good sitting on the grid, but it looks even better as you watch Forrest run.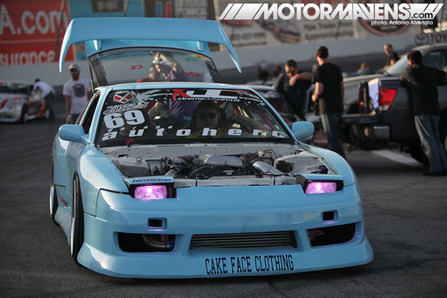 This widebody RPS13 is from Team Instant Party, which has turned into one of the most attention-getting drift crews from Washington state. The owner and driver of the car is Gleb Antonov, whose name I most often hear as part of a sentence that sounds something like "f@cking Gleb, man…" HAHA!
Gleb is pretty crazy because last time he came to Los Angeles, he thought it would be a good idea to drive his drift car down Sunset Boulevard in Hollywood… and he became so overcome with excitement that he just started drifting!!! Down Sunset f@cking Boulevard!!! LOLLLL Needless to say, he got pulled over by the cops. F@cking Gleb, man…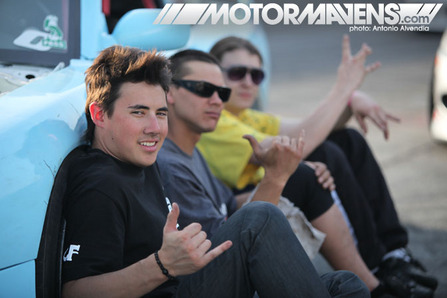 Here are some of the Instant Partiers, chillin out on the side of the track. The guy in the black shirt is Jon Jaffe, who you might recognize from from a previous MotorMavens story on his slammed R32 Skyline. Jon didn't drive the event, as he just got back from enjoying the "nightlife" in Thailand, and his car was still up in Seattle area. Too bad.
The guy in the yellow shirt is Gleb. You'll see more of him soon, you can be sure of that. He definitely stands out from the crowd.
Coming all the way from Toronto Ontario (that's in Canada's east coast, for all you Americans who don't know your geography because you've never been oot and aboot) is Dave Briggs, the driver of this blue S14. I don't remember his friend's name in the black shirt, but I thought it was cool that he knew my good friend Jover Papag, a member of the universal Motor Mavens Crew and an AE86er who used to hold early drifting events in Toronto.
Anyway, Dave is so down for drifting that he decided to rent a place in Long Beach CA for exactly 183 days (because that's how long he would be allowed to stay in the United States as a Canadian resident) just so that he could enjoy life in sunny California and drift as many events as he could attend. Dave normally drives in the Canadian DMCC Series, but we're glad to see him having fun at West Coast events like the Vegas Pro Am, XDC, and Just Drift's Top Drift Battle!
Funny story about Dave… I asked him which websites he goes to often, and he replied, "Of course I regularly check MotorMavens and all the other websites that cover drifting regularly…" And I asked, "So since you're an S14 guy, I'm sure you're on ZipTied too, right?" Dave replied, "Actually, no! I applied to become a member of the ZipTied forum, but I actually got denied. It sucks that I just won First Place at XDC, but I can't even read what's going on in the big drifting forum!" LOL that sucks!!! Sorry to hear that Dave, but I did think it was a pretty funny story. Maybe someday… haha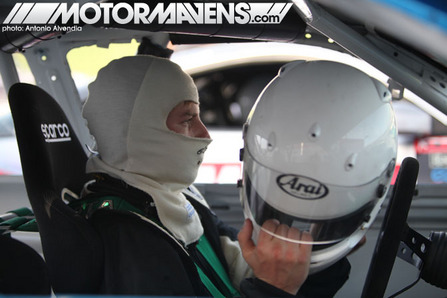 Inside Dave Briggs' S14, I noticed that we was laced up in all this awesome high end safety equipment – notice the Arai helmet and the Alpinestars firesuit and balaclava? Baller status! Most of the broke drifters I know just steal balaclavas when they go to indoor karting places like Dromo 1 and K1, haha.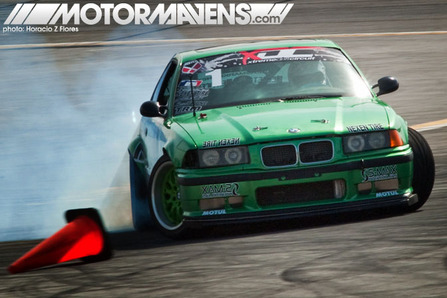 This E36 BMW M3 was being driven by our good buddy Chelsea Denofa from Houston Texas! Chelsea has a great personality, and he's also a great driver and an expert on where to get BMW parts on the cheap! According to Chelsea, he painted his entire car just because I said something about "not really liking the way his E36 looked" when I saw him achieve a podium finish at the Irwindale Formula D Pro Am. LOL sorry to make you spend all that money, Chelsea! (But it does look a lot better now!)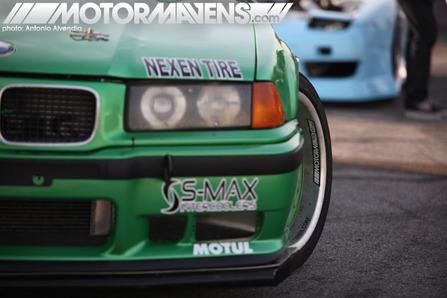 Hey cool! I just noticed that Chelsea is rocking our sticker on his car too!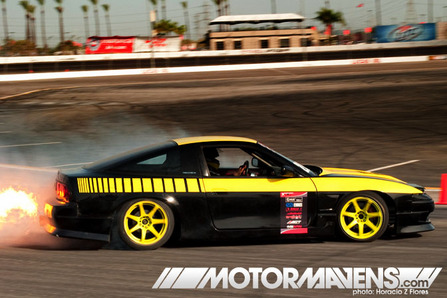 Here's a cool capture from Horacio Flores! The driver of the black RPS13 that's shooting out flames is Mike Pollard, a drifter from Minnesota. I spoke to Mike very briefly last time he was at Irwindale for the Formula D Pro Am. He said there aren't too many drifters in Minnesota or many events to drive, so he's considering moving to California in pursuit of drifting. However, right now, he's on a plane bound for Japan… apparently, he's going on the trip with Forrest Wang and some other drivers who want to experience Japanese drifting.
I thought Mike's car looked great when I saw it at the Irwindale Pro Am, but honestly I was kind of sad to see the big gaudy yellow stripes on the car. Sometimes, I think a little simplicity goes a long way.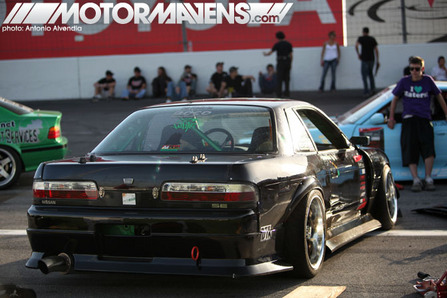 Here's Forrest Wang's S14-faced PS13 again, in the pit area. Notice that his competition car is running meatier-looking tires than I've seen him run on his other car's setup. I'm pretty sure it's because he probably wants more contact patch and grip at higher speeds while he's drifting. Either way, stretch or no stretch, I think the car looks pretty damn good… nuff said!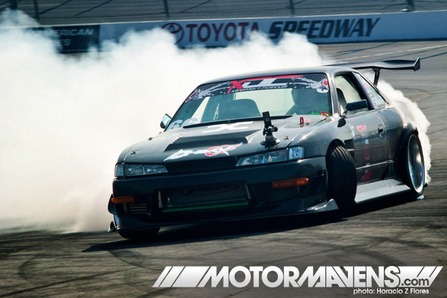 Here's another shot from Horacio Flores, showing big smoke and big angle from the Hawaiian drifter. Too bad Forrest didn't have his headlights on – the car would have looked even meaner and more aggressive in the photo if it had glaring headlights! (It's true. I've been yelling "turn on your headlights!" to drifters at the starting line for the past 4 years.) One more time… Drivers, even during the daytime; when you're driving at an event, turn on your headlights!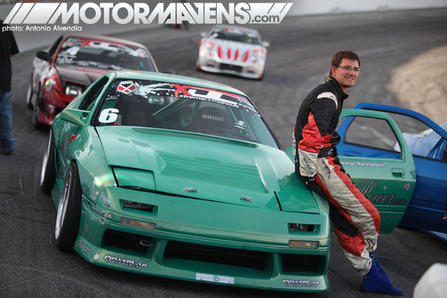 The guy leaning on this mean looking FC3S RX7 is George Marstanovic from Arizona. At first, someone asked me if that was JTP's car out on the grid, but the answer is NO! Justin Pawlak's FC3S is a darker shade of green, with more metallic.
Oh yeah, and the two FCs sound very, very different – George's FC has a GM LS1 engine in it, so even people a mile away can hear the big power and big torque under the hood.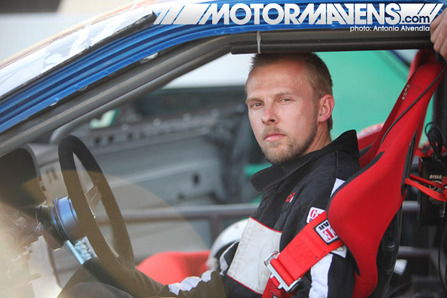 Here's the driver of another FC3S RX7… this is Brian Peter, from Milwaukee, Wisconsin. I don't know too much about Brian; maybe we'll have a chance to talk a bit more at the next event. But wait! Do I spy a Belle-1 Communications radio strapped to the rollcage in Brian's car?
For those who don't know, Belle 1 is the top name in racing communications, so if you want to have radio contact with a spotter, and need to fit a radio transmitter in your helmet and your car, you will definitely want to email Daryl at Belle 1. (bellecommunications(at)msn.com) Daryl is cool as hell, and always down to help people out. Maybe someone should help HIM out, cause I think he needs a website update pretty bad. Come on, Daryl… step into the 1990s already! LOL!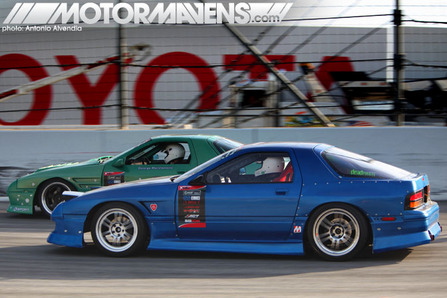 FC3S Battle! When our resident RotorMaven and FC3S TII owner Edward Uche first saw these FCs, he was pretty ecstatic. There's nothing our boy Ed likes more than seeing two FCs drift together, so I'm sure that seeing George and Brian drive together was a highlight of the day.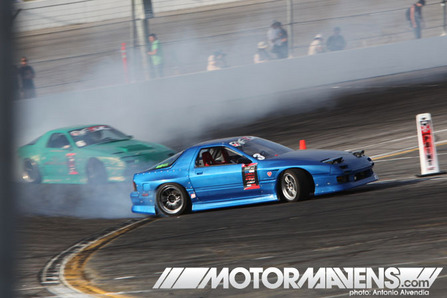 Here's a snapshot from one of the runs  – Brian's LS6 seemed to have more more torque than George's LS1 engine, and Brian accelerated away from George in the inner oval.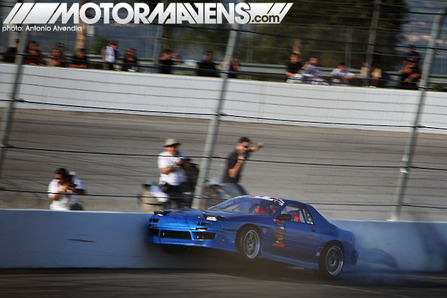 In a later tandem battle though, Brian went up against Jeff Jones, a local driver from the San Fernando Valley with a burgundy 1JZGTE powered RPS13 240SX. In this Top 4 battle, Brian ended up hitting the wall and riding it around the curve like it was a skate trick. He emerged unhurt though – thank goodness for safety equipment!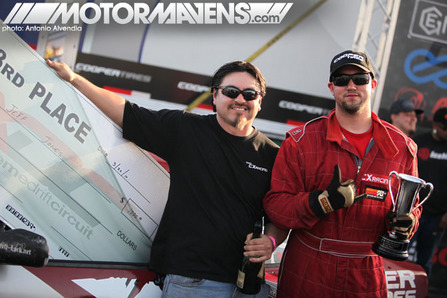 Here's Jeff Jones and his fabricator after the podium ceremony. I wonder what Jeff's gonna do with that extra thousand? I'm sure it's going to help a lot towards the build of his new FD3S RX7!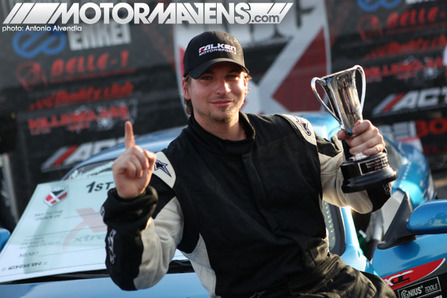 Since nobody seems to know what he looked like until this past Saturday, here's a photo of Dave Briggs, the winner of the first event in the XDC Series. By winning First Place at XDC, he won a big check for $3000, a brand new Genius toolbox, and this pimp cup.
Congratulations to all the winners! Dave Briggs (1st), Quoc Ly (2nd), and Jeff Jones (3rd)! Keep pushing towards the top, guys!
Oh, and we're not finished with our XDC coverage… stay tuned for another update with more photos VERY SOON!
:: Antonio Alvendia
1JZGTE
,
Antonio Alvendia
,
BMW
,
Brian Peter
,
Chelsea Denofa
,
Dave Briggs
,
E36
,
FC3S
,
Forrest Wang
,
George Marstanovic
,
Gleb Antonov
,
Horacio Flores
,
Irwindale Speedway
,
Jeff Jones
,
Jon Jaffe
,
Justin Pawlak
,
LS1
,
LS6
,
Mike Pollard
,
Quoc Ly
,
Remix
,
RPS13
,
S13
,
Team Instant Party
,
XDC
,
Xtreme Drift Circuit
---