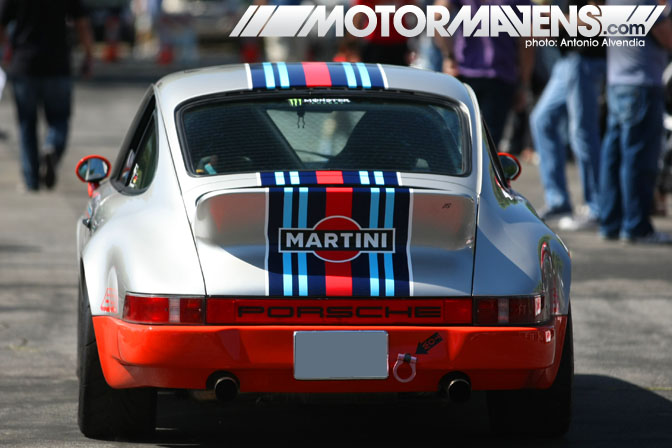 There really is nothing like a vintage Porsche 911. Ever since the first time I was able to actually see and hear an actual 1970s Porsche 911 race car running through Nurburgring Nordschleife on my first trip to Germany, I've been lusting after a 911 of my own. Shortly thereafter, I was given the opportunity to visit the Porsche test track in Leipzig, Germany, where I got the chance to get up close and personal with an authentic 1973 911 Carrera RS, which was wheeled out from the Porsche Museum so I could take it out on the track! I really need at least one of these in my life.
Needless to say, I was beyond excited when I attended this gathering of Porsches in Woodland Hills, CA. There were several gorgeous cars from different model years in attendance, but none of the cars truly captured my attention like these retro race-themed 911s.
Above, the Martini Racing stripes are always a welcome sight on a Porsche, whether you enjoy drinking their sparkling wine or not. This silver 911 with reddish orange bumpers looked cool as hell as it cruised slowly out the parking lot. Unfortunately, I wasn't able to shoot too many photos of this car. (Update – SIX years later, thanks to Instagram, I've now connected with Alex Koch, the owner of this 911!)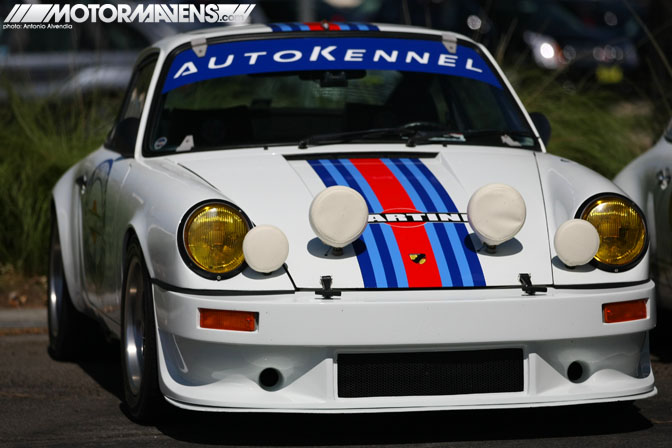 Luckily for me, there was another 911 with the Martini livery in attendance. This super clean white 911 from AutoKennel looked awesome with its yellow headlights and hood-mounted rally foglights.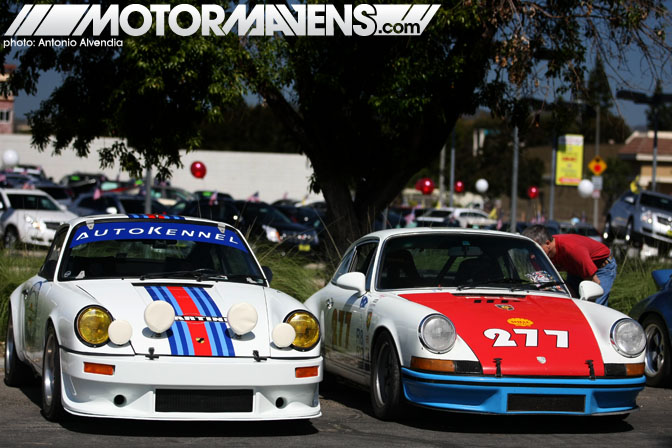 The white AutoKennel car looked interesting with its aftermarket bumpers. This Porsche is newer than the one next to it, as you can clearly tell by the short hood and big bumpers. The front bumper looks low and aggressive, with air ducts and a lower lip spoiler. I'm assuming the air ducts in the front bumper lead to hoses for brake cooling.
The 1970s 911 on the right side is owned by a guy named Magnus Walker. I didn't actually meet him in person, but he conveniently had flyers on the windshield, which indicated that he owned the car. I love the 911 RS bumpers on his multicolored 911!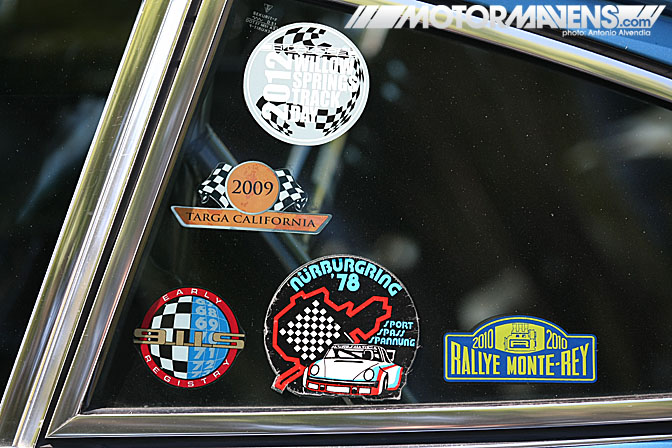 Shortly thereafter, I met a super nice gentleman named Chuck Miller, who is an original member of the bad ass early 911 club named R Gruppe and the creative advisor for the Early 911S Registry, which is (obviously) all about early 911 Porsches. I was admiring the amazing authentic period stickers on Chuck's 911.
Look at that bad ass 1978 Nurburgring sticker!!! Damnnnnnnnnnnn. That's GOLD to people who collect vintage stickers from racetracks they've been to (like me).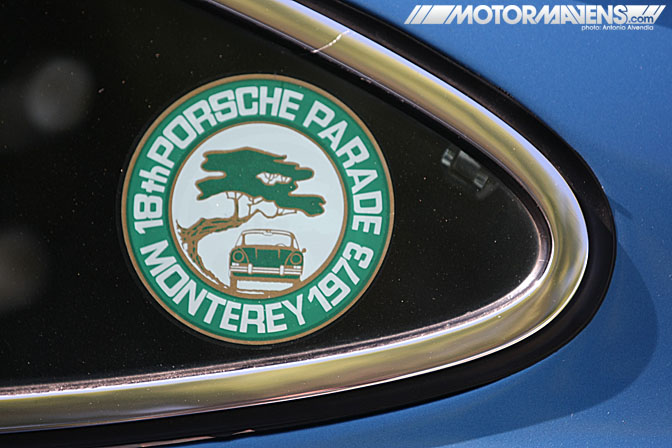 Another cool sticker on Chuck's car… a 1973 sticker from a Porsche Parade in Monterey CA! Bad ass. I like the design of the sticker too, with the Porsche front end and the tree. I don't know what those trees are called, but they look cool, and they're all over the Monterey peninsula.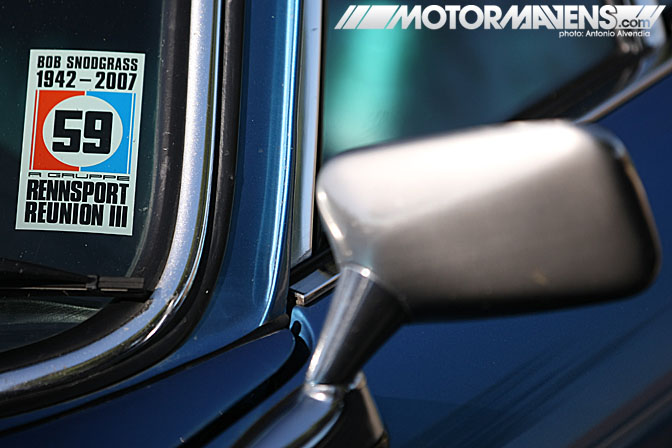 On Chuck's windshield was this R Gruppe commemorative sticker from the Rennsport Reunion, which honored the late Bob Snodgrass, former president of Brumos Racing. I'm not an expert, but I've heard that Mr Snodgrass was one of the main guys behind the formation of Grand Am road racing and was involved in Daytona prototype racing. As a team owner, he won the Rolex 24 at Daytona three times (Brumos Racing won eight times).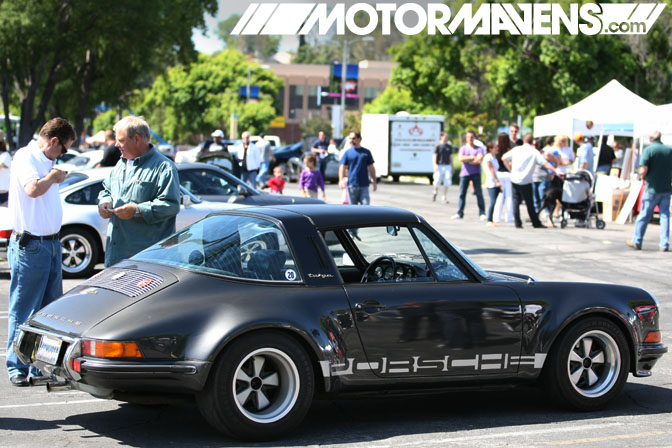 As we walked through the parking lot, Chuck pointed out this brown metallic Targa Porsche 911. I realize that many racing purists aren't too fond of targa-topped cars, but this particular Porsche looked awesome, with its RSR style fender flares, and wide Fuchs wheels, which I was told were 9 inches wide up front, and 10 inches wide in the rear. Nice!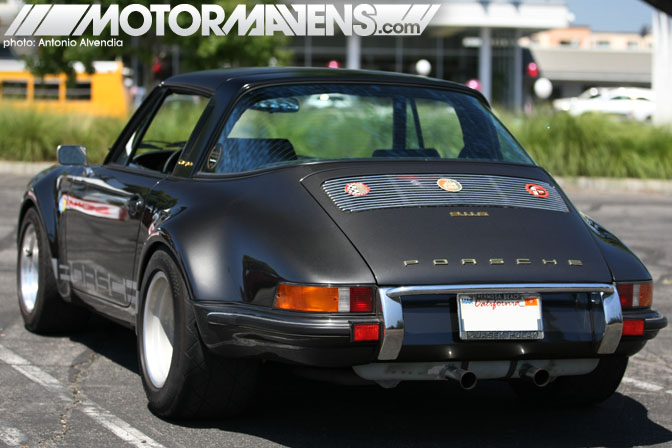 This brown metallic Targa looks awesome from the rear. Whoever did the bodywork should be commended for the way they flared the bumpers to match the wide rear fenders. The car looks really mean from the back! I also love the other subtle details, like the clean metal grille and emblems on the engine cover, and the look of the exhaust. Class act!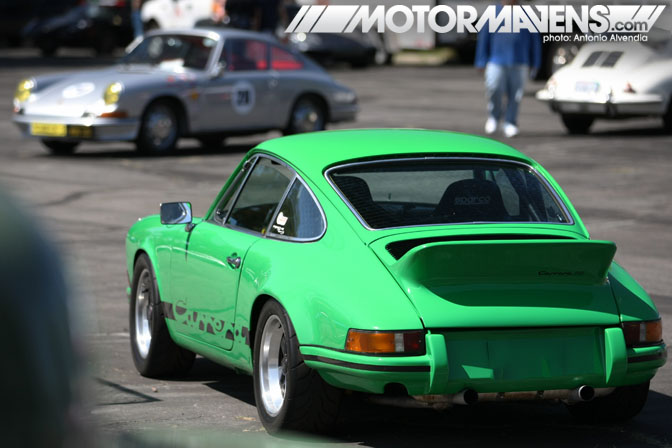 Come on. Who doesn't like this early Carrera RS green machine?! I'm not sure if it's real, or a clone, but either way, it's bad ass.
Yet another early model narrow fender car… this silver 911 had a "McQueen" license plate on his front bumper, next to its 1960s period correct black-and-yellow California plates. I didn't get to meet the owner of this car, but I'm curious as to what its story is!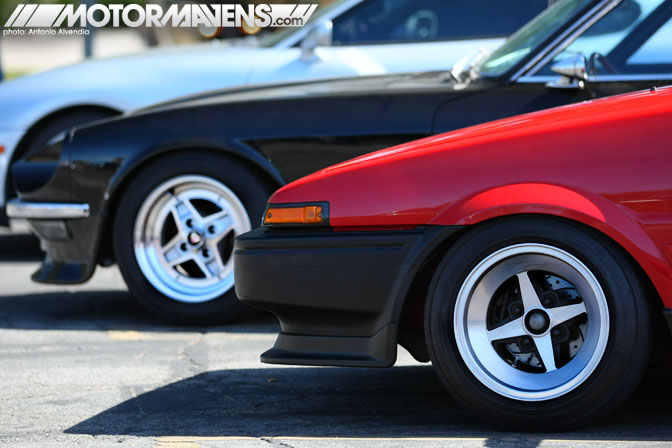 Now, you're all probably wondering about the title of this post – crashing a vintage Porsche meeting?! Well, I thought it was an apt title, because my friends and I attended the meeting, but we didn't drive up in vintage Porsches (unfortunately). We drove up in our Japanese nostalgic cars – my red AE86 and my friend Yee's Datsun (Nissan) 240Z.
I won't bore you with too many details on my car, but I only recently began driving this car again – it has been in storage for something like SIX years. It has rare BLACK Japanese OEM Toyota zenki (early model) bumpers, with the expensive front lip spoiler. In the photo, you can see the car's incredibly hard to find vintage Work Equip 01 one-piece monoblock wheels, which are an homage to the McLaren Can Am wheels from the late 1960s.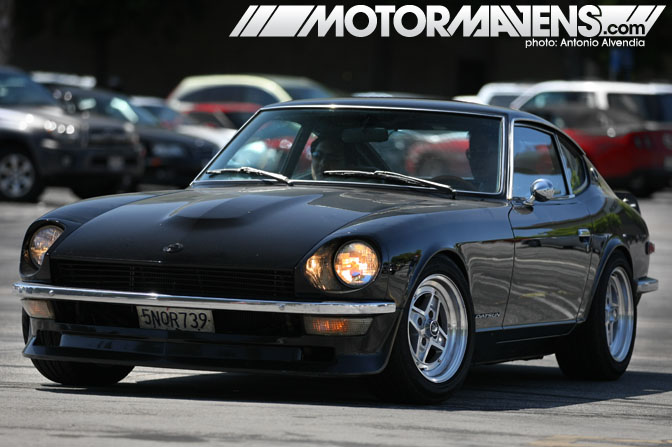 This clean black S30 240Z is owned by my friend Yee Chan of Japanese Nostalgic Car Magazine. Yee's Z looks good with its clean, unmolested body lines and black paint. The front air dam is a classy addition to the front end, and I'm sure glad Yee is stylish enough to NOT install those newer style, super clear 7inch headlight housings with HID headlights. Those would completely ruin the Z's classic look.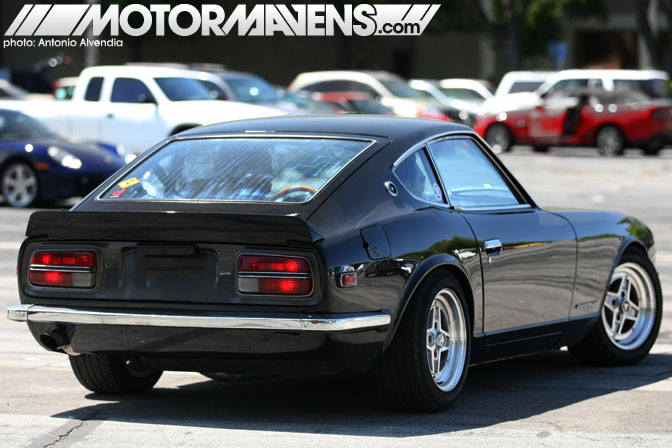 The 240Z has a very subtle, yet stylish ducktail spoiler, and I'm thinking those four spoke 15×8 Enkei Apache II wheels might look pretty good on one of my cars. They're not at all expensive either, compared to my other sets of wheels. I might have to get a set for street driving.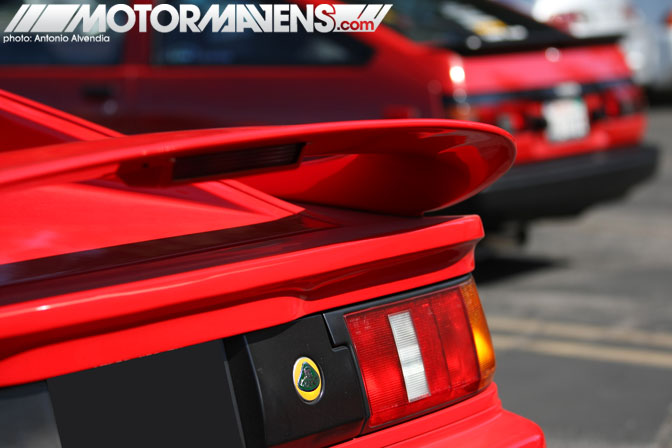 Back to the AE86, I was super happy to see this red 1997 Lotus Esprit V8 in the parking lot. I parked my red AE86 right next to it to see if the owner would notice any similarities in our taillights. (He didn't.)
Lotus Esprits use Toyota OEM taillights from the 1984-1985 Corolla GT-S hatchback. Yup, these tail lights were the exact same ones that came on my AE86 in its stock (US version) form. In fact, I was gonna ask the owner of the Lotus if he wanted to buy some extra taillights from me (I have some super clean OEM Corolla tail lights in my garage), or if he even wanted to confuse other Lotus owners and install Japanese OEM AE86 "Sprinter" tail lights on his Lotus. (The dark tinted Sprinter tails can be seen in the background of the photo, on my AE86). I wonder how Lotus owners feel about the fact that their British supercars use tail lights from Japanese sporty econobox cars like AE86s? I think I'm going to have to buy a red Lotus someday and park it in the garage next to my red AE86s. AWESOME IDEA.
:: Antonio Alvendia
1973 911
,
240Z
,
911
,
AE86
,
Apache II
,
AutoKennel
,
Bob Snodgrass
,
Brumos Racing
,
Can-Am
,
Carrera RS
,
Chuck Miller
,
crash
,
crashing
,
Datsun
,
Enkei Wheels
,
Equip 01
,
Esprit
,
Fuchs
,
homepage
,
Japanese Nostalgic Car
,
Leipzig
,
Lotus
,
Magnus Walker
,
Martini Racing
,
McLaren
,
Nissan
,
Nordschleife
,
Nurburgring
,
Porsche
,
R Gruppe
,
Rennsport Reunion
,
S30
,
Supercar Sunday
,
Targa
,
Woodland Hills
,
work wheels
,
Yee Chan
---