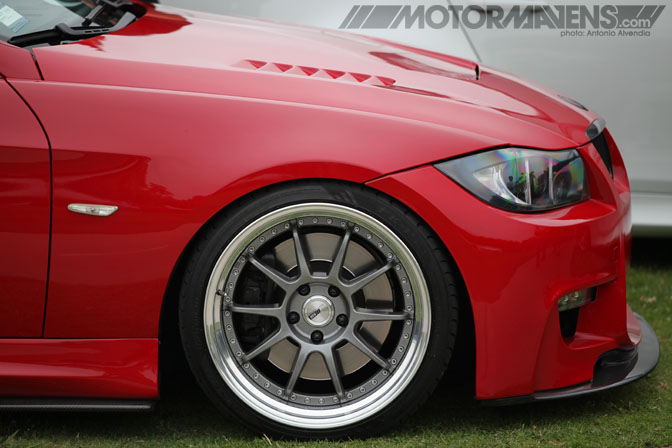 Long Beach is quickly becoming one of my favorite venues for automotive events. This weekend, our friends from Weksos Industries made the trek down to Los Angeles to hold yet another Wekfest event in Southern Cali. Even though the event is pronounced "weak-fest" and their company name is pronounced "weak sauce," the turnout was anything but weak.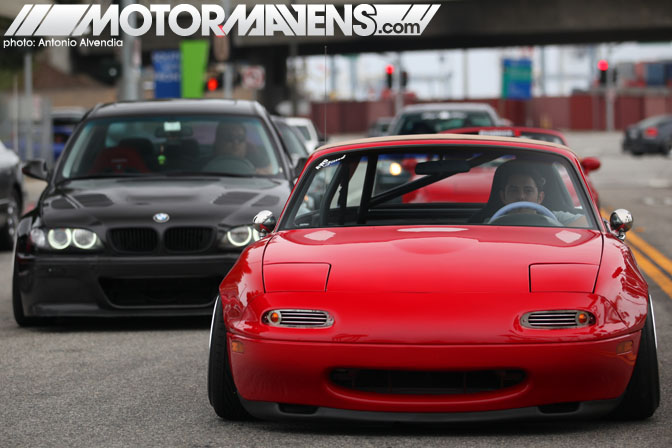 Lowlife car owners from all over California and Nevada scraped their oilpans all the way to the Queen Mary to show off their first class wheel fitment.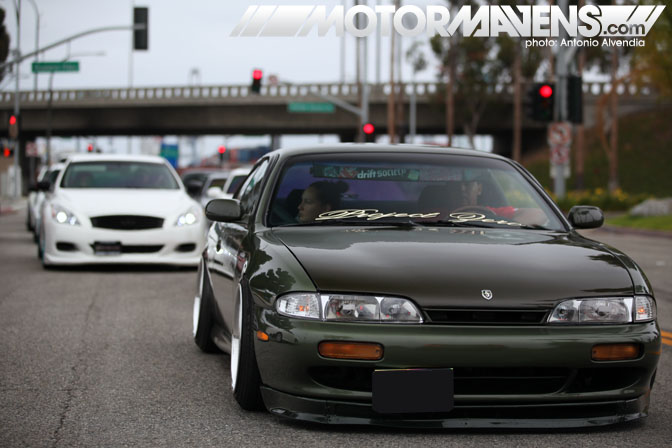 This dark olive green zenki S14 definitely caught my eye as it was rolling in to the event. While I've never been a huge fan of wink mirrors or stickerbombing car parts, I really liked the exterior styling on the car. The paint color, front lip, grill, headlights, corner lights and wheel fitment show that it isn't too difficult to make S14s look clean and classy. I think that people building S14 drift cars need to take notes from clean S14s like this one. You don't NEED huge aggressive overfenders. You don't NEED big, gaudy, ugly graphics schemes and neon colored wheels. Just make the car clean and classy like this one. Minus the stickerbombed wink mirror.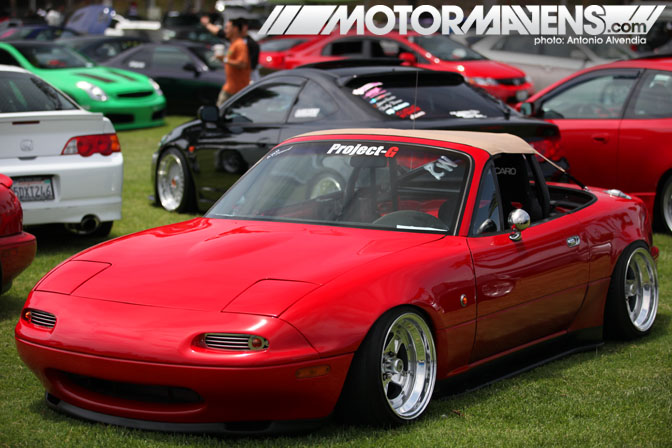 Speaking of clean and classy, it doesn't get much better than Tig's red Miata. Ever since they first came out, Miatas have always had a negative stereotype attached to them, where people said that the cars were feminine looking… but COME ON! This has got to be the most classy, manly Miata I've ever seen! Even though the beige fabric strapped down on over the roll bar is called a bikini top. Haha! =)
I seriously love the hell out of Tig's Miata, because of its retro modern styling. The car sits low and aggressive with SSR Mark II wheels, which are on my Top 3 list of favorite wheels ever made. The small chrome or polished accents to the car, like the gas cap, door handles, round sidemarkers, billet grilled corner lights and retro bullet mirrors just add to the whole retro look. I love it!
The clean black front lip spoiler and black Project G side skirts and flared lower panel add a subtle-yet-aggressive look to the car. I think that's probably the key here. These days, lots of car owners are trying WAY TOO HARD to stand out. However, some of these people have missed the point. It's not cool if you're trying too hard.
Building a car that stands apart from the crowd is great, but I really feel that people are crossing the line too much these days. As you browse the internet looking at car sites, you see car owners doing things like rusting the hell out of a perfectly good fender, gold plating their wheels, painting their cars (or wheels) obnoxious neon colors, and stickerbombing parts of their cars (or even worse… stickerbombing the whole interior). It makes me shake my head at times, because they just don't realize that what they're doing is making their cars into the 2012 version of the Hot Import Nights/Fast&Furious rice cars that they hate so much. It is in fact, it is the EXACT same thing.
There it is. I said it. I'll probably get a lot of hate mail for it, but someone had to say it. Thank God for people who keep things classy and clean. People need to take a good look at Tig's Miata and take notes. This is how you do it.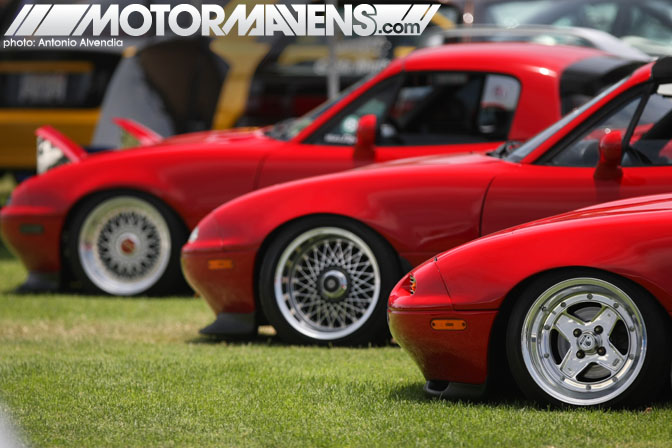 Don't think I'm trying to put Tig's Miata on a pedestal or anything – that's not my intent. (And if it were on a pedestal, it wouldn't be low anymore.) He's not the only one out there with a dope Miata. In fact he rolls with an entire crew full of well done Miatas. Just look at this wheel lineup from the Project G gang! Now that is a class act!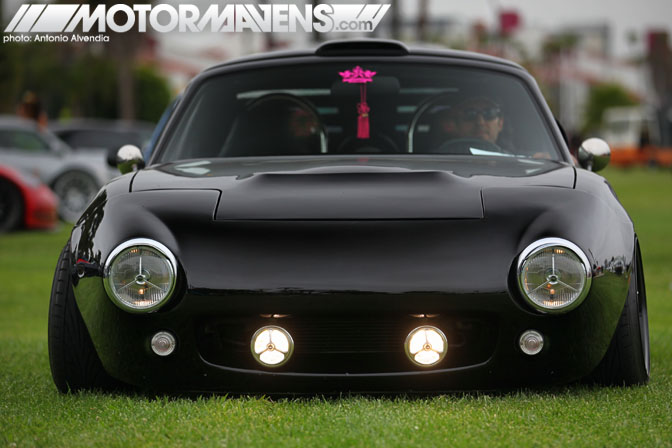 While there were certainly a lot of freshly fitted Miatas at the event, I think the most neck-breaking Mazda belonged to Sean from JDM Palace. Sean's Miata dropped jaws because of its low stance and Pit Crew front end. In fact, I've shot other Miatas with Pit Crew fronts, but this is hands down the best looking one I've ever seen in the United States. This thing is really, really well done. The interior is ridiculous too.
He mentioned that he didn't want to let anyone do a full shoot on the car until after Super Street Magazine debuted it, and we're certainly respectful of that, because all the Super Streeters are our friends. They've been doing a lot of cool features in their mag recently… go buy one at your local magazine stand and support print mags!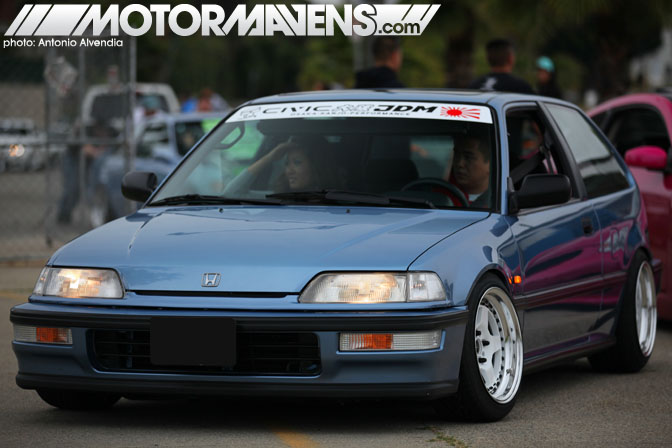 Speaking of Super Street, the magazine's Editor in Chief, Jonathan Wong, rolled into the show with his newly refitted EF Honda Civic. While I'm admittedly not a Honda guy, it's really hard not to appreciate the class and cleanliness of JDM Wong's Civic. I really love the super clean OEM colored repaint and the Japanese OEM bumpers. The car is sporting fresh new wheels from Osaka JDM… read about them and see some of Jonny's Osaka adventures in a recently printed issue of Super Street!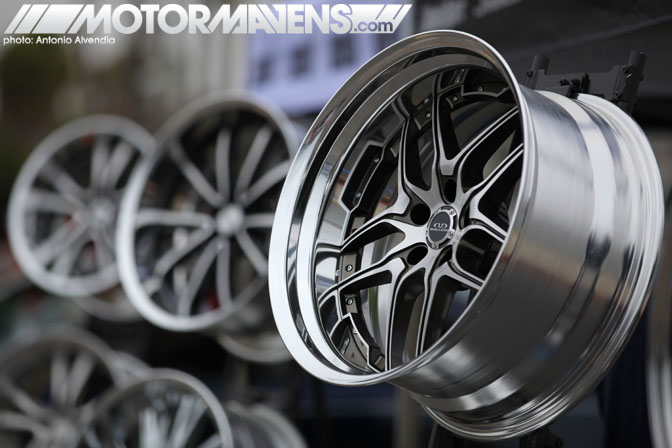 Wekfest might as well be called Wheelfest, because that's the name of the game at the show. In fact, Japanese wheel companies like Weds and SSR both had display booths at the show, giving people something to drool over!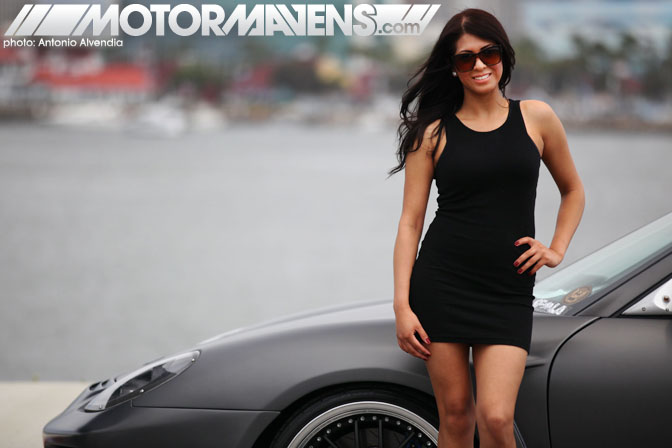 At the SSR booth, we met a new friend. This is Ashley. Everybody, say hello!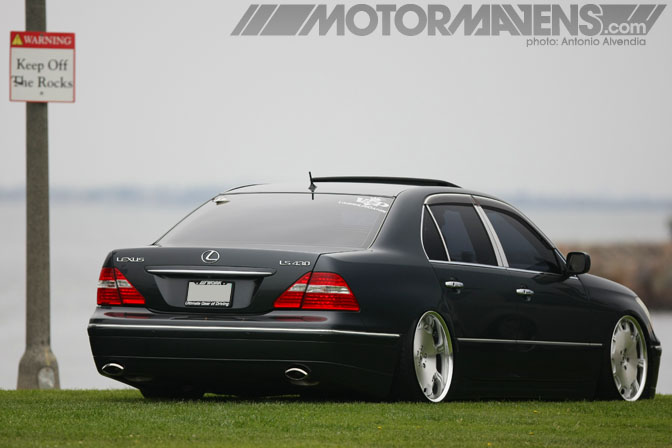 Damnnnnnnnnn, This Lexus LS430 looks soooo clean on Work Wheels! I also like how the city of Long Beach had these warning signs posted around the show, warning kids to stay off crack cocaine.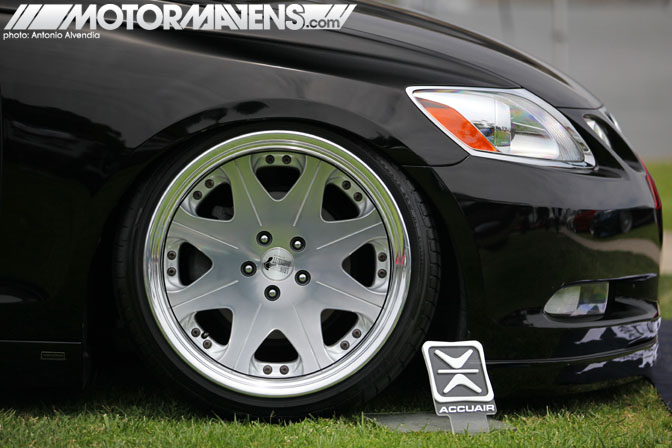 Have you met our friend Leon? This is Leon Hardiritt. What a good looking face on this guy! I love the brushed face and the polished outer lip.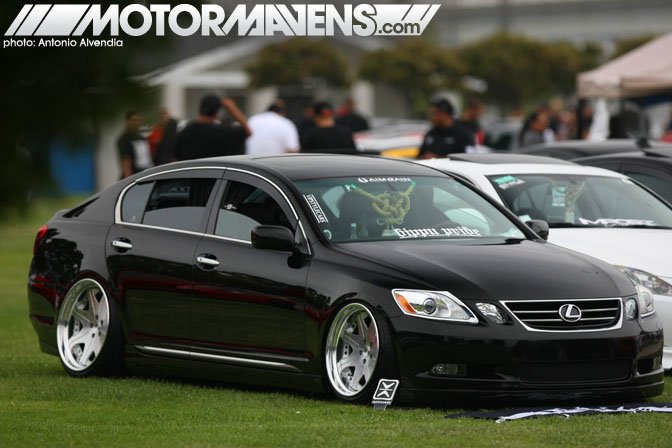 Here's the rest of the Lexus GS. It's fitted with an Aimgain aero kit from Japan, AccuAir air suspension controller, and some gorgeous Leon Hardiritt wheels. What a gorgeous daily drivable car. That Japanese VIP fusa inside the car is a little out of control though! In retrospect, I wish I got the contact info of this car's owner. My mistake.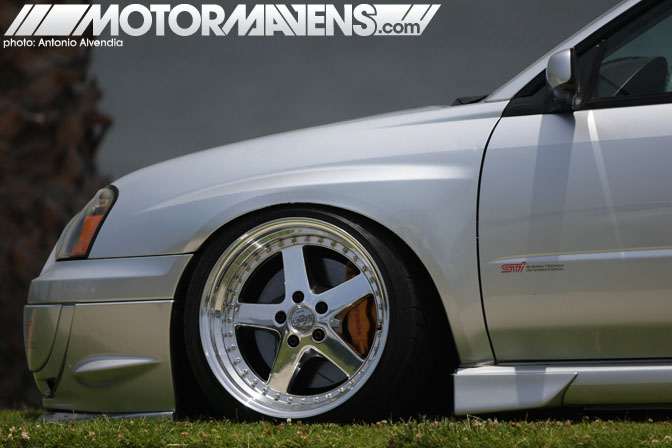 There's always been quite a debate online whether people should really SLAM the hell out of a capable performance car like the Subaru Impreza WRX STi. While I personally love the way it looks, I can certainly understand how some of our performance-minded readers say about lowering a car like an STi too much to use its incredible performance potential. I posted a photo like this on the @MOTORMAVENS Instagram account, and it seemed like our readers were 50/50 split on whether they were fans of this style or not.
Regardless how people feel about how low a car should or shouldn't sit, there's just no question that the wheels really make this STi shine. These older style Work Equip 5 spokes have got to be one of my favorite 5×114.3 wheels of all time. Does anyone know the actual name for these wheels? I think they're just called Work Equip, but there has to be a way to differentiate them from the other wheels in the Work Equip lineup.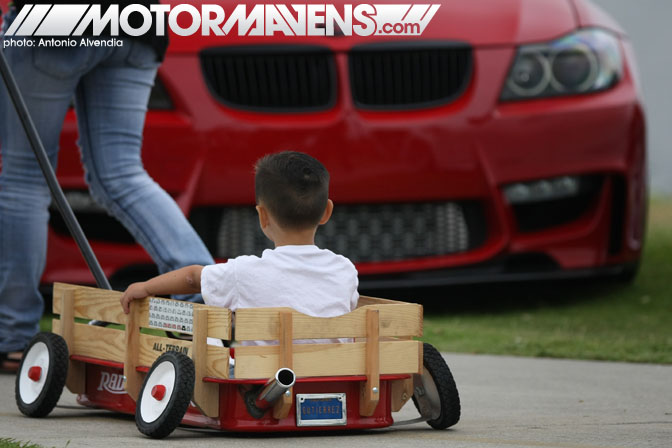 Sometimes, you don't need a driver's license to live the low life. Check out this kid's Radio Flyer wagon – it's lowered, scraping, with negative cambered wheels and an exhaust! Haha sick!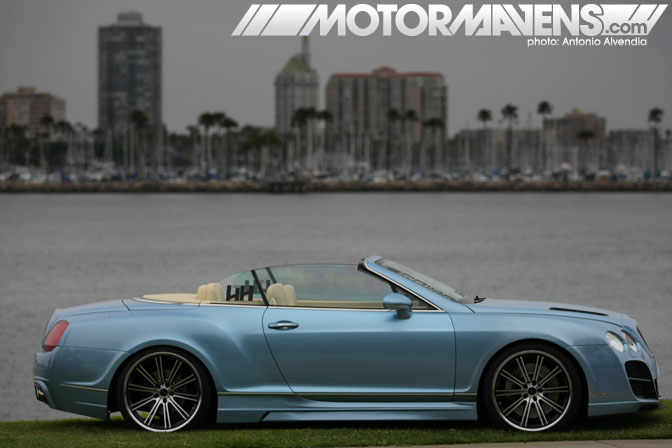 This Bentley Continental GT convertible was looking pretty clean parked next to the water. I don't know anything about the aero kit or wheels, so I can't write anything intelligent about them. Let's just say they're probably expensive.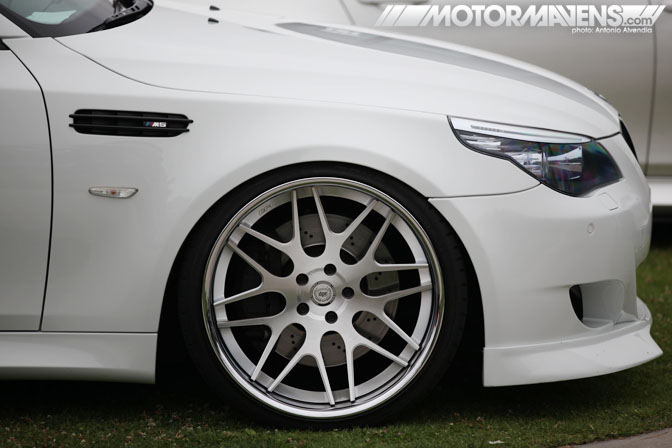 DPE Wheels always look dope on a BMW M5, and this car is certainly no exception.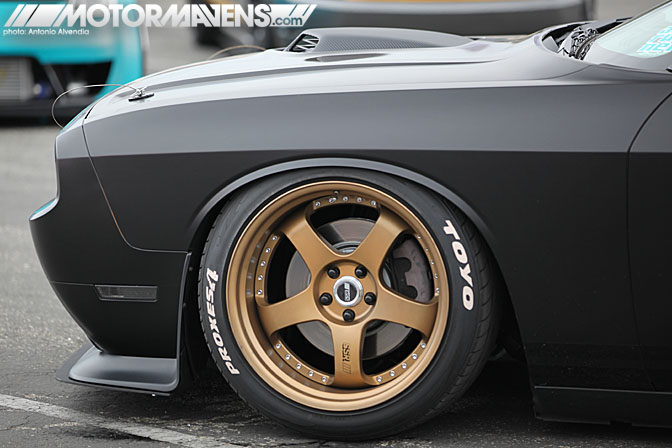 Jon Sibal's Dodge Challenger is without question the best looking new-bodied Challenger I've ever seen in my life. With matte gold SSR Professor wheels, Toyo Proxes 4 tires and a matte black exterior, Jon successfully took Rauh Welt/RWB Porsche style and applied it to a newer muscle car. Jon is clearly a man who has good automotive taste.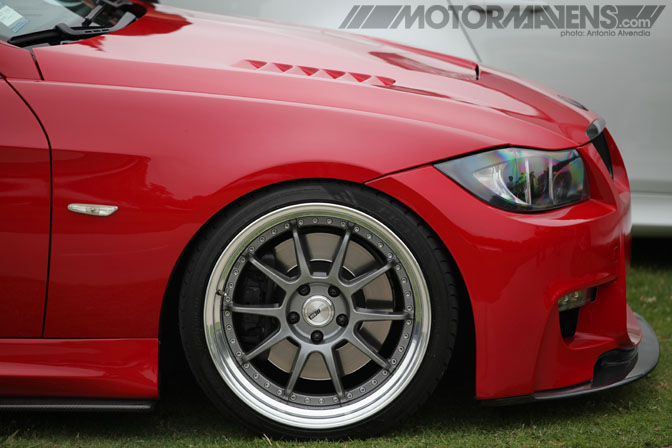 Seeing Japanese wheels like SSRs on BMWs is becoming more and more commonplace, and I like it. While some European car purists say that you should stick to a brand with European racing heritage (BBS, Racing Dynamics, AC Schnitzer, etc) for your European car, it's really hard to argue when real racing teams like BMW Motorsport Team RLL are using Volk Racing wheels in a real racing series like American Le Mans and other race events in Europe.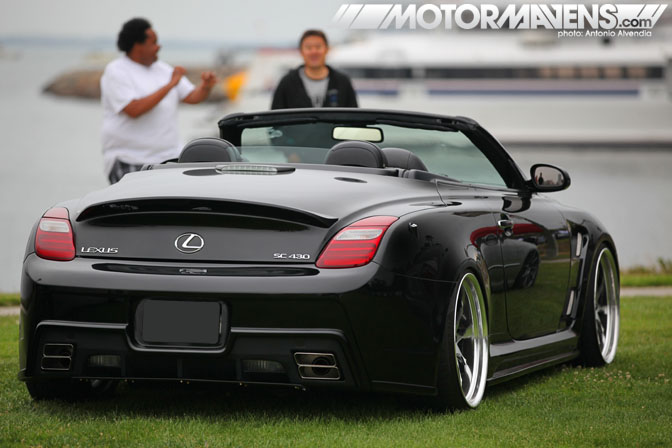 This Lexus SC430 sure looks clean. Not sure about the details on the car, but I think this might be the Job Design aero kit on it?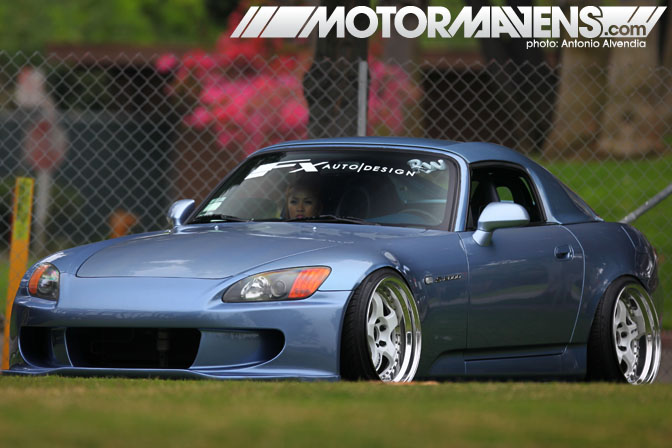 I see this S2000 all the time on Instagram, but I'm still not tired of looking at it. Look at those awesome white Work Meister S1 wheels! They set off the light blue metallic paint. I LOVE white wheels!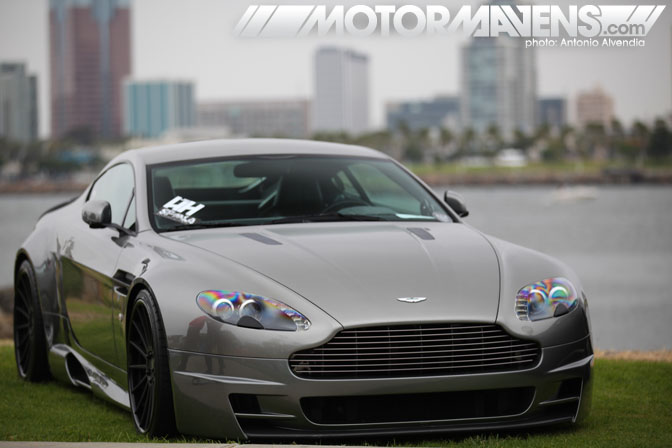 Need a little James Bond action in your life? Buy an Aston Martin.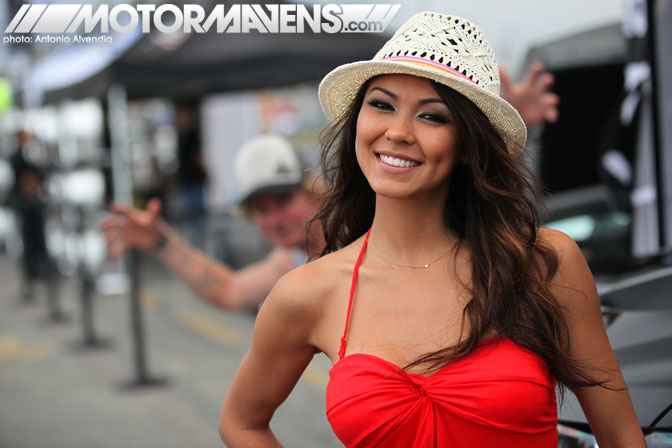 Elissa Alva not only has a pretty smile, she has one of the coolest looking signatures I've ever seen from a female. It straight up looks like a trademarkable logo, but it's just her signature. Awesome.
BTW, that's Yo from DTA Posse trying to photobomb in the background, but little does he know, the shallow depth of field that my high quality Canon optical glass produces makes him completely blurry in the background. Sorry sucka! Haha!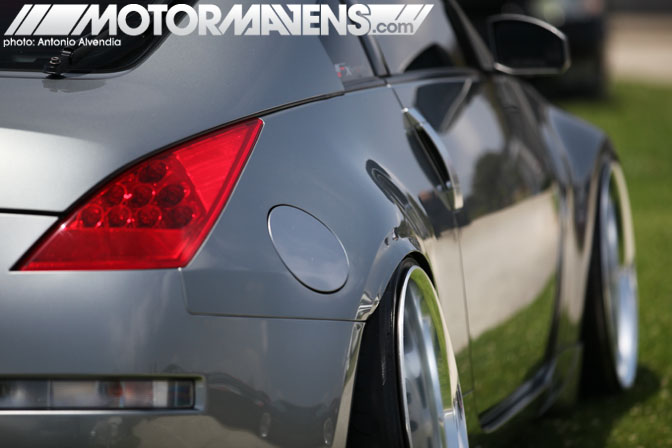 Check out the aggressive fitment on this Z33 Nissan 350Z. How do YOU feel about these aggressively stretched fenders?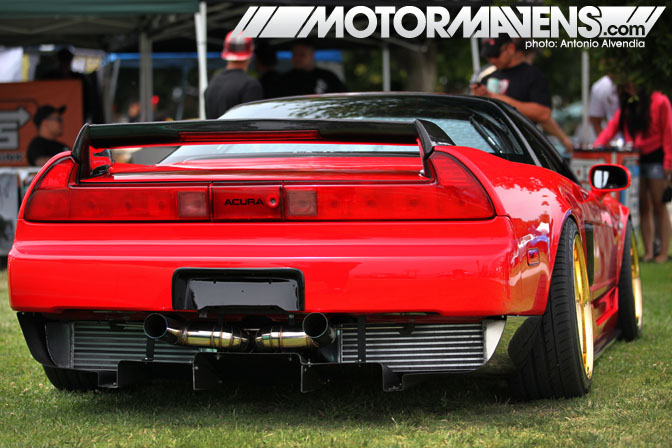 The first thing people saw when looking at this Acura NSX was most likely the gold finished, rebarreled Mugen wheels. However what I liked the most about this NSX was the bad ass exhaust and intercooler setup in the back, with the custom made rear air splitter that fit the car PERFECTLY. Now that is some well executed engineering. It is clean and COHESIVE, which is what really attracted me to the back of this NSX. Great work!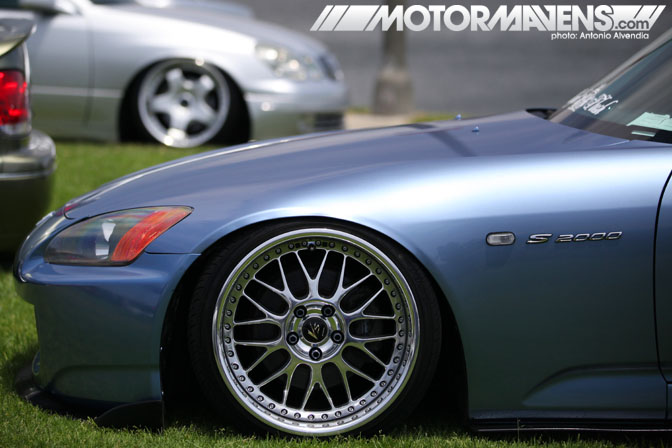 VS-XX wheels always Work on a Honda S2000.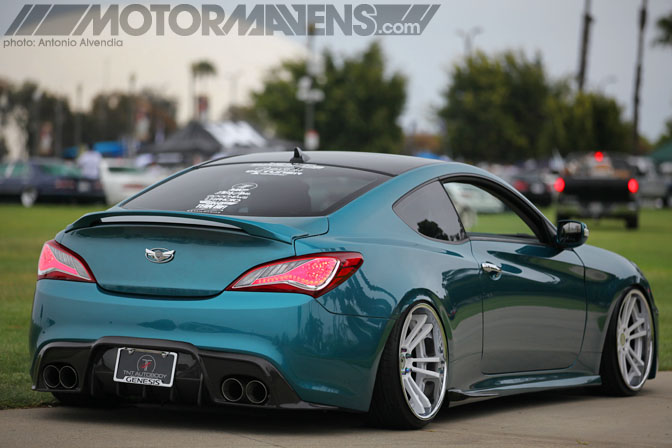 Hyundai Genesis, anyone? This car came all the way from Sacramento CA for Wekfest, showing the LA crowd that the 916 has some notable cars on its city streets! Just imagine this car in black! Hmmmmm…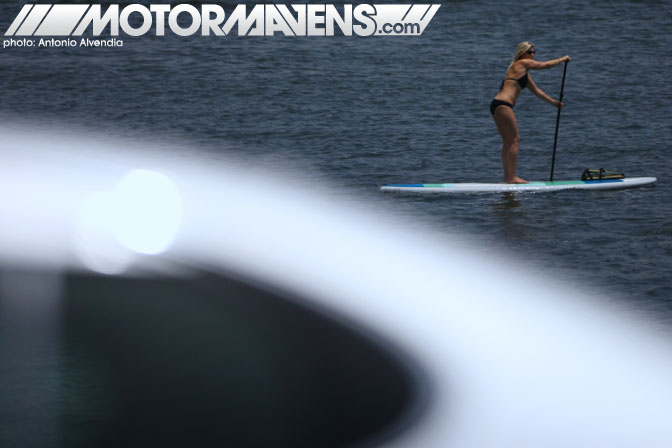 As we admired the cars parked on the Queen Mary's grassy harbor-front area, some of us also spotted some interesting activities happening in the water right next to the cars… LOL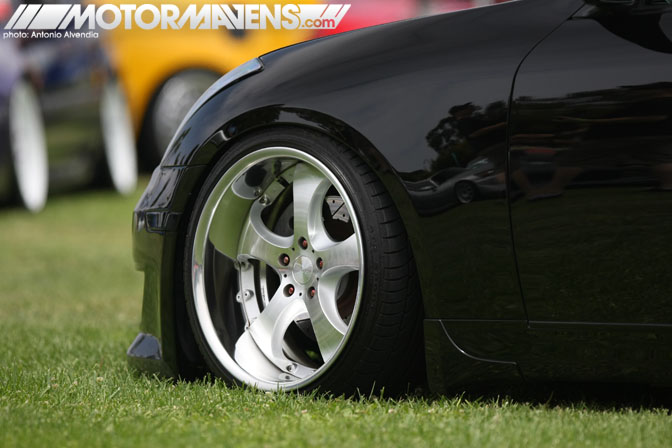 All in all, Wekfest was a super fun event, as usual. All of the best lowered cars dropped by for the day. (Bad pun, I know. Sorry) It was great to see familiar faces, check out new wheel setups and meet new female friends! Instead of staying and hanging out the entire day like we wanted to, the MotorMavens Crew had other commitments, so we dipped out of Long Beach super early and rolled out to Las Vegas for the Wustefest European car gathering to check out some of the desert's best Volkswagens, Audis and Porsches! Stay tuned to MotorMavens to see scenes from Wustefest!
:: Antonio Alvendia
350Z
,
Accuair
,
Acura
,
Aimgain
,
Aston Martin
,
Bentley
,
bikini top
,
BMW
,
BMW Motorsport
,
Continental GT
,
Dodge Challenger
,
DPE Wheels
,
DTA Posse
,
Elissa Alva
,
GS300
,
homepage
,
Honda
,
JDM Palace
,
Job Design
,
Jon Sibal
,
Jonathan Wong
,
Leon Hardiritt
,
Lexus
,
LS430
,
M3
,
M5
,
Miata
,
NSX
,
Porsche
,
project g
,
Radio Flyer
,
Radio Flyer wagon
,
Rauh Welt
,
S2000
,
SC430
,
stance
,
STi
,
Subaru
,
Super Street Magazine
,
Team RLL
,
Toyo Proxes 4
,
Volk Racing
,
VS-XX
,
wekfest
,
weksos
,
Weksos Industries
,
Work Equip
,
Work Meister S1
,
work wheels
,
WRX
,
Z33
---