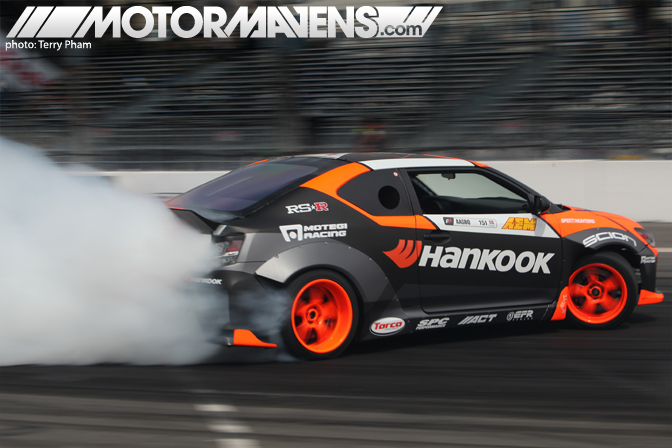 Formula Drift has some pretty insane competition cars, with high level builds all over the place. After watching the Formula D New Jersey event, I was pretty shocked when I saw Scion Racing driver Fredric Aasbo win top honors, standing atop the podium with a First Place trophy. The first time I ever saw Aasbo driving at Formula Drift, my honest impression had me thinking, "he drives a Scion tC. Isn't a tC supposed to be a front wheel drive car?! That thing wasn't even designed with drifting in mind! How the hell did he manage to compete in Formula D against other top drivers with six figure drift car builds… and he was driving a Scion tC?!"
I guess it all boils down to the strength of the engineering team behind the build. As a new member of the MotorMavens Crew, there were many people in the Formula Drift paddock that I had seen before, but never officially met. When I was first introduced to Stephan Papadakis, the builder of the RWD Scion tC in question, I found myself in the company of an import industry legend, with a long history in motorsports.  This dude has been featured in magazines since I was a kid. As the myth of Vin Diesel's character in the Fast & Furious being based of Stephan lingered in my head, we started shooting. From his street racing background, he developed himself into full blown racing engineer, not to mention record breaking drag times, Papa is the epitome of being a Motor Maven.
It was definitely fun to meet up with Steph at his shop so we could check out the crazy rear wheel drive converted tC he built. Check out the video below!
I hope you like this video! We have a lot more videos coming soon, so make sure to subscribe to us on YouTube!
---