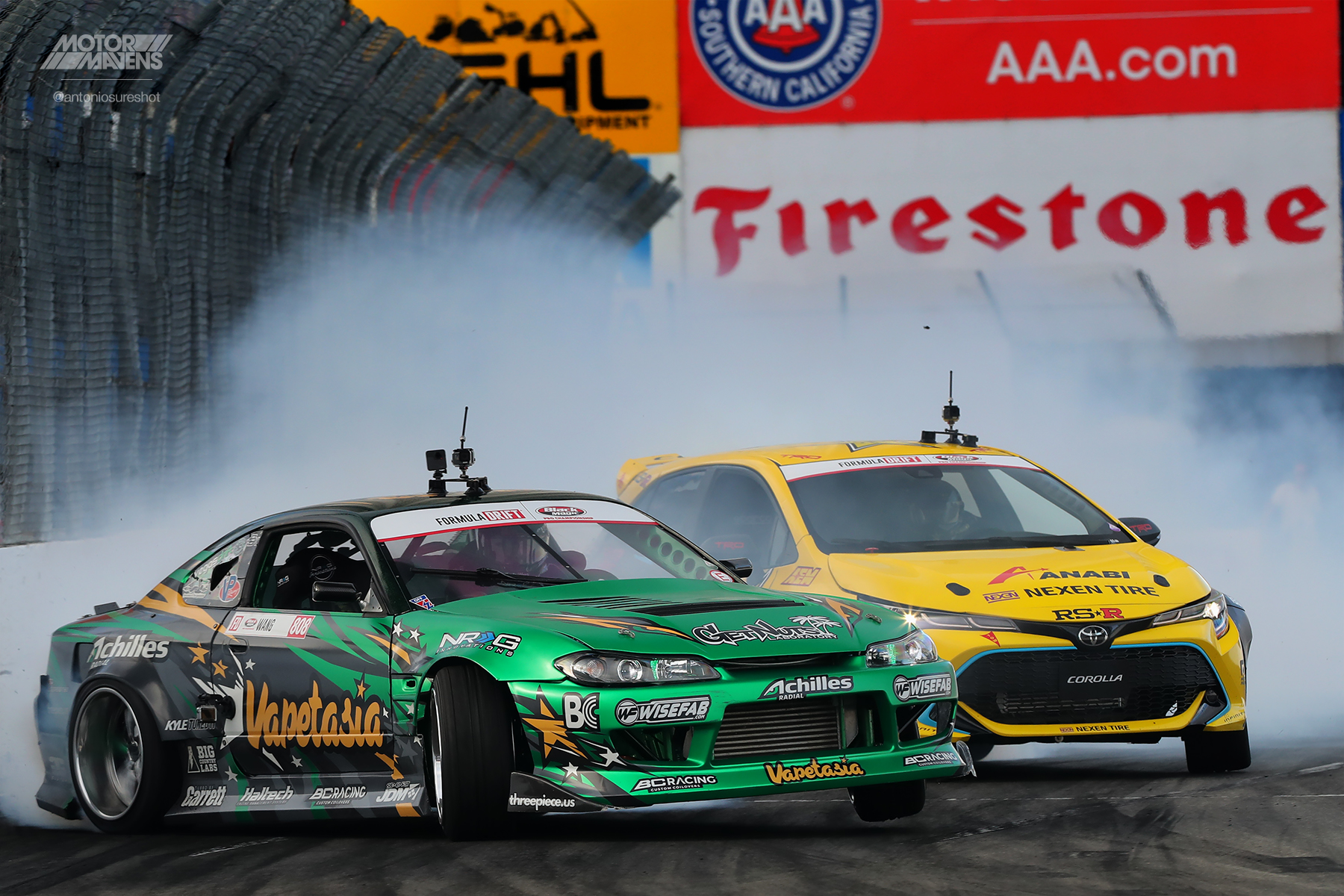 Every year when we return to the Streets of Long Beach, the first event of the Formula Drift Championship season feels sort of like the first day of school – new drivers, new teams, new umbrella girls, new sponsors, new graphical liveries and new car builds!
The 2018 season marks the 15th year of Formula Drift, and it's pretty crazy to say that we're one of the few original media outlets who attended the very first Formula Drift event at Road Atlanta in 2004. Man, have things changed since then!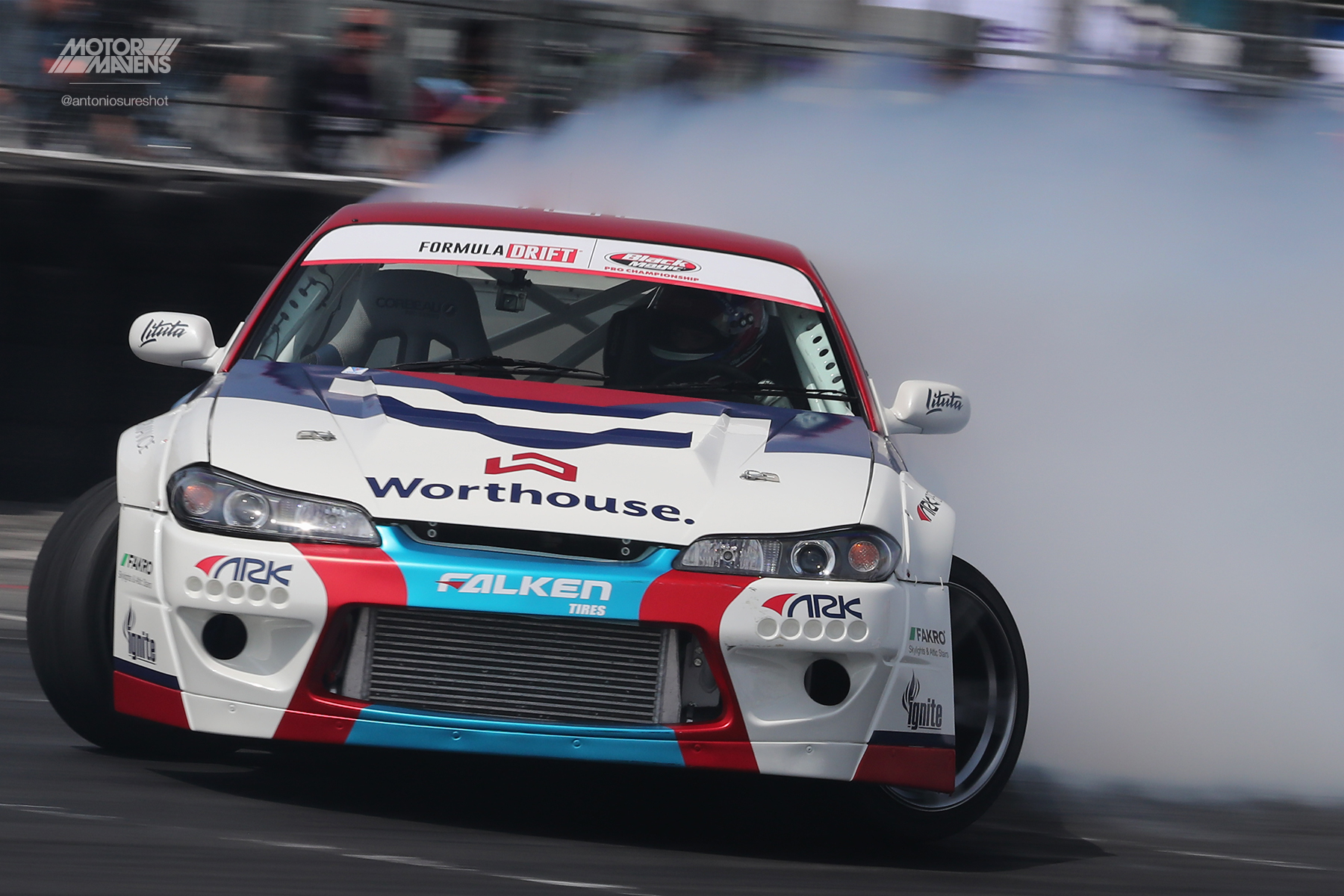 In the earliest days of drifting in the United States, the drifting scene was dominated by Japanese cars, and most drifting fans booed the American domestic cars. However, one by one, drivers began swapping American V8 engines into their Japanese and European drift cars because of the relative low cost and torque availability of engines like Chevy's LS platform… and the popular opinion of the American drift fans began switching over. Back in 2004, Rhys Millen's Pontiac GTO, Samuel Hubinette's Dodge Viper, and Mike Peters' El Camino were some of the only American domestic vehicles in the Formula Drift series, but in 2005 Vaughn Gittin Jr began making A LOT of noise with his Falken-backed Mustang GT, with guys like Ryan Hampton also on the team, driving the Blacktop Rodeo 1969 Camaro, also backed by Falken.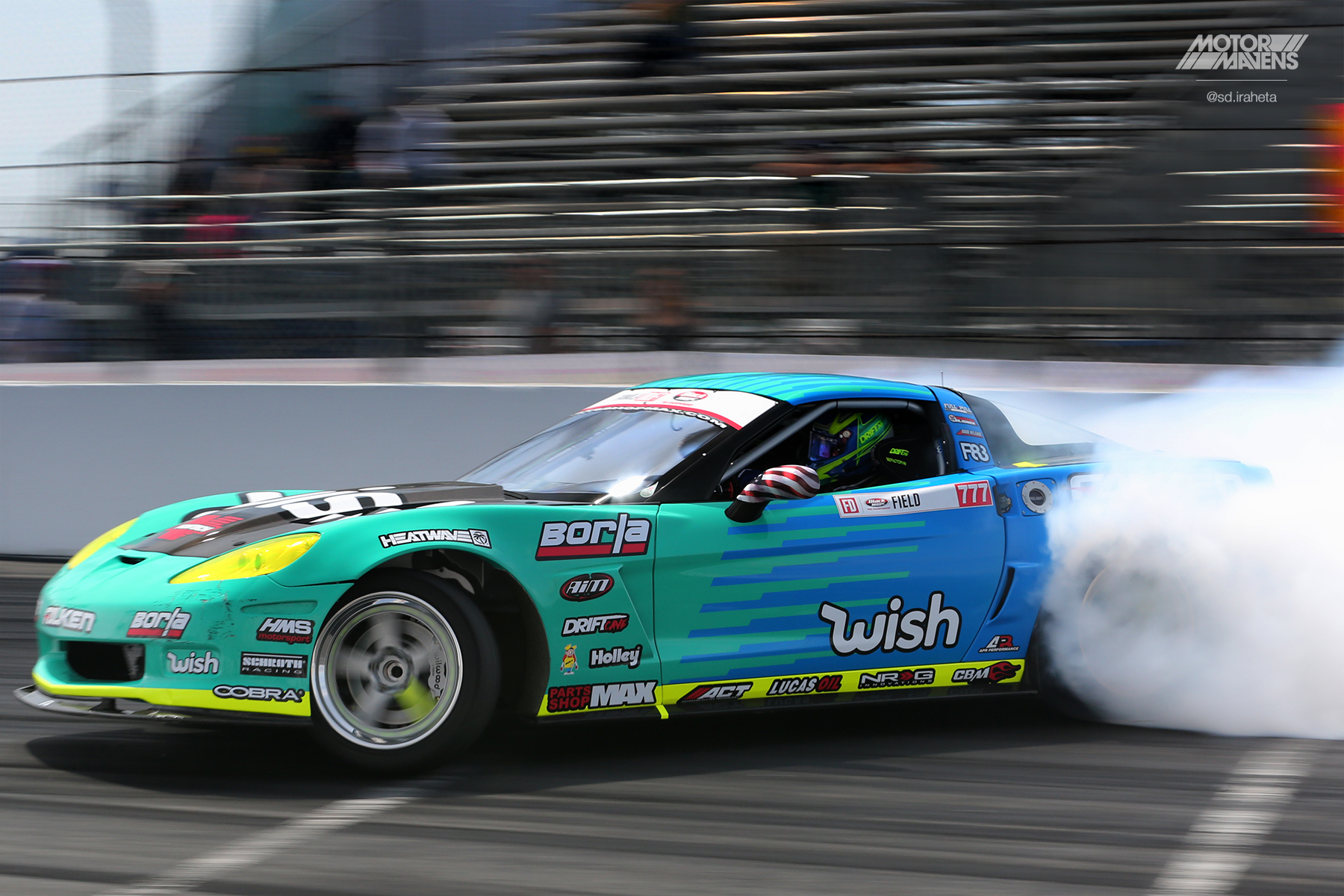 This being said, one of the new car builds that we've been looking forward to seeing at the FD season opener was Matt Field's C6 Corvette, powered by a supercharged LS engine. Matt originally came from driving an S14 240SX, so seeing him in the Corvette was a bit of a change, but we think it will progress things for his own program and drifting as a sport overall.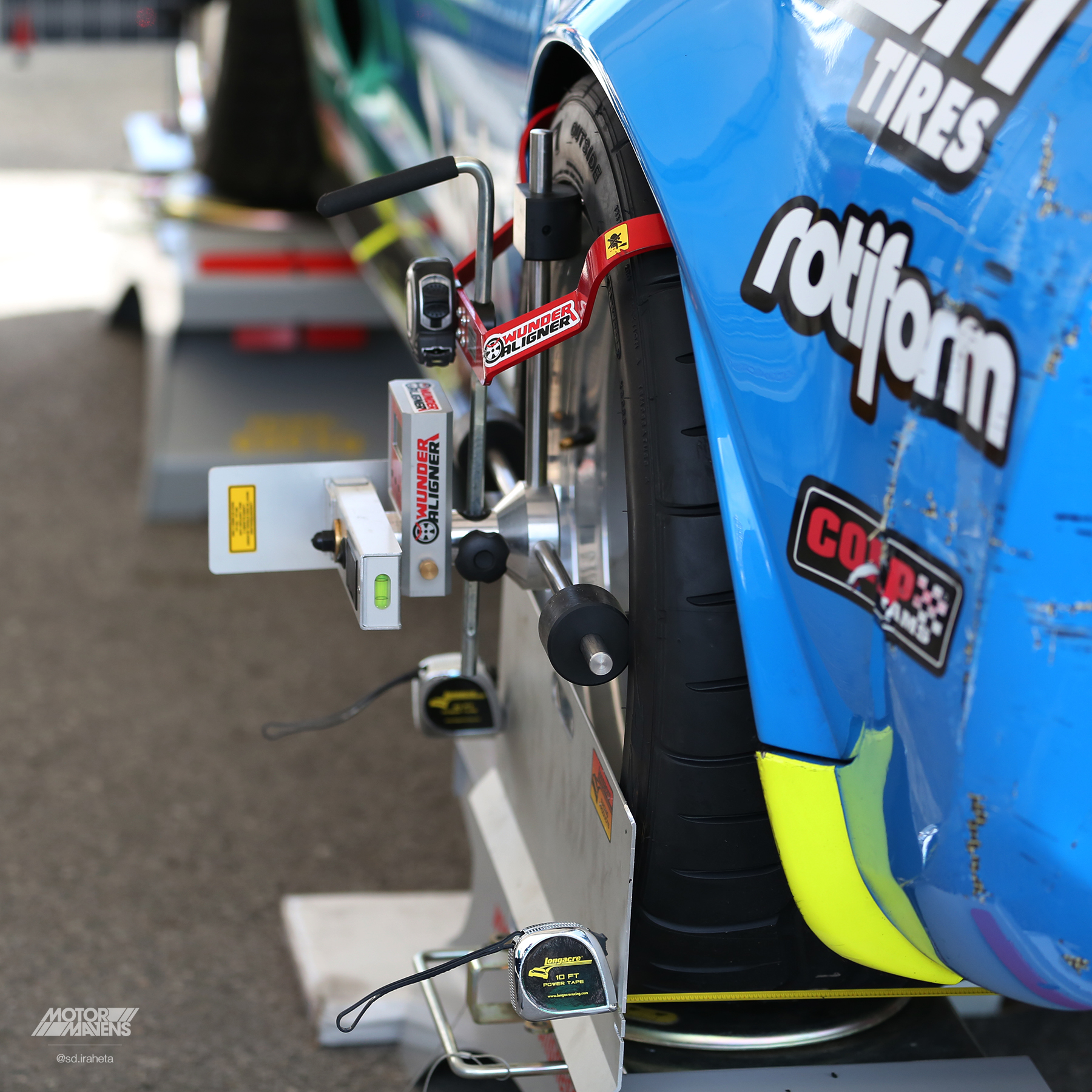 In the pits, we spotted Matt's Vette getting aligned at the Falken trailer, with their portable alignment tools for on-the-spot alignment tuning at the track.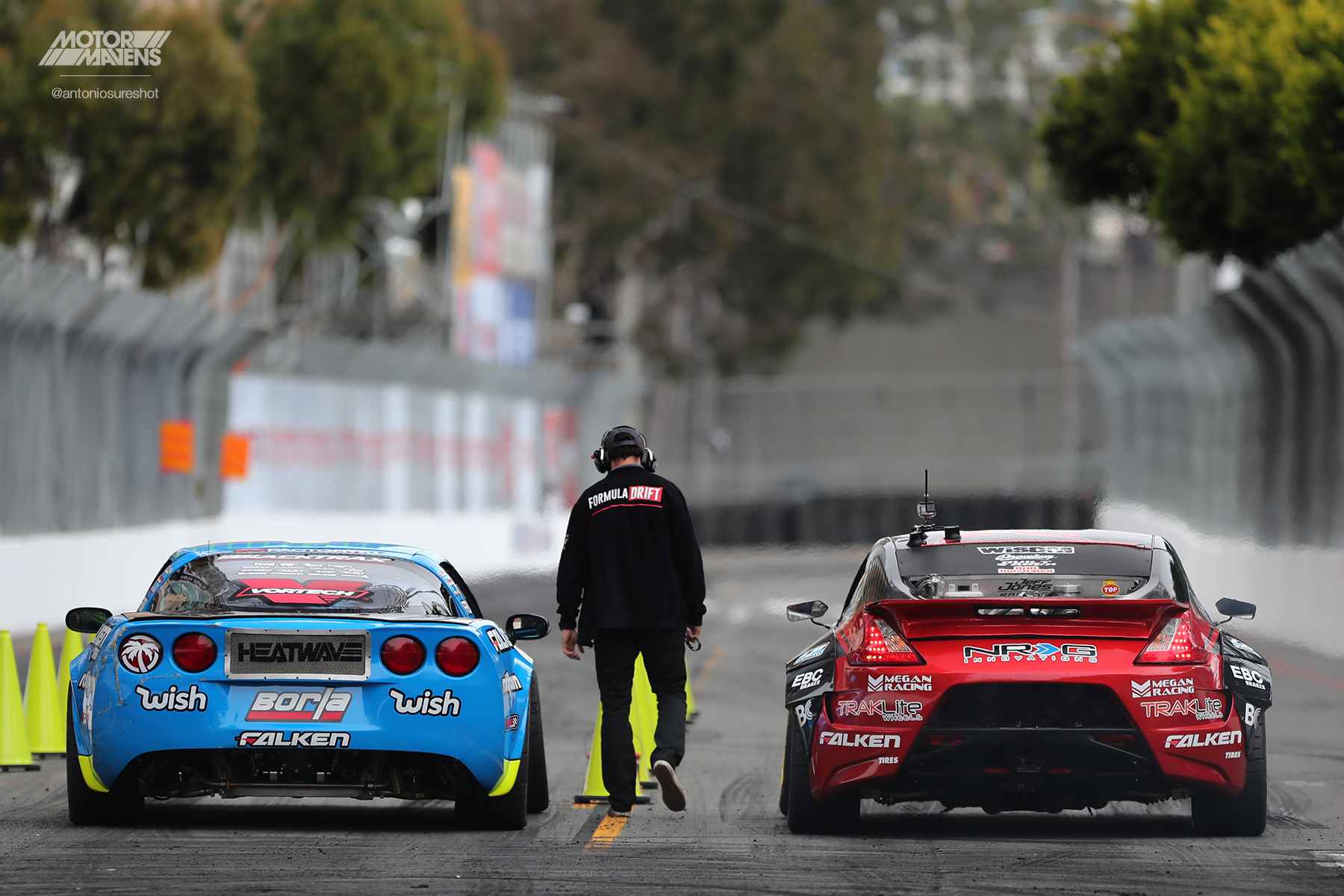 Another car that we've been looking forward to seeing on the track is the newly built Z34 370Z owned by privateer Jeff Jones.
It was really cool to see Jeff's 370Z matched up with Matt Field's C6 Vette for the Top 32 tandem battles, because both drivers previously drove S14 Nissan 240SXs, but both of them were debuting new cars this year… and both of the new cars are powered by supercharged LS3 engines. While both cars run Falken RT615K Plus tires, Matt's C6 Vette has an LS3 with a Vortech supercharger, and Jeff's Z34 has an LS3 with an Edelbrock E-Force supercharger.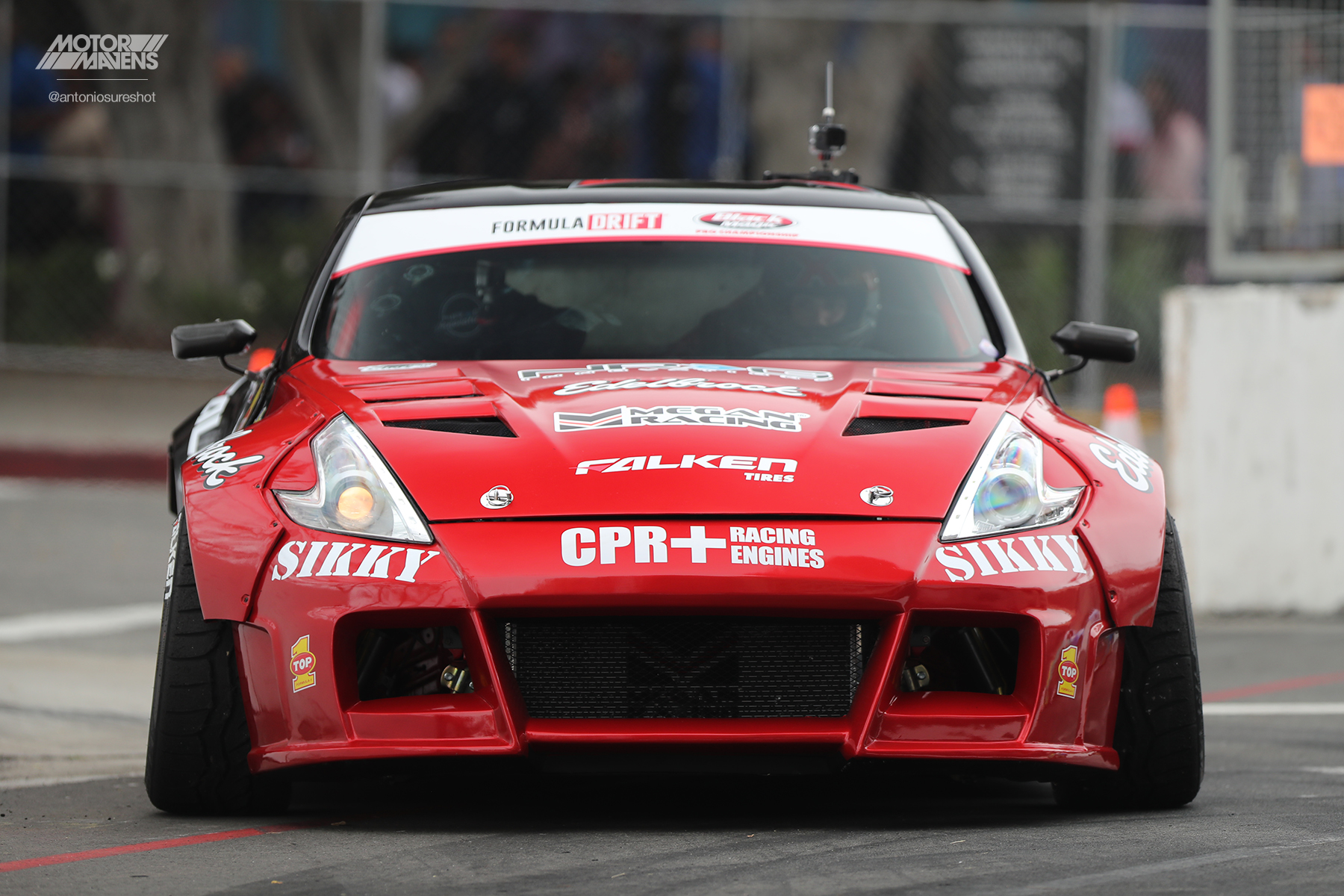 We think it's really cool that a traditional American V8 company like Edelbrock would get involved with drifting, especially with an import chassis like the Nissan 370Z.
It just goes to show that the top companies in the automotive aftermarket are pretty open minded when it comes to supporting racing – after all, Jeff's 370Z does have an LS3 in there, so it only makes sense to sponsor him with an Edelbrock E-Force supercharger to show that Edelbrock products can withstand a season of high revving abuse at all the championship rounds, test days, and demo days that Jeff will be attending with the car.
We hope to have Jeff and Edelbrock in attendance again at our V8BUILDS Autocross and Carshow later this year.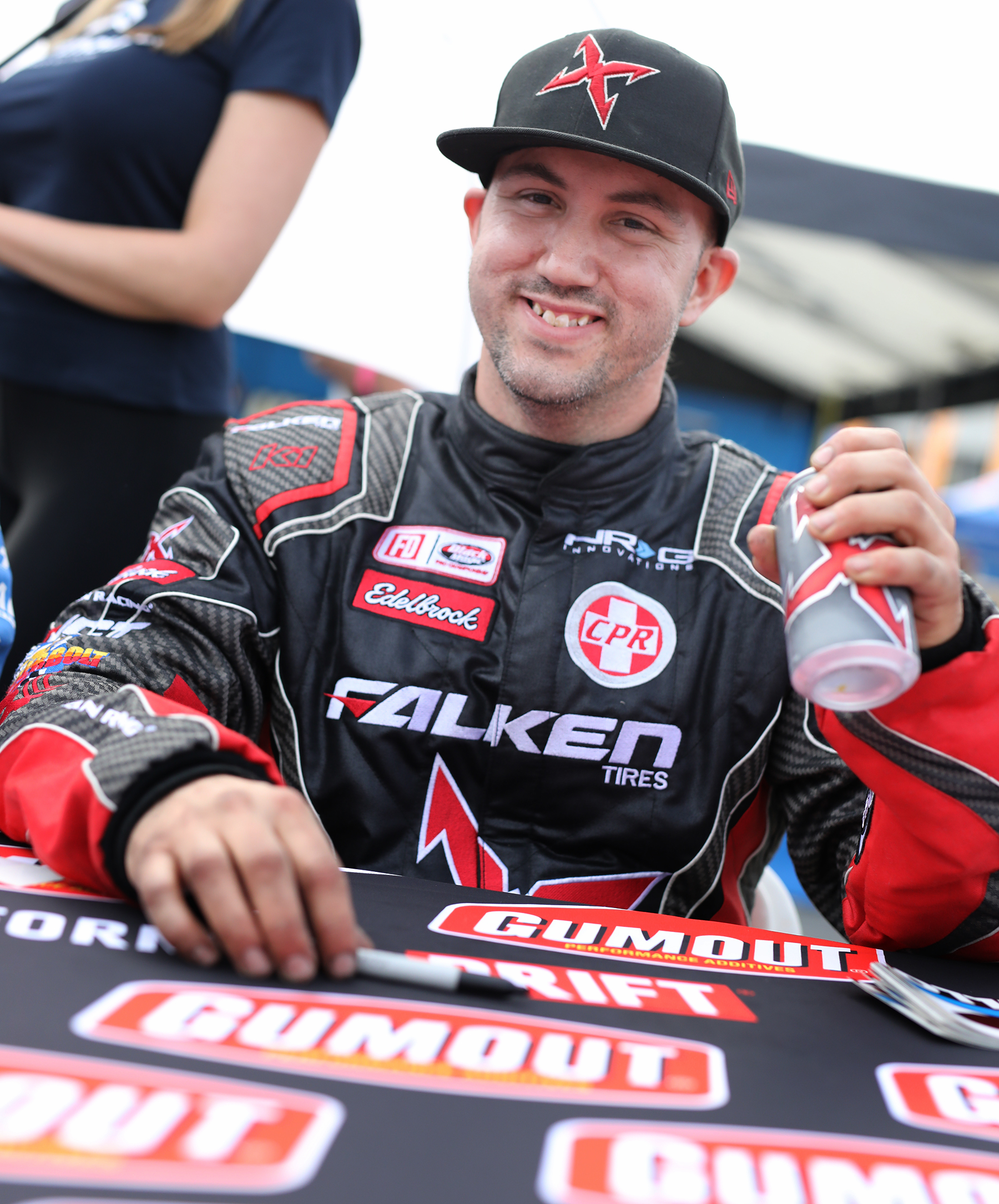 Jeff Jones is truly an example of a do-it-yourself grassroots driver who made his way into the professional ranks. His program is a bit different from most of the other teams in the Formula Drift series – Jeff Jones Racing isn't a highly backed corporate race program. Instead, Jeff's race program is as grassroots as you can get, and we respect the fact that he consistently beats other drivers with more sponsorship dollars – placing higher than better funded teams in qualifying and many times, even in tandem competition.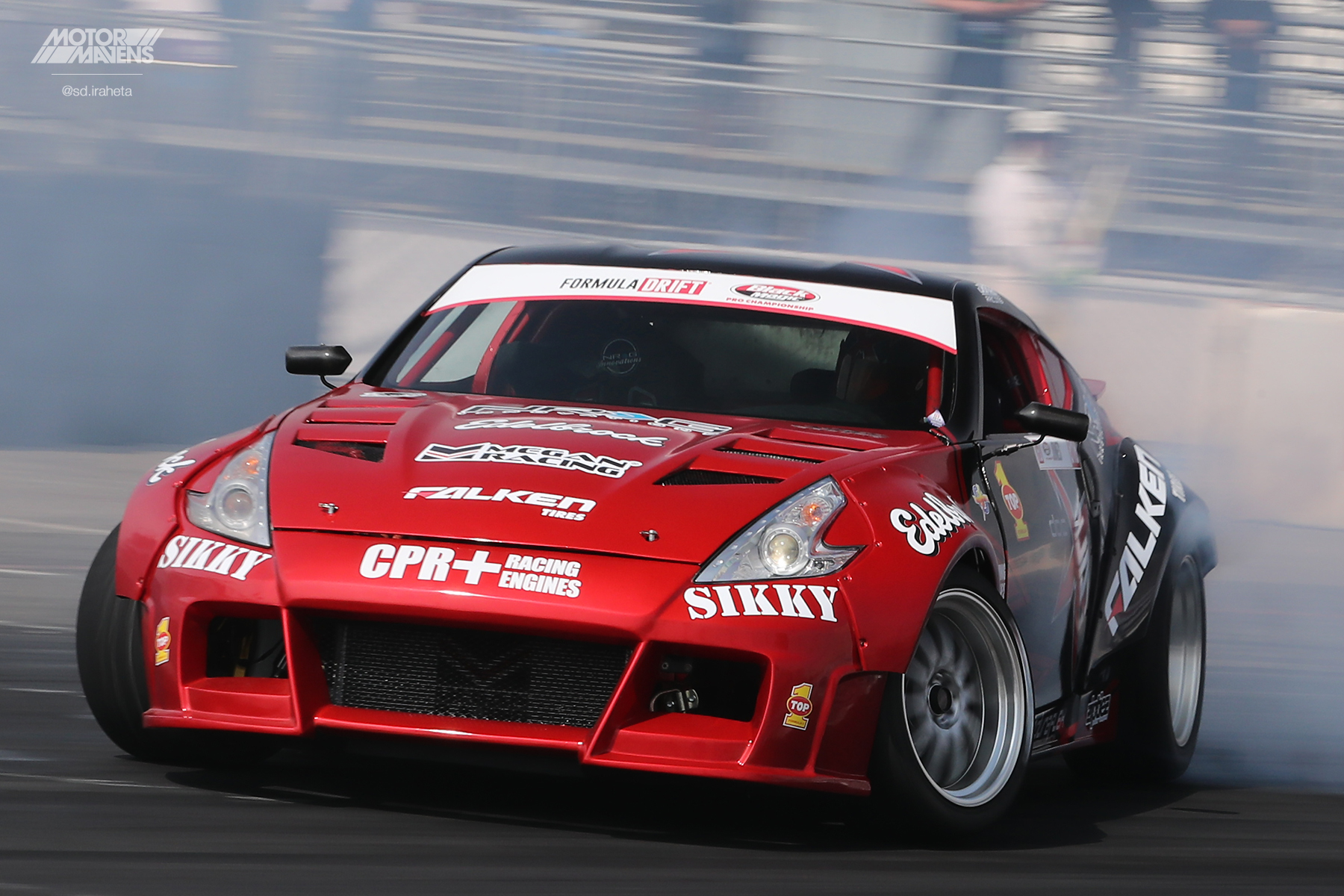 The thing that makes his program different is the fact that many other drivers just show up to test days and on race day to drive the car. On the other hand, we saw Jeff pounding the phone trying to get sponsors, burning the candle at both ends trying to work on his car to install the engine, supercharger, suspension, interior, and everything else before race day, just so he could tow the car to the track, make his last minute adjustments, and then DRIVE the car in qualifying and competition. Man, that's crazy.
I bet if he could, Jeff would be taking his own photos from all the different turns on the course while he was driving the car. He just hasn't figured out how to do that… yet.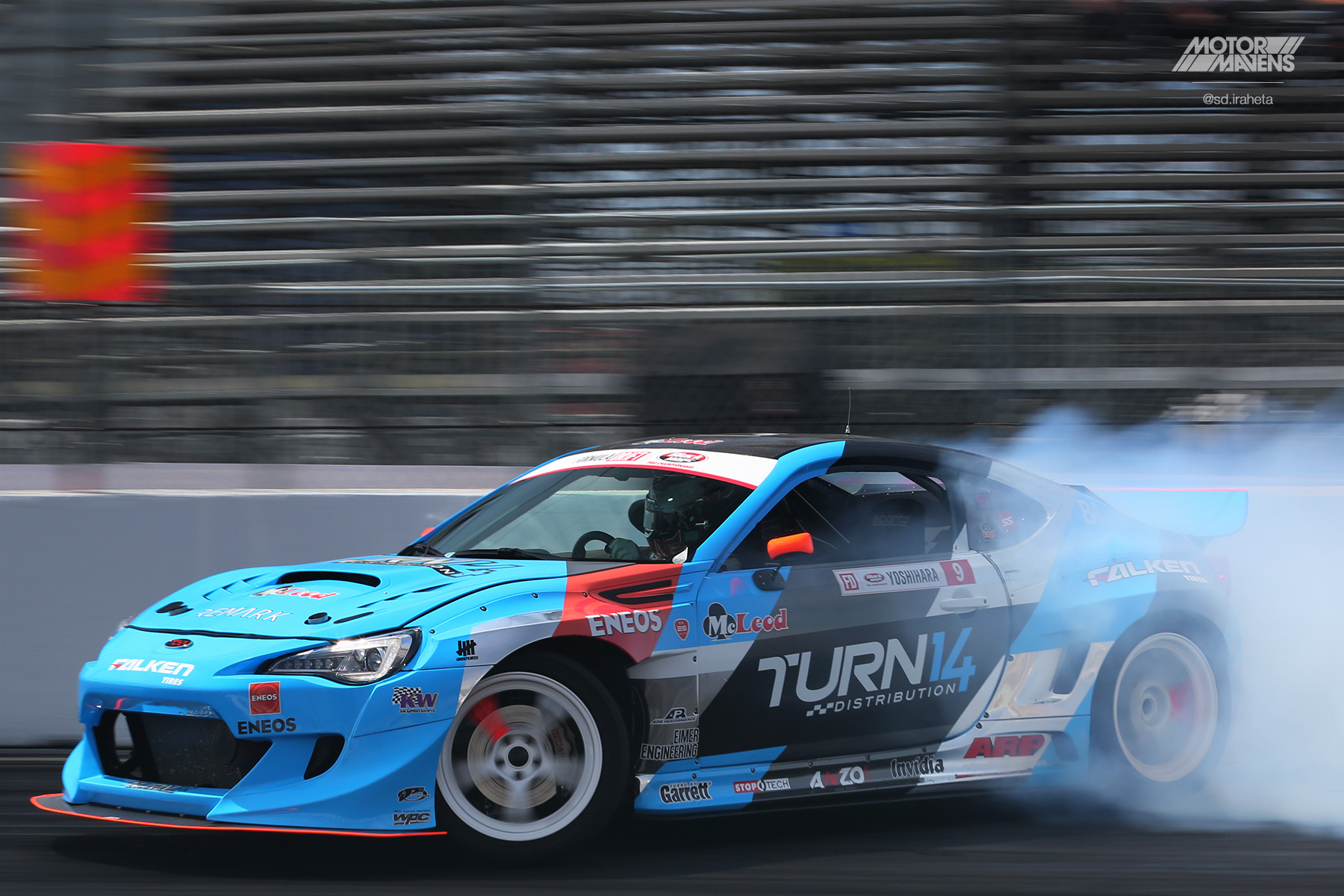 Speaking of well funded teams, Dai Yoshihara's Rocket Bunny V.3 Subaru BRZ with turbocharged V8 engine has many of the automotive industry's top companies backing it – he has one of the aftermarket's top parts distribution heavyweights, Turn 14 Distribution, returning as the title sponsor of the car, and he has tuning heavyweight Mike Kojima (I'm referring to your reputation in the industry, Mike… not your actual weight BTW. I noticed you lost weight since the last time I saw you! :D) handling his suspension and overall car dynamics.
For those who might be living under a rock or new to the automotive aftermarket, Mike cut his teeth as a race engineer for Toyota Racing Development and Nissan before starting his editorial website.
Dai's ZC6 BRZ looks great. While smurf blue isn't necessarily our favorite hue of blue, we do like the red accents on the front chin spoiler, carbon fiber mirrors, and the fender, which provides the perfect canvas to display the Eneos Oil logo.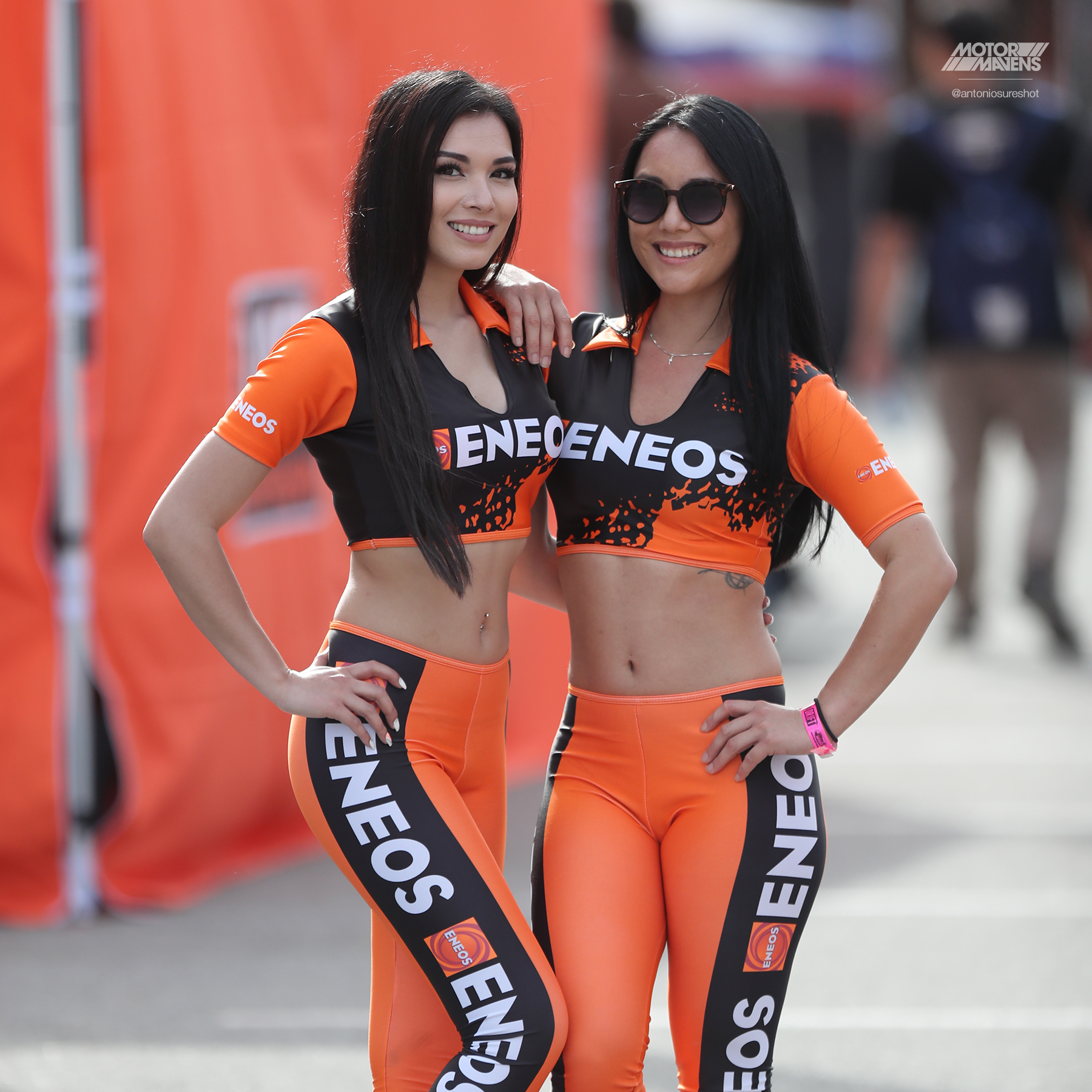 Speaking of Eneos Oil, we met some new friends from Eneos at Long Beach. If you feel compelled to check our Instagram, you can find their personal Instagram accounts are tagged in the photo.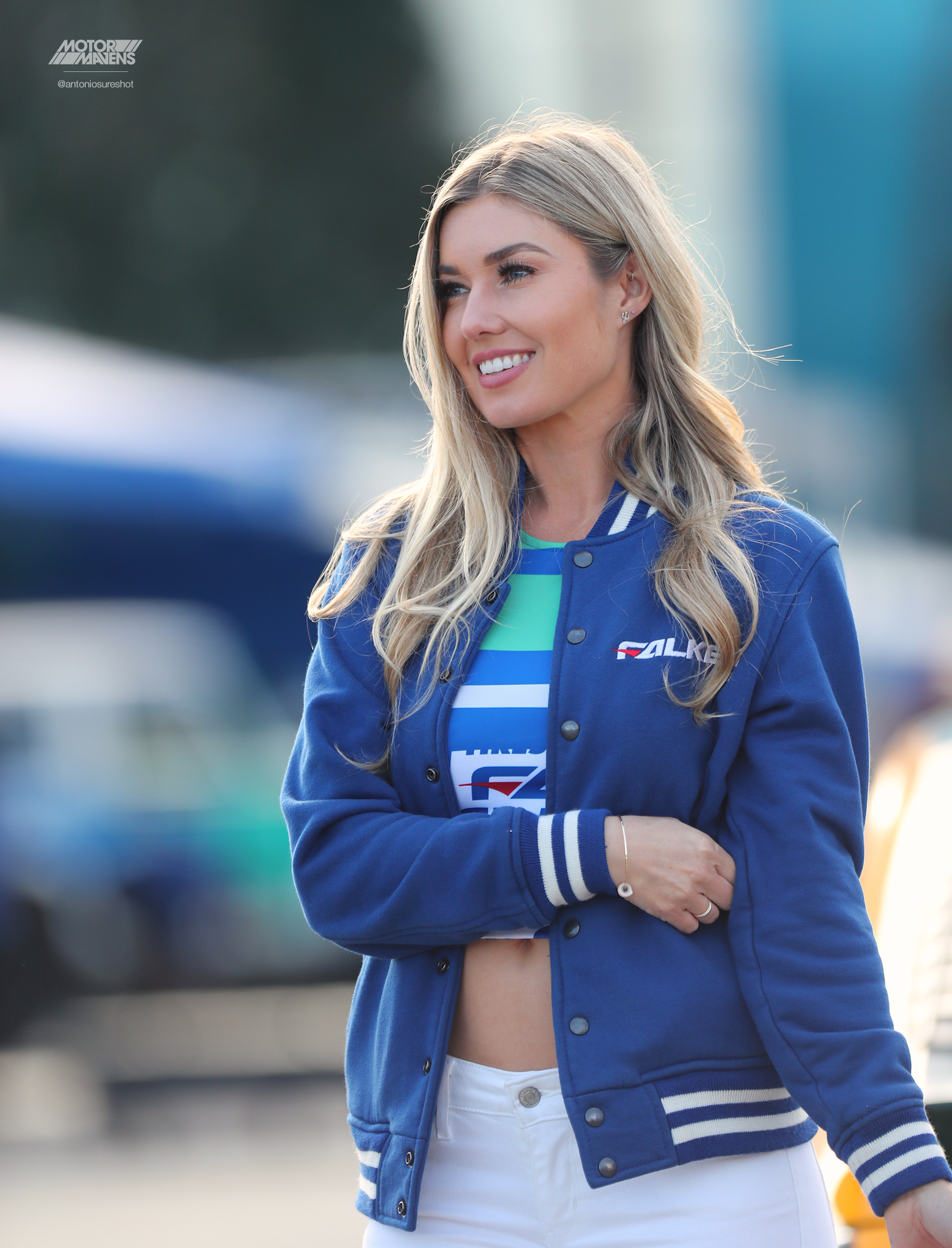 Drivers like Ken Gushi and Jeff Jones weren't the only new additions to the Falken Motorsports team for 2018. They also added a new umbrella girl named Ashley from San Diego! More photos of Ashley will be posted on our Instagram, so make sure to follow!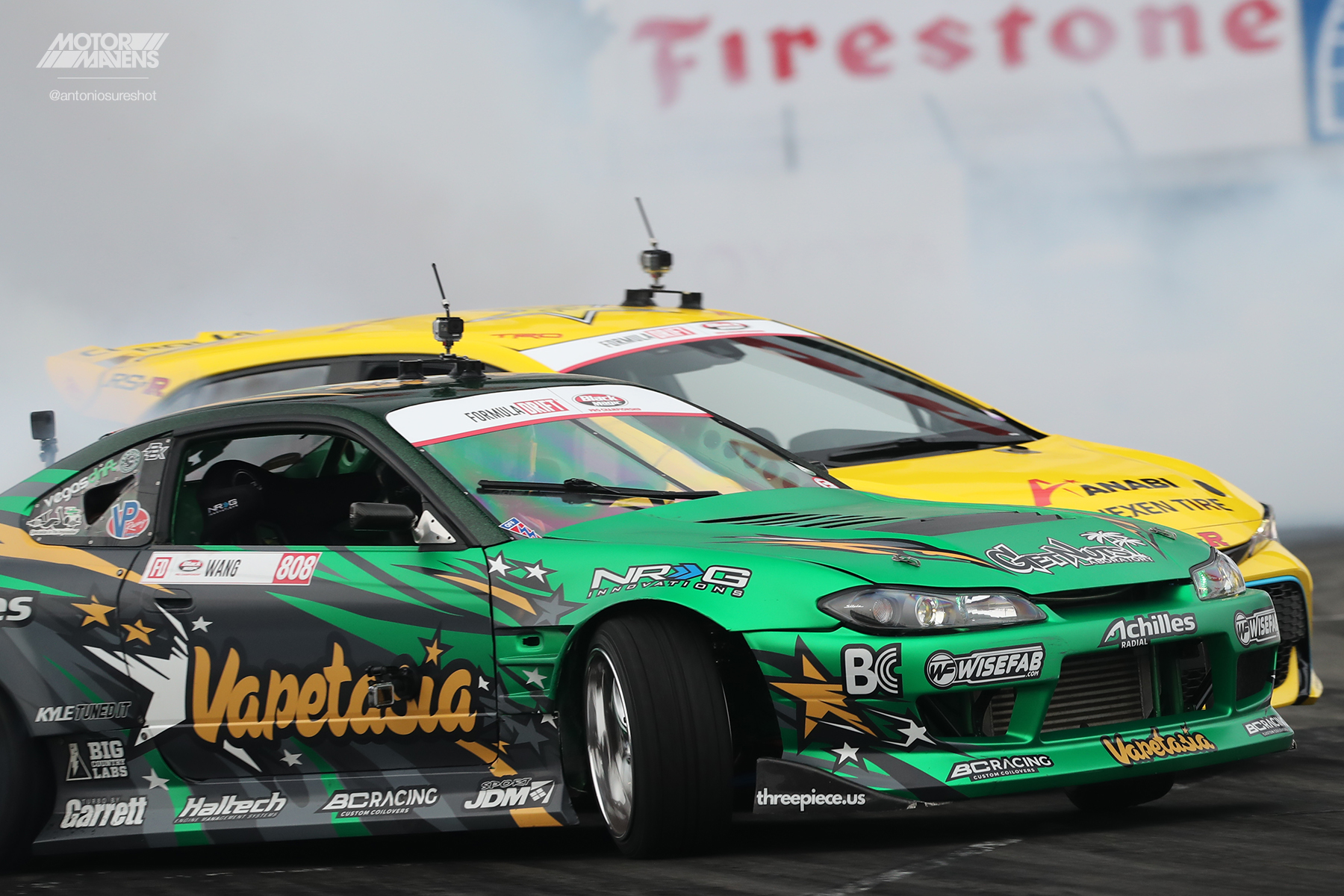 After all was said and done, Fredric Aasbo in the RWD-converted Rockstar Energy Drink / Nexen Tire 2019 Toyota Corolla beat Forrest Wang's green S15 Silvia, which made its return to Formula Drift this year after taking a year off from professional competition.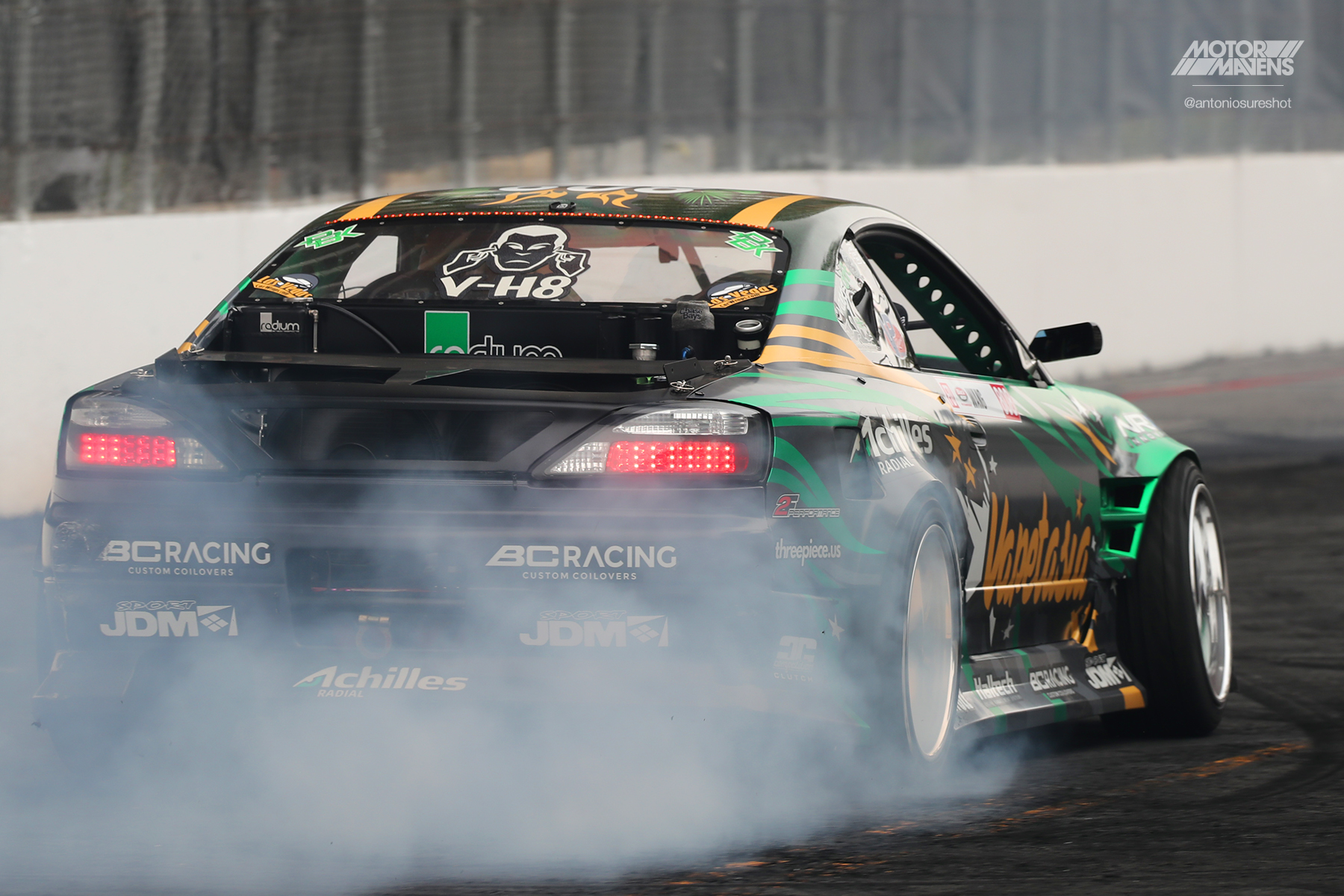 Forrest's S15 is sooooooo cool – also, it doesn't have a Nissan SR20DET engine under the hood. It is actually powered by a monster 2JZGTE engine from a JZA80 Toyota Supra, with a Brian Crower stroker kit for added torque!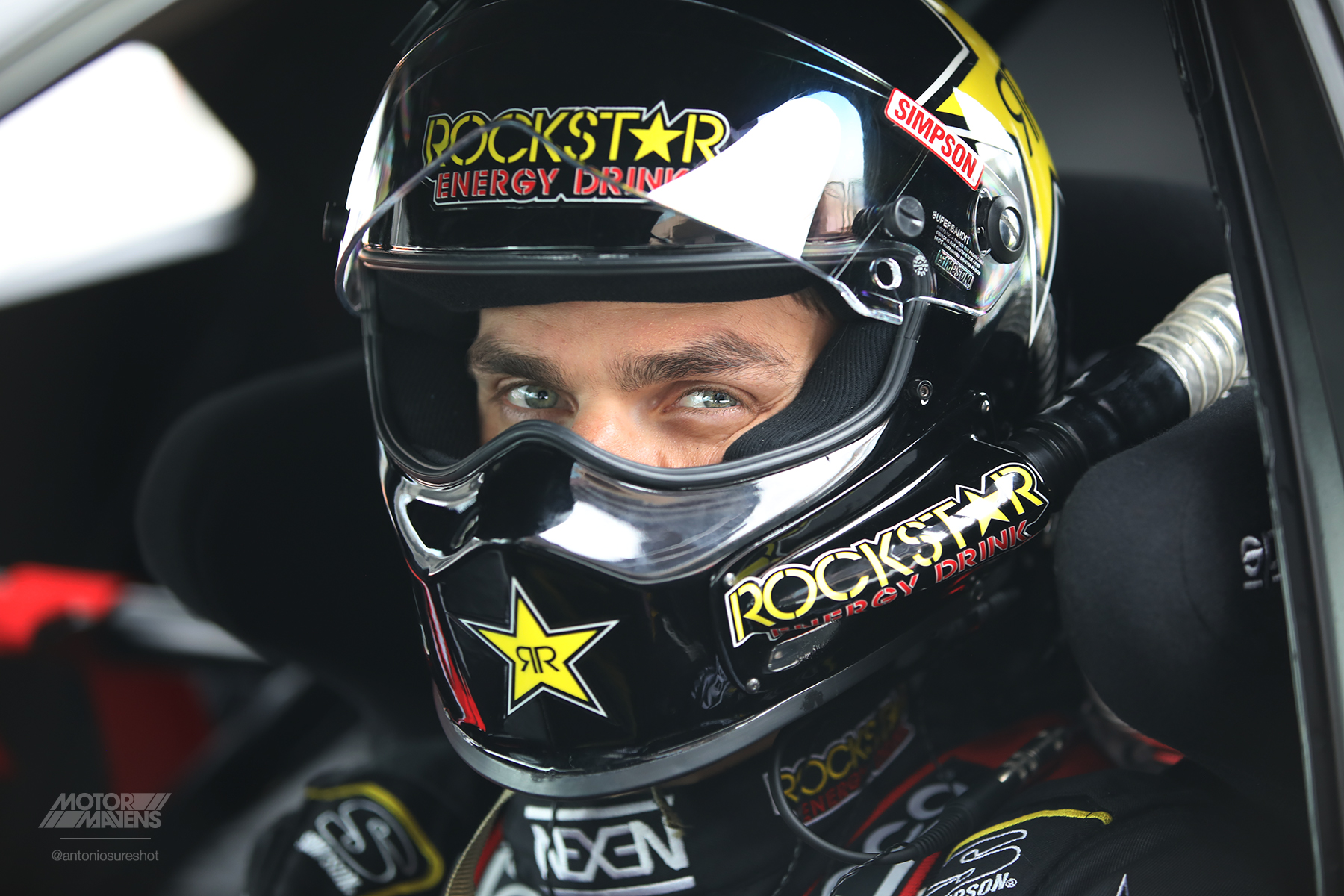 Despite limited seat time in the brand new car, Fredric said that his new car had some similarities to last year's car, which helped the team greatly with set up.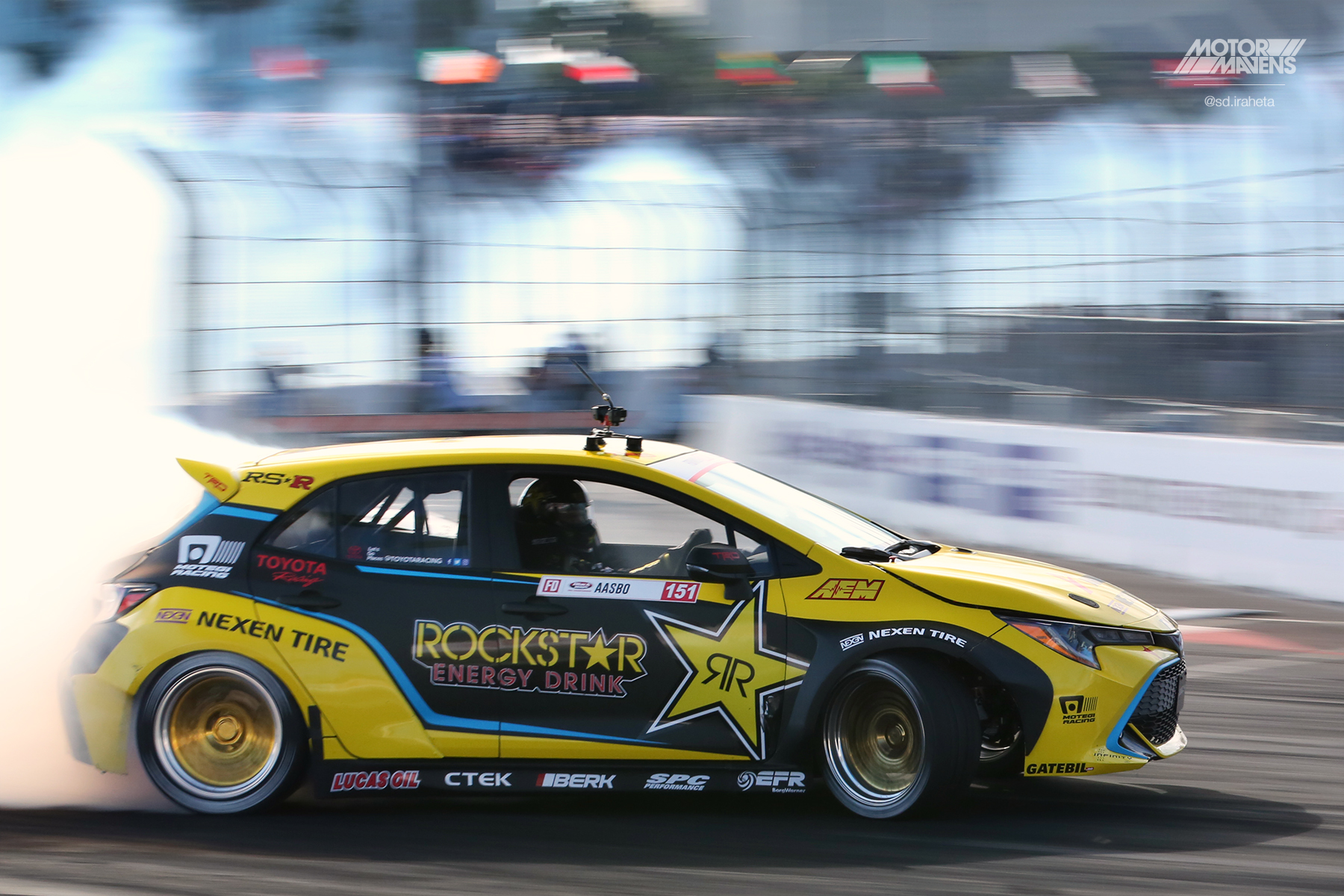 While everybody at the experienced Papadakis Racing team was optimistic about the car's chances, even they didn't expect to be on the top step of the podium on the car's very first competition event! Congratulations to everyone from the team, and respect to all who busted their asses to get their cars to Long Beach for the start of the season!
Photos by Antonio Alvendia and Steven Iraheta
:: Antonio Alvendia
Instagram: @AntonioSureshot • @MOTORMAVENS
MotorMavens on Facebook  •  MotorMavens on YouTube
www.antoniosureshot.com
MORE FORMULA DRIFT ON MOTORMAVENS
PS: I added more photos of Fredric celebrating his win below. Congratulations guys!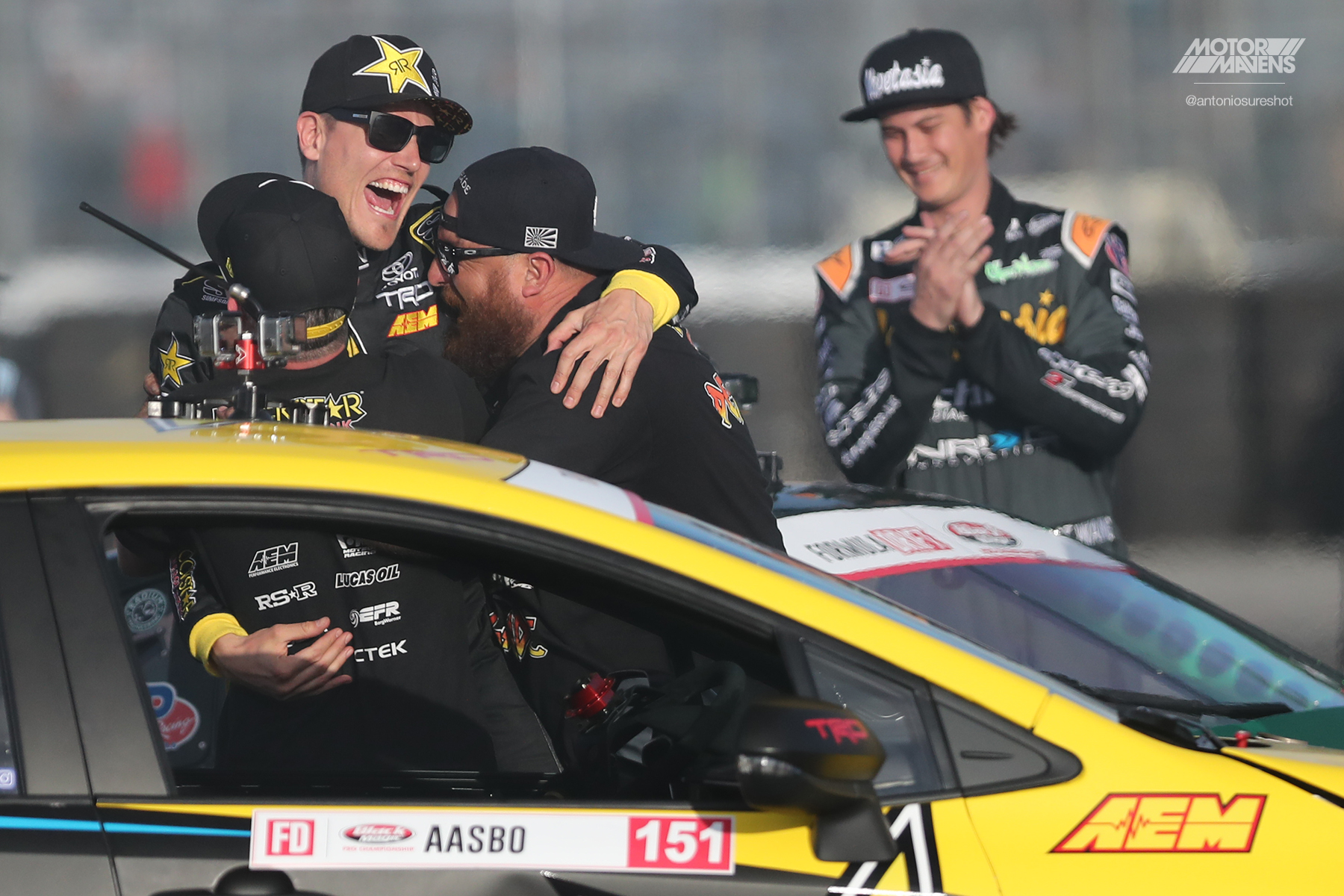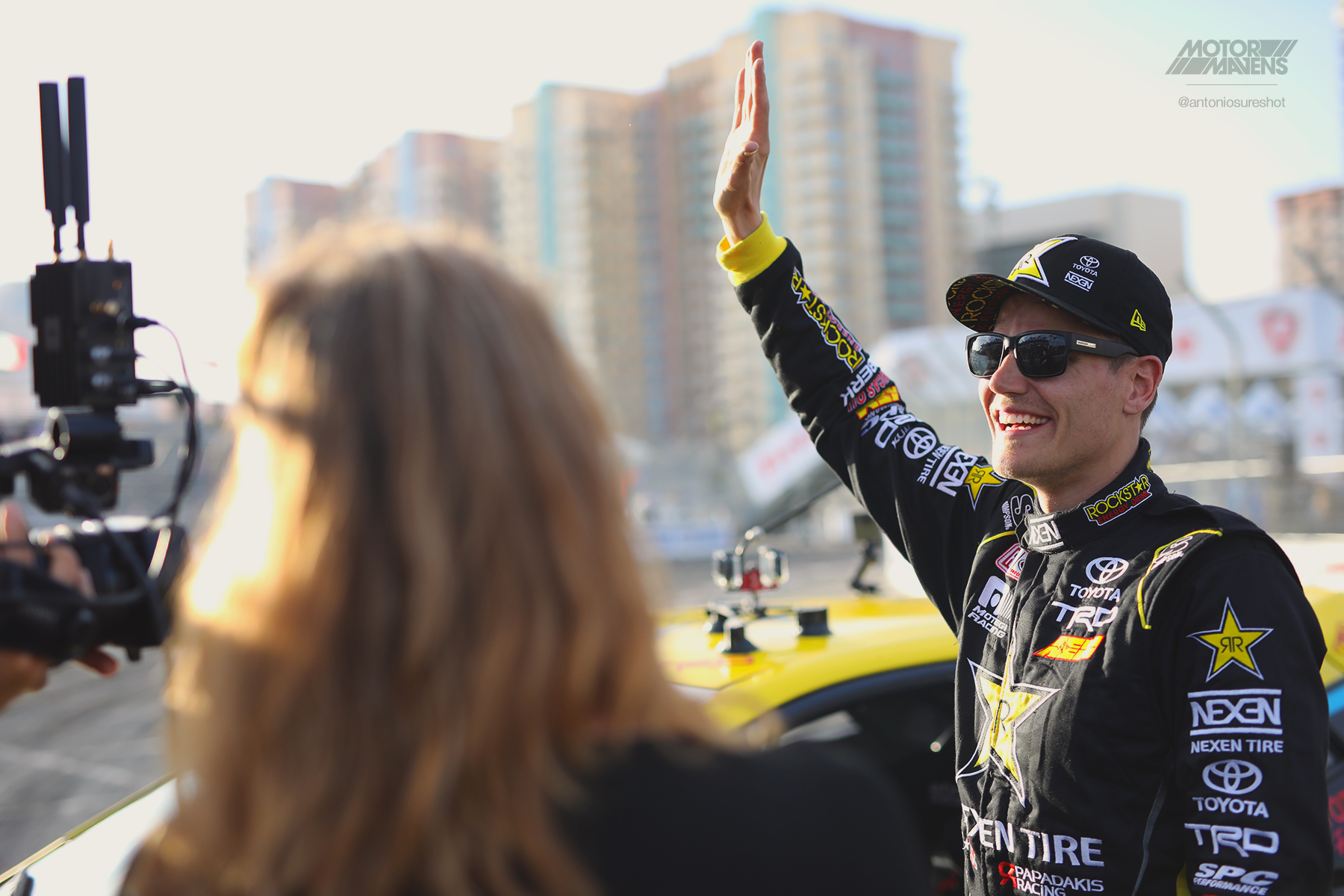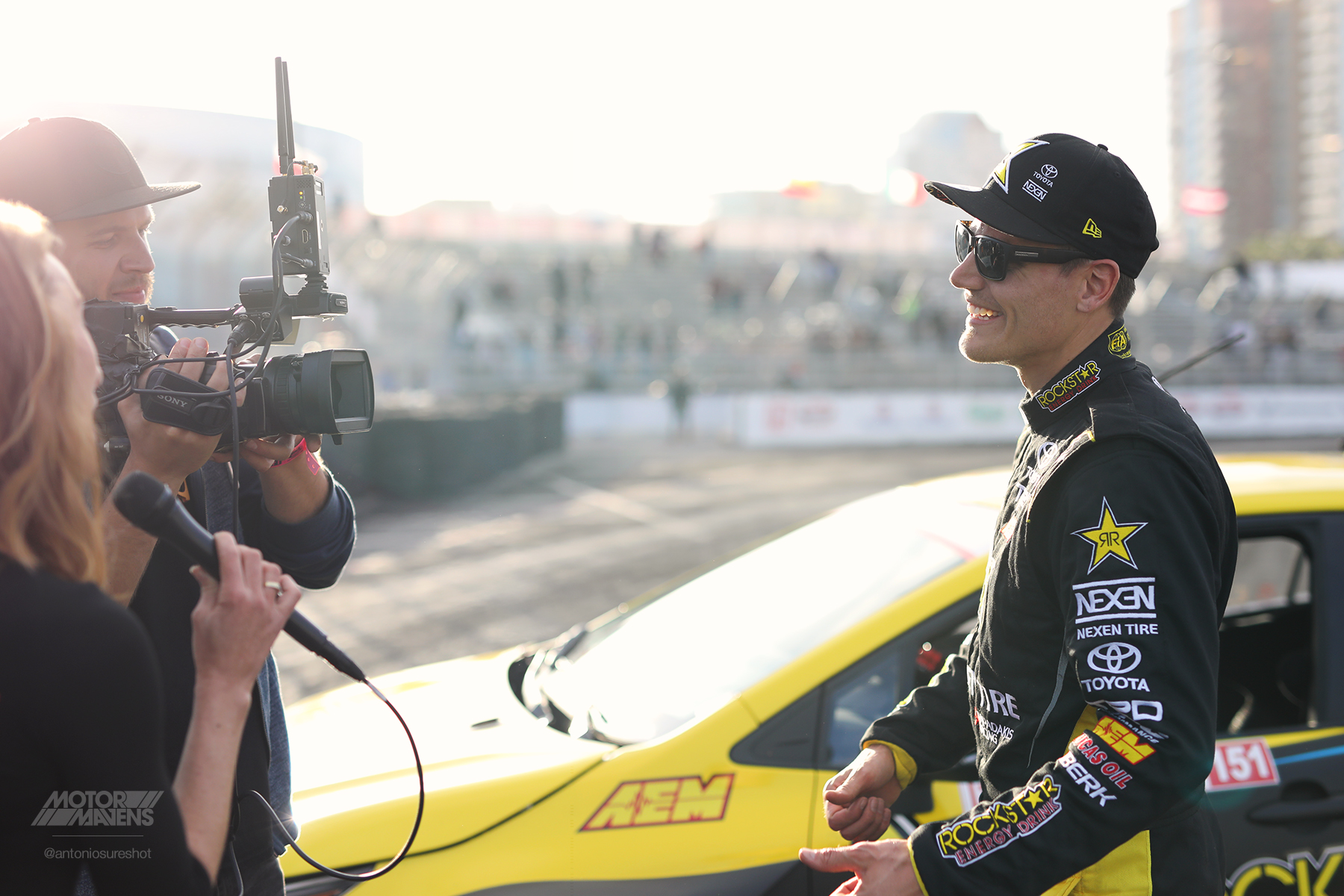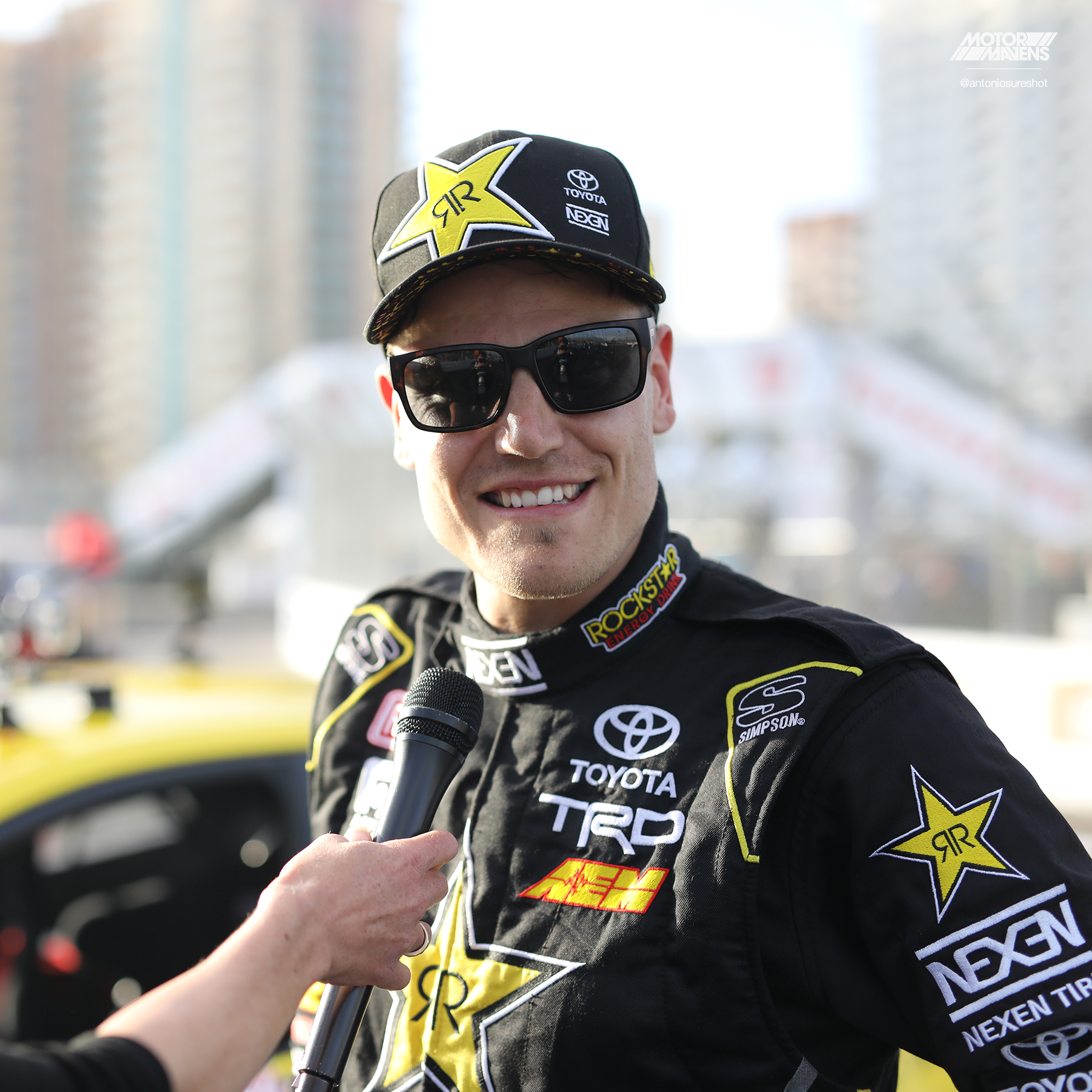 2019 Corolla
,
370Z
,
AEM Electronics
,
Antonio Alvendia
,
BRZ
,
C6 Corvette
,
Dai Yoshihara
,
Edelbrock
,
Eneos
,
Eneos Oil
,
Falken
,
Falken Tire
,
FDLB
,
Formula Drift
,
Formula Drift Long Beach
,
Forrest Wang
,
Fredric Aasbo
,
GPLB
,
homepage
,
Jeff Jones
,
LS3
,
Matt Field
,
Motegi Racing
,
Nexen Tire
,
Rocket Bunny
,
Rockstar Energy
,
RT615K
,
RT615K Plus
,
S15
,
Steven Iraheta
,
Supercharged
,
TGPLB
,
Turn 14 Distribution
,
V8 BRZ
,
Z34
,
ZC6
---