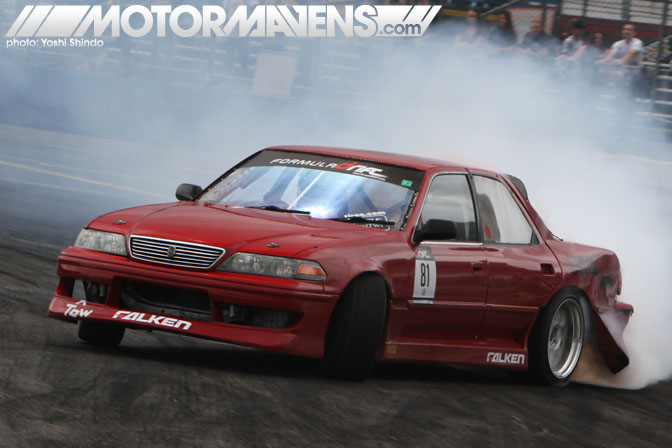 This year's Formula Drift event held at Evergreen Speedway marked the sixth year that the track has hosted the FD Seattle event. Having been at every single one, I can honestly say that this year was no less amazing as every year before it. The stands and the pits were packed with adults and children alike, with every single person smiling from ear to ear!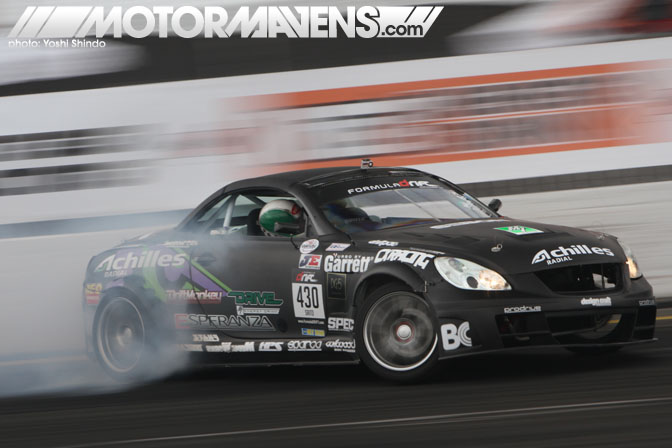 This year Yoshi Shindo braved the ever fickle weather as it went from rain to sun over the span of the two day event. As you all know by now, the monstrous Achilles Tire Lexus SC430 above is piloted by Daigo Saito, the D1 Grand Prix series champion-turned-Formula D rookie who now stands in second place in the overall standings! If you have yet to see him drive, I suggest you do yourself a favor, and make an effort to attend at least one of the remaining two rounds.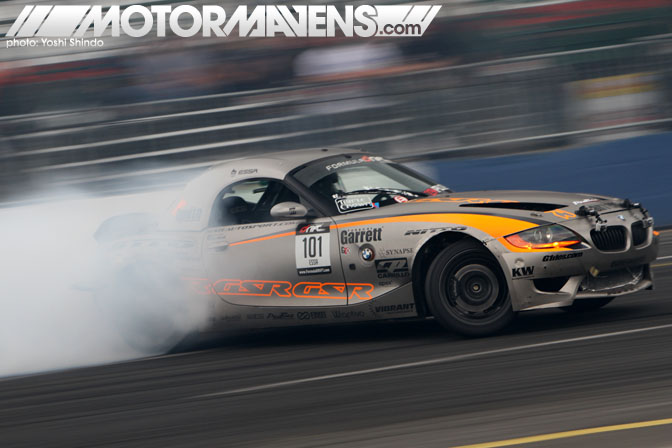 Michael Essa was a beast in practice, and his Nitto BMW Z4 is eardrum blasting! I was on the bank wall during his Top 32 runs against Aurimas Bakchis, and my ears were ringing after he blew by. Unfortunately, he had a close chat with the wall in his Top 16 matchup against JR Gittin. Hopefully he can put his Bimmer back together in time for FD Las Vegas.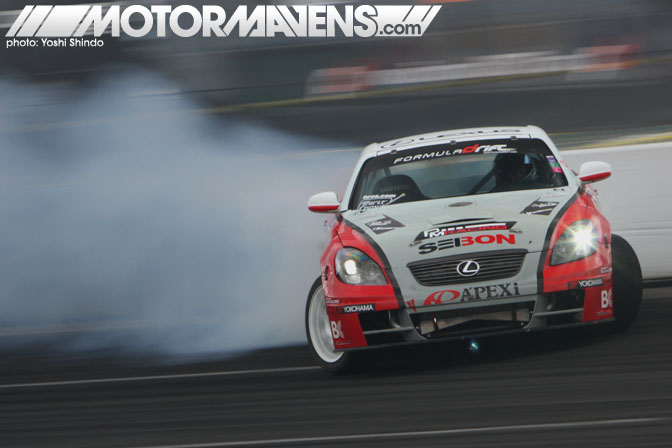 Pat Mordaunt was killing it! He could have been mistaken for a Seattle local because of the way he looked so comfortable out on the track in his new for 2012 turbocharged V8 Lexus SC430. He qualified 4th overall! Congrats Pat!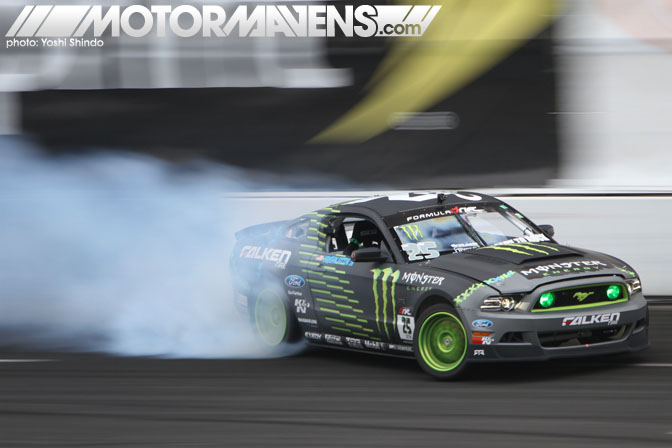 Climbing back to the top, Vaughn Gittin JR took control of this event entirely; he was the top qualifier at the event. He even defeated his fellow Drift Alliance teammate Ryan Tuerck to take 1st place on competition day!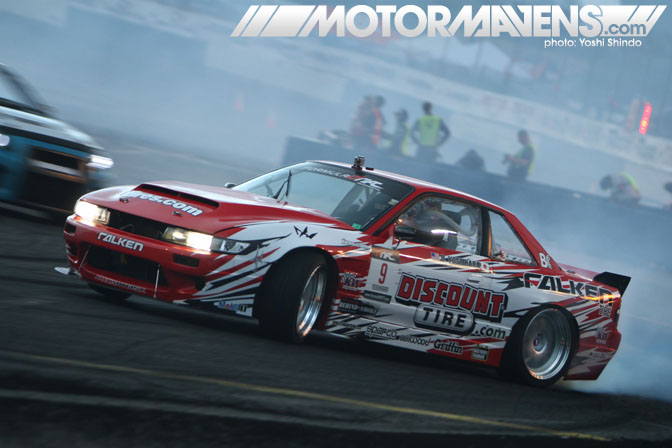 Still on the hunt for another podium finish, Dai Yoshihara drove like a madman as usual, putting it down in the V8 powered Discount Tire Nissan S13. Since Dai has been doing so well in this chassis, and the advent of the popular General Motors LS motor in drifting, the S13 seems to be having a renaissance so to speak. An increasing number of pros and privateers looking to be more competitive, cost effective and reliable are also moving to similar setups.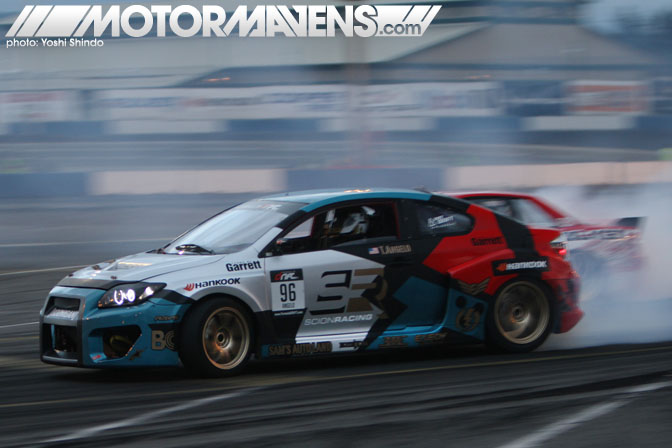 Former Formula Drift judge, Tony Angelo, has returned to the driver seat to put on a show for us in the Scion Racing tC. He's been tailoring the car to his style and working out the kinks this year while still managing to rock it in classic Drift Alliance style.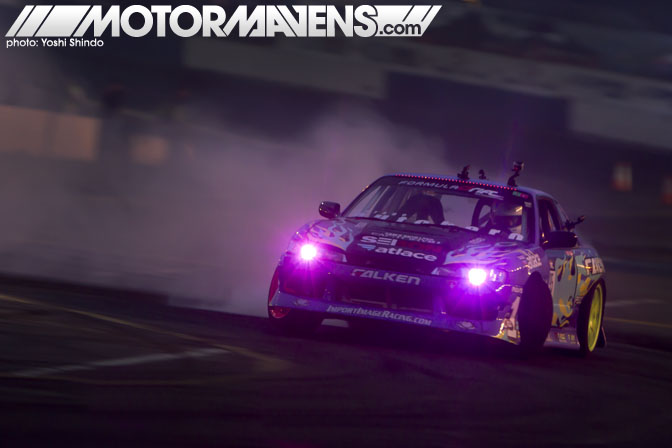 Local fan favorite Walker Wilkerson looked like he was treating the Formula D main competition as a regular Evergreen Drift local practice event! His high smooth lines and effortless transitions through the power alley took him right to 8th place in qualifying. While in Top 32, he got the win over Chelsea Denofa to advance to the Top 16 against Matt Powers. Matt ultimately took the win, but not after a great showing for the hometown crowd from Walker.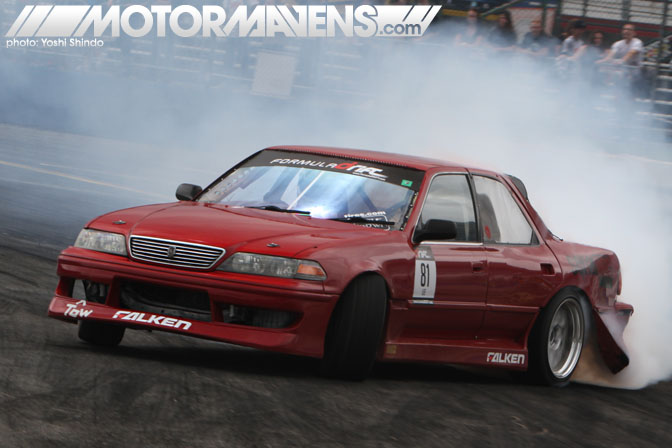 The Canadians were out in full force this year, as Alex Lee mowed the track over in his luxury drift JZX81 Toyota Cresta. The whole SerialNine crew was in attendance rooting him on! This was Alex's first event since Long Beach, along with a newly rebuilt chassis, which showed no signs of rust or slowing down at all!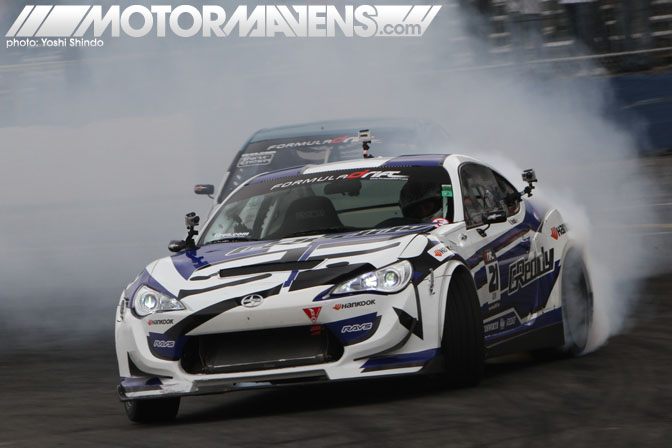 The Scion FRS/Subaru BRZ has been popping up a lot around the Seattle area, and every time I see one, it makes me want the car just a little bit more. So when I say that I am excited to see Ken Gushi drive the Scion FRS this season – it's a bit of an understatement! Gushi drove hard, making it all the way to the Top 4 on Saturday. I kind of miss the wing that was on the car earlier in the year… what do you guys think?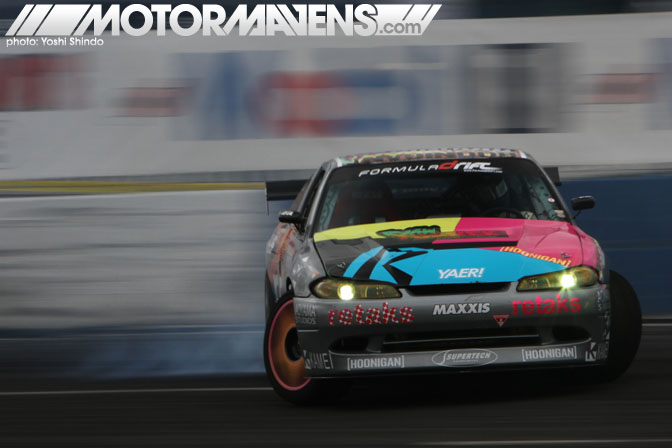 Ryan Tuerck has been driving like a man possessed all season. He is currently in 5th place overall and is one of two Nissan S13s in the Top 5. Ryan took second place overall for the 2012 Formula Drift Seattle event – great job!!!
The Pacific Northwest crowd has been coming out to show support for Formula Drift and the drivers each and every year. The crowds seem to get bigger with no less enthusiasm than the last! For me, this weekend was one of my personal highlights as well… I can't wait until next year!
See you all in Las Vegas!
:: Lucas Perez
Photos by Yoshi Shindo
1uz
,
240sz
,
2JZ
,
Alex Lee
,
BMW
,
BRZ
,
Cresta
,
Dai Yoshihara
,
Daigo Saito
,
drifting
,
Ford
,
Formula D
,
Formula Drift
,
FRS
,
Garage Autohero
,
JZX81
,
Ken Gushi
,
LS1
,
Lucas Perez
,
michael essa
,
Mustang
,
Nissan
,
Pat Mordaunt
,
Retaks
,
Ryan Tuerck
,
S13
,
SC430
,
Scion
,
TC
,
Tony Angelo
,
turbo
,
Vaughn Gittin Jr
,
Walker Wilkerson
,
Yoshi Shindo
,
Z4
---