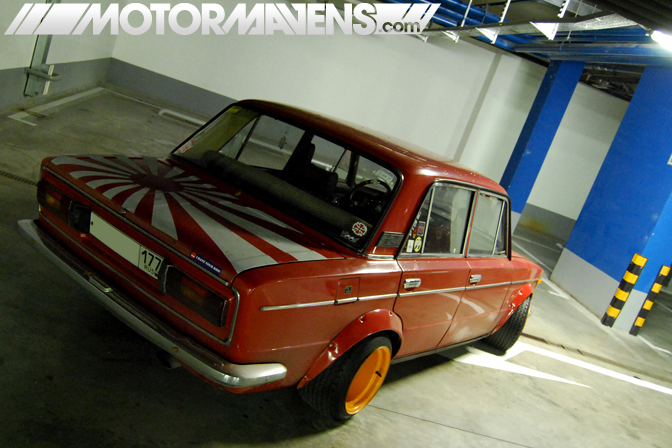 Many of our devoted readers know that just before we held our very first MotorMavens car show (Mass Appeal) in December, our website was hacked and many areas of our website ceased to work. Ever since then, we've been working to find all the things that were broken on the site, and worked to put it back together during the time that we're not working our other jobs. Yes, it's true – most of the members of the MotorMavens Crew have other jobs to help in paying the bills; it's not like we have major funding from any big companies or anything like that. Everything you see on MotorMavens is the product of countless hours of sacrifice and hard work from each and every person in the MotorMavens family, whether they are listed as a contributor or not. We're just that passionate about cars; it's what we all think about every waking moment that we're working our other jobs.
We're happy to announce that the MotorMavens Forum is now up and running again! It has been completely restored to the functionality it had before the hack attacks happened! This being said, we'd like to invite everyone to join the community and register for the forums. Post up photos of your car builds, or photos from events you've been to… hell, you can even promote events you're going to attend, or post up cool videos that you've seen online!
While browsing through the forum the other day, I noticed a post from a forum member named Igor Belkin, from the city of Ufa in Russia. Igor posted up a bunch of photos of modified Russian cars on the forum! If you're unfamiliar with the  Russian car brand Lada, we're not surprised! Many North Americans have never heard of Lada… probably because the cars are only sold (or mostly sold) in Russia!
Check out the Lada above, though! Bolt-on overfender flares, banded steel wheels (widened steelies), stretched tires, and a lowered stance! See anything familiar here? Yes, this is proof! As car enthusiasts, our passion for cars exists all over the world, and now we have even seen slammed, stretched, scraping cars in Russia! YES!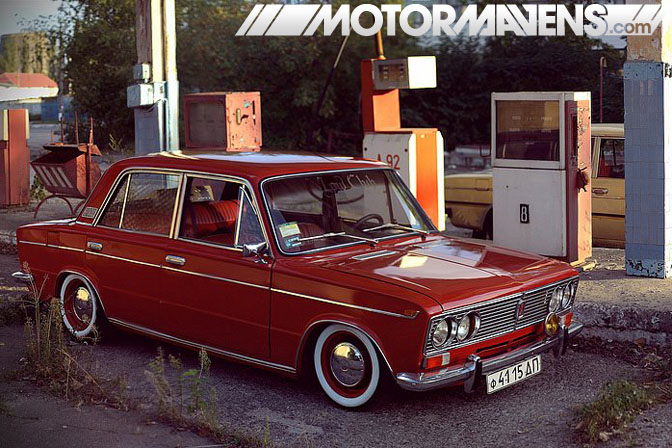 Take a look at this super clean vintage Lada, parked at what looks like a closed-down Russian gas station. Very cool!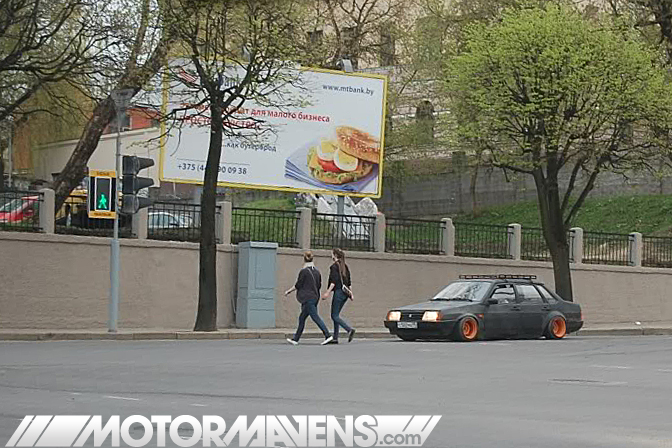 This Lada cruising the street looks vaguely reminiscent of an older Volkswagen Passat. Very interesting… apparently, the roof rack and stretched wheels trend is popular in the former Soviet Union as well.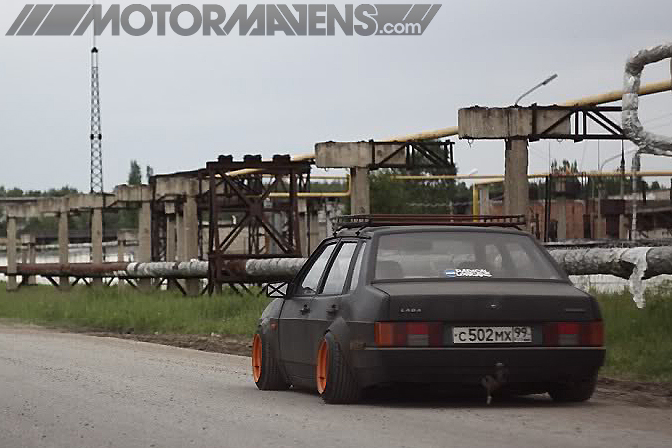 Here's a rear shot of the car… looks mean! There are A LOT more photos of these cars posted in our forum! CLICK HERE to see more photos, and please leave comments for Igor, our new friend in Russia!
:: Avon Bellamy
---