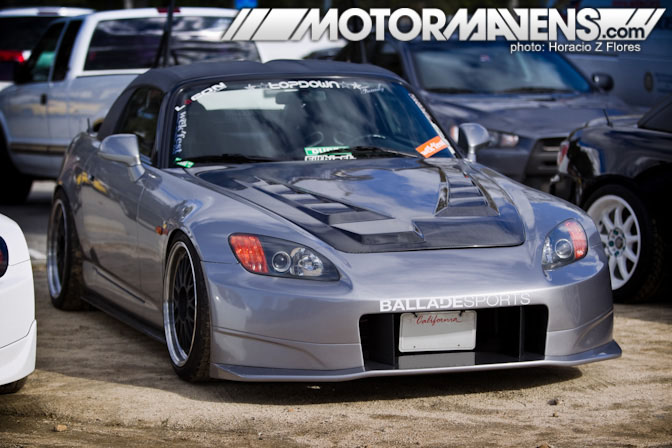 There are times in life when one should expand one's horizons, embrace diversity and appreciate things that are personally "outside the norm." These Zen-like thoughts came to me while driving home from work one afternoon and I eventually came to the temporary conclusion that I COULD enjoy other vehicle makes and models and let my devoted passion for RX7s rest a little. I did stress that this was a temporary conclusion, didn't I?
The result of my moment of enlightenment? A new appreciation for Honda's road grappler – the Honda S2000. Which came just in time since a good buddy of mine, Scott Soonthonum, informed me that he was the proud owner of the CR edition S2K during my birthday celebration shortly thereafter. Funny how these things work out. We exchanged info with the intention of keeping in touch so that we could connect sometime in the near future.
In just a matter of days, I received a text from Scott inviting the MotorMavens crew to attend the Gripwerks & S2kI Forums' 1st Annual BBQ Meet. Let's take a look at what photographer Horacio Flores captured as I delve into the welcoming unknown.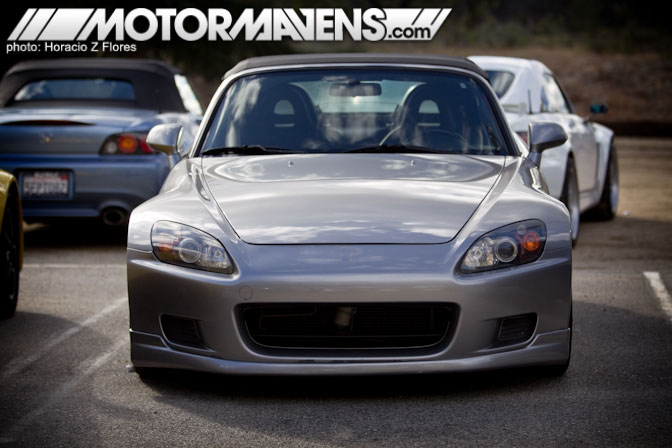 Silver is always a great base color to give a vehicle that ultra-modern look. This S2K not only captures that look but it does so while emitting a sleek and simple style. Retaining the soft top is just an added bonus.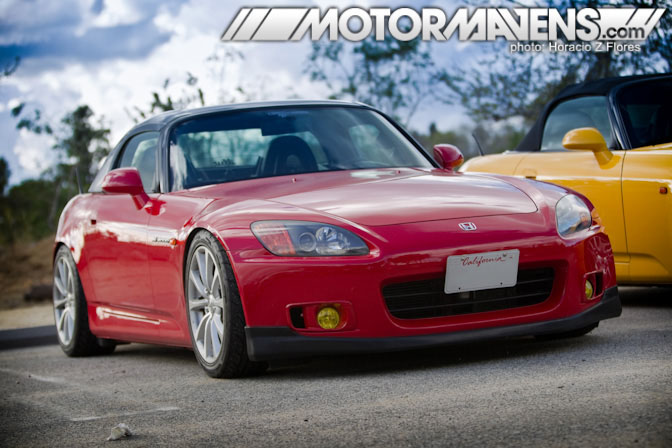 Speaking of simplicity, this one turns the volume up with clean red paint and yellow fogs to offset things a little. I wonder if that front lip is OEM or aftermarket? Anyone know?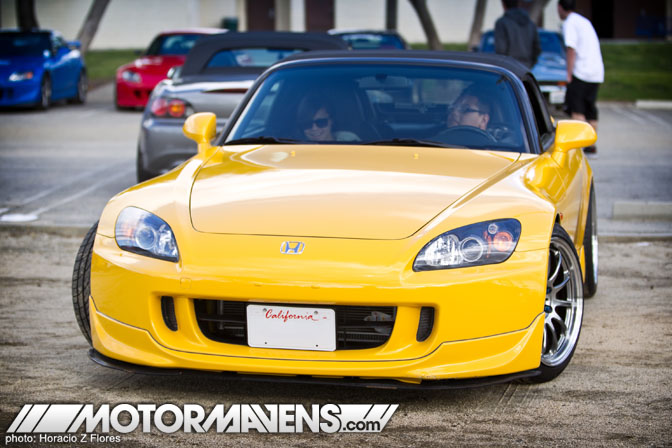 Give me a yellow S2K with sharp rims and yes…I'd probably have a girl riding shot gun too.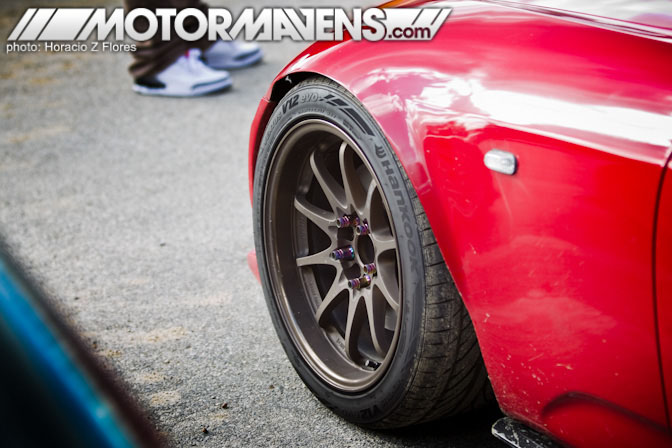 Gotta be the shoes! This red AP1 was one of my faves because it was rocking Volk CE28s. However, as you can see, there are two people with great taste in shoes in this photograph. Can anyone guess the shoes I'm wearing in the background?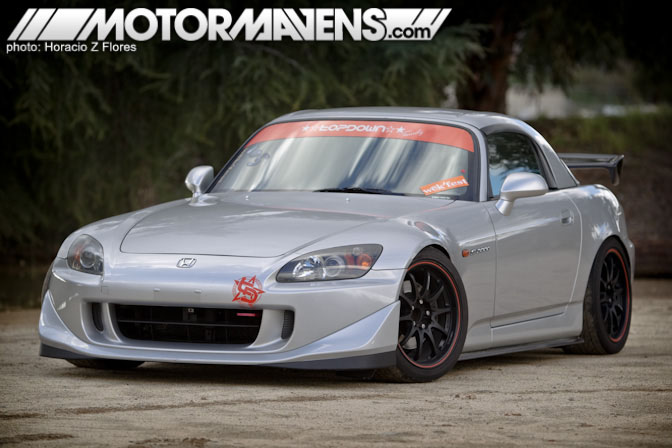 This S2K belongs Al Catolos who also chose to equip his AP2 with Volk CE28s. He also took things a step farther by  matching the outline of the wheel to the Wekfest and TopDown logos on the car. Every once in a while you have to co-ord-in-ate.
All business in the front. Who doesn't dig the look of an S2K in a face off?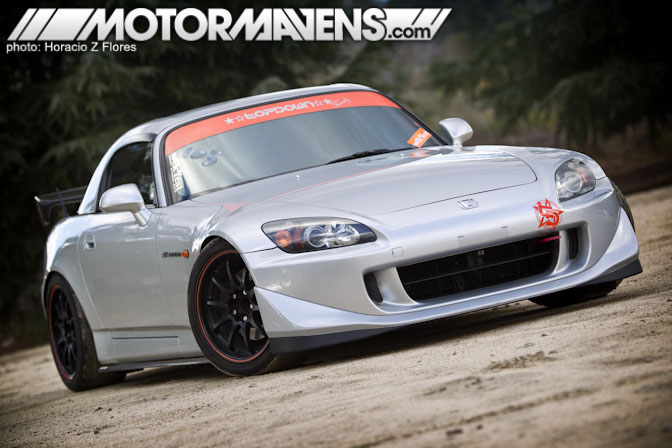 Proper stance, check! Those side-steps (manufacturer unknown) look sharp, combining forces with the aggressive front bumper to match.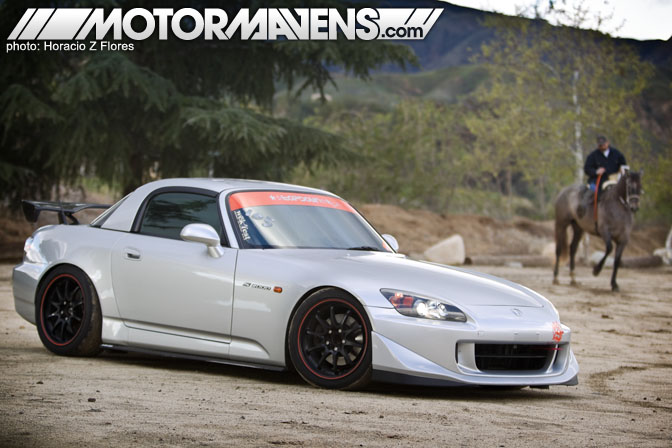 The horse in the background started to dance for some odd reason. I suppose it was really feeling the OEM hard top and stance. Hella Horse!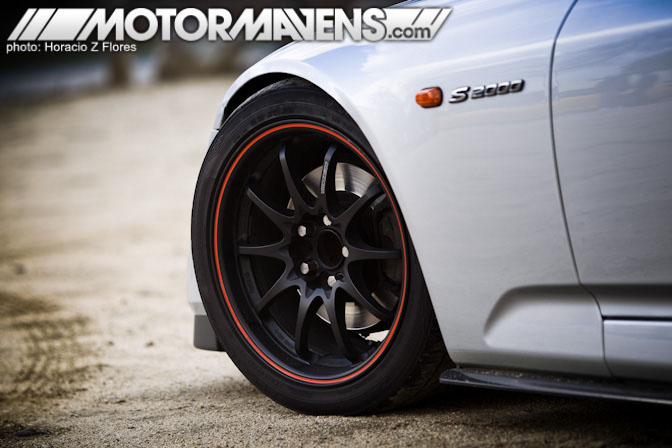 All things considered, even the S2000 logo appears to be in its proper place next to these Work wheels.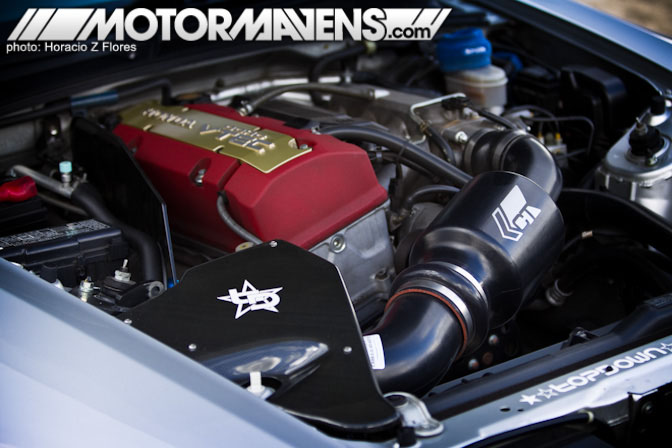 Good ole inline four banger – loved (or hated on) the world over. The positioning of the engine behind the front axle contributes to the 50:50 weight distribution that makes these cars so well-known for their agility and Gracie-like road grappling skills.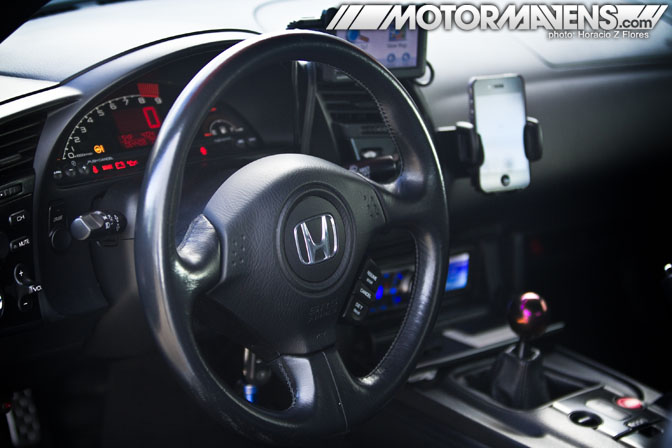 When talking to some of the owners about any possible negatives of S2K ownership, the only ONE I heard was interior space. With a cockpit like this, I'd have little if any complaints. I love how it encompasses the driver.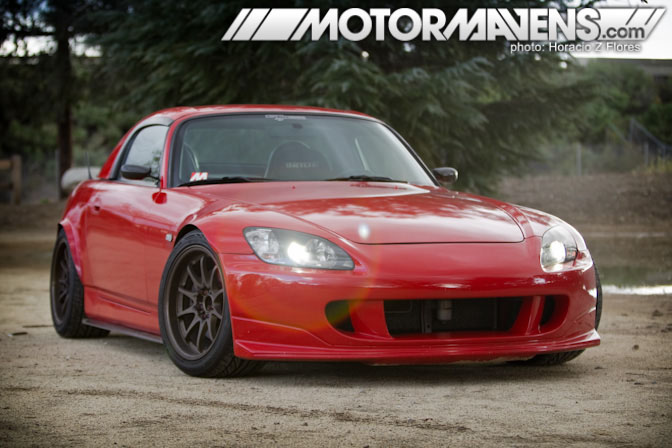 Yes! Here she is – Jeff Dizon's AP1. Bride Low Max seats, awesome fender appeal, ride height to match and, I must say, exceptional sticker placement!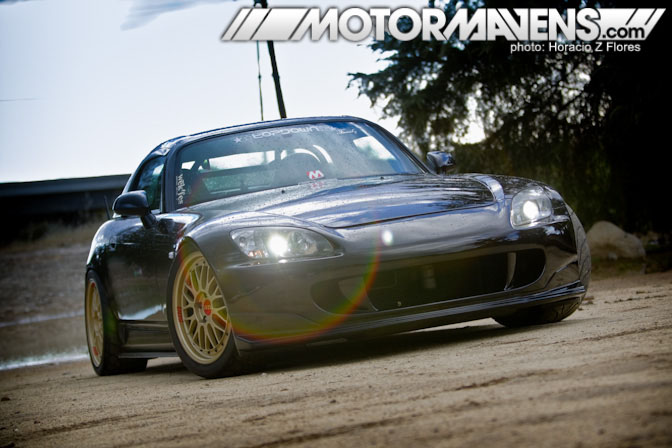 TopDown representing again with Toti Romasanta's 2002 AP1. The interior color was factory red from Honda – apparently the only year that offered such an option.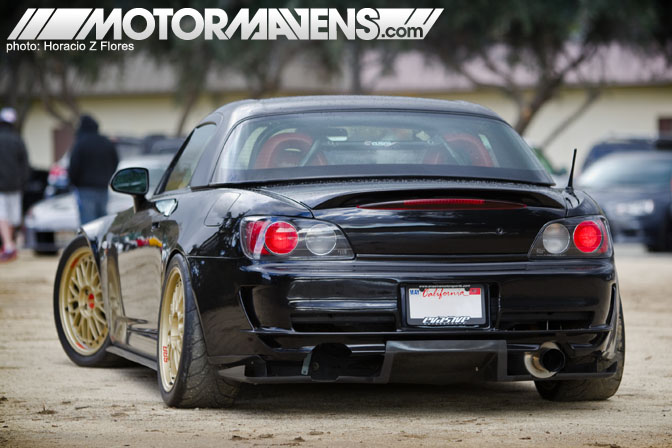 You can't beat the rear looks of a stock S2K. So imagine what happens when you upgrade a bit. Add that Toti's Cusco roll bar and rear diffuser are both clearly visible and things are taken to a new level of badassness!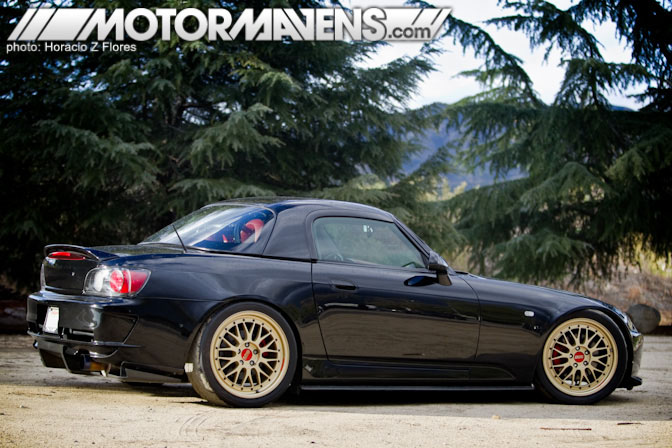 We love BBS wheels!! Toti decided to go with 18 inch F1 Le Mans special edition LMs in gold.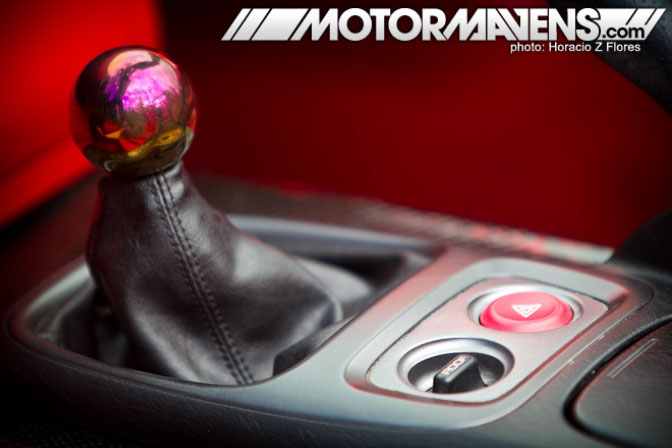 Get a grip man! Totally possible with this ergonomically friendly shift knob putting you that much more in touch with the road.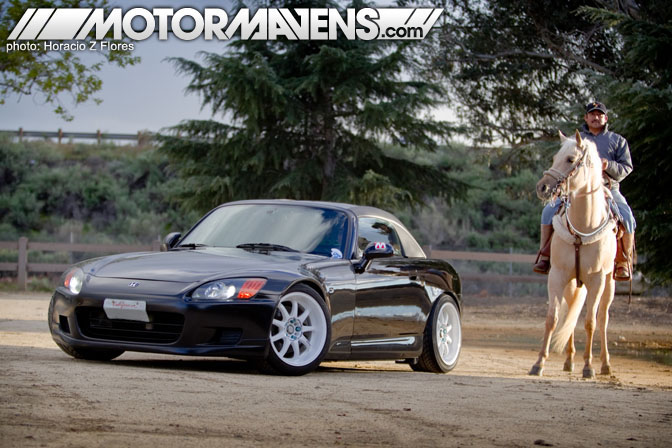 Fellow skateboarder Brandon Patterson is the owner of this AP1. He kept things uniform by selecting VIS aero which included  fenders, hood and hard top. Talk about a triple threat combo!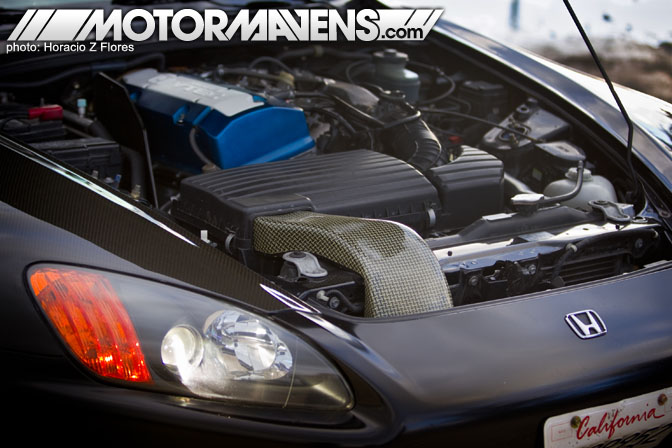 I gawked at this carbon Kevlar intake duct piece from Spoon and, believe me, I wasn't alone. It adds a nice touch to his engine bay and, with all the cold weather that day, I'm sure it directed lovely airflow.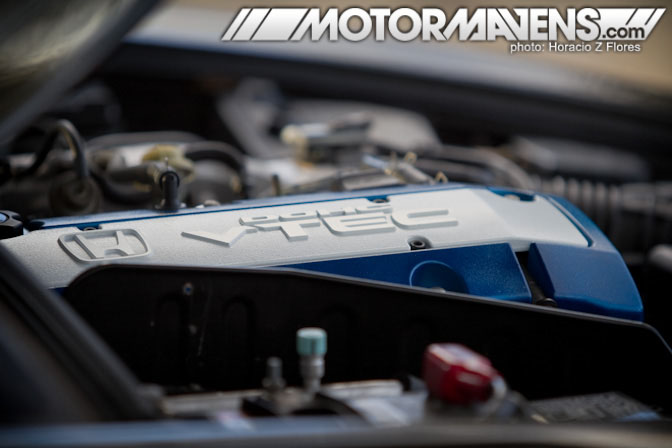 The hallmark of all true Honda owners – the super tidy engine bay. There's never too much clutter or chaos. Duly noted.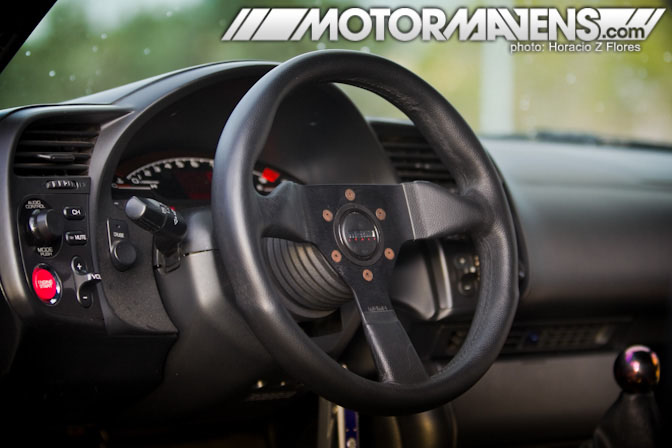 Come on Brandon! Let me drive this thing, man!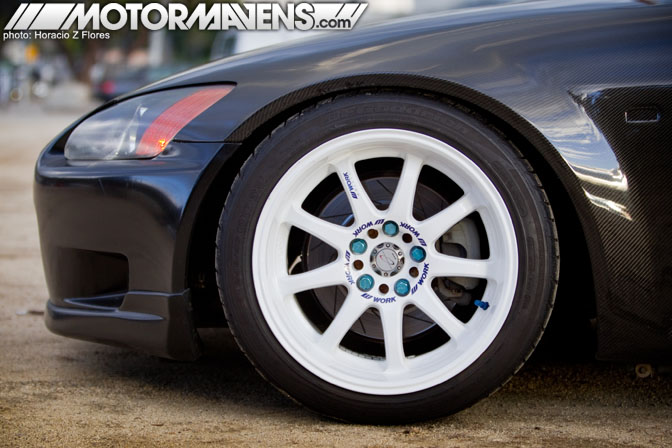 Work XD9s were definitely a nice touch. Good choice Brandon.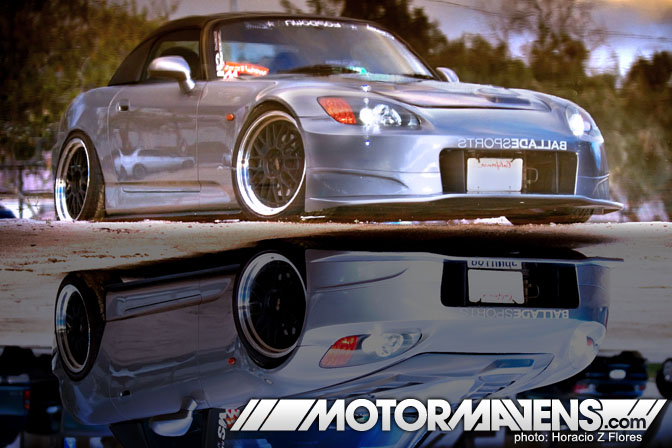 Fred Vuong brought out his AP1 fully equipped with VIS Aero which truly stood out at the meet.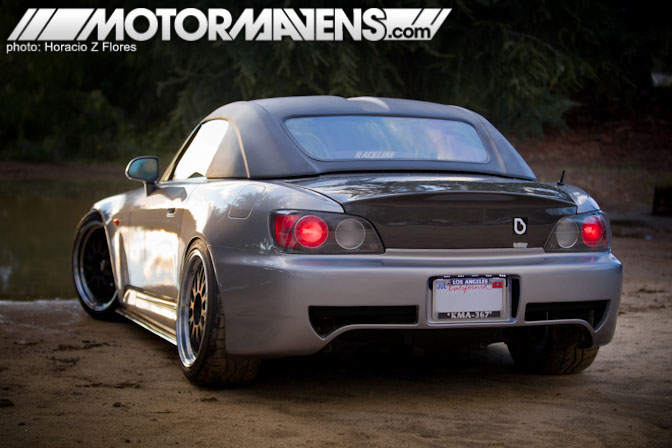 Everything in its place and well balanced. VIS hard top and trunk…nice uniform look.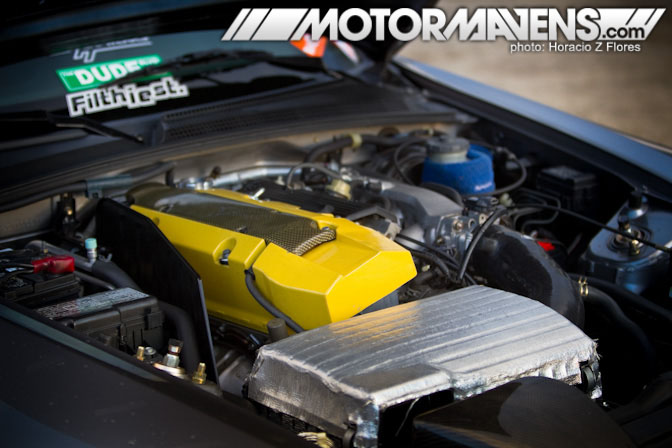 Did anyone else notice the Spoon Sports wristband over the brake fluid reservoir tank? No spillage anywhere, that stuff ruins paint.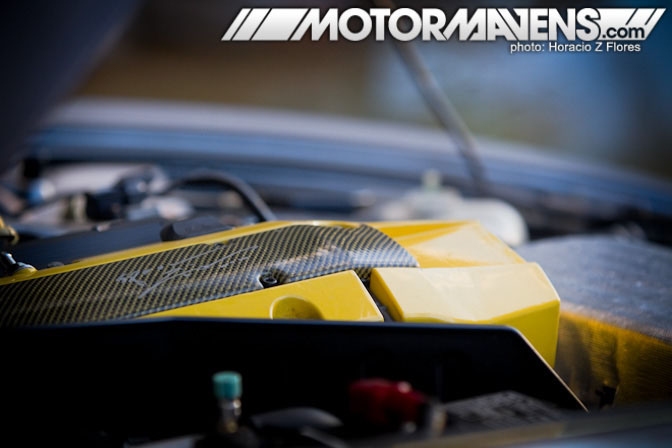 Take a closer look at Fred's custom L-Con/Ballade Sports elongated valve cover – specifically designed to relieve crank pressure. Great engineering. But wait – that's not all. He even managed to have it autographed by Spoon Sports founder Tatsuru Ichishima! Dope.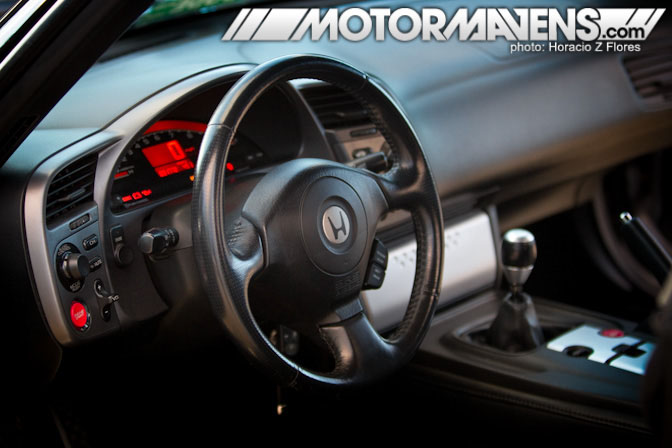 Not completely noticeable in this photo, but just behind the shifter was (in my opinion) a clever signature of sorts, engraved into the silver stereo unit cover. It reads S2000. An appropriate, if not awesome, reminder to all occupants within.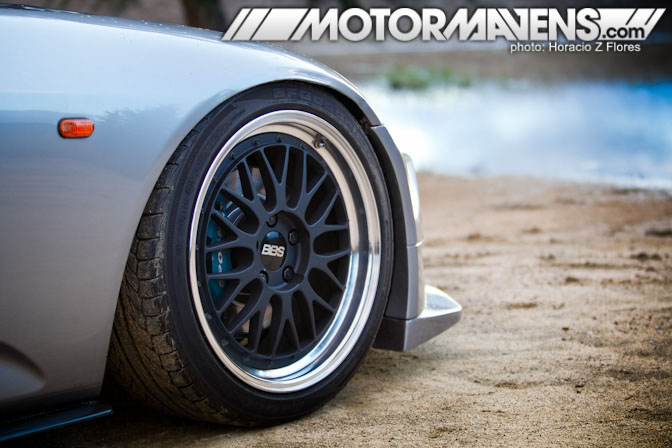 And yes, Fred keeps things classy with a solid set of BBS LMs with Spoon Sports brake calipers to slow things down when mashing. Now I really want an S2K.
Overall, the day was an educational one and I learned a lot from the various owners that were in attendance. Props to Scott Soonthonthum, Gripwerks, S2Ki Forums and all who showed love and convinced this RotorMaven to live a little and enjoy things outside the box. I'm actually considering making my new-found enlightenment more of a long term "consciousness upgrade"  – not so temporary… I promise.
:: Edward Uche
Photos by Horacio Z Flores
---