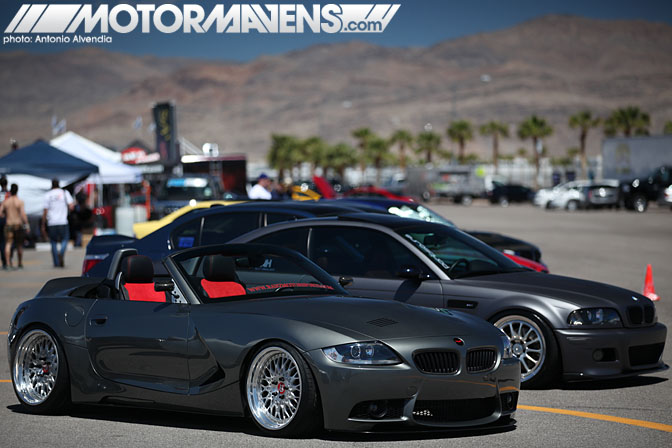 Whether you own a BMW or not, it's really tough to not be blown away by the sheer number of high quality cars that made it to MFest VI in Las Vegas. Even though we didn't even get an ounce of sleep the night before, the caravan, event, and parties were so fun that we had no problem going nonstop throughout the weekend!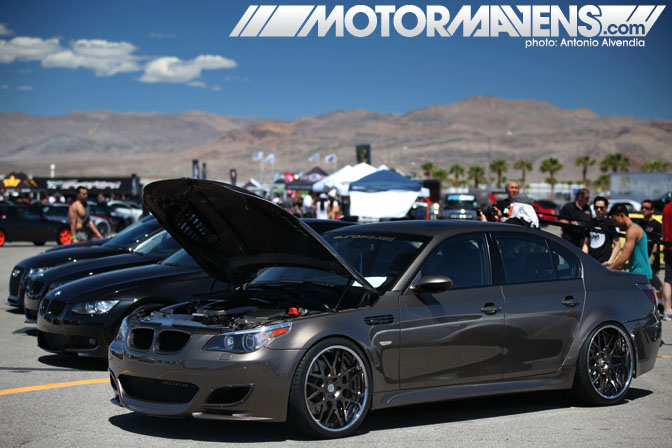 MFest weekend started off with the epic, world record setting caravan up from Barstow CA and ended with an equally epic pool party at the Tao Beach Club in Las Vegas. MFest Chris and his team could not have been any more hospitable or welcoming – nor could the weekend have been more mind blowing. No wonder we have TONS of photos!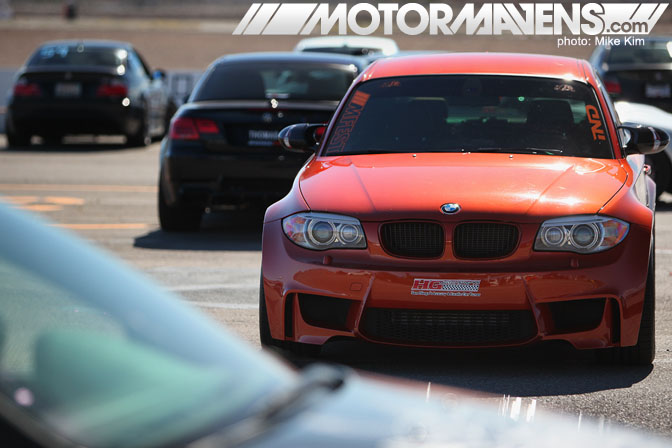 The BMW 1 series M coupe is a seldom seen car on the streets due to its high demand and low availability so it was nice to see a good handful of them make it out to Vegas. The nice wide fenders and aggressive bumpers give the car a mean look when it's rolling down the street. At almost $10,000 less than the BMW 335i, the 1 series M coupe is one hell of a good deal for the amount of car you're getting.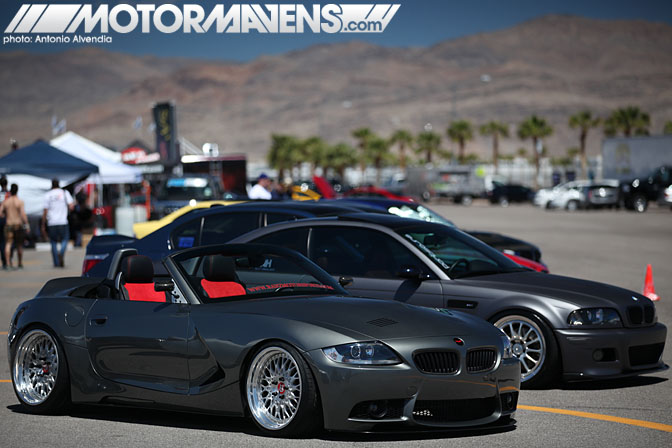 This slammed BMW Z4 looked suuuuper fresh, sitting right up front when we entered the event. This is one of the best looking Z4s we've seen in recent times. Very classy build.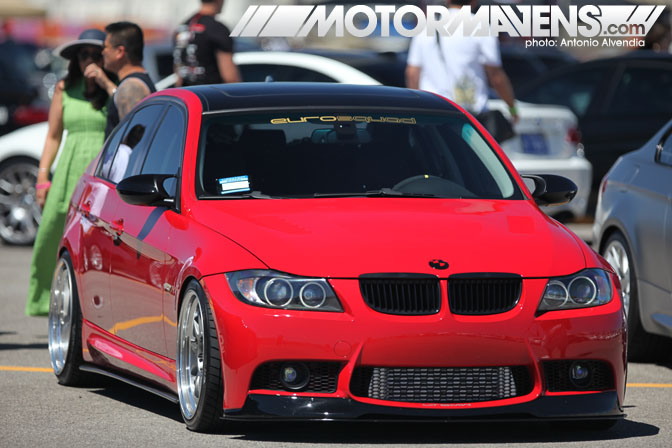 Red is just such a classic, sporty color. It's bright without being over the top. No wonder we absolutely loved this Eurosquad 335i. All class.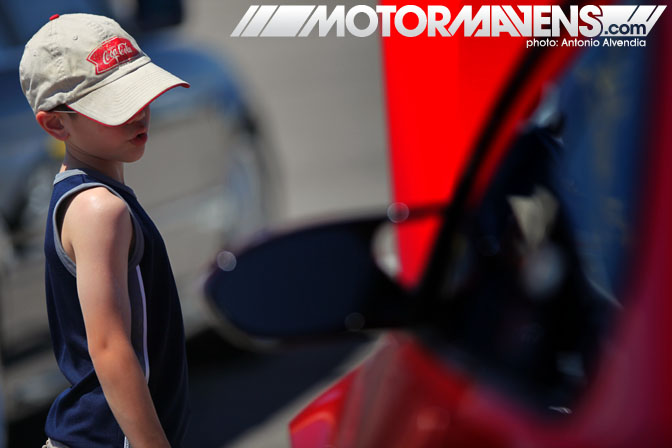 It doesn't even matter how old you are… everyone can appreciate a clean red BMW.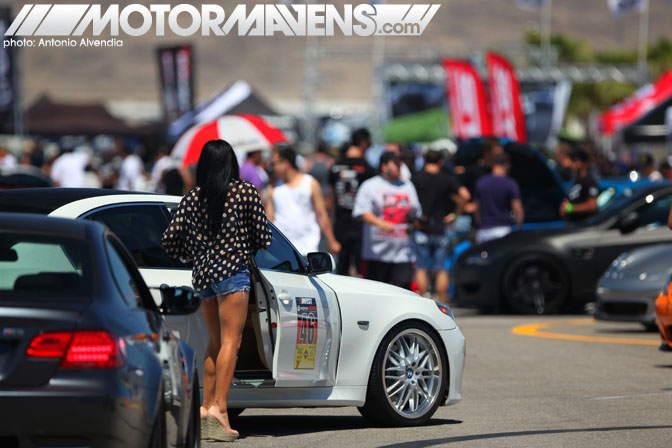 One nice thing about MFest is the fact that there are actually LOTS of attractive females in attendance. Most car events are just filled with dudes, but MFest is a bit different. Females actually look forward to MFest because of the whole Spring Break-style party atmosphere all weekend, and who doesn't like that?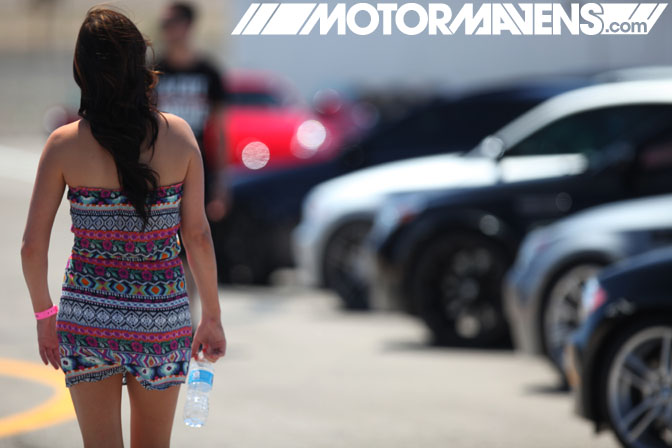 Many of the ladies that go to MFest dress pretty classy, too. It's a bit different than the hoodrats* that you normally see at carshows. (*Scantily clad girls sitting on car hoods)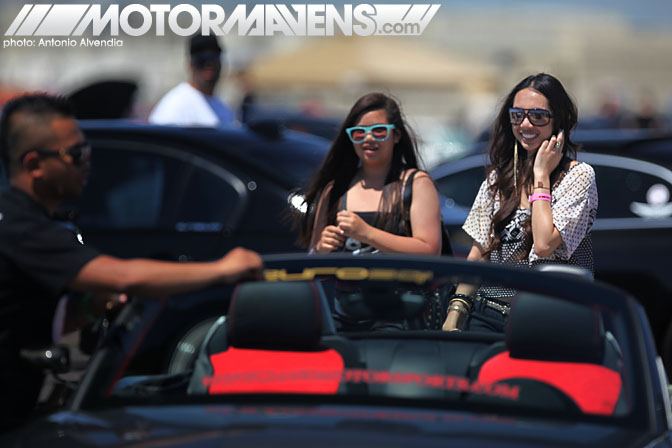 Lots of girls were circulating around the car show area and the trackside pit area, checking out the cars… or maybe they were just looking for BMW ballers with the dopest cars? You tell me.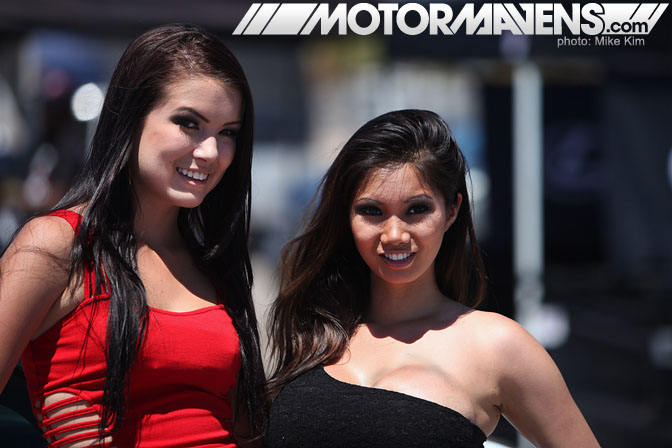 Nicole Reckers and Xena Kai were two of the models who came out to cheer on the MFest crowd. Somehow, I think many in the crowd were cheering for them!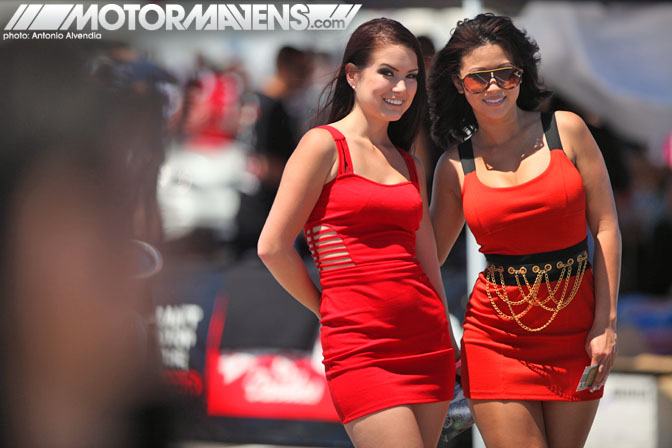 Here's Nicole again, but this time with Michelle Yee. For more photos of these ladies, Follow @MOTORMAVENS on Instagram.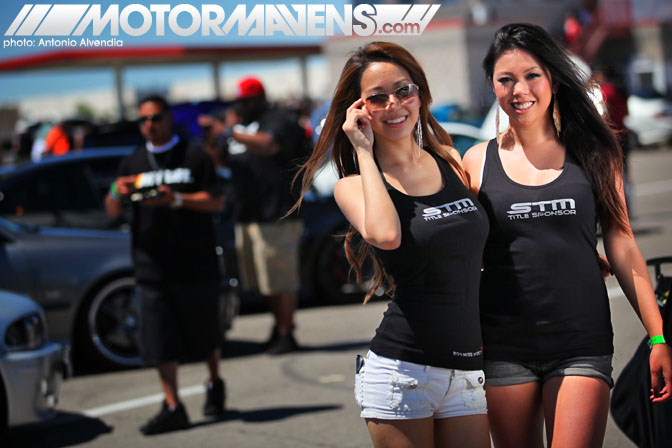 We always have fun hanging out with Eva Skye and Beckie Joon. Again, for more photos of these ladies, Follow @MOTORMAVENS on Instagram.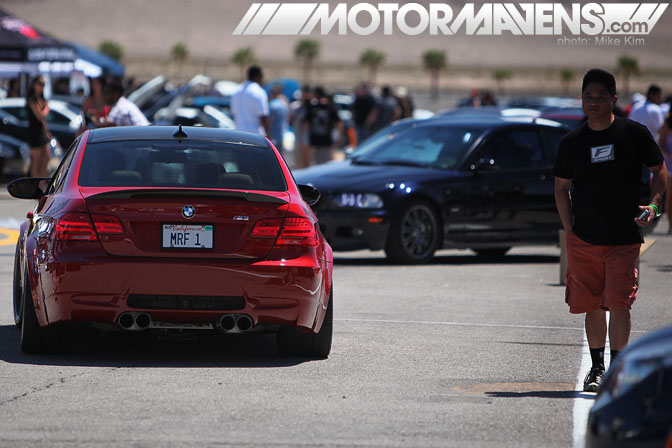 The BMW M3 is one of the most iconic sports cars on the market and is often times used as the standard for comparison with other sports cars. The quad exhaust tips on the M3 serve as the best "quick glance" identifier of one of these beauties on the road.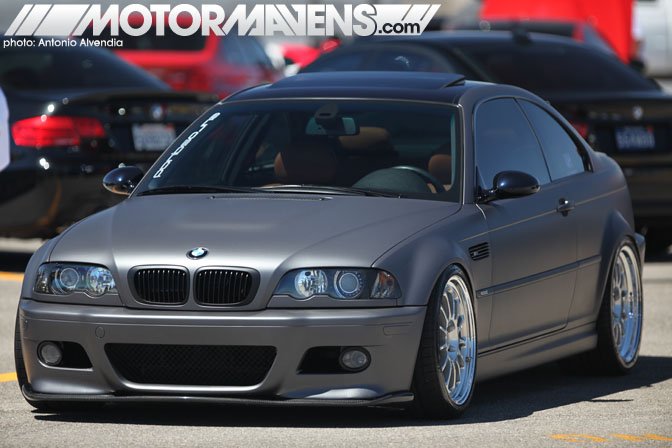 I'll be honest. We are pretty sick of matte wraps and paint jobs… especially on BMWs. Living in Los Angeles, you see matte wrapped cars ALL THE TIME, especially with nondescript black wheels. It's just soo played out.
However, this matte gray E46 M3 from Las Vegas-based Eurosquad really pulled off the matte look well. It actually restored our faith in matte cars, because this E46 looks AWESOME. Love it. We just posted this photo on the @MOTORMAVENS Instagram feed, and instantly, it got hundreds of Likes. No doubt!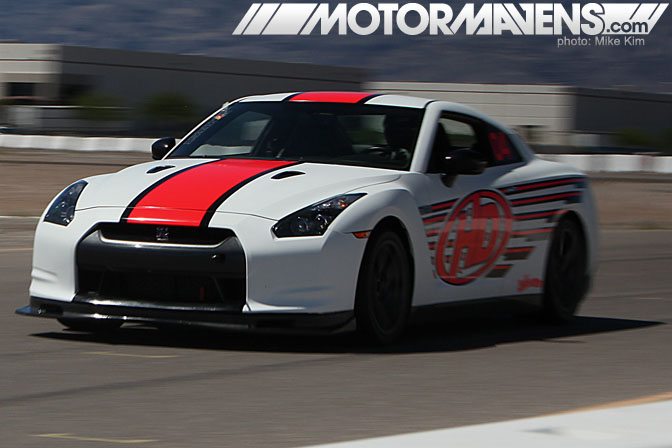 The track fun at MFest was being organized by Speed Ventures, so there were more than just Bimmers on the track. There were also other makes and models on the track running the time attack – like this R35 Nissan GTR, for example. This Hard-Driving Motorsports liveried GT-R was making minced meat of some of the other drivers!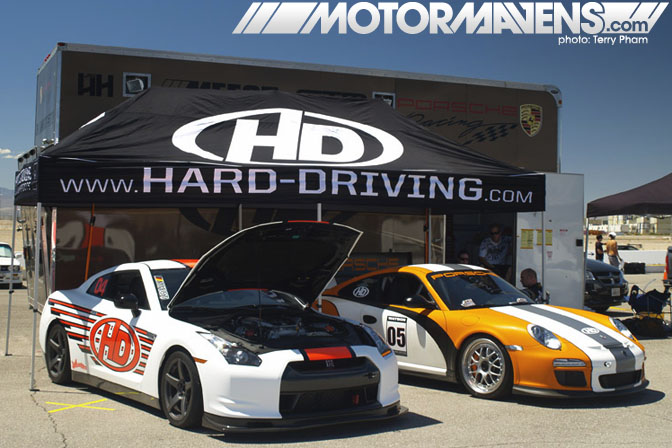 Here's a shot of the Hard-Driving GT-R and the Hybrid-themed Porsche 911 GT3 R. The livery on this Porsche was one of my favorite themes of the GT3 class race cars.
I spotted Chris from MFest driving this BMW M3 E46 which was rocking some red wheels and matching side mirrors. The black, red and yellow theme of the MFest logo was completely coordinated with the accents on this car. Co-Ord-In-Ate!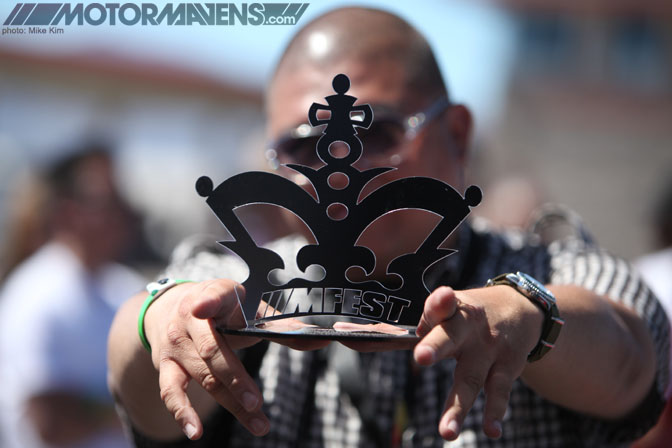 When the car show awards were being given out, we were given a nice surprise from the MFest Crew. This mirror finished MFest Trophy is going to make a nice show piece for the MotorMavens Crew!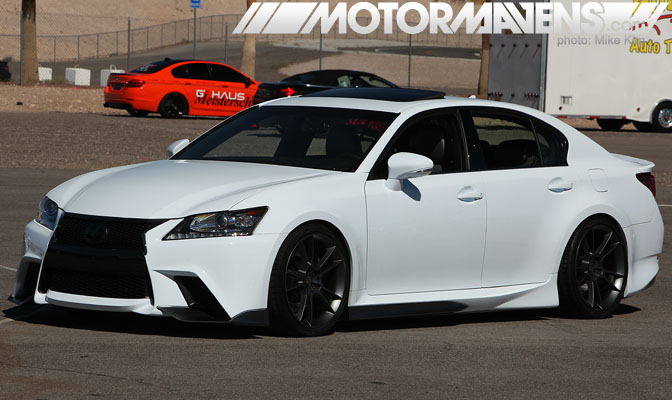 Although BMWs are the main focus of the MFest weekend, Lexus and Cadillac also came out to show their support! This FiveAxis designed Lexus GS350 was one of the best looking cars out out there, without question. We even spotted Victor from Emergency Hookers towing it up from SoCal during the caravan on Friday morning.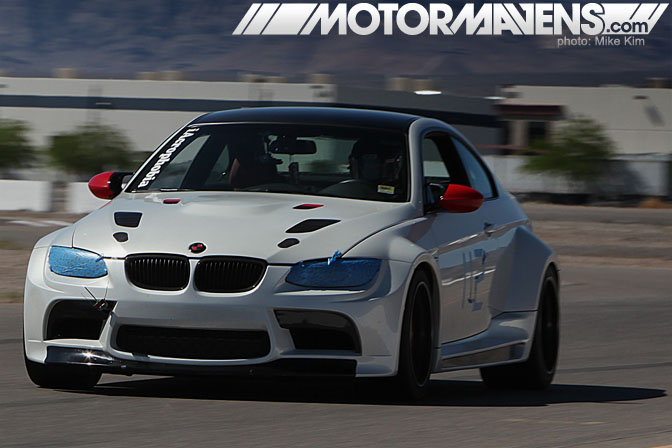 Normally, when you see a DTM inspired massive wide body conversion on a street car, it's usually for show purposes. However, it was nice seeing this BMW M3 E92 making full use of its wide body conversion on the track. It was definitely a pleasant surprise – you don't see cars like THIS hitting the track every day.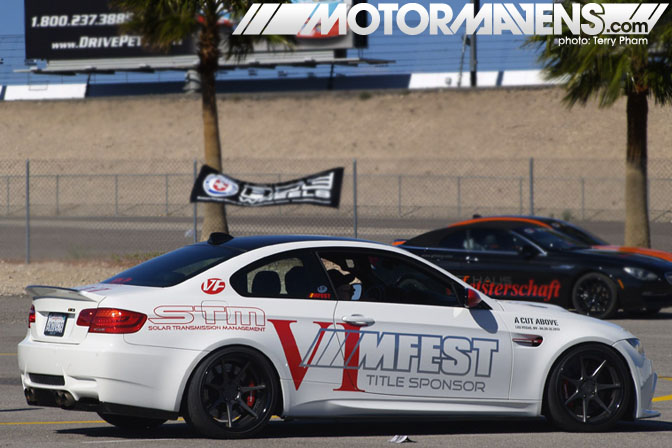 One of the main sponsors of MFest is Solar Transmission Management or STM. Their E92 was a hard car to shoot on the caravan up from Barstow, because our chase car just could not keep up!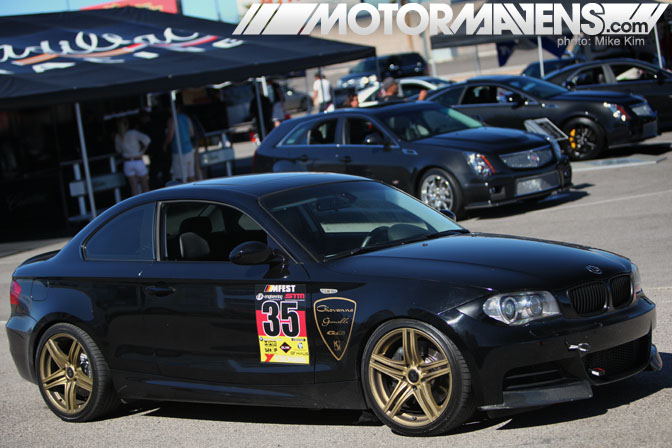 In my opinion, gold and black color schemes have always looked great on any car. Ever since the John Player Special Lotus driven by Ayrton Senna in Formula 1 racing hit the pavement, this scheme has always been a classic. Although this 1 series coupe wasn't fully JPS-themed, it was close enough to make the car look great!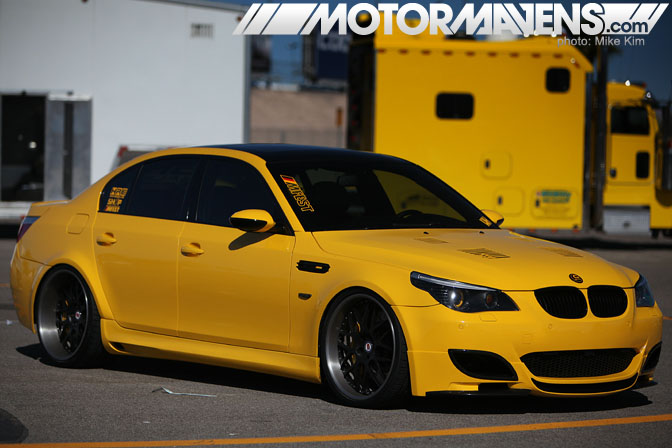 Chris' BMW M5 E60 was one hell of a beast on the drive up to Vegas. The twin-supercharged V10 is no joke when it comes to putting down power! I was trying to snap a rolling shot on the freeway but Terry Pham's Lexus IS just could not keep up.
Las Vegas natives, Melinda and Tony Ibraheem, brought out their Euro Squad E92 M3 for the track day. The car definitely was hauling ass down the straight where I was standing. This particular shade of orange usually evokes images of Lamborghini – probably one of the reasons this E92 stood out from the crowd when I spotted it on the track.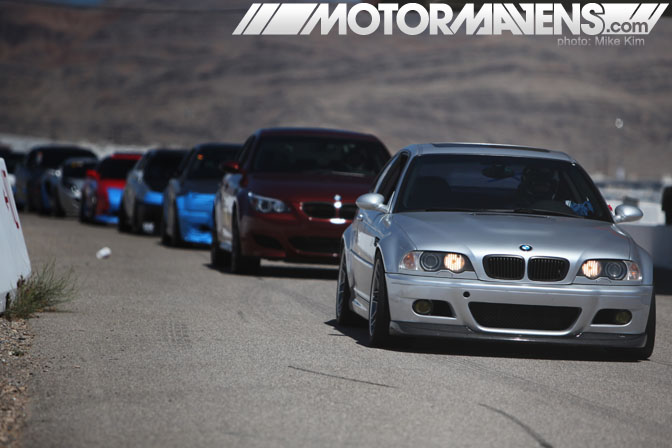 There were a few instructor-led runs on the track where they went over a few different driving techniques such as passing and proper cornering.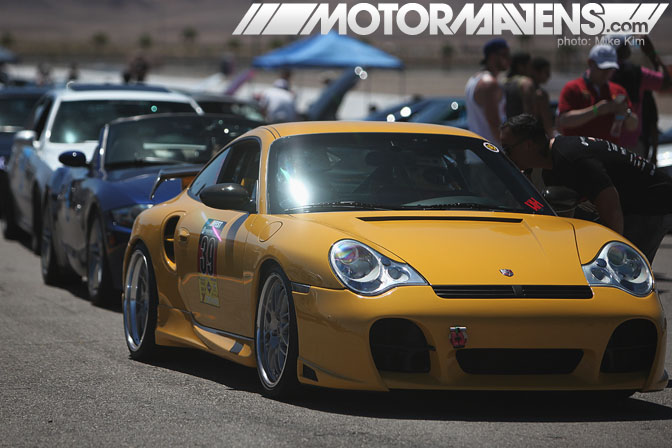 This Porsche 996 911 Turbo must have been a blast to drive around the circuit. I was truly surprised to see so many Porsches represented at a BMW meet – pleasantly, of course.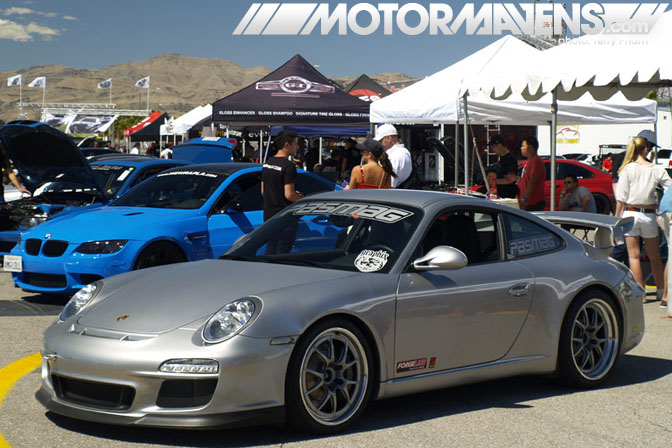 And here's another beauty from the wizards at Porsche – this time showcasing our friends at PASMAG. This car is soooooo SICK.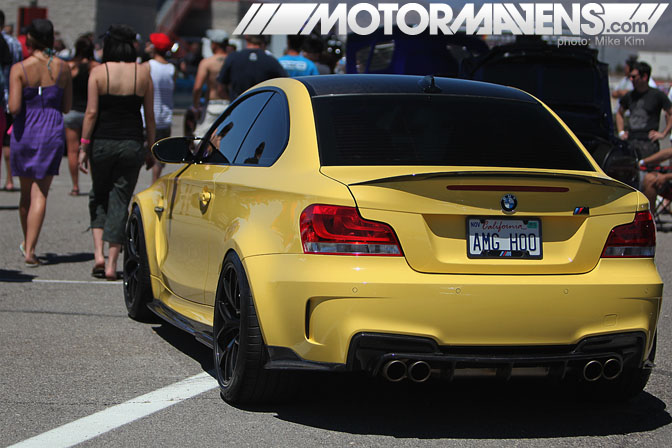 This BMW M3 E36 yellow 1 series M coupe is a native of SoCal and definitely had the best rear in the shot. Be on the look out for more of this car very soon!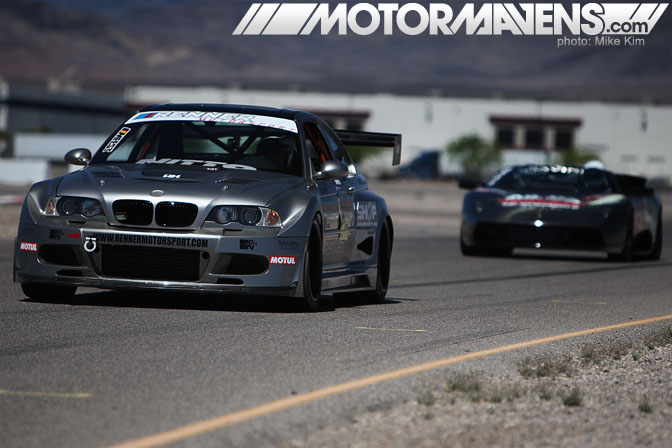 When it comes to FAST track cars the Horse Power Freaks/Renner Motorsports M3 E46 was the one to watch. It easily overtook the Savini Wheels Lamboghini Murcielago in the first few laps of the sponsor race. This E46, from what I was told, is a 900+ hp track car!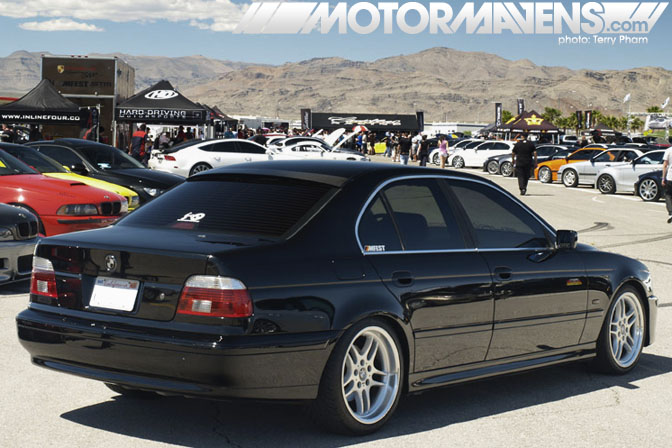 This E39 with BMW M-Parallel wheels kept on catching our boy Terry Pham's eye at the track. He kept on saying, "Damn, that paint job is sooo shinyyyyy…"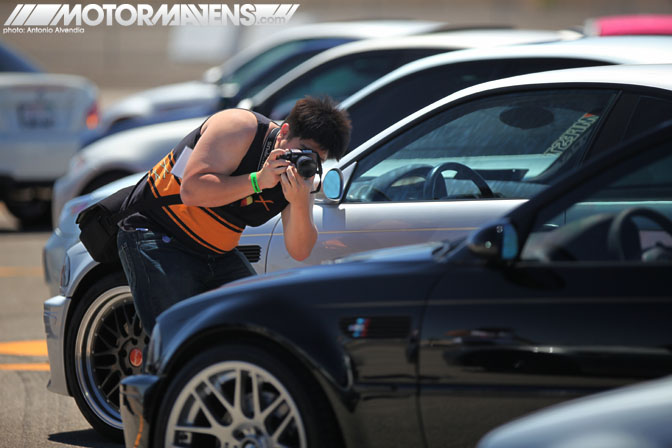 Here's a spy shot of Terry hard at work, shooting photos for the MotorMavens MFest Gallery!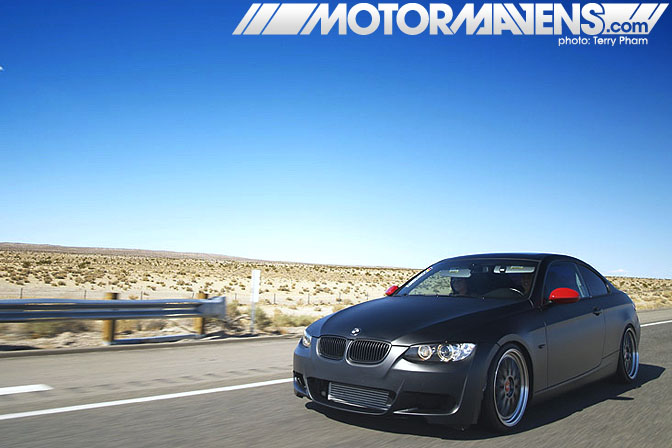 MFest VI 2012 was surely one of the most fun car shows and events I have been to in a long time. The great venue, amazing selection of cars and especially the people involved made the whole trip worthwhile. I cannot wait to go to MFest VII next year! On behalf of the entire MotorMavens Crew, I would like to extend a special thanks to Chris and his crew for the invite and all the hospitality in Las Vegas!
DO NOT MISS THE NEXT MFEST EVENT!!!
:: Mike Kim
More MFest Photos in the MotorMavens Gallery Section
MFest Caravan Photos in the MotorMavens Gallery Section
The Road to MFest
---