As many of you know, those of us in the Los Angeles area had a Christmas get together this past Saturday night at The Corner Bar in Burbank CA. On behalf of our entire group of friends who threw the party (Schikane Clothing, Driftwell Footwork Essentials, Tokyo Drive Productions and The Motor Mavens Crew), we'd like to express our deepest thanks to all of those who came out to chill with us, and those who couldn't make it, but were there with us in spirit.
Big thanks also to those who showed support of the party by donating gifts for the raffle (in no particular order) – Mishimoto, Eneos Oil, DSPORT Magazine, Buddy Club USA, HKS, Hankook Tires, Jack Daniels, and Jagermeister.
I'm going to post only a few of the pics from our party on the site. To view more photos, Add the Motor Mavens Crew as a friend on Facebook, and you can see more photos and view the tags and whatnot in case you want to be a stalker and randomly add girls that you don't know. (Go for it, haha)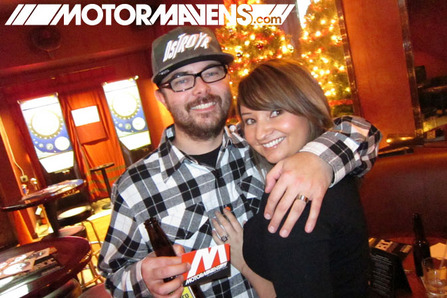 This is Jon Chase, the man behind the DSTROYR brand. Jon and his wife Katrina probably drove the furthest to hang out with us on Saturday evening… after holding a big blowout sale with other action/streetwear brands in Huntington Beach earlier that day, they all the way out to Burbank just to chill with us all night, and then made the trek all the way back to Riverside. Damn, now that's love! So glad you both made it out! =)
Jay Yoshida from Schikane Clothing is an OG from the Silverlake/Atwater area. In case you don't know the name, Schikane's expertise lies in handling behind the scenes clothing production for many brands within the automotive and entertainment industries… everything from HKS to Falken Tire to the Black Eyed Peas. Jay's cousin Ryan (on the right) has a company that makes high end Japanese shoji screens.
Oh yeah… be on the lookout for a new collabo shirt from Schikane and MotorMavens in the near future!
Ingrid from Corner Bar kept the drinks flowing all night! Come out to Burbank and visit her! =)
Not everyone at our party came from the automotive industry. Rebecca and Crystal have degrees in fashion design and merchandising. When you're looking to expand your brand to boutiques all over the world or find the best places for overseas apparel production, you want to holla at these girls. But we just call them when we want to go out and kick it.
Kenta Ogawara from Tokyo Drive Productions started his career as the US reporter for Japan's legendary Battle Magazine, but is now the henshucho (Editor in Chief) of Axel Speed, a new print magazine from Tokyo that deals with cars, fashion, and music.
While Kenta was talking to Jon from DSTROYR, I started laughing, because they looked like they dressed up as each other for Halloween, or were attending a Sadie Hawkins dance together. From the thick rimmed glasses to the scruffy goatees, to the shoes, and even their flannel shirts!
Jon is rocking the not-yet-released limited edition DSTROYR flannel, which can be purchased through the DSTROYR Website . Even though we didn't realize it until Saturday night, it turns out Jon also designed the flannel shirt that Kenta was wearing, as Jon was the designer responsible for the success of the Famous Stars and Straps brand… before he started up DSTROYR, that is.
Two other guys who wore similar shirts to the party were Clint (left) and EJ (right), who were chillin out with France (pronounced Fran-say, so fancy!) and Motor Mavens Crew's own Edward Uche, who is constantly grooving to the sounds of either built rotary engines or J Dilla beats.
You think you're into hip hop and your music collection contains a lot of songs produced by hip hop legend J Dilla? Well… we're willing to bet our boy Daryl David (the owner of Belle 1 Communications) and his brother Fred still have more rare Dilla beats than you or anyone else we've heard of. Daryl and the Belle 1 fam are the guys who shape everything you see and hear at Formula D and D1GP events. They are the guys who basically put on the entire show, from the live video feeds and commercials playing on the jumbotron to the underground hip hop and funky soul joints that bump out the Eon speakers. These guys aren't just our close friends, we consider them FAM.
Wsup girrrrrrrrrrrrrrrrls! I've lost count of how many times we've partied a little too hard with Sunisa Kim and Ruthie Huang. I think I know quite a few of my boys who would say, "True that" to that statement. If you have a copy of my hardcover book about Drifting, you might recognize Sunisa as the Yokohama umbrella girl at all the early Formula D and D1GP events.
Several drinks later, we ran into Jerry Tsai, the man behind the Pacific Rim Drift Team and the OG import automotive apparel company ILoveRacing.Com. Jerry is super fun to hang out with… whether we're in Tokyo, Honolulu, New York, Atlanta, or wherever… Jerry always finds some super cool stuff for me to spend my money on. He's dangerous. Don't hang out with this guy because after 10 minutes with Jerry, you will instantly find yourself wanting to start collecting old American cars, tactical guns, Japanese toy robots, die cast cars and a whole lot of other stuff that will definitely make you go broke.
When our boy Stephen (left) isn't handling biz at Alpinestars, he's acting as a stunt double for Frodo in the Lord of the Rings movies. Mayumi in the striped shirt is the best guide to Osaka I've met thus far. When I visited Osaka several years ago, I met up with Mayumi and we went out with the OG Osaka street drifting team, TINKER for some night time Osaka futou (bayside) drifting action.
The master storyteller on the right side with the Colgate smile is Herb Policarpio (aka HerbrockOne), and OG member of Cipher Garage. Not only is Herb the founder of Driftwell, he is also the OG who made it possible for AE86 owners in the USA to buy brand new kouki JDM Trueno bumpers from Toyota. Long story… let's save that for another day. But if you own an AE86 and you love your OEM Japanese bumpers, you should buy Herb a beer or give him a hug or something!
Behind Herb and Mayu, rocking the glasses and the Kangol is Baby Matt. When he's not designing movie posters for major motion picture companies, he's hooking up the info for all the after hours party spots in LA where you can chill and drink after 2AM if you're down with the right people and you know where to go.
The non-angry guy in the picture is our friend Matt, who must have gotten a pretty outstanding last paycheck when he left Myspace, because since he left the company, he's been going on trips, going out to eat every day, buying sneakers, and getting new video games! He's headed to Japan for Tokyo Auto Salon in a couple weeks! Damn, not bad for an unemployed guy! Teach us how, Matt!
Enough about Matt. I know you guys don't care anyway. Say what's up to Joyce and Handly.
These are the people behind the party. Schikane Clothing with the owner and bartenders of Corner Bar!
Even though he's one of the owners of Schikane Clothing, lately Tobin Honda has been nonstop rocking shirts from our fist pumping friends from New Jersey, Eat Sleep Race. Tree Feierday from Buddy Club USA was showing love by rocking an old school favorite of mine, the SSR Mk3 shirt from the Cipher Garage Collection!
So… the girls were taking pics together, and I decided to jump in there to put a little Motor Mavens logo placement in the mix, but then I discovered something I liked, and I got distracted… and in the back is loud ass Jack Hsu (remember his Blue Dolphin RPS13 from the All Star Bash this past summer?)
Speaking of All Star Bash, John and Ines from City Tire Online are huge supporters of grassroots drifting. They bring the huge truck and trailer out to events with compressors and tire mounting machines so that drifters can get tires mounted and balanced without having to leave the track!
Jonathan Wong from Super Street Magazine, Jerry from PacRim, and their ladies. Jocelyn is holding the Buddy Club pillow that Jerry won in as a raffle prize! Blurry photo… but that's what the whole rest of the room was looking like at that point anyway.
This is Miho and John. John has skills with a pen! Our friends John and Jansen (the guy in the next photo) are art directors for Fox Animation Studios. If you've ever seen the animated show American Dad on TV, these guys actually draw the show! According to Jansen, they draw the entire show on paper, then send their sketches to Korea to get retraced for animation. Before American Dad, they worked on some other shows you may have heard of… Family Guy, Futurama, King of the Hill, The Simpsons…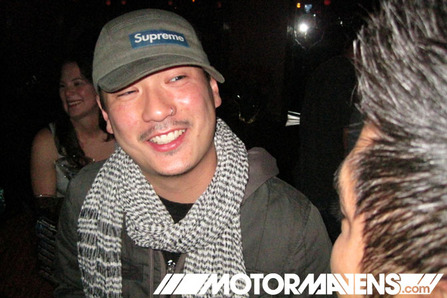 This is Jansen… we always try to force him to draw Futurama characters on bar napkins when he's completely drunk. According to his girlfriend Sarah, he was just nominated for some sort of bigtime television award for directing American Dad. That's cool, but what's more important than that is he and Sarah throw some pretty fun house parties.
That's one lucky finger.
I love instigating photos like this… our buddy Clint came all the way from ATLANTA Georgia for the Christmas party! (Well, he said he would visit his parents too, since he was in town anyway.) We wish he could have snuck Andy Sapp (our favorite E46 drifter, Drift Mechanik and the designer behind the Motor Mavens website) and Lieze (Andy's gf) onto the plane in his luggage! Since Clint was in town, I thought I'd try to push him into as many group hug situations as I could. He didn't seem to mind…
Our girl Helen was a bit tipsy; she was telling a story and accidentally clocked Tree in the face. I heard the impact of that one, too. She said sorry, but she couldn't stop laughing about it. Neither could we, haha.
I don't even know what Helen was talking about in this pic. Check our Facebook page for more pics from this night.
End of the night, Eat/Sleeping, head down on the table… can anyone guess what kind of car that is outside the glass door? Make sure to add us as a friend on Facebook to view the rest of the photos from the party. There were tons, and some of them aren't appropriate for posting on our site, haha…
THANKS TO EVERYONE WHO CAME OUT to kick it with us!!! Merry Christmas!
:: Antonio Alvendia
---