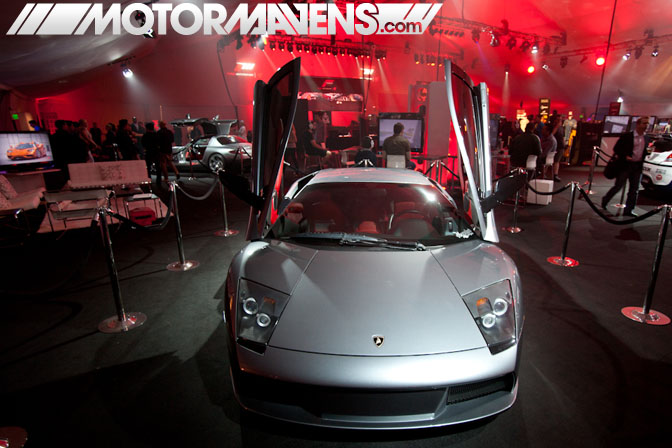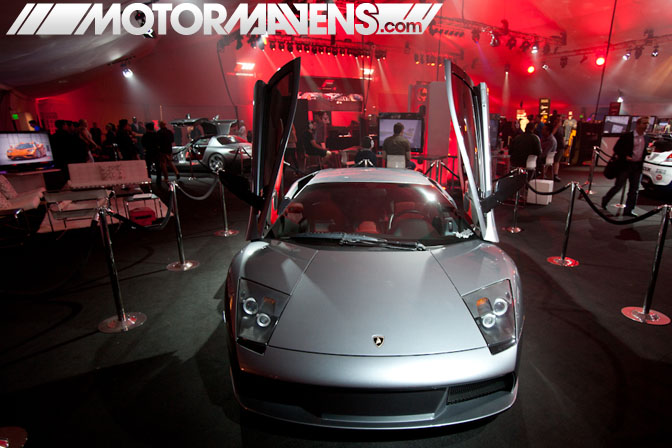 As some of the readers of this blog may (or may not) already know, I've been away from my Southern California hometown for the past few weeks. In fact, I'm still out of state, dealing with an illness in the family. Last week however, I was able to come back to LA for just a few days to pick up mail, pay bills, and pack some additional clothes for my extended stay with the family.
On one of the nights I was back in LA, I was lucky enough to attend the exclusive Forza Motorsport 4 launch event/E3 Expo afterparty at the LA Live Event Deck in Downtown Los Angeles. Since my time in LA was so brief and packed with errands, I unfortunately didn't even have time to go to the E3 show itself, even though I had passes at the ready.
Even though I didn't make it to E3, I didn't feel too bad, because the Forza Motorsport 4 event had it all – hot cars, hot girls, catered Korean BBQ tacos and sliders from the Kogi BBQ truck, an open bar, an appearance from The Stig from the world renown BBC show Top Gear (or at least, a person dressed in the Stig's racing suit), special exclusive performances by legendary drummer Travis Barker from Blink 182 and Mixmaster Mike from the Beastie Boys, and did I mention… an open bar?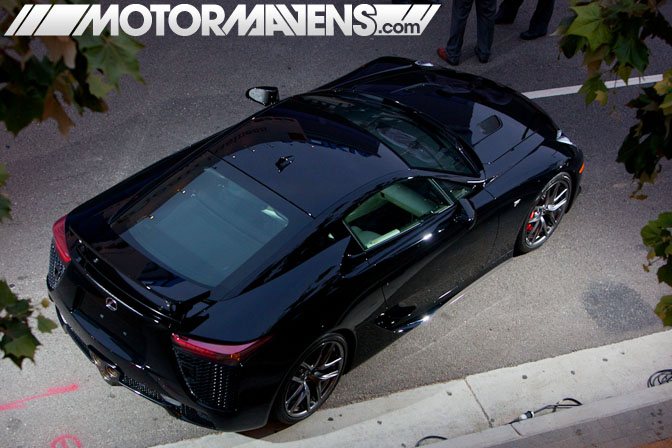 Outside the event, there were tons of high end performance vehicles lining the street, like this gorgeous black Lexus LF-A. Everyone that knows me already knows I'm a huge fan of the Lexus LF-A. In fact, if you're one of the few blog readers that hasn't already seen the delightfully tacky video that I posted on YouTube, showing my first hands-on experience with the LF-A… then you can watch it by clicking here.
The party itself took place in a temporary structure on the LA Live Event Deck, and looked something like a big Hollywood movie premiere, but with a bunch of cars all over the place. As you can see, they had Forza Motorsport 4 logos projected on the outer face of the building, and there was even a media wall with pro photographers taking everyone's photos as we entered the party.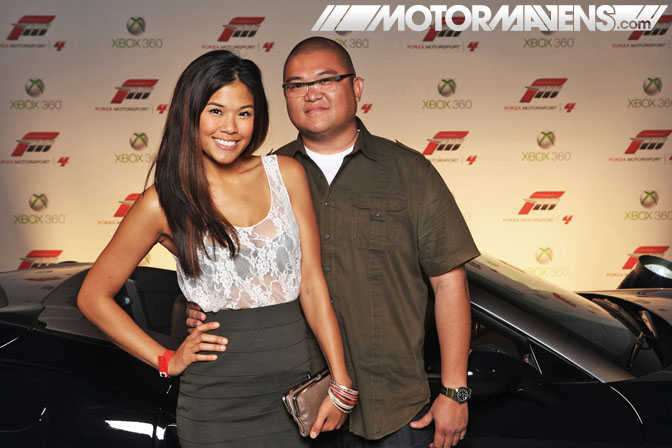 Here's a photo of me with my lovely date, Samantha. I'll have to apologize to our readers for ruining the photo – I know everyone just wants to look at Samantha and her see-through shirt, which really helps people notice her gorgeous, perky… smile! To see more photos of Samantha, check her out on Facebook and hit the LIKE button!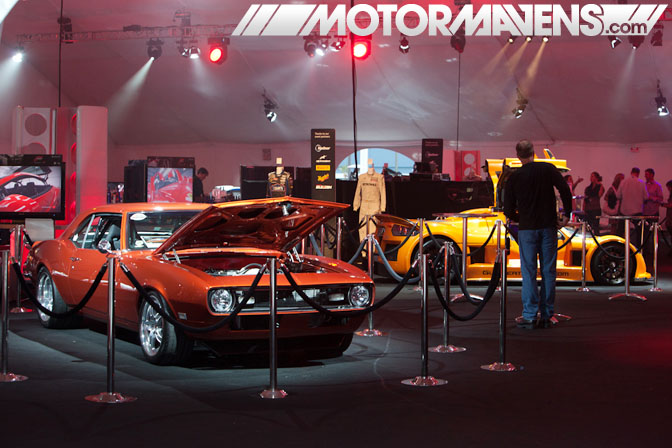 Inside the event, there were lots of high horsepower vehicles, ranging from exotics like the Koenigsegg CCX and Gumpert Apollo to classic muscle cars like this 1968 Chevy Camaro.
Here's a closer look at this Pro Touring Chevrolet Camaro – it had a classic body, but it was all done up with modern technology.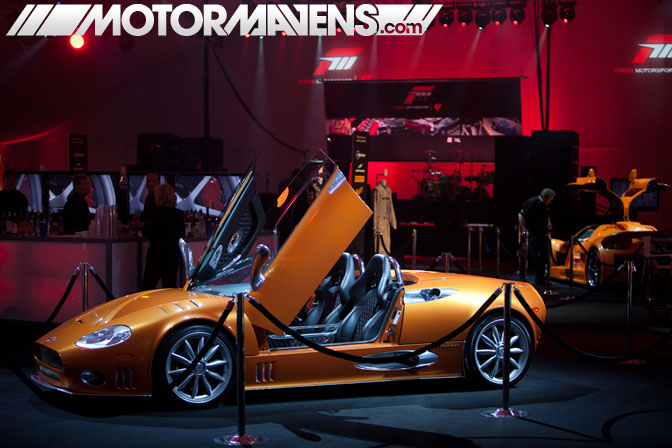 I liked the wheels on this Spyker C8 Spyder just because they remind me of Panasports. The rest of the car, however, is a bit too crazy looking for my taste. I know a lot of our readers will probably disagree with me, but I personally think that the car looks just a bit too wild aesthetically.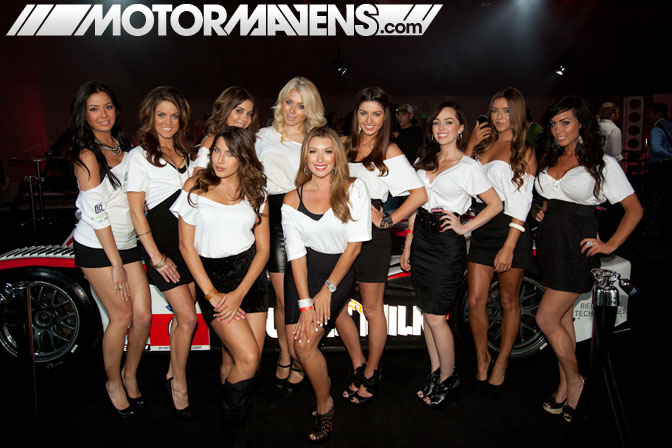 On the other hand, I do think the Forza Motorsport 4 girls look pretty aesthetically pleasing! I was happily surprised to see several familiar faces in the crowd of gorgeous ladies! I wonder if I should list their Twitter accounts so our readers can follow them?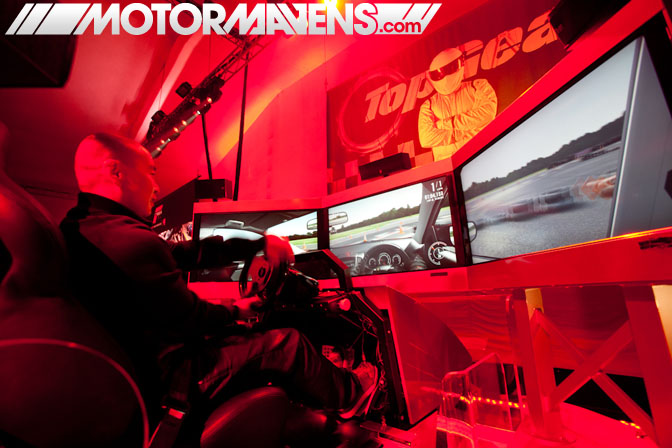 One of the cooler things at the event was this high end arcade style driving simulator, which allowed eventgoers to try their skills at one of the newest features on the game – the addition of the Top Gear UK test track! Now YOU can compare your lap times to that of The Stig or other celebrity guests that appear on the show.
I thought this was pretty damn awesome, because just about everyone from the MotorMavens Crew loves playing Forza Motorsport 3! I know that some of our top guns like Yoshi Shindo in Seattle, Daniel Bridle in the UK, Joe Ayala in San Francisco and Justin Shreeve in Portland stay up real late at night battling each other and building cool graphics schemes for their cars.
It was so great to see sneak peeks of racing video games that people are actually excited about, because let's just be honest – some of those other big budget racing games out there appeal to real car enthusiasts about as much as Aldous Snow's song, African Child*, appeals to rock and roll fans. (*If you haven't watched Get Him To The Greek yet, please do so. You'll thank me later.)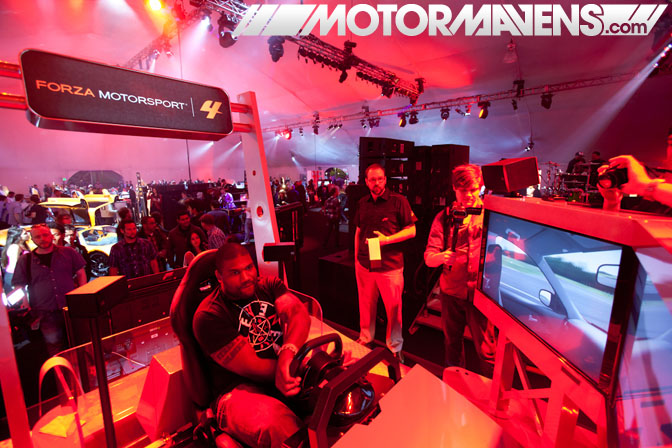 UFC fighter Rampage Jackson made an appearance at the party, and tried his luck at the Top Gear test track in the Forza Motorsport 4 game. As you can tell from his hand-over-hand steering techniques, Rampage probably makes a much better fighter than a driver, but with huge arms like that, he might be able to just scare the car into doing what he wants it to.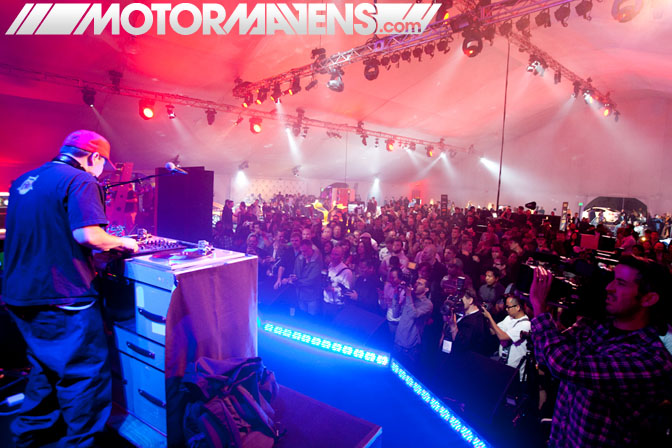 Once everyone had their fill of the free food (Hell yeah @kogiBBQ!) and the free drinks (Thanks Forza!), DJ MixMaster Mike of Beastie Boys fame got the crowd hyped with a performance that got everyone to push up towards the stage and groove to the music. OG hip hop heads might recognize him as a founding member of the San Francisco-based DMC Champion DJ crew, the Invisibl Skratch Piklz.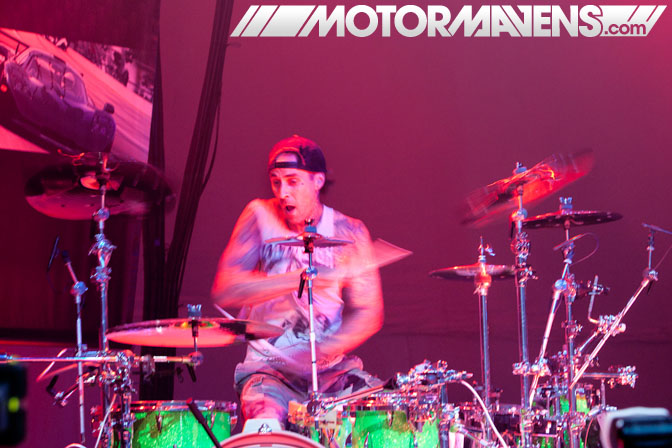 Halfway into Mixmaster Mike's set, Travis Barker from Blink 182 appeared onstage, showing everyone how he gets down with a set of drumsticks. I wonder if MixMaster Mike and Travis will form a new group, similar to how Travis appeared frequently with the late DJ AM, as TRV$DJAM.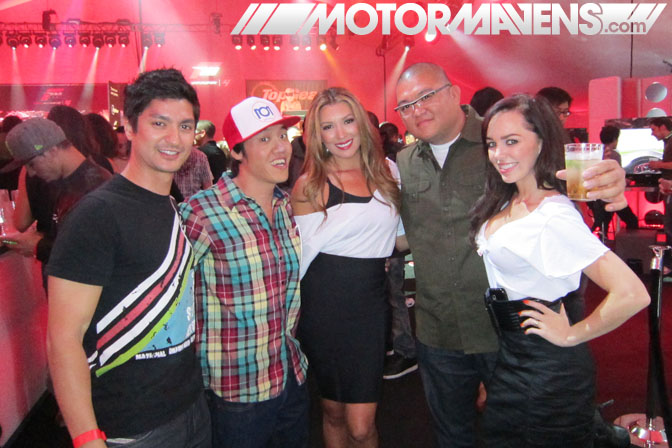 It's always great to run into good friends at parties when you don't expect them! From L-R, we have my boy "Frodo" from Alpinestars, Kelvin Tohar from Modus Apparel (he says he visits our site every day, but I don't recall seeing him post a comments, so I'm not sure I believe him), MJ Castillo, and Elizabeth Ashley.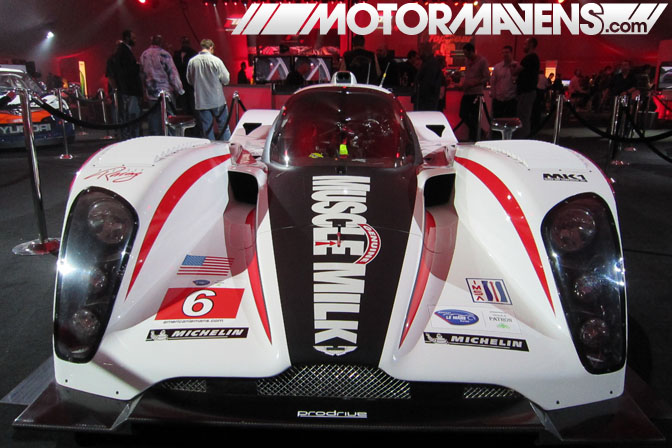 This American Le Mans LMP1 Muscle Milk Aston Martin was pretty cool to see up close. I was trippin out when I saw someone STANDING on the carbon fiber front splitter to prove how strong it was! When we saw it, Samantha and I were both thinking, WTFFFFF??? However, the guy standing on the car turned out to be someone from the car's ALMS crew, so I guess it was ok. Crazy to see how strong the car's bodywork is, though!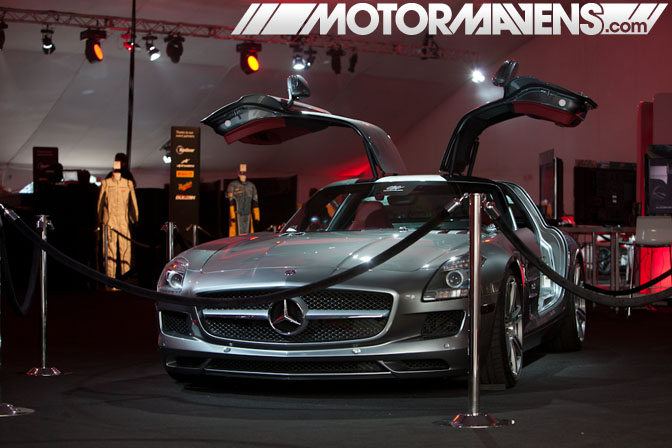 This car doesn't get old in my eyes. I love the Mercedes SLS AMG. I'm so glad they brought the legendary gullwing back. Now if only I could find an affordable one on Craigslist…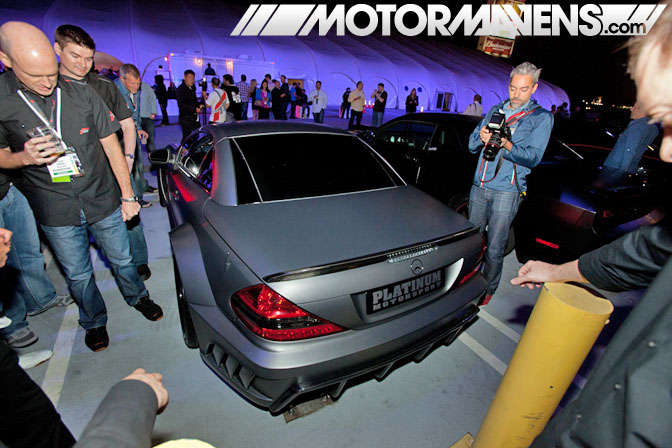 Outside the building, there were a lot of people crowding around the Platinum Motorsports Benz. It obviously looked pretty crazy and aggressive!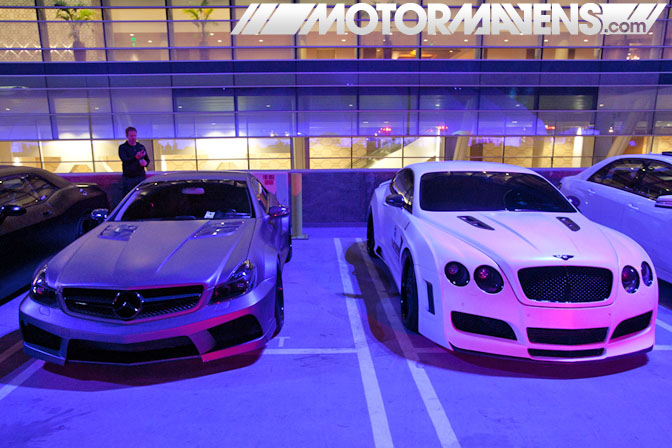 If you have a lot of money to spend on baller vehicles, you definitely want to stop by Platinum Motorsports on Melrose Ave in Hollywood. Their clientele is just like that song… Bimmer, Benz or Bentley.
If you DO actually stop by the shop, make sure to say hello to the gorgeous and sweet girl at the front desk. Her name is Beverly, and she's definitely platinum in my book! (Don't get all big headed now, Bev.)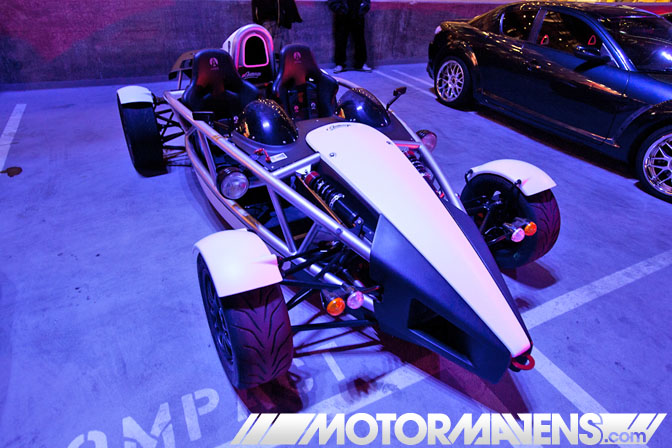 I've always thought the Ariel Atom looked kind of funky, like a full sized cross between an open wheel car and a go-kart… but I bet you it would be INCREDIBLE to drive.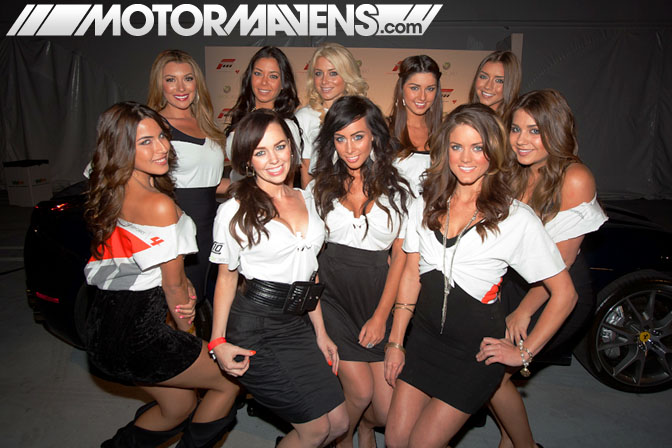 Enough cars already! Let's close out this update with another photo of the gorgeous and fun Forza Motorsport 4 girls! Hey, I spot Maxim hometown hottie Lindsay Harrod in the photo… but hey! Who's that girl in the back row, all the way to the right? BANGIN!
The people who created FM4, Turn 10 Studios, sure know how to throw a party!
:: Antonio Alvendia
Photos by Antonio Alvendia and ID Agency
ALMS
,
American Le Mans
,
Antonio Alvendia
,
Ariel Atom
,
Aston Martin
,
Beastie Boys
,
Blink 182
,
Camaro
,
DMC Champion
,
Elizabeth Ashley
,
Forza Motorsport
,
Forza Motorsport 4
,
Gumpert Apollo
,
homepage
,
ID Agency
,
Invisibl Skratch Piklz
,
Koenigsegg CCX
,
Kogi Truck
,
LA Live
,
Lexus LF-A
,
LMP1
,
Mary J Castillo
,
Mercedes SLS AMG
,
Microsoft
,
Mixmaster Mike
,
MJ Castillo
,
Muscle Milk
,
Panasport
,
Platinum Motorsports
,
Samantha Totem
,
Spyker C8 Spyder
,
The Stig
,
Top Gear
,
Top Gear Test track
,
Travis Barker
,
Turn 10 Studios
---